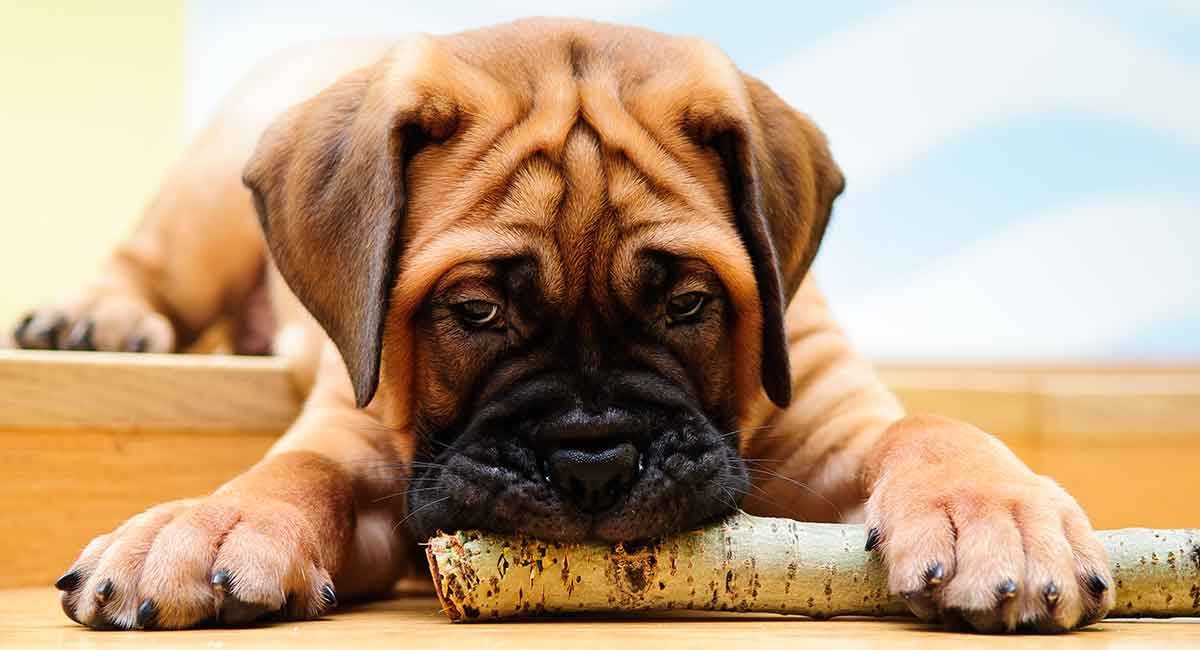 Choosing Bullmastiff names isn't the easiest of tasks! Your Bullmastiff puppy may be little now, but that won't last long! Soon, your little guy or gal may weigh more than a hundred pounds! The Bullmastiff breed brings together the best qualities of the bulldog and the mastiff. Fearless, confident, and docile are just a few of the qualities enthusiasts cite about this great dog breed. So let's jump into brainstorming names that are as great as your pup!
Contents
Naming Your Puppy
Choosing the best Bullmastiff names for your puppy or rescue dog begins and ends with finding a name you love.
Bullmastiff names tips:
If you pick a long name (three or more syllables) see if you can make a shorter easy nickname out of it to use daily.
If possible, avoid picking a name that sounds too much like the training commands you want to teach your puppy or rescue dog.
Remember you may need to shout out your dog's name in public so try to steer clear of anything too colorful!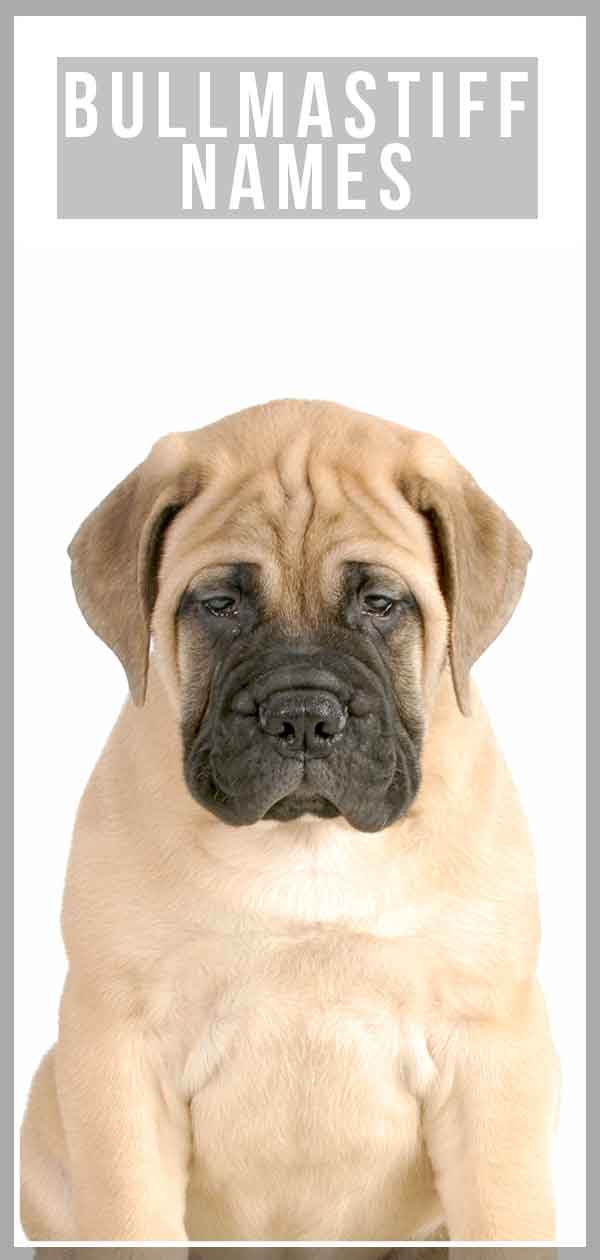 Best Bullmastiff Names
The Bullmastiff dog is famous for size, courage, guarding talents, and loyalty (among many other awesome traits). These are some of the best Bullmastiff names that reflect these wonderful qualities.
Champion
Loyal
Braveheart
Royal
King
Knight
Gallant
Spirit
Spunk
Faith
Constance
Giant
Bear
Huge
Mighty
Maximus (Max)
Sentinel
Defender
(Guardian) Angel
Victor
Hero
Star
Jupiter
Legend
Ace
Prima
Pious
Ardent
(True) Blue
Patriot
Female Bullmastiff Names
These female Bullmastiff names take inspiration from strong, powerful leading ladies in legend as well as in true life!
Sage
Cathenna (a variation on Athena)
Rowena
Malia
Radha
Mariella
Zahra
Nova
Angelina
Ruth
Maya
Kady (a variation on Katy)
Corazon (heart in Spanish)
Marisol
Lola
Chanel
Clara
Amrit
Ziva
Cora
Anna
Patience
Storm
Marie
Lora
Juno
Scarlet
Sonja
Elegy
Kamala
Find even more fabulous female dog names here.
Male Bullmastiff Names
These male Bullmastiff names reference boy names with strong, masculine meanings from around the world.
Saint
Hercules
Eagle
Griffin
Phoenix
Arnold
Rebel
Wyatt
Liam
Gus
Ethan
Hunter
Archer
Armstrong
Kwan
Smokey
Caleb
Regal
Hulk
Zane
Rowan
Stryker
Paxton
Orion
Kai
Jett
Harley
Cassius
Axl
Gunner
Discover even more dude dog names here.
Cool Ideas
For such a massive dog breed, the Bullmastiff has a natural grasp of the "art of cool."
Fearsome and fearless, docile and devoted, these cool Bullmastiff names aim to evoke the singular majesty that is the Bullmastiff dog.
Sarge
Cruzer
Diesel
Sadie
Sphinx
Tank
Marian
Buster
Chomp
Hutch
Bruno
Chopper
Boomer
Elvis
Thor
Claudius
Watson
Toby
Braun
Dozer
Argo
Mona
Neo
Normal (Norm for short)
Boris
Franklin
Sigmund (Siggy for short)
Emma
Wade
Elinor
For lots more creative ideas for cool dog names, we think you will love this article
Cute Inspiration
Is there any puppy cuter than a Bullmastiff pup? How can such a teensy puppy grow up to be such an immense adult and still stay so cute?
These cute Bullmastiff names do their best to capture the cuteness of your canine bestie at any age…and any size!
Maggie
Venti
Huck
Bea
Isabella (Bella for short)
Apricot
Libby
Peach
Echo
Sunny
Piper
Elsa
Honey.
Tuck.
Gemma
Francie
Bess
Rosie
Bud
Petal
Cosette (Cozy for short)
Friar
Bubba
Lion
Pooh
Winston
Miller
Newton
Aura
Craving even more cute dog names? Head on over to this article.
Funny Bullmastiff Names
For a more light-hearted take on naming your Bullmastiff fur baby, you may want to try these funny Bullmastiff names on for size!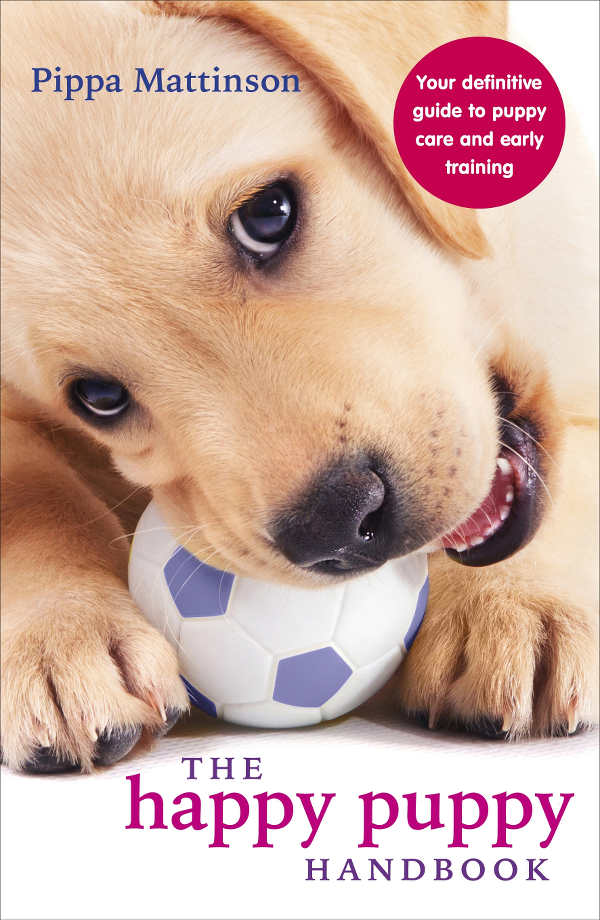 La-Z-Boy
Scrabble
Ruffles
Caramel
Fawn
Little Bit
Whopper
Scrappy
Scruffles
Maui
Mo'Betta
Brie
Brawny
Tonka
Slim
Smoosh
Tater (Tot)
Pepper
Cheerio
Martini (or Olive)
Truffle
Morris
Pixie
Zippy
Button
Mack
JellyBelly
Porkchop
Teacup
Shark
Unique Bullmastiff Names
Is your Bullmastiff bestie a real character – as unique as they come? Perhaps one of these unique Bullmastiff names will fit your new precious fur love to perfection.
Edna
Nanette
Marilyn
Stevie
Earl
Tansy
Eliot
Isla
Freya
Shilo
Monaco
Zydeco
Turtle
Morrie
Doris
Walt
Koma
Treasure
Croissant
Monkey
Alaska
Viola
Velvet
Redwood
Madden
Ozzy
Ava
Texas
Oak
Nalina
For extra unique dog naming inspiration, be sure to visit this article.
Tough Bullmastiff Names
The list of famous Bullmastiff dogs is quite impressive! These tough Bullmastiff names take their cue from celebrity mastiff breed dogs and their owners.
Butkus (Sylvester Stallone's 140 lb. Bullmastiff who appeared in Rocky)
Rocky
Brutus (Bob Dylan's Bullmastiff)
Rockefeller (John D. chose the breed to guard his estate)
Swagger (Cleveland Browns' Bullmastiff mascot)
Norman (the canine Simon Cowell)
Lenny (Hotel for Dogs)
Oakes (Sandlot)
Hooch (Turner and Hooch)
Beasley (real name of the canine star of Turner and Hooch)
Chupadogra (Marmaduke)
Bones (Transformers)
Travis (Cougar Town)
Terragon (RV)
Gus (RV)
Tiny (Gone in 60 Seconds)
Grace (Pearl Harbor)
Zorba (weighing in at 343 lbs., the world's largest mastiff)
Cromwell (22-stone burglar-repelling mastiff)
The Beast (The Sandlot)
Fang (Harry Potter)
Bosco (The Voices)
Duke (The Quiet American)
Alan (Babe: Pig in the City)
Pete (Homeward Bound)
Bruce (Sit, Stay, Ride)
Marlon Brando (mastiff owner)
George C. Scott (mastiff owner)
Flea (mastiff owner aka Michael Peter Bazry)
Xtina (Christina Aguilara, mastiff owner)
Looking for more tough dog names? Check out these great name ideas.