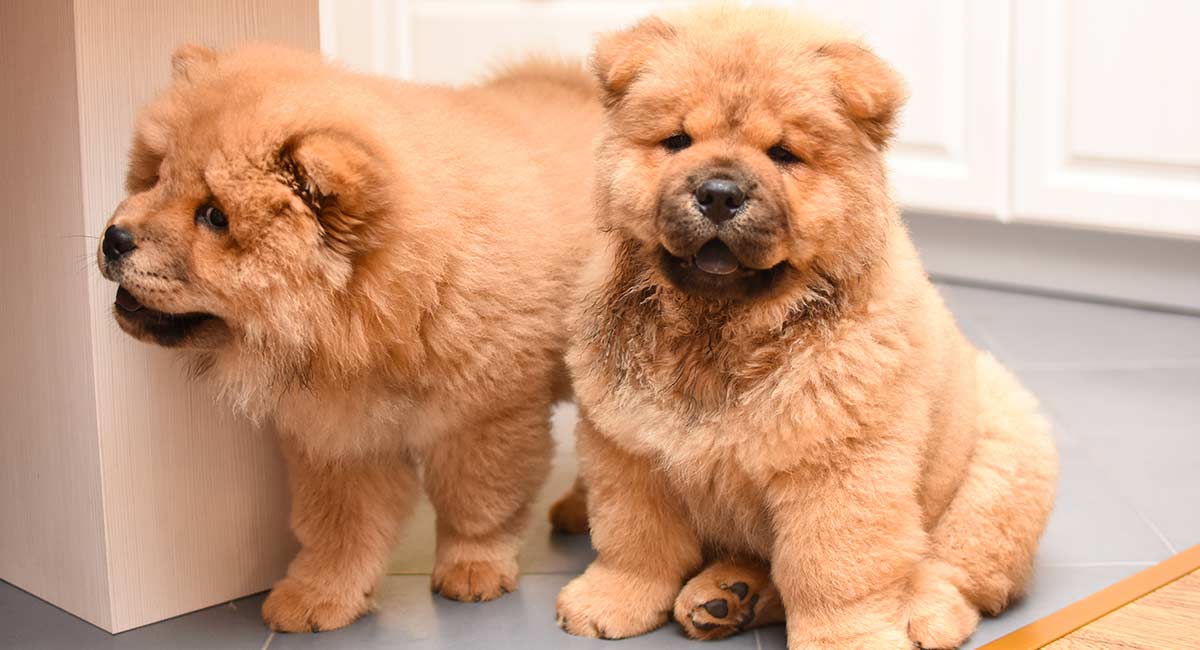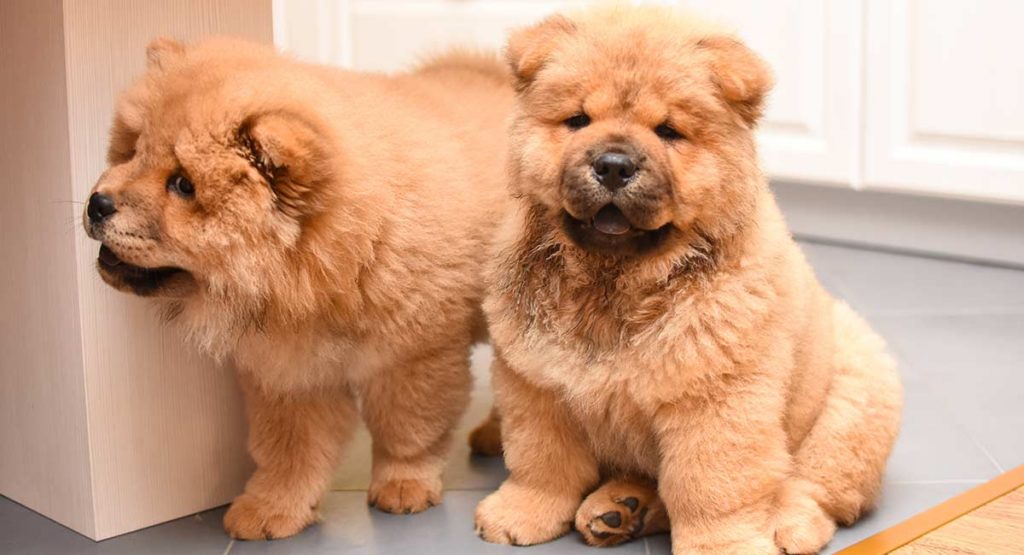 Welcome to your complete guide to the best Chow Chow names, giving you plenty of ideas for what to call your beautiful and powerful Chow Chow. Chow Chow dog names can say something about you as a person, or highlight this ancient Chinese breed's best qualities. Be that their gorgeous mane of red, white, blue, cream, blue, or tawny fur; their legendary "tough dog" presence; or perhaps their Chinese roots! Every dog is a unique individual, with their own personality, funny little mannerisms, and other traits which make each pup so special.
Contents
Your new pooch's name should be short, flow easily, and not resemble any other family member's name. Don't choose a complex or long name which won't be fun to repeat throughout your dog's life! And why not find something unique about the Chow Chow breed or your dog's own traits and characteristics, such as their Chinese origin, serious personality, bear- or lion-like looks, or major cute factor as puppies.
Top Chow Chow Naming Tips
These rules of thumb help find the right name for any dog:
#1 Make sure the name is easy to pronounce
A name might sound cool, but the fact of that matter is that you'll be repeating it for your dog's entire life, and so a name which is a mouthful to say will become annoying to say very quickly.
#2 Keep it catchy
Sure, you can name your Chow Chow something like, "Princess Pooky, Ruler of the Riffee House," but long names quickly wear thin (unless you shorten it to 'Princess' or 'Pooky').
Even one-word names may not work well if they have more than four syllables (such as 'Maximilian') or if they won't be shortened to a nickname.
Not only will saying the name get old, but your dog may not respond well to a complex name.
#3 Don't use a recycled name
Avoid names which sound too similar to someone else's name.
You want your dog to be able to distinguish their name from others so that when they are called, they know it is them who is being summoned, not their fur–sibling or one of your human relatives.
With the above guidelines in mind, let's take a look at some Chow Chow names!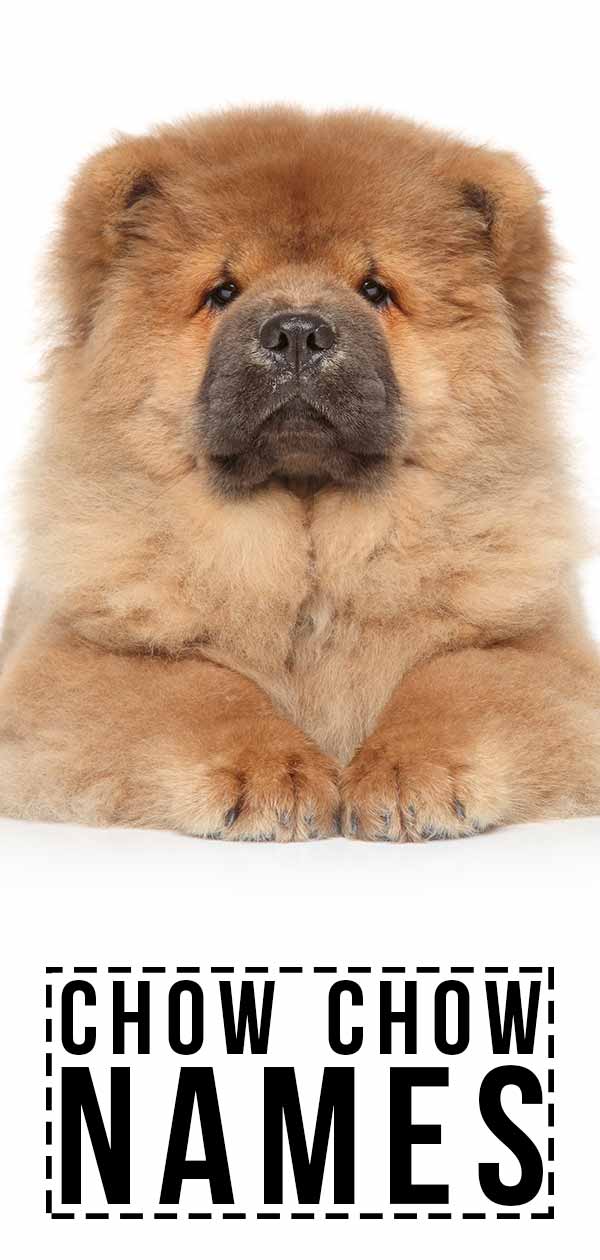 Good Chow Chow Names
Some names for dogs have withstood the test of time. They are "tried and true," as one might say; when the name is heard, you instantly think, "Yep, that's a dog".
Sparky
Bow-Wow
Chance
Daisy
Lucky
Cooper
Max
Charlie
Toby
Molly
Buddy
Lady
Marley
Sadie
Lassie
For many other good dog names, check out our article on Good Dog Names here.
Male Chow Chow Names
The Chow Chow is somewhat of an imposing dog to behold, and a male Chow Chow may exude even more of the "regal" factor. With their lion-esque ruffs (manes) and loyal demeanors, it is no wonder these dogs have been favored for thousands of years. Here are a few royally inspired ideas for Chow Chow male names:
Leo
Cecil
Prince
Royal
Baron
Kingston
Count
Knight
Duke
Reggie (short for 'Regent')
Shah
Tzar
Vic (short for 'Viceroy', or "Victor")
Rajah
Mufasa
Female Chow Chow Names
What is a king without an independent and strong queen? Chow Chows are also known for their dignified and not quite playful personalities, and a female Chow Chow may be no exception. Sticking with the royal name trend, here are some ideas for girl Chow Chow names:
Baroness
Empress
Marquess
Duchess
Regina
Princess
Queenie
Lady
Nala
Sarabi
Sara (short for 'Sarafina'…notice a Lion King trend here?)
Victoria
Belle
Elsa
Elizabeth/Liz
Cool Names for Chow Chows
The Chow Chow is an easily recognized dog breed due to its distinguished look, which makes the breed stand out in a crowd. Here are some hip and trendy names which match the Chow Chow's sophisticated appearance:
Chic
Mav (short for 'Maverick')
Fran
Alexis
Cher
Elle
Blaire
Cleo
Viv (short for 'Vivien')
Romy
Chandler
Jude
Jacques
Clive
Axel
Cute Chow Chow Names
Despite the Chow Chow's formidable appearance, they also possess a teddy bear-like quality that's endearing and may remind you of something cute, like a stuffed animal. Naming your pupster after something cute may also help people who are afraid of big dogs to feel more relaxed around a Chow Chow.
Twee
Charming
Foxy
Teddy
Baby
Bee
Kitty
Chipmunk
Snowball
Fuzz
Panda
Pebbles
Ladybug
Thimble
Duckie
Chinese Chow Chow Names
Another neat quality about the Chow Chow dog is that this ancient breed hails from China. And, what better way to name your pooch than by paying homage to his or her country of origin? Here are some Chinese-originated Chow Chow names and their English translations, for your consideration:
Berndt – "brave like a bear"
Bik – "strong"
Chang – "an unhindered spirit"
Cong – "one who has lots of wisdom and excels in every aspect"
Cui – "prince"
Gho – "a responsible and inspirational being"
Hui – "sharp, quick, or clever"
Ju-long – "strong and mighty like a dragon"
Lian – "she who is graceful as a willow"
Lixue – "pretty and pure as a snow"
Manchu – "pure"
Mey – "gorgeous, pretty, or stunning"
Na – "an elegant or smooth person"
Rong – "a person who brings honor and prospers"
Syaoran – "he who is a little wolf"
We list other equally interesting dog names in our Unique Dog Names article here.
Chow Chow Puppy Names
We don't care what breed of dog it is, all puppies are adorable! Chow Chow puppies are especially adorable due to their puffy, plush fur and squishy little faces, both of which make them closely resemble little bears with curled-up tails.
Here are some name ideas for your fluffy Chow Chow pup:
Furball
Cotton
Puffer
Tutu
Marshmallow ('Marsh' for short)
Creampuff
Pooh
Fozzie
Boo Boo
Corduroy
Paddington (you may recognize a few of these bears…)
Choux
Fleecy
Cloud
Fluffbottom
If you haven't found the perfect Chow Chow puppy name, head over to our Puppy Names article here, where we have 350 puppy names to choose from!