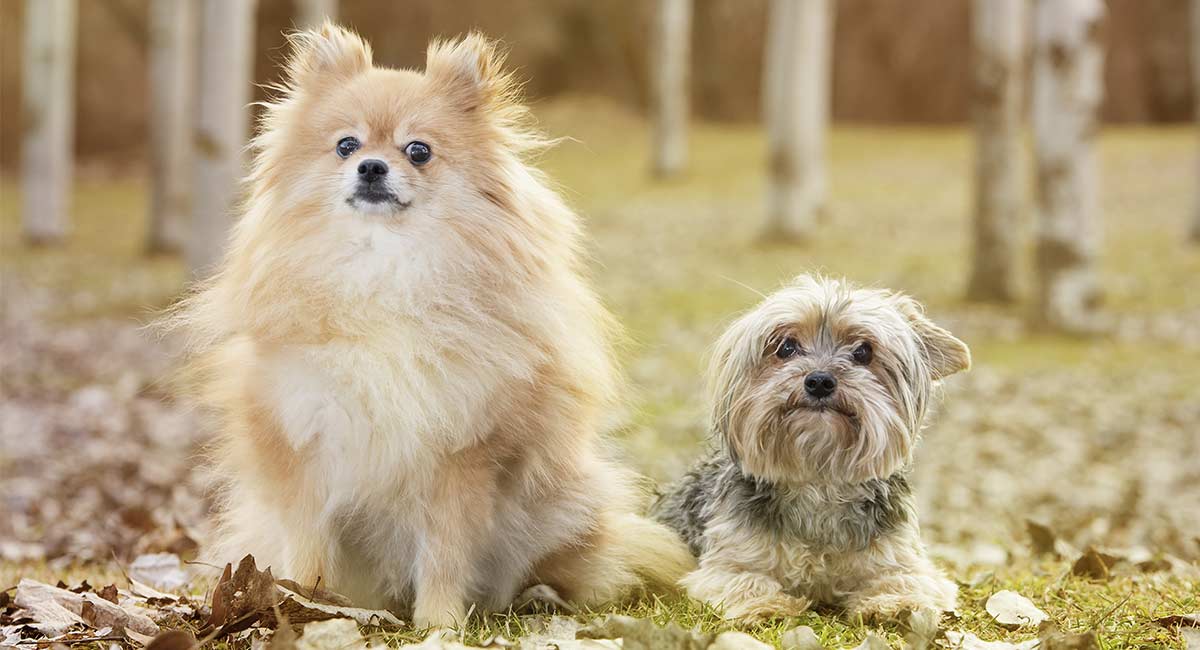 The Pom Terrier is a hybrid dog that arises from breeding a purebred Pomeranian with a purebred Yorkshire Terrier.
The Pom Terrier is adorable to look at – no doubt about it!
However, not everyone is a huge fan of the newfound popularity of Yorkie Poms and other "designer" or "hybrid" dogs, meaning dogs with two different purebred dog parents.
It can be important to educate yourself about the differences between a purebred dog and a hybrid, including differences in appearance, temperament, and health so you can make an informed personal decision.
So, without further delay, let's jump into learning everything we can about the precious and personable Pom Terrier!
First, we'll take a look at the controversy that surrounds these hybrid dogs, as well as the science that supports their breeding.
Purebred Dogs and Designer Dogs – The Controversy & The Science
To date, purebred dog breeders have been the most visible and vocal opponents of hybrid or crossbred dog breeds. Their main concern is dilution of the purebred genetic lineage.
Many breeders feel this is exactly what is taking place when two different purebred dog breeds are crossed to produce a litter of hybrid puppies.
On the other side of the debate, canine research biologists say it is this very cross-breeding that will strengthen the genetic diversity and overall health for so many at-risk purebred lines!
This argument is called "hybrid vigor," and it is supported by the most recent genetic science.
Of course, outside of canine show circles and research laboratories, most of us just want our pups to be healthy and stay that way.
On that level, a hybrid dog is akin to that most beloved of pet dogs – the happy, healthy mutt!
The Pom Terrier – a Pomeranian Terrier Mix
Not surprisingly, the Pom Terrier is a hybrid dog that arises from breeding a purebred Pomeranian with a purebred Yorkshire Terrier.
Because there are so many terrier breeds and a great number of backyard breeders waiting to prey on unsuspecting dog lovers, it is important to verify the exact breed of terrier rather than simply assuming a "Pom Terrier" puppy is a Pom Yorkie.
Otherwise, without knowing the exact breed of the terrier parent dog, it will be impossible to do your research to find out what potential future health issues your puppy may face.
Any reputable breeder will be happy to provide health testing verification, offer an initial health guarantee, and permit you to meet the parent dogs.
To learn more about what to expect from your Pom Terrier mix, let's take a look at each parent breed individually.
Origins of the Pomeranian
The Pomeranian, or "Pom" for short, is an amazingly ancient dog breed.
These dogs come from the German Spitz line of Icelandic dogs – wolf-like dogs with special adaptations to survive and thrive in the chillingly cold Arctic winters.
However, once the German Spitz was exported to Europe, breeders immediately set about reducing this dog's size and renaming it the Pomeranian.
British royalty, most notably Queen Charlotte and Queen Victoria, had a direct hand in ensuring these dogs became popular pets throughout Europe.
In America, three Poms became famous when they survived the sinking of the ship Titanic.
And Poms have continually kept company with some of the greatest creative minds on Earth, from Mozart to Michelangelo.
Origins of the Yorkshire Terrier
If the Pomeranian is an ancient dog breed, the Yorkshire Terrier is the exact opposite.
This breed has just one century under its belt. This purebred dog breed first got its start in the UK as ratting dogs in the mines and as fox and badger hunters in the fields.
However, it didn't take long for this smart, cute dog to move out of the mines and fields and into the homes and laps of their owners!
Yorkies today are staples in the show ring and in the home. As a result, they're used to living lives of pampered luxury.
Yorkies are popular with celebrities as well.
Audrey Hepburn, Joan Rivers, Orlando Bloom, Gisele Bundchen, and Hilary Duff, among others, have become well known for their devotion to these pint-sized pups.
Size, Height and Weight of a Pomeranian & Terrier Mix
A Pomeranian can look much bigger than she is thanks to this breed's trademark thick and fluffy fur. In truth, these dogs stand only 7 inches at their tallest (paw to shoulder) and will weigh anywhere from 3 to 7 pounds, placing them firmly in the toy dog group.
Yorkshire Terriers are also visually notable for the sheer amount of hair they have, although this hair usually lays flat and straight, giving a more accurate impression of their size.
Yorkies will stand 8 inches at their tallest (paw to shoulder) and weigh around 7 pounds.
It can be quite challenging to predict what a first generation (F1) Pom Terrier puppy may look like, since it is not possible to know in advance which puppies will take more after which purebred dog parent, the Pomeranian or the Terrier.
However, from these general size, height, and weight facts, you can expect that your adult Pom Terrier may weigh anywhere from 3 to 7 pounds and stand at most 8 inches high (paw to shoulder).
Appearance of a Pomeranian Cross Terrier
A Pomeranian Cross Terrier is a hybrid dog with two show-stopping dog parents.
Both the Pomeranian and the Yorkshire Terrier are show ring champs, each in their own right.
They have become accustomed to life as pampered lap dogs, often sporting fanciful custom haircuts and plenty of doggie bling.
Whether any of that is your particular cup of tea or not, you can expect your Pom Terrier to turn heads with his long, lush coat and big, soulful eyes.
To know what your Pom Terrier mix may look like, it helps to understand the appearance of each of the parent dog breeds, the Pomeranian and the Yorkshire Terrier.
Pomeranian Appearance
The Pomeranian breed standard includes a wide range of accepted coat colors.
Chocolate, blue, black, white, red, orange, cream, lilac, beaver, wolf, and tan are all possible color combinations and patterns.
What is most interesting about the Pomeranian, however, is that the color of your puppy's coat may not stay that color as your dog grows up!
This can make adult coat color doubly challenging to predict when you are also factoring in the influence of another parent dog of a different breed.
Poms have short perky ears and high-set bushy tails that lie flat along the dog's back. Their expression is often described as "fox-like."
Yorkshire Terrier Appearance
The Yorkie breed standard includes just four accepted color patterns: black and gold, black and tan, blue and gold, and blue and tan.
Like Poms, Yorkie puppies may also change coat colors as they grow up. Sometimes this color change can be quite dramatic!
Yorkshire Terriers have triangular ears that sit high and wide, perched at each side of the dog's head.
Their tails are similarly high-set and cascade down the dog's body.
The Yorkie's eyes are big and bright. With their long traditional coat, sometimes this dog gives the appearance of a face peering out from a long, moving coat of hair!
The Pom Terrier Appearance
From these descriptions, you can expect to bring home a puppy whose coat will change color as he grows up.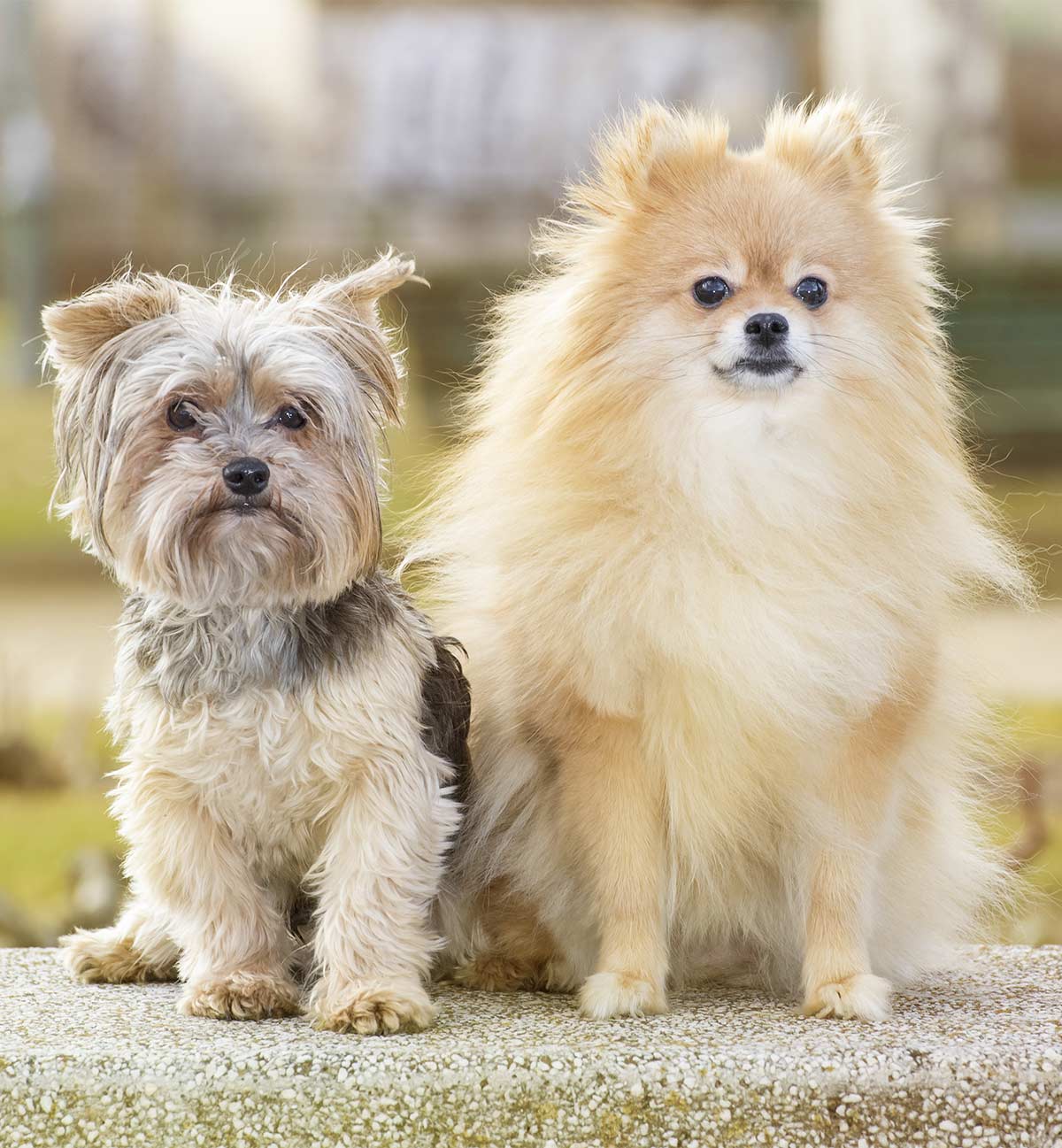 The ears will be small and high set and so will the tail, although which direction it points will be up to the genes that the puppy inherits from each parent.
Regardless of which traits your pup takes from which parent, grooming is a necessity for this hybrid.
Grooming & Coat Care for Your Pomeranian Terrier
One thing you can count on when you bring home your Pomeranian Terrier is spending a lot of quality time together on grooming and coat care!
Both the Pomeranian and the Yorkshire Terrier have high-maintenance coats.
The Pomeranian coat is thick and full, while the Yorkie's fine coat has often been likened to human hair.
Regardless of which parent dog your Pom Terrier pup takes more strongly after, you will have a thick coat to maintain, and your puppy will look to you for help keeping it clean and free from mats and tangles.
If your puppy most favors her Pom parent, you may get by with brushings every few days.
If your puppy favors her Yorkie parent, however, you will likely need to brush daily.
In addition to at-home grooming, many Pom Terrier owners like to schedule professional grooming sessions every 4 to 6 weeks for optimal skin and coat health.
Along with grooming expectations, it's important to be prepared for the unique temperament and behavior that comes with a Pom Terrier.
Temperament & Behavior of a Yorkshire Terrier Cross Pomeranian
Both the Pom and the Yorkie are natural leaders with independent, go-getter personalities. This comes from their shared working dog beginnings. Because of this background, you can anticipate that your Pom Terrier puppy will inherit the same type of personality.
However, this also means that both breeds and their hybrid puppies can be inclined to follow their own counsel, especially if they spy something really intriguing that they want to check out!
Here, positive, consistent training will get you and your new puppy started off on the right foot.
While Pom Terriers come with a rich personality, they can also come with some inherited health issues. It's important to be well-prepared for these.
Health Issues of the Pomeranian Yorkshire Terrier
Due to the genetic uncertainty that arises when crossing any two purebred dog breeds, it is important to ensure your breeder has performed all recommended tests for both purebred dog parents.
Pomeranian parent dogs should be tested for patellar luxation (dislocating kneecap), heart issues, and eye issues.
Like the Pom parent dog, Yorkshire Terrier parent dogs should be tested for patellar luxation and eye issues as well.
The CHIC (Canine Health Information Center) program also recommends testing both parent dogs for Legg-Calve-Perthes, autoimmune thyroiditis, and hip dysplasia.
If your Pom Terrier puppy is a first generation (F1) puppy, it should be sufficient that each purebred parent dog has been tested for breed-specific health issues, as aforementioned.
If, however, your pom terrier puppy is second generation or later (F1b, F2, etc.), parent dogs should be tested for all known health issues for BOTH purebred dog breeds.
After you've checked on the health status of your pup, the real fun begins — socialization and training.
Socialization & Training for Your Pom Terrier Mix
Just looking at a Pomeranian or a Yorkshire Terrier, it is easy to get the impression that both dogs are delicate lap dogs who are totally unsuited for an active lifestyle.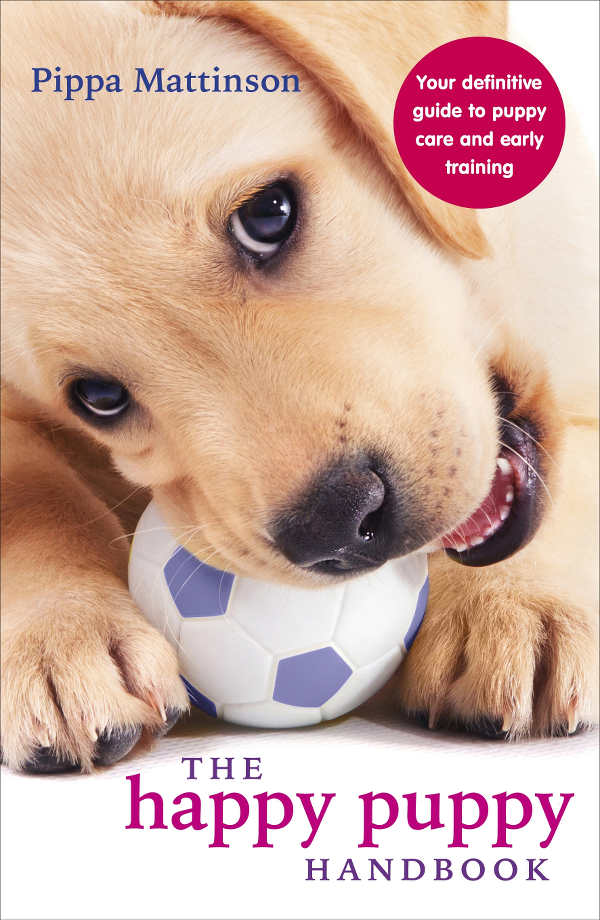 Interestingly, nothing could be further from the truth! Both have outsized personalities pumped full of confidence and leadership – they're big dogs in little dog bodies.
Pomeranians hail from a long line of hard-working German-born sledding dogs.
Yorkshire Terriers come from working-dog lines hunting rats aboard ships and small prey alongside human hunting parties.
What does this mean in terms of ongoing training and socialization for Yorkshire Terrier Pomeranian mix dogs?
Basically, it means you will need to begin early and establish a consistent positive training program so your authoritative and independent little pup learns to come when called, walk politely on a leash, greet newcomers appropriately, and refrain from leaping up and down off furniture and beds (which can lead to painful and expensive broken bones).
Also, you should be aware that housebreaking training can sometimes present a special challenge in small-size pups with tiny bladders!
This leads us to another important question: are Pom Terriers family-friendly pets?
Are Pom Terriers Good Family Dogs?
Pom Terriers can be excellent family dogs for families with older children (NOT young children).
These dogs will only do well with older children, tweens, and teens who have been properly trained in how to handle and play with these pint-sized dogs.
They can also make great companion dogs for seniors, since they love lap time and don't need more than moderate daily exercise (walks are just fine) to stay healthy and happy.
Are you considering a Pom Terrier for your family? Then you're probably wondering just what to look for.
How to Pick Out Your Pomeranian Terrier Mix Puppy
You can bet that any litter of Pom Terrier puppies will be really, really cute, which means you don't want to start out your hybrid dog breed research by going to meet a litter of Pom Terrier mix puppies!
But once you have decided this is definitely the dog for you, look for a Pom Terrier puppy that is bright-eyed, with a healthy coat and clear ears and tail area.
Make sure the breeder offers an initial health guarantee, a take-back guarantee, and proof of all required vaccinations and treatments.
Once you've checked off these bases, you're good to go.
Should I Get a Pomeranian Terrier Puppy?
Ultimately, you are the only person who can answer that question.
Whether a Pom Terrier is a good fit for you depends on your ability to embrace its personality, health, training, and socialization needs. With the right owner, a Pom Terrier can be a bundle of fun.
We hope you have enjoyed learning more about the wonderfully unique hybrid dog that is the Pom Terrier!
References and Further Reading
Beuchat, C. "The myth of hybrid vigor in dogs … is a myth." The Institute of Canine Biology, 2014.

Driggers, C., et al, "Pomeranian History/Health," American Pomeranian Club, 2018. 
Gordon, J., "History of the Yorkshire Terrier," The Yorkshire Terrier Club of America, 2006. 
Lyon, R.C., DVM, et al, "Yorkshire Terrier Health Survey Data Report," The Yorkshire Terrier Foundation, 2011.