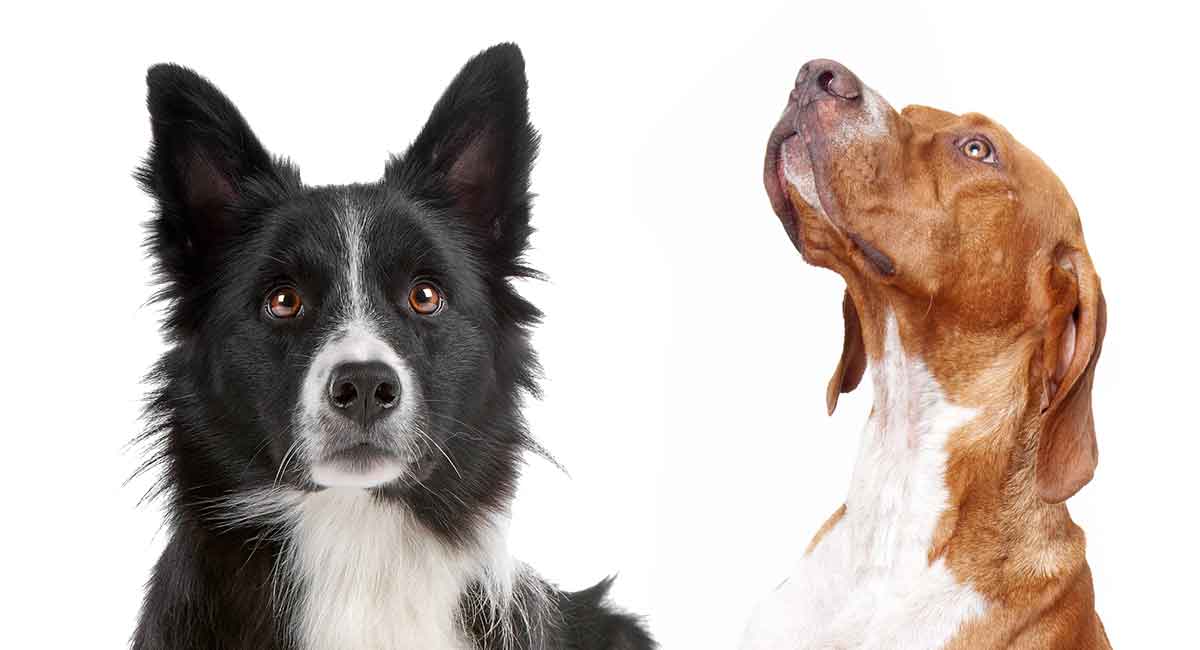 The Pointer Border Collie mix is a crossbreed between a Pointer and a Border Collie.
Both of this mix's parents are hardworking dogs and fall into the medium to large size category.
The Pointer Border Collie mix's eagerness to work as his parents makes these dogs extremely suitable to the family home as well as hunting, tracking, and herding tasks if trained correctly.
They are an excellent all-around working dog.
But, just like every dog breed, it is essential to learn everything you can about them before committing to adopting one.
Where Does the Pointer Border Collie Mix Come From?
The exact origin of the Pointer is debated. But it can be traced back as far as the 1650s in England.
The Pointer was likely a crossbreed between four different dog breeds: the Greyhound, Foxhound, Bloodhound, and Bull Terrier.
As the name suggests, this dog was bred to find and point to the location of game birds.
But they are also commonly trained to retrieve dead game as well.
On the other hand, the Border Collie was bred to herd livestock.
Origin of the Border Collie
Originally from the British Isles, the Border Collie can trace back its origin to a single dog – Old Hemp.
Old Hemp was born in 1893, and his working style became the stereotypical style of the Border Collie.
It is thought that Old Hemp sired nearly 200 puppies in his lifetime, which laid the basis for the modern Border Collie.
The Pointer Border Collie mix is a hybrid of these two popular dog breeds.
Hybrid dogs
There is some controversy surrounding the creation of hybrid dogs.
Many people claim that dogs should be kept pure.
However, there are many scientific reasons why hybridization is suitable for all dogs.
One of these reasons is called hybrid vigor.
When you breed two different dog breeds together, their puppies are less likely to inherit any of their genetic dispositions to disease and disorders.
Genetic disease such as hip dysplasia can run rampant among purebred dogs. But mixed dogs are less likely inherit these disorders if one parent is unaffected.
Mixed breeds dogs are also likely to live longer have bigger litters of puppies, and higher newborn survival rates.
At the same time, though, mixed breeds are less predictable in appearance and temperament than purebreds.
There is no way to predict or determine which qualities a litter of puppies will inherit from each parent.
Fun Facts About Pointer Border Collie Mix
Queen Victoria was a Border Collie enthusiast and this is a significant reason the breed is so prevalent today.
Border Collies are some of the most intelligent dogs in the world.
One Border Collie named Chaser is recognized as the smartest dog in the world. She can identify nearly 1,000 objects by name.
Due to their intelligence, Border Collies are often cast in film and TV shows.
A dog with the stance of a Pointer appears on a 3,000-year-old Egyptian tomb.
Before the invention of guns, humans would throw out nets on the location where the Pointer pointed. Any birds the Pointer had found were then caught in the net.
After the invention of guns, Pointers had to be trained to stand still after the birds had been flushed but before the hunter had taken a shot.
This prevented tragic accidents of hunters accidentally shooting their dogs.
Pointer Border Collie Mix Appearance
Because it is a mixed breed, a Pointer Border Collie mix can vary a lot in appearance.
They might look almost exactly like one parent or as an even mixture of both.
The mixed breed will likely be between 35-65 pounds, making them medium-large sized dogs.
Their fur can either be short like a Pointer's or medium-length like a Border Collie.
They can also inherit their coloring from either parent, which gives them a wide range of possibilities.
They will most likely be either bi- or tri-colored. Solid colors are incredibly uncommon.
Pointer Border Collie Mix Temperament
Both the Border Collie and the Pointer are working dogs.
This mixed breed is likely to take after their parents and be devoted to working as well.
They will be happiest when put to work and will enjoy training and stretching their mind.
Though they are usually companion dogs, they will likely make good hunting or herding dogs if trained properly.
Their exact talents will vary from dog to dog. Some will make great pointers, while others will take more readily to herding.
This hybrid might inherit the Border Collie's natural herding instinct.
Luckily, neither the Border Collie or Pointer has an overriding chase instinct, which makes them suitable for households with small children and animals.
Their quiet, focused demeanor can make them excellent guard dogs with the proper training.
Training Your Pointer Border Collie Mix
The Pointer Border Collie mix is a mix of two intelligent dogs.
They will likely enjoy training and catch on pretty quickly.
However, their high intelligence also means that they require regular mental exercise to be happy.
Without it, they will soon become bored and make their own fun – which is usually not what you want them to do.
We recommend getting started on crate training early.
These crossbreeds are very active, so getting them used to a crate early is essential.
You should also begin potty training as soon as possible.
While these dogs are sure to pick it up quickly, starting early eliminates the chance of bad habits forming.
These dogs are very active and need exercise regularly.
You should be sure to teach them how to correctly walk on a leash early so that they can get the exercise they need.

Pointer Border Collie Mix Health
Like all dogs, these canines are prone to a few health problems.
There are two major ones you want to look out for: hip dysplasia and Addison's disease.
Hip Dysplasia
Hip dysplasia is common amongst medium and large dogs. Both the Border Collie and Pointer are prone to it.
This makes it extremely important for you to keep an eye on your mixed breed puppy.
Luckily, X-rays can detect this problem early on.
And, ethical breeders will avoid breeding dogs who have bad hips.
Addisons Disease
Addison's disease is caused by a lower than average production of hormones.
Border collies are prone to this disease.
There are also a few minor eye diseases you should watch for, including cataracts, and a specific eye abnormality known as Collie eye.
Breeding Border Collies should have an eye exam every year.
Do Pointer Border Collie Mix Make Good Family Dogs?
With the proper training and care, the Pointer Border Collie mix can make a good family dog.
They do require quite a bit of exercise and mental stimulation though.
So, be sure you have the time to commit to your dog before adopting one.
Due to their herding instincts, this mix probably will not work best in homes with small children, however.
Rescuing a Pointer Border Collie Mix
If you decide to rescue a Pointer Border Collie mix, keep in mind that it can be challenging to locate an exact mixed breed.
We recommend contacting local shelters and letting them know what you're looking for.
Many will contact you if an appropriate dog happens to come through their doors.
When you bring your new pet home, prepare to give them time to adjust.
Most dogs will be scared and reluctant for a week or two when brought home.
Giving them space, take them out for exercise, and make sure their needs, and they will warm up to you faster.
Finding a Pointer Border Collie Mix Puppy
If you do not want to adopt an adult dog, we recommend seeking out a puppy from a reputable breeder.
While it can be tempting to purchase a dog from a pet store or puppy mill, these places do not follow good breeding practices and produce sickly puppies.
Instead, seek out a breeder that health tests all their dogs.
Ask if you can see the parents and interact with the puppies before committing to buying one.
You should also ask about the disease in the puppy's ancestry, especially involving hip dysplasia.
Raising A Pointer Border Collie Mix Puppy
To get off on the right foot, we recommend informing yourself about proper puppy care.
Because of the Border Collie's natural herding instinct, you should take particular care when introducing them to cats and children.
After your puppy settles in, we recommend beginning training right away.
These dogs are brilliant and benefit from having their mind stimulated through training and exercise.
Pointer Border Collie Mix Products and Accessories
It is essential for your puppy to be mentally stimulated.
Their intelligence is a double-edged sword.
They can pick up on training very quickly but will also become bored if not stimulated.
Puzzle toys are a great way to keep your dog entertained when you are busy or not at home.
Due to their high exercise requirement, we recommend keeping a stock of toys readily accessible.
Of course, choosing the correct food for your puppy is also very important. So, be sure to check out our complete guide to puppy nutrition.
Pros and Cons of Getting a Pointer Border Collie Mix
The Pointer Border Collie Mix is unsuitable for homes with small children.
Their strong herding instinct will often cause them to attempt to "herd" children, which may result in biting.
They also require quite a bit of exercise. After all, both parent breeds were bred to work all day.
They have quite a bit of stamina that must be ran off.
Furthermore, their high intelligence means that they must be constantly stimulated. If they become bored, they can be very destructive.
But this intelligence also makes it possible for them to learn lots of commands and words.
For the active family, this dog's considerable stamina can be a blessing. They can definitely take all day hikes and long walks.
They are also generally pretty healthy, are prone to very few health problems and many live long, happy lives.
Similar Pointer Border Collie Mixes and Breeds
This mix is going to get its traits from both the Border Collie and the Pointer.
Before deciding to adopt one of these hybrids, you might want to check out both parents breeds to see if one of them would be better suited to your lifestyle.
Any mix that includes either the Border Collie or the Pointer is also going to be quite similar and might meet your needs better.
For example:
Border Collie Labradors
Golden Retriever Border Collies
Because this dog is a working dog through-and-through, other working dogs are also going to be quite similar as well.
For example:
Pointer Border Collie Mix Rescues
There are a number of different rescues for each of this hybrid's parent breeds:
If you would like to be added to this list, please comment below!
Is A Pointer Border Collie Right for Me?
For the right household, this dog can make a wonderful pet.
But this dog is not suitable for families with small children or those who do not have the time to physically and mentally stimulate them.
While these dogs can make great pets, you should carefully consider whether or not they are the right dog for you before adopting them.
Do you have a Pointer Border Collie mix? We'd love to hear about him or her in the comments below!
References and Resources
Cavanaugh, 1977, "Assessing the Show Pointer." American Pointer Club.
Lewis, 2013, "Comparative analyses of genetic trends and prospects for selection against hip and elbow dysplasia in 15 UK dog breeds." BMC Genetics.
Lutz, 2013, "Clinical and Laboratory Findings in Border Collies with Presumed Hereditary Juvenile Cobalamin Deficiency." Journal of the American Animal Hospital Association.
Bedford, 1990, "Partial prolapse of the antero‐medial corpus adiposum in the horse." Equine Veterinary Journal.
Gelatt, 2005, "Prevalence of primary breed‐related cataracts in the dog in North America." Veterinary Ophthalmology.
Arden, 2016, "A general intelligence factor in dogs." Intelligence.