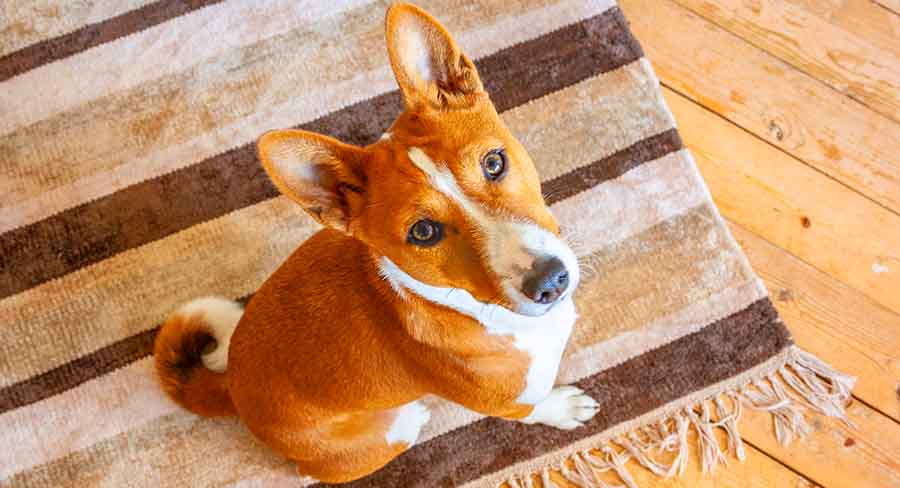 Orange dog breeds make striking pets. Their fur can range from a pale creamy orange, to a deep reddish amber. This coloring doesn't impact a dog's personality, so it's a good idea to research the breed you've found. Make sure their temperament, activity level, and care needs suit your lifestyle. There are plenty of breeds that can have wonderful orange fur, so you will be able to find one that suits you!
Finding Dogs with Orange Fur
Though many dogs can have orange fur, it's often described in very different ways. It's likely you'll see dogs advertised as yellow, red, gold, apricot, caramel, and so on. But, it's pretty uncommon to see a dog described as orange. So, when searching for an orange dog, try some of these alternative terms.
And, shades of orange will vary in dogs. Some breeds might have a more golden tone, whilst others have a deep red coloring. Some may even have orange and white fur, or orange and black. So, it's a good idea to look at the options and decide what specific coloring or shade you like. And remember that a dog's temperament and care needs are just as important as their fur color. If not more so! For now, let's look at 15 popular orange dog breeds.
1. Pomeranian
The Pomeranian is one of the most popular orange fluffy dogs out there. This breed is very small, measuring between 6 and 7 inches tall and weighing between 3 and 7 lbs as an adult. But, they can look bigger than they are due to their very fluffy coats! Orange and orange sable coloring are accepted on their breed standard.
Due to their size, these little orange dogs can suit apartment life. But, they are inquisitive, energetic and playful dogs. They'll still need regular exercise and plenty of mental stimulation. Consistent positive training is important from the time they come home, and due to their small bladders, some Pomeranians struggle with potty training.
2. Vizsla
The Vizsla is one of the first dogs people think of when they imagine when they picture orange dog breeds! This breed grows into quite a large dog, measuring between 21 and 24 inches as an adult and weighing from 44 to 60 lbs. They are muscular, active dogs that come in a spectrum of orange shades. The most popular is golden rust, but others accepted by the breed standard include red, rust, golden, and more.
Vizsla dogs are athletic, affectionate, and versatile. They form very strong bonds with their owners, so don't do well in homes where they get left alone too often. These dogs need plenty of exercise and mental stimulation every single day, so won't suit sedentary lifestyles.
3. Golden Retriever
The Golden Retriever might be best known for its lighter cream and yellow shades, but the dark Golden Retriever is a beautiful, amber shade. And this is an officially accepted shade on their breed standard. Golden Retrievers have wonderfully soft and feathered fur. They are quite large dogs, measuring 21.5 to 24 inches, and weighing between 55 and 75 lbs as adults.
Golden Retrievers are an ultimate people dog. They thrive in families that can dedicate plenty of time and attention to them. They're also very intelligent dogs that need plenty of time each day to play, exercise, and stimulate their brains.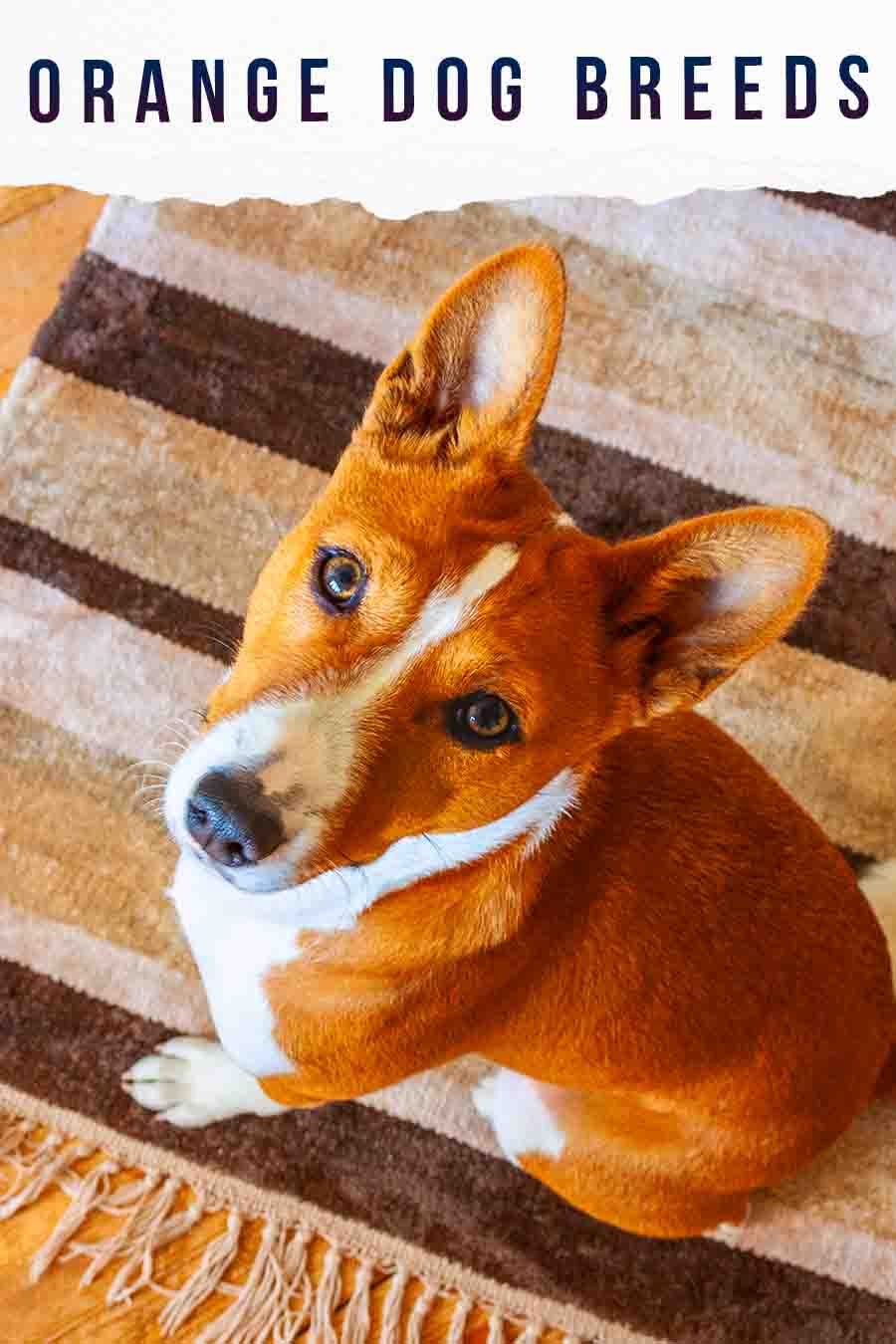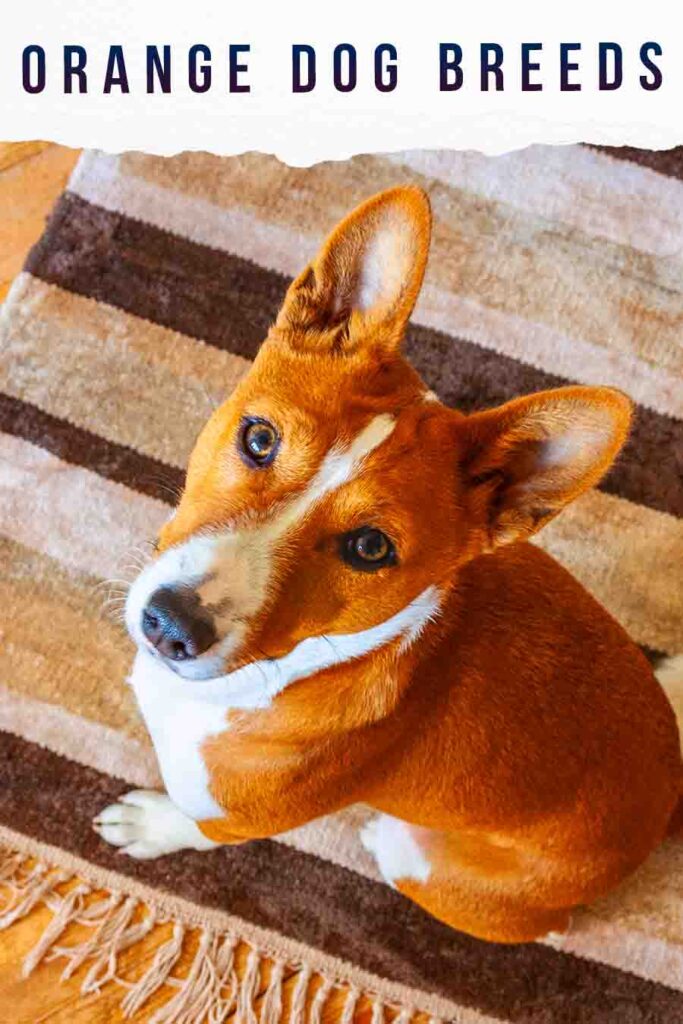 4. Chow Chow
Red and cinnamon are the closest Chow Chow colors to orange. But, if you're searching for a big, fluffy orange dog, the Chow Chow could be ideal for you! These dogs have long soft fur that will need regular grooming. As adults, they will be between 17 and 20 inches tall, but can be quite stocky dogs, weighing from 45 to 70 lbs.
Chow Chows are often powerful, serious, and aloof dogs. They are easy to housebreak, but need to be socialized very well from a young age to prevent aggression. These dogs form very strong bonds with their owners, but often remain wary of strangers, even with the best socialization.
5. Shiba Inu
Shiba Inu dogs come in the colors red and red sesame, which can both have a wonderful orange tone. This breed can grow to be between 13.5 and 16.5 inches tall, weighing from 17 to 23 lbs. They often have patches of white, and will have a wonderful fluffy coat and tail.
Shina Inu are curious, alert, and loyal. These dogs do have strong chase instincts, so may not get along with other pets. Owners should practice a strong recall and should only let them off leash in safely enclosed areas.
6. Labradoodle
The Labradoodle is a popular mixed breed dog that is taking the world by storm. It combines the Labrador Retriever and Standard Poodle to create a loving, friendly and low shedding mix. These dogs can inherit some popular Poodle shades like red and apricot, giving them an orange hue. But, their traits can vary depending on their generation. Some may look more like the Labrador, with straight, heavy shedding fur, and others may have the Poodle's tight curls.
These dogs are generally very friendly and social, but should be trained and socialized well from a young age. They are not hypoallergenic, but can be low shedding. They will need plenty of exercise and mental stimulation to prevent unwanted behaviors.
7. Cocker Spaniel
A red Cocker Spaniel is likely to have the closest fur to orange, but other similar shades include golden. These small dogs grow to be from 13.5 to 15.5 inches tall, weighing between 20 and 30 lbs as adults. They have wonderfully soft fur, which often falls in waves on their long floppy ears.
This breed is friendly, energetic, and playful. They love being in family homes where they will receive plenty of attention and socialization. Cocker Spaniels are intelligent, energetic dogs that need regular exercise and mental stimulation.
8. Pembroke Welsh Corgi
The Pembroke Welsh Corgi comes in red, fawn, and sable, which can all have the orangey tint you're looking for. These little dogs have short legs, and an all-round fox-like appearance. They grow between 10 and 12 inches tall, weighing up to 30 lbs.
With an original purpose as herding dogs, a Corgi may not suit homes with other pets or small children. In fact, you may find that it tries to herd them! But, they need affectionate families with time to dedicate to exercise, playtime and care. Be aware of their short legs, and their difficulty when it comes to climbing and jumping.
9. Brittany
The Brittany dog doesn't come in solid orange, but can be orange and white, orange roan, liver white and orange, or black white and orange! These medium sized dogs grow between 17.5 and 20 inches tall, weighing from 30 to 40 lbs. They have short coats and suit active homes.
Brittany dogs are very active. They must receive at least an hour of exercise every day, as well as training and mental stimulation, so they aren't suitable for all homes. If you're looking for a dog that will enjoy competing in canine sports like agility, rally, or field work, a Brittany could be the perfect orange dog breed for you.
10. Australian Terrier
This is one of the smaller orange dog breeds on our list. The Australian Terrier is a small dog breed, which will be between 10 and 11 inches tall as an adult, weighing between 15 and 20 lbs. They have short wiry coats that need minimal grooming. Their fur can be red, sable, sandy, and other shades of orange.
These little dogs are energetic despite their size. They form strong bonds with their owners and don't always like sharing that attention with others. So, many Australian Terriers are happiest in homes without other pets. They take well to training and can be quite vocal, taking up the role of watchdog in the home!
11. Dogue de Bordeaux
The Dogue de Bordeaux is a giant orange dog breed! It will grow to be between 23 and 27 inches tall, and will weigh over 100 lbs. Red and mahogany are the most orangey shades that this breed's fur comes in.
This breed is large, protective, and affectionate. They form strong bonds with their families but aren't suited to novice owners. These large orange dogs often fall into the role of guardian dog, so are common on ranches and farms. They must be well socialized to minimize the risk of aggression when kept as companions.
12. Greyhound
The Greyhound breed comes in red, red brindle, and red and white amongst many other non-orange shades. These dogs are speedy and athletic. As adults, they'll be between 27 and 30 inches tall, weighing from 60 to 70 lbs on average. Greyhounds can be great with other dogs and children when socialized well.
However, Greyhounds can have strong chase instincts. And, if they take off after a cat or a squirrel out on a walk, you're unlikely to catch them! So, only let them off leash in safely enclosed areas. These dogs are generally best in homes without cats or other small pets. And, they're commonly found in rescue centers.
13. Leonberger
The Leonberger dog is another of the largest orange dog breeds on this list. They have a wonderfully long and fluffy coat that comes in shades or red, reddish brown, sandy, and yellow. So, you'll find every shade of orange in this breed! They are large dogs, growing from 25.5 to 31.5 inches tall and weighing anywhere from 90 to 170 lbs.
Leonbergers are powerful, but also gentle and affectionate dogs. They need good training and socialization from a young age so they don't accidentally hurt anyone. And, not all Leonbergers will get along well with other pets and dogs. But, they are usually great with children.
14. Irish Setter
The Irish Setter comes in three shades: chestnut, mahogany, and red. So, they tend to be a lovely deep orange color. These dogs have medium length fur that is soft to the touch and requires some regular grooming. They will be between 25 and 27 inches tall, weighing from 60 to 70 lbs when fully grown.
Leonbergers are energetic, playful, and sweet tempered. They are popular family dogs, but need outlets for their energy. This breed needs time every single day dedicated to exercise and mental stimulation. Generally they get on with people, children and animals alike. But, socialize them from a young age to encourage the best temperament.
15. Rhodesian Ridgeback
The Rhodesian Ridgeback's coloring is described as wheaten. A red wheaten Ridgeback will have an orangey hue to their fur. Their coats are short and easy to maintain. This breed grows between 24 and 27 inches tall, weighing 70 to 85 lbs as an adult. These dogs have a slender but muscular physique.
Ridgebacks are affectionate and friendly towards people and children, but don't always get along with other dogs. They are energetic dogs who need mental and physical stimulation every day. They don't tend to suit apartment living. Train and socialize your Ridgeback from a young age for the best temperament possible.
Orange Dog Breeds
Have you got one of the orange dog breeds listed above? Or, are you still searching for a fiery-colored pup that will suit your home? We would love to hear about your favorite orange dogs in the comments!
Readers Also Liked
References and Resources