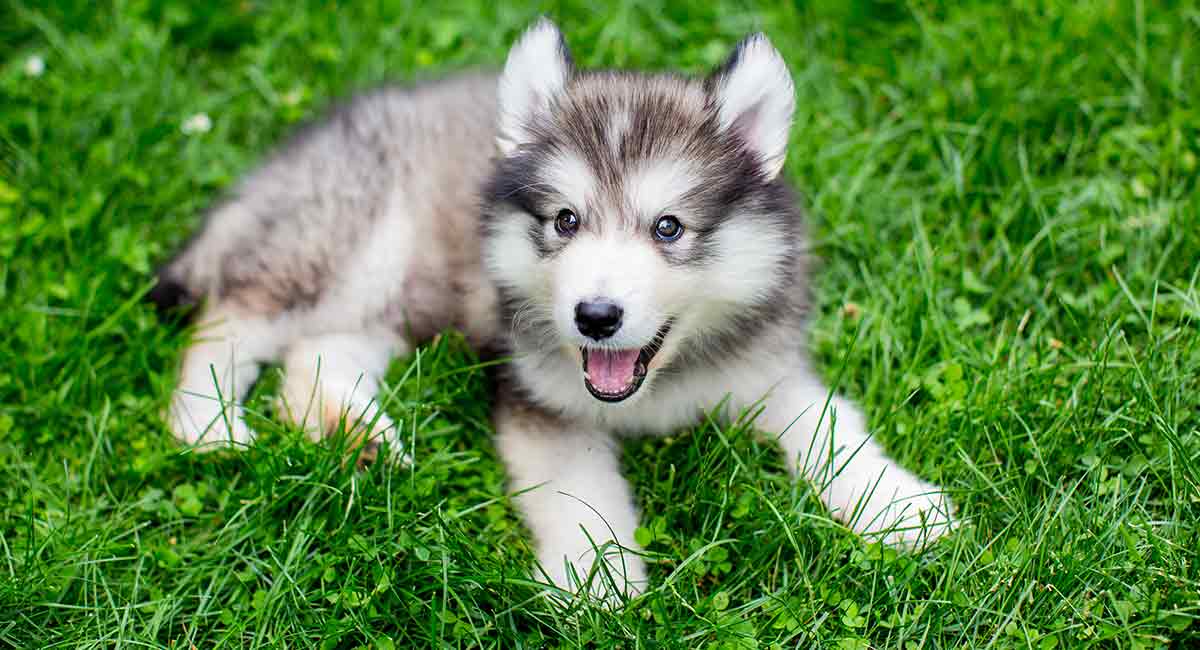 Miniature Husky dogs seem like an ideal way of turning the large, athletic, bouncy Siberian Husky into a cute apartment pet. These affectionate, loyal little lapdogs are fluffy, energetic and have a miniaturized wolf-like appearance. An adult Miniature Husky weighs up to 35lbs and stands no more than 16 inches tall in height. Considerably shorter and lighter than a standard Husky. Not to be confused with the similar Alaskan Klee Kai, Mini Huskies are bred in several different ways. Some are more healthy, and Husky-like, than others. Today we'll share their breed traits, characteristics and learn important facts about their behavior, training, exercise and health. We'll help you decide whether a Miniature Husky puppy is a good fit for your home, family, kids and lifestyle. This might be a big dog in a small package, but they need lots of focus, attention, grooming and potentially trips to the veterinarian too!
Contents
Teacup, Mini and Micro versions of full sized dog breeds are growing in popularity in recent years. Families want apartment pets or lapdogs with the look of a bigger breed. The Miniature Husky is one such shrunken dog breed. Today we'll look at whether the Mini Husky achieves it's aims, and whether it's a teacup dog that you should be considering as a first time puppy parent or new dog owner.
What is a Miniature Husky?
Mini Huskies are like regular sized Huskies, but smaller! Or at least that's the idea… The Miniature Husky will grow to 16 inches and weigh up to 35 pounds as an adult. So, their size is much smaller than the standard Siberian Husky. But, the Miniature Siberian Husky personality should be the same as a regular Siberian Husky. They are active, playful, and outgoing dogs.
Unfortunately, there are some health issues to be aware of. Especially if your Mini Husky comes from a less reputable breeder. So, let's find out a little more about this small breed. From their appearance, and care, to how they are created.
Miniature Husky History
As the Miniature Husky name suggests, this is a smaller version of the Siberian Husky. The adult Mini Husky is a much smaller dog than his standard-size counterpart. A breeder in the 1990s, Bree Normandin, developed the Miniature Husky.
Normandin's aim was to create a smaller, companion-sized version of the renowned sled dog with distinctive almond-shaped eyes. Selective breeding among small Husky breed members created the Mini Husky dog. So, to find out more about this breed's history, we need to look at the Siberian Husky in general.
Not surprisingly, the Siberian Husky originates in Siberia. These dogs are believed to have been bred for thousands of years by the Chukchi people. They can travel long distances and are recognized as the lightest and fastest sled dogs.
The Siberian Husky became famous in 1925 when team of dogs pulled a sled for over 600 miles. They were carrying medicine to an Alaskan town suffering from a diphtheria epidemic. Their popularity continues to this day. In fact, the Husky ranks 12th on the American Kennel Club's (AKC) most popular breeds list.
What do Miniature Husky dogs look like?
The Miniature Husky looks just like the standard version of the breed, but smaller! Distinguishing features include a wolf-like appearance, erect ears, and a medium-length, fluffy coat that comes in a wide range of colors. This wolf-like appearance is part of the appeal of these dogs. However, let's move on to the main difference – the size of a Miniature Husky.
Miniature Husky Size
A standard-sized adult Siberian Husky ranges in height from 21 to 23.5 inches and weighs between 35 to 60 pounds. So they're medium-sized dogs. But, a Miniature Husky is much smaller. Full grown, these dogs will stand from 12 to 16 inches.
Miniature Husky weight will vary between 15 and 35 pounds. This makes them more appealing to those who love the Husky, but perhaps don't have the room to accomodate one.
Smaller dogs are also associated with less work and expense. Which is a massive pro for many people. However, size isn't all that matters. It's important to know that this breed's temperament will suit your home.
Miniature Husky Temperament
Don't let the Mini Husky name fool you. Just like the standard version, this is a very active and athletic dog. It needs lots of daily exercise. A daily 20 minute walk around the block won't satisfy this dog.
The Miniature Husky loves to run. Without an outlet, they can become destructive by digging, chewing, and trying to escape. Although it isn't clingy, the Miniature Husky is a friendly, loyal dog who likes attention. So smaller size doesn't necessarily come with fewer responsibilities. You should also be aware of destructive behaviors.
Destructive Behaviors
If you leave your pet alone for long periods, your home may suffer some damage. Mischievous streaks are common. Mini Husky puppies in particular will be very playful.
Miniature Huskies are non-aggressive and good with children. They are rambunctious, however. So always supervise time spent with little ones. If you think this personality will suit your home, let's move on to how this miniature version of the breed is created.
How Do You Breed Miniature Husky Puppies?
There are basically three ways to miniaturize any dog breed. Let's take a look at each of these in a bit more detail to see which is best.
Miniature Husky Mixes
The first is to mix a standard breed with a smaller different breed. For example, the Mini Labradoodle is a Labrador Retriever crossed with a Miniature Poodle.
There is a debate on whether designer dogs like this are healthier than purebred dogs. However, if you choose this option, it's important to remember you can't guarantee Husky traits. Your puppy could inherit personality or physical traits from either parent breeds.
Miniature Husky Puppies With Dwarfism
The second way is to introduce the gene for dwarfism. Also known as achondroplasia. Dwarfism is a genetic mutation that can arise in any breed. However, this can bring with it certain health problems.
For instance, there is a link between the gene that causes dwarfism and intervertebral disc disease (IVDD).
Breeding Small Huskies
The final way is to repeatedly breed from the runts, or the smallest of litters. This was how the Mini Husky was created. Breeding from runts can bring similar issues to introducing dwarfism. Although some runts can grow to be healthy dogs, others can experience health issues.
They can miss out on valuable nutrients if they can't compete with sibling puppies for milk. This can weaken their immune system and leave them more prone to infections. The relatively new practice of creating miniature versions of large dog breeds is not without controversy. Let's take a look at these problems.
Miniature Husky Problems
It's trendy and popular to own smaller versions of popular breeds. But the quest to satisfy the trend has created health issues for many of these tiny dogs. People may be unaware that this practice can be harmful. Particularly in the extreme miniaturization of breeds like the Teacup Chihuahua and the Teacup Yorkie.
Studies show that breeding for extreme conformational traits has caused an increased risk of certain diseases. This includes breathing problems, ocular diseases, and dystocia. We've mentioned there is a link between the gene that causes dwarfism and intervertebral disc disease (IVDD).
This condition affects the nerves in the spinal cord, causing pain, nerve damage, and even paralysis.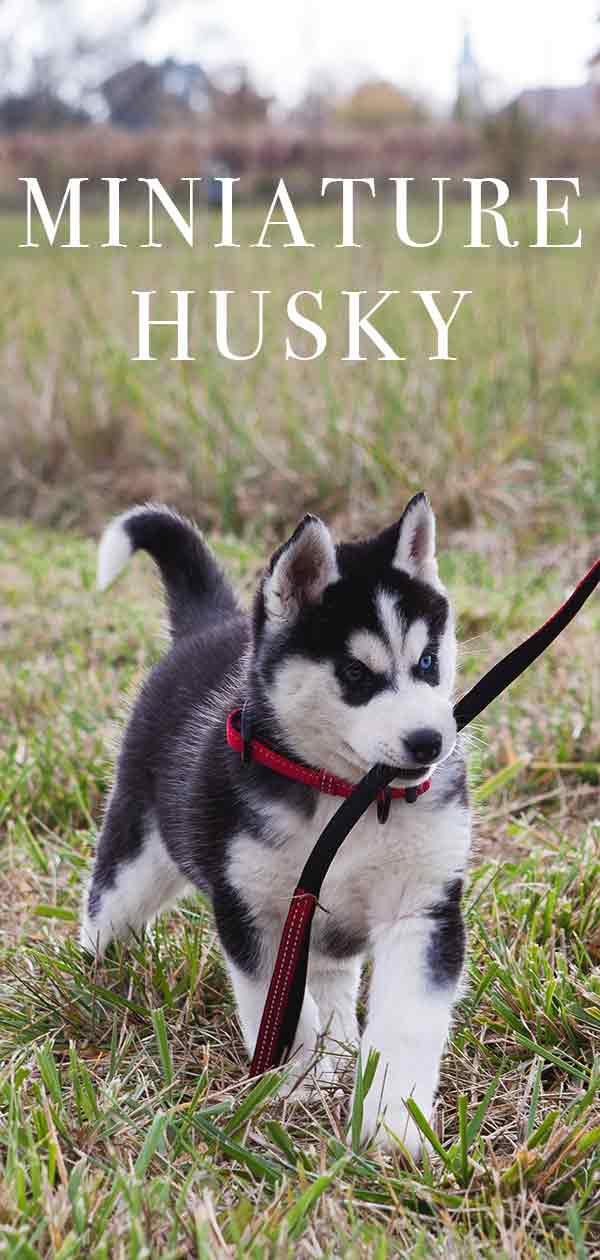 Miniature Husky Health
Like any breed, the Miniature Husky dog is prone to some genetic health problems. If small, unhealthy dogs are used for breeding, more health concerns could result. So what should you do if you want a healthy Miniature Husky?
Your best defence against this is choosing a reputable breeder. They should allow you to see the parents of the baby Mini Husky. The Siberian Husky is known to be a generally healthy breed. It has a life expectancy of 12 to 14 years. But, there are still some health concerns to be aware of.
Eye diseases and the Miniature Husky
The Mini Husky dog breed is known for their striking ice blue eyes. But sometimes they may have one blue and one brown eye. Unfortunately, a number of different eye problems are not uncommon for the Miniature Husky.
A Vogt‐Koyanagi‐Harada-like syndrome often results in blindness. It also affects the skin and coat pigmentation. Male dogs are more likely to have this disease. Corneal dystrophy is a clouding of the cornea that always affects both eyes. Plus, depending upon the severity, it can lead to blindness.
Progressive retinal atrophy is also common and can lead to blindness. Fortunately, the Optigen test will identify dogs who carry the gene.
Cataracts
Cataracts affect around 10% of all Siberian Huskies. Juvenile cataracts can affect a dog as young as three months old. The prevalence of cataracts in this breed is the subject of ongoing genetic research. But, a DNA test should soon be available to detect dogs who carry the recessive gene for cataracts.
Skin problems and the Miniature Husky
Skin problems are another concern for this breed. Huskies are at a high risk for follicular dysplasia. This is a genetic problem that causes patchy hair loss, abnormal hair growth, and scaly, infected skin.
Zinc deficiency is another skin problem that usually presents as itching and hair loss, among other symptoms. Zinc deficiency is prevalent in the breed. But is treatable with a zinc additive from your vet.
Hip dysplasia and the Miniature Husky
Hip dysplasia is not uncommon in large dog breeds. This condition is quite painful for the dog and treatment can involve costly surgery. The Siberian Husky is not as affected by hip dysplasia as some breeds. But, it can still be an issue.
Hypothyroidism and the Miniature Husky
Hypothyroidism is another common ailment for the Siberian Husky. It is related to abnormal secretion of the thyroid gland. Signs of thyroid problems include weight gain, lethargy, and patchy bald spots on their coat.
The recommendation is that all breeding Siberians be tested for thyroid disease. Hypothyroidism can develop at any time. So Mini Husky adults should be tested every two years.
Miniature Husky General Care
The Miniature Husky will need a level of general care each day. You should make sure to keep on top of the grooming needs of your mini pup. Generally Huskies need grooming at least twice a week. But for more information make sure you read our Husky grooming guide.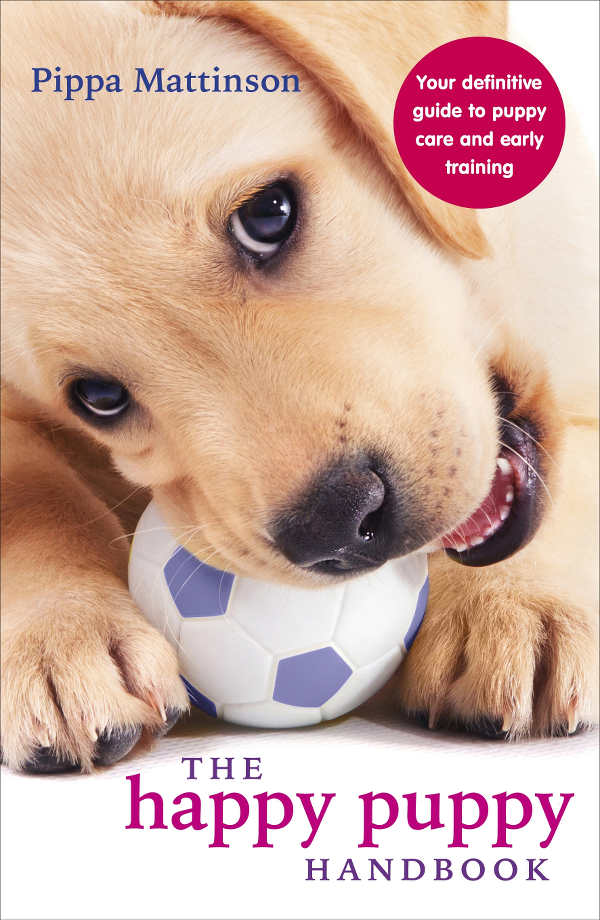 You'll need to feed your mini Husky a high quality food. Choosing the exact amount will depend entirely on the size of your mini Husky. If in doubt, your vet will give the best advice! However, be sure to avoid overfeeding your dog, as this can lead to obesity.
Finding Miniature Husky Puppies
When searching for the Mini Husky breed, you're likely to come across some breeders who are less than respectable. Deliberate breeding to create dogs that are smaller and smaller is a relatively recent development. And an extremely distressing one.
Dogs of any breed who are far under the normal weight range are in danger of serious health problems. You may see Teacup Husky puppies or Micro Miniature Husky puppies advertised. But, avoid working with those breeders.
Make sure to also avoid choosing pet stores or puppy farms. These places breed for profit with a disregard to the health and welfare of their dogs or puppies. Puppies from bad breeders are often cheaper than those from reputable ones. However they can be more costly in the long run due to their potential health issues.
Miniature Husky Breeders
A responsible breeder will be happy to show you where the dogs live and let you meet the puppy's parents. You should feel free to ask questions about breeding practices and the puppy's background.
A reputable breeder will know the health and welfare issues surrounding miniature breeds. They will not shy away from a discussion. Health tests for genetic problems are most important. The breeder should prove this.
Other Breeds to Consider
If you love the idea of having a smaller dog, there are plenty of breeds to choose from. Choosing a smaller dog or a smaller mixed breed can be a good way to avoid serious health issues. Take a look at some of the breed guides below to see if any of these dogs are better suited to your home.
Are Miniature Huskies Good Pets?
As far as the Siberian Husky Club of America Inc. and the AKC are concerned, the Miniature Husky breed is a name and nothing more. They do not recognize the Miniature Husky as a breed. Nor as a variety of Siberian Husky. The Mini Husky size is viewed as a deviation. Due to their small size, they cannot be a working sled dog as described in the standard.
They are likely to have more health problems than a standard Husky if they are bred with the dwarfism gene or from runts of the litter. If they are bred by mixing with a smaller breed you could end up with a perfectly healthy dog, provided by breeds have a good structure and health tested parents. However, they won't truly be a Miniature Husky, but instead a lovely Miniature Husky mix.
Do you have experience with small versions of this breed? Leave a comment!
Find Out More About Huskies
References