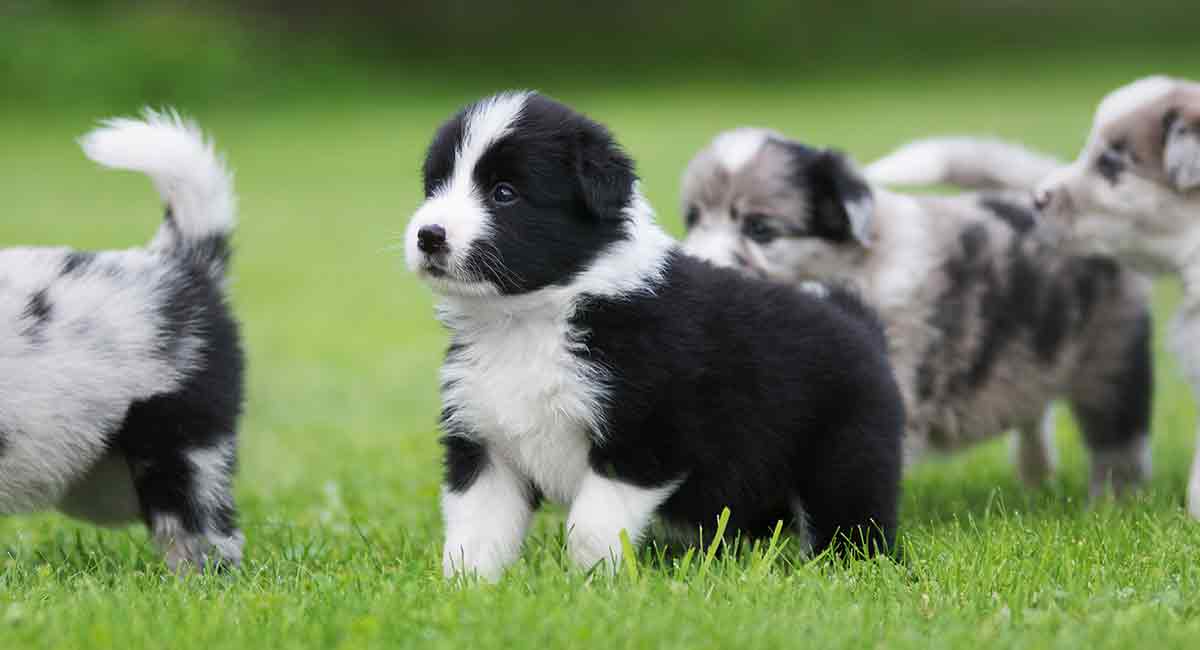 Intelligent, athletic, and trainable, the Border Collie is one amazing dog.
Born and bred to herd sheep along the Scottish borders, they're often referred to as the world's greatest herders.
A well-balanced, medium-sized dog, the Border Collie is known for having a hard, muscular, wolf-like body and head shape.
They stand from 18 to 22 inches and weigh between 30 and 55 pounds.
This breed possesses a keen, alert expression and an intense gaze, known as the Border's famous "herding eye."
The Border is also known for being a hyperactive workaholic who requires a constant influx of physical and mental stimulation.
Their coat can be smooth or rough, short or long.
He comes in a variety of colors and patterns but is most commonly found in distinctive black and white.
You might be interested in a smaller version of this handsome breed.
What Is a Miniature Border Collie?
If you find the idea of a miniature Border Collie intriguing, you're not alone.
The practice of miniaturizing popular dog breeds is definitely on the rise.
The miniature Border Collie is not an official breed.
They are merely a smaller version of a standard Border Collie.
Miniaturization can be achieved in several ways.
The problem is, whichever way is used to make a dog smaller, there are negative effects too.
The Appeal of the Miniature Border Collie
Many people want the appearance and personality of a larger dog like the Border Collie, but in a smaller package.
Since you're probably not herding sheep, you might feel that a smaller dog would be less challenging and more manageable.
They'd require less exercise, eat less food, and be less destructive.
In theory, this sounds good, but what is the reality of creating a miniature Border Collie?
Where Do Miniature Border Collies Come From?
The miniature Border Collie is produced by using one of three breeding methods.
You can mix a smaller breed with a Border Collie in the hopes of making a smaller dog.
The gene for dwarfism could be introduced.
And the final way is to repeatedly breed from very small Borders, commonly referred to as runts.
Before selecting a puppy, find out which technique was used.
Some methods will increase the risk of genetic defects and health problems.
Unfortunately all three procedures come with certain drawbacks.
Mixing With a Smaller Breed
One way to get a smaller Border Collie is to breed it with a smaller dog.
This is the healthiest and most humane way of creating a miniature Border Collie, due to something known as hybrid vigor.
This refers to the decreased chance of inherited genetic disorders when two different dog breeds are mixed.
The problem with this method is that it's also the most unpredictable in terms of outcome.
When you breed two different dogs together, there's no guarantee that the puppies will be smaller than a regular-sized Border.
In terms of appearance and temperament they could take after the other breed parent entirely.
Keeping this in mind, here are some Border Collie mixed breeds to consider.
Border Collie Pomeranian Mix
A Border Collie Pomeranian mix is the result of breeding a female Border Collie with a male Pomeranian.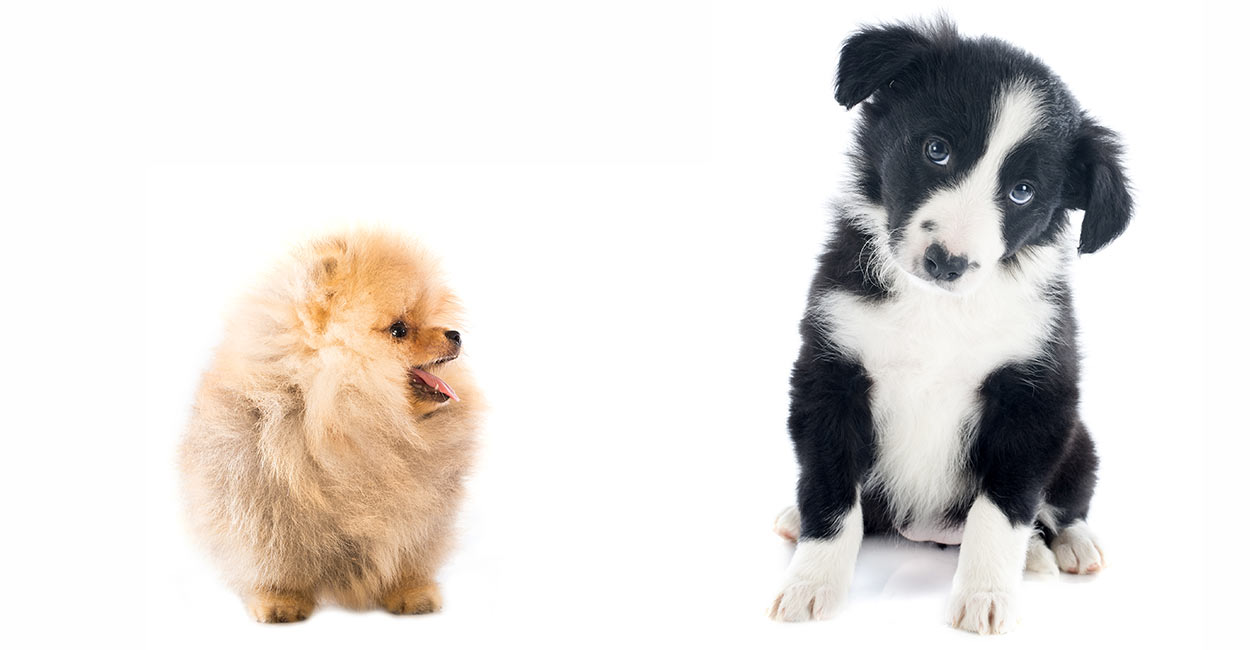 The Pomeranian is much smaller, typically standing from 6 to 7 inches and weighing from 3 to 8 pounds.
Their tiny compact frame, foxy face, and abundant orange or red coat with its frill around the chest and shoulders is a real contrast with the Border Collie's appearance.
Nevertheless, both breeds are active, intelligent, and loyal.
Border Collie Jack Russell Mix
The Border Collie Jack Russell Mix combines two intelligent, energetic breeds who need plenty of activity and attention.
The Border Jack is often smaller than a Border but larger than a Jack Russell.
Generally the body resembles the compact, rectangular frame of the Jack Russell with the black and white coloring of the Border Collie.
This crossbreed canine is sure to be loyal, playful, and fearless.
Unfortunately, the Border Collie and the Jack Russell Terrier also share some of the same health issues.
This includes, deafness and eye diseases.
Border Collie Poodle Mix
The Bordoodle or Border Doodle is a cross between a Border Collie and a Poodle.
This mix combines two of the smartest breeds in the canine world.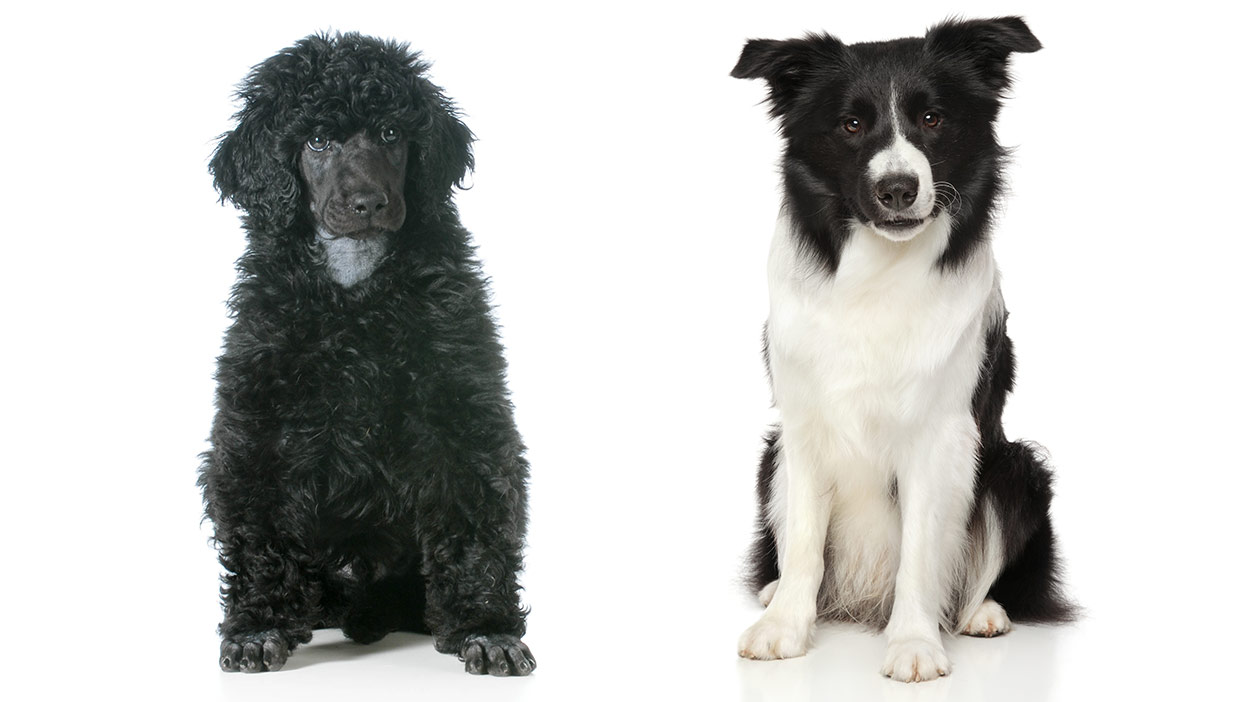 A Bordoodle's coat could be medium in length and curly or wavy in texture, with various colors and patterns possible.
A full grown Border Collie Poodle Mix will likely measure between 15 and 22 inches tall and weigh from 30 to 60 pounds.
Border Collie Sheltie Mix
The cross between a Border Collie and a Shetland Sheepdog is also known as a Border Sheepdog.
This is another herding breed but slightly smaller, measuring 13 to 16 inches and weighing 15 to 25 pounds.
Playful, bright, and energetic, the Sheltie bears a strong family resemblance to their cousin the Collie.
Since they share many characteristics with the Border, you can expect a highly intelligent, energetic dog who needs plenty of training and activity.
Like all mixed breeds, appearance can vary, but chances are they'll have a long flowing coat that could be any of multiple colors.
Introducing the Dwarfism Gene
Introducing a dwarfism gene is another way to create a miniature Border Collie.
Smaller puppies are produced when two dogs that have this gene are bred together.
Dwarfism, or chondrodysplasia, doesn't miniaturize the dog completely.
"Chondro" means relating to cartilage and "dysplasia" refers to abnormal growth or development.
Using a dwarfism gene usually creates a dog with shorter than normal legs.
This, in turn, will make him appear to have a longer body and a larger head.
Although this is a relatively easy way to get a smaller Border Collie, it does not come without health concerns.
Structural problems found in dogs with chondrodysplasia include heart abnormalities, spinal problems, decreased bone density, joint pain, and aggression.
Obesity is also a problem for these dogs.
Breeding From Runts
The term runt refers to the smallest puppy in a litter.
It doesn't mean that this dog will be sickly or won't grow at a normal rate.
Problems arise when a newborn puppy's birth weight is abnormally lower than the breed standard.
Defined this way, all the puppies from the same litter can be runts if they're all excessively underweight.
If this is the case, these dogs can be prone to a long list of health concerns.
Heart defects, hypoglycemia, respiratory problems, liver shunts, weak bones, and seizures are just some of the problems these tiny pups can face.
Breeding two Border Collie runts together will likely produce smaller than normal puppies whose appearance and personality will be true to the breed.
The problem is that breeding two unhealthy dogs is fine with some unethical breeders who are more interested in profit than the well-being of their stock.
Miniature Border Collie Health
Although the Border Collie is generally a healthy breed, with an average lifespan of 12 to 15 years, there are some health concerns associated with the breed.
Hip dysplasia is a common skeletal condition in which the hip joint doesn't develop properly.
Instead of sliding smoothly, it rubs and grinds, causing lameness and pain.
Idiopathic epilepsy can result in twitching, whole body seizures, and convulsions.
There is no apparent cause to this common hereditary disease of Border Collies.
Neuronal ceroid lipofuscinosis is an inherited condition that affects the dog's nervous system.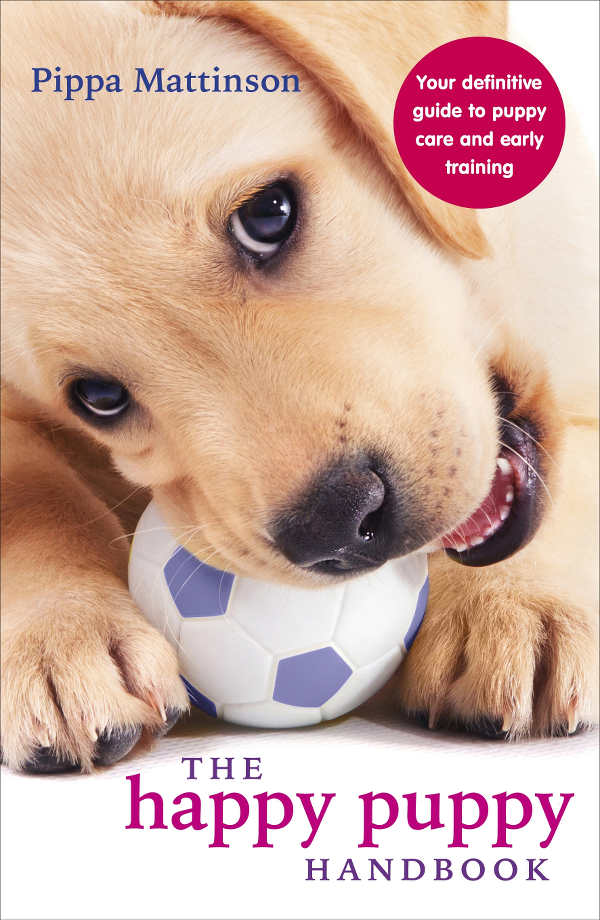 Trapped neural syndrome is a disease of the immune system which results in an inability to fight infections.
A responsible breeder will screen their breeding stock for all of the above conditions, as well as for deafness, progressive retinal atrophy, and Collie eye anomaly.
Is a Miniature Border Collie Right for Me?
If you're a couch potato looking for a pet to lie around the sofa and watch TV with you, you're looking at the wrong breed.
Just because he's smaller than the standard doesn't mean the miniature Border Collie will be less active.
This clever dog needs to have both his brain and body exercised to avoid destructive behavior.
If you have young children, the miniature Border might see them as a small animal that needs to be herded.
Unless you are prepared to teach both your child and puppy appropriate behavior from an early age, the mini Border is not the ideal choice of pet.
The ideal home for a miniature Border Collie is one with an active, experienced, and engaged owner.
Finding a Miniature Border Collie
If you've decided on a miniature Border Collie, look for crossbreeds that make a smaller dog.
This is the healthiest option.
Always ask to see where the puppies live.
Likewise, check out the parents and siblings.
The breeder should be able to provide health testing for genetic health conditions associated with Border Collies.
If you're having trouble finding a puppy, check your local rescues.
They have many dogs in all shapes and sizes.
Adopting also gives you the advantage of seeing exactly what type of dog you're getting.
References and Resources
The Institute of Canine Biology
Comito, B., et al, "Congenital deafness in Jack Russell terriers: prevalence and association with phenotype," The Veterinary Journal, 2012
Mellersh, CS, "The genetics of eye disorders in the dog," US National Library of Medicine
National Institutes of Health, 2014
Parker, HG, et al., "An Expressed Fgf4 Retrogene Is Associated with Breed-Defining Chondrodysplasia in Domestic Dogs," Science, Vol. 325, Issue 5943, 2009
Alves, L., et al., "Polymorphisms in the ABCB1 Gene in Phenobarbital Responsive and Resistant Idiopathic Epileptic Border Collies," Journal of Veterinary Internal Medicine, 2011
Kishimoto, M., et al., "Quantitative Evaluation of Hip Joint Laxity in 22 Border Collies Using Computed Tomography," Journal of Veterinary Medical Science, 2009
Mizukami , K., et al., "Neuronal Ceroid Lipofuscinosis in Border Collie Dogs in Japan: Clinical and Molecular Epidemiological Study (2000–2011)," ScientificWorldJournal, 2012
Mizukami , K., et al., "Trapped neutrophil syndrome in a Border Collie dog: clinical, clinico-pathologic, and molecular findings," Journal of Veterinary Medical Science, 2012