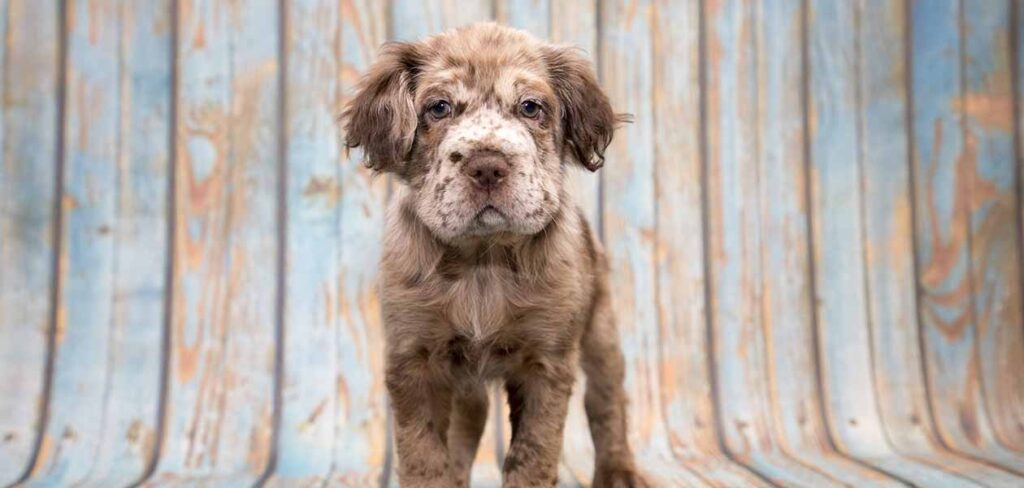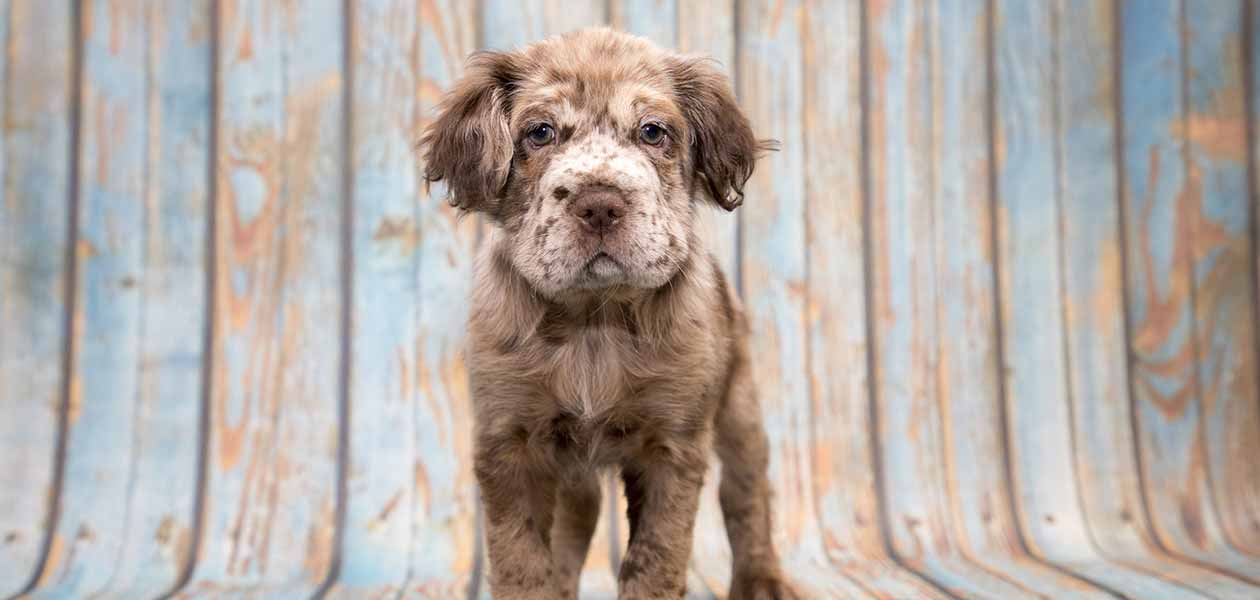 The mini Hippo dog is a mix between the Shar Pei breed and the Cocker Spaniel breed. This mix is also often known as a Cocker Pei.
Mini Hippo dogs usually grow to be between 13 and 20 inches tall. But, there will be variation depending on the parent breeds.
Mixed breeds like the Cocker Pei can take after either of their parent breeds. So, you should look at both parents to see how your puppy could turn out.
Let's get started.
What's In This Guide
Mini Hippo Dog FAQs
Check out our readers' most popular and frequently asked questions about the mini Hippo dog breed.
Let's start things off with some quick stats about this hybrid.
Miniature Hippo: Breed At A Glance
Popularity: Growing quickly!
Purpose: Companion
Weight: 20 – 60 pounds
Temperament: Loyal, active, intelligent.
Do you think this interesting mix is right for you?
Breed Review: Contents
First things first, where does this mixed breed come from?
History and Original Purpose
Mixed breed dogs like the mini Hippo dog are quite a modern trend. They are known as 'designer breeds' that try to achieve a favorable blend of the parents' characteristics.
And it's quite a controversial topic! You can read more about the purebred vs mixed breeds debate here.
As for the mini Hippo, because this mix is quite a recent creation, to get a better idea of its history we need to take a look at the parents.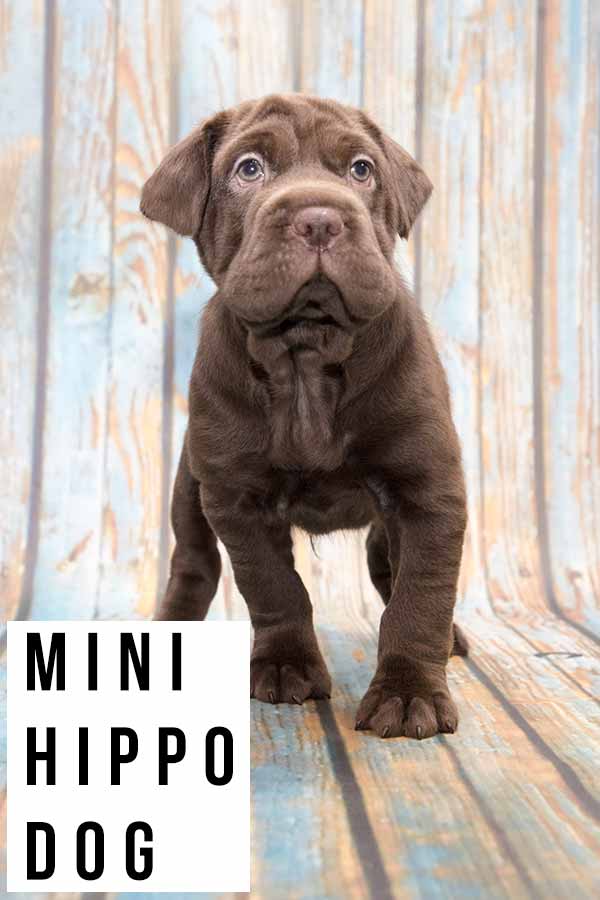 Shar Pei
The Shar Pei parent has a complex history that you can read more about in our complete guide to this breed.
But, as a brief overview, these dogs originated in China. They almost became extinct throughout the 20th Century, but were popularized again by a man named Matgo Law.
One of the original purposes of this breed was as a fighting dog. Many think that its loose, wrinkled skin aided this.
When another animal bit its fur, the Shar Pei could still move easily to continue its fight.
And although its purpose has changed to now become a popular family pet, the Shar Pei wrinkles have been further exaggerated by breeders. We will cover this appearance more later.
Cocker Spaniel
Most Cocker fans know that there are a few different versions of this breed. We will focus on the American Cocker Spaniel in this guide. But remember, your Cocker Pei may differ if you use an English Cocker, or whether you choose a working or show variety.
Both the English and American Cocker Spaniel shared the same history until the 20th Century.
This breed descends from bird hunting dogs, but became a very popular family dog.
Especially after Disney's Lady and the Tramp came onto the big screen.
Now, let's move on to some fun facts about this mixed breed.
Fun Facts About the Mini Hippo Dog
As we know, the mini Hippo dog is a mixed breed. This means it can inherit any blend of characteristics from either parent breed.
So, mini Hippo dogs can vary hugely from one puppy to the next! Even within the same litter.
While one mini Hippo may have the shorter coat and wrinkled skin of the Shar Pei, his sibling may have the long silky curls of the Cocker!
They get their name 'mini Hippo' from the large heads and square muzzles that the puppies often inherit.
Mini Hippo Dog Appearance
Now we know where this hybrid comes from, what does the miniature Hippo look like?
It's important to note here that there will be some variation between all mini Hippo puppies. It's impossible to predict what blend of traits they will inherit from their parents.
You might not be able to tell what your puppy will look like until they arrive.
The best way to predict how a puppy might look is to examine his parents. But, for now, let's find out a general idea of what you can expect.
Mini Hippo Height and Weight
Miniature Hippo dogs generally grow anywhere from 13 to 20 inches tall when fully grown.
Their weight can vary from as low as 20 pounds to as high as 60 pounds.
American Cocker Spaniels are smaller than their English counterparts. So, you are likely to get a smaller hybrid by using this type of Cocker.
Take a look at your puppy's parents for an idea of your pup's adult size. It will usually fall somewhere in between his parents.
General Appearance
Both parent breeds have some notable characteristics that your Cocker Pei could inherit.
Shar Pei dogs have large heads and muzzles, and their distinctive wrinkled fur can be inherited by mixed puppies. They have small, folded ears and a curled tail.
Cocker Spaniels have long floppy ears and a long tail. Their fur is longer than the Shar Peis, and often soft and wavy, as opposed to short and dense.
Coat Type
Let's focus on the coat of the mini Hippo dog a little more. Like every other characteristic, your puppy's coat can vary depending on what type he inherits.
Some mini Hippos will have wavy, flowing coats that feel soft to the touch. This is known as the bear coat.
Other Cocker Peis will have a short, dense coat that feels rough to the touch. This is known as the horse coat.
And finally, your pup might have a coat that falls somewhere in between the two. Their coat may be short, but soft to the touch and less dense than a horse coat.
This last type of coat is called a brush coat.
These coat types are shared by the Shar Pei parent. But, you may also see the beautiful soft waves of the Cocker Spaniel.
Coat Colors
Mini Hippo dogs can come in a large color spectrum. This includes:
Red
Black
Cream
Tan
Brown
Blue
Silver
And even tri-color!
Mini Hippo Temperament
Appearance isn't the only thing that can vary between puppies. Temperament can too!
Generally, Cocker Peis will be loyal, protective, and intelligent.
When properly trained and socialized this mix is likely to be friendly and affectionate.
But, they may be challenging for first time owners. The Cocker parent is usually known for being friendly, social, and easy-going, but the Shar Pei parent can be very protective.
In fact, one study found that veterinarians classed the Shar Pei breed as 'very aggressive'.
Whereas, another study found the English Cocker Spaniel to display a "particularly high risk for aggression". So, bear in mind which type of Cocker is used in your mix, and consider whether you have time to properly socialize this mix.
Importance of Socialization
We must stress the importance of socialization in these puppies. It's important for every breed, but especially those that have the tendency to guard or show aggression.
Your mini Hippo dog may take more after either parent. So, one may behave exactly like a Shar Pei, while another is just like a Cocker.
Train and socialize your miniature Hippo from the time they're a puppy to give them the best possible temperament.
Training and Exercising your Mini Hippo Dog
Training shouldn't be too hard with this mixed breed. The American Cocker Spaniel parent is very eager to please and loves learning new things with its families.
And the Shar Pei parent is very clean. In fact, they have even been known to potty train themselves!
Make sure to stick to consistent, short and exciting training sessions, using a positive reward method for best results.
Training can provide some exercise, but you need to make sure the mini Hippo dog gets the opportunity to stretch his legs every day.
Going for regular walks, and playing fun games where he can run in a safe enclosed area is a great idea.
Mini Hippo Dog Health and Care
As a mixed breed, the miniature Hippo dog can be vulnerable to any of the health issues that affects the parent breeds.
So, let's take a look at what it could be at risk of.
American Cocker Spaniel Parent
The American Cocker Spaniel parent is prone to the following health issues:
Eye disorders: Progressive Retinal Atrophy, ectropion, cherry eye
Heart issues: Cardiomyopathy, congestive heart failure
Canine hip dysplasia
Urinary stones
Otitis Externa (inflammation of the ear)
Hypothyroidism
Liver disease
And more. You can read about American Cocker Spaniel health problems in more detail here.
Shar Pei Parent
Shar Pei dogs are prone to the following health issues:
Hip and elbow dysplasia
Shar Pei fever (can lead to amyloidosis)
Eye problems: Cherry eye, entropion, chemosis
Demodectic mange
Sores, mold, and irritation caused by excessive wrinkles
Excessive wax and ear infections
Brachycephalic breathing problems due to squashed nose
Blood clotting
Bone inflammation
Arthritis
Cancer
Read more about the health problems that affect this dog in our full guide to the breed.
Finding a Healthy Mix
Not every mini Hippo puppy will be affected by all of these health issues.
Choose reputable breeders that health test their dogs for the best chance at getting a healthy puppy.
You can also increase your dog's odds by offering him the best care possible. This includes ensuring he stays a healthy weight, and doesn't over-exercise as a puppy.
Grooming
Another important care aspect is grooming. This will depend partly on the coat that your mini Hippo dog inherits.
The American Cocker will shed moderately, whereas Shar Peis will shed seasonally. So, this may not be the best breed for people with allergies.
The amount your mini Hippo sheds will depend on his coat type. So, some will need grooming more intensely than others.
But all types should have their ears checked regularly for any inflammation or waxy build ups.
Make sure you also trim their nails regularly.
Do Mini Hippo Dogs Make Good Family Pets?
As long as they are socialized and trained from an early age, the mini Hippo can make a great family pet.
However, their temperament and looks can be very hard to predict.
This breed will best suit a family that have lots of time to devote to training, socialization, exercise and care.
There are quite a few health problems that this mixed breed may be prone to. So, you might decide that you would rather rescue a Cocker Pei.
Let's find out more about this option.
Rescuing a Mini Hippo Dog
Rescuing a dog can be a really rewarding experience. Many dogs are given up for reasons out of their control, so not all rescue dogs will have challenging temperaments or destructive, aggressive habits.
But, some may. So, you need to spend time getting to know a rescue dog, and ask lots of questions to make sure it is suitable for your home.
Especially with a mixed breed like this that could be very protective.
Rescuing a dog is often much cheaper than buying a puppy. Although rescue dogs are often older, this means your pup is more likely to arrive home with some good habits, like already being potty trained!
And, rescue centers will be able to tell you a lot about the dog's personality.
We will look at some rescue centers at the end of this guide.
Finding a Mini Hippo Puppy
Designer breeds are becoming more popular as time goes on, but the mini Hippo dog is still a less known mix.
This means you might need to do some searching and waiting in order to get your puppy from a reputable breeder.
This wait will be worth it to get the healthiest puppy possible! Make sure to ask breeders lots of questions.
Don't be tempted by cheaper puppies at puppy mills or pet stores. They are often bred to meet demand for certain 'crazes' and make a quick profit with little regard for the dogs' or puppies' health.
Choosing a reputable breeder may be a bigger upfront cost, but will save you time and money in the long run.
Designer puppies like the mini Hippo dog will often cost over $1000 from a reputable breeder.
Our puppy guide can help you find a breeder.
Raising a Mini Hippo Puppy
Caring for a vulnerable Cocker Pei puppy is a big responsibility.
There are some great guides to help you with all aspects of puppy care and training. You'll find them listed on our puppy care page.
Check out our online training courses for more help with every part of puppy parenting.
Mini Hippo Dog Products and Accessories
Puppies need a surprising amount of stuff and preparation! So take a look at the following guides for more help choosing the best quality products.
We've taken in a lot of information. So, let's recap.
Pros And Cons of Getting A Mini Hippo Dog
Remember to weigh up the pros and cons of this breed before you decide to bring one home.
Cons
Could show aggression if not socialized properly
Unpredictable appearance and temperament
Needs a lot of exercise
Prone to a lot of health issues
Pros
Usually has a lovely temperament
Doesn't require too much grooming
Is relatively easy to train
Has lots of variety in appearance
Remember, the characteristics of your mini Hippo dog will depend on the type of Cocker Spaniel you use.
Comparing Types of Cocker Spaniel
There will be some differences in Mini Hippo dogs that have different types of Cocker Spaniel parent.
The English Cocker is a larger dog with a longer head.
The American Cocker has been bred to be a family dog, so its temperament is more likely to be relaxed, friendly and affectionate. English Cockers are more energetic, and can have a high prey drive, which can be passed on to your Cocker Pei.
If you have other small pets, or very young children at home, a Cocker Pei with an American Cocker Spaniel parent will be better.
Read more about the differences between these two varieties of Cocker here.
Similar Breeds
If you aren't sure that the mini Hippo dog is right for your family, here are some links to similar breeds that could be better.
Below are some rescue centers for this hybrid.
Mini Hippo Breed Rescues
As this mixed breed is less well known, there may not yet be any specific breed rescues. So take a look at rescue centers for the parent breeds.
They will often also take in mixed breeds.
America
UK
Do You Have a Mini Hippo Dog?
If you have this uncommon mixed breed, we would love to hear about your experiences!
What's your favorite thing about the Cocker Pei?
References And Resources