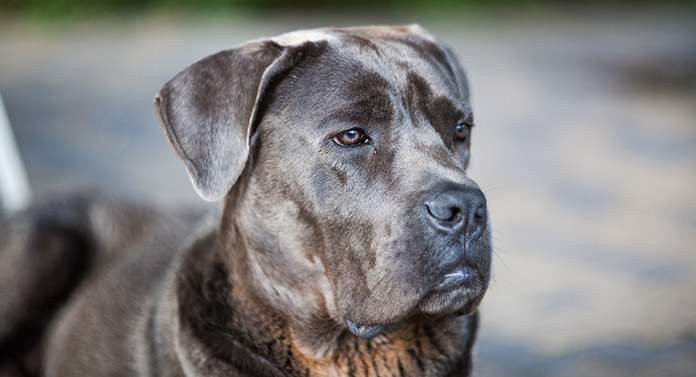 The Mastiff Lab mix has one Labrador Retriever parent and another English Mastiff parent. These are huge dogs even as puppies, that can grow anywhere upwards of 50lbs into adulthood. They have broad heads, barrel chests and a long relatively straight, thick tail. Their colors vary a lot, but they all have thick double coats that need plenty of grooming to prevent your house becoming inundated with shed fur! They are intelligent dogs that learn quickly with positive reinforcement training and form strong bonds with their families. Their size and watchdog tendencies mean they are usually a better fit for kid free homes, but they can get along well with children if well trained and socialized from puppyhood.
Contents
History and Original Purpose
The Mastiff Lab mix comes from two rather different parents. So, to really understand his background, we need to look at their two separate histories.
Records of the English Mastiff date back to 55 BC, to Julias Caesar's invasion of England. It is likely that Mastiffs were originally bred to fight lions and other large animals in the gladiatorial arenas. But, they were later used as both war dogs and hunting dogs.
The modern mastiff was not systematically bred until the 19th century when J.R. Thompson began producing them. He purchased some Mastiff-type dogs from various sources and eventually created the breed we know today.
The Lab got its start quite differently. This breed originated on an island in Newfoundland, which is now part of Canada. Labrador Retriever ancestors worked alongside fishermen to retrieve in the water.
The Lab's purpose soon changed to retrieve game on land. But, today, these dogs have a more general working ability, and are most popular as a family pet and companion.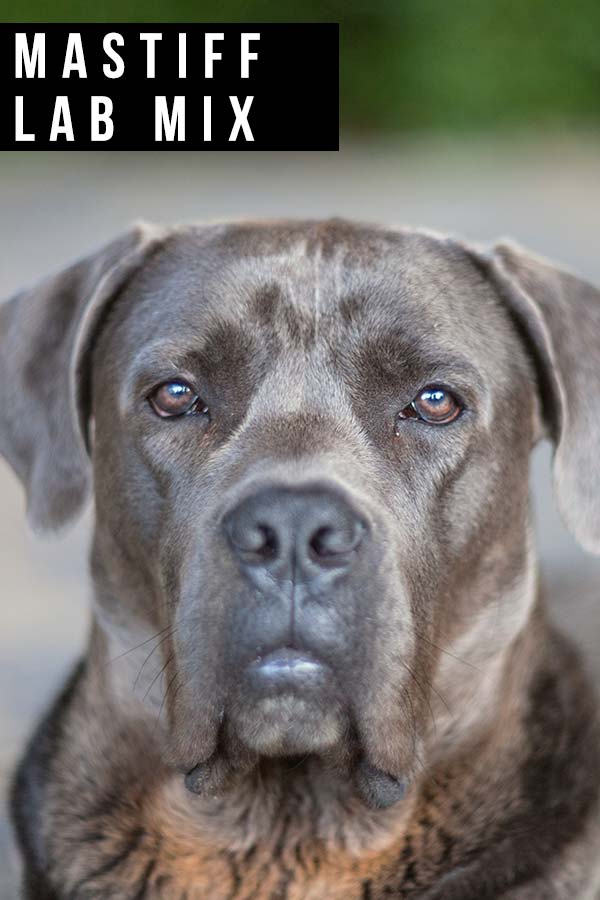 Mastiff Lab Mix Appearance
A Mastiff lab mix could be about the size of a Labrador, or it could be incredibly large. Mastiffs don't technically have a maximum size. If the mixed dog's Mastiff parent is huge, they could be too. But, if the Mastiff parent is smaller, they will likely be smaller as well.
The range spans from 50 pounds, to as big as 130 pounds. We recommend checking on the weight and height of the mix's parents for a better idea of what they could grow into.
Coat and Colors
Mastadors all have double coats, but the colors can vary a lot. To get a better idea of how your puppy will look, examine the specific parents. If you're looking for a specific color or pattern, you may need to wait until the puppies arrive to choose. Or, you can try to find an older Mastiff Lab mix.
By choosing a black Lab Mastiff mix, you're likely to get the popular solid black coat. However, Labradors come in three colors – black, yellow, and chocolate. Including diluted versions of these shades.
Mastiffs come in apricot, fawn, or brindle, with black face markings. So, there is a risk that your black Lab Mastiff mix could inherit any combination of the parents markings, including patches of brindle or lighter coloring.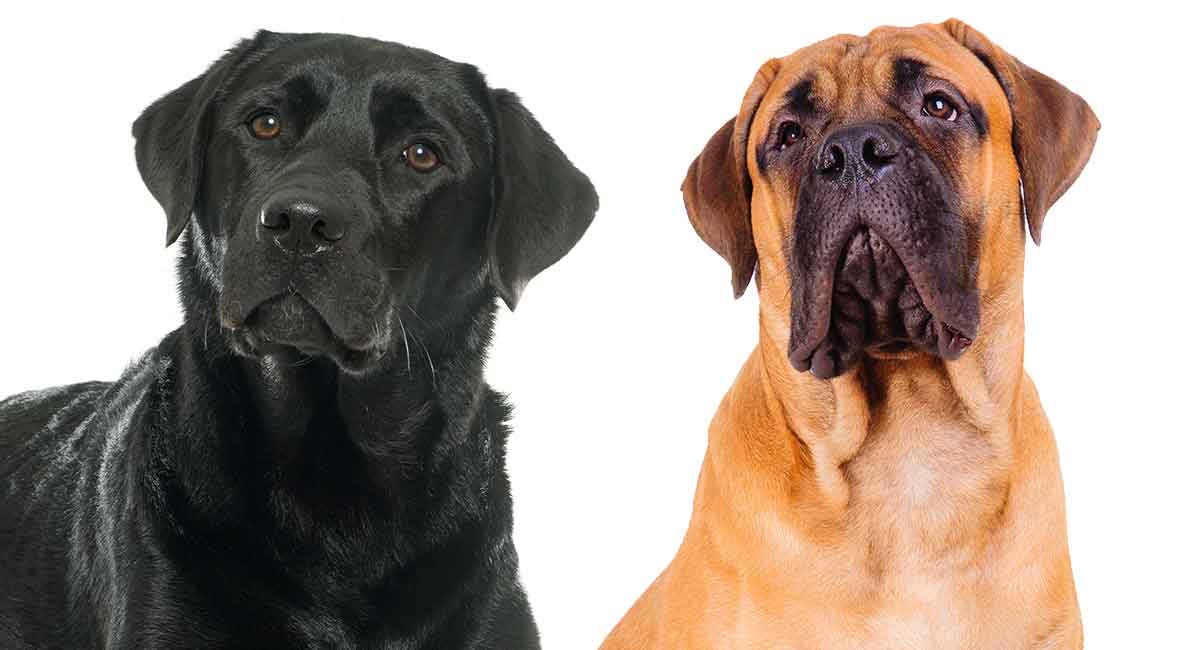 Mastiff Lab Mix Temperament
Both the Mastiff and Labrador are pretty laid-back breeds. They are known for their friendly, unassuming nature. Neither canine has a particularly strong prey drive.
The Labrador does like to chase things, but their soft bite prevents this from becoming a massive problem in most cases. Because the Mastiff Lab mix is a mixed breed, they can inherit their demeanor from either of their parents.
Your mixed breed puppy will likely be affectionate and loyal. They are usually great with other pets and small children. But, despite this gentle nature, their large size can be problematic with small children and pets.
Obedience Training
It is imperative that you begin training your Mastiff Lab mix as soon as you get them home. These dogs can grow into gigantic creatures who often don't know their strength.
Even though they might not mean to, it is very easy for them to injure someone by pulling on the lease suddenly or jumping up in greeting.
Luckily, both parent breeds are eager to please and often easy to train. We recommend keeping training sessions short and sweet, especially if your dog appears to take after the Mastiff. Due to their large size, they can tire from excessive training easily.
We also do not recommend encouraging your Mastiff Lab mix to run excessively, go on long walks, or jump until they are about three or so.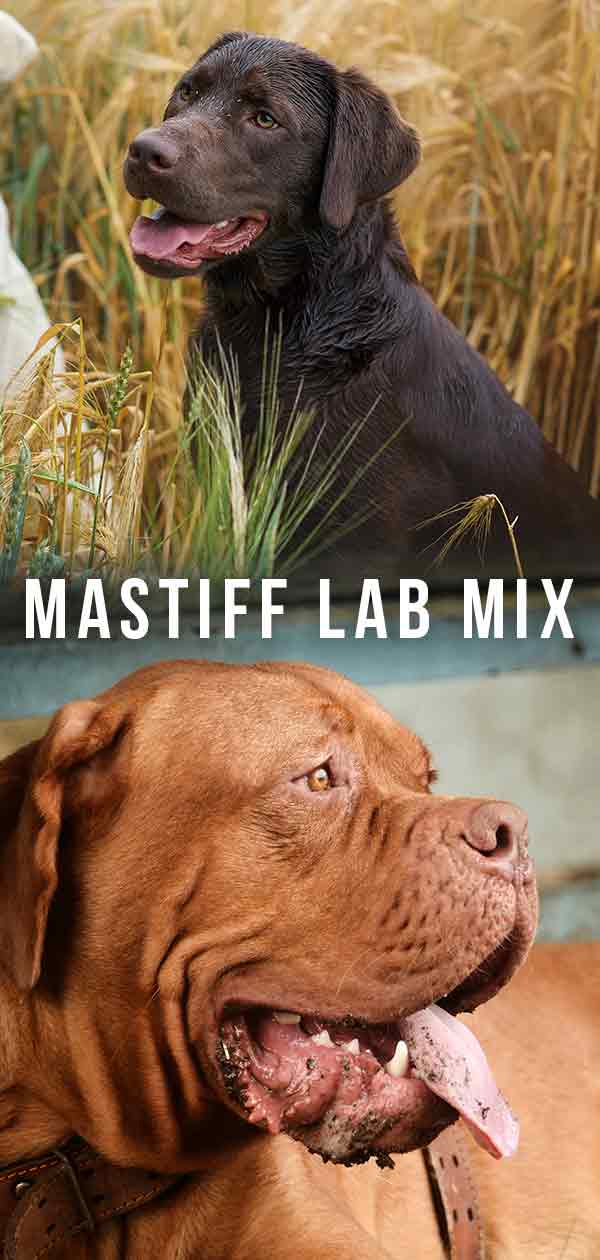 Socialization
Socialization is vital to get the best personality from your Mastador mix. This process involves introducing your puppy to as many new people, animals, experiences, and things as possible before they're 12 weeks old. And, making sure all of their experiences are happy ones.
Proper socialization is important when you're considering a large mixed breed like this.
Mastiff and Labrador Health
Like all dogs, the Mastiff Lab mix is prone to a few health problems.
Mastiffs are prone to bone cancer and are also likely to damage their growth plates. Other problems that can affect them include Progressive Retinal Atrophy (PRA), Canine Multifocal Retinopathy and heart problems, like Mitral Valve Dysplasia.
Labradors also potentially inherit the eye disease PRA, along with hip and elbow dysplasia. They are also more the averagely likely to be overweight and suffer from bloat.
However despite these problems, both of these dog breeds are generally healthy. Especially if you go to a breeder that health screens their potential puppy parents for conditions common to their breed.
Mastiff Lab Mix Puppies
Mixed breeds have picked up in popularity over the years. But it can still be somewhat challenging to find a breeder that specializes in a particular mixed breed puppy. While it might be tempting to purchase your puppy from a pet store or breeder, these dogs are almost never ethically bred and are prone to health problems.
We recommend taking the extra time to search for a breeder instead. Choose one that socializes their puppies, and only uses parents which are PRA clear, and have good hip and elbow scores.