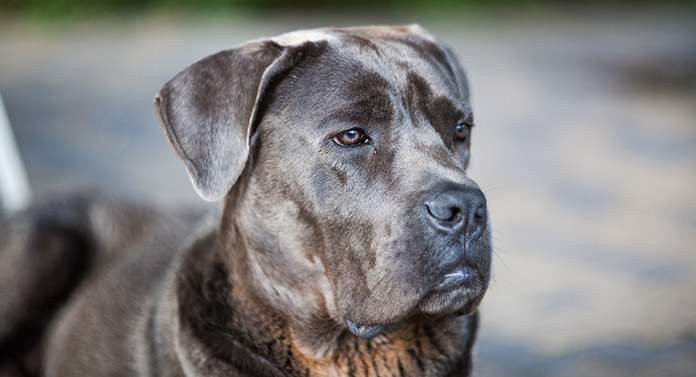 The Mastiff Lab mix is a cross between the large Mastiff and the popular Labrador Retriever.
Most often, this mix results in a large adult dog that can weigh anywhere upwards of 50 pounds.
The Mastador is usually friendly, laid-back, and gentle. But, these dogs need lots of socialization and training to encourage the best personality.
Read on to find out if the Mastiff and Lab mix is right for your family.
What's In This Guide
Mastiff and Lab Mix FAQs
Take a look at some of the most popular questions about the Mastiff Lab mix below.
What can you expect from the English Mastiff Lab mix?
Mastador: Breed At A Glance
Popularity: On the rise!
Purpose: Family companion
Weight: 55 to 130 pounds
Temperament: Gentle, friendly, loyal
Mixed breeds are only getting more popular. But, the Mastiff Lab mix isn't well known yet.
Mastiff Lab Mix Breed Review: Contents
So where do these large dogs come from?
History and Original Purpose
There is some controversy surrounding the mixed breeding of dogs. Some people claim that it is important to keep dogs pure.
After all, purebred dogs are more predictable than mixed breeds.
However, mixed breed dogs benefit from a larger gene pool. This genetic diversity is called hybrid vigor and is known to exist among a number of species.
Simply put, the more genetic diverse an animal is, the less likely it is to inherit genetic disorders.
This makes Mastiff Lab mixes healthier than their parents in most cases, especially when the proper health tests are utilized. But back to the history of the mix.
The Mastiff Lab mix comes from two rather different parents. So, to really understand his background, we need to look at their two separate histories.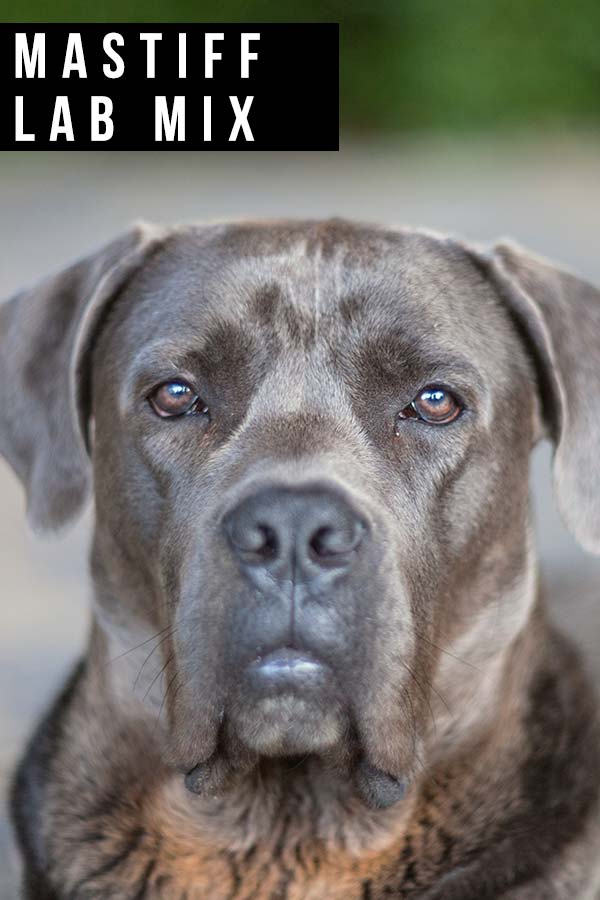 Mastiff History
There are a number of Mastiff breeds, but the Mastador most often uses the English Mastiff.
The Mastiff family of dogs have a long history. In fact, they are thought to have existed as early as the 6th century BC.
Records of the English Mastiff in particular date back to 55 BC, to Julias Caesar's invasion of England.
It is likely that Mastiffs were originally bred to fight lions and other large animals in the gladiatorial arenas. But, they were later used as both war dogs and hunting dogs.
The modern mastiff was not systematically bred until the 19th century when J.R. Thompson began producing them.
He purchased some Mastiff-type dogs from various sources and eventually created the breed we know today.
Labrador History
The Lab got its start quite differently. This breed originated on an island in Newfoundland, which is now part of Canada.
Labrador Retriever ancestors worked alongside fishermen to retrieve in the water.
English aristocrats brought these dogs across to England and worked to standardise the Labrador breed.
The Lab's purpose soon changed to retrieve game on land.
But, today, these dogs have a more general working ability, and are most popular as a family pet and companion.
Fun Facts About Mastadors
As the Mastiff Lab mix is such a new breed, there are very few established facts about them.
But, we can look to the parents to learn some interesting facts! Here are our favorites:
Currently, a Mastiff holds the record as the largest dog in the world.
There is no maximum height for the Mastiff according to the American Kennel Club.
The Lab is the most popular dog breed in the United States and has been for 26 years.
Labradors are great swimmers, thanks to their water resistant coat, webbed toes, and origins working alongside fishermen!
Do you know any other fun facts we could add to our list?
Mastiff Lab Mix Appearance
Like all mixed breed dogs, you never really know what a mastiff lab mix is going to look like.
They could look very similar to a lab, very similar to a Mastiff, or fall somewhere in between.
It just depends on what traits that particular dog inherits from what parents.
So, you should make sure you're happy with any blend of traits.
Mastador Size
A Mastiff lab mix could be about the size of a Labrador, or it could be incredibly large.
The size of the Mastiff plays a huge role here. Mastiffs don't technically have a maximum size.
If the mixed dog's Mastiff parent is huge, they could be too. But, if the Mastiff parent is smaller, they will likely be smaller as well.
The range spans from 50 pounds, to as big as 130 pounds.
We recommend checking on the weight and height of the mix's parents for a better idea of what they could grow into.
Either way though, be prepared for a big, bulky dog.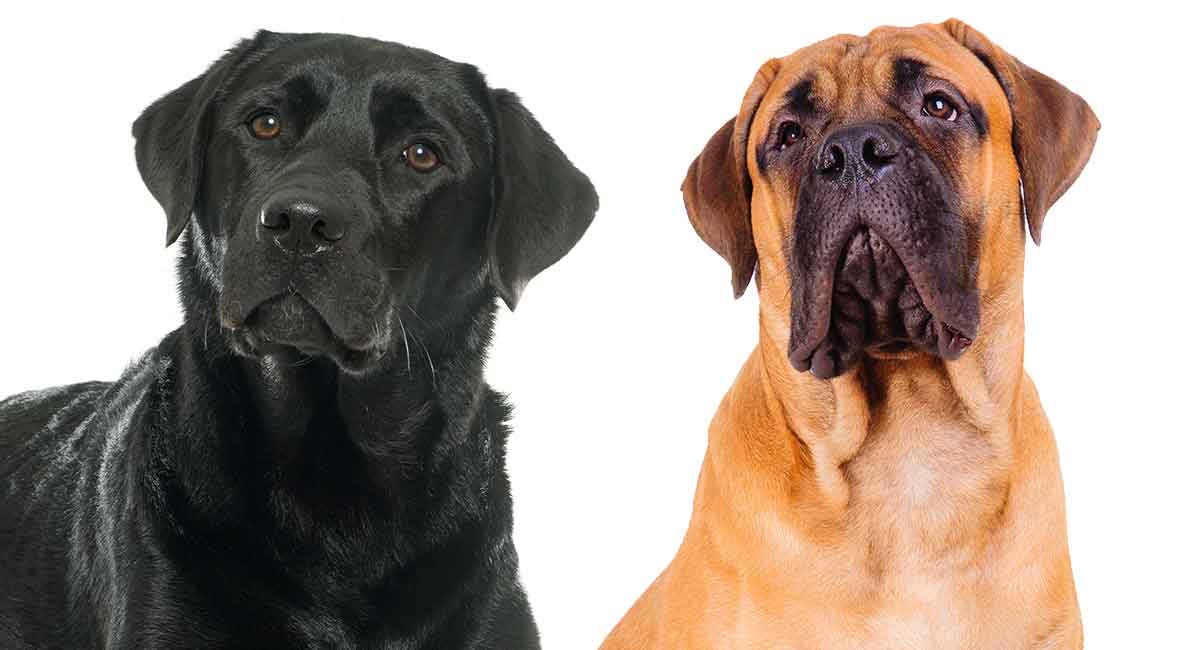 Mastador Coat and Colors
Just like their size, the coat and colors of a Mastiff Lab mix will depend entirely on the genes your puppy inherits.
However, both parent breeds have a short, double coat. So, you can expect this in your puppy.
To get a better idea of how your puppy will look, examine the specific parents.
If you're looking for a specific color or pattern, you may need to wait until the puppies arrive to choose.
Or, you can try to find an older Mastiff Lab mix.
Black Lab Mastiff Mix
By choosing a black Lab Mastiff mix, you're likely to get the popular solid black coat.
However, Labradors come in three colors – black, yellow, and chocolate. Including diluted versions of these shades.
Mastiffs come in apricot, fawn, or brindle, with black face markings.
So, there is a risk that your black Lab Mastiff mix could inherit any combination of the parents markings, including patches of brindle or lighter coloring.
Mastiff Lab Mix Temperament
Both the Mastiff and Labrador are pretty laid-back breeds. They are known for their friendly, unassuming nature. Neither canine has a particularly strong prey drive.
The Labrador does like to chase things, but their "soft bite" prevents this from becoming a massive problem in most cases.
Because the Mastiff Lab mix is a mixed breed, they can inherit their demeanor from either of their parents.
Their temperament will be unknown until they reach adulthood. Because of this, training and socialization are essential.
Your mixed breed puppy will likely be affectionate and loyal. They are usually great with other pets and small children.
But, despite this gentle nature, their large size can be problematic with small children and pets.
This is yet another reason they must be trained and socialized well from a very young age.
Training and Exercising your Mastador
It is imperative that you begin training your Mastiff Lab mix as soon as you get them home.
These dogs can grow into gigantic creatures who often don't know their strength.
Even though they might not mean to, it is very easy for them to injure someone by pulling on the lease suddenly or jumping up in greeting.
Luckily, both parent breeds are eager to please and often easy to train.
We recommend keeping training sessions short and sweet, especially if your dog appears to take after the Mastiff.
Due to their large size, they can tire from excessive training easily.
Don't Over-Exercise
We also do not recommend encouraging your Mastiff Lab mix to run excessively, go on long walks, or jump until they are about three or so.
The Mastiff has a unique developmental pattern due to their huge size.
It is very easy for their growth plates to become injured due to excessive exercise.
Labrador parents are also prone to joint problems which can be made worse by too much exercise before they're physically mature.
This does not mean that you should keep your pooch locked up, though. Socialization is crucial for all dogs. Just avoid long romps at the dog park.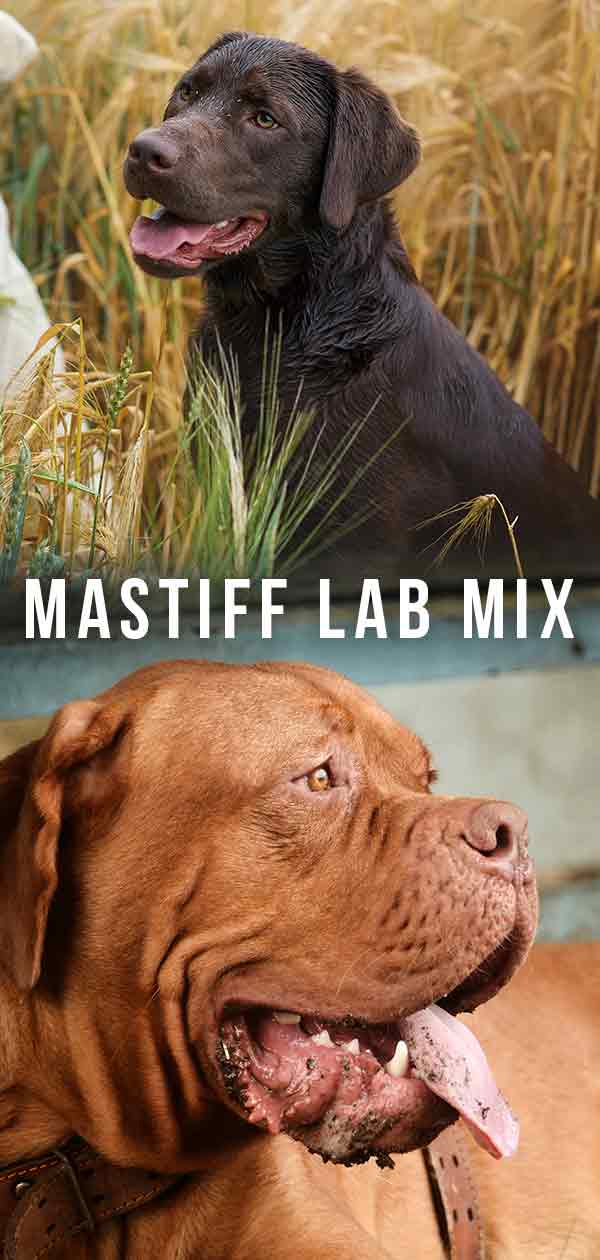 Socialization
Socialization is vital to get the best personality from your Mastador mix.
This process involves introducing your puppy to as many new people, animals, experiences, and things as possible before they're 12 weeks old.
And, making sure all of their experiences are happy ones.
Proper socialization is important when you're considering a large mixed breed like this.
Mastiff Lab Mix Health and Care
Like all dogs, the mastiff lab mix is prone to a few health problems.
To ensure that your canine lives a long and healthy life, it is essential to educate yourself on these potential problems so that you can catch them early and act if necessary.
Mastiff Health
Mastiffs are prone to bone cancer. This usually strikes them later in life.
As we have discussed briefly, Mastiffs are also likely to damage their growth plates.
This commonly takes place in puppyhood when they are exercising excessively.
To avoid this, we recommend only taking your Mastiff Lab mix on moderate walks and not encouraging them to jump or run excessively.
Other problems that can affect them include:
Progressive Retinal Atrophy
Canine Multifocal Retinopathy
Heart problems, like Mitral Valve Dysplasia
Labrador Health
Labs are prone to obesity. This can be a problem when you combine it with the overall massiveness of the Mastiff.
It is vital that you feed your puppy appropriately and not based only on appetite.
Labradors are prone to overeating, and it is possible for your puppy to inherit this as well.
Labradors are also prone to specific vision problems. PRA is the most common, but other inherited vision problems are possible as well.
Because these vision problems are inherited, it is possible for dogs to be tested for them before they are bred.
Hip and Elbow Dysplasia
One of the biggest of these health problems for both parent breeds is hip and elbow dysplasia.
Luckily, this disorder is treatable and lasting damage usually does not take place if it is caught early.
However, the best route is prevention. It is possible for breeders to X-ray both parent dogs before breeding them together to avoid hip and elbow problems being passed onto the puppies.
Choosing a reputable breeder that does this will minimize the risk of your puppy inheriting hip or elbow dysplasia.
Bloat
Another problem that both parent breeds can suffer from is bloat, also known as gastric dilatation volvulus.
This is a problem that is most common in large breed dogs.
It occurs when a dog's stomach fills with gas and then twists.
This health problem can happen suddenly, and can be fatal if not dealt with immediately.
Unfortunately, it cannot be tested for.
Are Mastadors Healthy Dogs?
Despite these problems, both of these dog breeds are generally healthy.
They do not suffer from only disorders caused by conformation.
In other words, they have not been bred for extravagant features that might cause health problems.
This makes them healthier than many other dog breeds and increases the likelihood of their puppies being healthy as well.
Choosing a reputable breeder is the best way to ensure your Mastiff Lab mix puppy is as healthy as possible.
Do Mastadors Make Good Family Pets?
The Mastiff Lab mix can make a wonderful family dog.
One of the biggest things to keep in mind, however, is their size.
They do get quite large. So, you should only adopt one if you are prepared to handle their large size.
They also require quite a bit of training.
But, if you have the time and space available, these dogs can make a great addition to your family.
Rescuing a Mastiff Lab Mix
Finding an exact mixed breed in a shelter can be difficult. But it is not impossible.
If you manage to locate a Mastiff Lab mix, there are a few key things you should do to help the adoption run smoothly.
Firstly, you should prepare for your new dog to take a while to adjust. Even though these dogs are large, they can be shy and nervous in new environments.
Secondly, when you adopt, your dog is often past that vital socialization period. So, they may be more likely to chase small animals and young children at home, or even show fear and aggression to certain things.
You should take extra caution when adopting a Mastador if you have small children or other pets at home. Ask plenty of questions to make sure your home is suitable.
Thirdly, remember to take your pooch to get a health screening as soon as possible.
This is important to ensure that there aren't any problems with your dog's hips or elbows before they get any worse.
We've left a list of rescue centers at the end of this guide to help you get started on your search.
Finding a Mastiff Lab Mix Puppy
Mixed breeds have picked up in popularity over the years.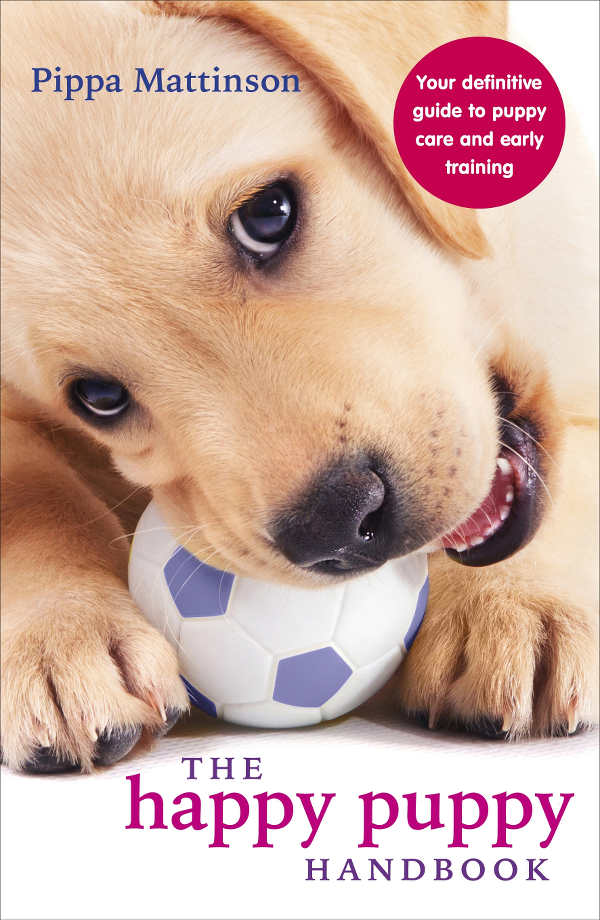 But it can still be somewhat challenging to find a breeder that specializes in a particular mixed breed puppy.
While it might be tempting to purchase your puppy from a pet store or breeder, these dogs are almost never ethically bred and are prone to health problems.
We recommend taking the extra time to search for a breeder instead.
You can read more information about finding the perfect puppy here.
Raising a Mastiff Lab Mix Puppy
Every pet owner wants to get off on the right foot when it comes to caring for their puppy.
To make this happen, we recommend reading up on some basic puppy care principles before you bring your puppy home.
After all, it is always better to have the answers beforehand than to try and search for them in the heat of the moment.
Plus, by educating yourself, you'll feel more confident in caring for your puppy.
Some owners may feel more confident enrolling in a Puppy Parenting course online!
Mastador Products and Accessories
This mixed breed is so unique that it can be challenging to choose the right products for it.
It may be easier to wait until your puppy has come home, so you can see which parent it takes after most. This will usually help your search for the right products.
We recommend reading our complete guide on healthy dog food.
And, while you're at it, you might also be interested in our indestructible toy guide.
Generally, choosing products designed for large breeds is the best method.
Pros And Cons of Getting A Mastador
This unique dog mix can make a great family dog under the right conditions. Here's a quick recap of this breed's pros and cons.
Cons
Size, appearance, and temperament are unpredictable
Figuring out the right amount of exercise can be tricky
Large breeds like this can accidentally hurt small children or other animals
Will shed regularly
Pros
These dogs usually have a great personality
With proper socialization, they are friendly to young kids and other pets
Usually a very healthy breed
Each puppy will be unique
Still not sure if it's the right mix for you?
Similar Breeds
Any mix that comes from a Labrador or a mastiff is going to be somewhat similar to this one.
Plus, of course, the purebred Mastiff and Labrador Retriever breeds are great considerations.
Here are some similar breeds you may also want to consider:
Mastiff Lab Mix Breed Rescues
Mastiff Lab mix rescue centers are hard to come by. But, you may find a Mastador in rescue centers for the parent breeds.
Here are some you can look at when starting your search.
If you know of any other great rescue centers, make sure to leave them in the comments to add to this list.
Is a Mastiff Lab Right for Me?
If you have the room and the time, these dogs can make great pets.
They are loving and loyal.
Just make sure you have the space before committing!
Do you own a Mastiff Lab mix? We'd love to hear about them so drop us a line in the comments below.
References and Resources