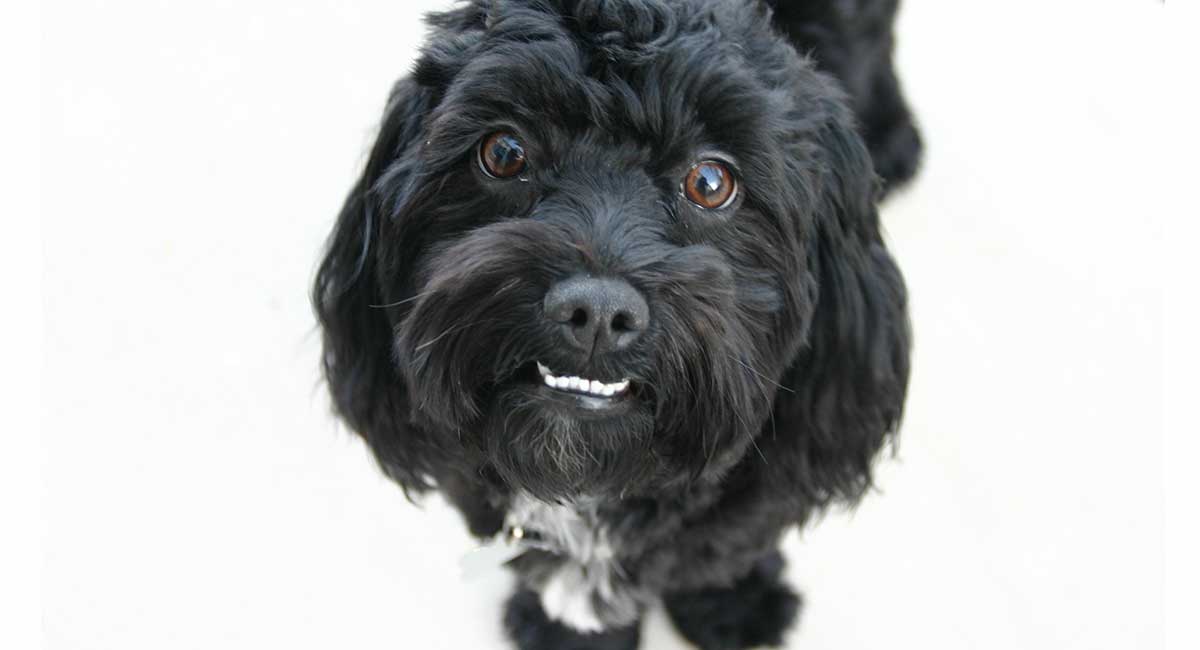 Bringing home a new Maltipoo puppy is incredibly exciting, but it's not without it's pressure too. And one of those is sorting through to find the perfect potential Maltipoo names for your tiny, fluffy best friend. Today I'll share awesome ideas based on their cool personalities, Poodle and Maltese background, and some inspiration for you to pick a totally creative name all of your own too.
Contents
Tips for naming your puppy
Steer clear of Maltipoo names that sound too similar to important commands you want your Maltipoo to learn. This will help avoid extra confusion and frustration during training!
Selecting a less-common Maltipoo name is a good way to keep every dog at the dog park from running to you when you call your own dog!
If you are leaning towards longer Maltipoo names (three syllables or longer) see if there is a cool nickname you can use so you don't wear yourself out calling your dog.
Some people might be super-flattered if you want to name your Maltipoo puppy after them….others, perhaps not so much. Asking the person is the best policy here! Choose a name you don't mind saying out loud in public in mixed company too.
Female Maltipoo names
It is easy to see why friends and family might automatically assume your new Maltipoo is a girl. That long, luxurious hair and decorative topknot all in one winning and winsome package. In this case, everyone who guesses is right, and these female Maltipoo names simply confirm it!
Rosa
Emily
April
Shanie
Marian
Dezi
May
Jane
Dana
Portia
Bouquet
Beverly
Lily
Starr
Kate
Asa
Phyllis
Zelda
Julia
Greta
Alexis
Dadie
Evita
Molly Mae
Charlotte
Johanna
Marylin
Liz
Georgette
Paradise
Male Maltipoo names
Your Maltipoo may have a gorgeous mane of hair and the posture of a prima ballerina. But on the inside, he is smart, strong, courageous and absolutely doesn't realize how small he really is!
Gordon
Truffle
Lewis
Dynamite
Jackson
Garvin
Drysdale
Kevin
Claude
Danny
Bingo
Dabney
Ewan
Roy
Ewok
George
Bruiser
Garcon
Spike
Delroy
Hubert
Edward
Grant
Roley
Alexander
Vincent
Simon
Algonquin
Kenny
Owen
Maltipoo puppy names
Maltipoo puppies are not just cute – they are really little! Even as adults, this breed rarely tops 12 pounds, which basically means your little pooch stays puppy-size throughout life.
Because these small breeds grow up so fast, it may even seem like your Maltipoo puppy gets bigger every single day. But inside your heart, you will forever remember the handbag-sized pup you brought home that wonderful day. And these Maltipoo puppy names can help preserve that precious memory!
Tobie
Malta
Sweetpea
Lady
Fido (means "trust")
China
Michele
Asia
Miss Lucy
Napolean
Cloudy
Candy
Eddie
Caesar
Mops
Dookie
Eve
Filou
Sunny
Zemi
Turi
Shock (a common Maltese nickname due to their striking coat)
Fidelity
Lambkin
Kent
Vicki
Princess
Abbott
Dandie
Dash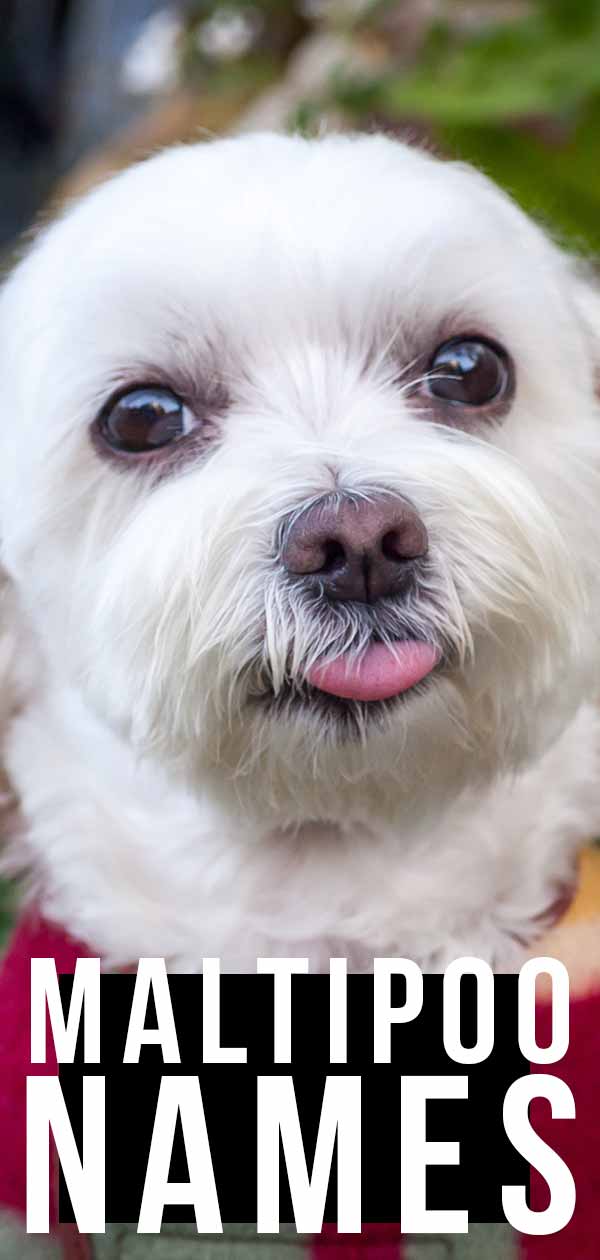 Cute Maltipoo names
If there is one guaranteed quality your Maltipoo has in spades, it is cuteness. Luckily, this breed is known to be eager to please and thus easy to train. Otherwise, one look from those adorable round button eyes and you might be forgiven for letting your little scamp off the hook during training!
These cute Maltipoo names are inspired by celebrity name choices for their Maltipoos, Maltese and Poodle dogs. They strive to capture the engaging, lovable and affectionate pooch you will be sharing your life with!
Sophie (Miley Cyrus)
Blondie (Ashley Tisdale)
Maui (Ashley Tisdale)
Ginseng (Michele Kwan)
Daisy (Jessica Simpson)
Penny (Blake Lively)
Oliver (Rihanna)
DJ (Rihanna)
Shadow (Vanessa Hudgens)
Max (Brooke Burns)
Wolf (Ellen Degeneres)
Kiko (Carmen Electra)
Maliboo (canine star in "Dance Moms")
Tyson (Ciara)
Texas (Ciara)
Esther (Justin Bieber)
Buddy (Demi Lovato)
Jinxy (Eva Longoria)
Marilyn (Anna Nicole Smith)
Chloe (Lindsay Lohan)
Samantha (Barbra Streisand)
Mr Butler (Olivia Palermo)
Kingston (Bella Thorne)
Chaplin (Jessica Chastain)
Mochi (Instagram Maltipoo)
Agador (Instagram Maltipoo)
Toronto (Instagram Maltese)
Scruffy (Instagram Poodle mix)
Pino (Instagram toy Poodle)
Logan (Instagram toy Poodle)
Heritage Based Ideas
The Maltipoo takes its newfound heritage from two of the most ancient, beloved and venerable purebred dog breeds on the planet: the Maltese and the Poodle. It would be hard to find two smarter, sweeter, braver dogs than these two!
The Maltipoo names in the following two sections come from the French (Poodle) and Malta (Maltese) cultures – a nod to your precious pooch's noble beginnings. For more inventive and interesting dog names, take a look at this article.
French names
In France, the Poodle is the official national dog. This is despite the fact that Poodles were first bred in Germany! These French-inspired Maltipoo names honor the French people for their devotion to Poodles!
Francois
Abbe
Benoit
Annette
Celie
Denys
Cosette
Ermine
Fabiola
Guillamine
Felicite
Fifi
Gable
Emeril
Dumas
Elinore
Lucie
Luc
Maximilian
Noe
Ophelie
Noe
Oberon
Noemie
Paris
Renaud
Sabine
Valentine
Xaviere
Veronique
Maltese names
In the tiny country of Malta, the Maltese has been an icon for as far back as 1,500 B.C. – that is a really long time! These Malta-inspired Maltipoo names make for great conversations at the dog park or the dinner table when you share more about your fur baby's noble history!
Aiden
Denzel
Arianne
Azalea
Elias
Fleming
Angele
Mirko
Matthias
Tristian
Zachary
Claire
Easton
Isla
Kylie
Fiona
Parr
Mirko
Luis
Lia
Orsel
Palma
Rianne
Selene
Roxanne
Liam
Kaiden
Aaron
Sam
Tamrya
Cool Maltipoo dog names
The Maltipoo looks very cute, but underneath all that fine and fancy fur lives a very cool character! Maltipoo dogs definitely know how to get what they want from "their" people – and sometimes it is hard to tell who is in charge of whom! These cool Maltipoo dog names tip the hat to the big personality living inside your Maltipoo's teensy body!
Topsy
Snips
Skye
Knight
Gentle
Willy
Polly
Trouble
Chloe
Harley
Sugar
Jinxie
Chole
Torrie
Tiffany
Cinnamon
Song
Fong
Wong
Skipper
Lucky
Taylor
Wilson
Leona
Cupcake
Riley
Royal
Puffin
Roman
Misty
Unique Maltipoo names
There is no other dog breed on this planet quite like the Maltipoo. Athletic, intelligent and unique enough to have earned the devotion of kings, emperors, saints and people everywhere, your pup deserves a selection of unique Maltipoo names inspired by Maltese-loving royalty!
(King) Henry
The Comforter (a nickname for the Maltese)
(Emperor) Claudius
(Queen) Victoria
Mary (Queen of Scots)
Elvis Presley
Lion ("Lion Dog" is another Maltese nickname)
(Governor) Publius
(Saint) Paul
Aristotle
Melita (former name of the country of Malta)
Cokie (common name for Maltese)
Callimachus
Martial
Vulci
Jean
Phillipe
Linnaeus
Issa
Marcus Valerius
Timon
Aelian
Strabo
(Saint) Clement
Pliny
Alexandria
(Queen) Elizabeth
Lady
Queenie
Hugh