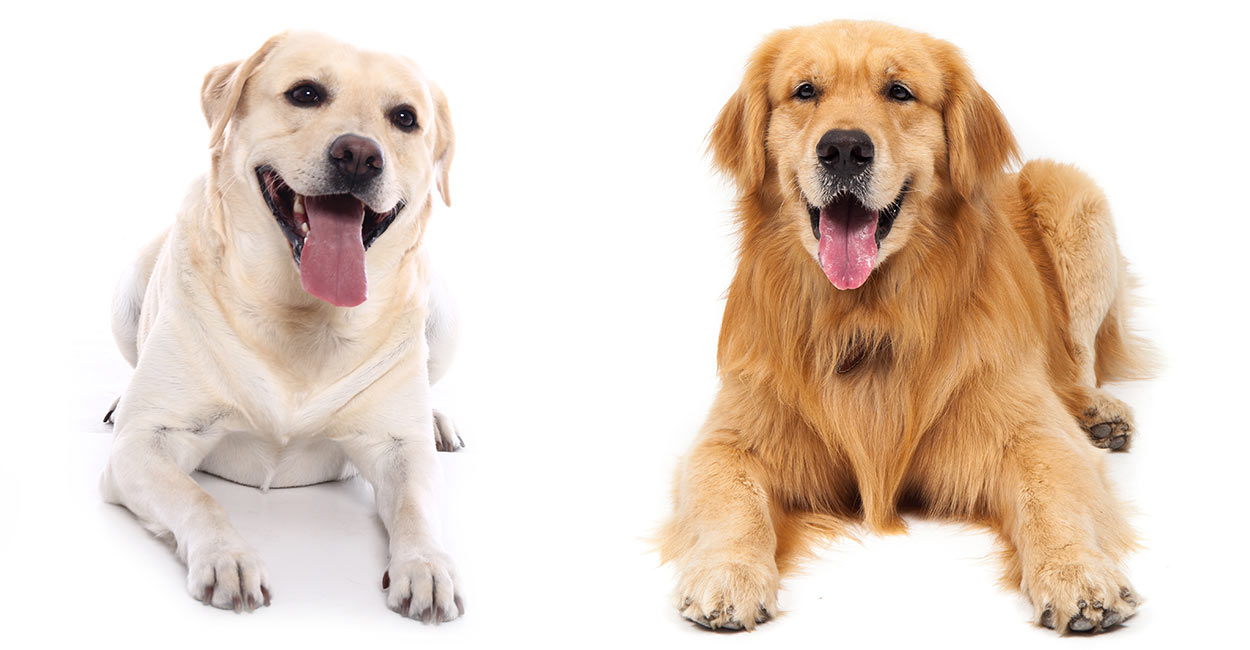 Labrador vs Golden Retriever is a question I've asked myself and answered more than once in the past when planning a new puppy. They have a lot going for them both. Similar working histories, cooperative natures and playful personalities. They are both large but still pretty family friendly, learning fast and fitting in with kids and adults alike. The main differences come down to coat care, where they are both high shedding but Golden Retrievers need more attention, and energy levels which can be a lot higher in the sporting lines of Labrador.
Contents
Golden Retriever puppies are gold coated, with longer fur and wavy tails:
When you compare them to Labrador Retriever puppies with their short coated and otter tail, you can see how someone might mix up the two breeds!
Is a Golden Retriever a type of Labrador?
A Golden Retriever is not just a long haired Labrador. Golden retrievers and Labrador Retrievers are two separate dog breeds but they both belong to the same group of dogs, known as 'sporting dogs'. And they both share a similar original purpose as hunting companions.
Sporting dogs are further divided into sub groups depending on their role, and Golden Retriever and Labs are both members of the Retriever sub group. These are dogs that have been bred for generations to retrieve dead and wounded animals that have been shot by their human hunting companion. Retriever breeds are affectionate and friendly dogs that love human company.
Confusion about the relationship between these two breeds is common. Not only because some Labradors are very similar in color to some Golden Retrievers, but also because of the accidental use of the name Golden Labrador for yellow Labrador Retrievers.
Golden Retriever vs Lab Size
While both are medium to large breed dogs, their builds can differ more than a little. English Labs tend to be from show stock. They are stockier, with broader heads and chests. American Labs are slimmer, from working stock, and can be less barrel-chested. The same is true of the Golden Retriever show and working lines.
The average Golden Retriever weight comes in at slightly less than a Labrador but other than that they are very similar sizes.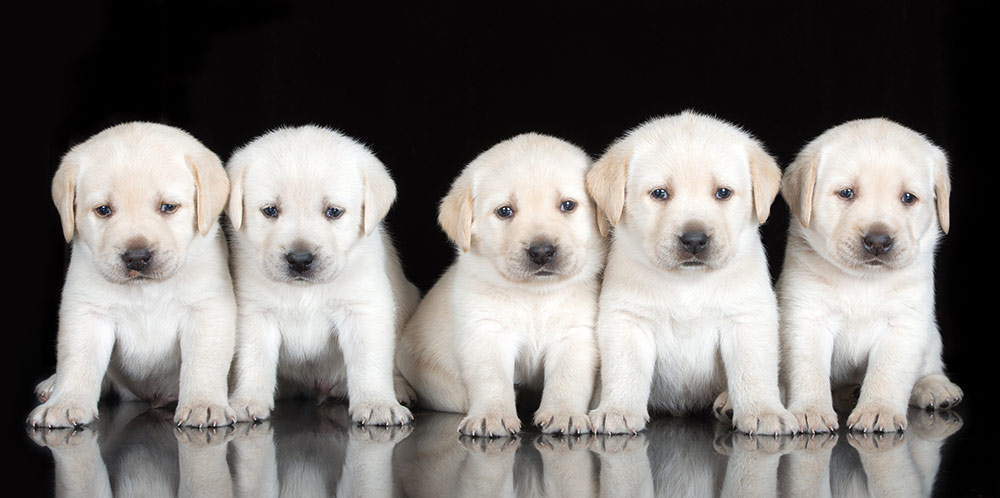 Labrador Retriever vs Golden Retriever Colors
The Golden Retriever's official breed name pretty much speaks for itself. But coloration at maturity can range from almost white to a rich dark golden red shade. Preference for color tends to lean towards one end of the color spectrum for a while, then swing back the other way.
At the time of writing darker shades of coat are coming back into fashion after a long time period where pale cream was in vogue.
Labrador Retrievers have three main coat colors: black, yellow or chocolate (brown). Just like Goldens, the shade of fur in a Yellow Lab can very widely from palest cream to a deep rusty red. The darkest Yellow Labs are often called Fox Red Labs by their fans. Just as with Golden Retrievers the darker coats are becoming more popular, especially within the hunting community.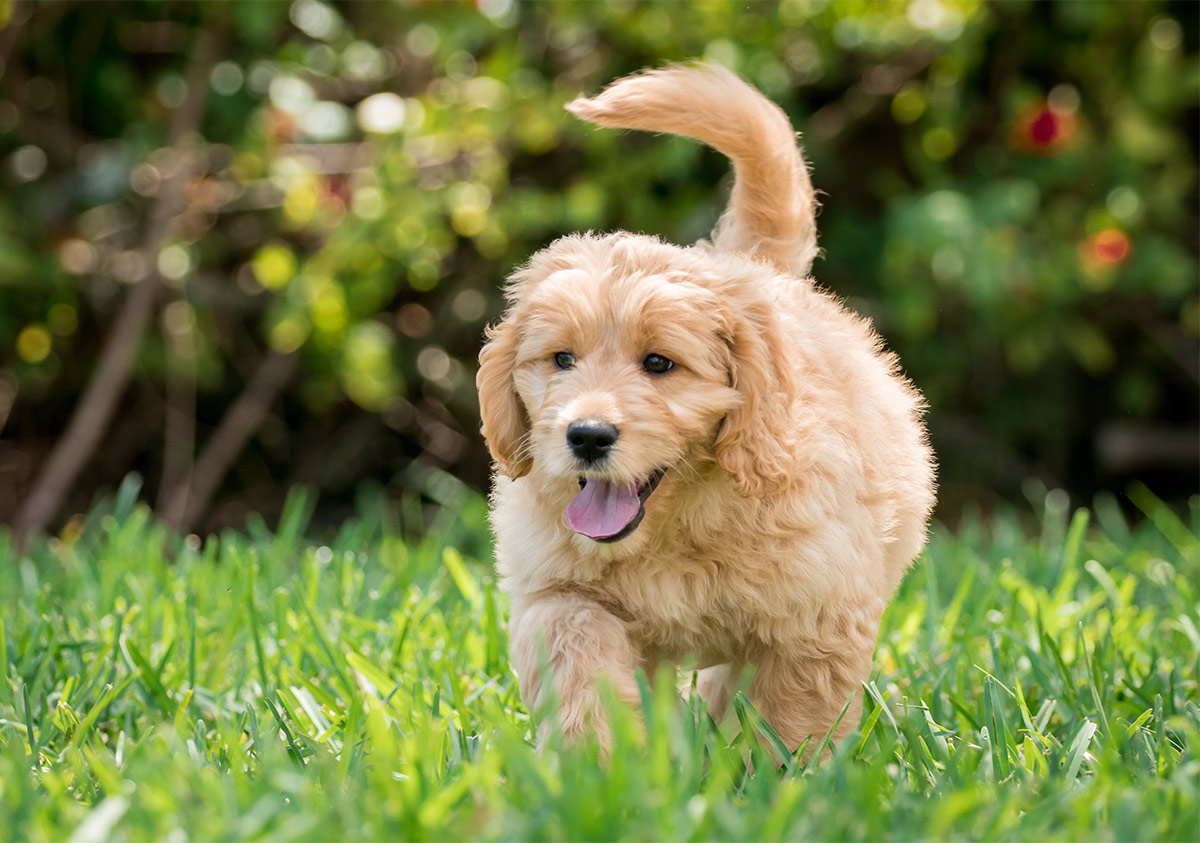 Coat Types
When we compare a Golden Retriever vs yellow Lab, the differences in coat are clear. The Golden's coat is water repellant with a thick, wavy outer coat and a soft, insulating under-coat.
The Labrador's coat is also water repellant has two layers. Bu they have a short but dense outer layer and a soft, insulating inner layer.
This shorter coat may look less warm than the Golden Retrievers, but the dense short fur functions a lot like a diver's wetsuit to trap body heat for self-warming, and the Labrador is able to cope with extremely cold water.
Shedding
There is little difference between the Golden Retriever and Labrador Retriever when it comes to shedding. Both will shed even more twice per year in the spring and fall during the seasonal coat changes.
However, Golden Retriever hairs are longer and often paler, so can be more problematic for owners who don't like shed hairs stuck to their clothes. And if you wear a lot of dark clothes, the hair from a Golden Retriever is going to stand out much more than the hair from a black Lab.
Labrador Retriever vs Golden Grooming
While Labs need a once weekly brush down unless they are grubby, Golden Retrievers will benefit from at least three times a week to keep that coat glossy and tangle free.
Both Golden Retrievers and Labrador Retrievers love running, playing, swimming and rolling in mud, leaves, or anything new and interesting they may find on the lawn.
Luckily, both breeds love the water, which can make bathing them much less of a challenge than it can be with other dog breeds!
You may also need to budget for professional grooming and hair trims to keep your dog's coat manageable seasonally, as this can be a bigger job to tackle on your own.
Labrador Retriever vs Golden Retriever Temperament
While some dog breeds may be too high strung or fragile to make for good family dogs, this certainly doesn't apply to either the Labrador or the Golden Retriever! Both dog breeds often make WONDERFUL family dogs, as long as they are well chosen and well raised.
They are normally great with children, with their affectionate, sociable, outgoing and eager-to-please personalities.
Labrador Retrievers and Goldens are also top choices for service dogs, search and rescue dogs, detection dogs, hunting dogs, and field work dogs. Beyond this, however, there are some important temperament differences that can indicate which dog breed might be the better choice for your household.
Golden Retriever traits
The Golden Retriever has a medium energy level, which means this is a dog that can roll with the daily ebb and flow of home life.
Daily walks and play time are a must, but in between these activities, the Golden will happily enjoy a restful nap or few!
Golden Retrievers in general are amongst the most intelligent dog breeds.
They are easy to train, quick to learn, and eager for praise and affection. They also tend to be patient and attentive, which makes training a joy.
Goldens also get along well with other dogs and with cats, which makes them a good choice for multi-pet households.
While Goldens are intensely loyal to and protective of their family, they are simply too friendly to be counted on to guard your home or belongings well.
Labrador Retriever characteristics
The Labrador Retriever is considered a high energy dog breed, which will be especially obvious during the puppy and young adult dog years.
Labs simply cannot tolerate being left alone for very long.
Labrador Retrievers, like Golden Retrievers, are also considered one of the smartest dog breeds around.
They learn quickly and are eager for the interaction that training provides. But their high energy level may interfere with their ability to focus and concentrate on training.
Labradors are great family dogs, provided you are fine with adding a canine child to your household.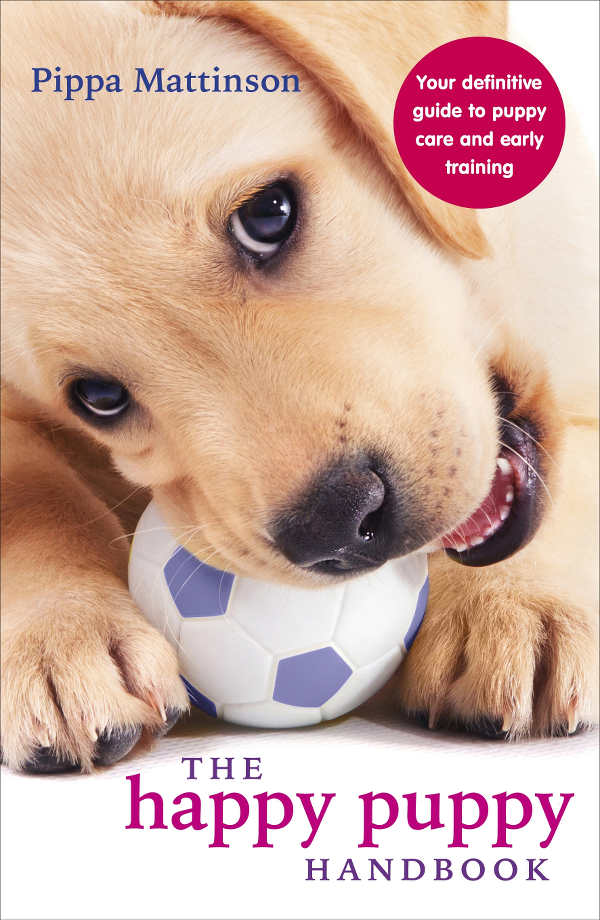 Most Labs won't begin to really mature in their behavior and focus until they have turned three years old – and for some Labs, it will be later than that.
Labs can be good with other household pets, but they will need supervision at first to be sure.
A Labrador is not a good choice if you want a guard dog. They are too friendly and eager for human interaction, and are more likely to wriggle up to an intruder asking for a pat than to sound the alarm.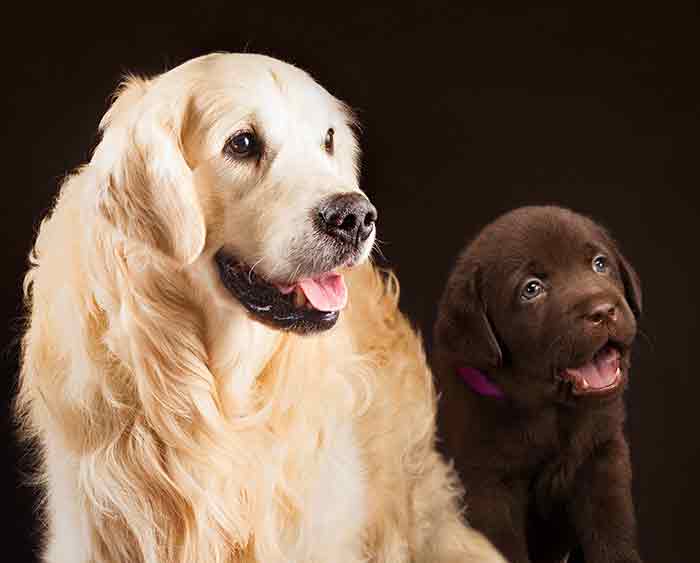 Comparing Health Problems
Because both Golden Retrievers and Labrador Retrievers are insanely popular as pets, working field dogs and show dogs. However, these two purebred dog breeds are each associated with certain known breed-specific health issues.
Hip dysplasia, elbow dysplasia and sight problems are common to both breeds, but can be health tested for in potential puppy parents. Golden Retrievers however have a real issue with cancer emerging, and are therefore arguably the riskier choice in terms of health.
Difference Between Labrador And Golden Retriever Lifespan
For both these breeds the average life expectancy is generally accepted to be around 10-12 years. Though one study found that black Lab lifespan and that of yellow labs, was greater than for chocolate Labs. This wasn't by a small amount either, chocolate Labs had shorter lives by almost a year and a half
A study in England in 2013 looked at around 400 Labs and 100 Goldens and put the median age at death of both breeds as 12.5 years. So what about the prevalence of cancer that we know is an issue in Goldens?
With Golden Retrievers there seems to be a division with some dying far too young from cancer, and those escaping the cancer gene surviving much longer. So it really is worth looking carefully at the ancestors of your puppy with regard to longevity. You won't be able to tell much from the mother as she will still be a young dog. But having long-lived grandparents and an older father might give your puppy a better chance of a long life.