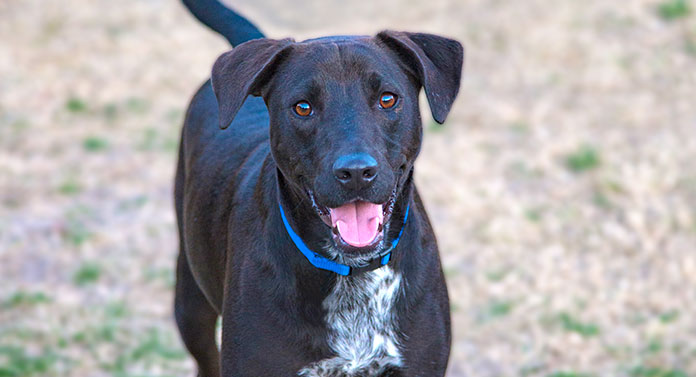 The Lab Pointer mix combines two loyal, intelligent, and hardworking breeds – the purebred Labrador Retriever and purebred English Pointer.
Both parent breeds are from the sporting group. So, you can expect their mix to need plenty of exercise.
The exact appearance and personality of a Lab Pointer mix will vary depending on what they inherit from both parent breeds. But, luckily these breeds share some wonderful traits.
Are you looking to welcome a Labrador and Pointer mix into your home?
Lab Pointer Mix Contents
Let's dive in to learn more about whether this energetic mixed breed is right for your family.
History of the Lab Pointer Mix
The Lab Pointer mix is quite a new and uncommon hybrid dog. But, designer breeds are increasing in popularity! So we may start to see more Labrador English Pointer mixes.
Because this cross is uncommon, it doesn't have a very well documented history. But, we can look at the history of its parent breeds to find out a little more.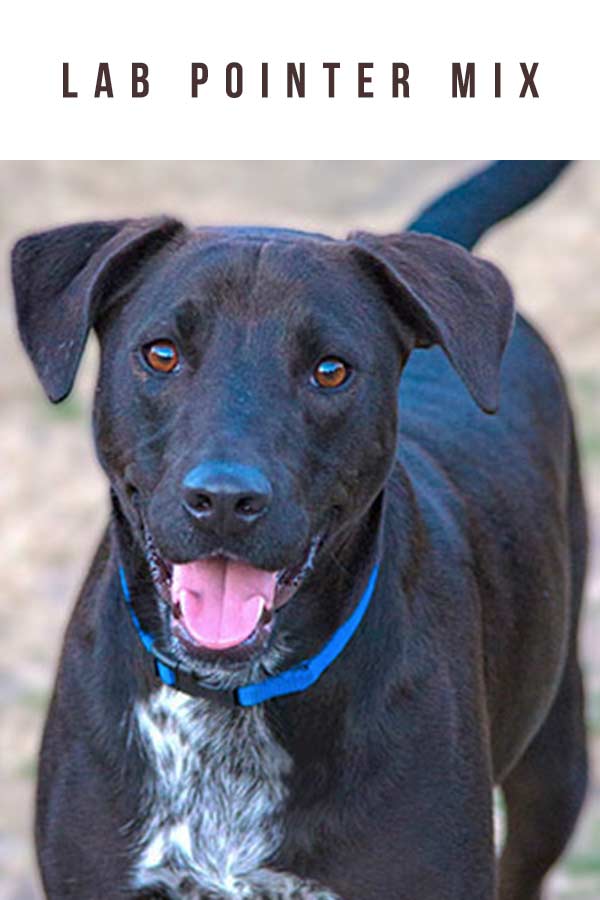 Both the Labrador Retriever and English Pointer are sporting breeds, but they have slightly different original roles.
Labrador ancestors first worked alongside fishermen in Newfoundland, Canada. The breed was standardized in Britain, where they would retrieve game and other animals during hunts.
English Pointers first worked in England to find and point out hares for hounds to chase. They later worked to point and retrieve game birds, similar to the Lab.
Both parent breeds have long histories as gundogs. So, expect a Lab Pointer mix to be a wonderful sporting breed candidate.
Lab Pointer Mix Appearance
Mixed breed dogs can inherit any blend of traits from their two parent breeds. So, you must make sure you are happy with any potential outcome.
It's likely you won't know what you're going to get until you meet your puppy.
Take a look at their parents to best predict the potential looks of their offspring. Here's what you might be able to expect.
Labrador Appearance
Labradors come in three standard colors: black, yellow, and chocolate.
These dogs have floppy ears and a short, double coat. Most have a wide otter-like tail, and webbed paws which make them strong swimmers.
Labradors are large dogs that can grow from 21.5 to 24.5 inches at the shoulder. As adults, they will usually weigh somewhere between 50 and 80 pounds.
Pointer Appearance
Unless otherwise specified, Lab Pointer mix refers to an English Pointer parent. These dogs are muscular, lean, and alert.
They have floppy ears, a short, easily maintained coat, and a straight, thin tail.
Pointers can come in a huge spectrum of colors, including:
Black
Lemon
Liver
Orange
Any of these colors mixed with white.
They can have ticked markings or points.
This parent breed can grow from 23 to 28 inches at the shoulder, weighing between 45 and 75 pounds.
What Will Pointerdor Puppies Look Like?
These two sporting breeds don't look very different from one another.
So, a Lab Pointer mix will likely have a short coat, floppy ears, and a straight tail.
Their colors will vary depending on the colors of the parents. For instance, if you mixed a black Lab and a pointer, you're likely get black Lab Pointer puppies.
But, there's no telling for sure which parent they will favor until they're here.
Lab Pointer Mix Temperament
Because both the Lab and Pointer parent breeds are sporting dogs, they have relatively similar temperaments.
But, just like their appearance, the mixed breed temperament can lean more towards either parent. So, make sure you're happy with any of the possibilities!
Generally, Labradors are friendly, enthusiastic, and eager to please. They are also energetic and intelligent.
Pointers are also very energetic, alert, and hardworking. They are very loyal to their owners, intelligent, and even-tempered.
You can expect a mixed puppy to be loyal, intelligent, and very energetic. They'll usually take very well to training, and will want to spend as much time with their owners as possible.
But, this intelligence and energy means they can easily become bored if not stimulated properly. A bored Lab Pointer mix may show destructive behaviors like digging, barking, and more.
The Need for Socialization
Lab and Pointer mix puppies need to be socialized well from a young age. Both breeds are generally known for being friendly and loyal, but they both originate as hunting breeds.
So, they may have a natural instinct to chase small animals, or even running children.
A dog that is well socialized will be confident in new situations, and more likely to be friendly towards others.
Socializing a Lab Pointer puppy well from a young age will ensure you get the best possible temperament.
Just remember that your puppy can take after either parent. Take a look at the specific dogs being used to breed for a good idea of what your puppy might be like.
Lab Pointer Mix Training
A Lab Pointer mix puppy will grow to be a medium- to large-sized dog. So, it's very important that you train them properly from a young age.
Basic obedience training is a must. But, thanks to their intelligence and likely boundless energy, these dogs will benefit from and enjoy further training.
As well as stimulating their minds, training can also offer your puppy some much-needed exercise.
Stick to positive reward methods for the best results with this breed. They are eager to please, and these methods will encourage a strong bond between you.
You may want to look at online puppy training classes, attend a class in person, or find a one on one trainer if you don't know where else to start.
Lab Pointer Mix Exercise Needs
As we already know, both parent breeds for this mix are very energetic. So, it's almost guaranteed that a puppy will have the same high energy.
You'll be able to offer your dog some exercise through training. But, they will need more than this.
A Labrador Pointer mix will need exercise every day. They will likely enjoy swimming, retrieving, or the chance to run in a safe open space.
Make sure you have a strong recall, so that they will always return to you.
This hybrid may enjoy canine sports like rally, obedience, agility, and more.
But be wary of exercising your puppy too much when they are young. Doing so may damage their joints.
Lab Pointer Mix Health and Care
Generally, these are two quite healthy breeds. But, there are still a number of problems they can pass down to their puppies.
Choosing a reputable breeder can minimise the risk of this. Make sure you see evidence of health tests and check the mother dog is healthy and friendly.
Labrador Health
The most common health problems that Labs can suffer from include:
Hip dysplasia
Elbow dysplasia
Arthritis
Obesity
Ear infections
Pointer Health
The Pointer shares a lot of these common issues. Here are some to watch out for in pointer mixes.
Hip dysplasia
Elbow dysplasia
Ear infections
Canine Gastric Dilatation Volvulus
Hypothyroidism
Heart Problems
What This Means for Puppies
The Labrador and Pointer breeds share a number of common health issues. So, it's important to choose a reputable breeder that tests their dogs.
Breeders can test for hip and elbow dysplasia scores to ensure they're only breeding from the healthiest dogs.
They can also test for cardiac problems and hypothyroidism.
Make sure your breeder shows you evidence of these health tests. Once you have a puppy from a reputable breeder, attend regular veterinary check ups, and ensure they have a healthy lifestyle with enough exercise and the right amount of food.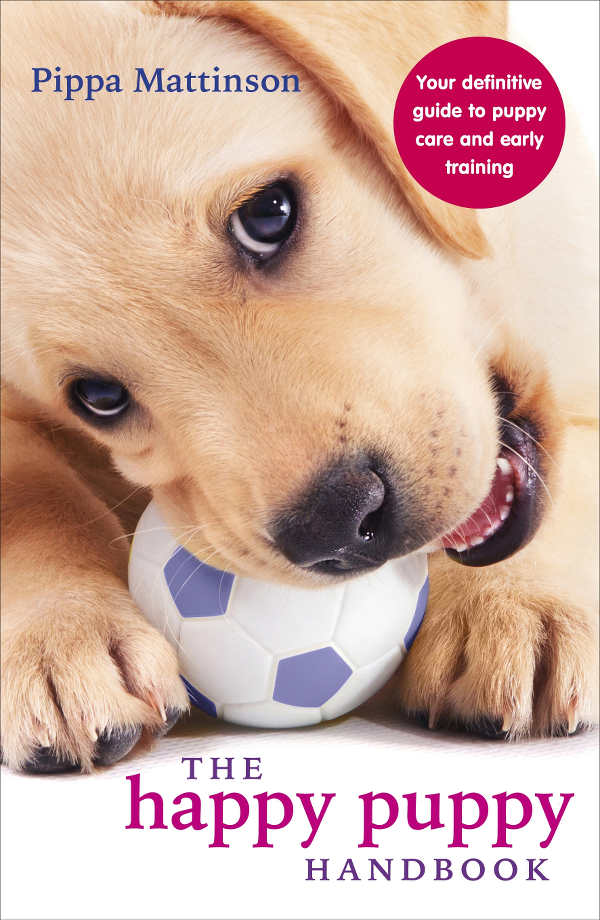 Lab Pointer Mix Puppies
Choosing a reputable breeder is an important step towards getting a healthy Labrador Pointer mix puppy.
Just remember that puppies can take after either parent, so you must be happy with any combination of traits.
You can take a look at our puppy search guide for more help with finding a healthy puppy and a reputable breeder.
You can also find out more information in this guide to finding a breeder.
Because this mixed breed is not yet hugely common, you may struggle to find a reputable breeder for the combination at first.
Lab Pointer Mix Rescue
Another alternative to getting a puppy is to look for a rescue dog. Rescues are usually older, and have less certain histories, but they are often cheaper.
You may struggle to find a Lab Pointer mix in any rescue societies at first, because it is quite uncommon.
But, your best bet is to look in rescue centers for the two parent breeds.
Some rescue dogs may suffer from behavioral problems. So, make sure you are prepared for this possibility, and have plenty of time to dedicate to your new addition.
Similar Breeds
The Lab Pointer mix will be a great breed for many families, particularly those that lead active lifestyles, and have plenty of time to dedicate to a dog.
But, it's not perfect for everyone. If you are looking for something similar, but aren't sure about the Labrador Pointer, here are some other breeds you might love.
Labrador Pointer Mix – A Summary
The Labrador Pointer mix can inherit any mix of traits from its two parent breeds. It's appearance and temperament will be relatively unpredictable.
But generally, this is an energetic, intelligent, and even-tempered breed.
Do you have a Lab and Pointer mix puppy at home? We would love to hear about your experiences!
Readers Also Loved
References and Resources
Howell, T. (et al), 'Puppy Parties and Beyond: The Role of Early Age Socialization Practices on Adult Dog Behavior', Veterinary Medicine: Research and Reports (2015)
Farricelli, A. 'Impact of Exercise on Puppy Growth Plates', Daily Dog Discoveries (2016)
Xin-Guo, X. 'Risk Factors and Prevention of Canine Gastric Dilatation Volvulus', CNKI (2006)
Ginja, M. (et al), 'Diagnosis, Genetic Control and Preventive Management of Canine Hip Dysplasia: A Review', The Veterinary Journal (2010)
Pointer OFA-CHIC Health Testing Requirements