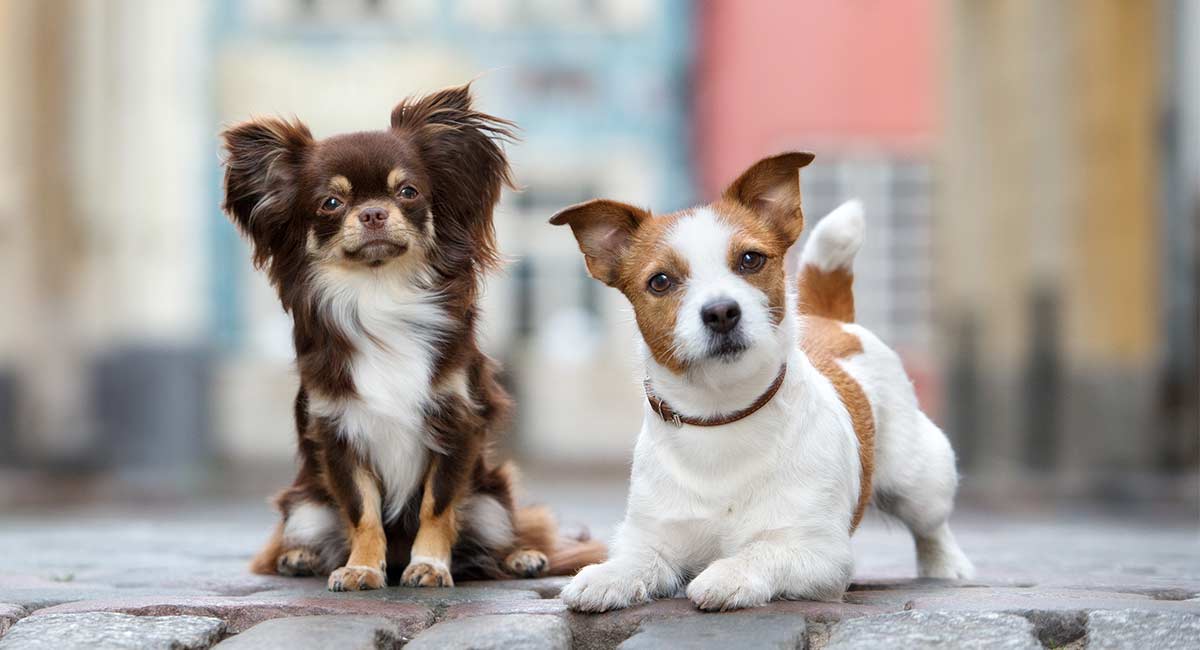 Are you thinking about getting a Jack Russell Chihuahua Mix?
Also known as the Jackuahua, or Jack Chi this cute mix breed is a cross between the popular Jack Russell Terrier and Chihuahua breeds.
These small dogs are known for their energy and friendly, playful nature.
If you're wondering if a Jack Chi is the right dog for you, here's what you need to know about this mixed dog breed, from their physical characteristics and health concerns to their temperament and behavior.
Pros and Cons of Mixed Breeds
Mixed breed dogs, like the Jack Russell Chihuahua Mix, are commonly referred to as "designer dogs," and are the offspring of two different purebred breeds.
Love tiny dogs? Then it's time to get to know the teeny
Chiweenie!
A purebred has been produced from two dogs of the same registered breed.
When it comes to comparing purebreds with hybrid dogs, as mixed breeds are commonly referred to, there are many opinions.
Team Purebreed
Advocates of keeping breeds purebred argue dogs bred to a standard are predictable in terms of size, behavior, and other attributes.
Purebred dogs have been known to inherit genetic disorders and poor health due to inbreeding, as the smaller the gene pool, the more likely there will be health problems.
The full extent of inherited disorders is now being realized due to the advent of DNA testing in purebred dogs.
Team Hybrid
Fans of mixed breed dogs assert that crossing two different breeds reduces the risk of developing illnesses associated with inbreeding.
Hybrid vigor, or heterosis, refers to an improved increase in desirable characteristics and improved health found in the hybrid offspring.
Numerous studies have been done with varying results to keep the purebred vs. mixed breed debate ongoing, like this study which found that purebred and mixed breed dogs are equally at risk for some disorders.
The First Generation Breed Debate
First generation breeds refer to the initial cross between two separate breeds.
For example, crossing a purebred Jack Russell with a purebred Chihuahua results in a first generation Jack Chi.
A second generation Jack Chi could be produced from parents who are two Jack Chis, a Jack Chi and a Jack Russell Terrier, or a Jack Chi and a Chihuahua.
There is also controversy about first generation mixes. For example, this study found that first generation breeds appeared to be more susceptible to some disorders.
The specific disorder is often a factor regardless of whether it's a purebred or mixed breed.
While results can be confusing, the studies and debates continue.
Choosing an ethical, registered breeder is your defense when looking at Jack Chi puppies for adoption.
Origins of the Jack Chi
Like many designer dogs, the Jack Chi is a new hybrid so there's not a lot of historical information available on the Jack Russell Chihuahua mix.
They probably originated in the United States in the 1980s or 1990s, a time when crossbreeding regained popularity, and many designer dogs appeared on the scene.
The American Kennel Club does not recognize hybrid breeds.
To acquire more knowledge of what to expect from the Jack Russell Terrier Chihuahua mix, we'll look at the history of each parent breed individually.
Origins of the Jack Russell Terrier
In the early 1800s, the Jack Russell Terrier was developed in England specifically to hunt foxes.
Their sturdy, compact body, strong legs, and small chest allowed them to follow their prey into the foxhole and maneuver underground.
Originally from the fox terrier group, they were named in honor of hunting enthusiast Reverend John Russell.
Energetic, clever, independent, yet friendly, these working dogs are roughly the size of a fox themselves, standing approximately 12 to 14 inches and weighing 13 to 17 pounds.
The American Kennel Club does not recognize the Jack Russell Terrier, but this breed is very closely related to the Parson Russell and Russell Terriers.
Origins of the Chihuahua
With a lineage that extends back to pre-Columbian times, the tiny Chihuahua is one of the oldest breeds in the Americas.
The world's smallest dog breed weighs no more than six pounds, and stands just five to eight inches in height.
Don't be fooled by their diminutive stature, Chihuahuas have a big personality and a charming, sassy demeanor.
Their compact size and confident attitude make them an ideal city dog.
Distinctive features include a round, apple-shaped head, large erect ears, and round luminous eyes.
The Chihuahua was officially recognized by the American Kennel Club in 1904.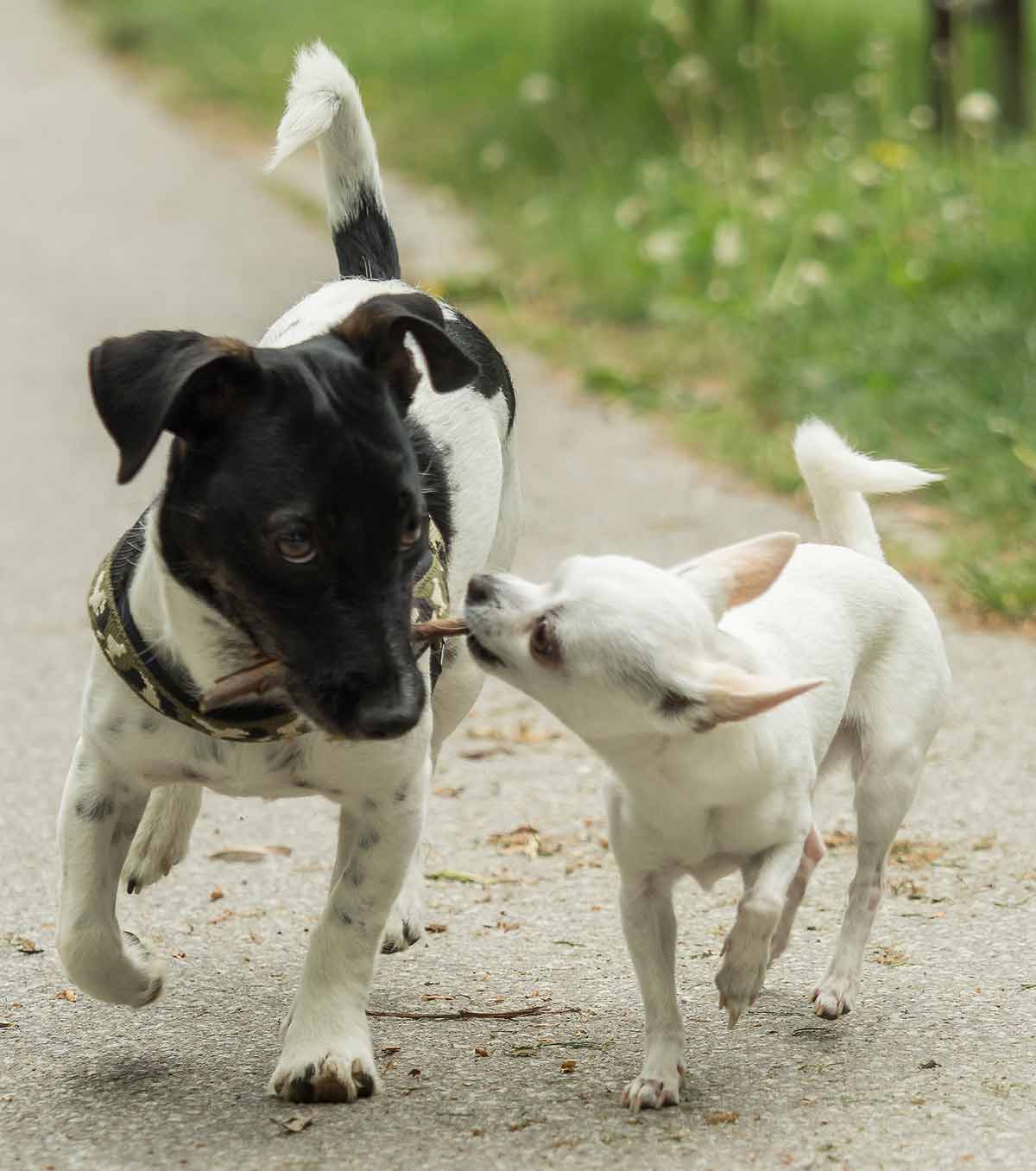 Jack Russell Chihuahua Mix Appearance
Like any mixed breed, the appearance of Jack Russell and Chihuahua mix puppies can vary greatly depending on the characteristics they inherit from the parents.
The average size of both male and female Jack Chis is 10 to 15 inches and weight is 8 to 18 pounds.
Their coat is typically short and dense and coloring varies widely including black, white, brown, chocolate, cream, golden, fawn, black & brown, black & white, black & tan, brown & white, dark brown, light brown, and tricolor.
Physical Features
Common physical features are a short neck and long, muscular body with the large round eyes of a Chihuahua set in the triangular head of the Jack Russell.
Ears can either be pointy and erect like the Chihuahua's or folded and floppy like the Jack Russell parent.
The snout is usually long, but could be thinner than a Jack Russell's.
Hindquarters are strong and muscular, yet the shorter leg length and long, curled tail resemble the Chihuahua.
Jack Russell Cross Chihuahua Temperament and Behavior
The Jack Chi dog is sweet-tempered, full of love and liveliness.
These playful pups require plenty of daily exercise, so long walks a couple of times a day and playing in the dog park or running loose in a fenced yard will help burn off some of that boundless energy and discourage bad behavior.
The Jack Russell side will naturally want to be the leader of the pack, making this breed not easily trainable.
It's important to be patient, consistent, and firm while using positive reinforcement to let them know who's in charge.
It's in the Jack Chi's nature to smell, and they will often follow their nose.
Typically calm and friendly, they like to be cuddled and will get along well with other pets and children, although they sometimes tend to be a little more hyper like the Chihuahua.
Early socialization is key to eliminate any signs of aggression.
Grooming and Caring for a Chihuahua Jack Russell
A Jack Chi's short, dense coat means minimal shedding and maintenance.
Brushing them once or twice a week with a hard-bristled brush should be enough to keep their coat smooth and healthy.
You should check your Jack Chi's ears for signs of infection and clean them carefully each week.
As with all breeds, keep their teeth clean by brushing them with dog toothpaste at least twice a week.
Health Issues of Chihuahuas and Jack Russells
Chihuahua Health
Most of the health concerns associated with Chihuahuas stem from their diminutive size.
Dental health is a major concern as tooth crowding is almost inevitable and promotes tooth decay.
To prevent periodontitis, brush their teeth with dog toothpaste at least twice a week.
Chihuahuas are at an increased risk for dystocia, which means they have trouble giving birth.
Due to their small size, Chihuahuas should be fed smaller amounts more often to avoid hypoglycemia, as low blood sugar can be fatal for these tiny pups.
Patellar luxation occurs when the kneecap (patella) is dislocated. It is one of the most common orthopedic conditions in toy breeds.
Jack Russell Health
Jack Russell Terriers are susceptible to a number of eye diseases.
One is glaucoma, which can damage the eye and even eventually cause blindness.
Lens luxation is when the lens is dislocated from its normal site behind the cornea.
Jack Russell Terriers are also prone to ear infections and deafness.
Legg-Perthes is also a potential health problem for the Jack Russell Terrier.
A disease of the hip joints, the head of the femur disintegrates, causing pain, limping, and eventually arthritis.
Jack Russell Chihuahua Health Problems
Despite being an overall healthy breed, hybrid dogs like the Jack Chi can be prone to health conditions that affect either of its parents, the Jack Russell Terrier and the Chihuahua.
When choosing a Chihuahua Jack Russell puppy, you'll need to consider all the health conditions linked to both breeds.
If possible, the breeder should fully health test both puppy's parents.
The Jack Chi might inherit patellar luxation, eye problems, deafness, hypoglycemia, and heart problems.
There are some allergy issues, particularly to grass and diet.
The Chihuahua is typically more fragile than the Jack Russell and cold climates can also cause problems.
The lifespan of a Jack Chi is 13 to 15 years.
Finding Jack Chi Puppies
When you choose a purebred puppy you know exactly what kind of dog you're getting.
However, when you acquire a cross breed, like Jack Russell Chihuahua mix puppies, they could have any trait, both physically and temperamentally, of either of the parent breeds.
Your best defense against unpredictability is to purchase your Jack Russell Chihuahua puppy from a small, local breeder.
Here you can visit the kennel facilities, observe the living conditions, and meet the puppy's parents and siblings.
It's imperative that the breeder has tested their animals for genetic health issues which impact both of the parent breeds and can provide you with these test results.
Remember when you are looking at the Jack Russell Chihuahua price tag, you are paying for a designer dog. It comes with the peace of mind from using a responsible breeder.
Ideal Home for Jack Russell Chihuahua Mix Puppies
Is the Jack Terrier Chihuahua mix right for you?
Only you can tell.
If you are looking for a loving but spunky dog with lots of energy, the answer might be yes.
Remember that small dogs may not be the best idea around young children.
As feisty as both of the parent breeds are, their diminutive size make them less tolerant of rough handling.
Do you have a Jack Chi?
Let us know in the comments, and be sure to tell us about their fun antics.
References and Further Reading
The Institute of Canine Biology
Farrell, L., et al, "The Challenges of Pedigree Dog Health: Approaches to Combating Inherited Disease," Canine Genetics and Epidemiology, 2015
Bellumori, T., et al, "Prevalence of inherited disorders among mixed-breed and purebred dogs," Journal of the American Veterinary Medical Association, 2013
Capík, I., "Periodontal Health vs. Various Preventive Means in Toy Dog Breeds," Acta Vet. Brno, 2010
Gendler, A.,et al, "Canine Dystocia: Medical and Surgical Management," Compendium on Continuing Education for the Practising Veterinarian-North American Edition, 2007
Harasen, G., "Patellar luxation," The Canadian Veterinary Journal, 2006
Oberbauer AM, et al, "Inheritance of cataracts and primary lens luxation in Jack Russell Terriers," American Journal of Veterinary Research, 2008
Comito, B., et al, "Congenital deafness in Jack Russell terriers: prevalence and association with phenotype," The Veterinary Journal, 2012