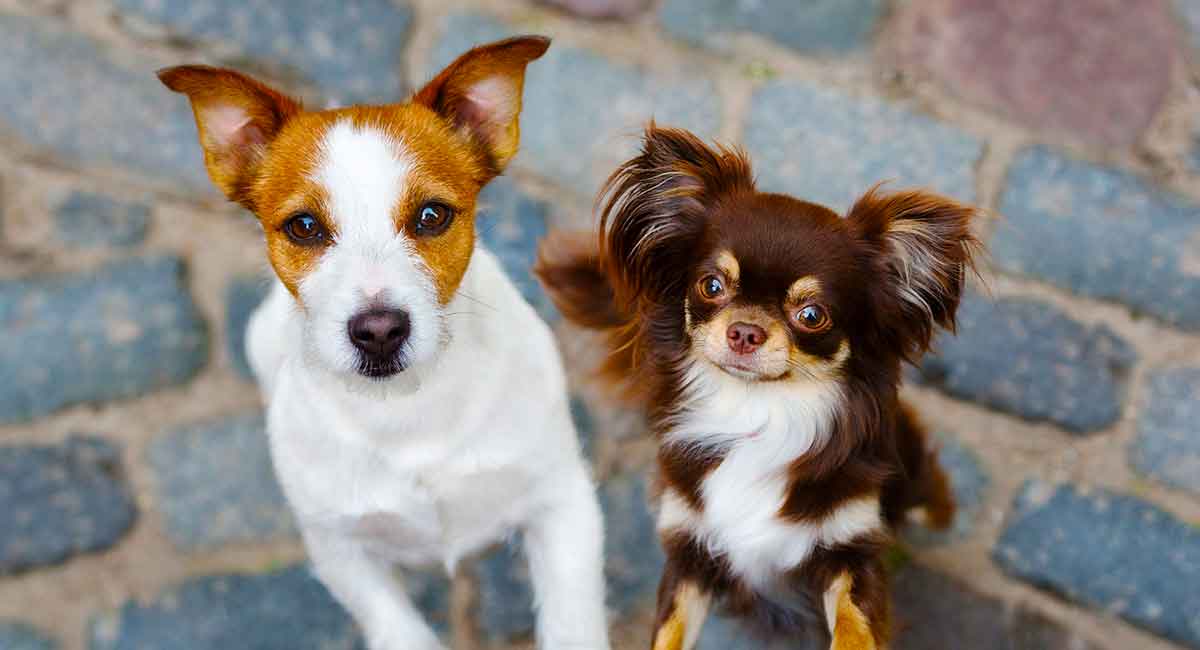 Jack Chi dogs are a Jack Russell Terrier Chihuahua mix breed, also known as the Jack Chihuahua and Jackhuahua. This small designer hybrid dog is lively, energetic, affectionate and loyal. An adult Jack Chi can range in size from 8 to 18 pounds and grow up to 15 inches tall. They're a relatively healthy dog, with a lifespan of 12-16 years. Despite their little size they have big personalities, and can be noisy watchdogs as well as lapdogs and even make good apartment pets. Although their fragile built and feisty temperament does best with older kids or adult only homes. Today we'll check out how to find, raise and care for a Jack Chi puppy. We'll look at the lifestyles this cute cross suits, and help you to decide if they are the right fit for your family.
Contents
Are you thinking about getting a Jack Russell Chihuahua Mix? This lively, friendly, and playful mix breed is a cross between the popular Jack Russell Terrier and the Chihuahua. They're also known as the Jack Chi. In this article, we'll discuss everything you need to know about the Jack Russell Terrier Chihuahua Mix, from their physical characteristics and health concerns to their temperament and behavior.
What is a Jack Chi?
A Jack Chi is a hybrid designer dog with one Jack Russell Terrier parent and a purebred Chihuahua parent. They are small dogs with lots of energy and spirit.
Popularity: Popular designer dog breed
Purpose: Pet (lapdog)
Weight: 8 to 18 pounds
Temperament: Very energetic and devoted
History of the Jack Russell Chihuahua Mix
The Jack Chi is a new hybrid like many designer dogs, so there's not a lot of historical information available on them. They probably originated in the United States in the 1980s or 1990s. It was a time when crossbreeding regained popularity and many designer dogs appeared on the scene.
The Jack Russell Terrier was developed in England specifically for fox hunting in the early 1800s. These dogs are originally from the Fox Terrier group. A sturdy, compact body, strong legs, and small chest allowed them to follow their prey into the foxholes and move underground. They were also used for vermin control and have a very strong tendency to dig. They were named in honor of Reverend Jack Russell. He was the hunting enthusiast believed to have bred two different types of terriers together to create this particular breed of terrier.
The tiny Chihuahua is one of the oldest breeds in the Americas with a lineage that extends back to pre-Columbian times. They appeared to be the favored companion of the Aztecs. And they are believed to have originally descended from the Techichi breed. The Techichi is a somewhat larger breed that was domesticated by the Toltec people. The Chihuahua came to America in the mid-1800s.
Jack Chi Appearance
The appearance of Jack Chi puppies can vary greatly depending on the characteristics they inherit from the parents like any mixed breed. Common physical features of this mix breed are a short neck and a long, muscular body. They tend to have the large round eyes of a Chihuahua set into the triangular head of the Jack Russell.
Ears can either be pointy and erect like the Chihuahua's or folded and floppy like the Jack Russell parent. The snout is usually long but could be thinner than a Jack Russell. Their hindquarters are strong and muscular, yet the shorter leg length and long, curled tail resemble the Chihuahua.
How Big Are Jack Chi Dogs?
Jack Chi dogs tend to stand at about 10 to 15 inches in height and range from 8 to 18 pounds.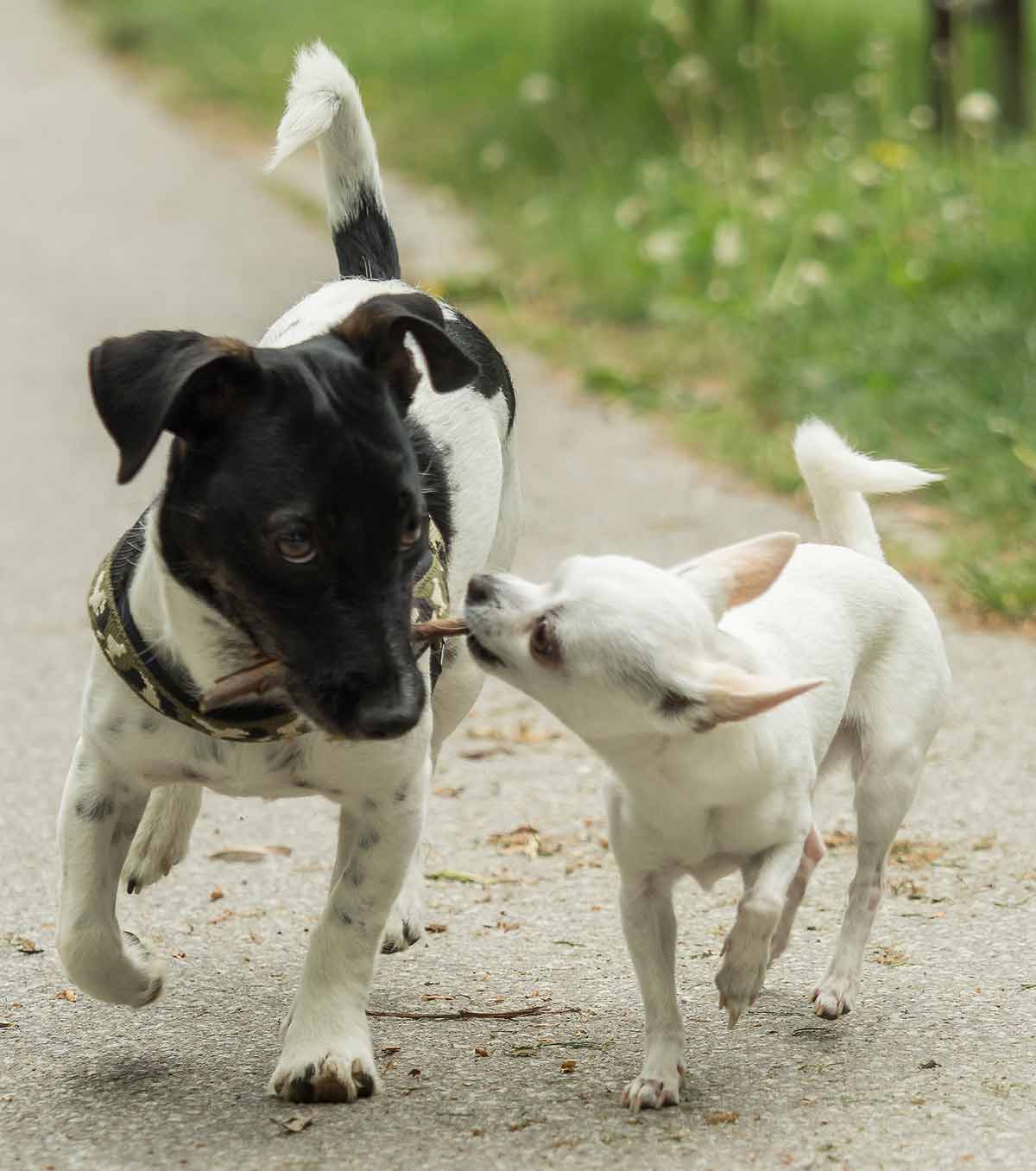 Jack Chi Colors
Their coat is typically short and dense, and their coloring widely varies. Jack Chis can be black, white, brown, chocolate, cream, golden, or fawn colored.
Their coat can be bicolored as well. The most common combinations include the following: black and brown, black and white, black and tan, brown and white, dark brown and light brown.
You can even find tricolored Jack Chis!
Jack Russell Terrier Chihuahua Mix Grooming
A Jack Russell Terrier Chihuahua Mixes' short, dense coat means minimal shedding and maintenance. Brushing them once or twice a week with a hard-bristled brush should be enough to keep their coat smooth and healthy.
You should check your Jack Chi's ears for signs of infection and clean them carefully each week. As with all breeds, keep their teeth clean by brushing them with dog toothpaste at least twice a week. It is recommended that you start these grooming habits early with your pup so they become accepting and tolerant of them.
Are Jack Chis Hypoallergenic?
Despite their usually short coat, the Jack Chi is a fairly high shedding dog. They are not a low shedding breed, and unfortunately are not hypoallergenic.
Jack Russell Chihuahua Mix Temperament
The Jack Chi is a tenacious, intelligent, and lively dog. Likewise, with their appearance, you never know which traits your pup will inherit. The Chihuahua side may help balance out some of that Jack Russell exuberance, but don't bank on that. Be prepared for a high energy companion that loves having a job to do.
Jack Chis are loyal and devoted dogs that enjoy spending time with their owners. They are also a breed prone to separation anxiety and can become quite vocal or even destructive if left alone too long.
While they are generally friendly and playful dogs, Jack Russell Terrier Chihuahua Mixes can become intolerant of rough play or tail and ear pulling. They are not known to be very aggressive, but they can get snappy if they get annoyed.
They should get along with other dogs well if socialized early. But you can't be certain what characteristics your Jack Russell and Chihuahua Mix will inherit from its parents in how it interacts with other small pets.
For instance, the Jack Russell was used as a hunting dog and still retains those instincts. Consequently, they don't generally do well with cats, because they view them as prey.
Jack Chi Training
Training your Jack Chi will take patience and perseverance. It's recommended to start right from the day they come home with you. Waiting can lead to a more strong-willed pup.
The Jack Russell's side naturally wants to be the leader of the pack and paired with the Chihuahua's stubbornness this breed is not the easiest to train using traditional methods. But fortunately positive reinforcement doesn't put you into conflict with your dog. Reinforce and reward behaviors you want to see, and they'll be delighted to work with you.
They are intelligent dogs and can become bored quickly. Keep training short and varied without too much repetition. It's in the Jack Chi's nature to smell, and they will often follow their nose, which is why it is best to start recall training at an early age. It is also in their nature to dig, so teach them the difference between the backyard and the living room sofa.
Early socialization is key to eliminate any signs of aggression and to ensure your furry friend will play nice with other dogs and humans alike.
Jack Chi Exercise
These playful pups require plenty of daily exercises to stay happy and out of trouble. They will need plenty of play time in addition to going on long walks a couple of times a day. Fetch in the dog park or running loose in a fenced yard will help burn off some of that boundless energy and discourage bad behavior.
Both parent breeds are adept at canine sports, especially the Jack Russell. This can be a great way to exercise your Jack Chi's body and mind. They also make great hiking companions for active individuals or families.
On the other hand, keep in mind that the Chihuahua side of your mix may not handle the cold well. The Chihuahua has trouble warming themselves up effectively once they are cold. Therefore, dog clothing for cold weather may be necessary for outdoor exercise.

Jack Russell Chihuahua Mix Health
The Jack Chi's health is mostly dependent upon the health of the two parent breeds. While your dog could inherit health issues found in either breed, they are most likely to inherit the ones common to both parents.
Most of the health concerns associated with Chihuahuas stem from their diminutive size. They are at an increased risk for dystocia which means they have trouble giving birth. Dental health is also a major concern as tooth crowding is almost inevitable and promotes tooth decay. To prevent periodontitis, brush their teeth with dog toothpaste at least twice a week.
A less serious, but common, health issue in Chihuahuas is allergies. This breed is prone to atopy, a kind of skin allergy that causes itchiness and affects the feet, ears, belly, and folds of the skin. Signs often include rubbing of the face, persistent licking, and chronic ear infections. See your veterinarian if you think your dog may be suffering from allergies.
Here are a few more serious health issues that can affect the Chihuahua:
patellar luxation
heart problems
hydrocephalus
hypoglucemia
tracheal collapse
Jack Russell dogs are generally healthy, but there are a few conditions they are genetically predisposed to. They are prone to patellar luxation and atopy skin allergies, just like the Chihuahua. One minor health issue Jack Russell Terriers are prone to is ear infections. Check your dog's ears regularly for redness, odor, or a brown or yellow discharge. Also, take notice if your dog is scratching their ear a lot.
The Jack Russell has a few other health concerns that could potentially affect your Jack Chi:
eye problems
deafness
legg-calve-perthes disease
liver problems
blood disorders
Jack Chi Lifespan
The lifespan of a Jack Chi generally falls in the range of 13 to 16 years.
The life expectancy of a mix breed dog tends to fall within the average parameters of the parent breeds. Fortunately, both the Chihuahua and the Jack Russell are quite long living breeds. The Chihuahua's lifespan is about 14 to 16 years and the Jack Russell Terrier's lifespan ranges from about 13 to 16 years.
Jack Chi Pros and Cons
Still trying to decide if a Jack Chi is the best dog for you? Let's take a look at the pros and cons of this lively and affectionate mix breed:
Cons
Needs lots of exercises and without it, they will make their own fun
Can be more challenging to train
Not good for families with small children
Could suffer from separation anxiety
Tendency to bark
There are hereditary health issues from both parent breeds that could affect your dog
May not do well with other small pets
Pros
Loyal, intelligent, and friendly dogs
Make good guard dogs, alerting you to everything
Good family pets for those with older children
Have a good life expectancy and are generally a healthy breed
Low maintenance coats and minimal shedding
Great companions for active people
Do Jack Russell Chihuahua Mixes Make Good Family Pets?
The Jack Chi mix is a good family pet for an active family with older children. Jack Chis are not recommended for families with small children as they may not be tolerating of tiny hands tugging on their ears.
Tiny dogs are also not recommended for homes with small children as it is very easy for children to accidentally step on or otherwise harm a petite dog. Jack Chis do best with families that have the time to meet their energy and attachment needs as they need a lot of exercises and can suffer from separation anxiety.
Jack Russell Chihuahua Mix Adoption
Adopting a rescue dog can be a fantastic way to bring a furry family member into your life. Dogs with separation anxiety and attachment issues really benefit from the stability of a new forever home and the bond with their new family.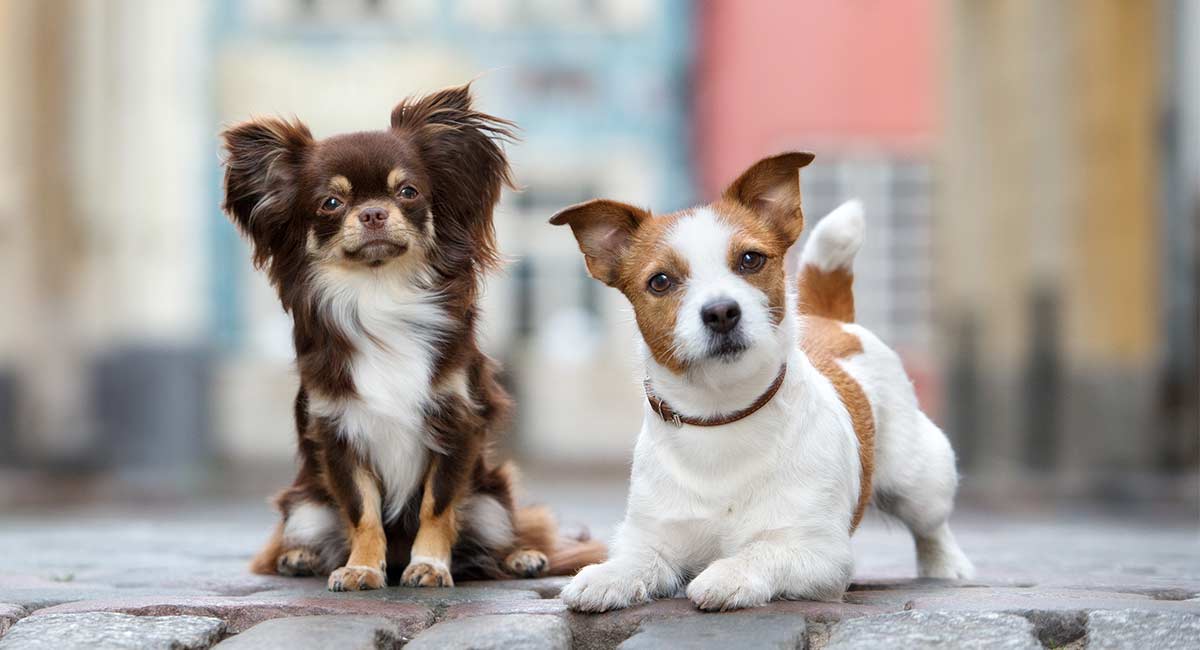 Jack Chi Puppies
Your best chance at bringing home a healthy puppy is to purchase your Jack Russell Chihuahua puppy from a small, local breeder. Here you can visit the kennel facilities, observe the living conditions, and meet the puppy's parents and siblings.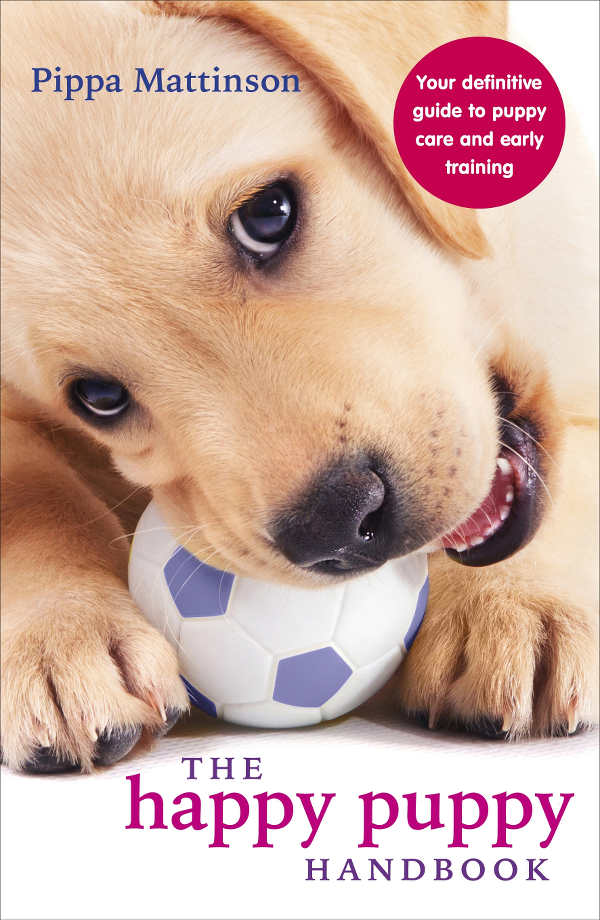 Whatever the Jack Russell Chihuahua Mix price, it's imperative that the breeder has tested their animals for genetic health issues that impact both the parent breeds and that they can provide you with these test results.
Recommended Testing For Chihuahuas
Cardiac Exam
Ophthalmological Exam
Patella Evaluation
Recommended Testing For Jack Russell Terriers
Late Onset Ataxia (LOA)
Primary Lens Luxation (PLL)
Spinocerebellar Ataxia (SCA)
Eye Evaluation
Remember when you are looking at the Jack Russell Chihuahua price tag, you are paying for a designer dog. It comes with the peace of mind from using a responsible breeder. Purchasing from a pet store or online ad you never know what you are getting and unfortunately, they are a lot of unethical breeding practices out there. Pet store and puppy mill dogs often have more health issues and more difficult temperaments.
Raising A Jack Russell Chihuahua Mix Puppy
Raising your Jack Chi pup is likely going to be a bit of an adventure. You are up against an intelligent, tenacious, and energetic dog. Therefore, start training and socializing from day one. To help you meet the training challenges of this breed here are a few articles to check out:
Positive Puppy Training—Does It Really Work?
Jack Russell Chihuahua Mix Products And Accessories
Your Jack Chi needs to keep active, warm and entertained for both your sakes. Here are some ideas on how to keep your dog happy, busy, stylish, and out of trouble. As an intelligent and easily bored dog, interactive and puzzle toys may work well with theJack Russell Terrier Chihuahua Mix. And don't forget to dress your Jack Chi in colder weather.
The Best Indestructible Dog Toys
The Best Interactive Dog Toys
Similar Breeds
If you are interested in the Jack Chi, here are a few other Chihuahua and Jack Russell mix breeds you may want to consider:
Cocker Spaniel Chihuahua Mix
Dachshund Jack Russell Mix
Corgi and Jack Russell Mix
Miniature Boxer
For more Chihuahua and Jack Russell Terrier, mixed breeds take a look at these articles:
Jack Russell Chihuahua Mix Breed Rescues
Most mix breeds do not have their own specific rescue societies, but often the parent breed rescues will take in related mix breeds as well.
US Rescues
UK Rescues
Canada Rescues
Australia Rescues
Please comment below if you're interested to join one of these lists.
Is the Jack Terrier Chihuahua Mix Right For You?
Only you can tell. If you are looking for a loving but spunky dog with lots of energy, the answer might be yes. Remember that this small breed may not be the best dog around young children or other small pets. The Jack Chi's ideal home is with an active owner who has the time and energy to give their loyal companion lots of attention and exercise!
Do you have a Jack Chi? Let us know in the comments, and be sure to tell us about their fun antics.
References And Resources