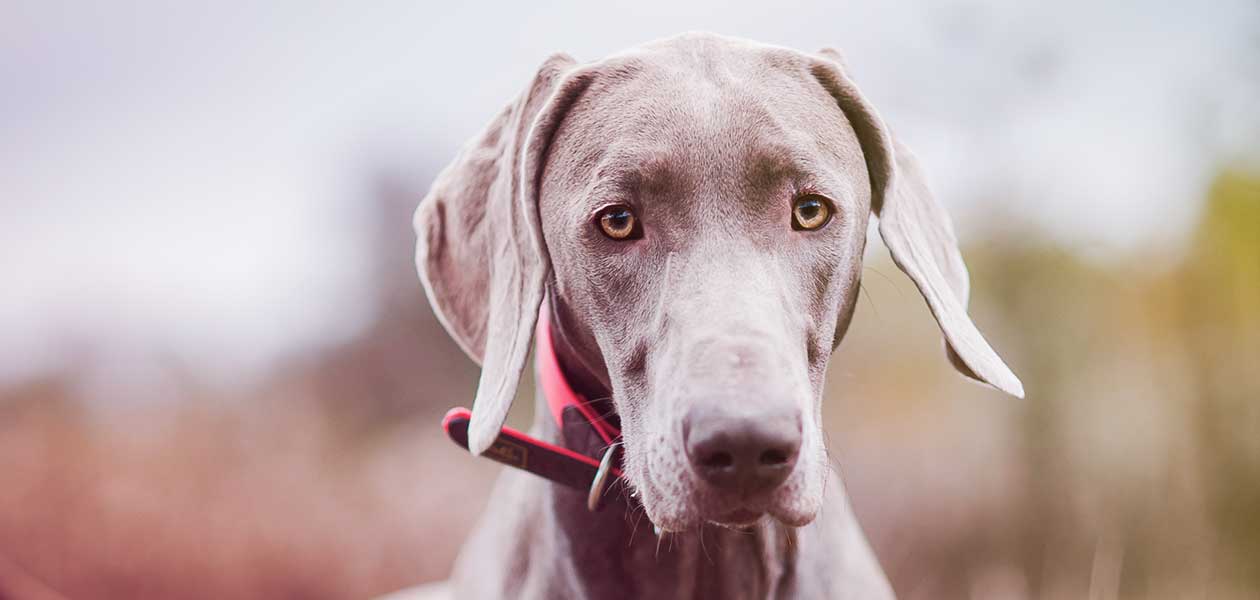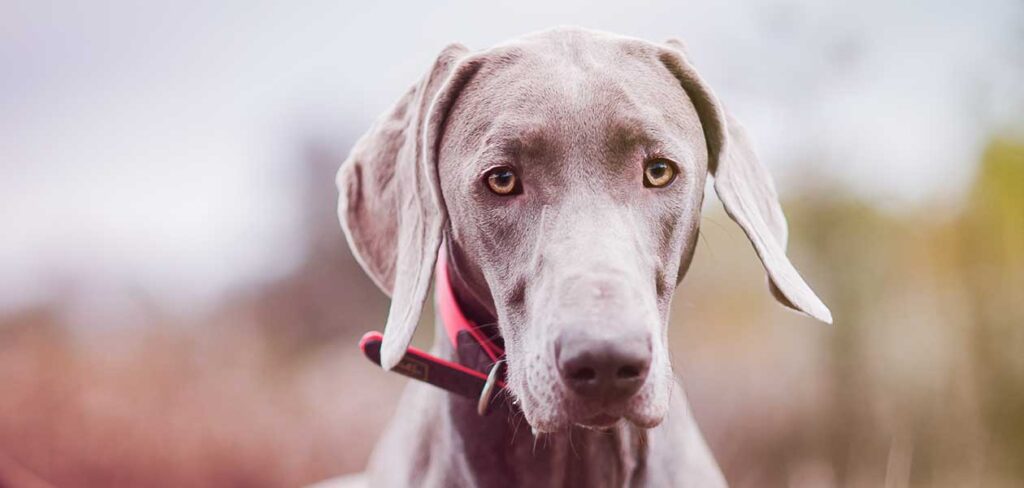 The color grey varies from silver to deep charcoal, and grey dog breeds come in a range of beautiful shades. There are big grey dog breeds and very small ones too. Each has a unique temperament, though they all tend to be smart, loyal and beautiful. From the tiny Silky Terrier to the tallest Great Dane, grey dogs come in wonderful range of personalities, sizes, and looks. Today I'll share the temperament, behavioral traits, exercise needs and health of the world's most popular grey dogs.
Contents
One of the awesome things about grey dogs is that you can find one to fit basically any family or home setup ready to welcome home a puppy. Which is great, because despite all logic telling us to choose based on sensible things like care requirements and friendliness, it's natural to have a coat color preference too.
Are Grey Dog Breeds Good Family Dogs?
Just because two dogs have the same fur color, doesn't mean that they will be the same in their other characteristics. A breed that suits one family might be completely wrong for another.
It's important to take a look at potential health problems, temperament, and general care needs of any new pup you're planning on bringing home. You should also consider their exercise needs and trainability to ensure you can offer everything they need.
Grey Coat Genetics
Your dog's fur color is determined by two types of pigment: eumelanin and pheomelanin. Eumelanin pigment is black. But special dilution genes can inhibit eumelanin production in dog hair, so it appears as grey instead.
Grey dog coats are often described as "blue", because the dilute pigment looks a little bit blue. The gene that dilutes the black coats to grey is the recessive dilute gene (d). Only puppies who inherit the d gene from both of their parents have a grey coat. These genes are actually quite controversial in some breeds, such as the Silver Labrador!
Some of our largest and most noble dog breeds come in the color grey, including the Great Dane, and the amazing Irish Wolfhound, with it's medieval good looks. But if you don't have a banqueting hall for your dog to stretch out on, there are plenty of smaller and more portable canines to choose from.
Weimaraner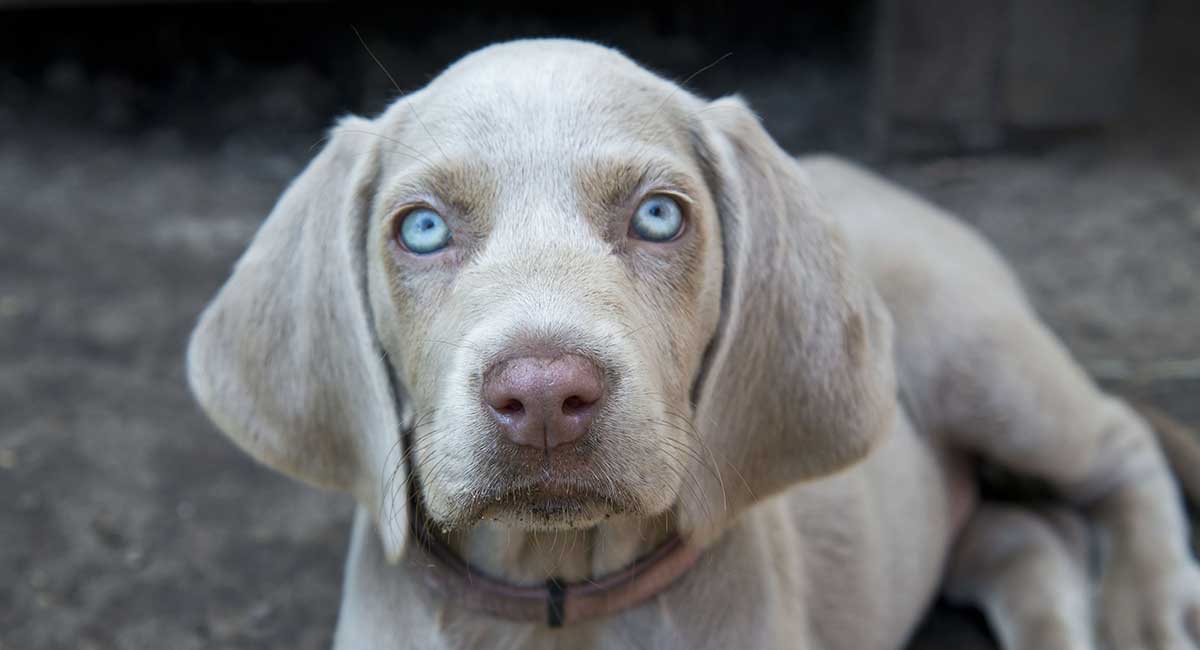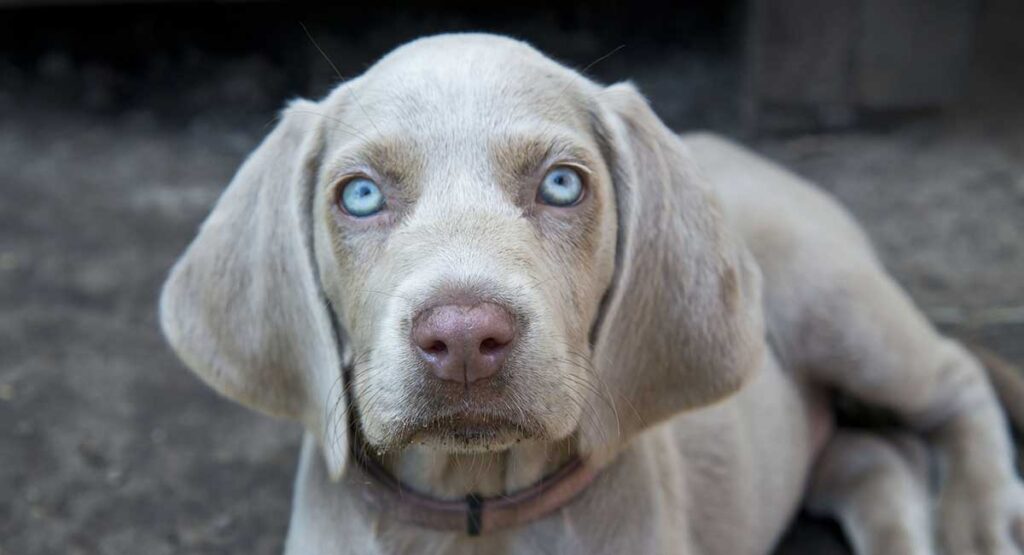 The Weimaraner is one of the most famous and popular grey dog breeds! Weims are medium sized dogs that grow up to 27 inches tall, weighing between 55 and 90 pounds as adults. They are intelligent, energetic, and very loving dogs that are likely to become very attached to their families. They have even been dubbed 'velcro dogs'!
Weimaraners are in the sporting category as gundogs. So, they need plenty of exercise every day and may show some natural hunting instincts. Socialization and training are key to ensure a Weimaraner is happy, confident, and friendly to other people and animals as an adult.
Siberian Husky
Siberian Huskies are one of the beautiful grey and white dog breeds out there. They are known best for their rich history as sledding dogs in Siberia. Huskies are social, vocal, and intelligent dogs. But, they are used to working independently from humans in large packs. So they may have chase instincts that mean they aren't suitable for home with other small animals.
Socializing your Husky can help to minimise this risk. And your dog is sure to take well to positive reward training. Huskies need plenty of exercise, and also regular grooming to ensure that their coat stays free of knots and tangles.
Thai Ridgeback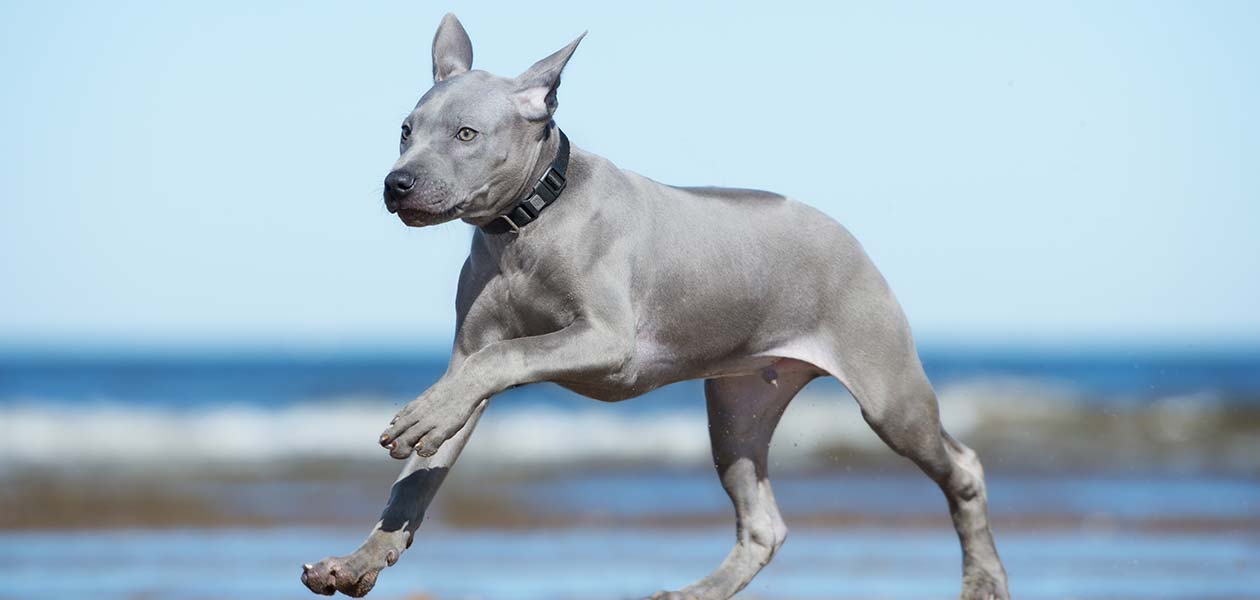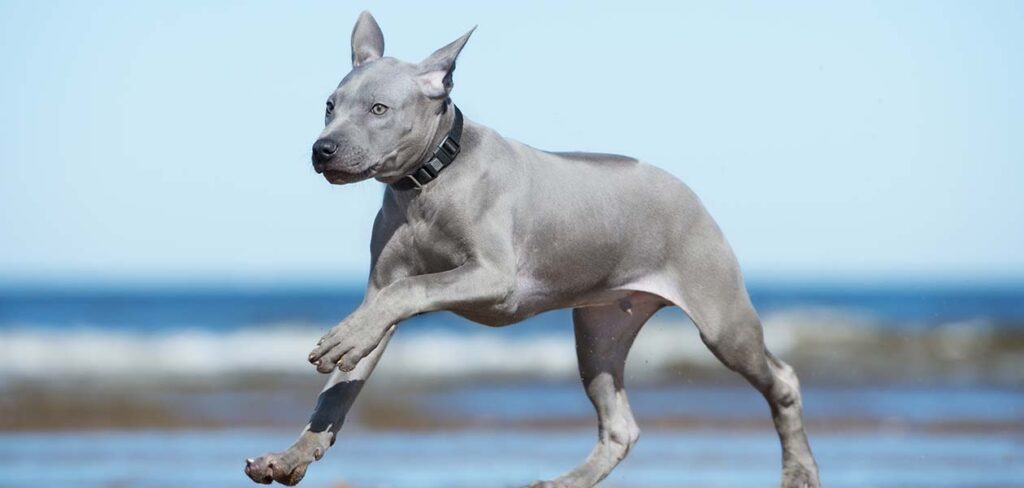 The Thai Ridgeback is a beautiful and distinctive grey dog breed that belongs to the Hound breed category. As the name suggests, the Thai Ridgeback is originally from Thailand. It was first used as a guard dog, a carting dog, and to protect people from cobras. But, this may mean that a Thai Ridgeback has strong natural guarding instincts. So, you would need to socialize this breed well as a puppy to prevent any potential aggression as an adult.
This dog has high exercise needs, but won't require much grooming. They are very athletic dogs, but they are also known for being independent, protective, and loyal. Thai Ridgebacks will do best with a patient owner who can fulfil their needs.
Scottish Deerhound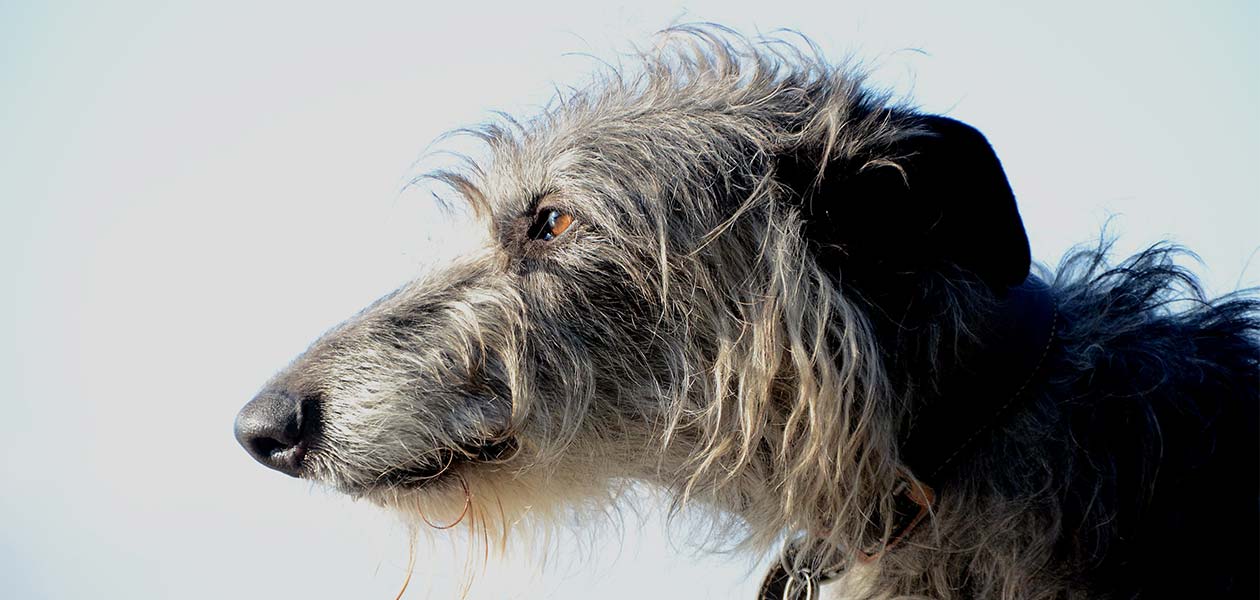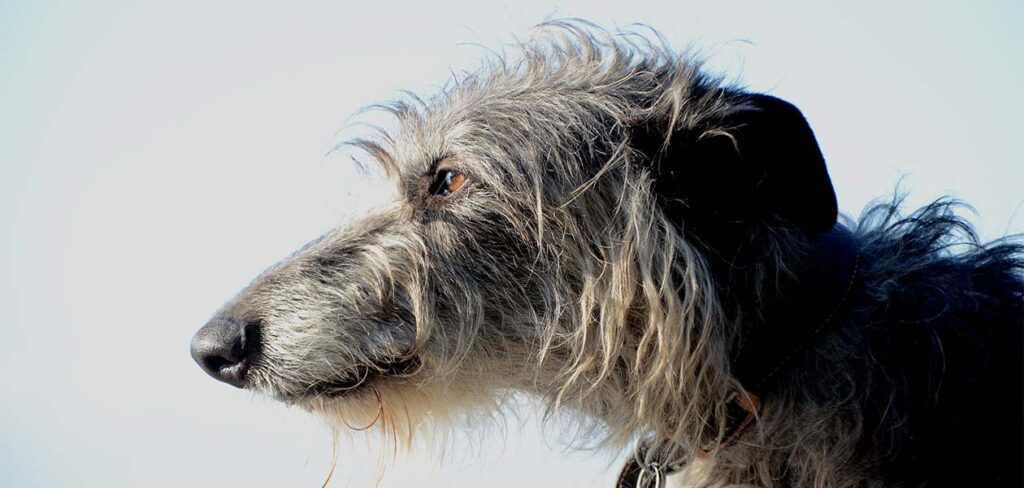 The Scottish Deerhound is a large Sighthound breed from Scotland. They grow up to 32 inches tall, and will often weigh over 100 pounds. Females in this breed are generally smaller than males, but both are very large dogs. Although the Scottish Deerhound was used to hunt deer, it is actually known for being quite a calm dog. These gentle giants love having a cuddle on the couch.
They need regular exercise, but also lots of social interaction every day! This will keep them mentally and physically in great condition. Training is especially important with big grey dog breeds like this, as is socialization. They may not suit homes with other small animals, as they are likely to chase after them!
Old English Sheepdog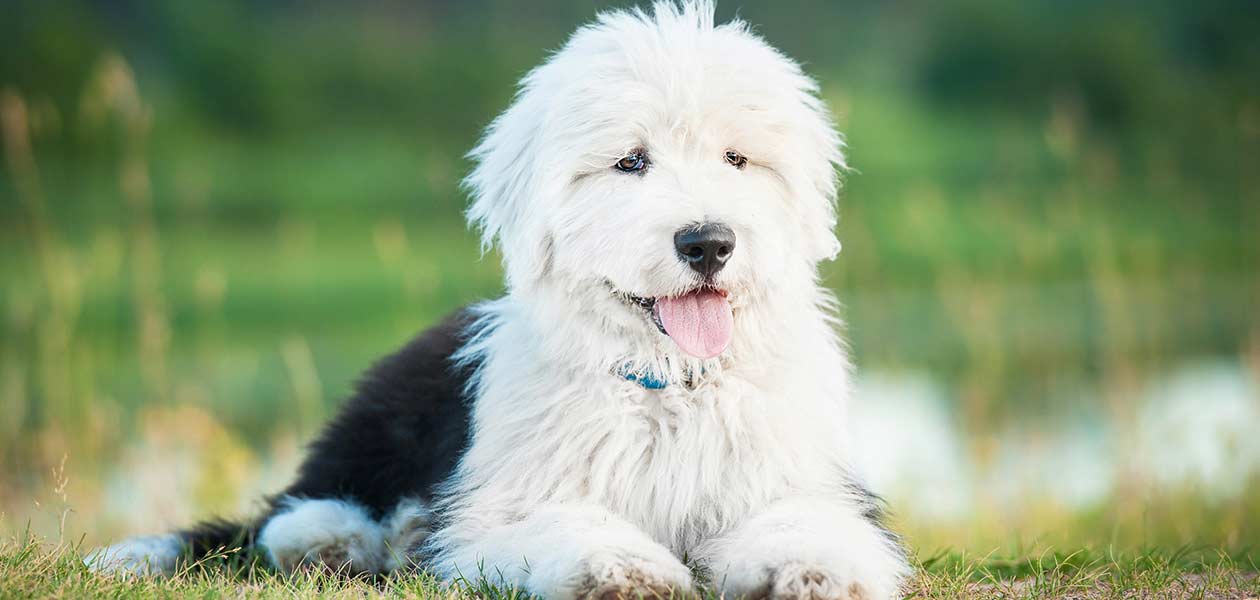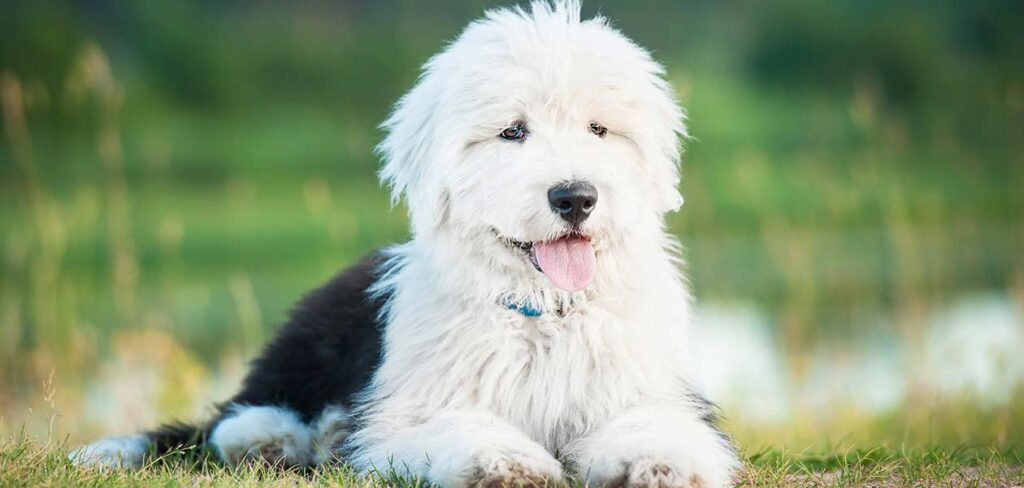 The Old English Sheepdog is one of our favorite fluffy grey and white dog breeds. It often grows above 22 inches tall, weighing between 60 and 100 pounds. However, his fluffy coat can make him look much bigger! Regular grooming and bathing is a must, and you may need to go to a professional groomer to trim your dog's fur.
The Old English Sheepdog is intelligent, patient, and courageous. Their original purpose was less about herding sheep and more about droving cattle to towns and markets.
Socialization and proper training from the time your Old English Sheepdog is a young puppy is important. This will help make sure your dog is happy and friendly when they grow up. It will also help to prevent any potential aggression, as this breed is protective of its family!
Australian Shepherd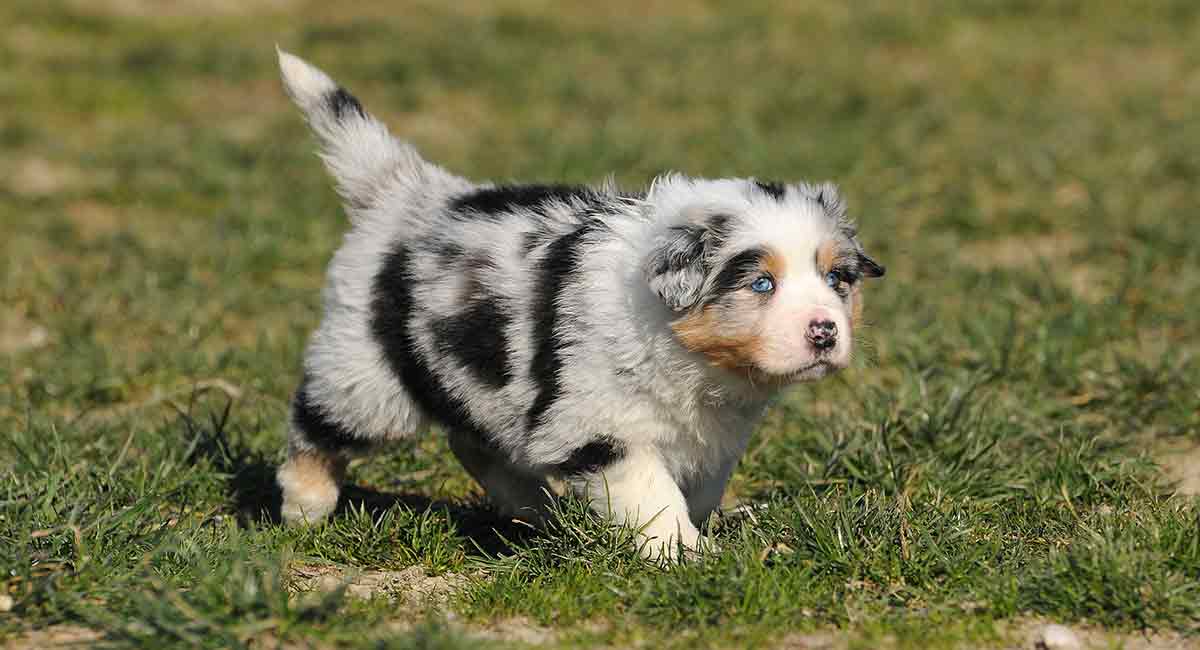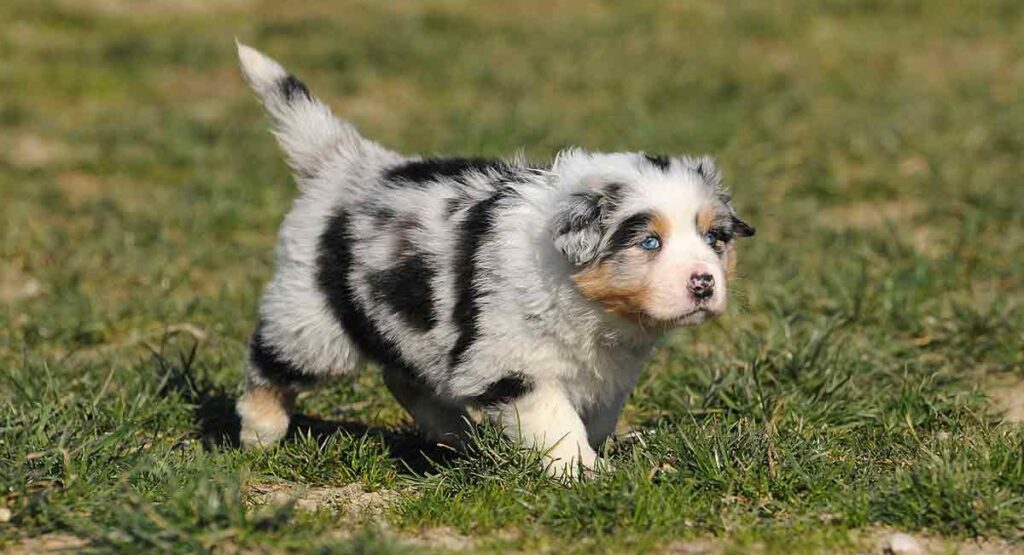 The Australian Shepherd is not a solid grey dog breed, but has grey coloring over its fur, often with white and tan coloring too in the merle pattern. Aussies need regular grooming, and a lot of exercise. This breed is known for being energetic, intelligent, and alert. They were originally a hunting breed, so may have some natural instincts to watch out for. Socializing your dog as a puppy can help to minimise this behavior.
Australian Shepherds also need a lot of mental stimulation to prevent boredom. A bored dog can lead to destructive behaviors, such as barking and digging.
Italian Greyhound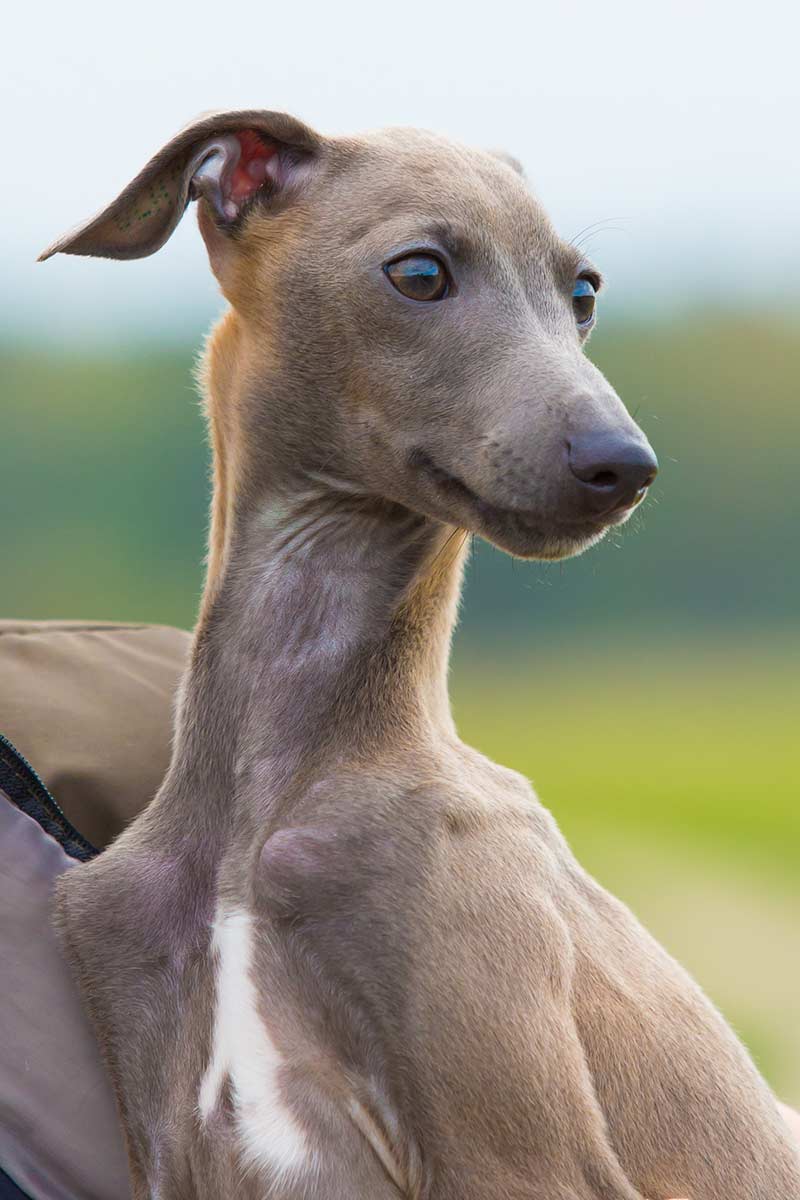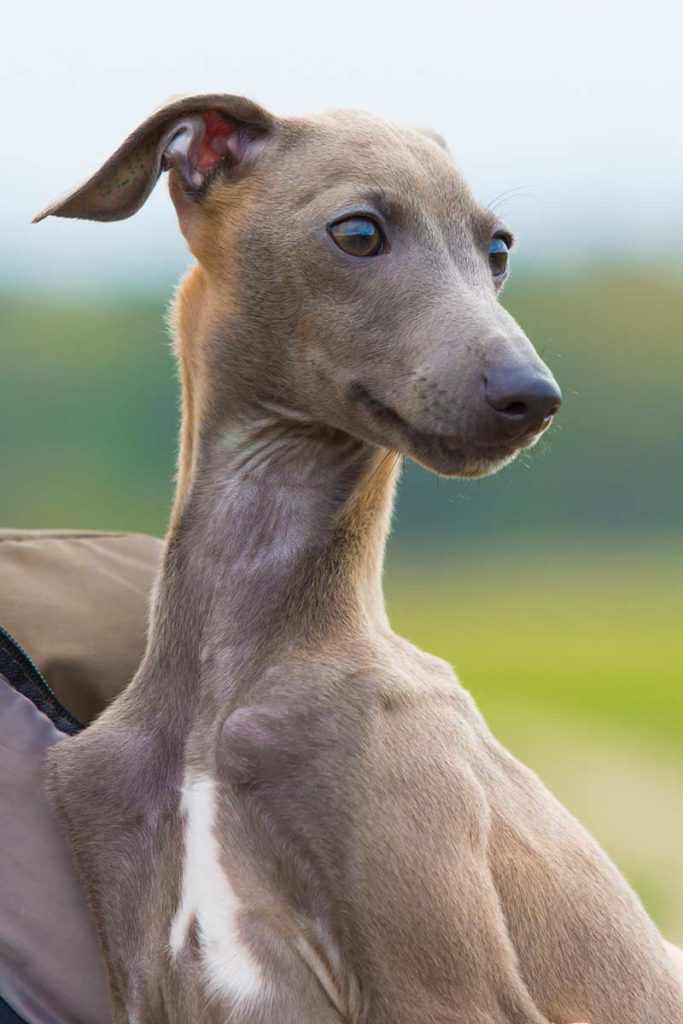 The Italian Greyhound is one of our small grey dog breeds that has a very rich history! This little pup will grow up to 15 inches, weighing from 7 to 14 pounds as an adult. Italian Greyhounds will switch between lazing around your home and racing about with tons of energy. They have strong hunting instincts that can mean they often dart off, leaving you chasing after them! Socialization and training are important to try and minimise this habit.
Recall and housebreaking are areas you will need to focus on if you have an Italian Greyhound. This is a very low-shedding breed. So, people who suffer from allergies to dogs may find that they are alright around the Italian Greyhound.
Irish Wolfhound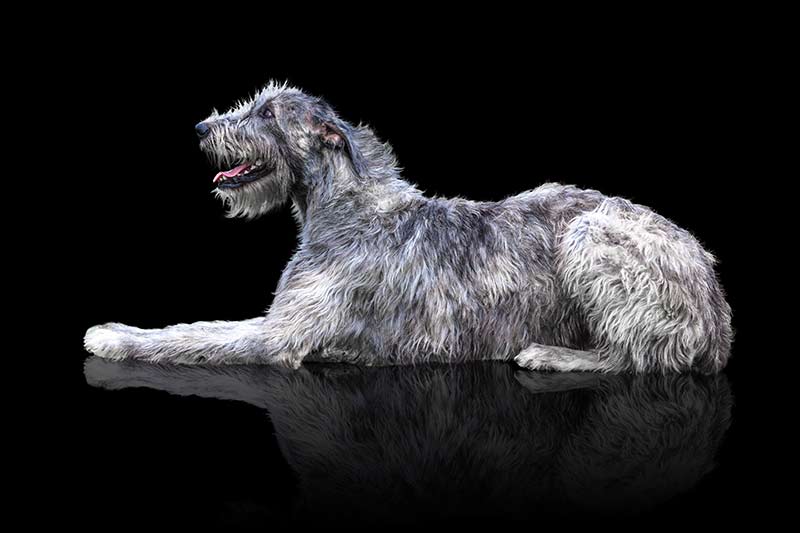 The Irish Wolfhound is another of our big grey dog breeds. In fact, it's quite the giant! These dogs will grow to at least 30 inches tall, weighing up to 110 pounds! Irish Wolfhounds have a rough, wiry coat and dark, expressive eyes. These dogs are known for being gentle giants that love relaxing with their families.
This is a great choice if you have small children at home. But, make sure to train your dog well, as its huge size means it can accidentally knock over kids! Smaller pets may not fare well around this dog, as it may have hunting instincts. So, socialization is very important in this breed. Take a closer look at the Irish Wolfhound in our complete guide.
Chinese Crested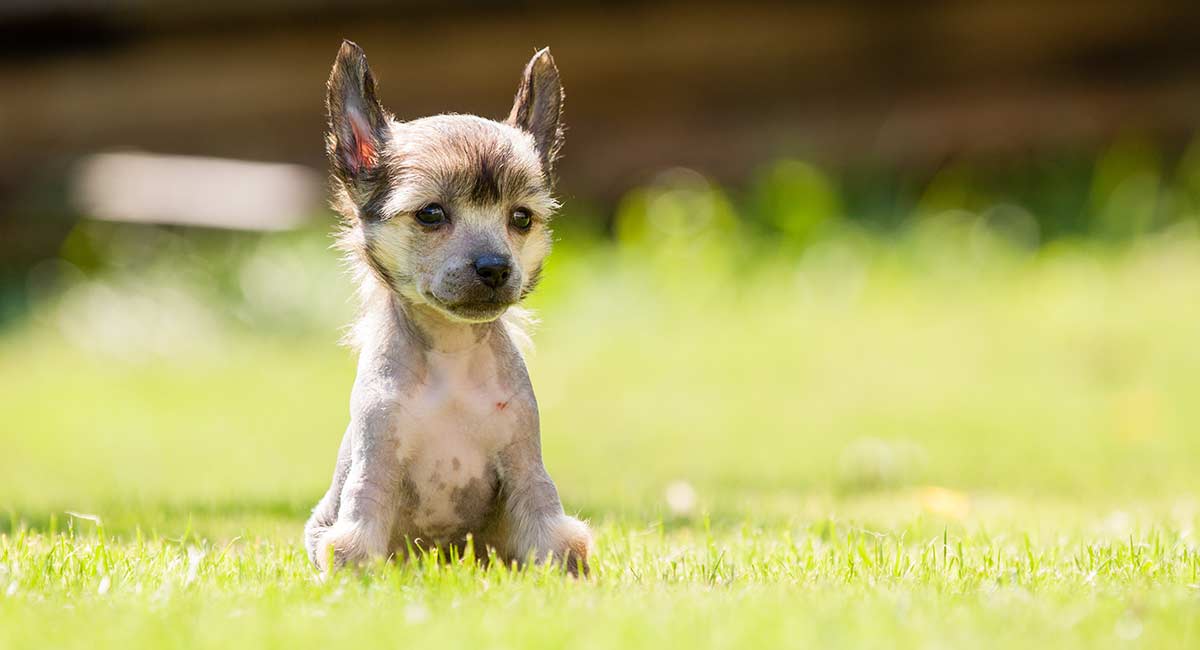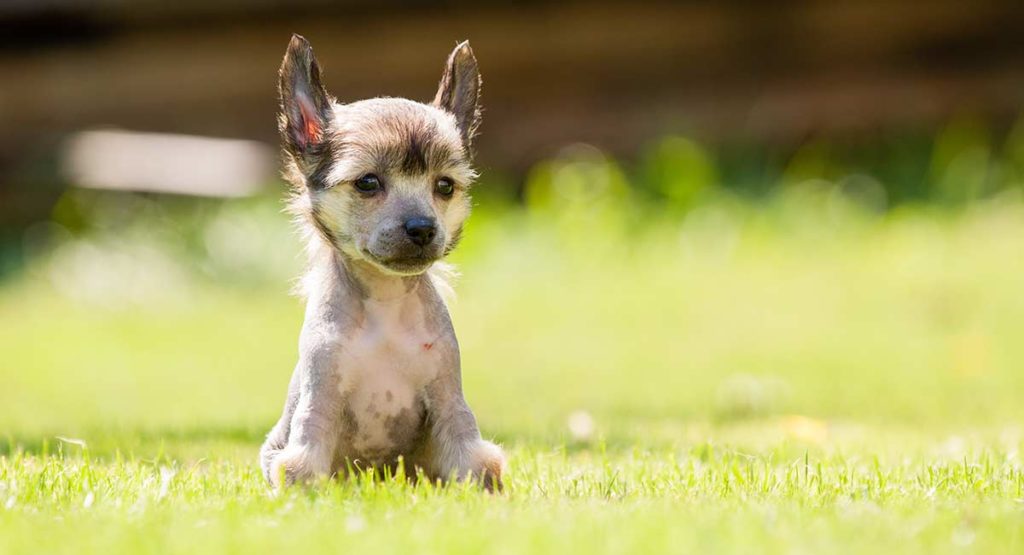 In contrast to the last dog we looked at, the Chinese Crested is one of our smallest grey dog breeds! This breed is actually hairless over most of its body. But, its skin can come in a recognized 'slate' color! The Chinese Crested will have hair on their head, neck ears, socks, and feet.
Chinese Crested dogs have very little grooming needs, and can make great dogs for people who suffer from allergies. They are friendly, loving, and outgoing, especially when socialized properly. But, they need to be handled with care, as they are small and delicate dogs.
Alaskan Malamute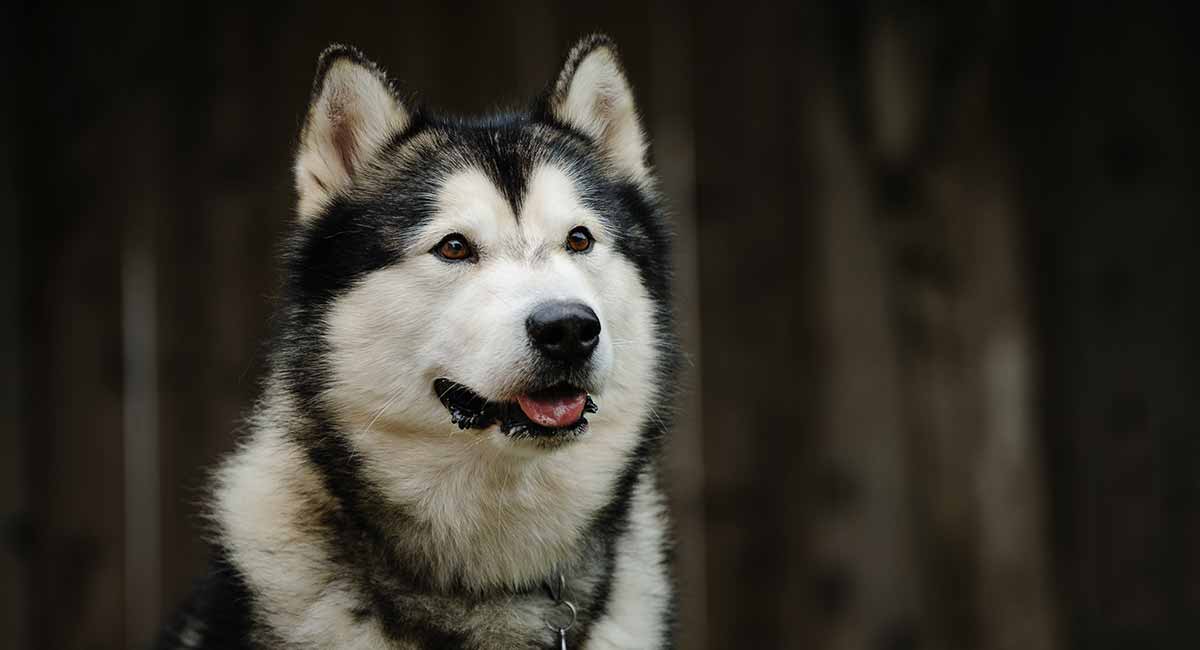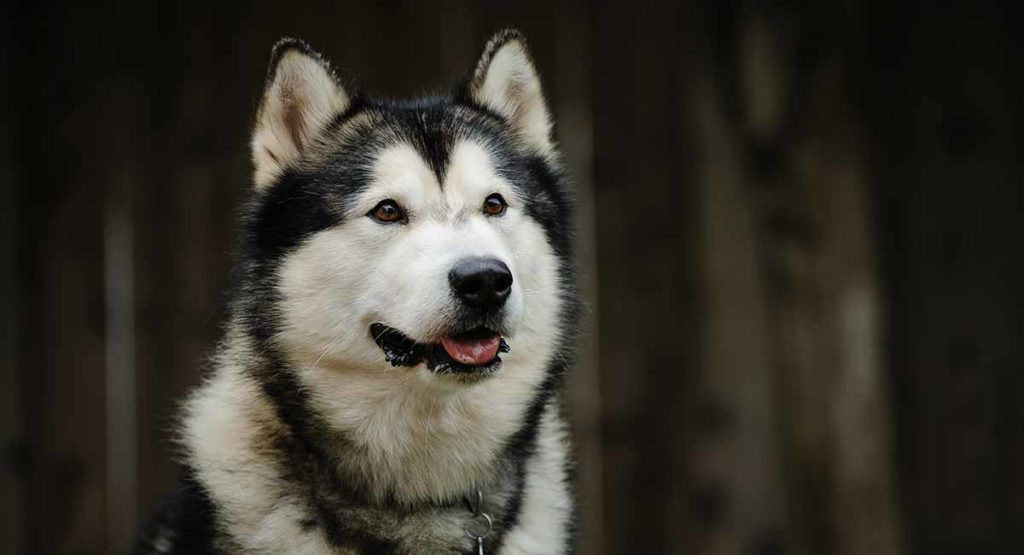 The Alaskan Malamute is another big grey dog breed. Although this is often a grey and white dog breed, and can also have black coloring. This large Spitz dog is known for being intelligent, faithful, and friendly. Alaskan Malamutes were bred as pack dogs, so get along well with other people and animals. But, it is still a breed that needs plenty of socialization and training to ensure it grows up happy, friendly, and confident.
This dog is full of energy and will need plenty of exercise to stay happy. If he doesn't get enough exercise or mental stimulation, the Alaskan Malamute is very easily bored.
Akita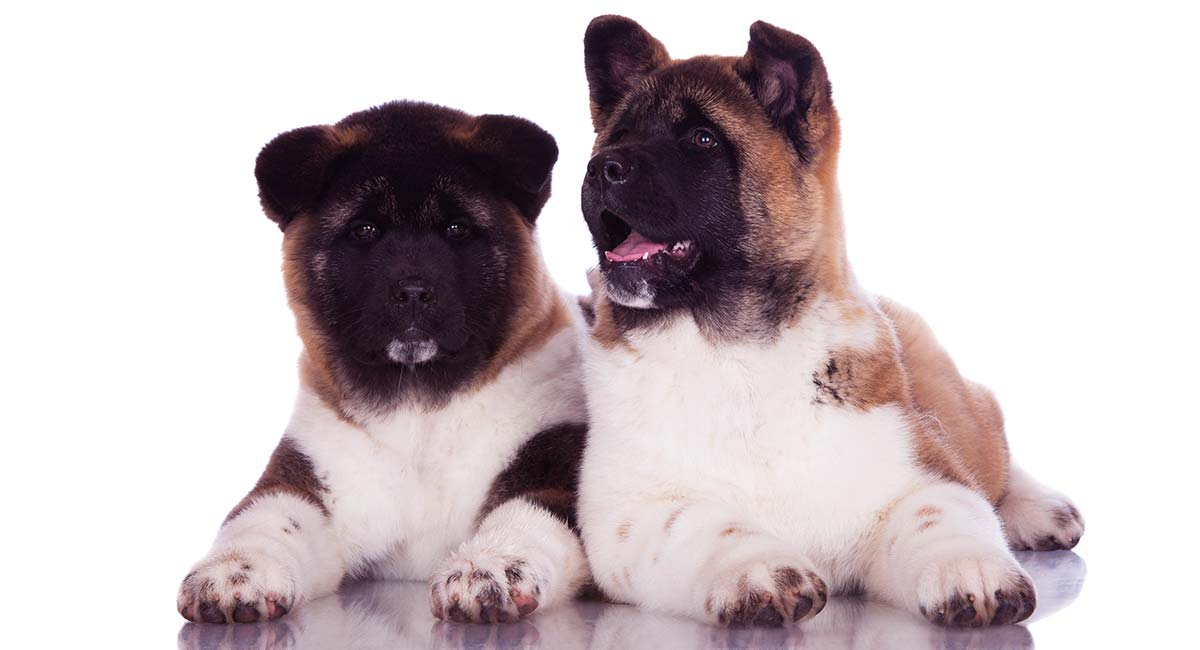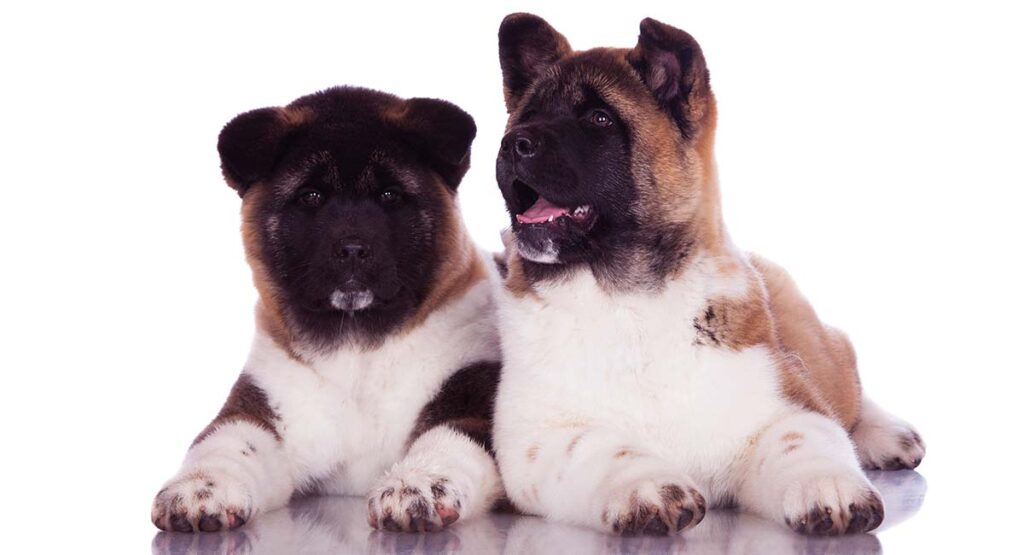 The Akita is a large dog breed that originated in Japan. It grows from 24 to 28 inches tall, weighing between 70 and 130 pounds as an adult. This breed has a thick double coat. It can be solid grey or grey brindle, often also with white.
Akitas are loyal and loving, especially with family. They may be wary with other dogs or strangers, so socialize them well as puppies. These dogs also have relatively high energy needs, so they will need regular daily exercise.
Whippet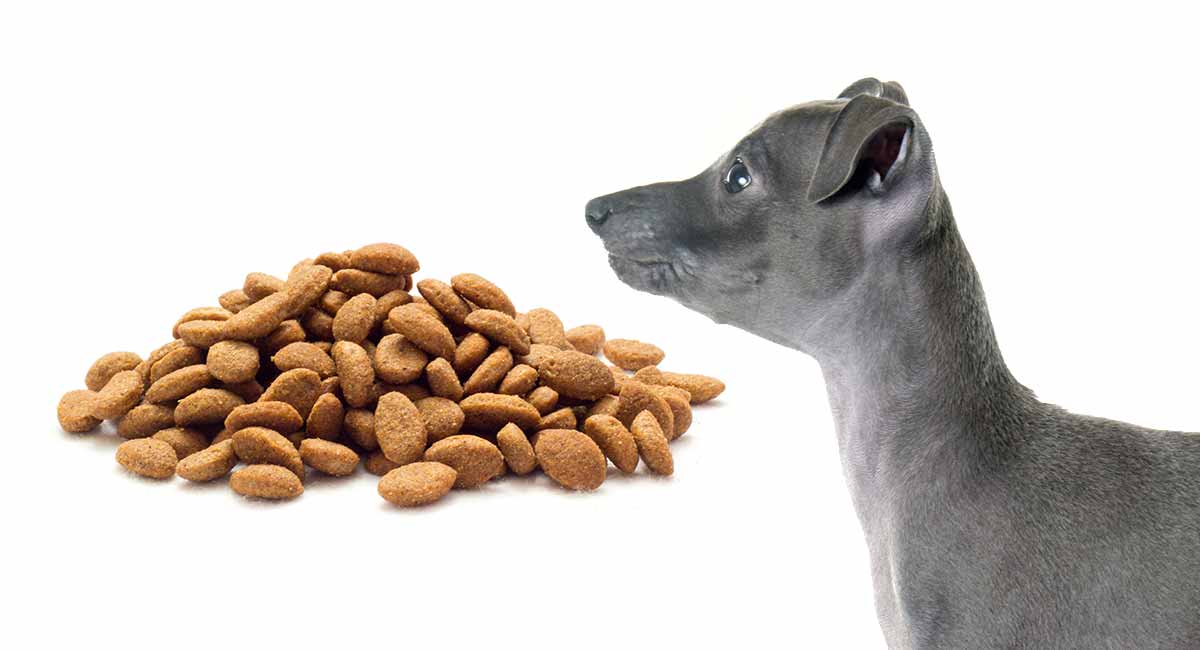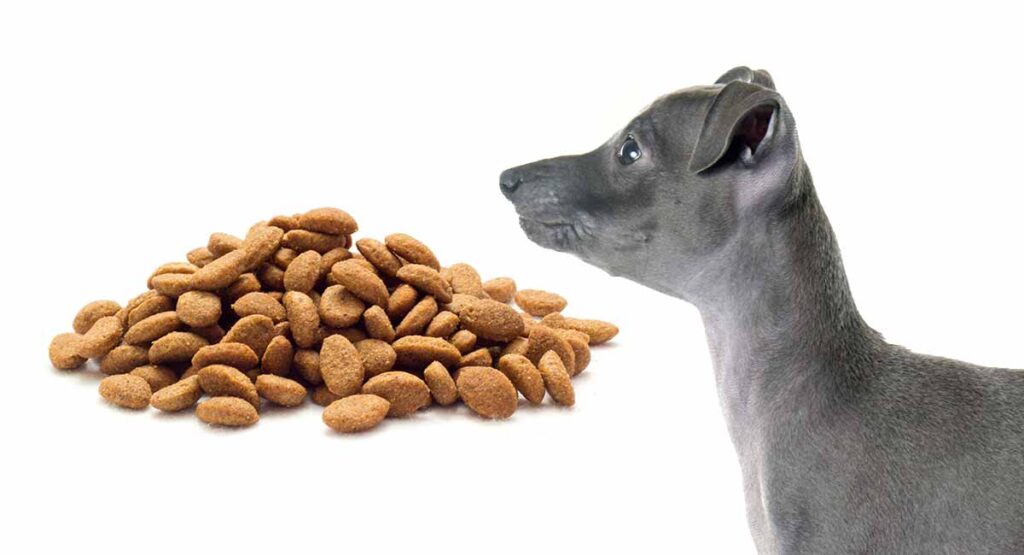 The Whippet is another Sighthound grey dog breed. They are slim, streamlined dogs that come in a huge spectrum of colors, including grey. These small dogs grow up to 22 inches tall, weighing 30 to 35 pounds. They are intelligent, sweet and gentle. These dogs have little to no aggression, but socialization is still important to create a confident dog.
Whippets are known for being great with children, and will spend just as much time curled up with you as they will running around and playing. Whippets need plenty of exercise, but can have chase instincts that make living with other animals tough. You should practice good recall with them before letting them off the leash on walks.
Norwegian Elkhound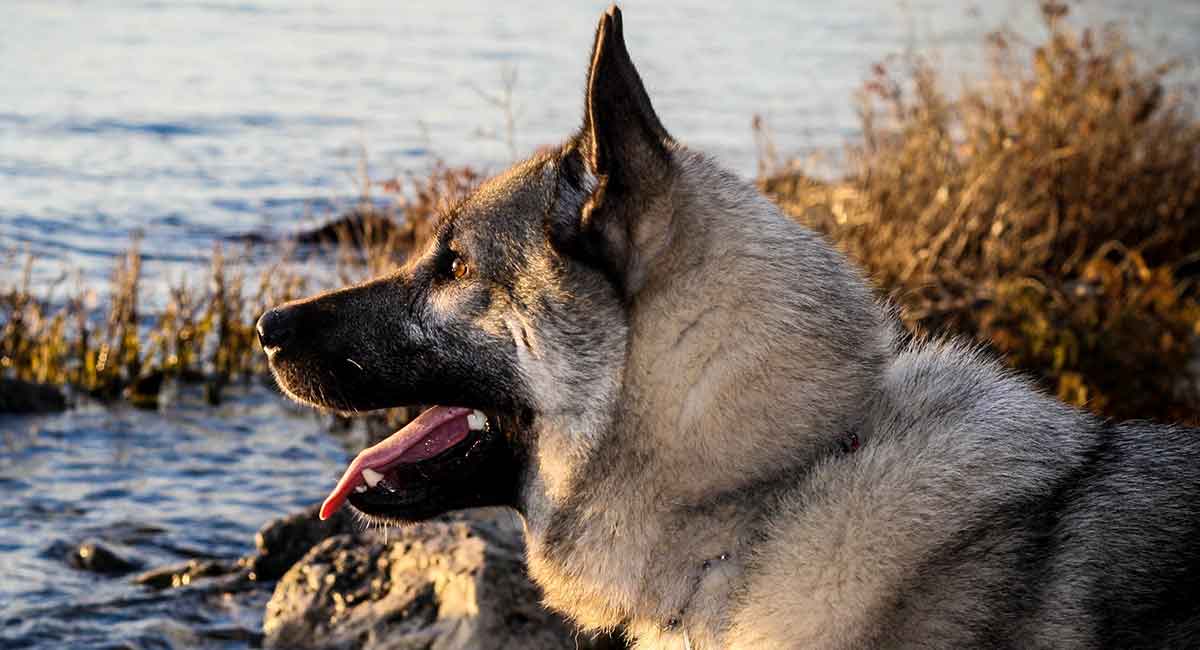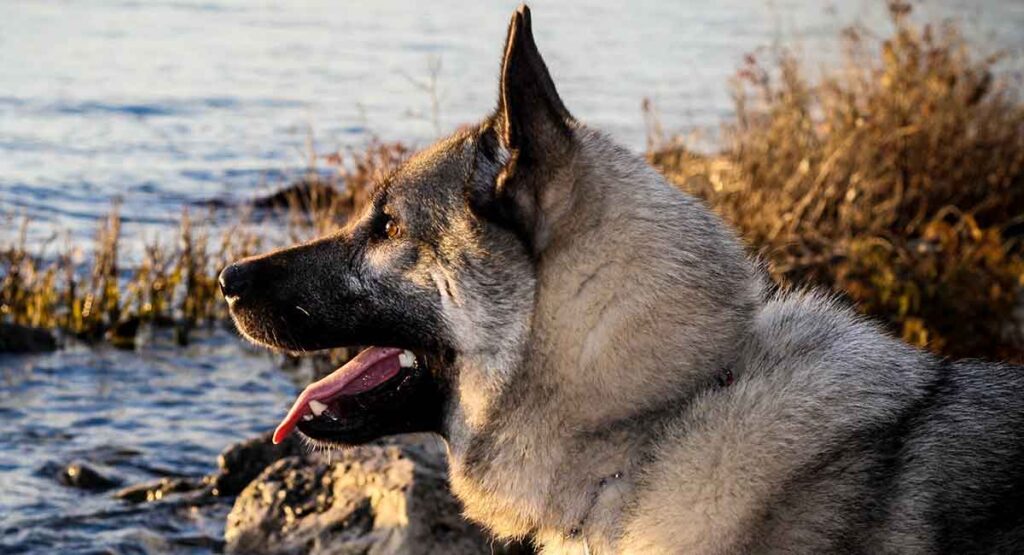 The Norwegian Elkhound is a Spitz grey dog breed that originally comes from Norway. These dogs are a strong breed with erect ears and a curly tail. They have a thick coat that will need regular grooming to ensure it stays free of knots and tangles.
Elkhounds are intelligent, confident, and loyal dogs. They are also often very independent and can be quite vocal dogs! Training and socialization are important to minimise any potential aggression, and to reduce the possibility of a natural chase instinct.
Lagotto Romagnolo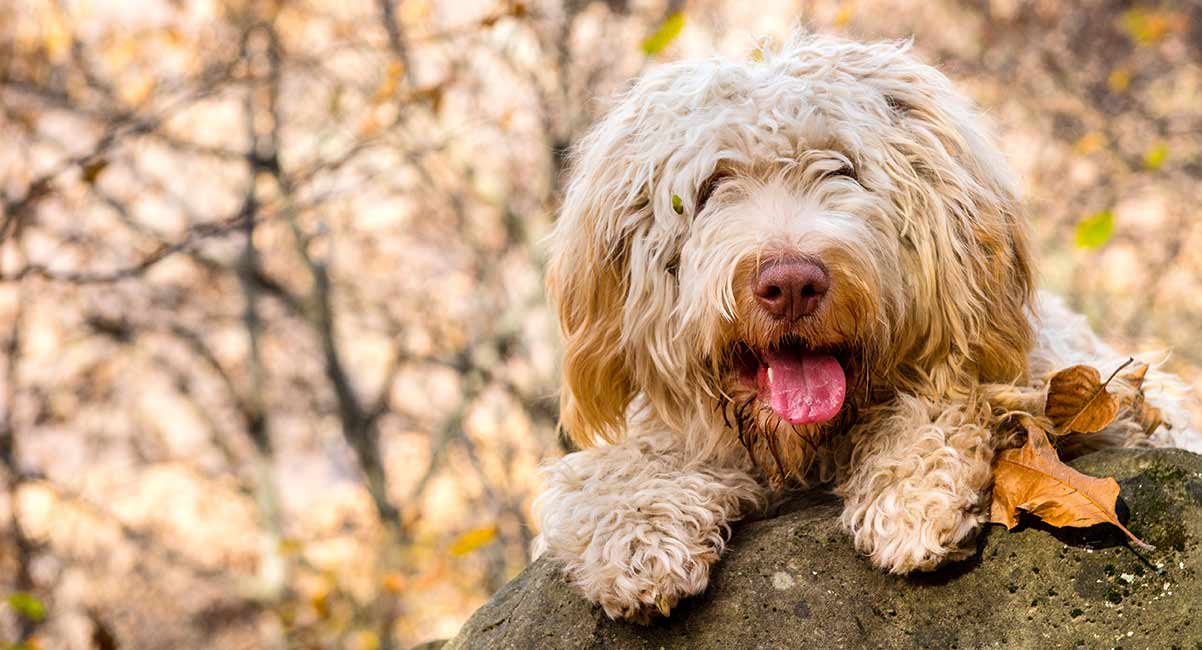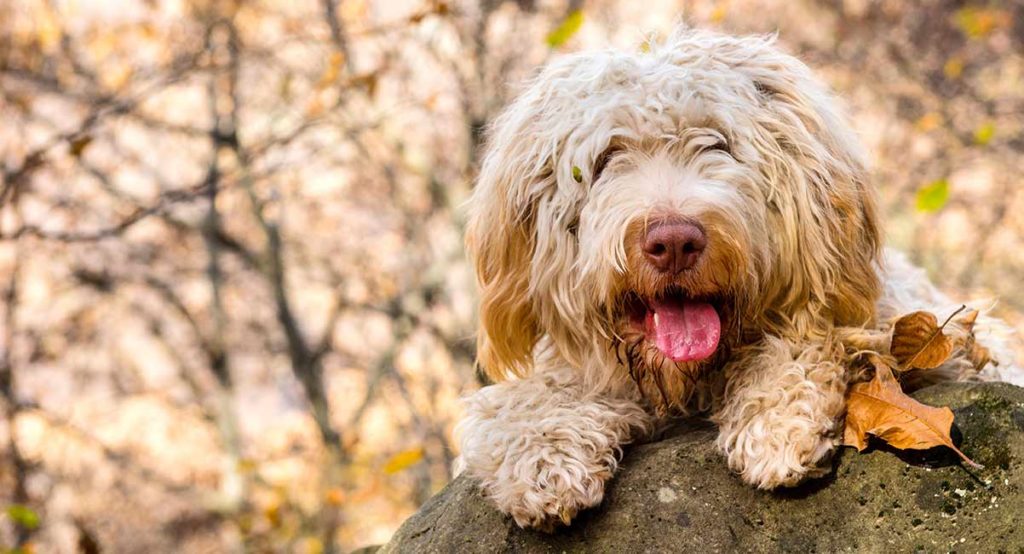 The Lagotto Romagnolo is a grey dog breed that comes from Italy! This little dog has quite a unique purpose – sniffing out truffles. These dogs grow up to 19 inches tall, weighing between 24 and 35 pounds as adults. They are energetic, loyal, and affectionate dogs.
Lagottos can develop guarding tendencies, so it is important to train and socialize them well from a young age. They will also need daily exercise to ensure they stay happy. Thanks to their intelligence, this dog is a great candidate for canine sports such as dock diving, agility, and scent work!
Silky Terrier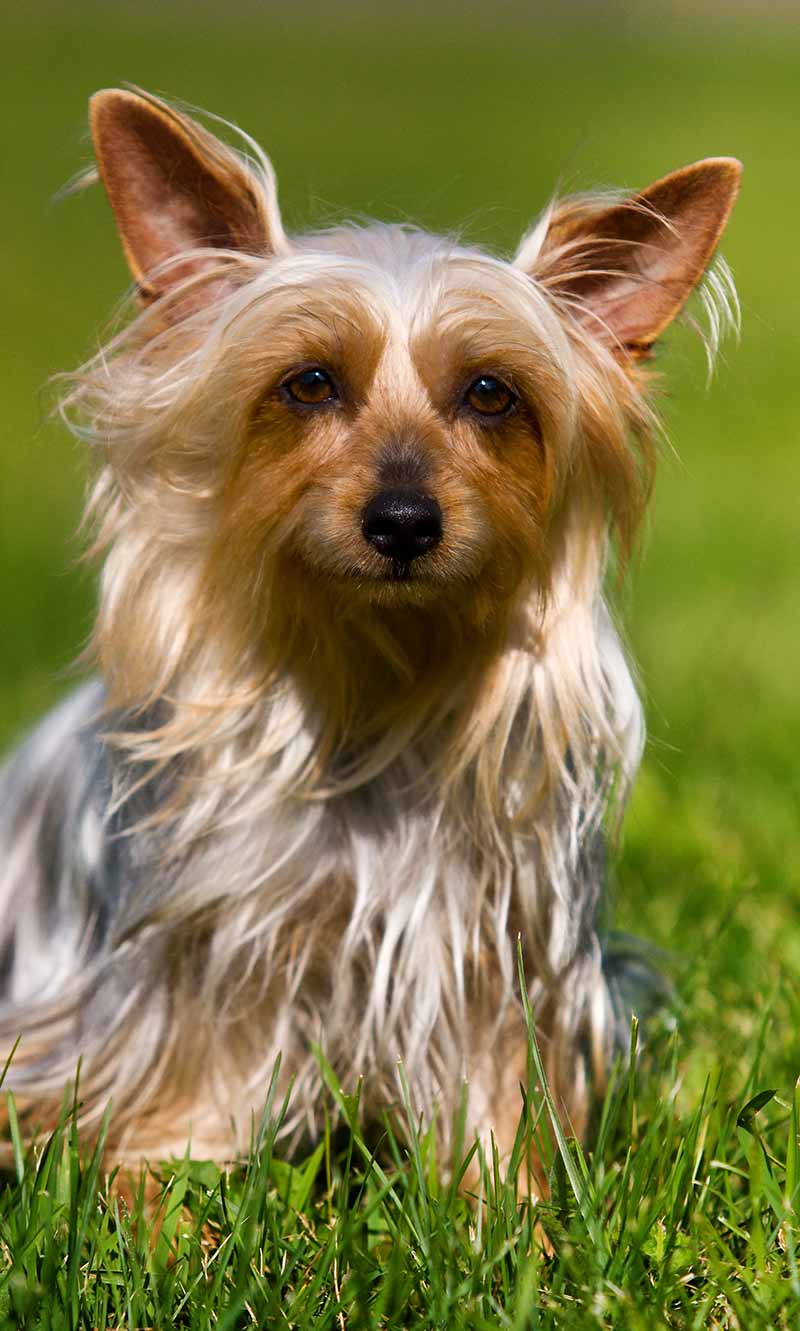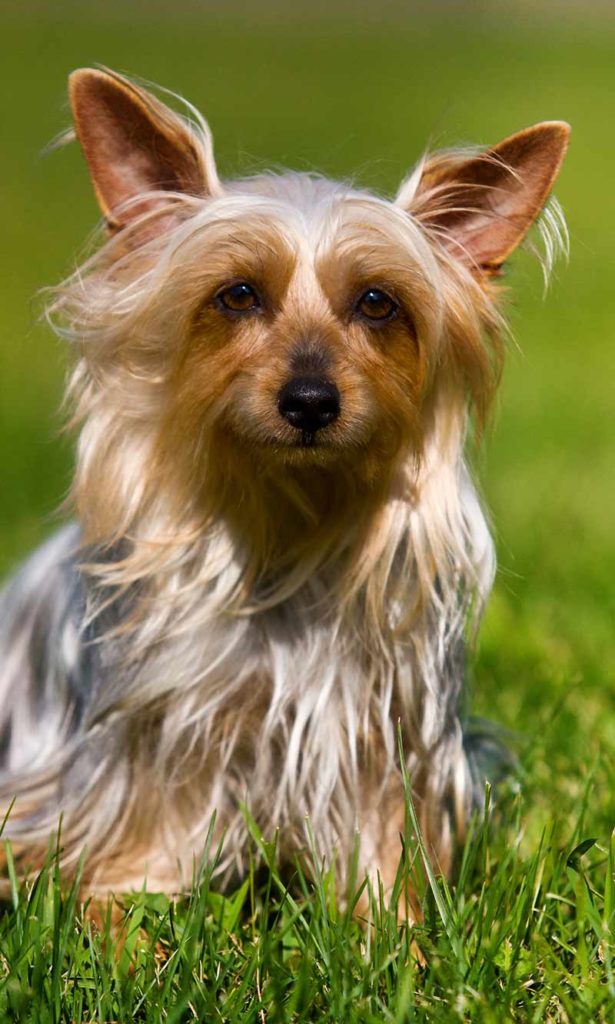 The Silky terrier is a small grey dog breed that has beautiful long fur. It is often grey and tan in its coloring. This is a small pup that grows from 9 to 10 inches, weighing up to 10 pounds. Silky Terriers are feisty, friendly, and alert.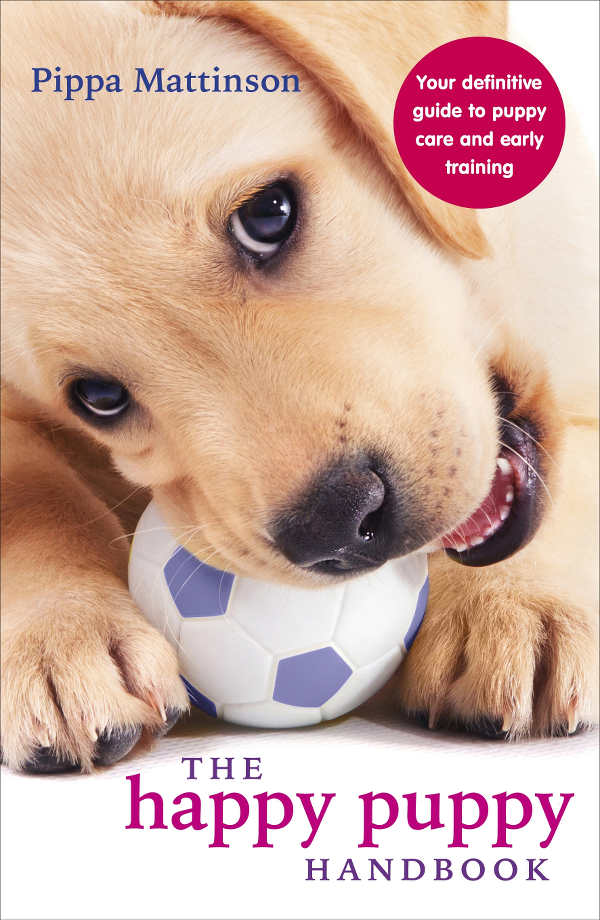 Their silky fur requires regular grooming to keep it looking so sleek, and prevent tangles. So, be prepared to spend a lot of time grooming a Silky Terrier. These dogs are smaller than many of the other grey dog breeds on our list, but they do still need plenty of regular exercise. Training is important to keep these dogs both mentally and physically satisfied.
Puli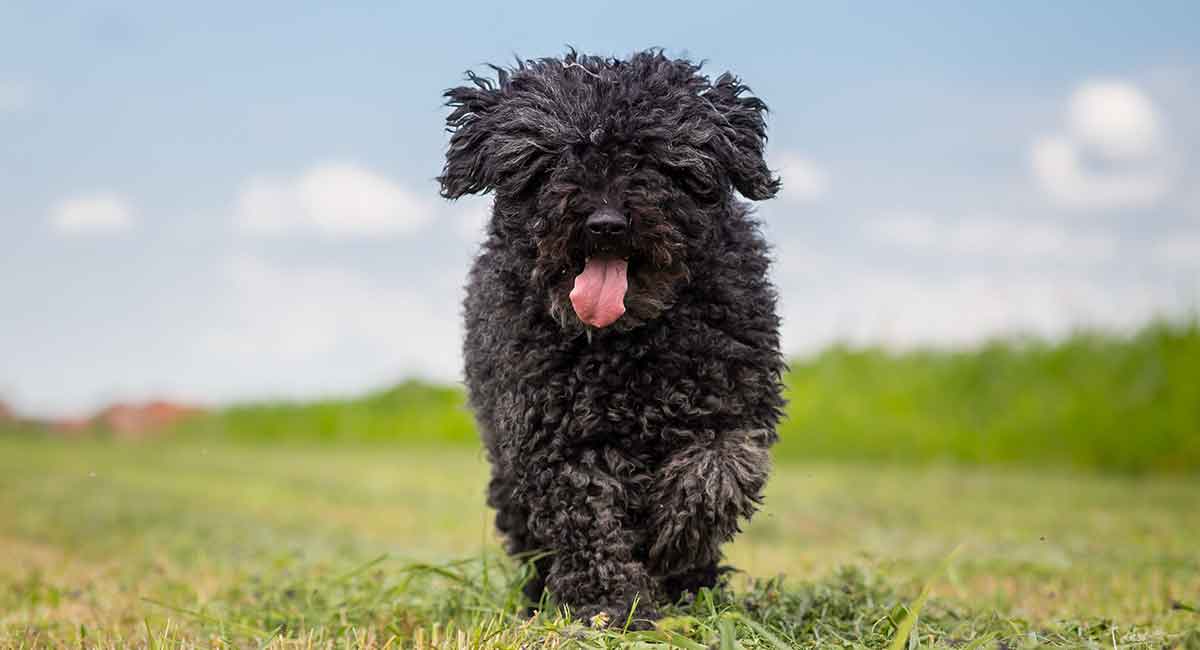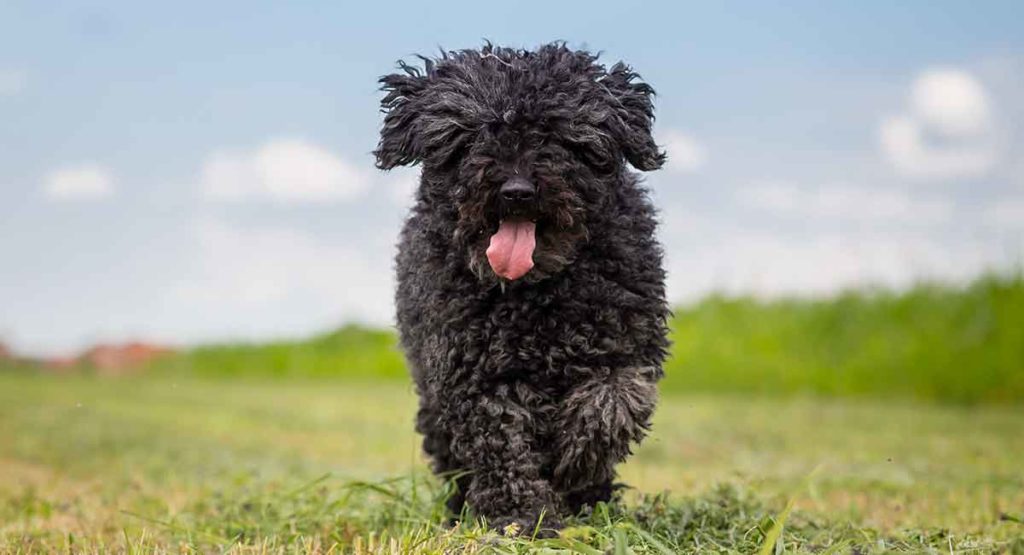 The Puli is a sheep herding breed that originally comes from Hungary. It is alert, energetic, and hardworking. Puli dogs have curly grey fur, but this only needs occasional grooming to keep on top of. This is not a high shedding breed.
But, Pulis do have high energy requirements. They need plenty of exercise every single day to keep them physically and mentally healthy. As a potentially independent dog with herding instincts, you will need to socialize the Puli well as a puppy.
Poodle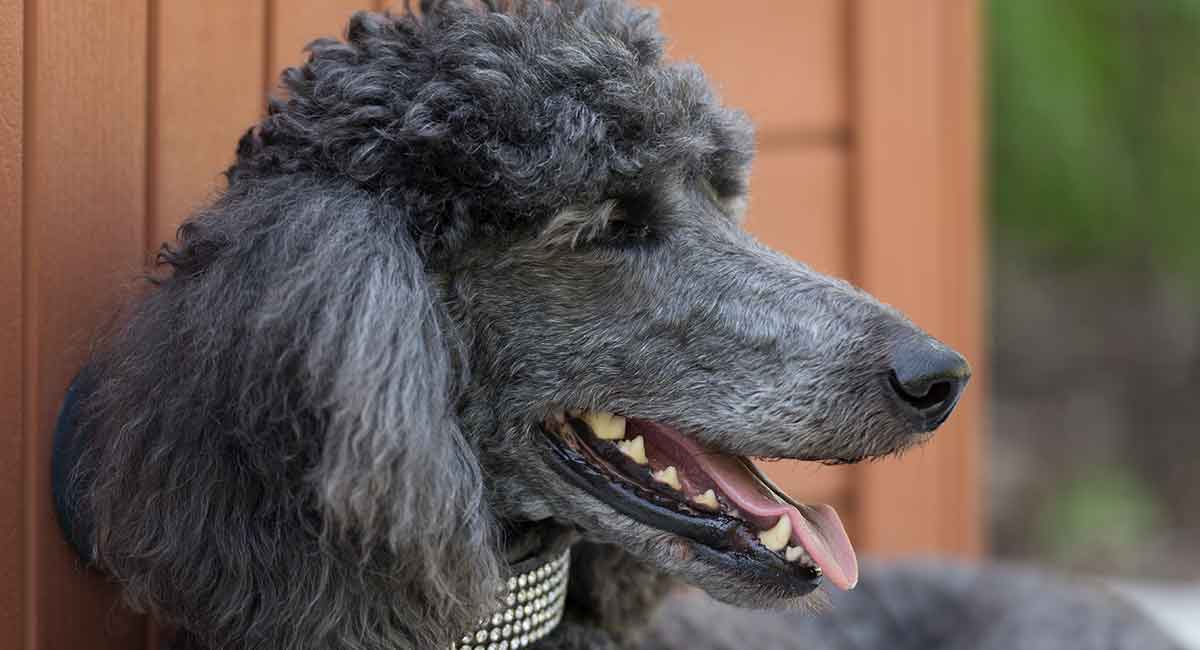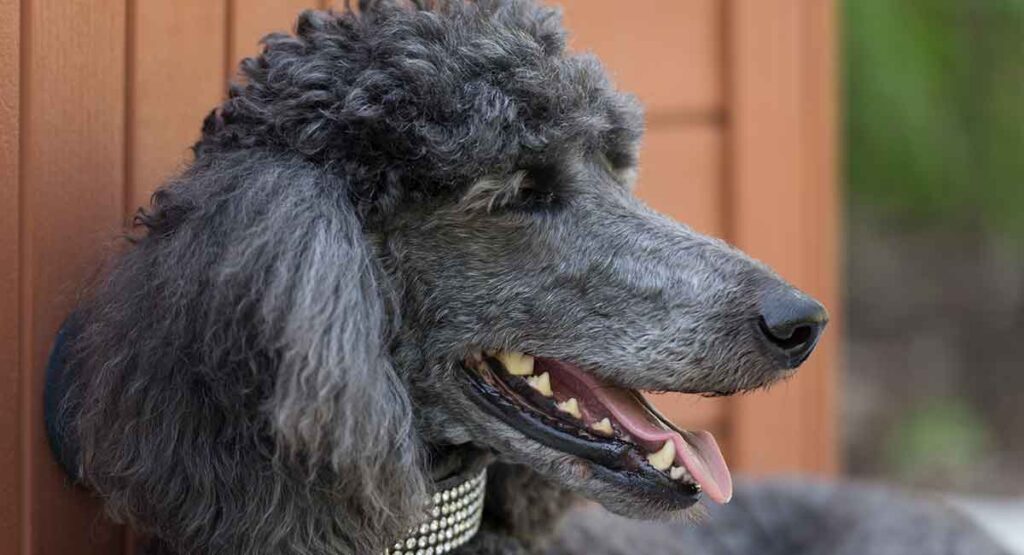 The Poodle grey dog breed comes in three main sizes: standard, miniature, and toy. However, each of these has the same temperament and very similar care needs. Poodles are popular because they are a low shedding breed, so people with allergies often do well with Poodles. They are intelligent, active, and friendly dogs. But, they are likely to have natural chase instincts that can make them unsuitable for homes with other small pets.
Socialize this dog well if you are bringing a Poodle home. They also need a lot of regular exercise. They can get part of this through training!
Great Dane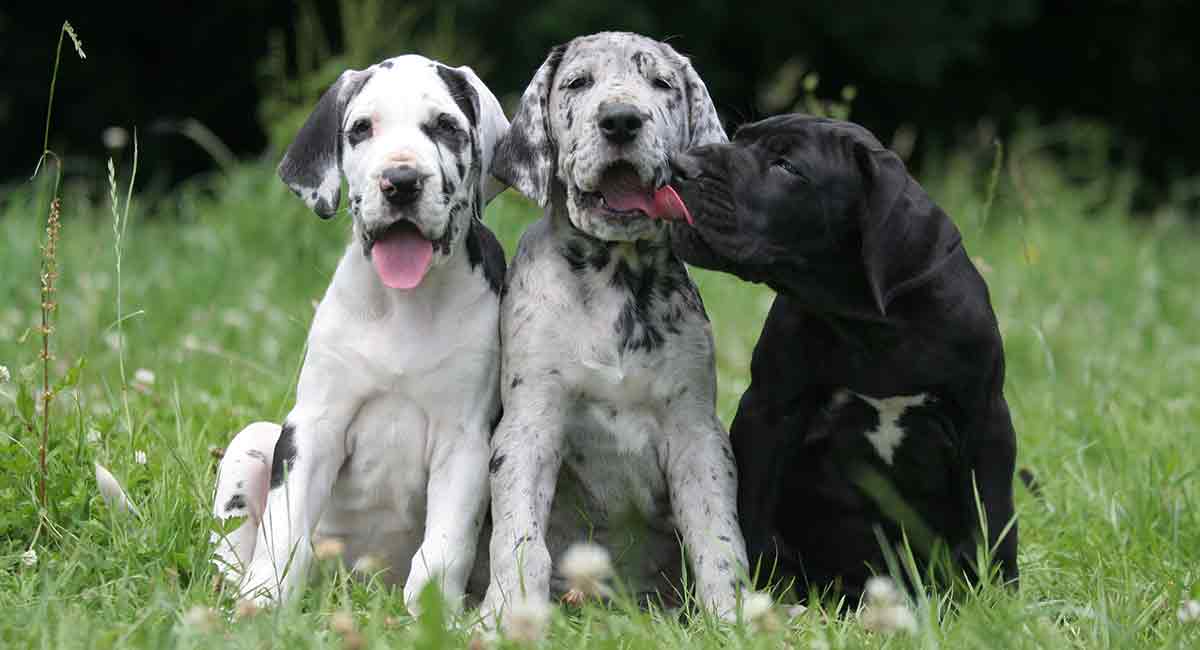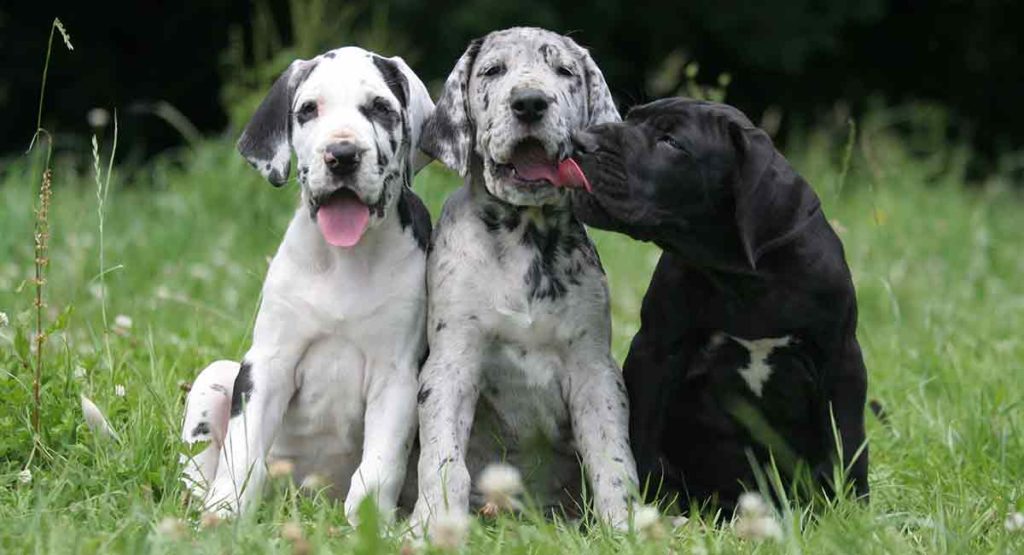 The Great Dane is one of our giant grey dog breeds! It grows up to 34 inches tall, weighing from 110 to 175 pounds as an adult.These dogs come in a huge variety of colors, including solid and partly grey! Great Danes are gentle, calm, and affectionate dogs.
French Bulldog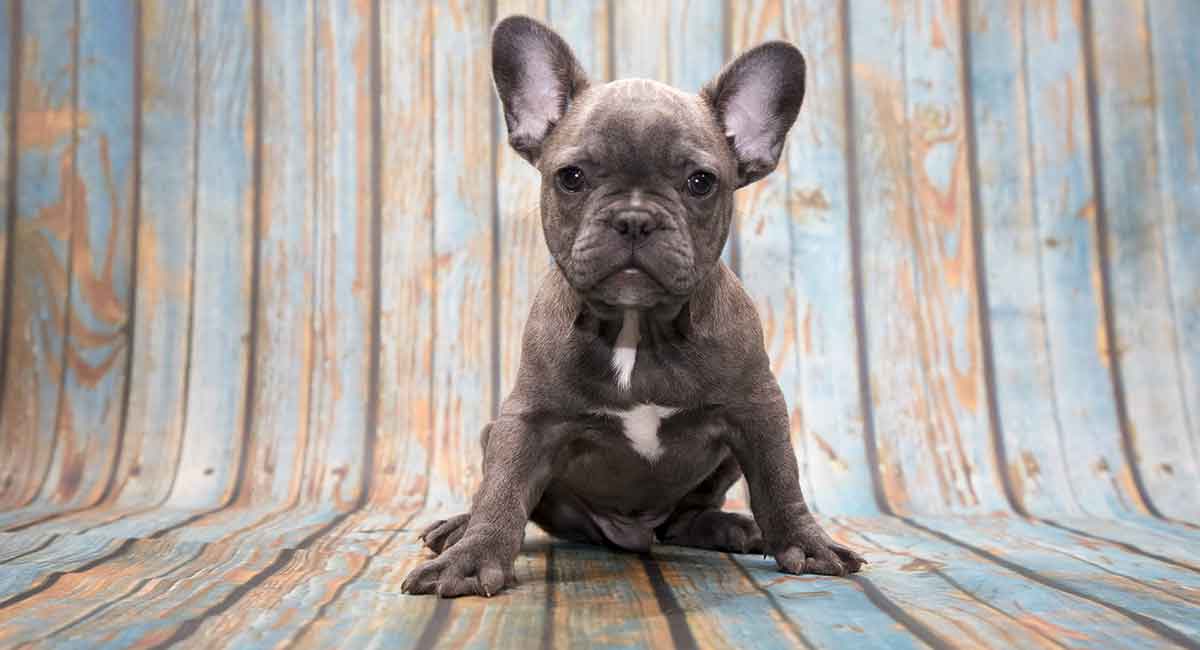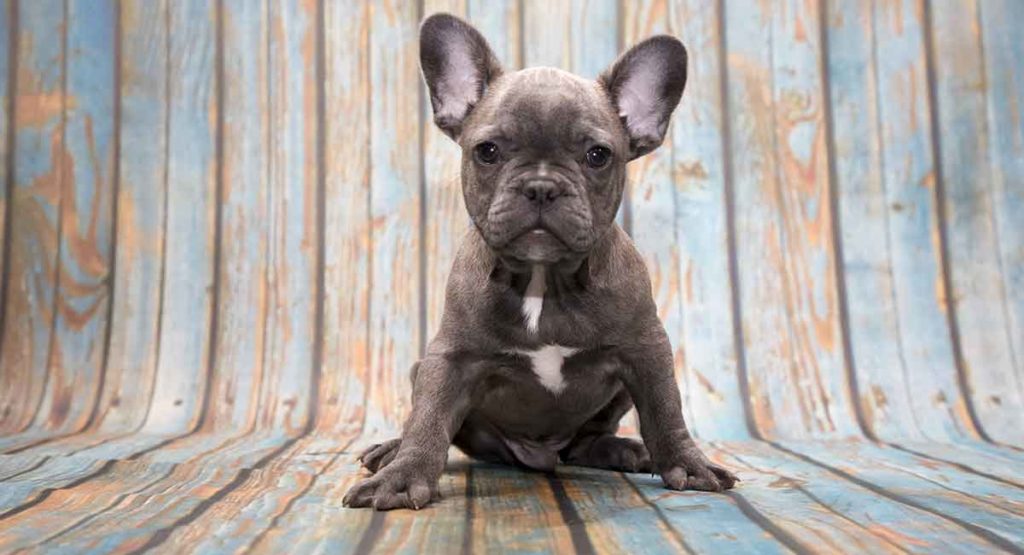 The French Bulldog is a small, flat-faced grey dog breed. They are happy, friendly, and lively dogs, but unfortunately suffer from a number of health problems. Dogs with flat faces are also known as brachycephalic. This is a conformation problem that has been bred into Frenchies over generations for aesthetic purposes.
Frenchies can suffer from problems related to their breathing, dental health, and eyes. Unfortunately, there is no cure for brachycephaly. If your heart is set on a French Bulldog, you may want to consider adopting an older dog from a rescue center.
Staffordshire Bull Terrier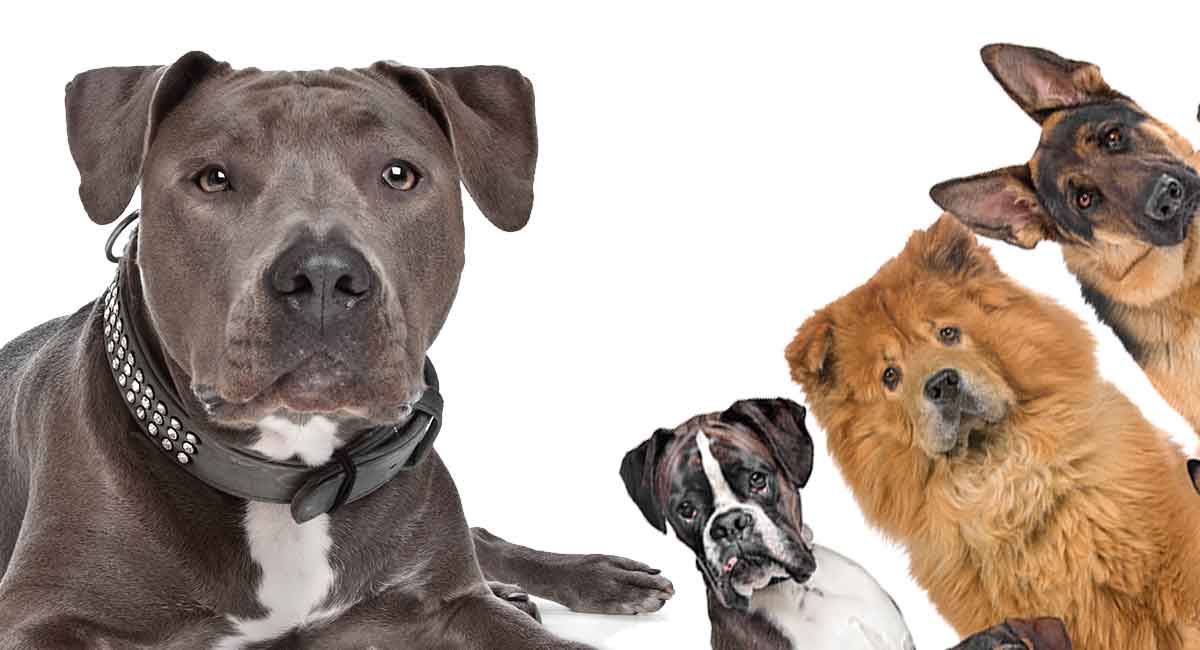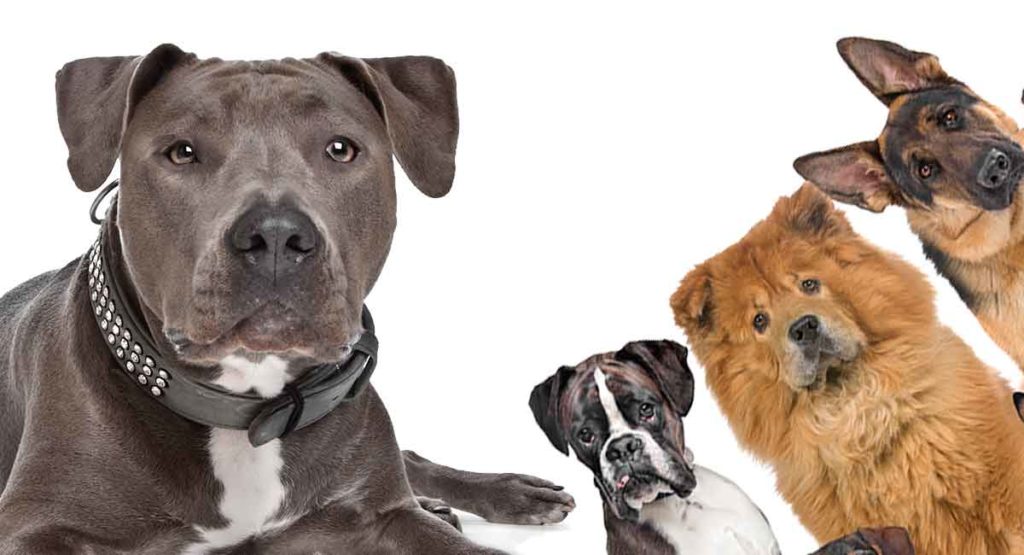 Staffies might have a bad reputation for being a bit grumpy with other dogs or animals, but they are incredibly loyal and loving to their families. They have short, easy to maintain coats and outgoing natures that fit well with active homes.