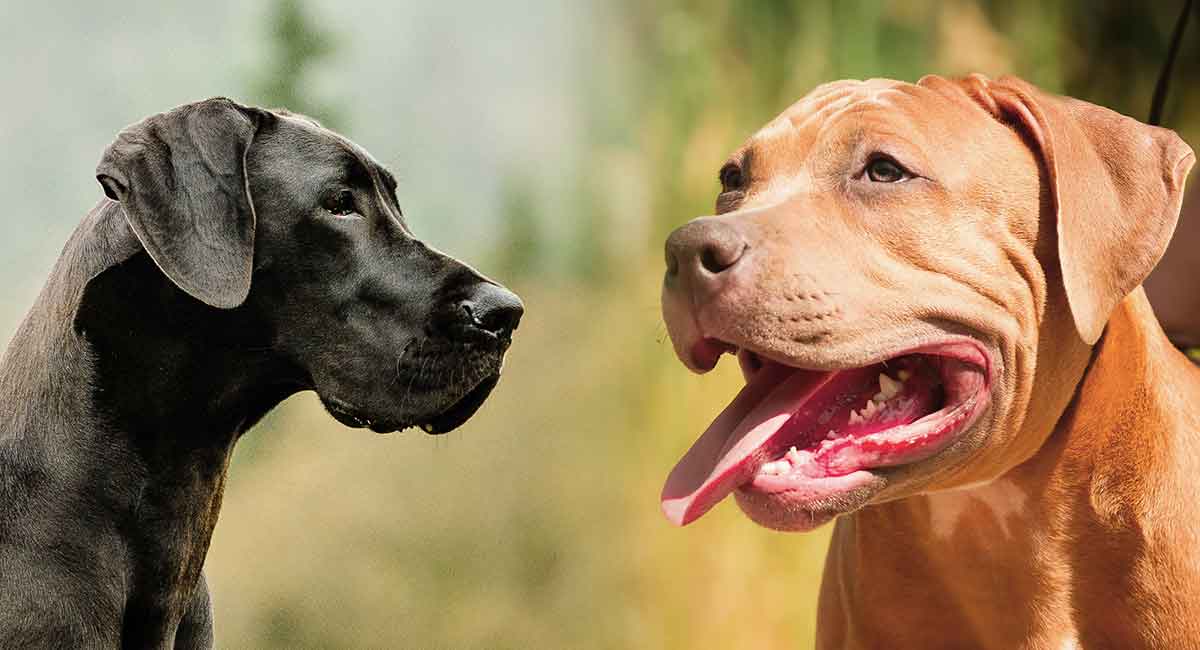 Although both the Great Dane and the Pitbull are quite well-known and popular, the Great Dane Pitbull Mix is rarely seen. It may become more popular as the number of mixed breed dogs increases.
Mixed breeds are thought to be healthier than purebreeds. However, this may not always be the case.
Therefore, you may have questions about this Mix, such as
what will this Mix look like?
what health problems might this Mix face?
should I get this Mix?
where can I adopt this Mix from?
what is the best way to train this Mix?
Read on to have these questions and more answered.
It should be noted that the Pitbull is not a recognized breed under the American Kennel Club. In this article, the American Staffordshire Terrier will be referred to as the Pitbull.
Where Does the Great Dane Pitbull Mix Come From?
Ancestors of the Great Dane may have first appeared in China around 1100 B.C.
Great Danes were first brought to Europe by a tribe from modern-day Siberia. These dogs were then crossed with greyhounds, producing the breed seen today.
The modern form of the Great Dane first appeared in Germany, where it was originally used to hunt wild boar. This breed is thought to be at least 400 years old.
The Great Dane is now the 14th most popular breed out of the 193 breeds recognized by the American Kennel Club.
The ancestors of the Pitbull were from the United Kingdom, where they were used as fighting and bait dogs.
Extinct breeds such as the White English Terrier and the Black-and-Tan Terrier may also have contributed to the Pitbull breed.
The Pitbull arrived in America before the mid-1800s.
More about Pitbulls:
Nowadays, the Pitbull is listed as America's 81st most popular breed by the American Kennel Club.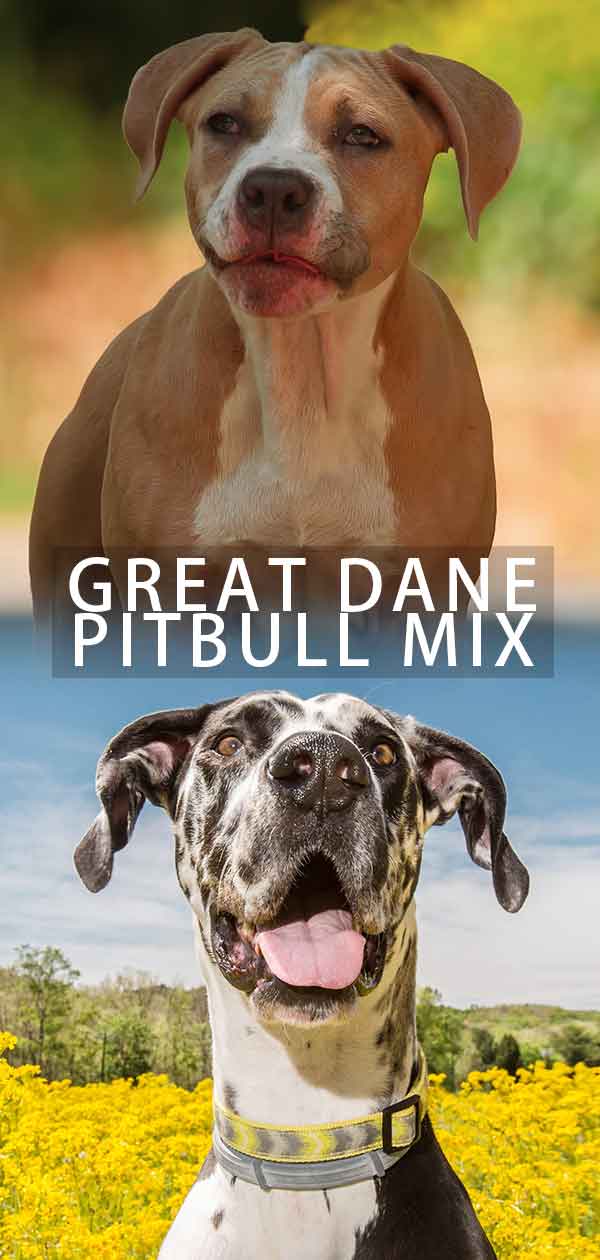 Fun Facts About the Great Dane Pitbull Mix
Famous Great Dane owners have included Amy Winehouse and Jim Carrey.
The dog in the comic Marmaduke is a Great Dane.
The Great Dane is the state dog of Pennsylvania.
A Great Dane called Just Nuisance was the only dog enlisted in the Royal Navy.
In the Harry Potter books, Fang is a Great Dane.
Famous owners of Pitbulls include Theodore Roosevelt, the actress Kayley Cuoco and Jennifer Aniston.
Pitbulls have often appeared on recruitment posters for the American Army.
They have also appeared on the cover of Life Magazine more times than any other breed of dog.
The Great Dane Pitbull Mix is known as the Great Danebull.
Great Dane Pitbull Mix Appearance
Male Great Danes are at least 30 inches tall, whereas females are at least 28 inches tall.
Male Pitbulls are 18 to 19 inches tall. Females are 17 to 18 inches tall.
Male Great Danes should be between 140 and 175 pounds, whilst females should be between 110 and 140 pounds.
According to the American Kennel Club, male Pitbulls weigh 55 to 70 pounds. Females should weigh between 40 and 55 pounds.
Due to how tall and heavy both parent breeds are, this Mix is likely to be large.
Pitbulls have a variety of coat colors, whereas Great Danes' colors range from light gray to dark gray merle. Therefore, offspring of these breeds may have a wide range of coat colors.
More information about Great Dane coat colors, including rarer varieties and color inheritance, can be found in our guide.
Great Dane Pitbull Mix Temperament
The American Kennel Club describes the Pitbull as "smart, confident and good-natured" and the Great Dane as "friendly, dependent and dependable".
According to their breed standard, Great Danes should also be spirited and courageous.
Papers have claimed that the Pitbull has a bite strength of 1800 psi, although there is little evidence to back this up. No research has been carried out on the bite strength of Great Danes.
It should be noted that both breeds have been involved in fatal attacks on people. Therefore, in order to bring out the best aspects of this Mix, a dog should be well-socialized from a young age.
Training Your Great Dane Pitbull Mix
As with any dog, this Mix needs good training and socialization. This is especially important due to its large size.
We have several resources on how to train dogs, including
Great Dane Pitbull Mix Health
According to Dr. Bruce Fogle, the Great Dane's expected lifespan is 10 years and the Pitbull's is 12 years.
Therefore, we could expect this Mix to live for around 11 years.
The American Kennel Club recommends different coat care for the Great Dane and the Pitbull.
It is easy to take care of the Pitbull's coat. You should brush it once a week with a soft bristle brush.
Great Danes should also be brushed weekly. Unlike Pitbulls, they should be brushed with a rubber grooming mitt or hound glove.
Therefore, we would expect this Mix's coat to be fairly low-maintenance.
Pitbulls are generally healthy, although they can get cataracts and hip dysplasia. It is recommended that they are tested for the following conditions
hip problems
heart problems
thyroid problems
a lysosome storage disease (NCL)
eye problems.
A major killer of Great Danes is bloat. The following health issues can also be seen in Great Danes
eye diseases
heart diseases, including enlarged heart
thyroid problems
hip and elbow dysplasia
eye problems
wobbler syndrome, causing spinal problems and hind leg weakness.
The recommended health tests for Great Danes are the same as those for Pitbulls.
The People's Dispensary for Sick Animals is a good resource for health information on Great Danes and Pitbulls.
Both breeds should be fed high quality feed. We have written a guide on feeding Great Dane puppies, including which food to chose and how much to feed.
This guide could be followed when deciding how to feed this Mix.
Do Great Dane Pitbull Mixes Make Good Family Dogs?
According to Dr. Bruce Fogle, Great Danes are usually good with small children.
With the right training and socialization, Pitbulls can be good with children.
However, you should consider the potential large size of this Mix before buying it as a family dog.
Rescuing a Great Dane Pitbull Mix
Before rescuing any dog, you should go and see it in either the shelter or foster's home.
Rescue shelters will usually carry out home checks, where they look at how suitable your house is for the dog you want to adopt.
Our guide on adopting a puppy from a shelter can be found here.
Finding a Great Dane Pitbull Mix Puppy
Before buying a puppy, you should see it with its mother and siblings. This will allow you to see important things such as the litter's health and how the puppy behaves.
Our guide on where to find a puppy, including sellers to avoid, can be found here.
Remember to avoid puppy mills and pet stores, as they often have bad animal welfare.
There are no breeders that specifically breed the Great Dane Pitbull Mix. However, as this Mix is part of the rising popularity of mixed breeds, more may be bred in the future.
Great Dane Pitbull Mix Products and Accessories
Although we do not have products and accessories specific to this Mix, we do have ones for its parent breeds. These include
Great Dane puppy food
Great Dane crates
Pitbull toys.
Pros and Cons of Getting A Great Dane Pitbull Mix
One drawback of this Mix is its large size.
A second drawback is the potential strength of this Mix.
One pro of this Mix is its potential good nature, which should be brought out with careful training and socialization.
Similar Great Dane Pitbull Mixes and Breeds
The Great Dane has also been crossed with the Labrador.
Pitbulls have also been crossed with Labradors and with the Black Mouth Cur.
Great Dane Pitbull Mix Rescues
Although no rescues exist for this specific Mix, there are many for its parent breeds.
The Great Dane Club of America has a list of Great Dane rescues in the USA.
The United Kingdom's Kennel club has a list of Great Dane rescues in the UK.
There are many Great Dane rescues in Australia, including
Several Great Dane rescues are based in Canada, including
Danes in Distress
Great Dane Angels
For the Love of Danes.
Pitbulls are often seen in rescues throughout the world.
Pit bull Rescue Central has an extensive list of rescues in the USA.
Some pitbull-specific rescues in the United Kingdom are
Staffy Rescue and Pitbull Saviors coordinate Pitbull rescue and rehoming in Australia.
Canadian Pitbull rescues include
Is A Great Dane Pitbull Mix Right For Me?
If you have enough room in your house and enough time to exercise this large Mix, it could be right for you.
The quantity of food this Mix might eat should also be a consideration. The cost of the food may add up.
If you know of any more Pitbull or Great Dane rescues, or you own a Great Dane Pitbull Mix let us know in the comments!
References and Resources