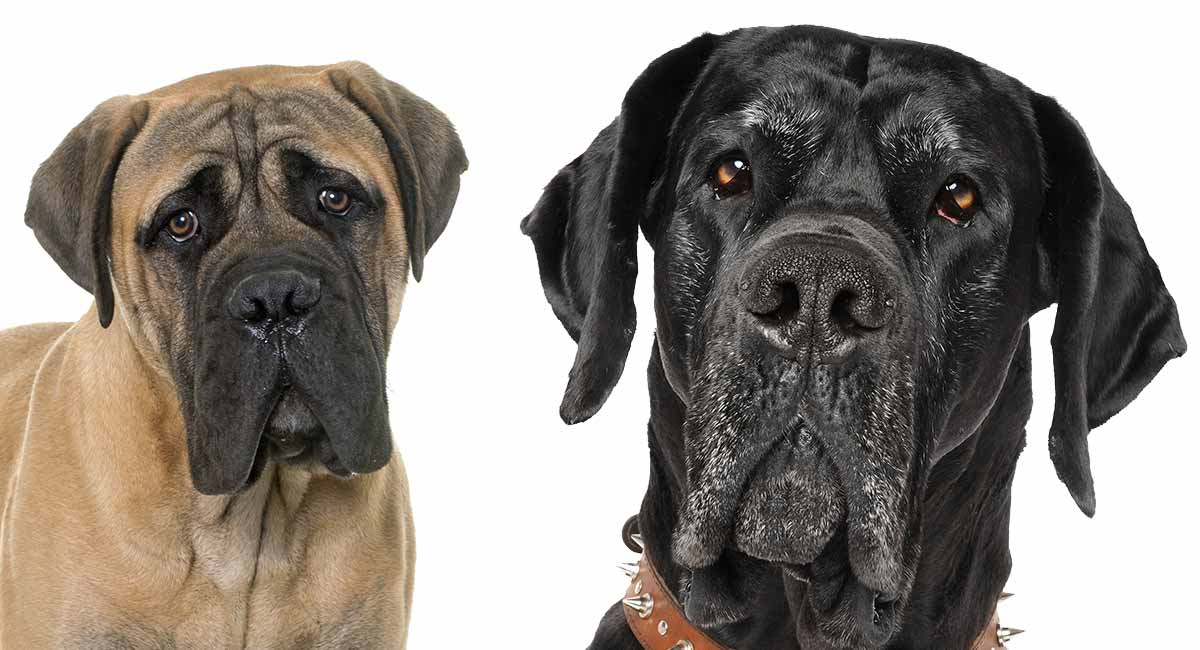 Based on his name, it's no surprise that the Great Dane Mastiff mix is a giant dog!
If you are here because you're interested in possibly owning one of these massive crossbreeds, then you must really love big pups.
But how do you know if you are really ready for all the work that goes into owning this giant hybrid? Let's find out!
What is the Great Dane Mastiff Mix?
Also known as the Daniff or the Great Daniff, the Great Dane Mastiff mix is exactly what his name implies he is – a cross between the Great Dane and the Mastiff.
What Is the Origin of the Great Dane Mastiff Mix?
So, here's the thing. We don't really know yet the true origin and history of the Great Dane Mastiff mix.
This is due to the fact that he is a first-generation crossbreed, so his story is still in the works.
To learn about his heritage, we'll have to dig a little deeper and check out the histories of his purebred parents!
Origin of the Great Dane
Hailing from Germany, the Great Dane was used early on as a wild boar hunter for nobles and game hunters.
However, due to his incredible size and strength, the breed soon held a post as a popular guard dog.
And while he was an excellent protector of both family and home, he was really a lover at heart.
It was mostly his size that deterred thieves and predators because, despite all that bulk, the Great Dane became known as a gentle giant.
He is a playful, loving, and loyal dog, whose demeanor and size have made him massively popular in the United States!
In fact, the modern-day Great Dane ranks number 14 out of 194 on the American Kennel Club's list of America's favorite dog breeds!
Origin of the Mastiff
Some of the world's most ancient breeds, Mastiff type dogs are renowned for their huge size, powerful frame, and incredible loyalty.
Mastiff breeds have been utilized for a number of things throughout their existence.
They've helped their human counterparts in military efforts, served as useful guard dogs, and even been fighters.
However, the Mastiff's working days have come and gone.
For the most part, many Mastiff types live happy lives with their human families in nice, cozy homes.
Modern-day Mastiff breeds are very different than they were 500 years ago.
Due to their sweet dispositions, they continue to grow in popularity as family pets.
Currently, Mastiff dogs sit at number 28 out of 194 on the American Kennel Club's list of most popular dog breeds.
What is the Great Dane Mastiff Temperament?
Since the Great Dane Mastiff mix is a cross between two different breeds with different personalities, nailing down the Daniff temperament could be difficult.
His personality will not only depend on how he is trained and raised, but also on the traits he inherits from his parent breeds.
With that in mind, let's take a look at our options.
Temperament and Personality of the Great Dane
Despite his incredible size, the Great Dane is, as previously mentioned, a gentle giant. He loves family, is patient and calm with children and other animals, and enjoys lazing around the house.
Still, this breed is a sniffer and can get carried away by certain scents.
Even though he seems calm and mild-mannered, it is best to always walk him on a leash.
Remember, this is a big dog with big needs.
He takes up lots of room, eats lots of food, and needs lots of exercise and attention.
As always, early socialization and obedience training will be instrumental in ensuring your Great Dane grows up to be happy and well-rounded.
Temperament and Personality of the Mastiff
While it is true that Mastiff breeds were bred for fighting and hunting, centuries of refining have altered their personalities.
Over the past 500 years, Mastiff dogs have become gentler, more patient, and more clever.
While they are still known to have some guarding instincts, these dogs make nurturing pets and seem to have no idea of just how big they really are!
In fact, don't be surprised if your Mastiff crawls up on your lap while you're trying to relax.
These guys have no clue that they can crush you!
They just love you and want to be as close to you as possible.
With proper training and socialization, these dogs do very well with children.
They are not known to show aggression when properly socialized and are said to be very patient, much like their Great Dane counterparts.
What Does the Great Dane Mastiff Mix Look Like?
So, just how big is a Daniff full grown?
If you were to look at a Daniff growth chart from puppyhood to adulthood, it would show a canine that grows incredibly quickly.
While it can take about two years for this crossbreed to fully mature, prepare for your Daniff full grown to be anywhere from 28 to over 30 inches tall and weigh between 110 to over 280 pounds.
Still, the Daniff dog breed is a crossbreed, meaning a number of his characteristics are going to be left up to chance.
In fact, if you look at pictures of Great Dane Mastiff mix dogs, you'll see that not one of them looks exactly like the others.
So, aside from your Daniff size being massive, what other characteristics could this crossbreed inherit?
Let's find out.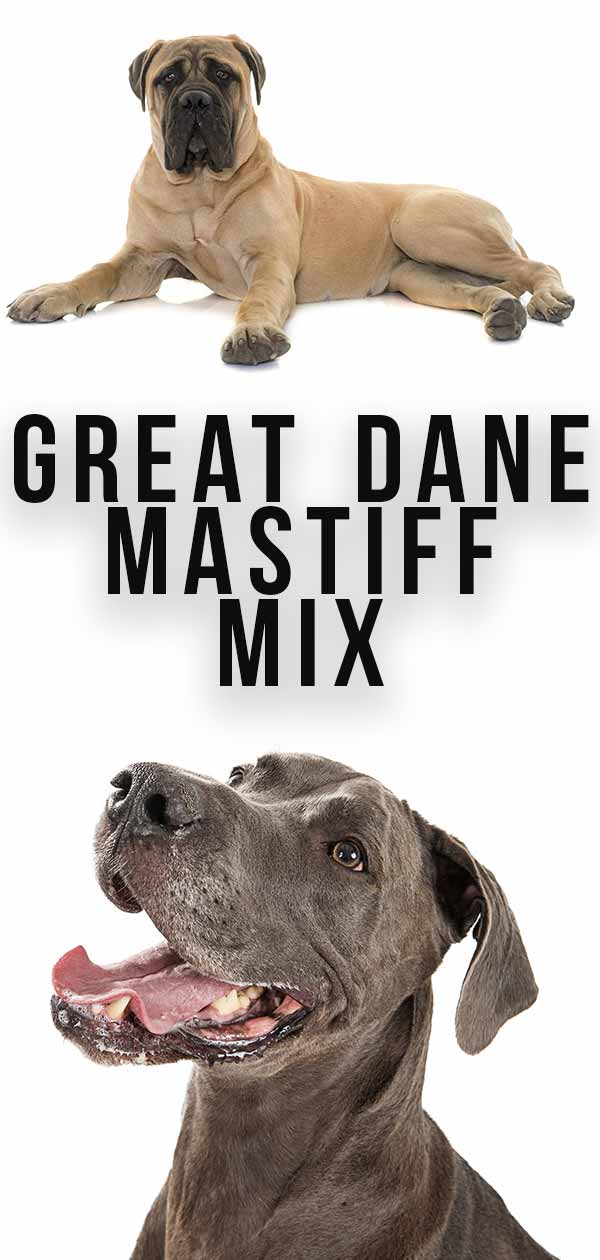 Defining Characteristics of the Great Dane
The Great Dane is certainly great, standing tall at 28-32 inches and weighing 110-175 pounds.
He can have long ears or ears that are docked in puppyhood.
He will have a lean, muscular body, a big head, a long tail, and a short, sleek coat.
His coat can come in six colors, including:
• Black
• Brindle
• Blue
• Mantle
• Harlequin
• Fawn
Defining Characteristics of the Mastiff
Believe it or not, Mastiff breeds can be even larger than Great Danes, growing up to 30 inches or taller and sometimes weighing over 230 pounds!
With their short, sleek coat, floppy ears, long tail, and hanging jowls, Mastiffs are hard to mistake for any other dog type.
The Mastiff's coat comes in several color combinations, including:
• Brindle
• Fawn
• Apricot
• Black
• Tawny
• Mahogany
• Blue
Great Dane Mastiff Mix Grooming and General Care
Grooming your Great Dane Mastiff mix will typically consist of weekly brushing.
Remember, if your Great Dane Mastiff dog inherits his Mastiff parent's jowls, he could be a drooler.
In that case, you'll want to keep a rag handy to wipe his mouth now and then.
Your Great Daniff will only need an occasional bath.
He will also need his ears cleaned regularly to keep them from becoming infected by wax and moisture buildup.
His nails will need to be trimmed consistently to keep them from breaking.
Lifespan and Health Concerns of a Great Dane Mastiff Mix
Just like with other aspects of the Daniff cross, the Great Dane Mastiff mix lifespan and any inheritable health issues will depend on the genetics he inherits from his parent breeds.
Based on his parent breeds, the Daniff life expectancy is going to be short, typically around 6-10 years, which is unfortunately pretty normal for large breed dogs.
But what about health issues?
Remember, early health screening is a great option to consider if you are worried about your Daniff dog's long-term health.
Keep in mind that since the Daniff is such a large crossbreed, he will be more susceptible to muscle and skeletal issues as he grows.
To help with his development, he should be fed a high-quality dog food that is specifically geared towards large breed dogs.
He should also eat food specified for his age.
While this information is helpful when it comes to development, we still suggest that you take a look at the health issues of your Daniff's parent breeds.
Let's begin with the Great Dane.
Great Dane Lifespan and Health Concerns
The Great Dane has a life expectancy of around 7-10 years.
Like most purebred dogs, he can be prone to a number of serious health issues, including cardiac diseases, eye issues, autoimmune thyroiditis, hip dysplasia, hypothyroidism, and bloat.
You should note that bloat is considered to be the number one killer of Great Danes globally.
For this reason, many owners decide to have their Great Danes or Great Dane crosses undergo a preventative surgery called prophylactic gastropexy.
Mastiff Lifespan and Health Concerns
Mastiff breeds typically have a lifespan of around 6-10 years.
They can be most susceptible to progressive retinal atrophy, hip and elbow dysplasia, degenerative myelopathy.
Also cranial cruciate ligament rupture, heart disease, panosteitis, cancer, urolithiasis.
And cherry eye, persistent pupillary membranes, and ectropion.
Training and Exercise Needs of a Great Dane Mastiff Mix
The Daniff will do best with at least an hour of exercise every day.
However, keep in mind that this crossbreed could take up to two years to mature fully.
During his development, he could be especially susceptible to skeletal or muscle injury.
Make sure he is not over-exercised and that he is watched when going up and down stairs.
While training this giant crossbreed should not be too difficult, the Mastiff in him could bore easily.
If your Daniff dog falls asleep during training, don't take it personally. It's in his blood!
As a first-generation crossbreed, the offspring of the Mastiff and the Great Dane, the Great Dane Mastiff mix is the source of some controversy.
Let's learn why.
The Designed Dog Debate
Crossbreeding has been around for centuries.
However, despite the fact that the practice has grown in popularity, not everybody is on board with it.
For instance, there is some debate regarding first generation crossbreeds and whether or not they should be considered mutts.
While some say that crossbreeds differ from mutts due to their specific bloodline and purposeful design, others insist that they are simply one and the same.
To learn more about this argument, visit us here.
Now, what about health? Are crossbreed dogs really any healthier than purebred dogs?
The reality is that purebred dogs are renowned for suffering more genetic health issues due to centuries of overbreeding in increasingly shrinking gene pools.
Since crossbreeding widens the gene pool, many supporters hope that this may, in turn, reduce the chances of genetic diseases being passed on.
Still, there are many who argue against this and say that genetics are genetics.
Whether a dog will get a certain disease from the parent breed is all left up to chance.
Is My Home Ideal for a Great Dane Mastiff Mix?
Based on what we've learned, the Daniff dog is quite the commitment!
Still, he does make a lovely companion for the right household.
Could that household be yours?
Do you have a large, fenced backyard?
Are you able to offer your Daniff dog a cozy place to lay his head inside? Do you not mind very large dogs climbing onto your lap?
Then this cross could be the perfect dog for you!
Finding the Healthiest Great Dane Mastiff Mix Puppy Possible
If you are on the hunt for a Great Dane Mastiff to call your own, then we would love to help!
Remember, finding Great Dane Mastiff mix puppies through a reputable source is incredibly important.
Be sure to do lots of research and make sure you are going through breeders who really understand the importance of responsible breeding practices.
For the most part, reputable breeders will have already health screened their litters.
This means you can rest assured their Daniff puppies are healthy and ready to go to their forever homes.
But what about price?
Breeders of Great Dane Mastiff puppies could charge a hefty fee, with prices ranging from $500 to over $1000.
If you would like to go through a rescue, adoption fees are much lower. On average, most adoption fees are around $50 to $100.
Also, many shelters will take care of the first vet trip!
So, are you the happy owner of a Great Dane Mastiff mix?
Tell us all about it in the comment section below!
Related Articles
References