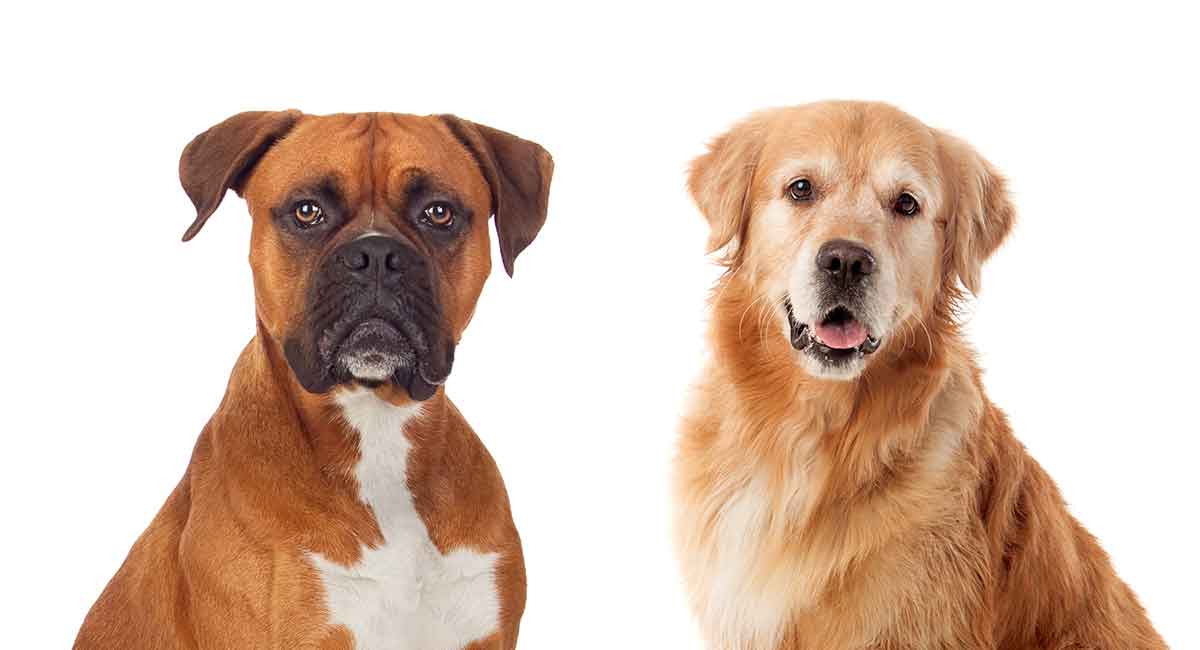 The Golden Retriever Boxer mix is a hybrid dog with one purebred Golden Retriever and one purebred Boxer parent. The puppies are called – adorably – Golden Boxer puppies! But before you are overcome with cuteness and rush out to find a litter of Golden Retriever Boxer puppies, it is wise to learn more about what your puppy might be like as an adult dog.
In this article, we take a close look at the Golden Retriever Boxer mix dog so you can decide if this is the right companion for you!
Purebred dogs and designer dogs – the controversy and the science
Unless you are a canine biologist or a dog breeder, you may be blissfully unaware that there is an ongoing controversy surrounding the rise of newer hybrid or "designer" dog breeds like the Golden Retriever Boxer mix.
On one side, purebred dog breeders feel the breed lines should be kept pure.
Any cross between two purebred dog breeds basically results in a mixed breed dog, or mutt.
Conversely, canine biologists feel cross-breeding two purebred dog breeds together can have benefits to overall canine health. This is called "hybrid vigor."
The Golden Retriever Boxer Mix
The Golden Retriever Boxer mix dog will exhibit traits from each purebred parent dog.
Since it is not possible to predict in advance which traits a puppy may inherit from either parent dog, the best way to try to imagine what your new pup might be like is to learn more about both the Golden Retriever and the Boxer.
Origins of the Golden Retriever
The Golden Retriever is currently the third most popular companion canine in the country.
This gorgeous dog is of Scottish descent, with a long and honorable lineage as a working dog.
The Golden Retriever is most famous for its long, wavy, thick golden coat and its "never-met-a-stranger" personality.
This dog is just so friendly and sociable!
Goldens make terrible guard dogs but wonderful best friends.
The Golden Retriever, not surprisingly, takes its name from its long, lush golden coat.
Origins of the Boxer
The Boxer is currently the tenth most popular companion canine in the country.
This dog, with its short coat and upturned ears, can easily turn heads.
The Boxer is a truly ancient dog breed that can trace its lineage back to the time of the ancient Assyrians (2,500 BC).
However, the modern Boxer arose in the 1800s in Germany and soon migrated to the UK, where it became a favored working and pet dog.
The Boxer gets its name from how it fights (or boxes) with its front paws – just like a prize fighter.
What is the Golden Retriever Boxer mix dog like?
The ability to predict what a Golden Retriever Boxer mix dog will be like has everything to do with the generation of puppies.
The earliest litter, or F1 generation, will vary the most in size, weight, height, temperament, coat and other factors.
These puppies are born from a pure cross of a Golden Retriever with a Boxer dog.
The next litter, or F1b generation, will be more predictable in all attributes.
These puppies are born from a cross between one purebred parent (either a Golden Retriever or a Boxer) with a Golden Retriever Box mix parent.
Subsequent litters, or F2, F3, F4, and so on, will become more uniform over time.
With longevity of breeding programs, what was once a hybrid dog breed may even become standardized as a new purebred dog breed!
Size, Height and Weight of a Golden Retriever Boxer mix
The Golden Retriever is considered to be a medium/large breed dog, weighing 55 to 75 pounds and standing 21.5 to 24 inches tall.
Males tend to be taller and heavier than females.
The Boxer is also considered to be a medium/large breed dog, weighing 65 to 80 pounds and standing 21.5 to 25 inches tall.
Females tend to be about 15 pounds lighter and 1.5 inches shorter than males.
From this, you can guesstimate your Golden Retriever Boxer Mix puppy will likely fall within the weight range of 60 to 75 pounds and stand 21.5 to 24 inches tall.
Appearance, Coat and Grooming for a Golden Boxer dog
The Golden Retriever's long, flowing, wavy double-layer coat consists of an outer, coarse, water-repellent layer and a thick, insulating under-coat.
This dog will shed year-round and more noticeably as the seasons change (a phenomenon some dog owners call "blowing coat").
In between, you will need to maintain a once to twice-weekly brushing schedule to keep your pup's shed hair from coating everything you own.
During the "blowing coat" periods, daily brushing may help you maintain your sanity.
The Boxer, on the other hand, sheds very little and normally needs only a weekly brushing to keep coat and skin in tip-top condition.
The Boxer really doesn't blow coat.
From this you can imagine how diverse the possible coat types in a litter of Golden Boxer dog puppies might be!
You may find two pups with completely different coat types even within the same litter, especially if the litter is an F1 or F1b generation.
Personality and Temperament of a Golden Retriever Boxer mix
Even most non-dog-lovers know that Golden Retrievers are incredibly friendly.
If they were people, they would be the ones planning the happy hours and pool parties.
They are simply "people" dogs, and as such they are common choices for service and therapy dog work.
Boxers are bright, loyal, affectionate and loving.
They are very patient and have natural protective tendencies that can necessitate extra efforts to socialize them in puppyhood.
Both breeds tend to be exuberant and playful while young and can be stubborn at times because they are very smart.
But both are natural people-pleasers and will take well to positive training methods.
With two such positive, outgoing and people-pleasing parent dogs, you are quite likely to find that your Golden Retriever Boxer mix puppy has a lovely personality and temperament overall!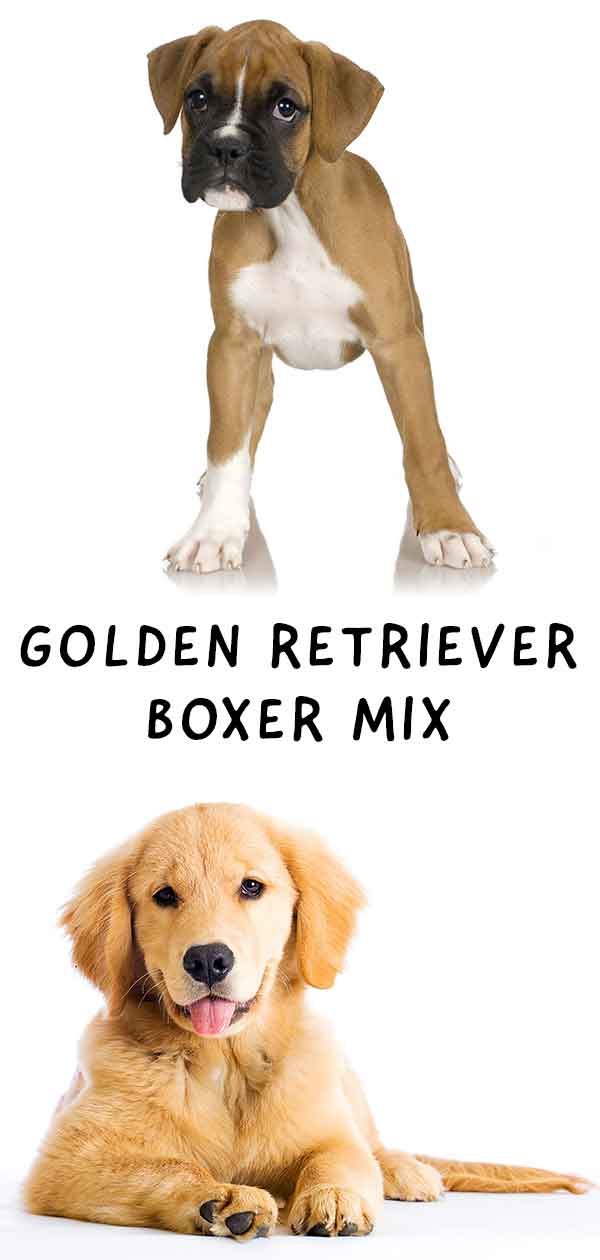 Health Issues of Golden Retriever Boxer Mix dogs
Both Golden Retrievers and Boxers, like so many purebred dogs today, can have certain genetic (heritable) health issues you will want to be aware of.
Golden Boxer dog breeders who are serious about breeding healthy puppies will have their breeding stock (parent dogs) pre-screened and tested for all known breed-specific health conditions to avoid passing any preventable conditions on to the puppies.
Health Testing for Golden Retriever Boxer Mix dogs
The Canine Health Information Center (CHIC) database recommends testing Golden Retriever dogs for hip dysplasia, elbow dysplasia, cardiac and eye issues.
The American Boxer Club recommends testing Boxers for hip and elbow dysplasia, hypothyroidism, aortic valve disease, cardiomyopathy, degenerative myelopathy, aortic/sub-aortic stenosis (AS/SAS) and arrhythmogenic right ventricular cardiomyopathy (ARVC).
Commonalities in Health Concerns
It is important to know that both Golden Retrievers and Boxers are prone to developing certain types of cancers.
Up to 60% of Golden Retrievers die from cancer.
The ongoing Golden Retriever Lifetime Study was set up to better understand one of the most pervasive types of cancer in Goldens, hemangiosarcoma, as well as risk factors for other types of cancer and serious health conditions.
An estimated 38% of boxers will develop cancer, with the most reported cancer types including mast cell tumors, lymphoma, skin cancers and brain tumors.
The average life expectancy for Golden Retrievers is 10 to 12 years. The average life expectancy for Boxers is also 10 to 12 years.
While much more study and research is needed, there is some evidence that delaying spaying/neutering until around 18 months, feeding an anti-inflammatory diet, keeping your dog from becoming overweight and reducing toxin exposure can help strengthen the immune system against cancer.
Socialization and training needs for Golden Retriever Boxer mix dogs
Both Golden Retrievers and Boxers are bright, energetic, sociable and come from a long lineage of working dogs.
This makes training both a necessity and, usually, a joy, since you will be working with a dog that really wants to learn, interact and please you!
However, it is worth saying that smart dogs like Golden Retrievers and Boxers will only do well when trained using positive reinforcement methods.
Is a Golden Retriever Boxer Mix a good family dog?
Based on a study of the overall temperament and personality traits of the Golden retriever and the Boxer, respectively, the Golden Retriever Boxer mix dog is quite likely to make a great family dog.
This is true even for families with young children.
How to Pick Golden Retriever Boxer mix puppies
Choosing a Golden Boxer breeder that is reputable, responsible and serious about breeding healthy Boxer Retriever mix puppies will be critical.
This can help to avoid preventable heartbreak later on in your dog's life.
Should I get a Golden Retriever Boxer Mix?
This is a question that is very personal, of course, but for the right family or individual, a Golden Retriever Boxer mix dog can make a great canine companion!
If you already have some experience with a mix dog like this, let us know in the comments!
Other Mixes You Might Like
References
Chase, J., "Health Statement," Golden Retriever Club of America, 2015.
Moore-Kottas, S., "Testing and Reporting Guidelines," American Boxer Club, 2018.
Witt, J., DVM, et al, "Common Diseases in Boxers," Peoria Area Veterinary Group, 2018.
Albright, S., DVM, CCRT, "Understanding Hemangiosarcoma," Golden Retriever Lifetime Study, 2018.
Osborne, K., DVM, "Life Expectancy of Boxer Breeds with Cancer," Chagrin Falls Veterinary Center and Pet Clinic, 2018.
Vogelsang, J., DVM, "Golden retriever study confronts heartbreak of cancer with unparalleled veterinary research effort," Veterinary DVM 360, 2014.