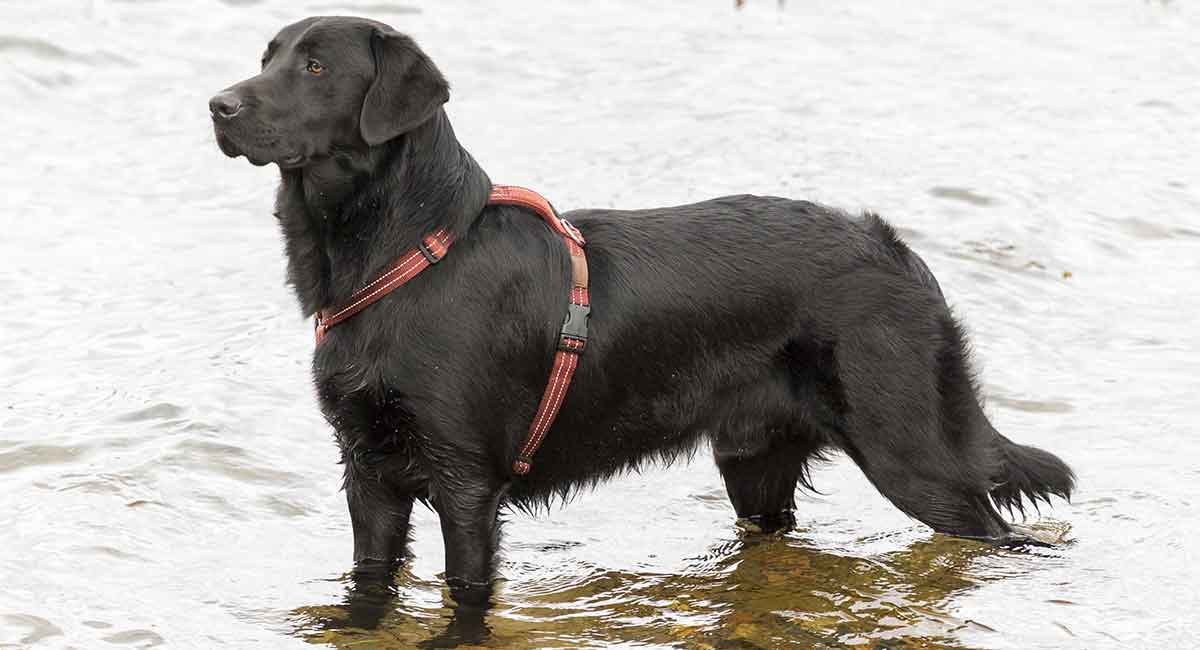 The Goldador is a nickname to describe a hybrid dog that is a Golden Retriever Lab mix.
Both parent dogs are wildly popular in the United States and around the world, which means you couldn't ask for a better cross of traits.
If you are here seeking Goldador info, you are in the right place.
And if you have questions about the Golden Retriever mixed with Labrador dog traits, personality, coat, appearance, grooming, training and health, we have answers for you.
What's In This Guide
Golden Retriever Lab Mix FAQs
Our readers' most popular and frequently asked questions about the Goldador.
If you have any questions that aren't answered in this article, please leave us a comment below!
Golden Retriever Lab Mix: Breed At A Glance
Popularity: With popular parent breeds, this mix is increasing in demand.
Purpose: Companion.
Weight: 55-80 pounds
Golden Retriever Lab Mix Breed Review: Contents
History And Original Purpose Of The Golden Retriever Lab Mix
What is a Goldador?
The Goldador is a hybrid dog with one Labrador Retriever parent and one Golden Retriever parent.
Common Goldador names include the Goldador Retriever, the Golden Lab mix, the Golden Retriever mix, and the Labrador Golden Retriever mix.
As you will learn here, both of the Goldador dog's parents, the Labrador Retriever and the Golden Retriever, have a long lineage and history as beloved pet dogs as well as show ring and working dog champions.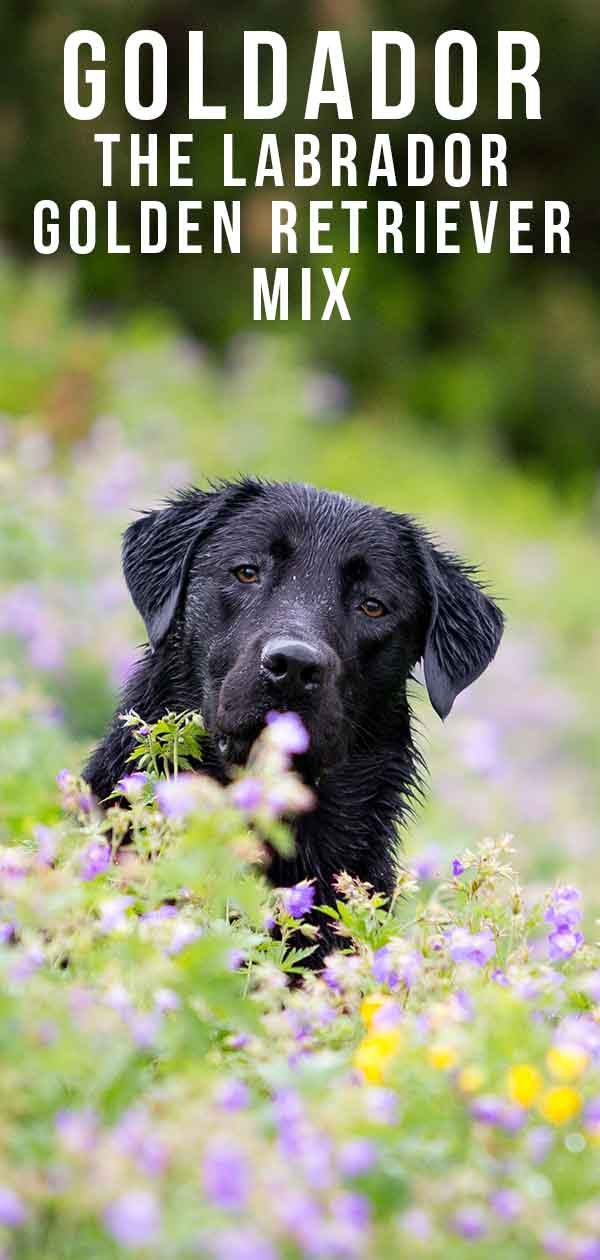 Origins Of The Golden Retriever
The Golden Retriever is currently the American Kennel Club's third most popular pet dog in the nation.
Originally from the highlands of Scotland, for this breed's first 50 years in existence, the Golden Retriever was bred with care by a single breeder intent on creating the perfect gundog.
The Golden Retriever did not become known to enthusiasts outside of Scotland until the early 20th century, when they began popping up in the United Kingdom and in the United States in the show ring and in hunting dog circles.
President Gerald Ford had a Golden Retriever named Liberty, and this propelled the breed into the international limelight from that point forward.
Origins Of The Labrador Retriever
The Labrador Retriever is currently the American Kennel Club's most popular pet dog in the nation and has been for the last 26 years and counting.
They are as close to a canine American institution as any dog is likely to get.
Labs hail from Newfoundland in what is now Canada.
This dog comes from a long line of water dogs, which explains the Lab's water-resistant, thick, double layer insulating coat, thick otter tail and wide paws.
Labs are excellent swimmers and have a reputation for loving the water.
It isn't quite known exactly who first came up with the Golden Retriever Labrador mix.
But one thing is sure: with Retrievers for both parents, the Goldador is likely to follow closely in their active, friendly footsteps.
Fun Facts About Golden Retriever Lab Mix Dogs
The Goldador is a mix, and it probably comes from a history of mixes!
Golden Retrievers are thought to have been created by mixing a yellow Flat Coated Retriever with a Tweed Spaniel.
This latter breed of dog is now, sadly, extinct.
But its legacy lives on through the incredibly popular Goldens, and the increasingly popular Goldador.
Golden Retriever Lab Mix Appearance
As a puppy, the Goldador may look deceptively petite. But adult Goldador dogs are likely to be sizable and strong.
The Golden Retriever typically weighs 55 to 75 pounds in adulthood, with males outweighing females.
The Golden stands 21.5 to 24 inches, with males standing taller than females.
The Labrador Retriever typically weighs 55 to 80 pounds, with males outweighing females.
The Labrador stands 21.5 to 24.5 inches tall, with males being taller than females.
So we can predict that any Golden Retriever and Golden Lab mix puppy will grow up to weigh between 55 and 80 pounds and stand anywhere from 21.5 to 24.5 inches tall.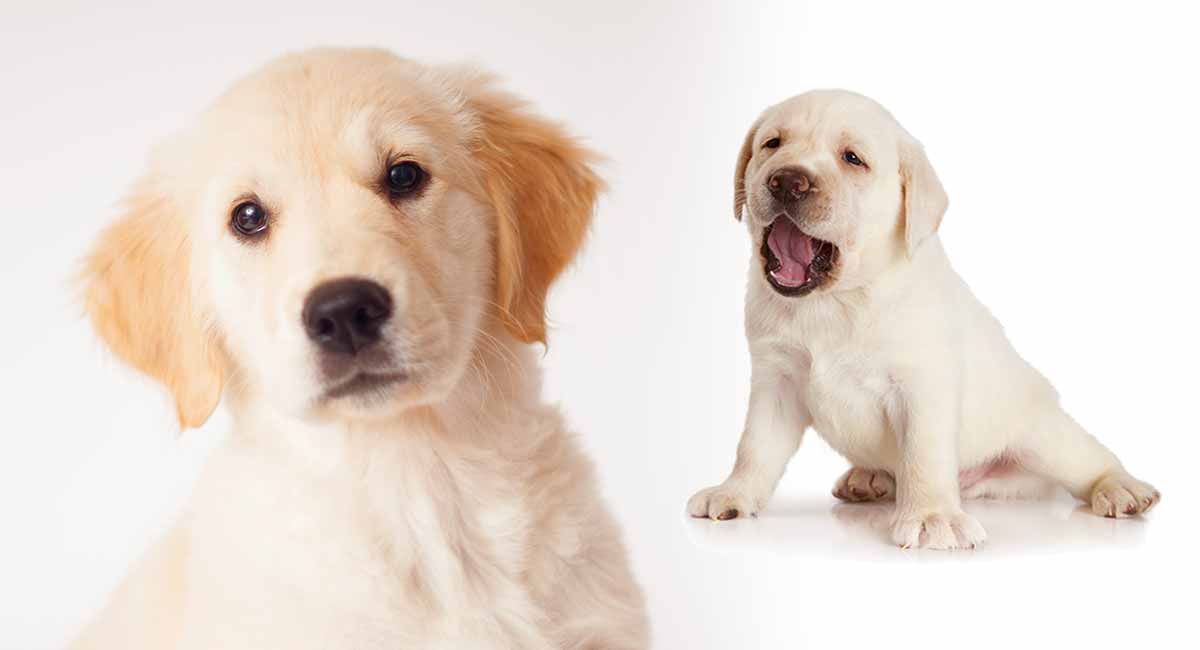 Golden Retriever Lab Mix Temperament
The Goldador is overall a friendly, sociable, people-loving dog that is beloved by families worldwide.
Labradors and Golden Retrievers have very similar personalities.
You can therefore be fairly sure of a friendly dog. One that is fairly lively, and loves to be in human company.
Labs can be a little more playful and Goldies a little calmer, but these characteristics range within the breeds themselves too.
You can be confident that a mix will be intelligent, trainable and need a lot of exercise and mental stimulation.
Training And Exercising Your Golden Retriever Lab Mix
Both the Labrador Retriever and the Golden Retriever come from strong working dog backgrounds.
As Retriever group dogs, the Lab and the Golden are both accustomed to a high level of daily activity and exercise and a high level of interaction with people.
This means that regardless of which parent dog your Goldador puppy may take after, you can count on bringing home a smart, eager, active and social pup who will need plenty of ongoing socialization and training from day one.
Your Goldador training regimen should include lots of exposure to new people, new places and new situations so your dog grows up to be a poised and calm member of the greater community.
Also, a word of caution: Goldadors will likely possess a strong prey drive because of their hunting and retrieving background, so you should be sure to keep other vulnerable family pets far out of harm's way.
For help with other aspects of training, take a look at our potty training and crate training guides.
Golden Retriever Lab Mix Health And Care
Lab and Golden Retriever mix puppies are likely to inherit known genetic health issues from either dog parent.
This is what makes your choice of Goldador breeder so important.
A reputable and responsible breeder will make sure that their breeding dogs are tested for all known health issues to avoid passing those conditions to future litters of Golden Lab mix puppies.
The Golden Retriever Lab mix lifespan is likely to be between 10 and 12 years because both the Labrador Retriever and Golden Retriever share that life expectancy range.
Health Testing For Lab Retriever Golden Retriever Mix
Before you work with a breeder to select your pup from a litter of Golden Retriever Labrador mix puppies, be sure that the breeder is able to show proof that all required and (ideally) all recommended health tests have been done on the parent dogs.
The Canine Health Information Center (CHIC) database recommends testing purebred Labrador Retriever dogs for hip dysplasia, elbow dysplasia, eye issues, exercise-induced collapse and D locus DNA (coat color).
Optional but recommended Labrador health tests include centronuclear myelopathy, cardiac issues and progressive retinal atrophy (PRA).
The Canine Health Information Center (CHIC) database recommends testing purebred Golden Retriever dogs for hip dysplasia, elbow dysplasia, eye issues and cardiac issues.
As well, you should be aware that Labradors are more prone to overeating and obesity than most other dog breeds. Researchers now believe there is a genetic basis for this trait.
Golden Retriever Lab Mix Grooming
Goldador shedding is likely to be a predictable constant in your life.
This is because Golden Retriever Lab mix dogs are going to get the same type of coat from either parent dog.
A thick, double layer, water-repellent insulating coat that sheds out seasonally and year-round.
You will find it easier to control your Golden Retriever Lab mix shedding with regular brushing and grooming sessions.
This will help you catch the shed hair before it has the chance to decorate everything you own.
Do Golden Retriever Labrador Mixes Make Good Family Pets
The average Goldador is likely to be an excellent family dog, seeing as how this hybrid dog is a mix of two of the friendliest, most social and people-oriented purebred dog breeds on the planet.
The Goldador can make an excellent choice for a service or therapy dog for this same reason.
Just be sure that you have plenty of time to exercise and play with your Goldador.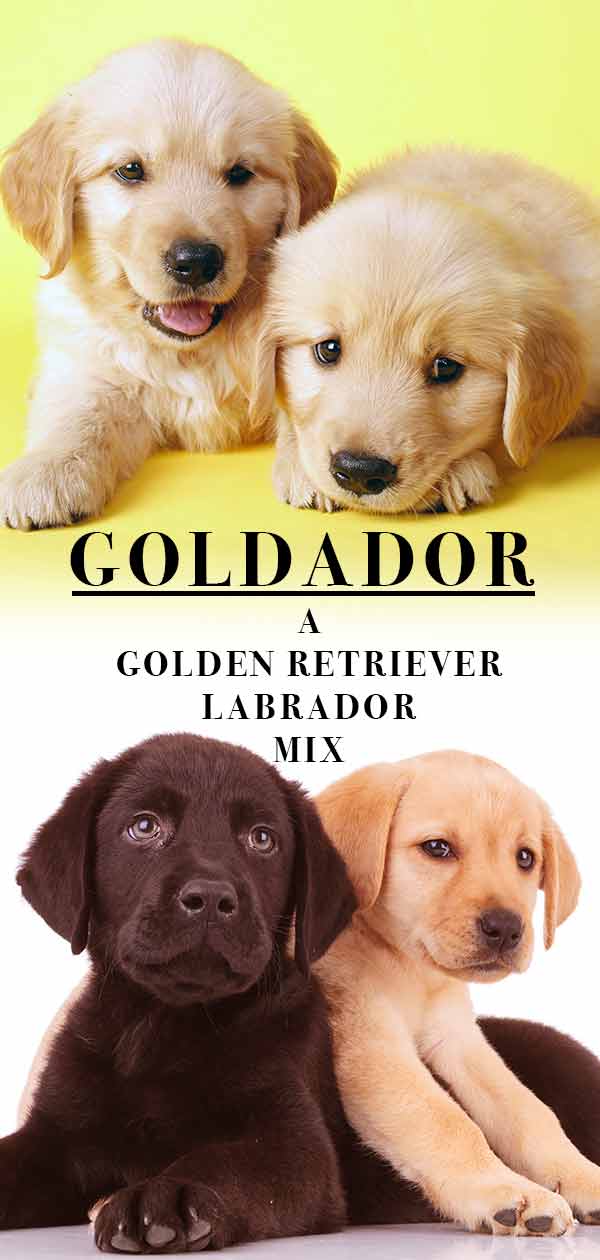 Rescuing A Golden Retriever Lab Mix
If you don't have your heart set on bringing home a brand new puppy, it's definitely worthwhile to look into adopting an adult or senior Goldador.
These dogs have incredible appeal at any age, but at times they may be given up for adoption due to their owner not being able to care for them as they need.
If you can give a home to a dog in need, you'll find that the love of your new family member is its own reward!
On top of that, it's often cheaper to go through a shelter or rescue than it is to buy a puppy from a Goldador breeder.
Finding A Golden Retriever Lab Mix Puppy
Golden Retriever Yellow Lab mix puppies are very cute. You can count on that.
So before you head out to see a litter of Golden Retriever Lab mix puppies, you should be sure to research the breeder's reputation and verify that all required and recommended health tests have been done on the parent dogs.
From here, you can look for a Goldador puppy who is bright-eyed, clear in the ears/nose/tail areas, eager for interaction and play, willing to be held, with a clean coat and a friendly disposition.
Please take care to avoid buying a dog or a puppy from a pet store or puppy mill. Often, the interests of making money are put over the interests and welfare of the animals involved.
For assistance in looking for a puppy, take a look at our puppy search guide.
As far as finding the mix you want goes, there's a little more underlying the subject than may be expected.
The Controversy And Popularity Of Mixed Breed Dogs
While hybrid or "designer" dogs are very popular today among pet owners, not everyone is a fan, most notably purebred dog breeders.
To a purebred breeder, the Labrador mix Golden dilutes the purity of each breed's genes.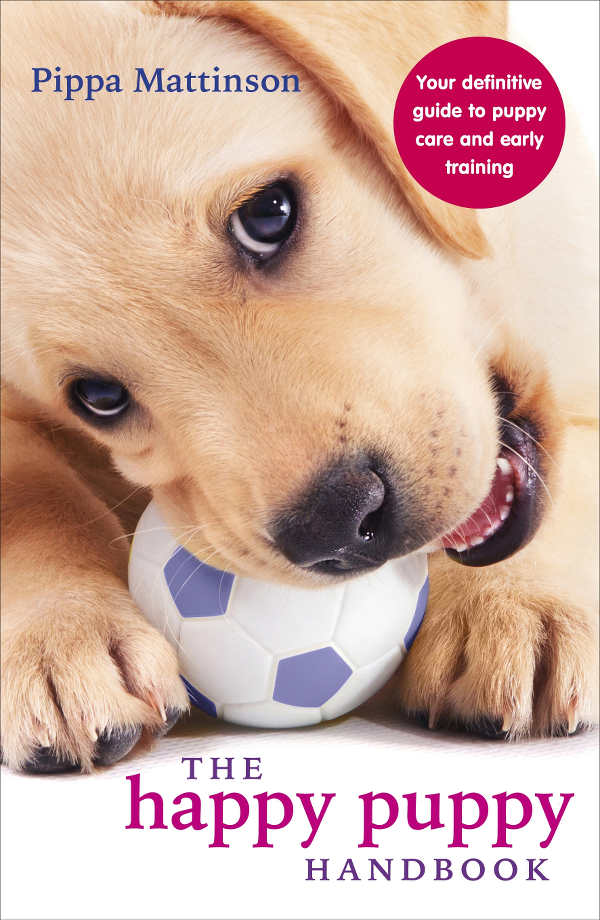 This is a controversial topic and not one that is likely to be resolved anytime soon.
However, pet dog owners mostly just want their canine besties to be happy and healthy so the popularity of the Goldador continues to increase.
Among canine biologists, there are benefits to the new trend toward hybrid dog breeds.
The most notable benefit is called "hybrid vigor," a term that describes how the gene pool can be strengthened by adding genetic diversity.
Crossing two purebred dog lines adds diversity to both gene pools, which may be behind the long-standing reputation that mixed breed or "mutt" dogs have for being healthier than their purebred counterparts.
Since "designer dogs" are increasing in popularity, and the parent breeds of the Goldador are both incredibly popular to begin with, there's a good chance that you'll be able to locate a puppy or adopt a dog of your own.
Raising A Golden Retriever Lab Mix Puppy
Caring for a vulnerable Golden Retriever Labrador mix puppy is a big responsibility.
There are some great guides to help you with all aspects of puppy care and training.
You'll find them listed on our Golden Retriever Labrador mix puppy page.
Golden Retriever Lab Mix Products And Accessories
Pros And Cons of Getting A Golden Retriever Lab Mix
Cons:
Needs lots of time and attention
Needs a great deal of exercise
Thick coat needs grooming and care
Pros:
Comparing The Golden Retriever Lab Mix With Other Breeds
If you're intrigued by the Goldador pairing, but not quite sold, you may be interested in comparing it to some other mixed breeds that have some similarities—and some differences.
Similar Breeds
On the other hand, you might be almost certain that a Golden Retriever Labrador mix is right for you—but you still want to shop around just a little.
Take a look at these similar crosses.
Golden Retriever Lab Mix Breed Rescues
Here, we've compiled some rescue operations around the world to help with your search for your own Goldador. Take a look and see what there is in your local area.
Golden Rescue
Golden Retriever Rescue
Lab Rescue Australia
Labrador Rescue UK
Almost Heaven
If you know of any other rescues which are not on the list, please leave us a comment!
References And Resources
Gough A, Thomas A, O'Neill D. 2018 Breed Predispositions to Disease In Dogs and Cats. Wiley Blackwell
O'Neill et al. 2013. Longevity and Mortality of Dogs Owned In England. The Veterinary Journal
Schalamon et al. 2006. Analysis of Dog Bites In Children Who Are Younger Than 17 Years. Pediatrics
Duffy D et al. Breed differences in canine aggression. Applied Animal Behavior Science 2008
Strain G. Deafness prevalence and pigmentation and gender associations in dog breeds at risk. The Veterinary Journal 2004
Packer et al. 2015. Impact of Facial Conformation On Canine Health. PlosOne
Golden Retriever Lifetime Health Study," Morris Animal Foundation
"Health Issues/Training," Labrador Retriever Club of America
"Health & Research," Golden Retriever Club of America
Raffan E., 2016, "Genetic Variant May Help Explain Why Labradors Are Prone to Obesity," University of Cambridge
This article has been extensively updated for 2019.