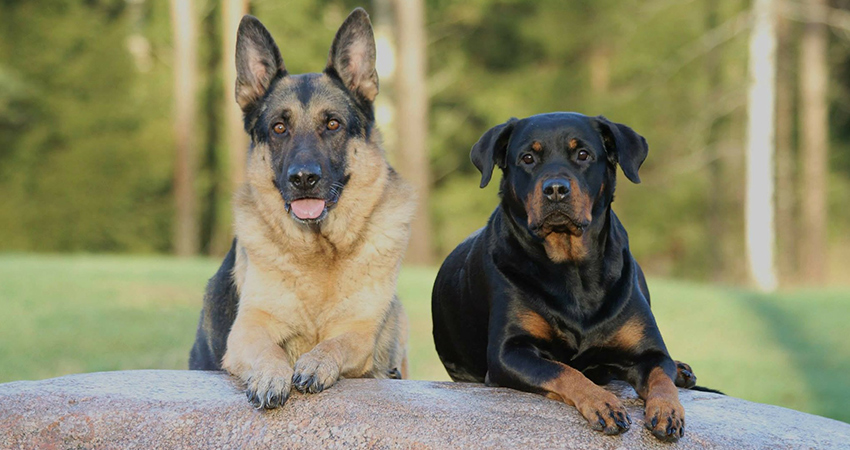 A German Shepherd Rottweiler mix is a designer breed. It results from the crossing of a purebred German Shepherd Dog with a pedigree Rottweiler. These awesome hybrid dogs are clever, protective and bold making them great watchdogs, guard dogs and companions for some lifestyles and families. Known as the Shepweiler, Rottweiler Shepherd, Rotten Shepherd, Rottie Shepherd, or even Shottie, these hybrid designer dogs have a large, solid build and confident attitude.
Contents
German Shepherd Rottweiler mixes can reach 115lbs in weight, grow up to 27 inches tall and live around 12 years. These calm, steady dogs are prone to separation anxiety, chewing, digging and can be stubborn. But they are also affectionate, loyal and do great with positive training. This high shedding dog needs plenty of grooming, but their coats do tend to be short so no clipping or haircuts will be on the table.
German Shepherd Rottweiler Mix Height and Weight
The German Shepherd breed is well known for its tall stature. 24-26 inches at the shoulder. It is medium-sized, but with a well-muscled body and deep chest. GSDs may grow to anywhere from 49 to 88 pounds. Rotties are much larger in size, typically maturing to 77-130 pounds and 22-27 inches tall. They are known for their powerful and robust physique, which some may find slightly intimidating.
Due to the size of its parents, a German Shepherd Rottweiler mix full grown will weigh anywhere from 77 to 115 pounds. You can also expect them to reach a height of 22 to 27 inches at the shoulder.
Coats and Colors
Rottweiler cross German Shepherd puppies' coloring can be a solid or mix of colors. Including black, cream, red, sliver, tan, blue, gray, liver, sable, or white. They may or may not inherit the Rottweiler's rust or mahogany face and leg markings. The same goes for the German Shepherd's black face and leg markings.
With the German Shepherd's medium-length, thick coat and the Rottie's short, thick coat, this mix will most likely have a thick coat. However, the length of the coat depends on which parent the puppy takes after.
Grooming and Shedding
Can you expect a German Shepherd mix with Rottweiler to shed a lot? If a German Shepherd Rottweiler Mix puppy has the medium and shaggier coat of its German Shepherd parent, then it will require brushing several times each week. This will increase to daily during shedding season.
If the puppy has the shorter coat of its Rottweiler parent, then it may not require more than a good weekly brushing. It's important to groom a dog even if they don't shed much, so as to facilitate ridding of excess hair and dead skin. A tool like a Furminator will help you to stay on top of this hairy problem.
Working and Guard Histories
The German Shepherd Dog is a member of the herding group of breeds. Other recognizable traits of the German Shepherd Dog include its sloping hips, crouched hind legs, large and alert ears. As well as extreme devotion to their human companion or handler. You'll often find them used as guard or service dogs.
The Rottweiler is a member of the working group of breeds. It is generally accepted that Rottweilers were bred to be dependable working or guard animals. Their compact but agile physique provides increased strength and endurance.
German Shepherd Rottweiler Mix Temperament
The German Shepherd Dog is often seen as an aggressive dog, with this trait being put to use in a police K-9 position. However, it's important to note that these service dogs are aggressive only when their handler prompts them to be.
As a companion, the German Shepherd has the potential to exhibit aggression to other dogs or even humans. The German Shepherd may express aggressive behavior if it feels that its owner or home is being threatened. Especially in an instance when a strange dog or human enters its "territory".
Similarly to the German Shepherd, the Rottweiler is known as a particularly aggressive breed. This image is not helped by common instances of Rotties attacking children or other passers by. Because this breed was originated as a guard dog, Rotties are governed by their nature to protect what is "theirs" as well as their homes.
Is This A Good Family Dog?
Both parent breeds are large and energetic, so a hybrid puppy will require a lot of room to play and grow. Additionally, they may require a lot of brushing if they have the German Shepherd's longer coat, and you'll need to clean your house a lot during shedding season.
You must also be prepared to deal with elbow or hip dysplasia, a common disease that affects both parent breeds. Carefully monitoring their diet and weight will be mandatory.
They may not be good candidates for homes with other animals or children. However, if you have the space for a large and playful dog, the time and dedication to devote to socializing and training them properly. And you can put their intelligence to good use. Then a German Shepherd Rottweiler Mix may be your next pet!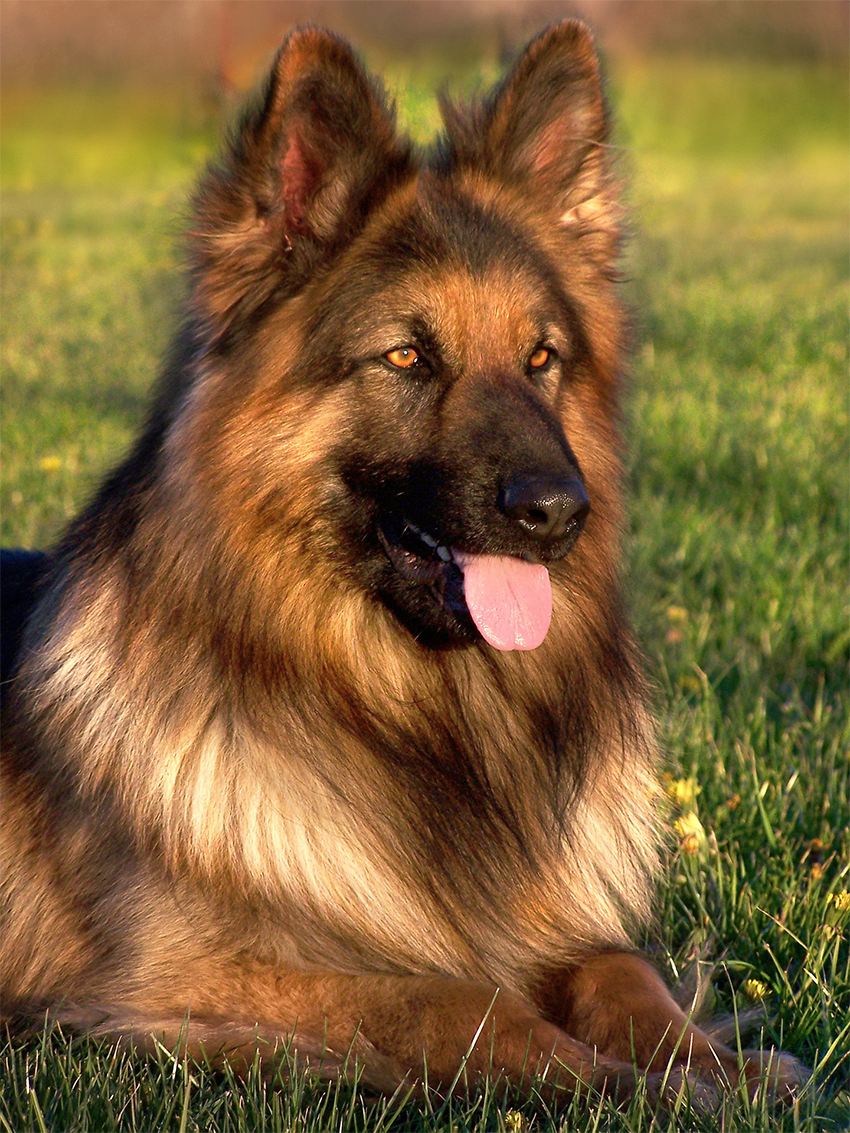 German Shepherd Rottweiler Mix Training
The good news is, both German Shepherds and Rottweilers are highly intelligent breeds that learn quickly, so Rottweiler and German Shepherd mix puppies can be easily trained.
Thus, it's very important to begin handling and socializing them with other dogs and people (including children) starting at a young age.
Socialization to a range of places and people, as well as a large and frequent variety of visitors, will help your dog to feel comfortable. Reducing their need to 'guard' their property or family.
We highly recommend positive training techniques for guarding breeds of dog. Punishment based training can have the result of masking fearful or aggressive reactions in dogs, and can make them more likely to bite without warning in the future.
We must stress that with any mixed breed, the temperament of a hybrid dog or puppy may be reminiscent of one parent breed more so than the other. When breeding for a German Shepherd Rottweiler Mix, the resulting puppy's temperament and traits will be very hard to predict.
Extreme Exercise
German Shepherd Rottweiler Mixes are prone to elbow or hip dysplasia and hypothyroidism. It's therefore very important that they get an appropriate amount of exercise and are kept on a healthy diet to maintain their weight.
Additionally, both German Shepherds and Rottweilers are very energetic and rambunctious breeds, so a hybrid of the two will also exhibit high energy and a playful attitude. If they don't get the proper amount of exercise, then their destructive tendencies may rear their ugly heads. You might come home to find a piece of furniture or clothing chewed up!
To keep your home and dog happy, you should plan to walk or play with your German Shepherd Rottweiler for a minimum of one hour each day. You should also have plenty of room in the house for them to self-exercise if you are away.
Lifespan
You can expect a mixed breed puppy to live about as long as its parent breeds. Thus, the German Shepherd Rottweiler Mix can be expected to live for approximately 10 to 13 years.
Rottweiler and German Shepherd Health
Just like any purebred or hybrid dog, a Rottweiler mixed with german shepherd may have congenital health issues, or they may develop ailments later in life. Common canine health issues, regardless of breed, include hip dysplasia, eye diseases, allergies, and skin irritations.
However, because both the German Shepherd Dog (GSD) and the Rottweiler are prone to joint degeneration, the GSD Rottweiler mix is especially prone to elbow and hip dysplasia. It's been estimated that almost 70% of large-breed dogs will develop this devastating condition.
German Shepherd Rottweiler Mix Puppies
If you're working with a breeder to obtain a puppy, genetic testing on both the sire and dam will help determine any health issues that they carry. Make sure that both parents have good hip and elbow scores. It is also important that the German Shepherd parent has a flat back and does not walk on his hocks.
You want the puppy's parents to be relaxed and laid back around strangers, and friendly and warm with their owner. They should know their names and have a purpose beyond producing puppies.
Good breeders ask and answer lots of questions, and provide copies of parents' health certifications.