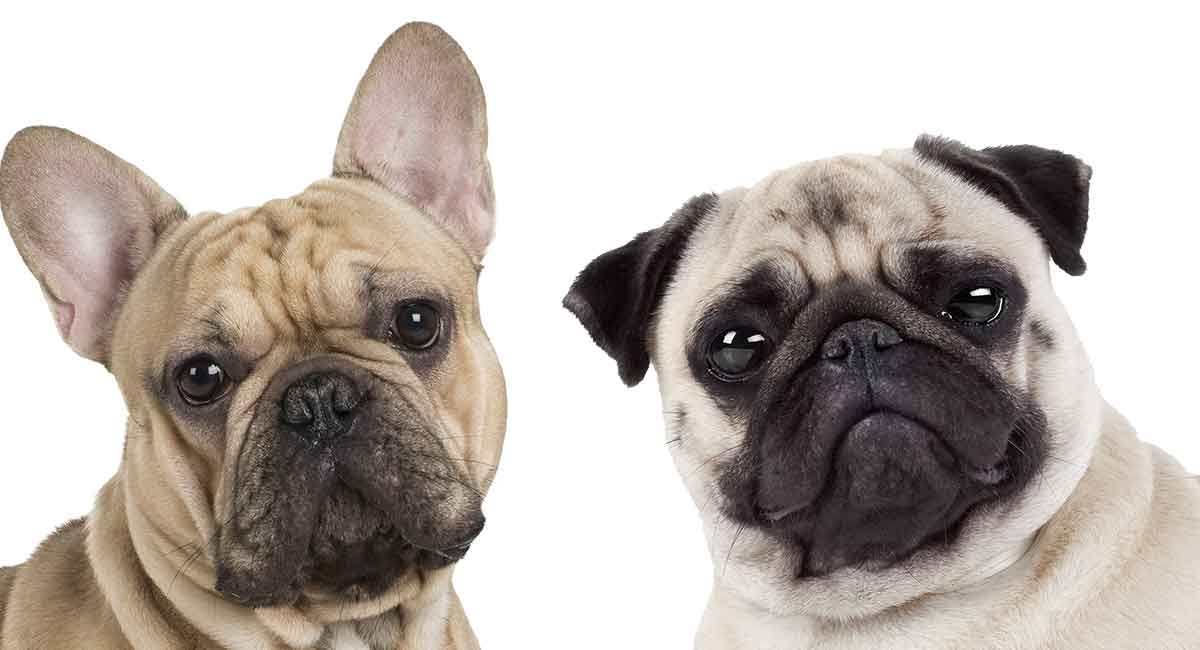 Welcome to our introduction to the French Bulldog Pug mix.
This mix, sometimes known as "Frugs," combine two small yet characterful breeds.
While they might be small in stature, they more than make up for this in personality.
We're here to help you discover more about this mix, and to find out if it has the temperament and appearance that you're looking for in your new dog.
We'll also take an important look at how the instantly recognizable features of the Pug and French Bulldog can affect their health.
Let's go!
Where Does the French Bulldog Pug Mix Come From?
This mix is gaining popularity but isn't one of the better known combinations, such as the Labradoodle or Cockapoo.
We can find out more about this mix by delving into the history of both the parent breeds.
Funny enough, the French Bulldog actually has its roots in England. Small Bulldogs became popular with lacemakers in the 1800s.
During the Industrial Revolution, many lacemakers relocated to France, taking their dogs with them.
The smaller Bulldogs were crossed with a variety of other breeds, including Pugs, until they developed their distinctive bat ears.
At this point, they became known as Bouledogue Francais.
It didn't take long before Parisians discovered this breed.
They soon became associated with city living and café culture.
The breed first came to America at the end of the 19th Century, and it was here that the bat ears became a specific breed feature.
The Pug is an ancient breed, with roots going back some 2,000 years.
Chinese emperors developed a fondness for the distinctive look of the Pug, Pekingese and Shih Tzu breeds.
For many years, it was also possible to obtain a Pug if you were given one from an emperor as a gift.
Dutch traders returned from China with Pugs in the 1500s, and here they are said to have become the mascot for the royal House of Orange.
This diminutive breed accompanied William and Mary of Orange to England, where the Pug became popular as well.
If the thought of a mix between these two ancient breeds appeals to you, we recommend some background reading regarding the advantages and disadvantages of purebred and mixed breed dogs.
Supporters of purebred dogs suggest that we should only breed dogs within their fixed breed registers to retain their characteristics.
Others who prefer mixed breeds say that these dogs are healthier than pedigree dogs.
It's also worth remembering that the purebred dogs of today are the mixed breed dogs of olden times—the French Bulldog a prime example of this.
French Bulldog Appearance
As with any mixed breed, it can be tricky to know exactly how your puppy will look as they grow up.
One of the best places to look for clues, though, is the parent breeds.
French Bulldogs are small, yet distinctive. Their large, bat-like ears certainly help their small bodies stand out in a crowd.
They tend to weigh under 28 pounds and stand at a height of between 11–13 inches.
Their life expectancy is usually somewhere around 10–12 years.
They belong to the non-sporting group and are a popular breed in the U.S., ranking six out of 192 listed breeds.
French Bulldogs have a short coat that requires minimal care.
While they do shed regularly, a quick brush once a week is enough to keep this in check.
Their facial folds require regular checks to keep them clean and dry.
A French Bulldog's nails require regular trimming.
They come in a wide range of colors, including brindle, white, cream and fawn. Combinations of these colors are also acceptable.
Pug Mix Appearance
Pugs are also small dogs, yet solidly built. Their distinctive, flat faces make them instantly recognizable.
Pugs weigh 14–18 pounds and stand at around 10–13 inches high.
They live between 13–15 years on average. They belong to the toy group and rank 32 in popularity in the United States.
Pugs' short coats are easy to look after and only require brushing once a week as well.
They will shed throughout the year though.
Pugs are pretty low maintenance, and a quick check of their teeth and nails is often all that is needed.
Pugs come in just three colors: silver fawn, apricot fawn and black. Fawn Pugs will have a black face mask.
Where the characteristics of these parent breeds coincide, it's likely that any mixed breed puppies will share these same characteristics.
For example, the flat face of both the French Bulldog and Pug is very likely to be seen in any mixed breed puppies as well.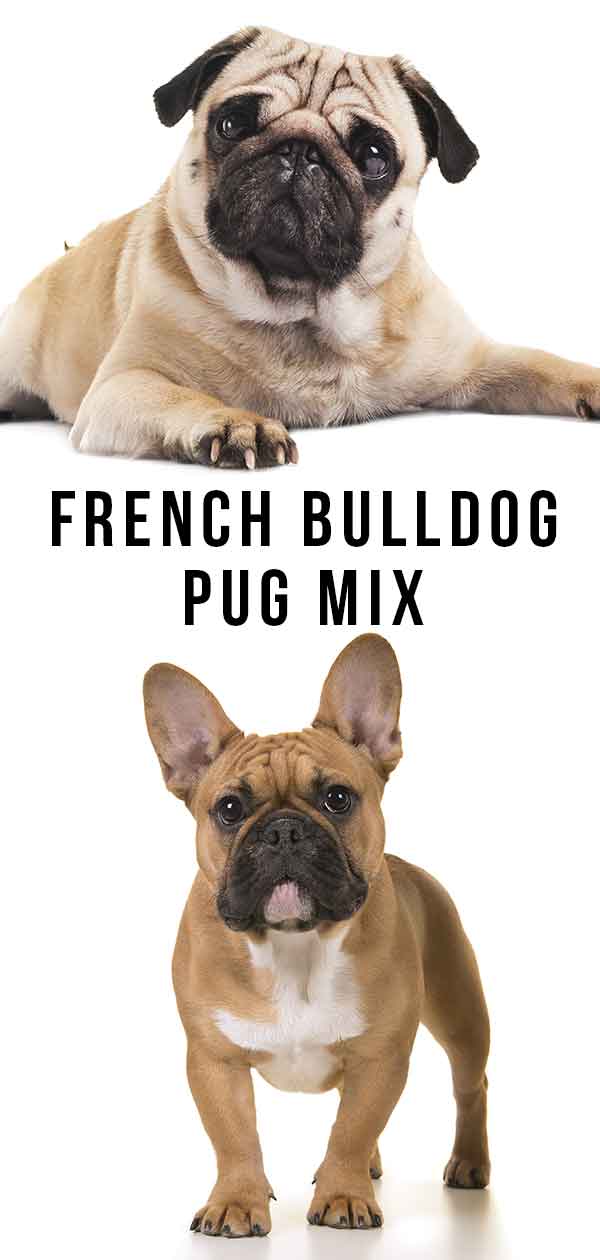 French Bulldog Pug Mix Temperament
French Bulldogs are alert and adaptable.
They enjoy spending time with their owners and quickly adapt to their surroundings.
They are intelligent and make good watchdogs.
Pugs love to please and usually want to be near their owners at all times.
They are easygoing and will happily spend all day inside.
That is, unless you want to play. They're game for that, too.
It's impossible to predict with any level of accuracy what sort of temperament any mixed breed puppy will inherit.
But you can be reasonably sure that this mixed breed puppy will enjoy spending time with their families and won't require a huge amount of exercise.
Training Your French Bulldog Pug Mix
French Bulldogs are generally eager to please their owners but can be a touch stubborn.
Our Puppy Training Guides are the perfect place to find out more about building a great connection with your dog through effective training.
Pugs are keen to learn and enjoy training sessions where they usually pick up new commands quickly.
They do have a sensitive side. Stick to gentle training methods such as positive, rewards-based training.
In most small breeds, potty training is an important part of their education. You may also decide to crate train your dog.
Bear in mind that Pugs in particular do not like being left home alone for extended periods of time.
French Bulldog Pug Mix Health
To best understand what health issues could affect a mixed breed pup, it's important to consider the parent breeds.
One of the most important issues to be aware of with both French Bulldogs, and Pugs, is that both these breeds are what's known as "brachycephalic."
This refers to the fact that they have been bred to have flat faces. However, this comes at a price—their health.
Brachycephalic dogs may look cute, but unfortunately they suffer from a wide range of serious problems, including
increased risk of overheating,
dental problems,
obstructed airways,
sensitivity to anesthesia
and narrow nostrils.
We recommend reading our article "Brachycephaly In Dogs: What It Means To Be A Brachycephalic Puppy" for a full review of all these issues.
Unfortunately, for French Bulldogs, there's a huge range of issues that have the potential to impact a mixed breed puppy.
These include dwarfism, breathing issues and mobility problems. You can read more about this in detail in our French Bulldog Breed Review.
The French Bulldog Club of America recommend the following health tests for the following:
Hip dysplasia
Patellar luxation
Eyes
Cardiac
Autoimmune thyroiditis
Juvenile cataracts
Worse still, Pugs suffer from many of the same problems as French Bulldogs because they are also brachycephalic.
This means they can suffer from Brachycephalic Ocular Syndrome, screw tails, Pug dog encephalitis and hip dysplasia.
You can read about them all in more detail in our review of the Pug.
The Pug Dog Club of America recommends these health tests for the following:
Hip
Patella
Ophthalmologist
Pug Dog Encephalitis DNA
Both French Bulldogs and Pugs are known for their noisy breathing, sometimes snuffing and snoring.
While this can seem sweet at first glance, it's actually down to the fact that they have trouble breathing.
It's difficult for them to get enough oxygen into their bodies through their compromised airways.
This means any mixed breed puppy is likely to overheat in hot weather and not be able to run very far.
For both these breeds, the list of potential health problems are extensive.
It's also important to consider that your vet's bills for keeping a brachycephalic puppy healthy may well be higher than for other mixed breeds with a longer muzzle.
Do French Bulldog Pug Mixes Make Good Family Dogs?
The Frug's loving and easy-to-love personality has won them a lot of interest.
But faced by such a catalogue of health problems which will compromise their quality of life and cause untold hidden pain, we simply cannot recommend these little dogs as pets.
Temperament wise, a French Bulldog Pug mix puppy is likely to enjoy spending time with children or teenagers.
One issue to be especially aware of though is that it's vitally important not to allow these dogs to overexert themselves.
This can be a difficult thing to guarantee, especially if you have young children or teenagers who want to play with their dog, and don't necessarily understand the consequences of encouraging brachycephalic dogs to overexert themselves.
French Bulldogs in particular cannot swim, so they should never be left around swimming pools or deep puddles.
Pugs also have problems swimming.
Rescuing a French Bulldog Pug Mix
If you think this mix is appealing, we strongly recommend adopting a dog from a shelter rather than buying a puppy.
This avoids feeding the demand for more unhealthy breeding practices.
And sadly, an increasing number of these dogs are being relinquished to animal shelters, as the people who bought them discover they can't meet the cost of caring for them and paying their vet bills.
Expect any rescue center to complete a home check, and you'll likely need to pay an adoption fee.
Raising a French Bulldog Pug Mix Puppy
Puppies are hard work, and a French Bulldog Pug mix puppy may well take more time and effort than other mixed breeds, especially if they suffer from health issues early on.
Training your puppy should be fairly straightforward, but remember not to let them overexert themselves.
Our Puppy Training and Puppy Care Guides will help you prepare for your new arrival.
You may need to adapt some of the exercises to suit a puppy who is less able to exert himself.
Pros and Cons of Getting a French Bulldog Pug Mix
Before making the big decision about getting a mixed breed puppy, it's important to take an objective look at the advantages and disadvantages.
Cons
The biggest disadvantage of getting a French Bulldog Pug mix puppy is, of course, the issues they will suffer due to their brachycephalic face shape.
It's likely that they will suffer from a range of health issues as a result.
As well as being distressing from an animal welfare point of view, they will also need a lot of expensive veterinary care.
Pros
Both French Bulldogs and Pugs are characterful little dogs who bring a lot of joy to their owners.
They are generally adaptable, easy to train and full of character.
Similar French Bulldog Pug Mixes and Breeds
Given the number of serious health problems faced by brachycephalic breeds, including the French Bulldog Pug mix, we feel this mix isn't one that should be recommended.
Purebred dogs with similar temperament and size, but without the problems associated with flat-faced dogs, include the Border Terrier and Miniature Poodle.
Mixed breed dogs to consider include the Mini Labradoodle or the Westiepoo.
French Bulldog Pug Mix Rescues
Rescuing a French Bulldog Pug mix from an animal shelter can be a great idea as long as you're comfortable with managing their health.
The French Bulldog Rescue Network in the U.S. may sometimes have mixed breed dogs.
French Bulldog Rescue U.K., DFW Pugs in the U.S. and PDWRA in the U.K. are all worth checking out.
If you know of other rescues, please tell us about them in the comment section below.
Is a French Bulldog Pug Mix Right for Me?
Due to the inherent health issues faced by flat-faced breeds such as French Bulldogs and Pugs, the same issues are bound to affect any mixed breed puppies.
For this reason, we would recommend looking at alternative, healthier mixed breeds without these problems.
Related Articles
References and Further Reading:
Monnet, E., 2015, "Brachycephalic Airway Syndrome," 40th World Small Animal Veterinary Association
Uchida, K., et al., 1999, "Detection of an Autoantibody from Pug Dogs with Necrotizing Encephalitis (Pug Dog Encephalitis)," Veterinary Pathology
Wedderburn, P., 2016, "Brachycephalic Dog Breeds," The Veterinary Record, Vol. 178, Issue 24, pg. 613