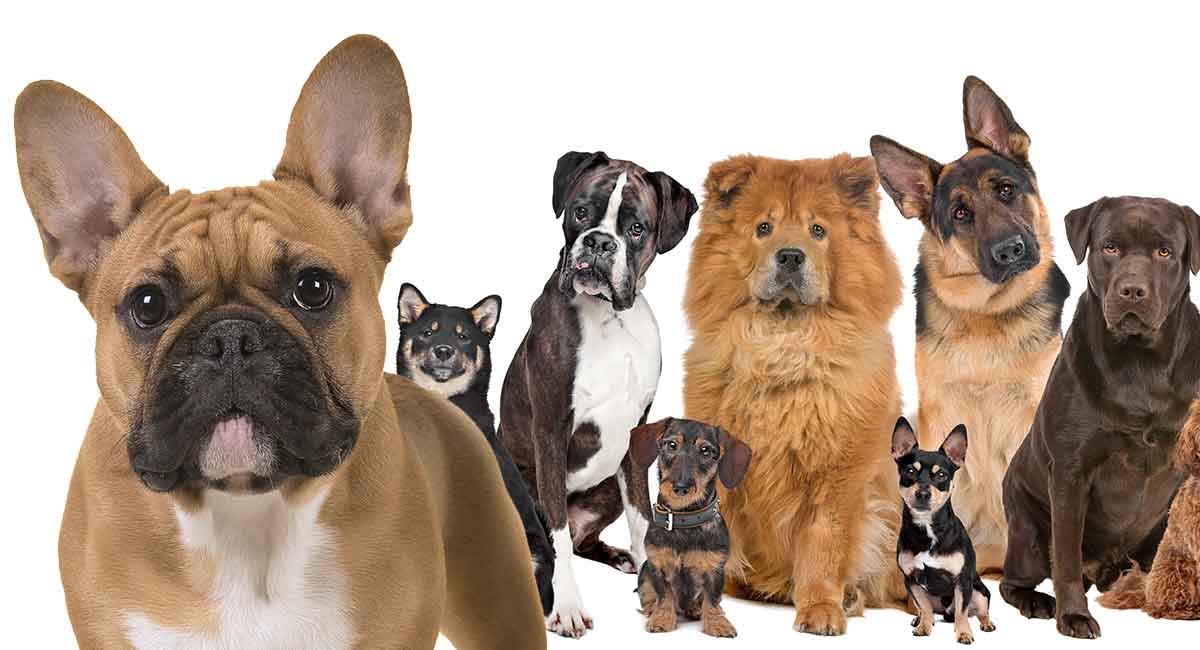 Welcome to the wonderful world of the French Bulldog mix!
Frenchies are well loved, so why do some people want to combine them with other breeds?
And which ones are the happiest, healthiest pups?
We've taken a look at the top mixes, and given you the information you need to make the right choice.
The French Bulldog
The French Bulldog is one of the most popular purebred dog breeds in America today.
In the UK, the French Bulldog is the number one purebred pet dog!
Clearly, the French Bulldog has a loyal worldwide fan base and there are dog owners who wouldn't dream of owning any other breed of dog.
But French Bulldogs, like their American and English counterparts, are now facing some health challenges that may weaken the breed for future generations.
Standard French Bulldogs typically weigh less than 30 pounds.
Miniature French Bulldogs are too new to have a standardized weight range as of yet, but typically weigh less than 20 pounds.
Health
The French Bulldog's winning, family-friendly personality (along with cuteness, of course) endears this dog breed to owners around the globe.
Unfortunately, this precious pup's gene pool has become more and more limited as the demand for purebred French Bulldogs continues to increase.
These dogs now have some serious health issues that likely cannot be corrected from within the existing purebred gene pool!
French Bulldogs are brachycephalic, which means "flat-faced" or "short muzzled."
These dogs' squished-in faces can cause excessive eye tearing, trouble breathing and chewing, overheating, dental disease and gastrointestinal issues.
French Bulldogs have short, curly tails called "screw tails."
These tails actually arise from a genetic mutation called hemivertebrae which can lead to a spinal deformity such as scoliosis.
Other complications can include skin irritation near the hindquarters, trouble with the back legs, nerve damage, and incontinence.
French Bulldogs can experience joint problems due to their unusual builds.
These short, stocky dogs have very big heads and broad chests with narrow hips. Sometimes French Bulldog females have trouble with natural birth for this same reason.
Hip and elbow dysplasia, joint troubles, and degenerative spinal disease can also occur.
French Bulldog Mixes
Within the professional dog breeder and dog trainer community, there is an increasing drive to find ways to strengthen the French Bulldog's gene pool in the future.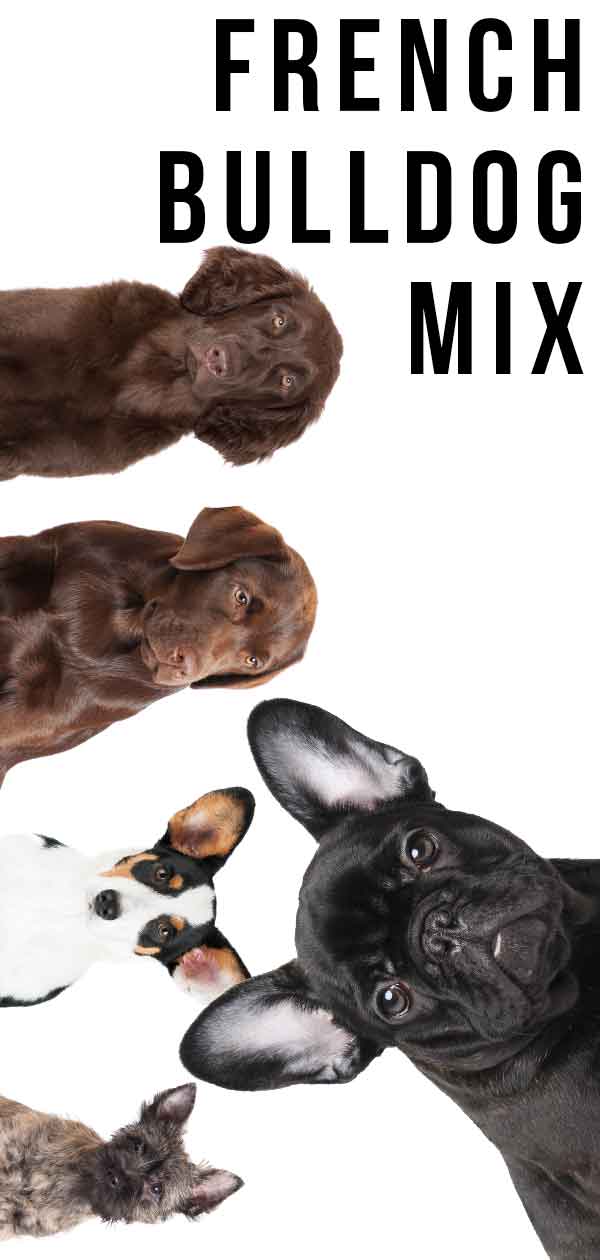 Using the theory of hybrid vigor, which proposes that adding genetic variance can improve health, some breeders have begun cross-breeding the purebred French Bulldog with other purebred dog breeds.
The French Bulldog mixes you meet in this article have all been deliberately cross bred to produce so-named "hybrid" or designer dogs with fresh genetic influence.
Hybrid breeding: generations
Different hybrid dog breeders may choose to specialize in different generations (F1, F1b, F2, F3, et al).
If you are seeking a puppy with a very specific appearance, coat type or personality, the generation your hybrid breeder specializes in can really matter!
This is because there is no way to predict in advance how much genetic influence each parent dog may have over each puppy.
With F1 and F1b litters, where both or at least one parent dog is a fully purebred dog breed, there is more variance between puppies within each litter and from litter to litter.
With F2, F3, and later litters where both parent dogs are hybrids themselves, you will generally see more uniformity from puppy to puppy, both within each litter and between litters.
Another good way to guesstimate what your hybrid puppy might look and act like in adulthood is to meet both parent dogs before you make a final commitment.
French Bulldog Mixes
If you have arrived here in search of information about a specific French Bulldog mix dog, this handy clickable list will help you navigate to the exact dog you want to learn more about!
Enjoy learning about these 10 popular French Bulldog mixes!
No. 1: French Bulldog German Shepherd mix
The Frenchie Shepherd brings together two popular companion canines: the French Bulldog and the German Shepherd.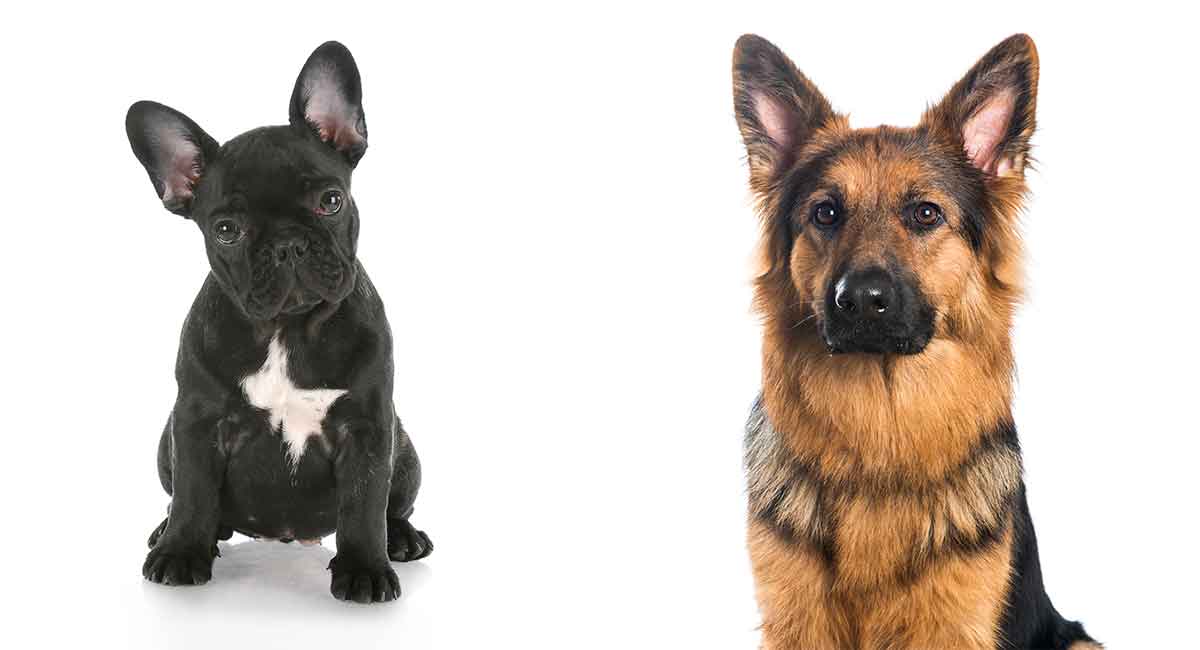 Health-wise, the German Shepherd brings a more balanced physique, long tail and much longer muzzle to counter the French Bulldog's issues with brachycephaly and screw tail.
However, both breeds are known to suffer from joint and spinal issues.
Both of these dogs have smooth coats that will stay healthy and neat with regular brushing and occasional baths.
A Frenchie Shepherd may shed more if the puppy takes after the GSD parent.
The Frenchie Shepherd may live 7 to 12 years.
To learn more about the French Bulldog German Shepherd mix dog, read through our in-depth guide.
No. 2: French Bulldog Boston Terrier mix
The Frenchton features a cross-breeding of two dogs who look enough alike that they are sometimes confused!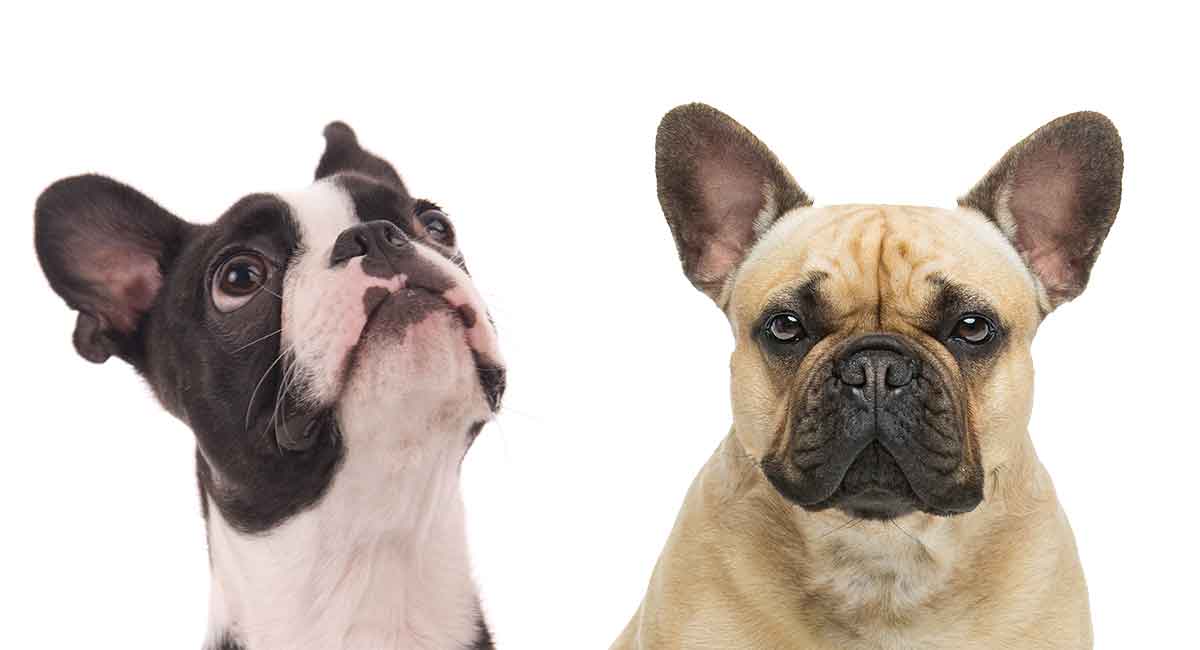 Both are very popular pet dogs with friendly, affectionate personalities, which is where this hybrid dog's true strengths come from.
Unfortunately, both the French Bulldog and the Boston Terrier have the flat face and short muzzle that characterizes brachycephalic dog breeds.
They also both have shortened tails that can lead to spinal issues.
The Frenchton is likely to have a short, smooth coat that sheds minimally and a screw tail or nub tail.
A Frenchton will probably weigh around 20 to 25 pounds and live 10 to 13 years.
For even more information about the French Bulldog Boston Terrier mix dog, visit our in-depth guide.
No. 3: French Bulldog Beagle mix
The Frengle crosses two beloved companion dog breeds, the Beagle and the French Bulldog. Both dogs love people and are keen to participate in interactive play.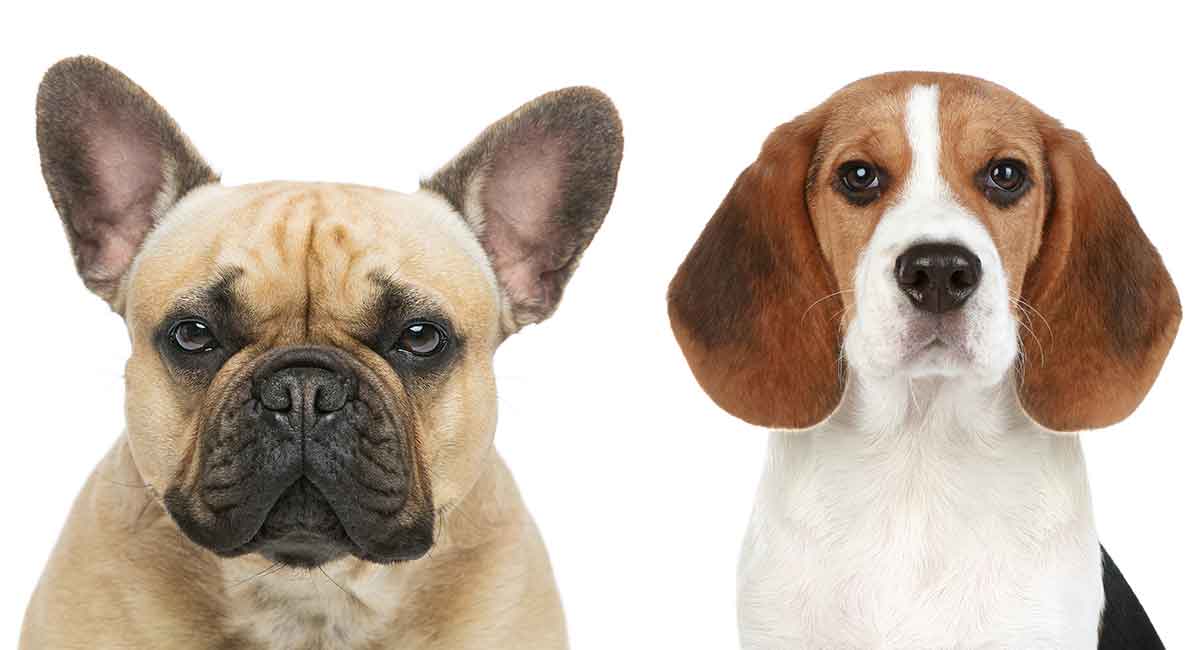 Both dogs have short, smooth coats that do well with regular brushing and occasional baths.
A Frengle may shed more if a puppy takes after the Beagle parent.
Importantly, the Beagle parent contributes the longer muzzle and natural long tail that may minimize health issues in this hybrid breed.
Expect your Frengle to weigh less than 30 pounds.
The Frengle can live 10 to 15 years.
For more information about the French Bulldog Beagle mix dog, be sure to read through our in-depth guide.
No. 4: French Bulldog Yorkshire Terrier mix
The Frorkie is an interesting crossbreed, with one bigger and stockier French Bulldog parent and one petite and dainty Yorkshire Terrier parent.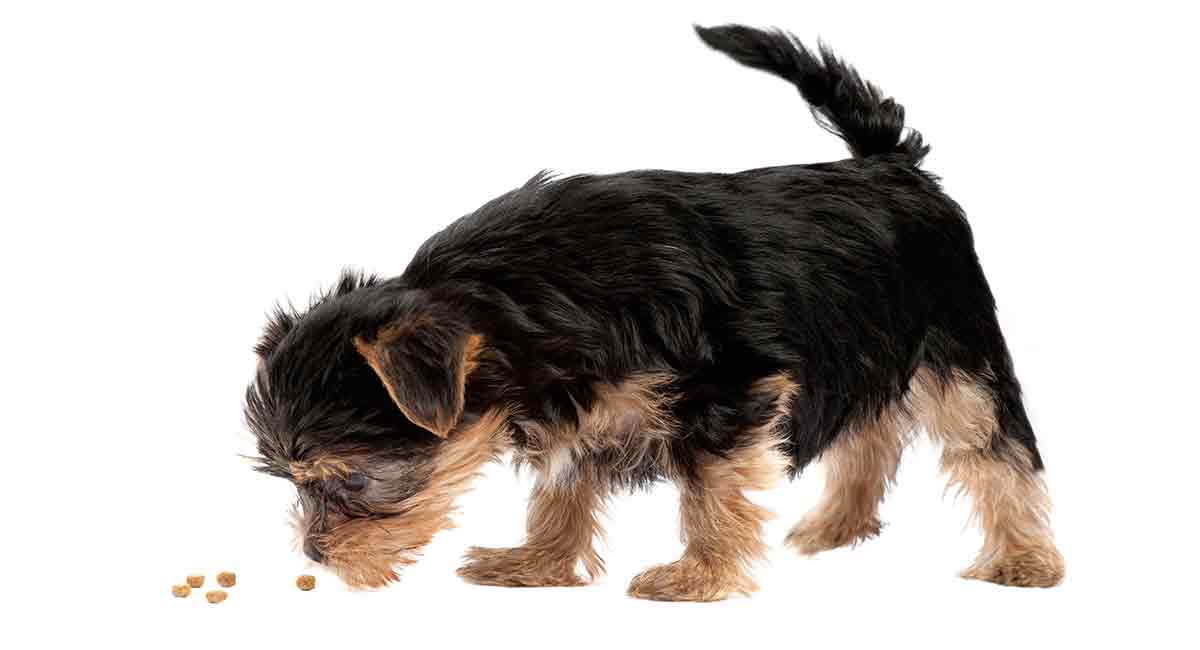 This dog is likely to stay toy-sized even in adulthood, since a typical fully-grown Yorkie weighs just seven pounds!
The Frorkie may have a short, flat coat or a longer, finer coat depending on which parent dog a puppy favors. With the latter, expect more daily brushing and grooming chores but minimal shedding.
Unfortunately, both parent dogs are brachycephalic. However, the Yorkie has a natural long tail that may minimize spinal issues in your Frorkie.
Expect a Frorkie to live 10 to 15 years.
No. 5: French Bulldog Miniature Poodle mix
The Froodle crosses a French Bulldog with a Poodle, typically a miniature (Poodles are also bred in standard and toy sizes).
So the adult size of your Froodle is likely to range from 15 to 20 pounds.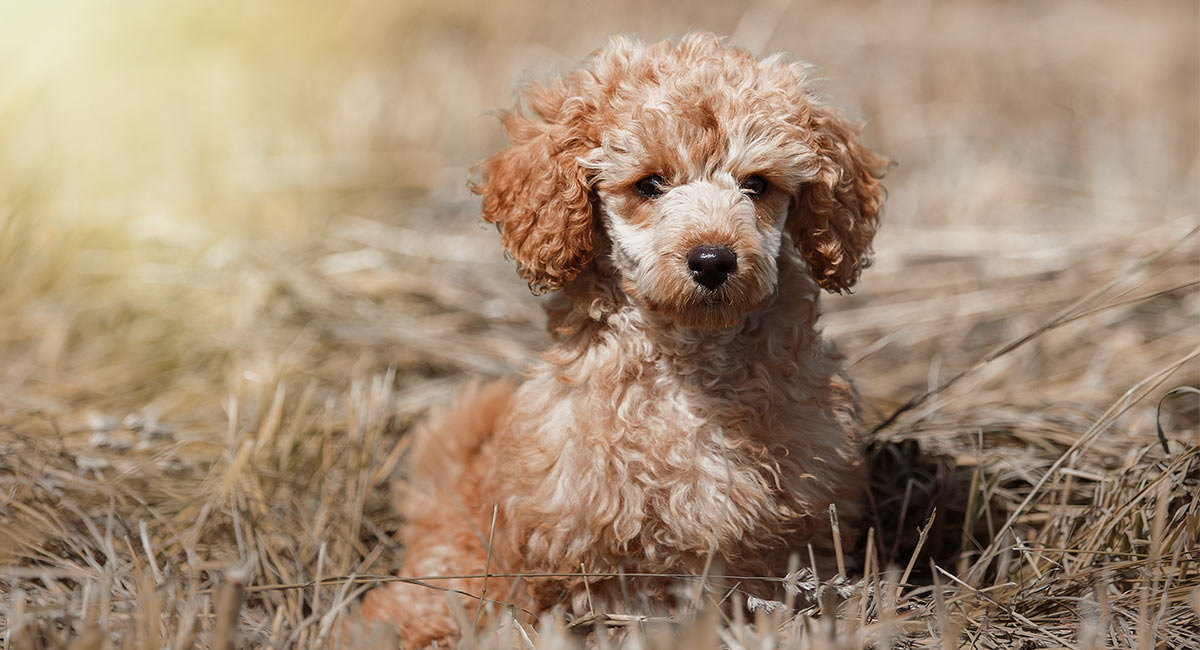 The Poodle has a non-shedding coat that some (not quite accurately) term "hypoallergenic."
However, this curly coat does need daily brushing to repel tangles and mats.
For your Froodle pup, you can expect minimal shedding but daily brushes.
The Froodle will inherit both parent dogs' friendly, loyal and affectionate temperament towards "their" people.
Both dogs like to play and need this enrichment to stay happy and healthy.
Poodles contribute the longer, healthier muzzle shape and natural tail that can ease health issues caused by the Frenchie's brachycephaly and screw tail.
Poodles do suffer from joint issues in the knees, elbows and shoulders, as well as immune dysfunction.
Overall, expect your Froodle to live 10 to 18 years.
No. 6: French Bulldog Pug mix
The Frug pairs a lovable Pug with the equally lovable Frenchie.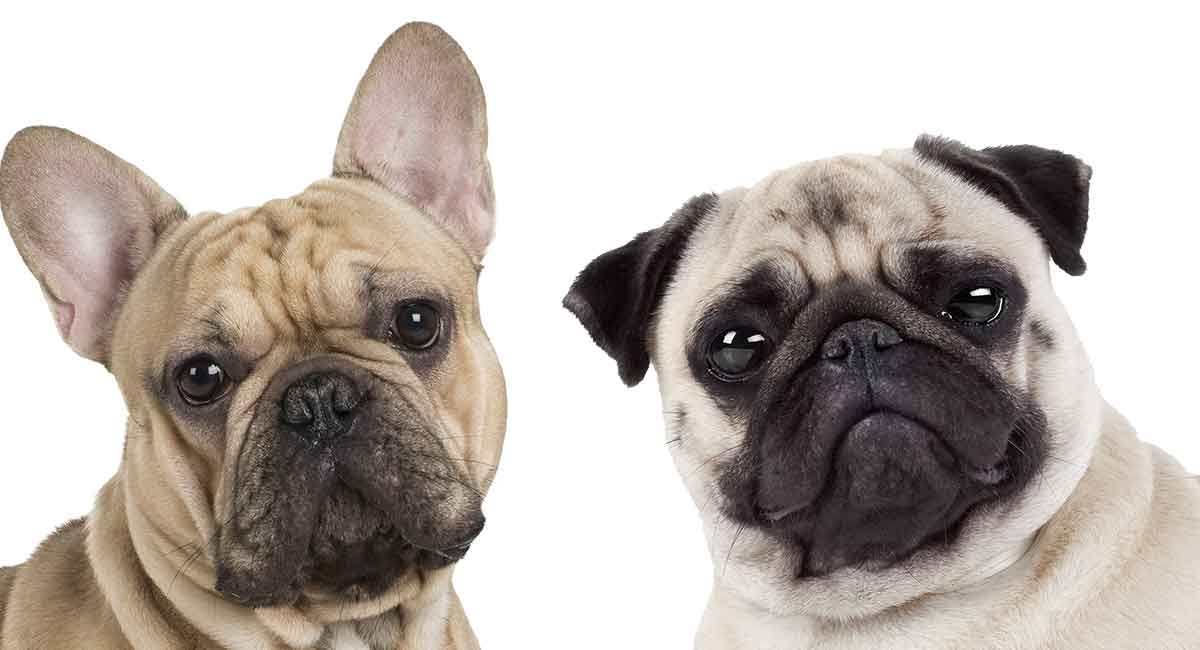 Your Frug inherits affectionate, loving and playful personalities from both parent dogs as well as a naturally short, smooth coat that is easy to maintain with regular brushing and occasional baths.
Unfortunately, both the Pug and the French Bulldog have the flat-faced brachycephalic muzzle type, which can mean chronic health issues.
Both dogs also have the screw tail that can lead to nerve and spinal concerns. And both dogs can contract genetic joint issues.
Your Frug has a typical life expectancy of 10 to 15 years.
For more information about the French Bulldog Pug mix dog, check out our in-depth guide.
No. 7: French Bulldog Miniature Pinscher mix
The Frincher combines two purebred dog breeds with quite a different appearance.
The toy-size miniature Pinscher has a slight yet tall body and long legs, while the larger Frenchie has short legs and a stockier frame.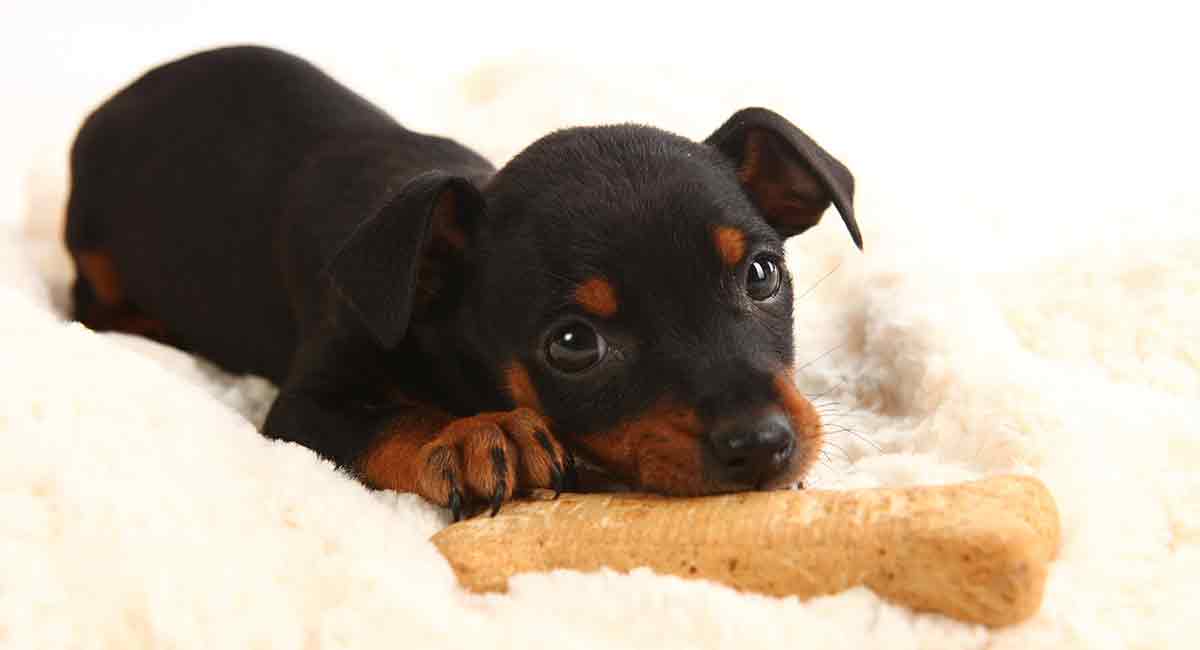 Expect your Frincher to weigh 8 to 15 pounds.
Each parent dog has a lively, friendly, people-oriented personality. This dog really needs a lot of time with "their" people to stay healthy and happy.
While the miniature Pinscher often appears to have a short tail or nub, this is due to the procedure of tail docking. These dogs naturally have long thin tails.
Miniature Pinschers also contribute a longer muzzle type that may help balance brachycephaly concerns in the Frenchie parent.
Both dogs have short, neat coats that are easy to maintain and do not shed too much.
No. 8: French Bulldog Chihuahua mix
The French Bullhuahua is a puppy with one French Bulldog parent and one Chihuahua parent.
This is likely to be quite a small pup, since most adult Chihuahuas weigh six pounds or less.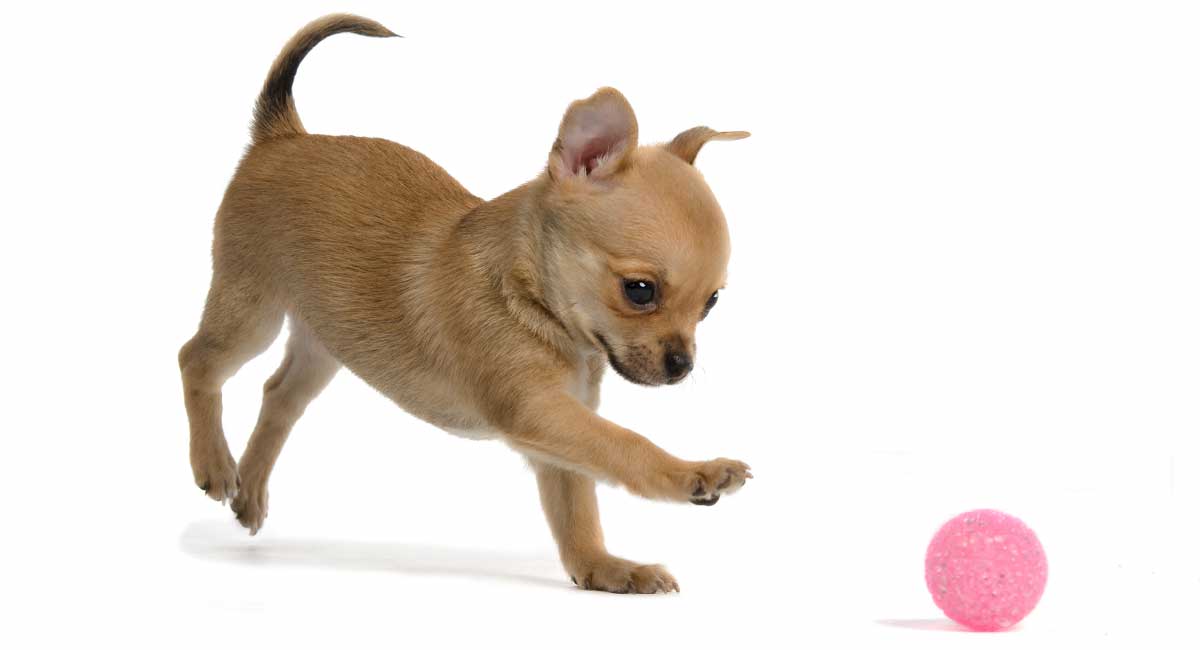 Chihuahuas may be little, but they rarely seem to realize it.
They tend to have the active, alert and sometimes high-strung nature of small terrier-like watch dogs.
French Bulldogs are typically more laid-back in their temperament.
Both Chihuahuas and Frenchies have the brachycephalic muzzle type, which means your dog may suffer with known health issues from this conformation.
However, Chihuahuas do have long natural tails which may alleviate some of the spinal health issues Frenchies can inherit.
Expect your French Bullhuahua to live 10 to 16 years.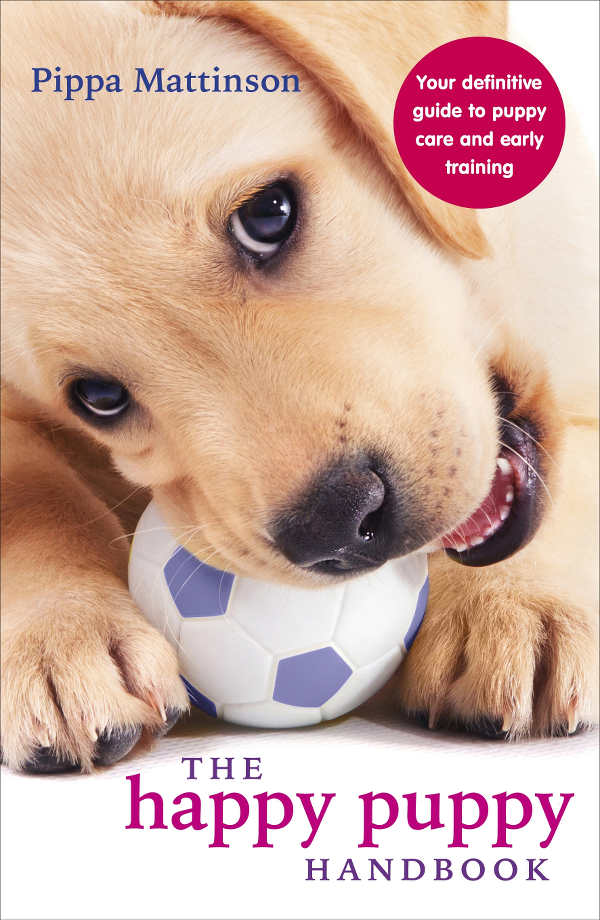 No. 9: French Bulldog Australian Shepherd mix
The Fraussie is a unique hybrid pairing of the short, stocky French Bulldog with the larger, leaner Australian Shepherd.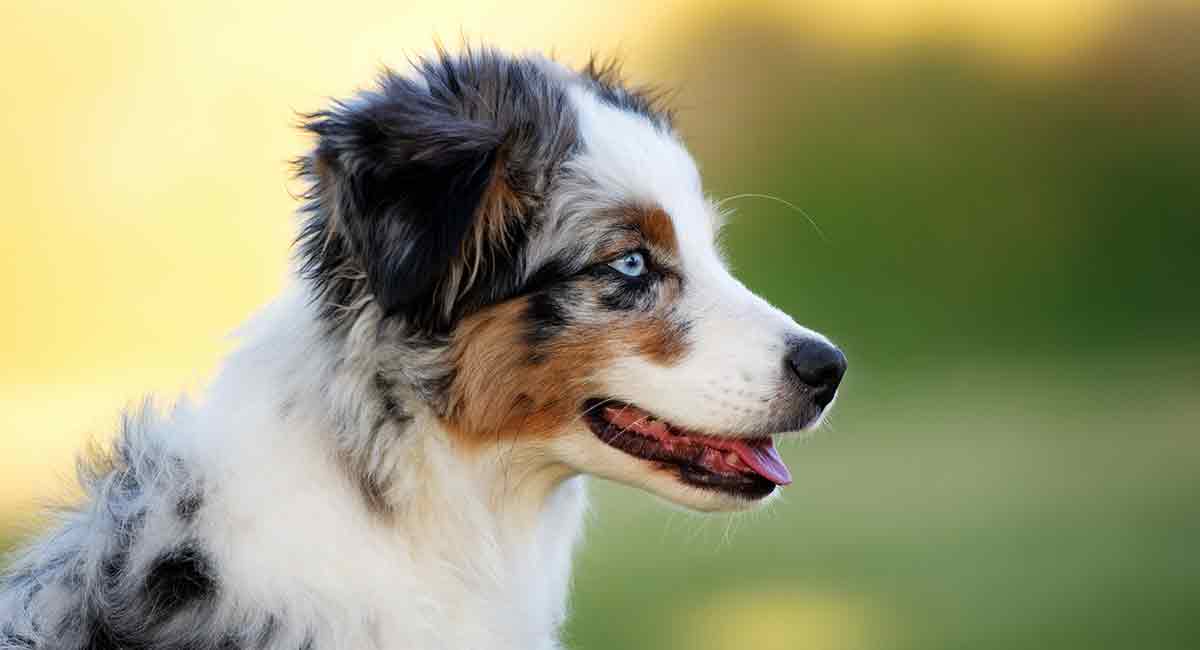 Expect this dog to weigh 30 to 45 pounds in adulthood.
The Australian Shepherd has a longer muzzle and long natural tail, which may help reduce some of the brachycephalic health issues present in Frenchies.
However, Aussies have long, double-layer coats that can shed quite a bit seasonally and require daily brushing to stay tangle-free.
So you may be looking at more grooming duties with this hybrid.
Aussies are also true working dogs, so expect a more active dog with a Fraussie.
Expect your Fraussie to live 10 to 15 years.
No. 10: French Bulldog Labrador Retriever mix
The French Bullabrador combines the traits of the Labrador Retriever and the French Bulldog, two of the most popular pet dogs in the world.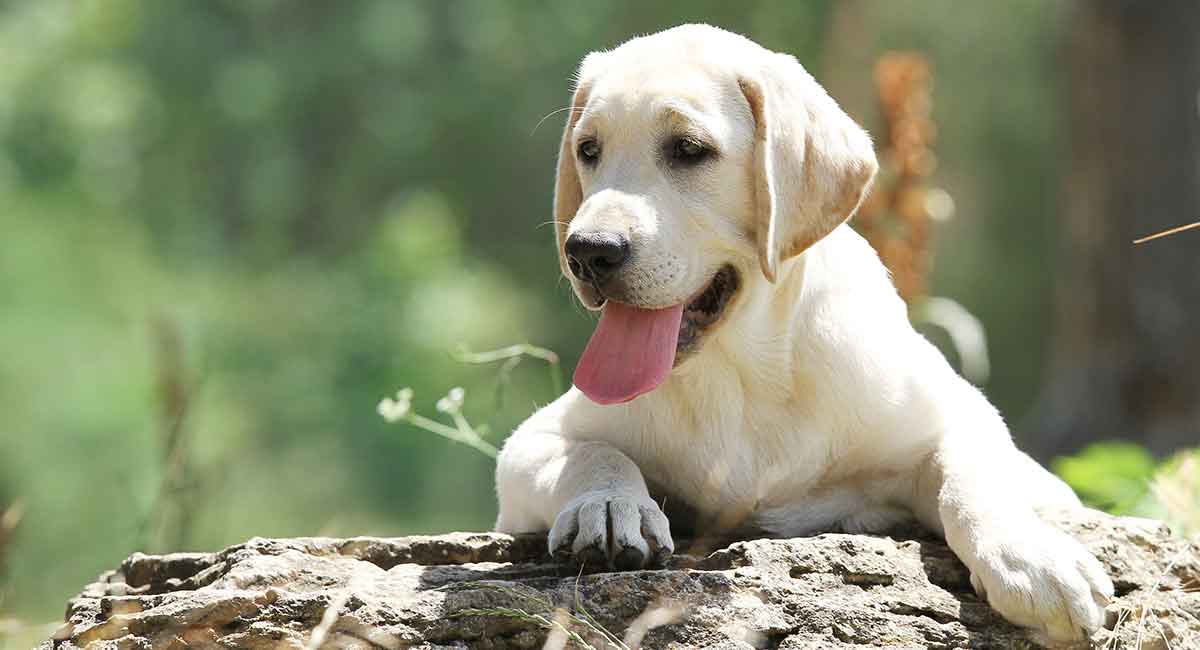 This is likely to be a bigger pup, weighing 30 to 45 pounds.
Labradors have a longer tail and muzzle that can counteract the short, flat faces of Frenchies.
But Labradors will also contribute a thicker coat that sheds a great deal more, and a higher energy level.
Expect your French Bullabrador to live 10 to 12 years.
Is A French Bulldog Mix Right For Me?
We hope you have found this article useful and informative as you consider whether to open your home to a French Bulldog mix!
Leave us a comment and let us know how it goes!
References and Resources
Rowland, V., "French Bulldog Health and Conformation," The French Bulldog Club of America, 2018.
Peltz, J., "Labs still lead but French bulldogs leap in popularity in US," Phys.org, 2018.
Lombardi, L., "Are We Loving French Bulldogs to Death?," National Geographic, 2018.
O'Neill, D., et al, "Demography and disorders of the French Bulldog population under primary veterinary care in the UK in 2013," Canine Genetics and Epidemiology Journal, 2018.
Robitzki, D., "The (de-)evolution of the bulldog," Scienceline, 2017.
Nai-Chieh, L., et al, "Conformational risk factors of brachycephalic obstructive airway syndrome (BOAS) in pugs, French bulldogs, and bulldogs," PLOS One Journal, 2017.
Birchler, J.A., et al, "Unraveling the genetic basis of hybrid vigor," PNAS Articles, 2006.