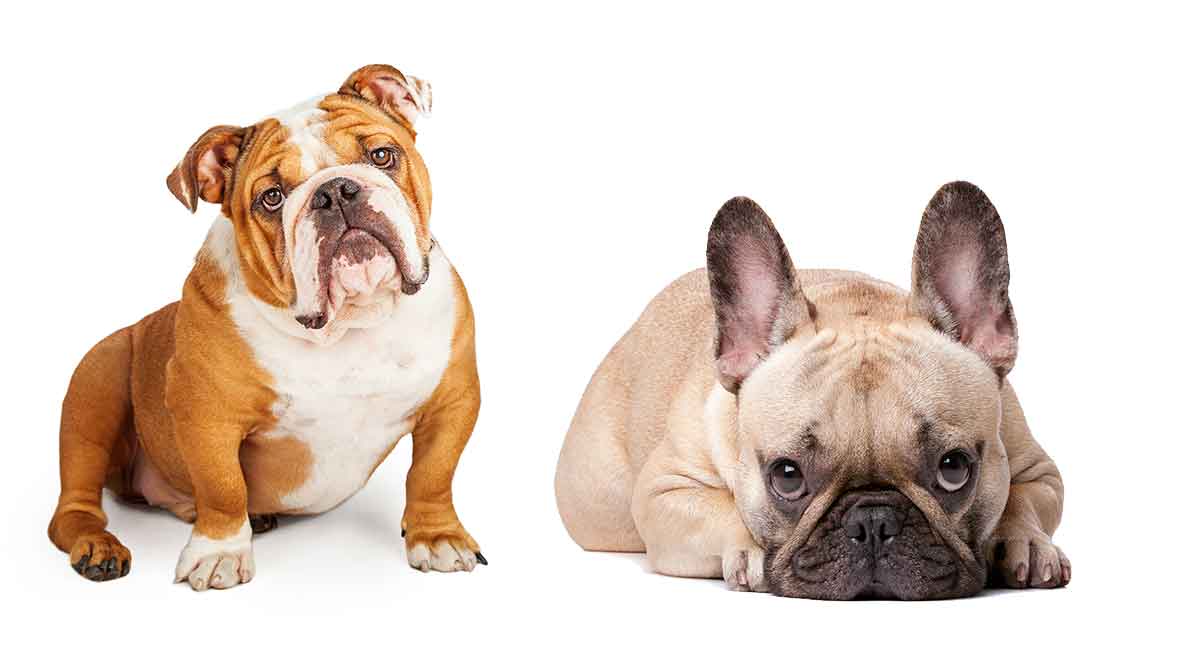 The French Bulldog English Bulldog Mix could make a loyal and devoted companion for most families. They don't need a lot of exercise or coat clipping, and are a pretty manageable size. However, both parents are brachycephalic breeds with serious conformational issues. Breathing, sleeping, over heating and skin problems are common, and can be expensive as well as upsetting.
Contents
The French Bulldog English Bulldog Mix is also known as the Free-lance Bulldog. For fans of all types of Bulldogs, crossing a French Bulldog with an English Bulldog might seem like a good way to get the best of both breeds. But is it a good idea?
Where Does the French Bulldog English Bulldog Mix Come From?
When you cross two different dog breeds like the French Bulldog English Bulldog mix, the result is called a hybrid. The practice of mixed breeding comes with plenty of controversy.
Hybrid vigor means the improvements in form and reduction in inherited disease associated with crossbreeding. However, many other people believe that controlled breeding and genetic testing are the best way to reduce the risk of genetic defects.
Although there's no documented history of when the French Bulldog English Bulldog mix came on the scene, like many hybrid breeds, they likely first appeared in the early 1990s. To get an idea of their history, we'll look at the French and English Bulldogs individually.
Origins
In 13th Century England, bullbaiting was a popular sport. This is where the English Bulldog's ancestor was developed. In order to fight staked bulls, these dogs were ferocious with huge jaws.
When bullbaiting was outlawed in 1835, the Bulldog faced extinction. Fans of the breed began the long process of transforming the vicious bruiser into a companion dog with a sweet, mellow disposition.
In the mid-1800s, a toy Bulldog that weighed about 12 to 25 pounds became popular, particularly with lacemaking artisans around Nottingham. When the industry relocated to northern France, toy Bulldogs made the journey as well.
Over decades, French breeders crossed them with Terriers and Pugs to create a dog without the Bulldog's extreme underjaw. They also developed the French Bulldog's iconic erect "bat ears."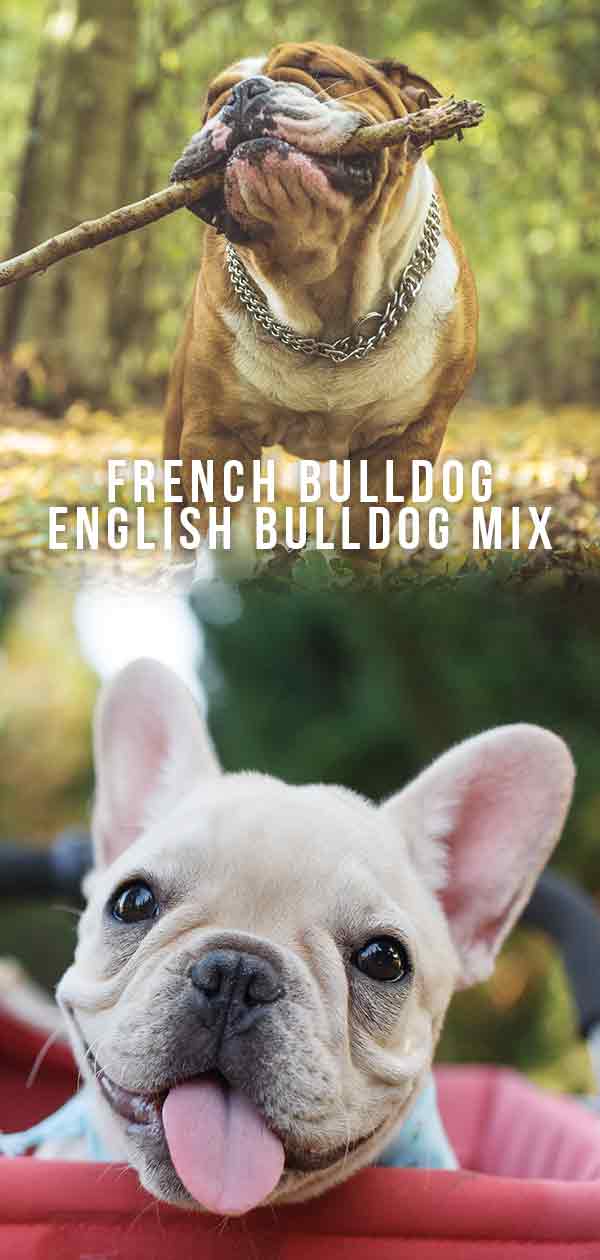 What Do They Look Like?
From his sourpuss expression and flat face to the undershot jaw and pronounced jowls, the English Bulldog is one of the world's most recognizable breeds. Their thick-set, well-muscled physique with wide shoulders and sturdy limbs are equally unmistakable. Even their characteristic rolling gait is distinctive.
They stand just 14 to 15 inches, and males can weigh up to 50 pounds. Their short smooth coat is glossy, and comes in a variety of colors and patterns.
The French Bulldog resembles a scaled-down version of the English, but with large, erect "bat ears"—a feature that is distinctly their own. They are considerably smaller than the English Bulldog, standing 11 to 13 inches and weighing under 28 pounds. They're compactly built, sporting a short coat that comes in white, cream or fawn.
Whenever two different breeds are combined, it's impossible to know exactly what the offspring will look like. However, since these two dogs are quite similar and have a shared history, the appearance will be a little more predictable.
You can expect a medium-sized dog with an athletic build and short fur. Their heads will be square and oversized, the muzzle short, and ears can be erect or floppy.
French Bulldog English Bulldog Mix Temperament
Since both parents are friendly, loyal and loving, the French Bulldog English Bulldog mix will probably be sweet-natured. Despite their violent history and surly appearance, the English Bulldog is not prone to aggression. On the contrary, they're known for having a calm, dignified demeanor.
These breeds do have some differences. The English Bulldog has kept his propensity for courageousness, which makes for a good watchdog. The Frenchie was bred to be a lapdog, opting to play and be pampered. Both, however, can have a stubborn streak.
Training Your Dog
Puppies are likely to want to urinate at certain times of the day, so following a potty training schedule is a good way to reduce the number of accidents. Crate training will also help with bladder and bowel control.
Despite being stubborn, the French Bulldog English Bulldog mix is also a people-pleaser, which can help with training. As with all breeds, early socialization and positive reinforcement training techniques from a young age is the best way to ensure your puppy develops into a well-adjusted adult.
Exercise Issues
Due to being brachycephalic, exercising your French Bulldog English Bulldog Mix will require monitoring. Moderate exercise consisting of 30-minute daily walks will suffice for this breed. Extreme weather has a big impact on their health.
Brachycephalic breeds have a tendency to overheat. They should never exert themselves in hot or humid weather because their short muzzle can make breathing very difficult. They should never be left in the sun without access to shade and water.
Pools are hazards for this hybrid too, as they cannot swim. Their short legs and stocky bodies mean stairs should also be avoided to reduce the risk of back problems.
Health Issues
Often mixing two different breeds is a way to reduce the chance of inherited health problems.
In the case of the French Bulldog English Bulldog Mix, both parent breeds share some serious health and conformation problems. Which makes them more, not less likely in their puppies.
Brachycephaly
Brachycephalic obstructive airway syndrome refers to the effects that a flat muzzle has on the respiratory system. Signs of this condition include snoring, panting, overheating, exercise intolerance and gastrointestinal problems.
Over time, these symptoms can worsen and cause permanent damage. Surgery is often required to allow normal respiration.
Their wide-set protruding eyes are prone to eye disorders such as corneal ulcers, which can potentially cause blindness.
Dental problems are also a result of their conformation. Because they have the same amount of teeth as any dog—with less space to fit them—tooth decay is also quite common.
Spinal Problems
They've also been bred to have chondrodystrophy, which is a form of dwarfism defined by shortened legs. It causes intervertebral disc disease (IVDD) and other spinal malformations.
Both the French and English Bulldogs are predisposed to screw tail. This condition can also cause severe back problems. In some cases, it can impact anal glands. You will need to check the tail area every time your puppy poops to keep him clean and avoid infection.
Grooming and Feeding
The short, smooth coat of the French Bulldog English Bulldog mix is fairly low maintenance, requiring an all-over brushing once or twice a week.
They will do best with a high-quality, age-appropriate dog food. As both parents are prone to obesity, be mindful of calorie consumption. Being overweight exasperates conformational issues such as joint and back problems.