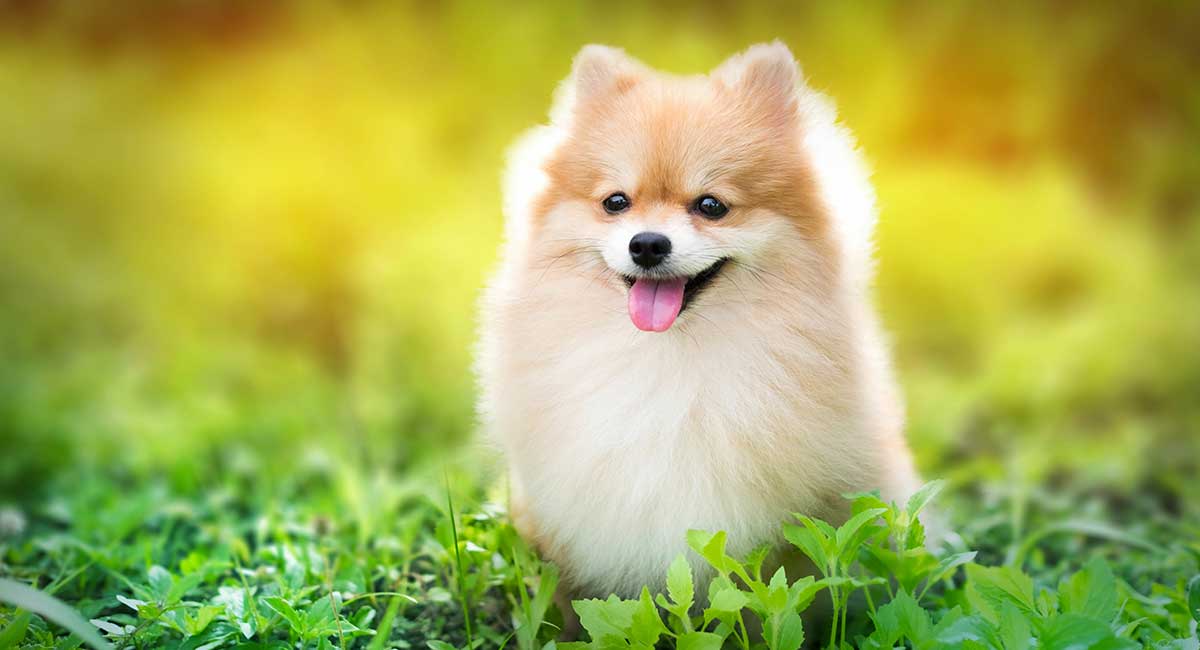 Fluffy dogs have thick furry coats with a very soft texture. They are great for cuddling, hugging and snuggling up to! Fluffy dog hairs stand away from their body in a way that makes them look bigger than they are too, which makes for a fun surprise when they are bathed or go swimming.
Fluffy dogs come in all shapes, sizes and temperaments. Today we'll meet the top fluffy dog breeds, including the Maltese, Poodle, Pomeranian, Chow Chow, Old English Sheepdog and Newfoundland.
We will share tips for grooming fluffy dogs and help you to find some perfect fluffy puppies. We'll also share stacks of cute pictures, photos and videos of fluffy dogs too. And help you to decide which fluffy pup's personality, appearance and breed traits are the best fit for your family, lifestyle and even allergies.
Big or small, non-shedding or quite the opposite, there's a fluffy dog breed out there for practically everyone. As long as you are a fan of grooming, or happy to take regular trips to your local professional dog groomer.
The Appeal of Fluffy Dogs
Have you ever come across those fluffy dogs on social media that look more like teddy bears than dogs? Are you interested in getting one of these cuddly creatures for yourself?
Fluffy dogs are undoubtedly adorable, but they can be a lot of work. In this article, we will learn about different fluffy dog breeds and why they have been bred to be fluffy. Read on to find out what fluffy dog breed is best suited to you.
Small Fluffy Dogs
Smaller fluffy dogs are a good option for people who have small apartments as they don't take up as much space. They also might be a good choice if you can't provide long walks. A smaller build typically means less formal exercise is needed, and lots of games at home will meet their needs. Here are some popular small fluffy dog breeds.
Maltese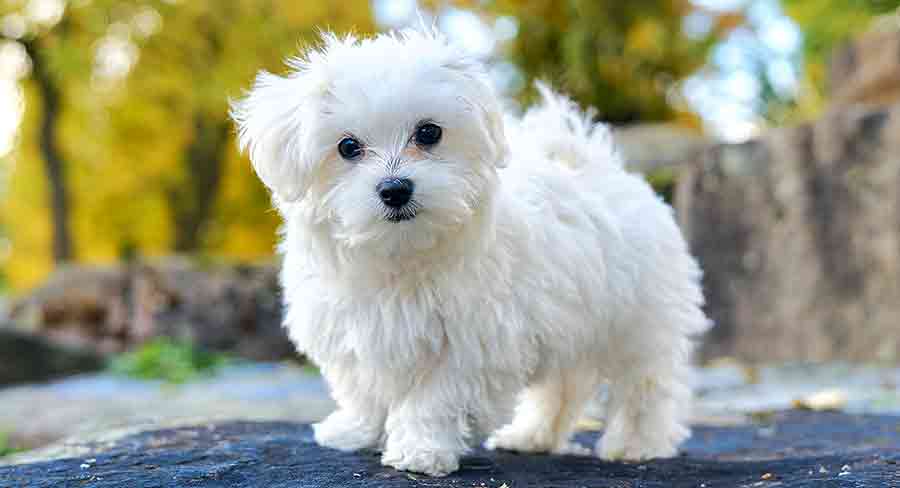 White fluffy dog breeds like the Maltese are some of the most popular toy dog breeds. The Maltese has origins dating back to 6000 BC. It is believed they have descended from Spitz-type breeds which were much larger. Over time, the Maltese has been selectively bred to make it the tiny fluffy dog we know and love today.
As they were bred to be companion animals, Malteses are gentle and affectionate dogs that love cuddles and attention.
Their charming temperament has gained them lots of popularity, making them the 37th most popular breed in the US. Standing at only 7-9 inches tall and weighing around 7 pounds, they have certainly earned their label as a toy breed. Their fluffy coats are long, silky and always come in white.
This small white fluffy dog is genetically predisposed to a few health issues as a result of being selectively bred. They can suffer from luxating patellas, a condition in which the kneecap is loose, and heart abnormalities. Dental overcrowding is also an issue and is common in many toy breeds.
Toy Poodle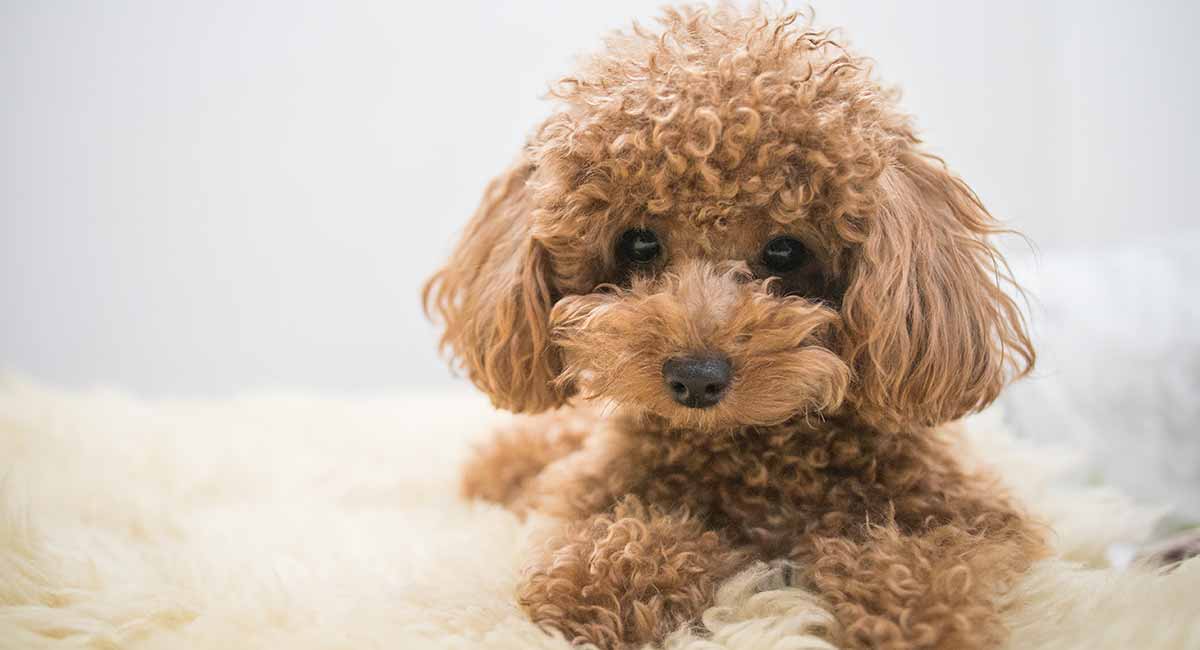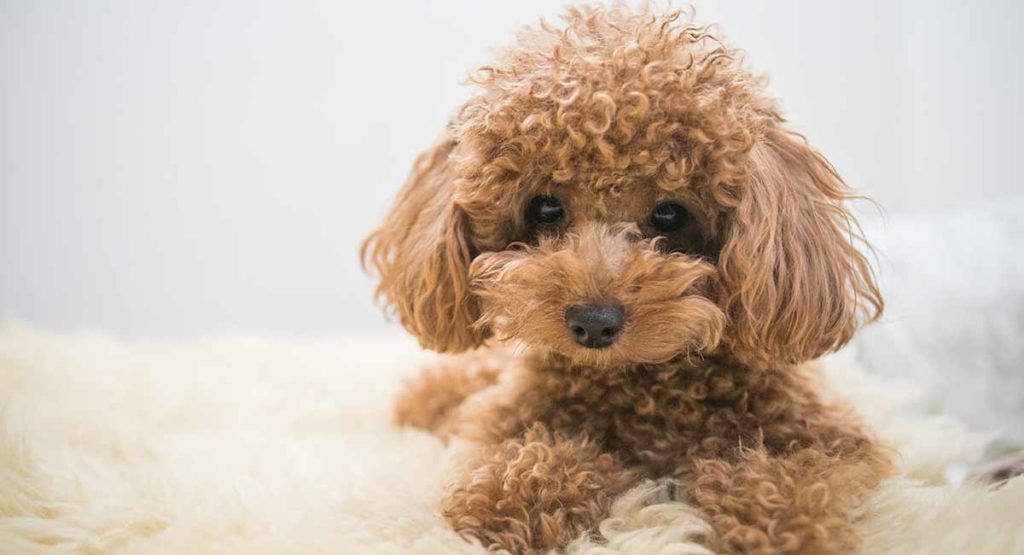 The Poodle's famously distinctive fluffy coats originally served a practical purpose. They were once retriever dogs, specifically for duck hunters. Their fluffy double-coat provided protection from the harsh weather.
Poodles come in three sizes – standard, miniature, and toy. Toy Poodles were first bred in England in the 18th century and are less than 10 inches tall. They are squarely-build with smart and extremely trainable temperaments. They are genetically predisposed to hip dysplasia, eye disorders, and epilepsy, so ensure you get tests carried out before getting one.
The Toy Poodle's extravagant fur is undoubtedly one of its appeals. Not only is it endearing and unique, but it also suitable for people with allergies. They shed minimally, making them a hypoallergenic dog breed. Poodles come in a variety of colors so if you want a red, black or brown fluffy dog, this may be the breed for you.
Without sufficient care, the Toy Poodle's coat can become matted and tangled. This can cause pain on the underlying skin and potentially cause infections. Unlike some other breeds, Poodles grow hair in their ears which also needs managing to avoid earwax buildup and infection.
Pomeranian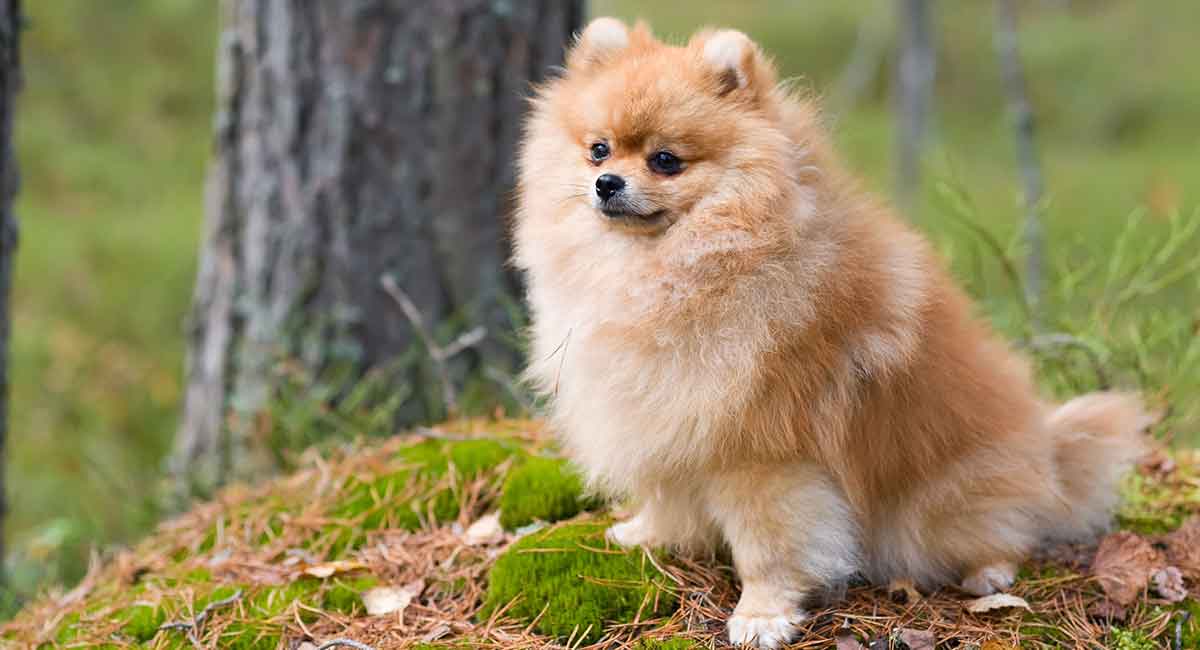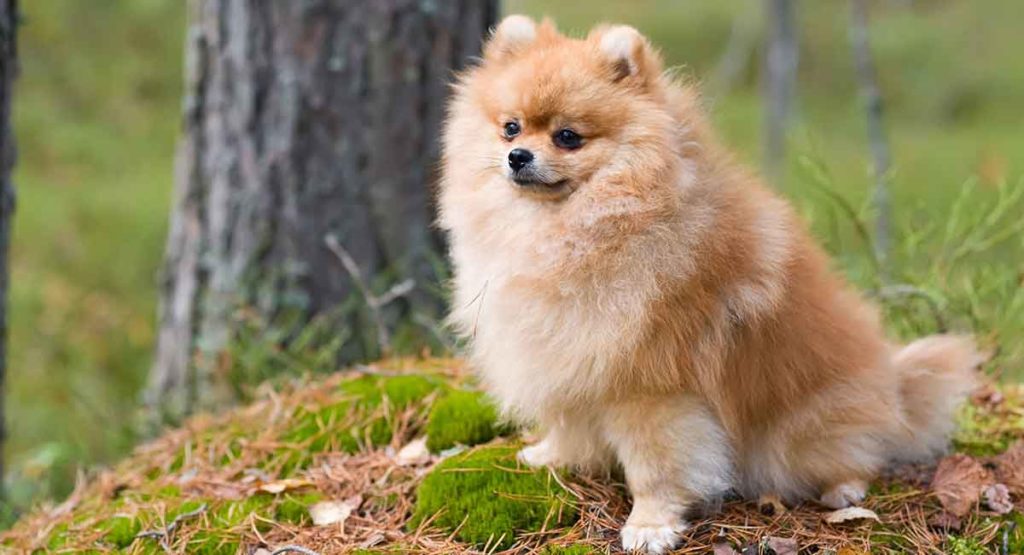 The fluffy Pomeranian is believed to have descended from the German Spitz, which were working dogs that inhabited cold climates. It is because of their outdoor work that these dogs were selectively bred to have their gorgeous fluffy coats. Pomeranian dogs get their name from the region Pomerania. This included northern Poland, Germany and the Baltic Sea.
The Pomeranian's beautiful coat attracted many enthusiasts in the 18th century when members of the royal family began keeping them as companion dogs. Queen Victoria even had her own breeding kennel and her favorite dog, Windsor's Marco, weighed only 12 pounds. Breeders began selectively breeding Pomeranians to make them even smaller, and it is reported that the breed's size decreased by 50% within the queen's lifetime!
The Pomeranian stands at 6-7 inches and weighs 3-7 pounds. They are tiny and compact with a large plumed tail. Their size may be small, but their personalities are far from it. They have lively and outgoing temperaments and make their presence known!
If kept correctly, Pomeranians shouldn't suffer from many health problems. They can be genetically predisposed luxating patella, heart issues and seizures, so ensure you go to a responsible breeder. They are prone to obesity because of their small frame, so don't go crazy with the treats.
Big Fluffy Dogs
Big and cuddly, large fluffy dog breeds make amazing cuddle buddies. Bigger dogs normally need more exercise and space than smaller dogs, so bear this in mind when deciding a breed. Here are some amazing large fluffy dog breeds.
Newfoundland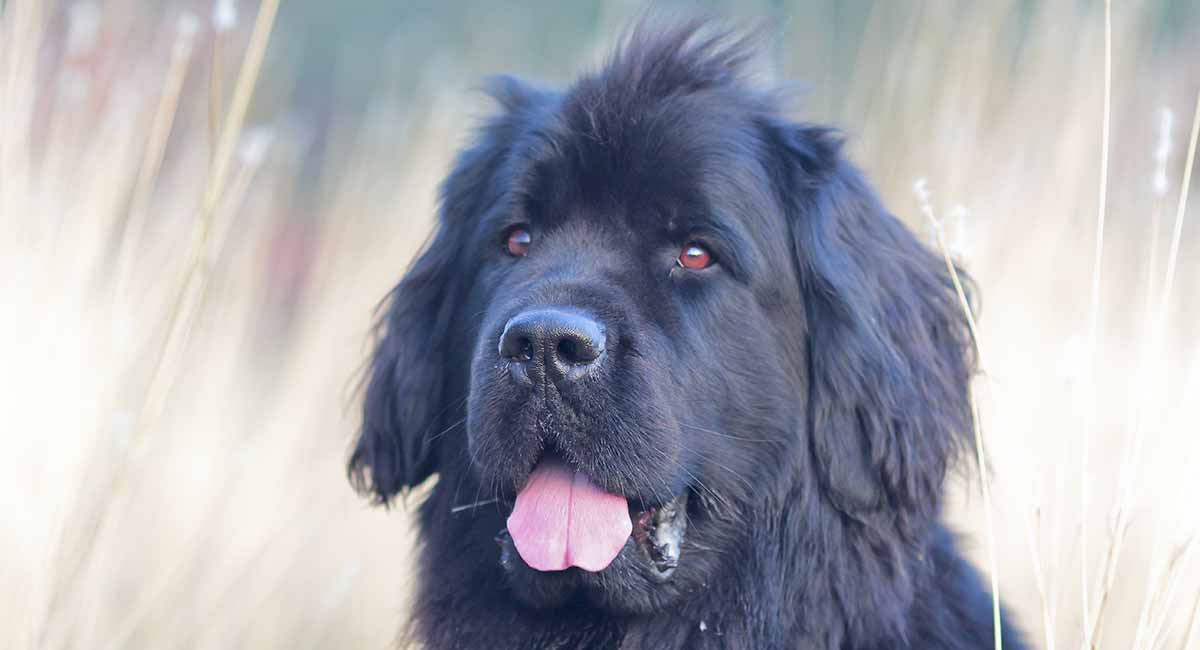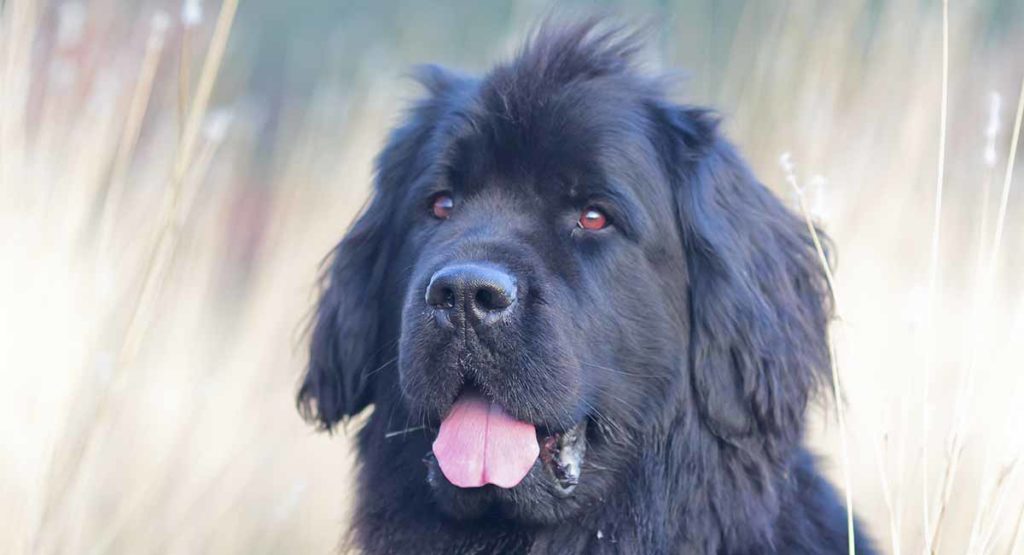 As you can guess by the name, this big fluffy dog originated on the island of Newfoundland in Canada.
Newfoundland dogs were once working dogs for boats. Their webbed feet and fluffy coats made them great at water rescues. Since the 1950s, the breed has become increasingly popular as companion animals and they are now the 40th most popular dog breed in the US.
Newfoundland dogs love human companionship. They have a reputation of being an amazing nanny dog, making them a good choice for someone with children. They stand at 26-28 inches tall and weigh between 100-150 pounds.
Their beautiful long coat comes in a variety of darker shades, so if you want a big black fluffy dog, this may be the breed for you. They also come in brown, gray, and black and white. This fur needs brushing at least once a week to remove dead hairs and to avoid matting, with more frequent grooming required throughout shedding season.
Newfoundlands are genetically predisposed to hip dysplasia, elbow dysplasia and heart disease. They are also prone to cystinuria, a defect that results in stones in the bladder. As with other breeds, going to a reputable breeder will reduce the risk of getting an unhealthy Newfoundland.
Old English Sheepdog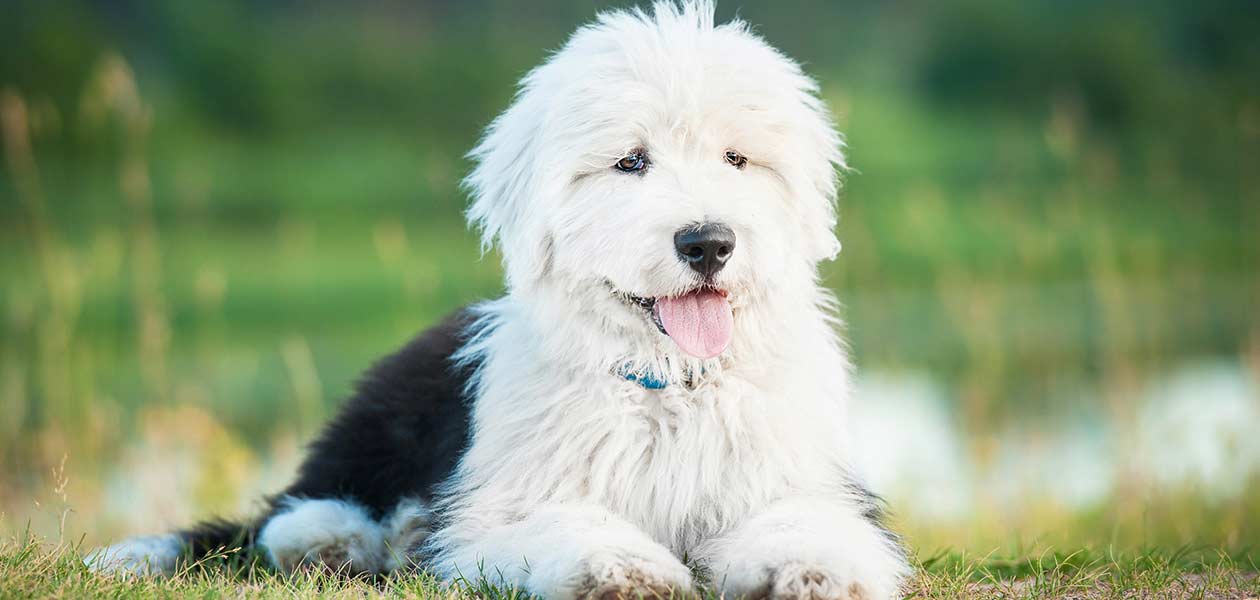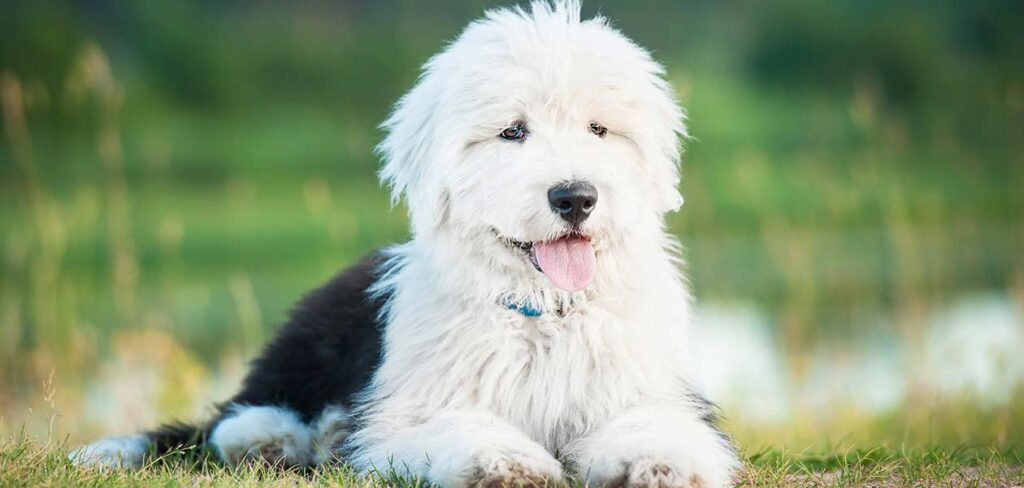 The Old English Sheepdog is the classic big white fluffy dog breed and is instantly recognizable. It is believed they have been around since at least the 18th century. Sheepdogs are related to the Bearded Collie.
Their shaggy coats have always been a hit, making them popular show dogs throughout the 19th century. There are records of enthusiasts giving their Old English Sheepdogs extravagant hairstyles dating back to 1907.
Standing at around 21-22 inches and weighing between 60-100 pounds, this gentle giant is now the 72nd most popular dog breed in the US. They have squarely built bodies, muscular legs and warm eyes. Their cute black nose contrasts with their coat, which always come in variations of white.
Although the Old English Sheepdog's coats are beautiful, they can have some impacts on the breed's health. If not groomed correctly, the hair can trap dirt and debris as well as bodily fluids. This can harvest nasty bacteria and cause infections and sores.
Matts are common in the breed and can even restrict movement if they form between the toes. Consider the risks of heatstroke when planning an Old English Sheepdog's exercise regime. The breed is genetically predisposed to hip dysplasia, eye conditions and hereditary deafness amongst a few other health problems. You can get screenings for most of these problems to ensure you get a happy healthy Old English Sheepdog.
Chow Chow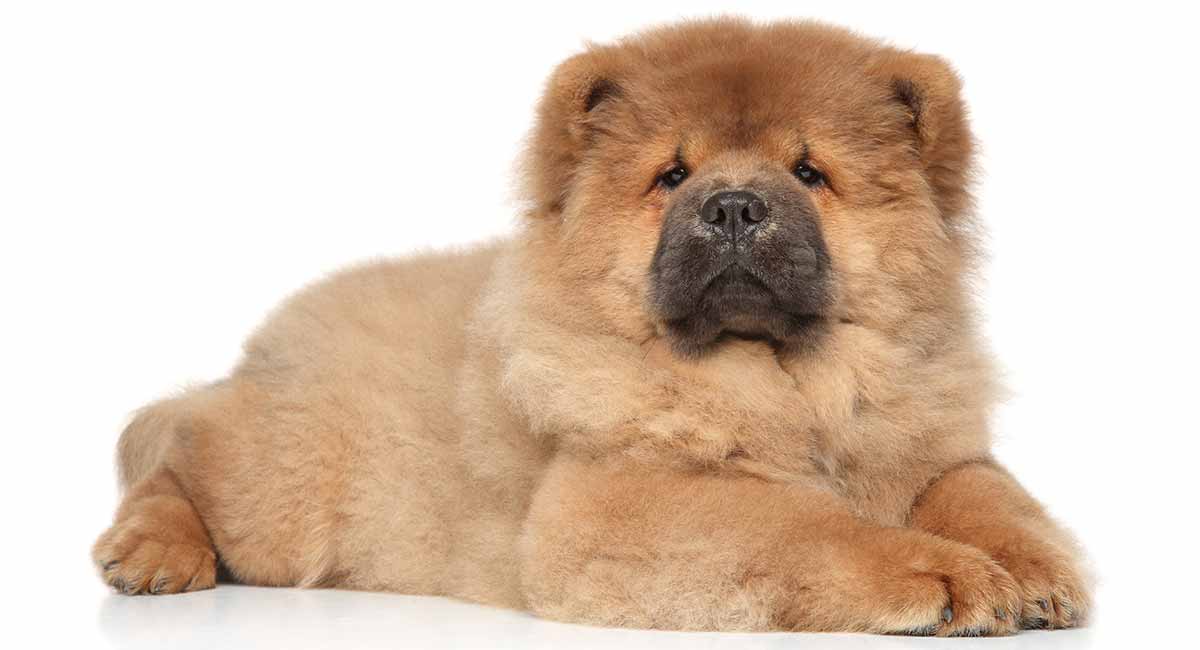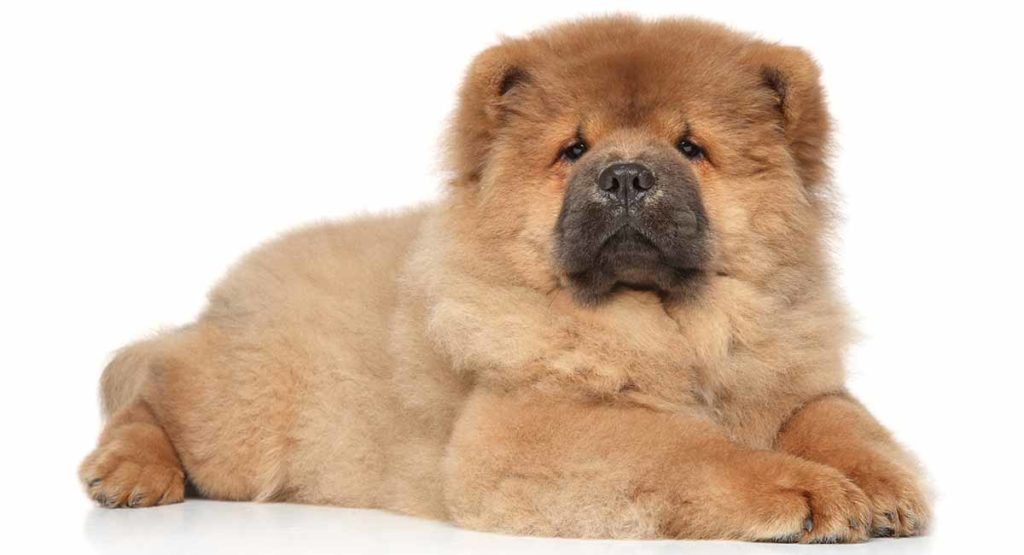 Originating from China, the Chow Chow has been referenced in artifacts dating back to 11th century BC. They were originally used as hunting dogs aiding huntsmen of wolves and leopards, and as guarding dogs of livestock. Their fluffy coats provide insulation in harsh climates. Their fur was often used to produce warm clothes, and the breed club states that there are even a few Chow Chow fur farms around today!
The breed began gaining popularity as companion animals in the mid 19th century when Queen Victoria was given one, but it was the Marchioness of Huntley who established the breed by opening one of the first famous Chow Chow breeding kennels.
One of the Chow Chow's main appeals was, and still is, its coat which gives it a unique and exotic look. When the breed was shown in the London Zoological Gardens, it was referred to as the "wild dog of China".
The Chow Chow is now the 75th most popular dog breed in the US and has a loyal following of enthusiasts. They are powerful and sturdily built dogs, standing at 17-20 inches and weighing between 75-70 pounds. Their high-set tails and fluffy mane gives them a distinguished and dignified appearance. These dogs can be stubborn.
Chow Chows are a flat-faced breed, which makes them more vulnerable to a long list of health problems. They can overheat due to their fluffy coats. Other issues that Chow Chows are also genetically predisposed to include hip dysplasia, elbow dysplasia and eye conditions. Using a responsible breeder and carrying out screenings will minimize the risk of getting an unhealthy one.
Finding a Fluffy Puppy
If fluffy dogs are the only pet for you, then the best place to start is with a shortlist of your favorite fluffy dogs, like the one we've shared above. See which one fits your needs in terms of temperament and size. Then start to narrow down the list by health.
Once you've picked the perfect fluffy dog breed, you need to spend some time looking for a good breeder. Great breeders will be happy to answer any question you might have, no matter how small. They'll want to get to know you and your home set up a bit too. The best breeders also show you copies of the parents' health certificates, and have an obviously strong bond with their dogs.
What Makes Fluffy Dogs Fluffy?
The reason that cute fluffy dogs have their lovely fur is that they are double-coated, meaning their coat consists of two layers.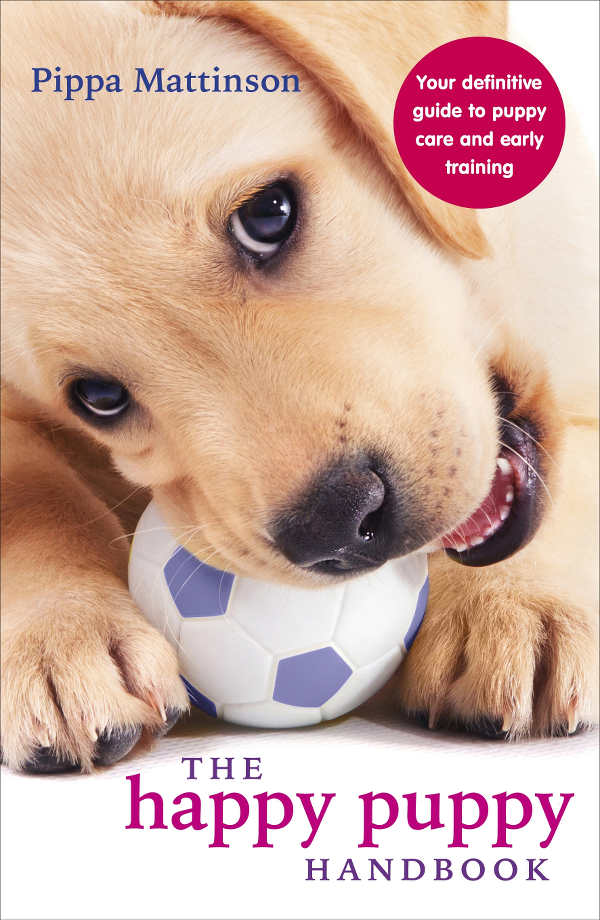 The undermost layer is composed of coarse and wooly hairs to maintain heat and provide insulation. The uppermost layer is composed of longer 'guard' hairs that protect the skin and trap dirt and debris. Not all double-coated breeds are fluffy though. When a dog has a fluffy appearance, it is because its undercoat is denser and thicker.
There are different levels of fluffiness as you will see in the rest of this article – some are really fluffy dogs, and some are only slightly fluffy. This will affect how frequently they require grooming.
Grooming Fluffy Dogs
Your fluffy puppy will need regular grooming, at a minimum every other day. They might also need clipping, trimming or deshedding too depending on the length of their fur. And whether they have an undercoat or not.
As a simple toolkit for most fluffy puppies you'll need a wide mouth comb, deshedding tool and pin brush. You might also need a regular appointment at the dog groomers. But this will depend on which breed of dog you choose.
Are Fluffy Dogs Hypoallergenic?
Fluffy dogs are not always low shedding, because that fluffy texture can come from having straight hairs. Curly haired dogs that catch their shed fur are more likely to be described as allergy friendly. So the Toy Poodle is a fluffy yet low shedding dog. But the fluffier dogs don't come into this category.
Are Fluffy Dogs Good Pets?
If you are willing to invest extra time and money into grooming, a fluffy dog might be a good match for you. There are more fluffy dog breeds out there. So, if none of these breeds appeal to you, there are others to explore.
Not all fluffy dog breeds have the same needs – each breed is different and requires different care, so make sure you do your research.
And, most importantly, don't just get a fluffy dog because they are cute or trendy. Dogs are a big responsibility and can live for many years. Only get one if you are in it for the long haul.
Good luck in your search to find a fluffy friend!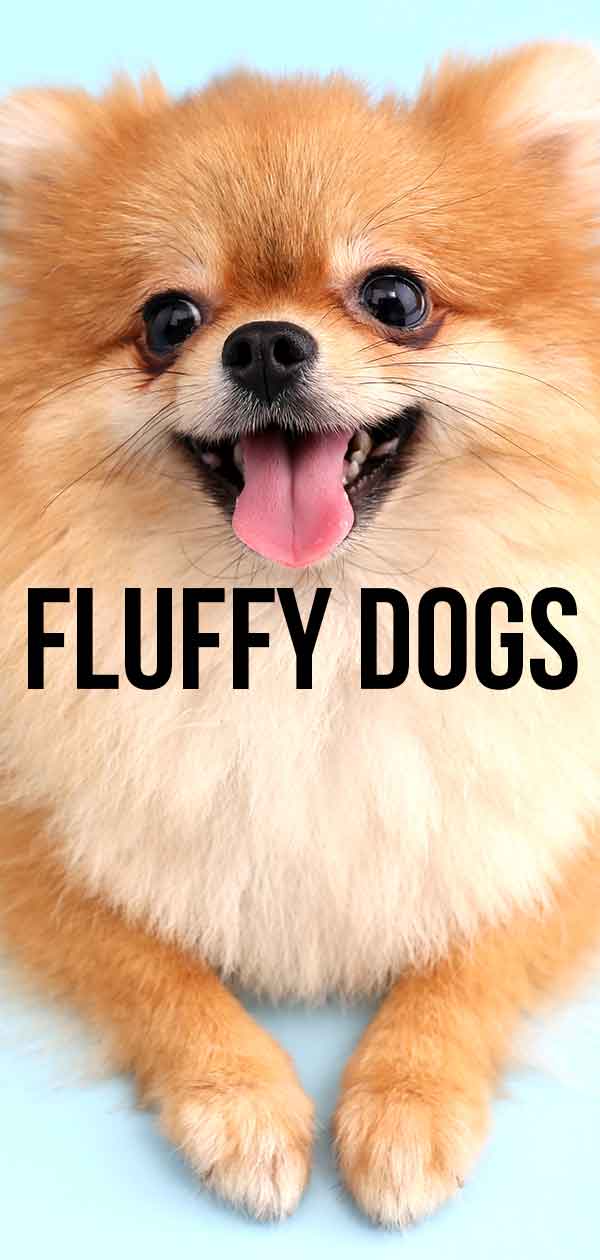 Find Out More About Fluffy Dogs
Old English Sheepdog
Chow Chow
References and Resources