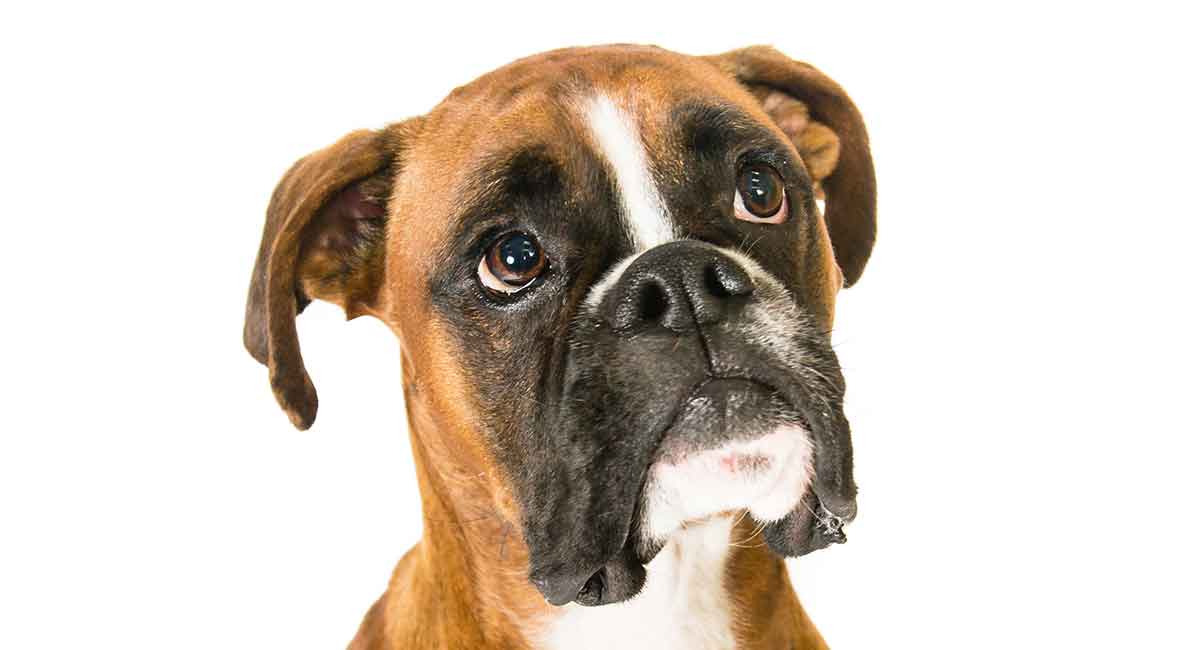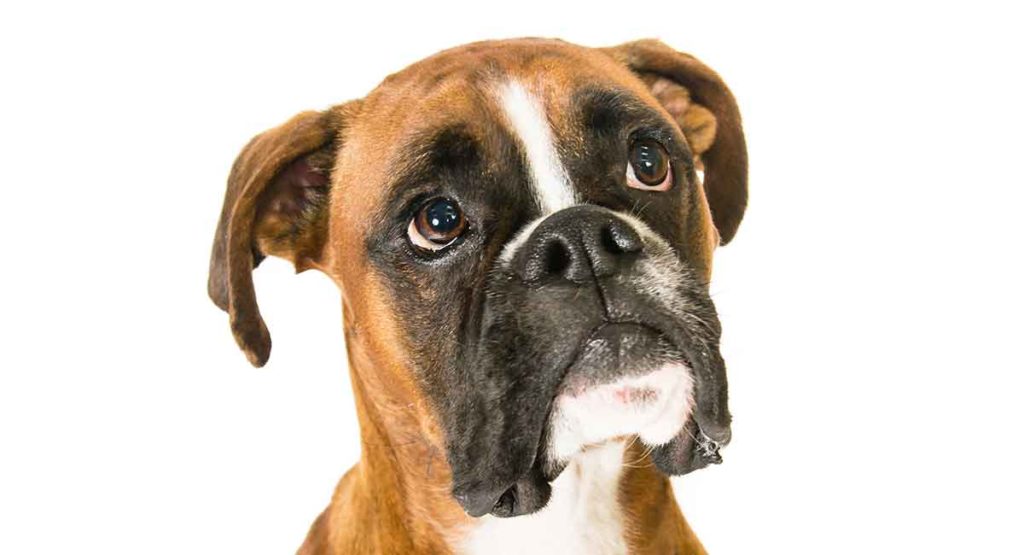 Thinking about getting a fawn Boxer as your new canine companion?
There are just two purebred Boxer colors: fawn, and brindle—with or without white markings.
In this article, we'll take a close look at the Boxer dog breed, paying extra attention to the fawn Boxer dog.
It's time for a little lesson in the genetics of coat color…but don't worry, this will be easy!
Coat Color in Dogs
Dogs' coats come in a wide variety of colors and patterns, but all canine coat colors start with just two pigments: black, and red.
Different levels of these pigments determine the different colors.
For example, black can produce a grey or brown coat, and red can produce a yellow or cream coat.
White areas on a dog's coat means that there is no pigment at all.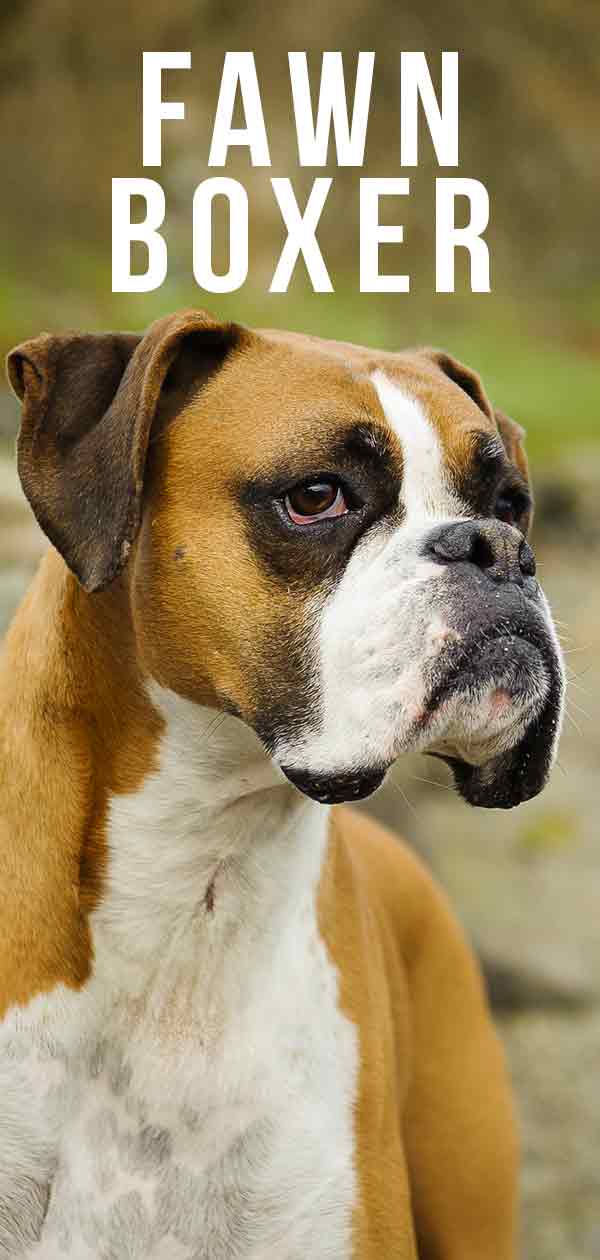 Dogs have 8 genes that determine coat color.
Each one is responsible for different types of color.
Examples: an agouti gene creates coat patterns.
A dilute gene will lighten a dog's coat color.
What about the fawn color? How do experts define fawn coat color in dogs? Let's find out!
Fawn Coat Color
Boxers have variations of the red coat color pigment, not the black.
Even brindle Boxers with very dark striping don't carry the black color.
The red-based fawn coloring can range all the way from light tan to dark mahogany.
Boxer puppies can inherit fawn and/or brindle genes from their parents.
Brindle is dominant over fawn, but the combination of genes in an individual puppy determines its coloring.
A fawn Boxer dog can have solid coloring (called "plain"), or fawn with white markings (called "flashy").
As with fawn vs. brindle coloring, the specific genes a puppy inherits from its parents will determine plain vs. flashy markings.
Does Coat Color Affect Personality and Health?
Now that we've seen how coat colors and markings occur, let's see if color has any impact on health or temperament.
Certain colors can be linked to health conditions. The most common relationship most people know about is white color and deafness.
White color and hereditary deafness are linked in many animals.
This is because lack of pigment is genetically connected to inner ear degeneration.
Some dog breeds, such as the Dalmatian, are more prone to hereditary deafness than others.
What about a flashy fawn Boxer dog with a large amount of white coloring?
Deafness
Any dog, regardless of breed or color, can be born deaf or become deaf later in life.
Breeds with a high rate of congenital deafness often have a significant amount of white coat coloring, but color is not the only cause of deafness.
Boxers in general do not have a high incidence of deafness.
The official breed standard calls for no more than 1/3 white coloring on a dog.
If a Boxer has a large amount of white, especially on the head, then the risk for deafness does increase somewhat.
What about temperament?
Most dog experts will tell you there is no scientific evidence that coat color and markings have any impact on a dog's personality.
Many factors contribute to a dog's behavior—environment, training, and breeding for example.
But coat color alone has no influence on a dog's personality.
The Boxer Dog Breed
What else should potential owners of a fawn Boxer dog know about the breed?
Boxers are a much-loved breed with a long and interesting history. Here's a brief overview.
The Boxer dog we know today was first developed in the 1800s in Germany.
The ancestry of the Boxer can be traced to a very old breed called the Bullenbeisser (bull biter).
The Bullenbeisser was crossed with smaller dogs to create the modern Boxer.
Boxers belong to the working dog group and have been used as guard dogs, military dogs, and even guide dogs for the blind.
How large will your fawn Boxer dog get? Here's what you need to know.
Boxer Description
The Boxer is a sleek and athletic medium sized dog.
Males stand between 23 and 25 inches tall at the shoulder; females are between 21 ½ to 23 ½ inches tall.
An adult male boxer weighs between 65 and 80 pounds.
The breed standard calls for females to weigh about 15 pounds less than males.
The Boxer has a distinctive head with an alert and intelligent face.
Both the fawn and brindle Boxer dogs have short, smooth coats that require minimal grooming.
Boxer Personality and Training
As a working dog breed, the fawn Boxer dog has an alert and intelligent nature with a strong work ethic and a love of exercise and activity.
While they are very trainable, it's important to remember that high energy dogs like the Boxer need proper training and socialization from an early age.
Experts recommend that you enroll your Boxer in formal puppy training classes and socialize your dog around other dogs, animals, and people.
As a working breed, Boxers enjoy stimulating and interactive organized activities like agility and obedience trials, sheep herding, and lure coursing.
Boxers also make excellent therapy dogs.
Boxer Health
We talked about a slight risk for hereditary deafness in white Boxer dogs. What about the fawn Boxer dog?
While there are no known health issues connected to the fawn coat color, there are a few inherited health conditions common to fawn and brindle boxers.
Like many dog breeds, Boxers can be prone to the joint conditions hip and elbow dysplasia.
Dysplasia is a joint deformity that can cause chronic pain in your Boxer.
Boxers can also be prone to two genetic heart conditions: aortic stenosis and cardiomyopathy.
Aortic stenosis is a narrowing of the heart's left ventricle and can be life threatening in severe cases.
Cardiomyopathy is an electrical conduction disorder that causes the heart to beat erratically and can also be life threatening.
Other issues
Boxers can also be at risk for certain kinds of cancers, thyroid problems, and a neurological condition called degenerative myelopathy.
This affects a dog's spine and can lead to paralysis.
While Boxers can be prone to some potentially serious inherited health conditions.
The good news is that there are health tests (including genetic health tests) for many of them.
This is why it's so important to work with a reputable fawn Boxer dog breeder who health tests their breeding stock for inherited health problems.
Let's find out how you can find healthy fawn colored Boxer puppies!
Fawn Boxer Puppies
The Boxer is a popular breed so it's easy to find the exact type of fawn Bower coloring you're looking for.
But before you fall in love with a particular puppy, make sure to choose a responsible breeder who follows the health testing guidelines outlined by the official breed club.
Boxer health tests can take the form of blood and DNA tests, X-rays, and heart monitoring and echocardiograms.
While your puppy may not have been health tested for all the possible conditions, your breeder should have official test results available for your puppy's parents.
Health testing information should also be certified by an official canine health clearinghouse like the Orthopedic Foundation for Animals.
Besides asking to see all health records, visit your breeder in person and observe the litter of fawn Boxer puppies you're interested in.
A healthy puppy should have clear eyes, clean ears and nose, a shiny coat, and well-formed stools.
Choose a puppy that's playful, curious, and comfortable around people.
Is a Fawn Boxer Dog the Right Pet for You?
Boxers are one of the most popular dog breeds, and for good reason!
They are loyal, energetic, friendly, intelligent, and brave.
The Boxer is a handsome dog breed and fans can have definite preferences for what their Boxer should look like.
The fawn Boxer dog can be solid colored or fawn and white.
The fawn coloring can vary from light to dark and the amount of white can vary as well.
As we mentioned, carefully check the breeder's credentials and examine all health testing records.
Remember to take your new best friend to puppy kindergarten to ensure that your dog is well trained and socialized.
Already have a fawn Boxer dog? Tell us about your Boxer in the comments!
References and Resources
Buzhardt, L. Genetics Basics – Coat Color Genetics in Dogs. VCA Hospitals, 2016.
Strain, G.M. The Genetics of Deafness in Domestic Animals. Frontiers in Veterinary Science, 2015.
Boxer. American Kennel Club.
Health Information: Medical Conditions Affecting the Boxer. American Boxer Club.
Hip Dysplasia. Veterinary Specialty Hospital.
Tou, S.P. Aortic Stenosis. Merck Veterinary Manual.
Wallner, W. Boxer Cardiomyopathy. American Boxer Club.
Awano, T., Johnson, G.S., Wade, C.M., et al. Genome-wide Association Analysis Reveals a SOD1 Mutation in Canine Degenerative Myelopathy that Resembles Amyotrophic Lateral Sclerosis. PNAS, 2008.
Testing and Reporting Guidelines. American Boxer Club.