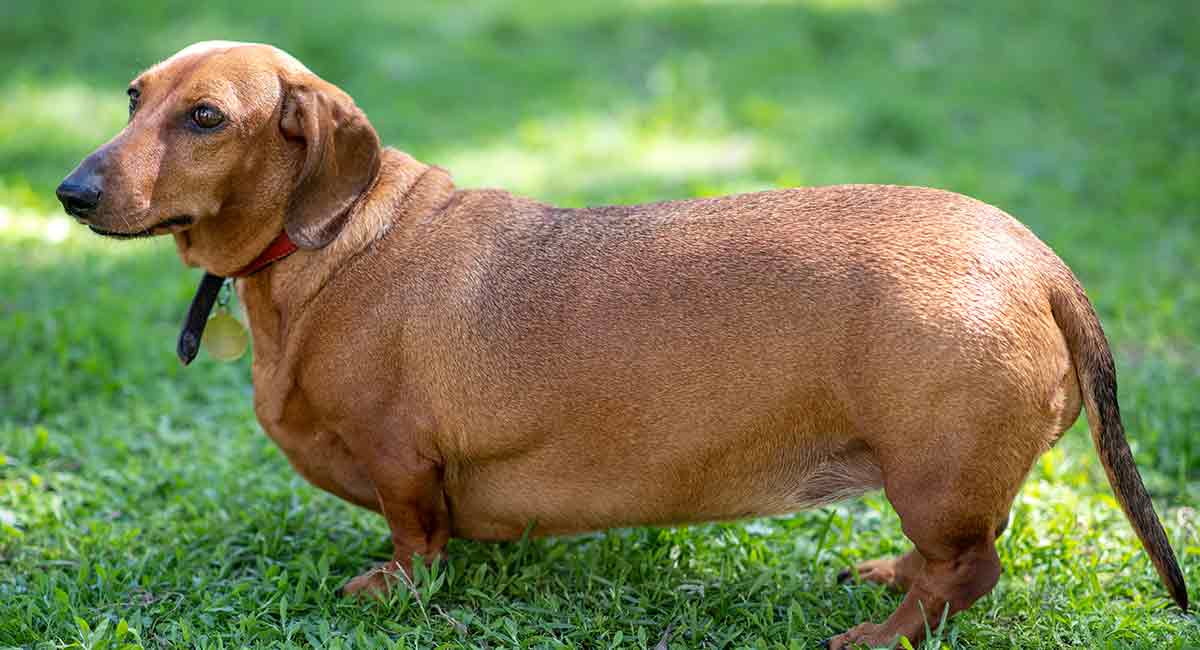 A fat Dachshund might be quite funny to look at, but sadly their cute chubby exterior hides some serious problems.
If you are worried your pup might be carrying too many pounds, don't panic.
We are here to help you decide whether it's time to take action, and what to do to help them.
Fat Dachshunds
There are few dogs as hard-to-miss as the Dachshund. Their short, stubby legs and adorable faces give them a fat Dachshund look, but is that cuteness healthy?
Usually it is not.
Their unique appearance causes them to be prone to quite a few health problems.
In particular, their disproportionately long back can cause spinal problems.
These structural difficulties can be particularly pronounced for a fat Dachshund.
Extra pounds can cause extra strain on his spinal column. And the Dachshund has particular difficulty getting around once he puts on a little extra weight.
Because of these problems, it is extremely important that you learn to recognize when your Dachshund might be overweight and prepare to put your pooch on a diet if necessary.
Luckily, this is not as complicated as it might sound. We've gathered everything you need to know about fat Dachshunds in this article.
Do Dachshunds Get Fat Easily?
Dachshunds are more likely to become overweight than other dog breeds.
This is due in part to their small legs. They are not able to get around and exercise as much as most other breeds.
This lack of exercise can cause them to miss out on the activities they need to stay happy and healthy.
Just like people, if dogs don't exercise enough, they will gain weight.
To complicate matters further, Dachshunds are prone to a few disorders that can impact their mobility.
Common Disorders for Fat Dachshunds
Approximately 10 percent of Dachshunds are diagnosed with intervertebral disc disease (IVDD), for example.
This disorder is characterized by back pain and diminishing control of the back legs.
IVD can easily cause a Dachshund to lay around more and miss out on key exercise.
Dachshunds are also prone to a form of hereditary blindness. If your dog cannot see, he might have more difficulty getting around and exercising.
On top of his small legs and health problems, a Dachshund may be genetically prone to obesity.
Just like people, it is easier for some types of dogs to gain weight than others. This is dependent largely on genetics.
If a Dachshund's parents had weight problems, it is likely the puppy will too.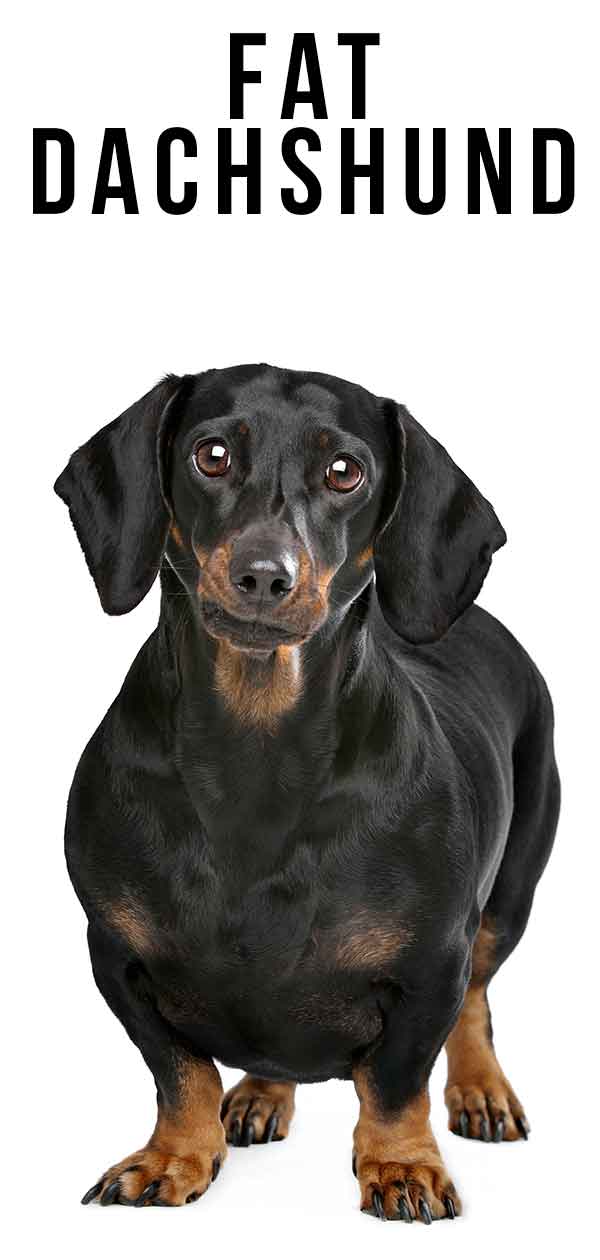 How Much Should a Dachshund Weigh?
Because Dachshunds are prone to obesity, it is important to check their weight regularly.
There are two types of Dachshunds: standard and miniature.
Standard Dachshunds weigh a maximum of 30 pounds. Miniature Dachshunds only weigh a maximum of 11 pounds.
If your dog is above these ranges, it is possible that he is overweight.
However, it is important not just to go off the scale when determining whether or not your puppy is obese.
Age, genetics and height all contribute to deciding what weight your puppy should be.
The scale can be a wonderful tool for tracking whether or not your dog is gaining or losing weight.
But it is not very good at determining whether or not your canine is where he needs to be or not.
Instead of just using the scale, we recommend looking at your Dachshund's body.
Is My Dachshund Fat?
Start by feeling for his ribs, which should be easy to feel and only under a very thin layer of fat, much like the backs of your hands.
You should be able to feel and count each rib easily. But you should not be able to see your canine's ribs. This is a sign that he is underweight.
If you cannot feel your Dachshund's ribs without pushing, it is possible that he is overweight.
Next, look at your canine's waist. Just like people, your dog should have a waist too.
While his waist should not be extremely apparent, you should see a definite "tuck" behind his rubs when looking at this dog from above.
If you have a hard time feeling your dog's ribs and notice that he does not have a waist, it is likely that he is overweight.
If you suspect that your dog is overweight, your first order of business should be to take him to the vet.
The veterinarian can confirm whether or not your dog is overweight and ensure that the weight gain isn't caused by an underlying medical condition.
Are Fat Dachshunds Unhealthy?
Obesity can cause a wide range of medical conditions.
Obese dogs are at a higher risk of all types of cancers, diabetes, heart disease and hypertension.
The excess body weight can also do a number on their joints and bones, leading to arthritis.
Urinary bladder stones are not uncommon in obese dogs and oftentimes requires surgery.
But obese dogs are also at a higher risk for anesthetic complications during surgery.
They are also more likely to experience overexertion and heat exhaustion.
Overall, obese dogs typically have a shorter life span than lean dogs by six to 12 months.
Excess fat takes a toll on nearly the body and can wear a dog down very quickly.
On top of this, a Dachshund's elongated spine can suffer tremendous pressure under excess weight.
Luckily, obesity is not associated with an increased risk of IVDD in Dachshunds. But it can make his condition worse if he has already developed it.
Of course, a dog who is in pain or paralyzed is very unlikely to get the exercise he needs, which only leads to more weight gain.
This compounds the problem and can make life very uncomfortable for the Dachshund.
Helping Your Fat Dachshund Lose Weight
If your Dachshund is overweight, it is vital that you help him lose weight as quickly and safely as possible.
The longer your Dachshund is fat, the less healthy he is going to become.
Your first step should be to see a vet, as has previously been stated.
This is essential to ensure that your dog does not have any underlying health condition that caused the obesity in the first place.
And, your vet can also make sure your pet has not already developed an obesity-linked disorder.
After this step is taken, you can begin cutting back on your Dachshund's calories.
Skip the Pet Treats
Your first step in calorie counting should be to cut out treats.
While it can be hard to deny a Dachshund's adorable face, treats contribute a lot of extra calories and do not contain many nutrients.
Cutting out treats can do wonders for your pet's weight. In some cases, cutting out treats might be enough to get your dog back to a healthy weight.
However, in many cases, other steps will need to be taken to get your pet's weight where it needs to be.
If you use training treats with your canine, you should trade out his usual training treats for something healthier.
Chicken and veggies are usually good alternatives.
You will also likely need to cut back on the quantity of dog food he eats during regular meals. If you have not measured your dog's food, now is the time to start.
Reduce Daily Pet Meals
Begin by reducing his usual meal quantity by one-third. Feed him this amount for four days and then weigh him.
If his weight has been reduced, continue feeding him the same amount and weighing him every four days.
If he has not lost weight since the last weigh-in, reduce his food again by one-third. Continue this until he reaches a healthy weight.
Once he has reached the proper weight, you might need to add a little extra food to help him maintain it.
Exercise can also be helpful, but only in moderation.
Dachshunds are very prone to spinal problems. Excess activity can cause him to experience spinal pain and inflammation.
While this breed needs a little bit of activity to be healthy, he should not be made to exercise excessively.
Instead, you should rely on dietary changes to help your canine lose weight.
Caring for a Fat Dachshund
The best thing you can do for a fat Dachshund is to help him lose weight.
Because of his unique appearance, this dog is known all around the world. And, he has particularly grown in popularity over the last few years.
But with this worldwide popularity comes responsibility to make sure he stays healthy.
Weight loss is the only way to prevent all the nasty disorders associated with obesity. And a lean Dachshund will be able to get around easier and keep up with the rest of the family.
Luckily, as we've discussed, it is not incredibly difficult to help a Dachshund lose weight. Mostly, it is just a matter of controlling how much food he eats.
If your Dachshund has lost weight, feel free to share his story below to help inspire others.
References and Further Reading:
Burns, K., 2018, "Obesity with Concurrent Disease," BSAVA Congress 2018 Proceedings, 1st Ed.
Comstock, J., et al., 2015, "Computed Tomographic Assessment of Body Fat in Dachshunds: A Pilot Study," Open Journal of Veterinary Medicine.
German, A.J, 2006, "The Growing Problem of Obesity in Dogs and Cats," The Journal of Nutrition.
Laflamme, D.P., 2006, "Understanding and Managing Obesity in Dogs and Cats," Nestle Purina Pet Care Research.
Vliet, V., et al., 1995, "Reduced Parasympathetic Control of Heart Rate in Obese Dogs," Animal Physiological Society.