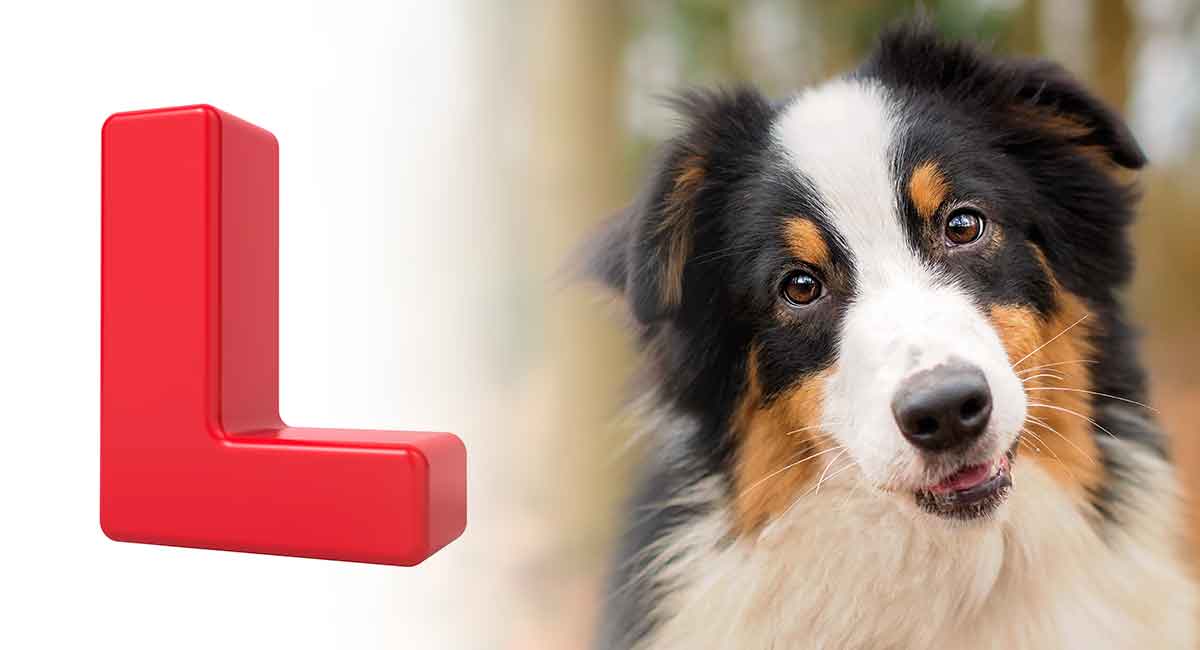 We love, love, love dog names that begin with L. There is just something so sweet, so cool, so lovely about the letter.
That's why we've decided to create this list of irresistibly adorable L names for you and your irresistibly adorable new puppy or rescue dog.
Oh, and by the way, congratulations, new dog parent! We know how exciting it is to bring a new furry family member into your home.
Still, there is so much to do to get ready for your new four-legged friend. There's the shopping, the supplies, the puppy-proofing, and the naming.
But hey, take the stress of naming your dog off of your list. We are here to help. Get ready to find the perfect L name for your perfect new pup!
Let's get started!
Naming Your Puppy or Rescue Dog
Before we jump into our lovely list of L names for dogs, let's talk about why naming your dog is so important.
While the act of naming your new furry friend should be super fun, it should also be taken somewhat seriously.
There are a few things you may want to consider before you choose a name for your dog. One of those things is the number of times you will be repeating it.
Hopefully, you and your dog will be spending a lot of time together. That means you will be repeating his name consistently for years.
Inside, outside, at the dog park, at the vet's office, and on walks, this new name can quickly grow old.
Calling Pooper Bottoms in from the backyard before work while your neighbors are out and about can also be a bit embarrassing.
Something else to think about is your dog. How quickly do you want him to learn his name?
Most experts agree that with positive reinforcement and consistent training, a dog can learn his name in about a week.
Still, there are some names that could take a bit longer for your dog to learn. And believe it or not, it's all in the syllables.
The easiest names for dogs to pick up on are names with two syllables. This means names like Bailey, Rover, or Carter are total winners.
Unfortunately, popular dog names with only one syllable like Max, or cute names with three or more syllables like Hippopotamus, may have your dog staring at you in confusion for a while.
Of course, you can always call your dog Hippo for short or Maxie for long.
With that being said, let's dive into our huge list of totally awesome L names for dogs!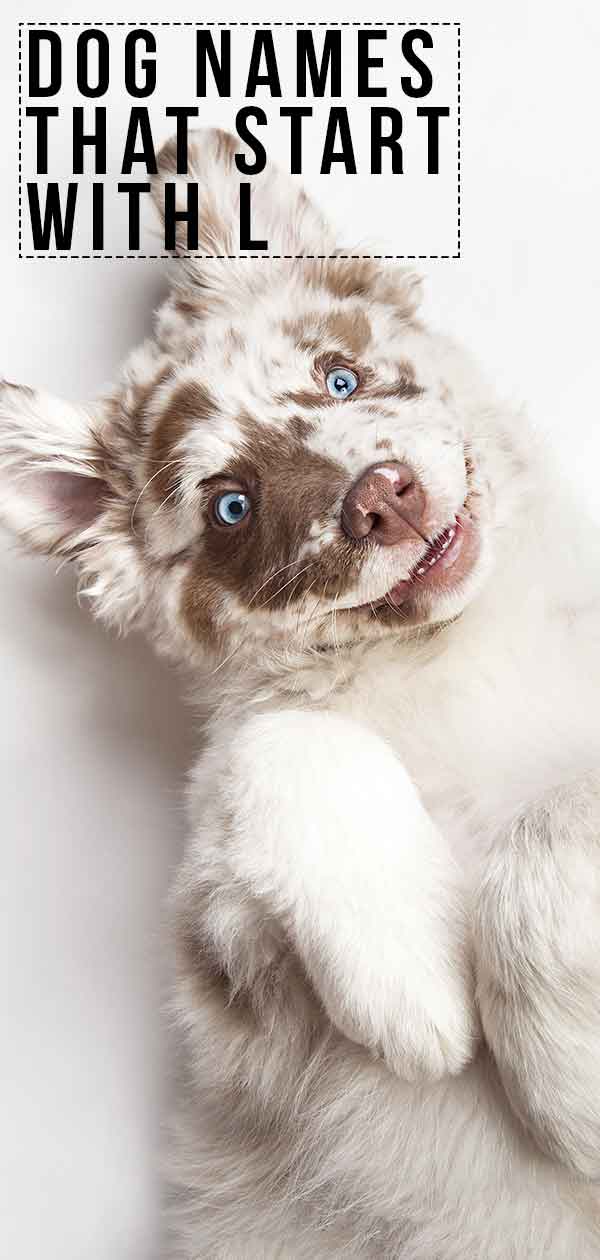 Best Dog Names that Start with L
This list is full of 2019's most popular L dog names.
So, if you like following trends or want to ensure your dog is totally in the loop, then you'll love this trendy list.
• Lucky
• Lassie
• Lucy
• Levi
• Leo
• Lambo
• Lady
• Lord
• Luna
• Lacey
• Lake
• Lakota
• Lulu
• Laddie
• Libra
• Lottie
• Lizzy
• Lightning
• Lyra
• Lando
Female Dog Names that Start with L
Yes, these are classically female names, but that doesn't mean male dogs can't enjoy them too.
We love the feminine energy these L names bring, and their vibe is perfect for the dog owner who enjoys all things girl-power.
• Livvy
• Labelle
• London
• Lexie
• Leslie
• Lorna
• Larissa
• Loretta
• Liza
• Laurie
• Lolli
• Lily
• Lora
• Leah
• Labrie
• Linda
• Layla
• Lucia
• Lauralee
• Laney
Did you go gaga over these pretty female dog names that start with L? If this list left you thirsty for even more female dog names, we've got your back.
Male Dog Names that Start with L
These masculine names are perfect for that manly dog in your life, but they're also great for your pretty princess pooch as well.
Regardless of whether your dog is male or female, these strong, masculine L names would make for a great fit.
Check them out!
• Lex
• Lee
• Luka
• Larry
• Ludwig
• Len
• Lambert
• Lobo
• Leeroy
• Lockhart
• Linus
• Logan
• Leonardo
• Lent
• Langston
• Logan
• Lars
• Lansing
• Louie
• Lloyd
Looking for even more male dog names to choose from? Click here!
Cool Dog Names that Start with L
Dogs are so cool, right? Especially your dog. There is just something about his energy that puts him at a different level.
You know everyone sees it. That's why you picked him, isn't it? So, we've compiled a list of twenty of the coolest sounding L names for the coolest pup in town.
Have a look!
• Lyric
• Lancer
• Lockett
• Lumos
• Lyte
• Lox
• Lynx
• Lazarus
• Lux
• Lamborghini
• Lyon
• Lunar
• Loki
• Lava
• Legend
• Liberty
• Landmark
• Levi
• Lionheart
• Laser
Is your dog still too cool for these cool L names? No sweat. Visit us here for an even larger list of awesome dog names he is sure to love!
Cute Dog Names that Start with L
Who needs cool when you have cute, right?
Does your pupper just melt your heart? Do you just stare into those big, sweet eyes and die a little inside from cuteness overload?
We know the feeling.
We're barely hanging on ourselves. That's because we nearly melted into puddles over this list of ridiculously adorable L dog names perfectly suited for that precious pooch of yours.
Read at your own risk.
• Lylac
• Ladybug
• Ladybird
• Licorice
• Lollipop
• Leftie
• Loveston
• Lovey
• Lavender
• Lovely
• Llama
• Lambchop
• Lovesong
• Lilo
• Lamb
• Lovisa
• Lemonaid
• Lambie
• Lytle
• Lipstick
Super cute, right? And for even more melt-your-heart cute dog names, click here!
Funny Dog Names that Start with L
Do you love making people laugh? We get it. There is nothing better than putting a smile on someone's face!
And your pup is a natural at it, right? He just walks into a room and everyone is smiling. If you want to up the grin-factor by adding a hilarious title to your jokester of a dog, then this is the list for you.
Check out these incredibly hilarious, oh-so-witty dog names that begin with L.
• Lord Waggington
• Lickums
• Lickerish
• Lickity Split
• Leonardo Dog-Caprio
• Lemony Sniffit
• Lady Liberty
• Lady Gaga
• Lil' Bow Wow
• Louis V
• Little Bit
• Lucy-Fur
• Lil' Romeo
• Lord Barkston
• Lord Bottomsniff
• Licksalot
• Lil' Pumpkin
• Lil' Wagz
• Last Chance
• Lots o' Lovin
Unique Dog Names that Start with L
There's nothing like being cool and trendy… unless of course you would rather be unique and stand out.
Forget the trends. This list is all about the unusual, the one-of-a-kind, the totally distinctive.
Check out these twenty seriously uncommon dog names that begin with the letter L.
• Lakita
• Lancastria
• Lassor
• Lexicon
• Layaway
• Lorre
• Limbo
• Lotus
• Larz
• Lakota
• Layoff
• Laika
• Limited
• Lauper
• Ladron
• Laughton
• Lufsen
• Lawford
• Lushy
• Layamon
Of course, we've got loads more unique dog names for you to consider. Just visit us here.
Tough Dog Names that Start with L
Have you ever seen a little tiny dog with a spiked collar named Killer?
Yeah, we think that's pretty funny too. So, if you're like us and you want a totally tough dog name that begins with L just for the irony of it, then this is your list.
Or, if your dog is seriously huge and tough and you just want people to know it, then this is also your list.
See for yourself!
• Lex Luthor
• Lord Voldemort
• Lucifer
• Lion
• Level-Up
• Leader
• Lasso
• Lancaster
• LoJack
• Law
• Law n' Order
• Lord
• Little Big Man
• Lasher
• Legion
• Luther
• Lady Deathstrike
• Liability
• Leech
• Longshot
Didn't find these names tough enough? It's all good. Go ahead and click here for an even larger list of tough dog names.
Fun Facts About Dog names that Start with L
Many amazing people throughout history have had names that begin with L! Lady Gaga, Ludwig Van Beethoven, and 36th U.S. President Lyndon B. Johnson are just a few examples of what this exceptional letter can lead to.
But did you know that some of the greatest dogs in history have also had L names?
You guessed it! We are talking about the incredibly intelligent and oh-so-loveable Lassie!
Another famous dog with an L name is Laika, who was, incredibly, one of the world's first doggy astronauts!
We are also totally humbled by Lucca, a brave German Shepherd mix who worked for the United States Marine Corps for nearly six years.
Lucca is most famous for her heroics and the fact that there were no human casualties on her watch.
And then, of course, there is the beloved Lady from Disney's Lady and the Tramp.
So, did we sell you on our glorious list of L names? Leave us a comment and let us know which L names made your cut!
And for more amazing dog-friendly names, click here!
References
Juliane Kaminski, Josep Call, Julia Fischer, Word Learning in A Domestic Dog: Evidence for "Fast Mapping", Science, Issue 5677, Pages 1682-1683
Mary B. Harris, Some Factors Influencing Selection and Naming of Pets, Psychological Reports
Ai Kutsumi, Miho Nagasawa, Mitsuaki OHTA, Nobuyo OHTANI, Importance of Puppy Training and Future Behavior of the Dog, Journal of Veterinary Medical Science
Ian Dunbar, Before & After Getting Your Puppy: The Positive Approach to Raising a Happy, Healthy & Well-Behaved Dog, Chapter 1, What's Important to Know Right Away
Brian Hare, Michael Tomasello, Human-Like Social Skills in Dogs?, Trends in Cognitive Sciences, Volume 9, Issue 9, Pages 439-444,
Emanuela Prato-Previde, Deborah Mary Custance, Catrina Spiezio, Francesca Sabatini, Is the Dog-Human Relationship an Attachment Bond? An Observational Study Using Ainsworth's Strange Situation, Behavior, Volume 140, Pages 225-254