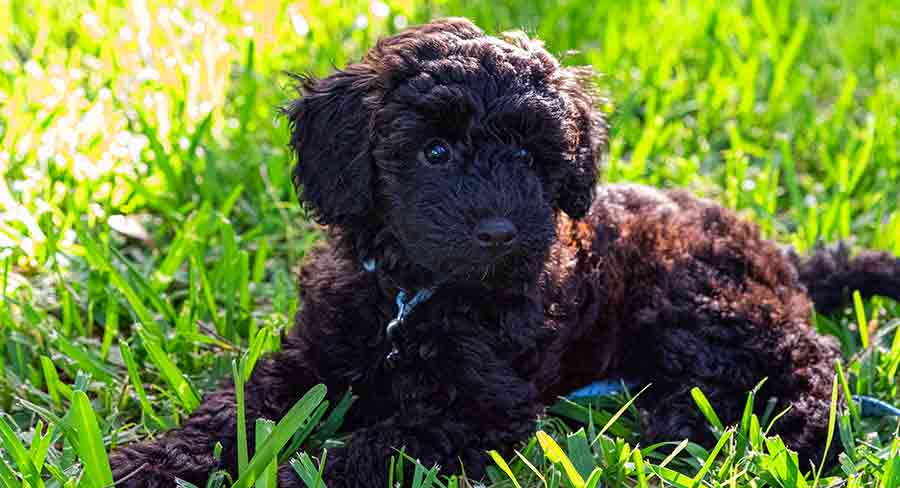 The Schnoodle is a hybrid designer dog with one Schnauzer parent and another Standard Poodle parent. They have soft wavy coats in a variety of colors and patterns. They are low shedding, but still need plenty of grooming and the occasional clip to stay tidy. Their temperament can be a little standoff with strangers, but they are deeply devoted to their families. These active dogs do best in busy families that love spending time outdoors and positive training.
Contents
Working Parents
The Schnoodle dog is a mix between a purebred Poodle and a purebred Schnauzer. As the mix is still climbing in popularity, not many specifics are known about the original time and purpose when the Schnoodle first came on the scene. But, the cross was likely first developed in the 1980s in the United States.
Like most Poodle mixes, the goal was most likely to achieve the perfect dog for people who suffer from allergies to dog dander. As well as those who prefer not to have dog hair coating their clothing and home. But both parents are intelligent working dogs first and foremost.
The Schnauzer Poodle mix is one of the Poodle mixes that people seek for its low-shedding coat and teddy bear qualities.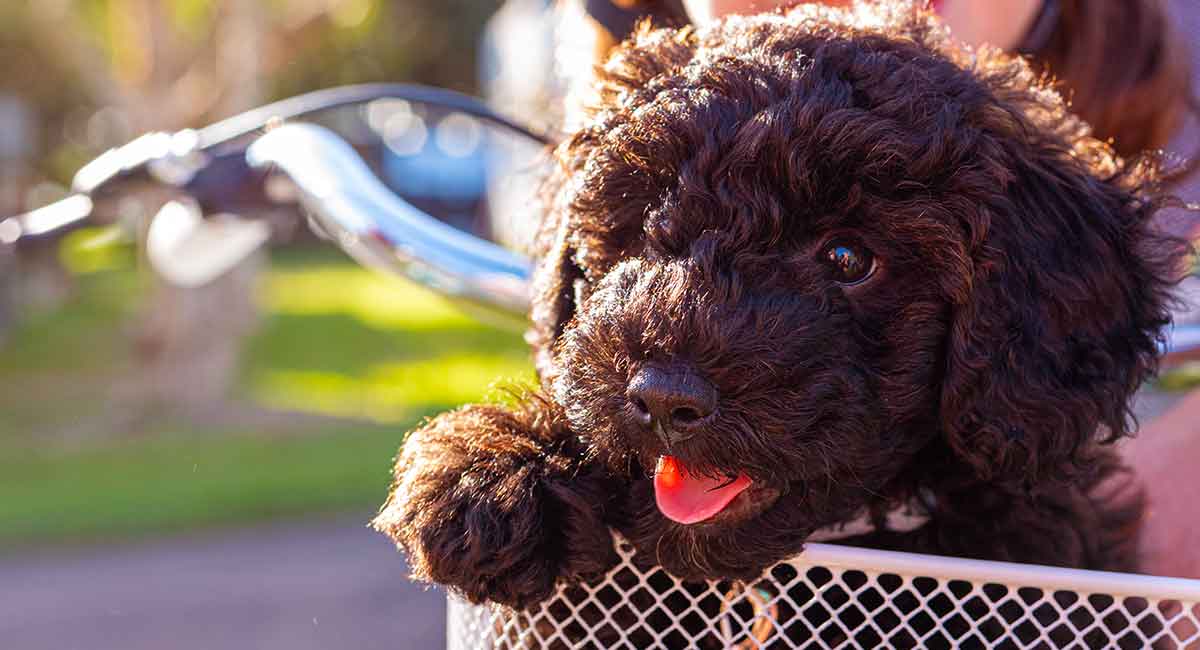 Schnoodle Dog Appearance
The Standard Schnoodle is a Standard Poodle crossed with a Standard Schnauzer, and they could reach 15-19.5 inches tall and 35-60 pounds.
Unlike other Doodles, Schnoodles aren't sought after for a fleece or Poodle-like coat. In fact, the teddy bear Schnoodle dog, or one with a soft and fluffy but not necessarily curled coat (an equal mix of the Schnauzer and Poodle's coats), is highly sought after.
Achieving the teddy bear coat requires careful breeding, though, especially when the cross is also desired for one breed's coat and the other breed's temperament.
When you cross a purebred Poodle with a purebred dog which does not have a curled coat, such as the Schnauzer, the offspring (F1 generation) may or may not have a curly coat. Appearance traits like this are unpredictable, and even puppies in the same litter can have very different coat types.
These hybrids are usually solid-colored and sometimes have a mask, markings, or points in black or white. With the Poodle's ten acceptable coat colors and the Schnauzer's three acceptable coat colors, there are many possibilities for Schnoodle coat colors. From the black Schnoodle to the white Schnoodle and every shade in between.
Even more colors are possible when the parent stock have non-standard coat colors – parti-colored Schnoodles may be possible in these cases.
Their coat coloring may be easier to predict as later generations are bred with similar generations and back with Poodles (hence the development of the popular apricot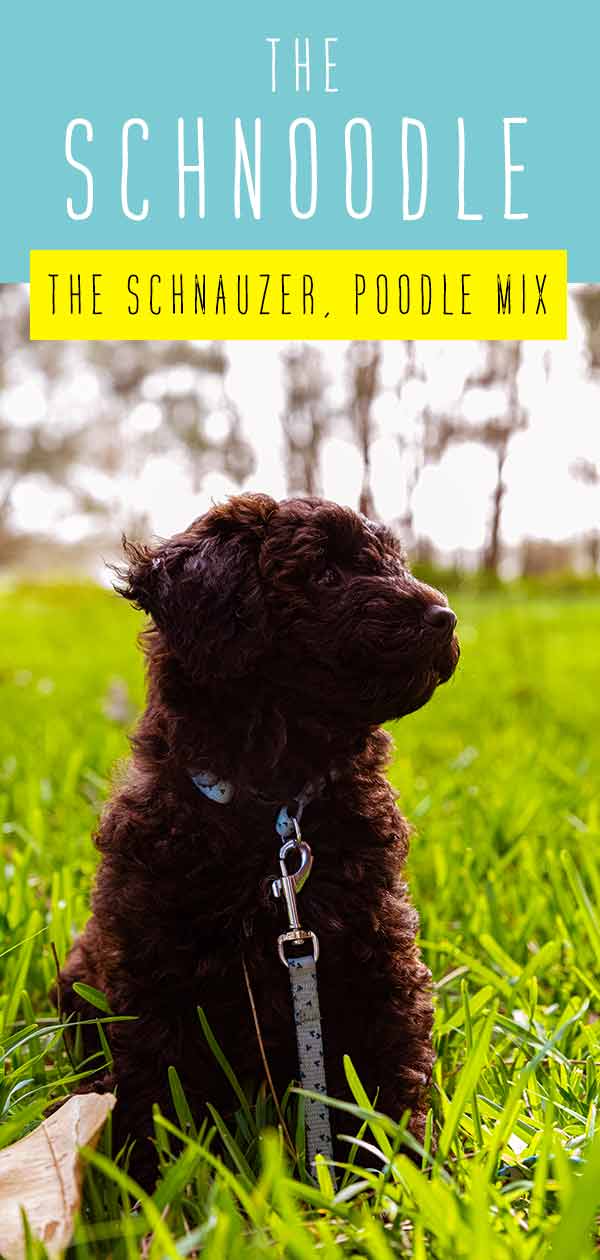 Coat Care and Grooming
A Schnoodle may inherit its Schnauzer parent's wiry, hard, and medium-length double-coat, or its Poodle parent's long and thick curly or wavy coat. Or it may have a wavy coat that falls somewhere in between.
Regardless of a Schnoodle's breeding, his coat will require some maintenance. Hybrids with a Schnauzer's coat will require a weekly brushing to keep the coat smooth.
If your mix has a Poodle's curls, which are kept longer, she will require daily combing, as well as a trip to the groomer once per month to prevent matting.
Schnoodles with the "teddy bear" coat may need more or less of the grooming that we described above.
With that being said, Schnoodle haircuts don't have to be super short. Keeping curls or waves in check, though, will help to prevent severe matting or tangling.
Are They Hypoallergenic?
No dog is truly hypoallergenic. All dogs shed, even if in very small amounts. You can learn more facts and myths regarding non-shedding dogs in our article about hypoallergenic dogs. However, we can confidently say that this mix will be a low-shedder. Both Poodles and Schnauzers shed minimally.
Grooming can help to control any small amount of shedding. Owners may also prefer to go to a professional groomer.
Schnauzer Poodle Mix Temperament
For the Schnoodle cross, an F1 puppy's temperament may either reflect the Schnauzer's or the Poodle's temperament. With a first-generation cross like this, it's hard to predict exactly how the puppies will turn out.
Selecting a later generation of Schnoodle cross may help you get a puppy with breed-specific looks and tendencies. But, you cannot predict every trait with 100% accuracy.
Generally, thanks to the shared traits of the parent breeds, a Schnoodle will be energetic, intelligent, and generally friendly. As long as they are socialized well.
Are They Good with Kids?
Schnauzers of all sizes are excellent with children and people in general. They are extremely active dogs who are outgoing and love to run and play. Make sure to socialize your Schnauzer Poodle mix well to ensure they get along well with children, strangers, and other animals.
Schnoodle Barking
The Schnauzer Poodle mix can be prone to barking, particularly when they aren't seeing their needs met. Miniature Schnauzers in particular can be a little noisy, thanks to their alert personalities.
So, choosing a miniature Schnoodle mix could result in a vocal dog.
You can train a dog not to bark in some instances. But, another good solution is to ensure you are meeting your dog's mental stimulation needs and exercise needs.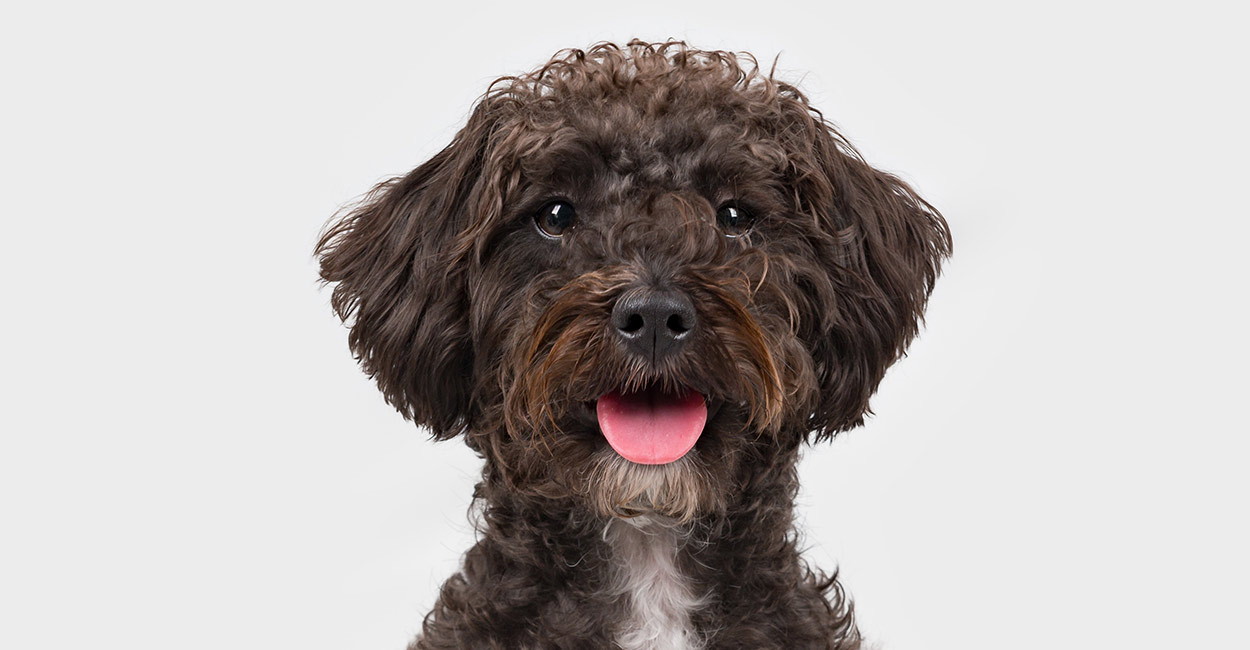 Training
Your hybrid will be intelligent and probably very active. With good socialization and training, he will also likely be friendly with all sorts of people and get along well with children and other animals.
Stick to positive reinforcement methods to create a strong bond between you and your dog. This will also help you to avoid any potential stubbornness.
Like Schnauzers, all classes of Poodles are very active dogs who love stimulating activities that keep their bodies and brains moving. They do not take kindly to being bored.
Poodles also do not like being left out of activities with you or being crated for long periods. They are intelligent, working dogs who want to have something to do or play with, which is why many of them are amazing in the show pen!
Training can be a great way to offer your Schnoodle mix some mental and physical stimulation each day. But, this mix will also need structured exercise.
Exercise
These dogs need a job to do or plenty of space to run and play in order to be happy and to stay out of trouble. Schnoodles may also play on the rough side. Make sure that she knows what "down" or "off" means.
As neither Schnauzers nor Poodles appreciate being bored, a Schnoodle may be likely to develop bad habits if you do not give her adequate attention.
You'll also benefit from a fenced-in yard, as a Schnoodle may be tempted to chase after the wild life that she encounters!
Scheduled time for exercise each day will help to minimise the risk of bad behavior, such as barking and digging.
Schnoodle Health and Care
Like any dog, the Schnauzer Poodle mix may be predisposed to health conditions due to their genetic makeup and/or age.
Schnoodle health risks to be aware of include heart disease, epilepsy, vision problems, joint issues and liver disorders. Health testing potential puppy parents can significantly reduce the risks of the litter carrying any of these conditions.
Both Schnauzers and Poodles can become overweight easily, so a healthy diet and plenty of exercise will be required to keep the dog fit and the joints fluid!
What is the Schnoodle Life Expectancy?
Poodles and Schnauzers have a generally similar life expectancy, with about 10-12 years for the larger sizes and closer to 14 for smaller.
You can expect your mix to reach somewhere within the averages of the parent breeds, depending on size.
As long as they receive good veterinary care and general care throughout their lives, Schnoodles will often live well into their teens.
Do Schnoodles Make Good Family Pets?
Due to the typical personality traits of the parent breeds, Schnoodles can be recommended as family pets. However, it must be emphasized that all dogs need socialization and training.
For a giant Schnoodle, make sure to supervise smaller children to keep them from getting accidentally knocked over or involved in play that gets a little too rough.
Likewise, for a mini Schnoodle, ensure that small children treat the little dog carefully.
Remember that this breed is going to be very active and will want to be with his family. If no one is at home for a large part of each day, or if the dog will be kept in a small area without room to run and play, this is not the breed for you.
They need families that have plenty of time to dedicate to them. Including to grooming, playtime, and training.
Schnoodle Breeders
Before you purchase a Schnauzer Poodle puppy, carefully research Schnoodle breeders so that you choose responsibly. Responsible breeders use genetic testing to prevent the passage of undesired traits, and they keep their breeding stock at a good weight and in clean conditions.
Mixed breed dogs are growing in popularity. So, it's likely that you'll be able to find Schnoodles more easily as time goes on. Go to breeders with lots of questions, and make sure you see evidence of health testing.
Schnoodle puppy prices vary based on the puppy's generation, their coat characteristics, how many puppies are available, and how valuable the parents are to the breeder. They average around $1,500.