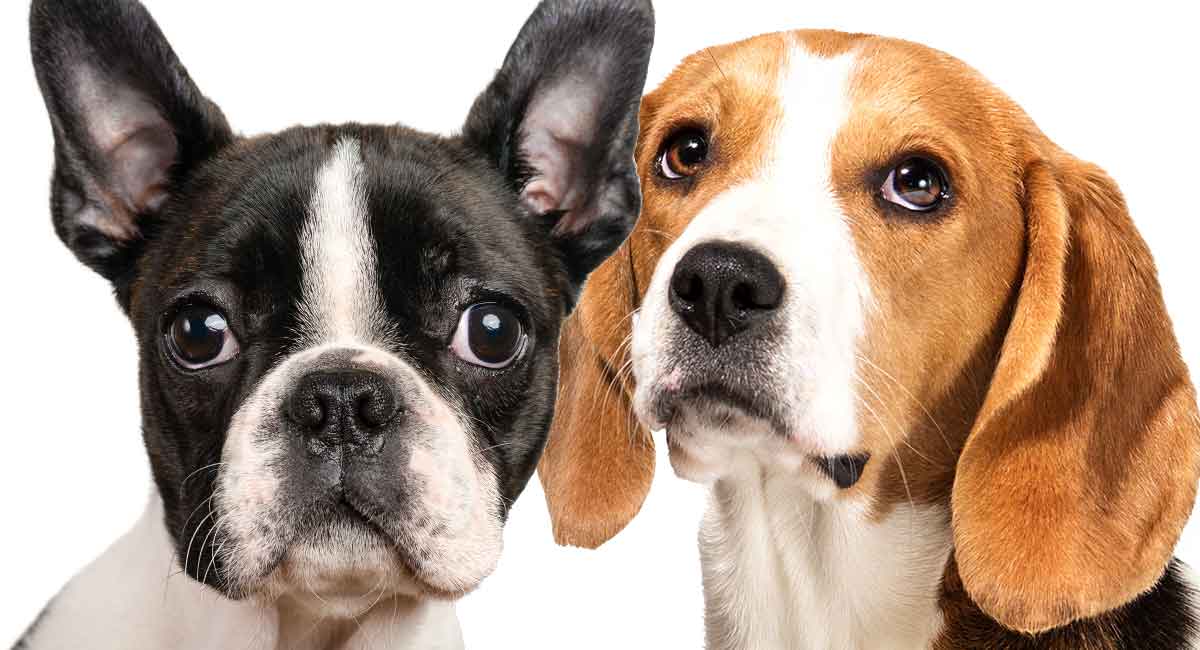 The Boston Terrier Beagle Mix is also known as a Boglen Terrier. They are friendly, active and loving little dogs. As the name suggests, it is a cross between a Boston Terrier and a Beagle.
As both breeds within the cross are very popular companion dogs in their own right, this crossbreed has gained a fair amount of attention. A lot of people are looking at the possibility of owning this crossbreed. However, there are a lot of important things to be aware of before you dive into purchasing a Boglen Terrier puppy.
Is the Boston Terrier Beagle mix a Designer Dog?
The Boston Terrier Beagle Mix is a cross between two recognized purebred breeds, which means it is known as a "designer dog." People have raised many concerns about designer dogs in recent years, with many advocates of purebred breeds claiming that crossbreeds are generally less healthy than purebreds. They also claim that the breeders involved with these designer dogs are inexperienced — and only in it for the money.
However, according to a 2013 study that looked at over 27,000 dogs, purebred dogs were more at risk of inheriting certain genetic disorders than mixed breeds like the Boglen Terrier.
In another study, researchers found that mixed breed dogs lived longer on average than their purebred counterparts by around 1.2 years. They suspect this outcome is be due to a concept known as hybrid vigor, where higher genetic diversity results in a generally healthier dog. Unfortunately, there are a lot of misconceptions when it comes to crossbred dogs. To learn more, read our article on misunderstandings about purebreds and crossbreds here.
Unpredictability
Another issue that fans of purebreds raise is that it is much harder to predict traits of the resulting puppy when crossbreeding. The puppy may take on any characteristic from either parent. However, many people enjoy the sense of randomness that comes from purchasing a mixed breed puppy.
A final issue raised about crossbreeds is the belief that many bad breeders exist within the designer dog world. The breeding of purebreds is more regulated, whereas due to the more lax regulations for crossbreeding, many are concerned that this may increase the chance of running into a bad breeder. However, bad breeders also exist on the purebred side of things, even with the extra regulations.
Regardless of whether you are purchasing a purebred or a crossbred puppy, you have to be cautious and inquisitive. Always check the trustworthiness of the breeder and the health of the parent dogs. Before we delve into the unique characteristics of the hybrid Boston Terrier meets Beagle pup, it helps to learn about the origins of each breed.
Origins of the Boston Terrier
In the 19th century, the British public was captivated by blood sports, a cruel form of entertainment that was based on the violent bloodshed of animals. One of these particular sports was dog fighting, and many breeders of the time crossbred bulldogs and terriers in attempts to create a breed that could excel in both pit-fighting and ratting contests.
From this crossbreeding, a dog named Judge was born. Judge is widely believed to be the first of the Boston Terriers. He was purchased by an American and brought back to their hometown of, you guessed it, Boston! From here, the Boston Terrier was selectively bred from a bulky, muscular fighting dog to the cute companion we know today.
Origins of the Beagle
The exact origins of the Beagle are subject to heavy discussion, and it isn't completely clear just where this dog came from. However, there seems to be evidence that small pack hounds were used to hunt hares in Britain as early as 55BC.
What is clear is that by the 1500s, many English gentlemen owned small pack hounds tasked with hunting hares. These dogs are known to be the ancestor of the Beagle we know today. Beagles first made their mark on the United States some time after the Civil War, and they were met with immediate popularity and adoration by rabbit hunters.
The Boston Terrier Beagle Mix – Everything You Need to Know
The Boglen is a recent designer breed that was first bred in the United States. Puppies of this cross may take after either parent in any aspect, such as size, coat, and temperament. Therefore, it's important to gain a good understanding of both parent breeds to have an idea of what could possibly present itself in your puppy.
Size, Height, and Weight of the Beagle Boston Terrier
Both the Boston Terrier and the Beagle are medium-small sized breeds.
Height
The Boston Terrier is the bigger of the two, reaching sizes of 15-17 inches, while a standard Beagle can reach sizes of 13-15 inches.
However, there is a variation of the Beagle that can be smaller than this, known as the Pocket Beagle or the Miniature Beagle. This variation can be as small as 7 inches.
Depending on what variation of Beagle is within the cross, a Boglen dog may be quite small. However, if a standard Beagle is used within the cross, the height is a lot easier to predict, usually ranging from 13-17 inches tall.
Weight
The Boston Terrier weighs in at anywhere from 12-25 lb, while the Beagle clocks in at either 20-30 lbs or 20 lbs or lower, depending on the variation. As a general range, dogs of this cross can weigh anywhere from 7-30 lbs.
As you can imagine, it can be a lot harder to predict the weight of a Boston Terrier Beagle mix, since the range of possible weights is quite large. To get a more educated guess, it may be necessary to ask for the weights of the parent dogs.
Characteristics of the Boston Terrier Beagle Mix
The Boston Terrier is known for its rather flat face and large, bulging eyes. Unfortunately, both of these cute characteristics are actually the root cause of potentially severe health issues present within the breed.
Due to these aspects, they are known as a Brachycephalic breed. We shall explore what it means to be one of these later in the article. The Boston Terrier also has large, erect ears and is born with a very small tail, usually described as a "nub." Their coat is short, sleek, and easily groomed.
Beagle Characteristics
The Beagle has a strong muzzle, big gentle eyes, and large floppy ears. They sport a short tail that is set moderately high. Their coat is medium-length and can come in colors such as lemon, red and white, and tricolor. It's a dense double-coat that generally sheds seasonally.
Boston Terrier Beagle Mix Appearance
A Beagle cross Boston Terrier could take after either parent with these characteristics. They could have a strong muzzle, a flat face, or somewhere in between. Their ears could be erect, floppy, or have a more folded look. The tail could also vary in length from a nub to short. Their coat could be either short or medium-length.
As was mentioned earlier, randomness in characteristics can occur with a mixed-breed pup! But what about behavior and personality when these two breeds meet?
Boston Terrier Beagle Mix Temperament
Both the Boston Terrier and the Beagle are friendly, companionable dogs. They also tend to be rather energetic, especially in the case of the Beagle. Providing they have been raised well, the Boglen Terrier will also be a very friendly, companionable dog with a lot of energy to spare.
Another trait your dog may inherit is the Beagle's curiosity and instinct as a hunting dog. If they catch an interesting scent, they will most likely end up chasing it.
For this reason, it's important to keep your dog on a leash at all times while outside if you notice this behavior in your Boglen. Of course, this is one of many considerations to make in terms of taking care of your mixed breed dog.
Caring for a Boston Beagle Mix
The Boglen Terrier should do well on standard, high-quality dog food. As with any breed, it is important to keep an eye on their diet and to not give out too many treats to avoid obesity.
The coat of both parent breeds is rather easy to groom and manage, so the Boglen will be no different. A weekly brush should usually be enough to remove any dead hairs. However, during shedding season, multiple brushes throughout the week may be necessary.
It is important to keep their nails trimmed, as overly long nails can cause discomfort. Regular teeth brushing is also recommended to keep their dental health in check. Beyond everyday care, it's important to be aware of potential health issues when the Beagle and Boston Terrier crossbreed.
Health Issues of the Boston Terrier Beagle Mix
Sadly, both parent breeds are known for a variety of health issues that could present themselves in Boglen Terrier puppies. In particular, the Boston Terrier is especially known for some severe health issues due to it being a flat-faced breed. This may be a cute feature, but sadly it inflicts a lot of health issues that can severely affect the dog's quality of life.
Brachycephalic Airway Syndrome
Flat-faced breeds are known as Brachycephalic and can suffer from a condition known as Brachycephalic Airway Syndrome. This is where the dog has significant difficulty breathing through the nose, due to the nasal cavity being compressed by the shortening of the skull.
These breathing difficulties worsen significantly during hot or humid weather and/or moderate exercise. Therefore, special care must be taken to ensure to never overexert a Brachycephalic dog or take them out on a hot day.
In severe cases, the day-to-day struggle to breathe can eventually lead to a serious condition called Laryngeal Collapse, which can worsen the dog's ability to breathe further and can quickly become fatal.
Other Health Issues of the Boston Terrier
Brachycephalic breed dogs can also come with particularly shallow eye sockets, causing the bulging eyes we see in the Boston Terrier. Again, while cute, these prominent eyes are at risk of multiple painful conditions, such as Corneal Ulcers.
It is unknown how severely puppies of this mix could be affected by their Brachycephalic parent. However, it is a possibility Bolgen Terriers could suffer from this condition if they heavily take after the Boston Terrier parent.
Boston Terriers are also known to suffer from hereditary Cataracts. This can cause significant vision loss in the dog. While the Boston Terrier comes with its share of health issues, so too does the Beagle.
Beagle Health Issues
The Beagle can suffer from a disease that is unique to their breed known as Musladin-Lueke Syndrome. This disease affects the development and structure of connective tissue and can result in structural issues in the dog, such as short outer toes and incredibly thick skin.
Beagles have also been found to suffer from Hip Dysplasia, where the hip joint does not develop correctly as the dog grows, leading to painful arthritis.
Health Issues for both Beagles and Boston Terriers
Both parent breeds have been known to suffer from Congenital Deafness, which could possibly be inherited by puppies of the Boston Terrier Beagle Mix. Beyond these health issues, both breeds have been known to suffer from Patellar Dislocation, also known as Patellar Luxation. With this condition, the kneecap can tend to easily slip out of position and cause sudden pain and lameness in the dog.
Another issue that can potentially affect both breeds is Idiopathic Epilepsy, which is considered genetic in origin. Unfortunately, there are a number of potential health issues that could occur in a Boglen Terrier.
Therefore, it is doubly important to check the health of both parent dogs to have the best chance of finding a healthy puppy. Of course, to maintain a health pup, exercise and proper training are of the utmost importance.
Exercising and Training the Boston Terrier Beagle Mix
Both the Boston Terrier and the Beagle require a good amount of exercise. Usually an hour a day of either walks or play proves necessary for these energetic breeds. Both breeds are rather easy to train as well, especially the Boston Terrier. Positive, reward-based training from a young age is ideal for this mixed breed.
As both parent breeds are similar in exercise requirements and training needs, the Boglen Terrier should be no different. However, if they suffer from Brachycephalic Airway Syndrome, exercise may have to be kept light to prevent overexertion.
It may also be worth using a harness rather than a lead to walk a Boglen Terrier in this case, as leads may put extra pressure on the dog's breathing. Beyond exercise and training needs, it's important to understand the type of living environment best suited for this pup.
The Ideal Home for a Boglen Terrier
The Boglen Terrier is quite an energetic breed, and therefore a house with a yard for them to play in is best. Also, as they have the potential to suffer from Brachycephalic Airway Syndrome, a shaded yard and cool, air-conditioned home can help a lot.
Outgoing and friendly dogs, they fit very well into families and quickly become attached. They prove to be good with children and other pets, providing they are socialized from an early age.
Because Boglen Terriers become attached, it's possible they may suffer from separation anxiety. This means they could engage in destructive behavior if they are left alone for long periods of time. Therefore, it's ideal if the family home has at least one person around at all times to keep the dog company.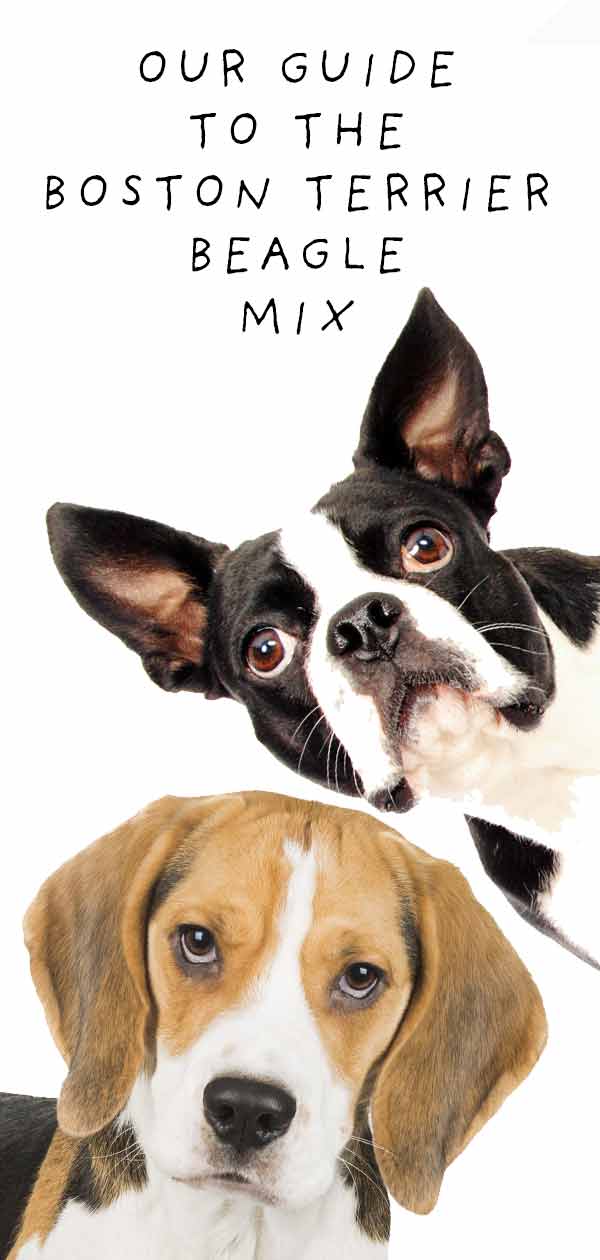 Finding and Purchasing Boglen Puppies
If you decide on purchasing a puppy of the Boston Terrier Beagle Mix, there are multiple precautions you must take to ensure you receive a healthy puppy. Boglen Terrier breeders can be found online or through more local avenues such as advertisements within newspapers.
When you do find a legitimate breeder, check over the puppy in question. Do they have a short muzzle? Are they breathing loudly? These could be warning signs that they are suffering from Brachycephalic Airway Syndrome.
Health Check
It's also good to check the health of the parent dogs if possible. Ask to see them directly, and check that they do not seem to be in any pain or discomfort. Ideally, the Boston Terrier should be breathing freely with a more pronounced than average muzzle.
Beyond a view of the parent dogs, a good breeder should be able to provide proof of both parents' most recent health evaluations.
For the Boston Terrier, you will want to see a Patella Evaluation, an Ophthalmologist Evaluation, and BAER testing. As for the Beagle, you will want to review a Hip Evaluation, an Ophthalmologist Evaluation, and an MLS DNA Test. After you've checked for a clean bill of health in the puppy and parents, you're good to go.
So, Are They Right for Me?
The Boglen Terrier has the potential to be an easy to train, energetic family dog with low grooming requirements. However, they are at risk for a variety of severe health issues that may require special care. They also require a significant amount of exercise each day, so owners must be sure they can put in this time on an everyday basis.
This breed can prove to be a good choice for first-time dog owners, provided they educate themselves about the potential health issues and what to do if they do occur. If you want to find out about other Boston Terrier Mixes, check out this article! Ultimately, it is up to you whether this mixed breed dog will make a great pet for you.
References and Further Reading
Bellumori, TP, et al, Prevalence of inherited disorders among mixed-breed and purebred dogs: 27254 cases (1995-2010) Journal of the American Veterinary Association, 2013
O'Neill, DG, et al, Longevity and mortality of owned dogs in England The Veterinary Journal, 2013
American Kennel Club
Monnet, E, Brachycephalic Airway Syndrome World Small Animal Veterinary Association, 2015
Karabagli, M, Brachycephalic Airway Syndrome in Dogs Istanbul University, 2012
Bright, RM, Laryngeal Collapse in Dogs, 2011
The Kennel Club UK
Priester, WA, Sex, Size, and Breed as Risk Factors in Canine Patellar Dislocation Journal of the American Veterinary Medical Association, 1972
Patterson, EN, Clinical Characteristics and Inheritance of Idiopathic Epilepsy Tufts' Canine and Feline Breeding and Genetics Conference, 2007
Barnett, KC, Hereditary cataract in the dog Journal of Small Animal Practice, 1978
Strain, GM, Aetiology, prevalence and diagnosis of deafness in dogs and cats The British Veterinary Journal, 1996
Richardson, DC, The Role of Nutrition in Canine Hip Dysplasia The Veterinary Clinics of North America: Small Animal Practice, 1992