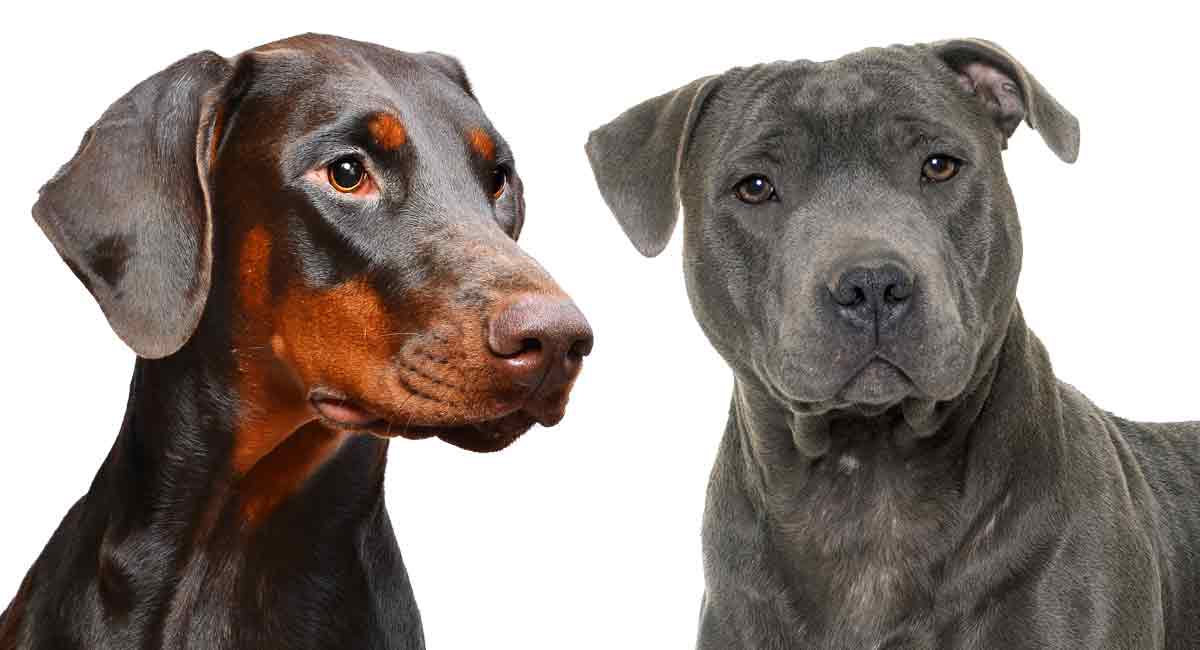 The Doberman Pitbull mix, also known as Dober Pit or Pit Pinscher, is the result of cross-breeding a Doberman Pinscher with an American Pitbull. Both these breeds have a bad reputation for aggressive behavior and often receive bad press, but they are intelligent, loyal and loving. This mixed breed has the potential to make a great companion, but requires a knowledgeable and experienced owner to provide excellent training. You'll need an appropriate living space with a secure backyard and the time to exercise this energetic dog. Since many Dobermans and Pitbull experience separation anxiety, their pups thrive best in households where someone is home for most of the day. Although the Doberman Pitbull mix is good with children, he may not get along with other pets due to the Pitbull's fighting roots.
Contents
Protective Origins
We can learn more about this working dog blend by looking at the history of his parents.
The Doberman Pinscher was developed by Karl Friedrich Louis Dobermann in Apolda in Germany during the late 1800s. Dobermann, a tax collector, wanted to produce a dog with an intimidating appearance, aggressive enough to protect him in dangerous neighborhoods.
Many believe that the Doberman developed was from shorthaired shepherd dogs, black and tan terriers, Rottweilers, German Pinschers, Greyhounds and Weimaraners. The Doberman worked in both World Wars, searching for and rescuing wounded soldiers and detecting enemy locations.
The Pitbull was developed from Old English Bulldogs, and used for bull baiting. Aggression was bred into these dogs, but coupled with it was an unwillingness to bite people. Immigrants to the USA brought these Pitbulls with them. They were used for working on farms, protecting property, and as companion dogs.
Pitbulls represented US forces on posters during World War I and served in the field with the military.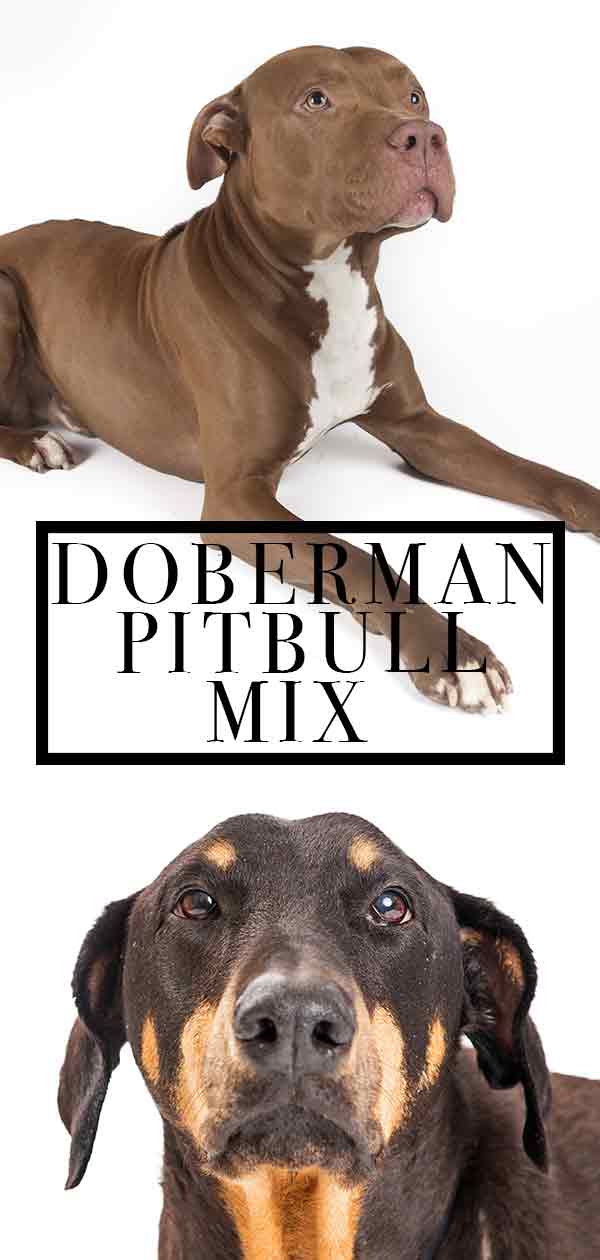 What Does the Doberman Pitbull Mix Look Like?
This muscular, strong hybrid has a medium build and weighs around 90lbs in adulthood. They often have a large wedge-shaped head with slight wrinkles, floppy ears and a tapered tail.
They have short coats, that can have the tan and black markings of the Doberman but might also show flashes of red, blue, fawn or even white.
Both breeds shed moderately all year round and require little grooming. Brush their coats once or twice a week to remove loose hair. A Doberman and Pitbull mix breed will have the same grooming requirements.
Inherited Temperament Traits
Your puppy is likely to form a very tight bond with you and your family. Early socialization can help to prevent this turning into overprotectiveness, but it's not guaranteed. They will bark to alert you to visitors, and might be wary of strangers in the home.
Separation anxiety has the potential to rear it's head, and this breed does best when with their main handler for most of the day. If you work from home or are able to bring your dog with you during the day, then no worries. However, if you are planning to leave them for longer periods of time they are likely to be loud and potentially destructive.
This is a mix with a fair share of bad press on both sides of the family, but positive reinforcement training and calm handling will go a long way helping them fit in.
How Will Your Doberman Pitbull Mix Turn Out?
Your Doberman Pitbull mix may inherit any of the personality traits mentioned from the parent breeds. This uncertainty is exciting for many crossbreed owners, but you need to be confident you can handle any outcome.
Since both breeds are at risk of separation anxiety, their puppies need a knowledgeable and experienced handler.
For generations, both breeds were taught to respond to some situations aggressively. They will need lots of socialization and positive reinforcement to grow up calm and confident, so they don't resort to aggression again.
Exercise and Training Requirements
As working dogs, both the Doberman and Pitbull have high energy levels. A Doberman and Pitbull mix puppy will have the same exercise requirements her parents.
This means at least two walks per day and access to a secure backyard where she can run loose and play games like fetch. The best way to prevent a bored dog taking their frustration out on the furniture is by burning up their energy.
A Doberman Pitbull mix dog likes lots of doggy jobs to do to channel that focus and feel purposeful. If you can find dog classes near you specially tailored to working breeds, that's a great place to start!
Finally, some people are still of the mistaken impression that dogs historically bred for aggression need to be "dominated" by their owner to keep them in line. This is categorically not the case. Dominance theory has been widely and conclusively discredited.
Like all dogs, your Doberman Pitbull mix will respond best to patience, kindness, and positive reinforcement training.
Doberman and Pitbull Health Issues
The Doberman has a lifespan of 10 to 12 years – fairly average for a dog of their size. However, like all pedigrees, there are some health conditions which affect Dobermans more frequently than the canine population as a whole. Heart and thyroid disease are possibilities, along with hip dysplasia and von Willebrand disease.
The Pitbull's lifespan is an average of 12 to 14 years. This breed is also generally healthy but prone to hip and elbow dysplasia, thyroid disease and degenerative myelopathy.
It is especially important that both parents of Pitbull Doberman mix puppies have been screened for the diseases they have in common – thyroid disease and hip dysplasia. Tests for both of these should be arranged by the breeder with their vet.
There are also simple tests readily available to identify Dobermans which carry the von Willebrands gene, and Pitbull who carry the degenerative myelopathy gene.
Does Crossbreeding Make Healthier Dogs?
Due to inbreeding practices, many purebreds are now prone to widespread hereditary health issues. Mixed breed dogs are likely to be stronger, healthier, and less likely to inherit genetic disorders, because they draw from a larger gene pool. This is known as hybrid vigor.