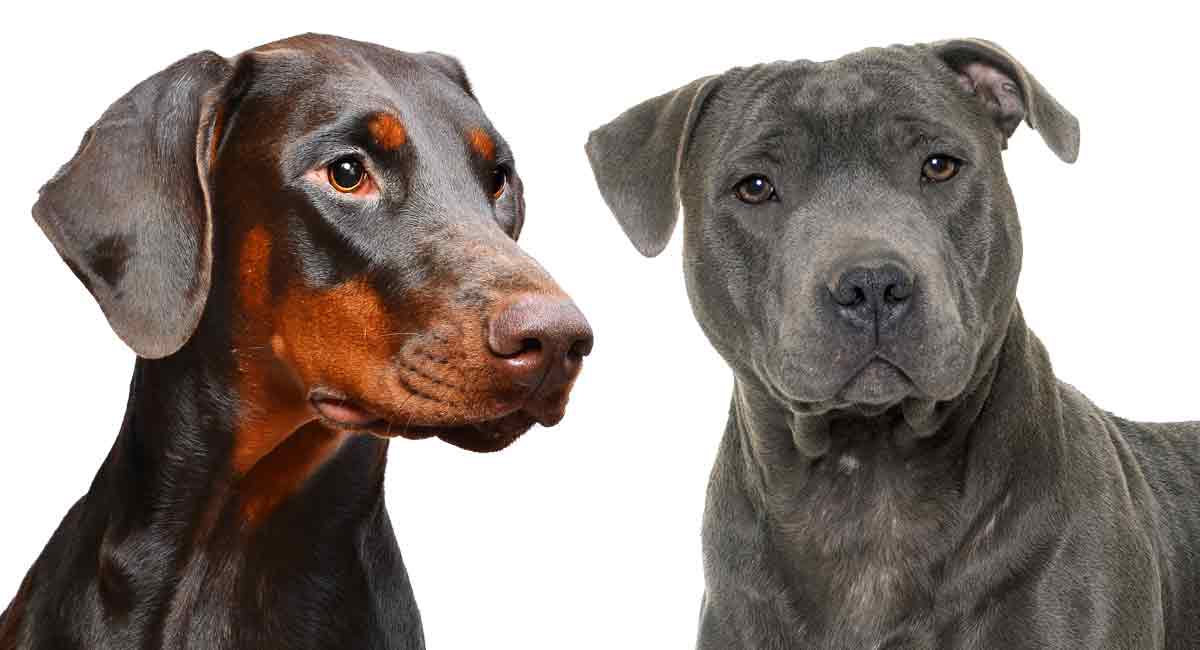 Wondering if a Doberman Pitbull mix is the right dog for you? In our complete guide, we have all the information you need regarding this working dog combination. Find out which parent the Doberman Pitbull mix looks like, whose temperament they're likely to get, how long they live, and whether they make a suitable pet.
Meet the Doberman Pitbull Mix
The Doberman Pitbull mix, also known as Dober Pit or Pit Pinscher, is the result of cross-breeding a Doberman Pinscher with an American Pitbull.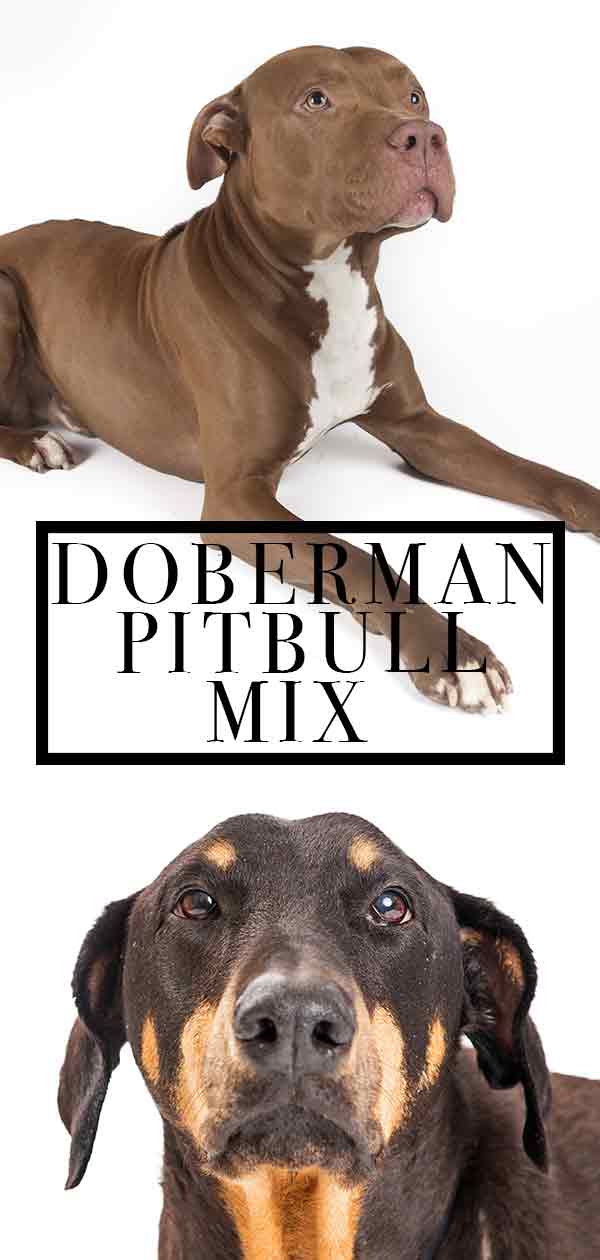 However, both these breeds have a bad reputation for aggressive behavior and often receive bad press.
Is it wise to cross breed these two dogs, or is the stigma unjustified?
The Doberman cross Pitbull is a first-generation mixed breed.
There is much debate regarding these designer dogs.
Therefore, before you decide on a Doberman Pitbull mix, find out first what the controversy is all about.
Designer Dog Controversy
Designer dogs have become extremely popular over the last two decades, especially with their quirky names like Dorkie, Pugle and Labradoodle.
There is, though, a great deal of debate surrounding these hybrid breeds.
They often demand higher prices than purebreds despite having no registration papers.
And whilst their breeders always hope to capture the best qualities and traits of the two parent breeds, that's not the guaranteed outcome.
Whereas purebred dogs have predictable traits regarding size, temperament, coat type, and care requirements, hybrid dogs are a bit of a lottery.
A designer dog may inherit more characteristics from one parent than the other, including the best – or worst – traits from either breed.
Does Crossbreeding Make Healthier Dogs?
Due to inbreeding practices, many purebreds are now prone to widespread hereditary health issues.
Mixed breed dogs are likely to be stronger, healthier, and less likely to inherit genetic disorders, because they draw from a larger gene pool.
This is known as hybrid vigor.
We'll see in a minute which illnesses Dobermans and Pitbulls are most vulnerable to, and how to make sure Doberman Pitbull mix puppies are as healthy as possible.
First let's look at the history of this tough-dog hybrid.
Origin of the Doberman Pitbull mix
Like most first-generation crossbreeds, we don't know where or when the Doberman Pitbull mix originated.
However, we can learn more about this working dog blend by looking at the history of his parents.
Origin of the Doberman Pinscher
The Doberman Pinscher was developed by Karl Friedrich Louis Dobermann in Apolda in Germany during the late 1800s.
Dobermann, a tax collector, wanted to produce a dog with an intimidating appearance, aggressive enough to protect him in dangerous neighborhoods.
Dobermann ran a local dog shelter so had access to a variety of dog breeds.
Many believe that the Doberman developed was from shorthaired shepherd dogs, black and tan terriers, Rottweilers, German Pinschers, Greyhounds and Weimaraners.
The German Kennel Club recognized the breed in 1900 and the American Kennel Club in 1908.
The Doberman worked in both World Wars, searching for and rescuing wounded soldiers and detecting enemy locations.
Origin of the American Pitbull
The Pitbull can trace his ancestry back to the early 1800s in the UK.
They were developed from Old English Bulldogs, and used for bull baiting.
Aggression was bred into these dogs, but coupled with it was an unwillingness to bite people.
Immigrants to the USA brought these Pitbulls with them. They were used for working on farms, protecting property, and as companion dogs.
More about Pitbulls:
The breed was named the American Pitbull Terrier by the United Kennel Club in 1898.
They were recognized by the AKC in the 1930s but renamed the American Staffordshire Terrier to separate the dog from its fighting past.
Pitbulls represented US forces on posters during World War I and served in the field with the military.
What Does the Doberman Pitbull Mix Look Like?
Because you are cross-breeding two different breeds, it is difficult to predict the size and looks of a Doberman x Pitbull dog.
Doberman Pitbull mix pictures may give you some idea of the end result, but there is no guarantee.
Let's take a look at the defining characteristics of the parent breeds.
Doberman features
The Doberman is a medium-large dog that is compact and athletically built.
He stands at 24 to 28 inches in height and weighs between 60 to 100 pounds.
The coat is short and sleek and usually black with brown markings.
Less common colors are red, blue, fawn and white.
Pitbull features
The Pitbull is a medium-sized, muscular dog.
He has a large wedge-shaped head with slight wrinkles, floppy ears and a tapered tail.
He stands 17 to 20 inches high, weighing anywhere from 30 to 80 pounds.
The coat is also short but with a coarse texture and is seen in all colors and patterns.
Popular combinations are brindle, red nose, and blue nose.
The size, color and appearance of a Doberman Pitbull mix depends on which genes they inherit from the parent breeds.
However, they are likely to be medium-sized, weighing around 80 to 90 pounds.
Doberman Pitbull Mix – Grooming
Both breeds shed moderately all year round and require little grooming. Brush their coats once or twice a week to remove loose hair.
A Doberman and Pitbull mix breed will have the same grooming requirements.
Brush their teeth daily, and clean ears and trim nails regularly.
Doberman Pitbull Mix – Temperament
It is difficult to predict the Doberman Pitbull mix temperament, since it is a crossbreed.
We need to look at the personalities of the two parent breeds.
However, even that is not simple, because there is much dispute regarding the nature of Doberman and Pitbull breeds.
Whilst responsible owners say they are misunderstood and make great pets if handled correctly, they are still widely perceived as aggressive and dangerous.
Is this reputation justified?
Doberman temperament
The personality traits of the Doberman vary from dog to dog. Some are outgoing and fearless, whereas others are shy and reserved.
Despite being stereotyped as aggressive, well-raised Doberman dogs are sweet, loyal, and obedient.
They love people, make excellent companions, and are good with other pets and children if socialized early.
They have a powerful instinct to protect their family, but as they are an obedient breed, only attack on command.
The Doberman does, however, suffer from separation anxiety if left alone for extended periods.
This can result in destructive behavior or excessive barking.
Pitbull temperament
Unfortunately, the Pitbull is often portrayed as vicious and dangerous. He receives more bad press than any other breed.
The breed is illegal in many countries around the world including the UK and parts of Canada and Australia.
In the US, many cities and towns, as well as military bases, now ban Pitbulls.
However, many owners agree that Pitbull dogs are loyal and loving towards all family members.
They can, however, be aggressive to other animals, even if socialized early, due to their fighting bloodlines.
The Pitbull is a fearless, stubborn dog who needs the right handling.
He can suffer significantly from separation anxiety, which causes destructive behavior. This is the main reason this breed ends up in shelters.
How Will Your Doberman Pitbull Turn Out?
Your Doberman Pitbull mix may inherit any of the personality traits mentioned from the parent breeds.
This uncertainty is exciting for many crossbreed owners, but you need to be confident you can handle any outcome.
Since both breeds are at risk of separation anxiety, their puppies need a knowledgeable and experienced handler.
For generations, both breeds were taught to respond to some situations aggressively.
They will need lots of socialization and positive reinforcement to grow up calm and confident, so they don't resort to aggression again.
Therefore, the Doberman Pitbull mix is generally not suitable for first time dog owners.
Doberman Pitbull Mix – Exercise and Training Requirements
As working dogs, both the Doberman and Pitbull have high energy levels.
A Doberman and Pitbull mix puppy will have the same exercise requirements her parents.
This means at least two vigorous walks per day and access to a secure backyard where she can run loose and play games like fetch and frisbee.
The best way to prevent a bored dog taking their frustration out on the furniture is by burning up their energy.
Training your Doberman Pitbull Mix
Both breeds are highly intelligent and used in the military, as well as finding use as police dogs, guard dogs, and therapy dogs.
A Doberman Pitbull mix dog likes lots of doggy jobs to do to channel that focus and feel purposeful.
If you can find dog classes near you specially tailored to working breeds, that's a great place to start!
Finally, some people are still of the mistaken impression that dogs historically bred for aggression need to be "dominated" by their owner to keep them in line.
This is categorically not the case. Dominance theory has been widely and conclusively discredited.
Like all dogs, your Doberman Pitbull mix will respond best to patience, kindness, and positive reinforcement training.
Doberman Pitbull Mix – Health Issues
Next let's look to Pitbull and Doberman health, to find out what conditions there offspring might be prone to.
The Doberman has a lifespan of 10 to 12 years – fairly average for a dog of their size.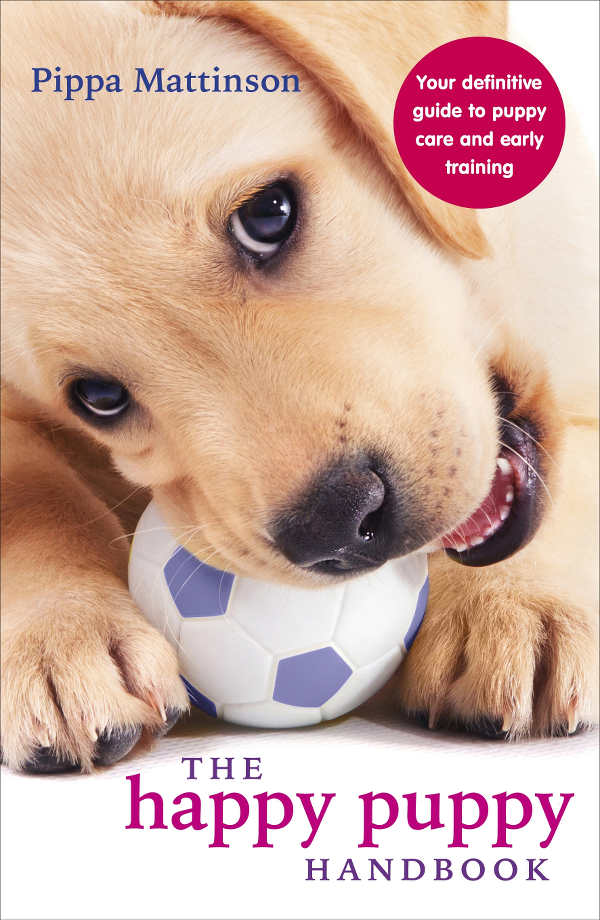 Since they were bred for work, their health hasn't been compromised by pursuing any kind of exaggerated appearance.
And breeders looked for healthy dogs to sire more good workers – so generally this breed enjoys a robust constitution.
However, like all pedigrees, there are some health conditions which affect Dobermans more frequently than the canine population as a whole.
The most prevalent amongst these are
heart disease
thyroid disease
hip dysplasia – abnormal formation of the hip bones, causing arthritis and lameness
and von Willebrand disease – a blood clotting disorder.
The Pitbull's lifespan is an average of 12 to 14 years.
This breed is also generally healthy but prone to
degenerative myelopathy – a progressive neurological condition that causes hind limb paralysis
hip dysplasia
elbow dysplasia
thyroid disease.
It is especially important that both parents of Pitbull Doberman mix puppies have been screened for the diseases they have in common – thyroid disease and hip dysplasia.
Tests for both of these should be arranged by the breeder with their vet.
There are also simple tests readily available to identify Dobermans which carry the von Willebrands gene, and Pitbull who carry the degenerative myelopathy gene.
Doberman and Pitbull Mix Puppies
When looking for Pitbull Doberman mix puppies, it is vital that you go to a reputable breeder who tests their dogs for genetic health disorders.
You should also be welcome to observe the living conditions and the health of the puppies.
Puppies under 12 weeks old should still be with their mom when you meet them.
For dog breeds with unpredictable temperaments, like the Doberman Pitbull mix, insist on meeting both parents before you commit to a puppy.
Is a Doberman Pitbull Mix Right for Me?
Before considering a Doberman Pitbull mix, you should check that it is legal to keep this type of dog where you are living.
This mixed breed makes a great companion but requires a knowledgeable and experienced owner to provide excellent training.
You'll need an appropriate living space with a secure backyard and the time to exercise this energetic dog.
Since many Dobermans and Pitbull experience separation anxiety, their pups thrive best in households where someone is home for most of the day.
Although the Doberman Pitbull mix is good with children, he may not get along with other pets due to the Pitbull's fighting roots.
In the right hands, though, the Doberman Pitbull mix has as much potential as any other dog to be a devoted, loyal, intelligent companion.
Do you have a Doberman Pitbull mix?
Do you think we've done them justice here?
Tell us about your experiences in the comments!
You might also enjoy our guide to the Pitbull Lab Mix
Related Articles
Extra Reading/References