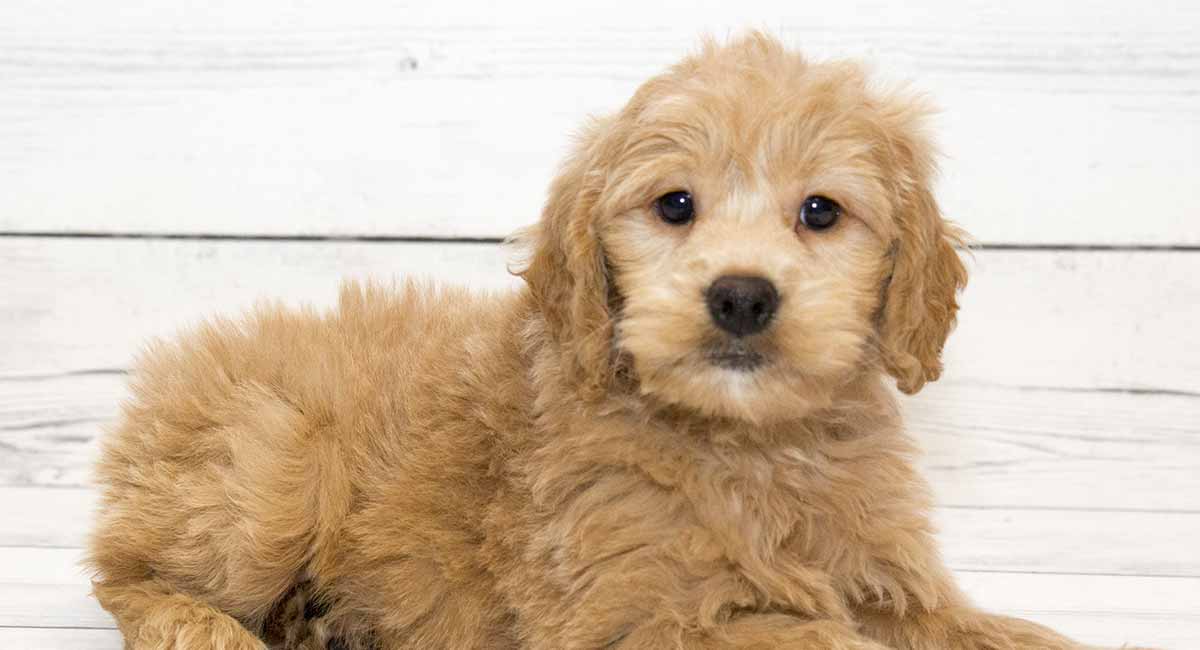 Welcome to our article that answers the question, "Do Goldendoodles shed?"
Goldendoodles are a relatively new hybrid dog breed that has quickly become a very popular choice among dog lovers!
As the breed name suggests, a Goldendoodle is a cross between a Golden Retriever and a Poodle. Goldendoodles are bred in standard and miniature sizes.
Do Goldendoodles Shed?
Goldendoodles have frequently been advertised as a "hypoallergenic" dog breed. But what does this mean?
Non-scientifically speaking, when someone says a dog breed is "hypoallergenic," what they usually mean is that the dog doesn't shed much in a visible way.
Unfortunately, this doesn't mean the pup in question is hypoallergenic.
What it means is that the shed hair is getting trapped in the dog's coat. Therefore, it doesn't fall out onto the ground, or the couch, or get all over your pants or coat.
Basically, Goldendoodles, like all dogs, do shed.
However, depending on which parent dog your Goldendoodle puppy most favors (Golden Retriever or Poodle), you may see more shedding or less shedding.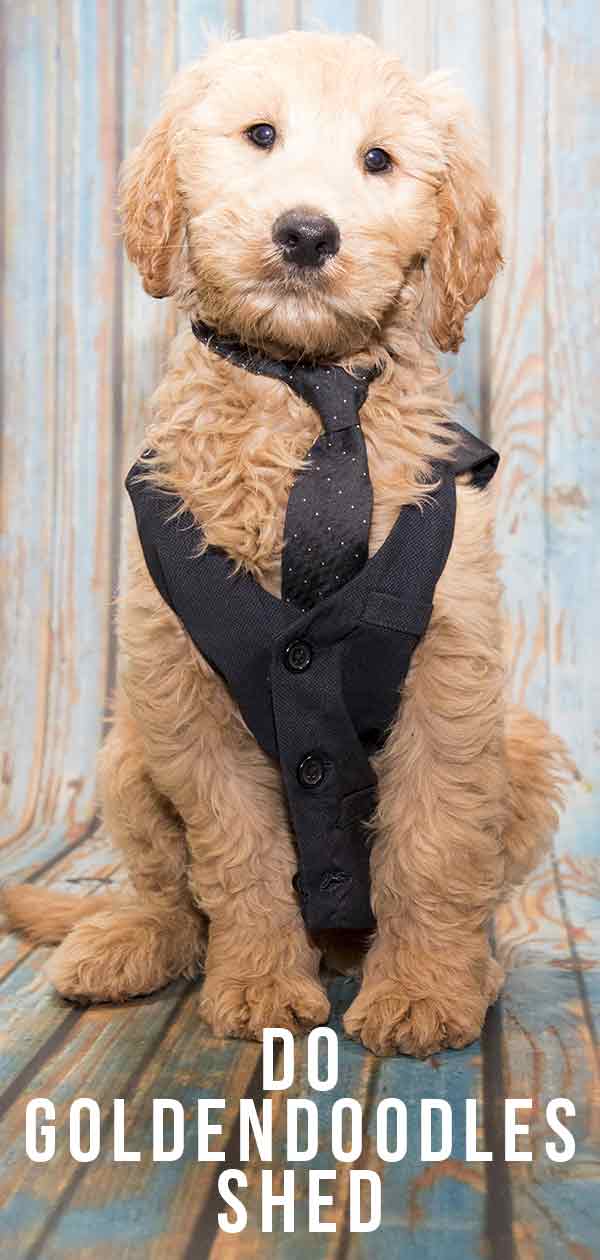 The Myth of Hypoallergenic Dogs
Allergists, veterinarians, and researchers have now confirmed there is no such animal as a truly hypoallergenic dog.
The reason for this is because the protein that triggers pet allergies in people – a protein called can f 1 – is secreted in a dog's saliva and urine as well as on the skin in the form of tiny flakes called dander.
When hair is shed, some of the dander that carries the can f 1 protein allergen go along for the ride.
Encountering your dog's shed hair on clothing, skin, furniture, and floors can then bring it in contact with your skin and provoke an allergic reaction.
Shed hair is most commonly blamed for pet allergies in people.
But you could just as easily have an allergic reaction if your dog licks your hand or you clean up an "accident" on the floor during housebreaking training.
How to Minimize Allergic Reactions
The very best way to minimize the likelihood you will have an allergic reaction to your dog is to keep your contact with hair, saliva, and urine to a minimum.
If you have pet-related allergies, there is no guarantee you will not experience an allergic reaction to a Goldendoodle – even a pup that sheds little or not at all visibly.
Why Do Dogs Shed?
Dogs shed because their hormones tell them it is time to shed. Hormonal changes are triggered by changes in the amount of daylight.
For dogs with double layer coats such as the Golden Retriever, shedding will happen twice per year in spring and fall.
For dogs with single layer coats such as the Poodle, shedding will happen once per year in the spring.
Dogs also shed year-round as the coat naturally replenishes itself. Year-round shedding can range from light to heavy depending on the coat type and the breed.
Golden Retrievers tend to shed moderately to heavily year-round. Poodles shed lightly but not noticeably year-round.
How Much Do Goldendoodles Shed?
To answer this, we first need to look at the different coat types a Goldendoodle can have.
If you are brand new to the Goldendoodle breed, you may not realize a Goldendoodle can have different coat types.
The type of coat will depend on how much influence each parent dog has on your puppy.
Long or Short Coat
The gene responsible for the length of your Goldendoodle's adult coat is called "FGF5."
A short coat is more likely to occur in earlier generations of Goldendoodles (F1, F1b). The vast majority of Goldendoodle puppies grow up to be long-coated.
Curly, Wavy or Straight Coat
The gene responsible for a curly adult coat is called "KRT71."
If the puppy inherits this gene from both parent dogs, they will have a curly coat.
Furnishings (Facial Hair)
The gene that is responsible for the appearance of your Goldendoodle's facial hair is called "RSP02."
This gene produces the Goldendoodle's characteristic beard, moustache and eyebrows. A puppy only needs to inherit one copy of these gene to produce furnishings.
More or Less Shedding Coat
As of 2016, DNA studies have revealed two genes that can impact how much or little a dog will shed visibly.
These genes are called "RSP02" (yes, the same gene that also determines furnishings) and "MC5R."
This discovery has helped breeders and researchers develop what they call the "shedding index." The index ranges from 0 (no shedding) to 4 (lots of shedding).
For the lowest shedding Goldendoodle, you want to select a puppy with furnishings who tests for the "A" variation of the MC5R gene that is responsible for a low shedding coat.
Breeders can now test parent dogs for the variant of the MC5R gene (A or G) and for the presence of the furnishings gene, RSP02, to determine in advance how much puppies will shed visibly in adulthood.
Dealing with Goldendoodles Shedding
Perhaps you are already sharing your life with a Goldendoodle….who just happens to shed visibly.
If this is the case, maybe you love your dog very much, but you don't love the shedding at all. Is there anything you can do to control your Goldendoodle's shedding?
Let's find out now!
Keep Your Dog Indoors
According to the American Animal Hospital Association (AAHA), pets that are kept indoors exclusively may shed less than indoor/outdoor pets.
The reason for this has to do with exposure to seasonal shifts in daylight.
An indoor pet will have more consistent year-round light exposure and this may help reduce seasonal sheds.
Brush Your Goldendoodle Regularly
Perhaps the number one thing you can do to control your Goldendoodle's visible shedding is to brush your dog frequently – daily, if needed.
When you brush your dog, the brush pulls out hair that has shed or is ready to shed.
This reduces the amount of visible shedding you have to clean up later.
Notice When Shedding Increases Suddenly
Shedding is a normal process for dogs. But sometimes shedding can indicate there is something amiss.
Skin irritation or infection, systemic stress, unbalanced nutrition, and allergies (yes, dogs get allergies too!) can trigger increases in shedding.
With proper veterinary care, the shedding will likely cease as your dog's health improves.
Keep a Shedding Calendar
Veterinarians note that seasonal shedding typically lasts from three to eight weeks.
Knowing that the seasonal shed has a start date and a potential end date can help you remain patient while your dog goes through the shed process.
Goldendoodles Haircuts
Your Goldendoodle's hair type (curly, wavy or straight) and coat length (long or short) will help indicate what Goldendoodle haircuts may work best to keep shedding under control.
These four Goldendoodle haircuts are popular both because they are relatively easy to maintain and because they can help minimize shedding clean-up.
Puppy Clip
For long-coated Goldendoodles in particular, one easy way to keep at-home grooming and cleaning chores to a minimum is to opt for a shorter clip.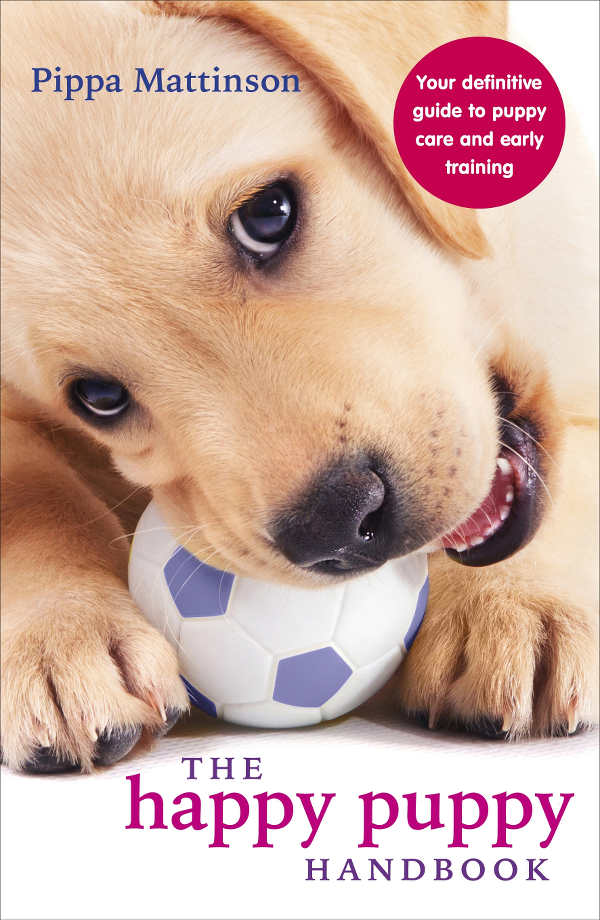 This type of clip is often called a "puppy clip" or the "teddy bear clip."
This short and sweet clip makes brushing and grooming a breeze, but you will need to return every 8 weeks or so for a trim – or learn to do it yourself at home!
Kennel Clip
A kennel clip is a very close cut – think of it as a "canine pixie" and you'll have the right idea.
This is NOT a shave – shaving your dog's coat is not advisable! Your dog needs coat protection to avoid skin irritation and infection as well as sunburn.
Lamb Clip
The lamp clip aims for a close trim on the body with slightly longer hair on the legs.
This clip is a bit more showy but is still quite easy to brush and maintain at home.
Lion Clip
A lion clip is that adorable haircut you are probably already used to seeing on Goldendoodles, where the hair on the face and neck and the hair at the end of the tail is left long while the body and legs are clipped short.
When done well, your Goldendoodle will look like a canine lion!
Do Goldendoodles Shed Too Much?
Goldendoodles are widely regarded as a non-shedding dog breed.
But now you know that how much your Goldendoodle sheds has to do with which parent dog has the most genetic influence and what coat type your Goldendoodle inherits. If a non-shedding coat is important to you, then a purebred Poodle might be a better choice of dog.
What do you think? Do Goldendoodles shed too much, just enough, or not at all?
Share your thoughts in the comments below!
References and Resources
Lane, A., et al, "All About Goldendoodle Colors and Coats," Goldendoodle Association of North America, 2019.
Lockey, R.F., MD, "The myth of hypoallergenic dogs (and cats)," Journal of Allergy and Immunology, 2012.
Everhart, A., "It's winter. Why is my pet shedding so much?," American Animal Hospital Association, 2019.
Schommer, B., "Goldendoodle Coat Types," Goldendoodle Acres Kennel, 2019.
Parker, H.G., et al, "The bald and the beautiful: hairlessness in domestic dog breeds," Journal of the Royal Society of Philosophical Transactions B, 2017.
Polovic, N., et al, "Dog saliva – an important source of dog allergens,"Wiley-Blackwell Allergy Journal, 2013.