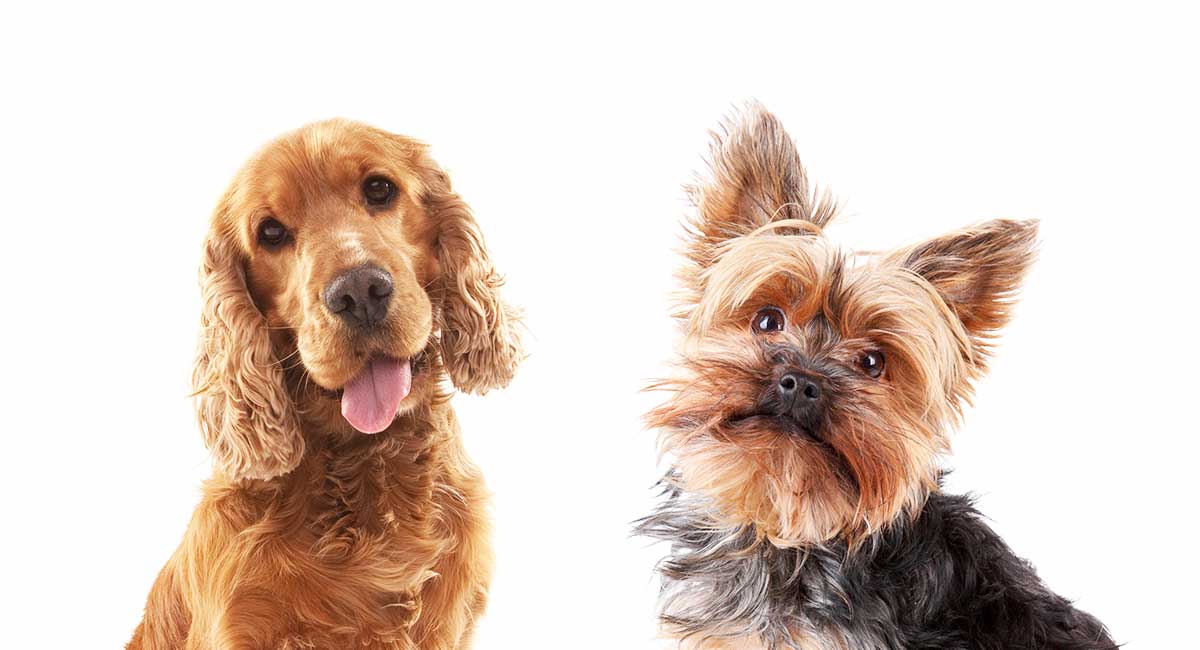 The Corkie dog is a hybrid designer breed, a cross between the purebred Cocker Spaniel and Yorkshire Terrier. Corkies can be great pets for families with children. Their cute, compact appearance combined with an affectionate and cheerful temperament make them an appealing choice for people seeking a small- to medium-sized family dog. Begin training your Corkie from an early age, and always use positive reinforcement training techniques. While active, Corkies don't need as much outdoor space and exercise time as some large, high-energy breeds. Provide your dog with toys, walks and play sessions to keep her happy.
Contents
Origins of the Cocker Spaniel and Yorkshire Terrier
Cocker Spaniels have been beloved family pets for many years and for good reason. The breed has a famously loving and cheerful personality, combined with a sweet face and soft flowing coat.
There are two types of cocker spaniel, American and English. Both are descended from dogs bred to accompany waterfowl hunters. The name "cocker" refers to their particular hunting specialty, the woodcock.
The Yorkshire terrier, often called the Yorkie, is a popular toy breed. Terriers were originally created to hunt vermin, and the Yorkie's small size made it the perfect rodent hunter. While today's Yorkie is more likely to be sitting on your lap or in your handbag, that tenacious Terrier personality makes the Yorkie a self-confident and feisty little dog.
Corkie Characteristics
The Cocker Spaniel is a medium-sized dog, although dog breed experts note that it is actually the smallest sporting dog breed. Male cocker spaniels stand 15 inches tall at the shoulder, and females are 14 inches tall. Males weigh 25 to 30 pounds, and females are 20 to 25 pounds in weight.
The Yorkie is one of the smallest toy breeds. They are between 7 and 8 inches tall at the shoulder and their weight is around 7 pounds.
The size of your Corkie can favor one breed over the other, as there are no size guarantees with mixed breed dogs. Generally, the Corkie is said to be a small- to medium-sized dog, standing around 12 inches high at the shoulder and weighing between 10 and 20 pounds.
Corkie Coat and Grooming
The Cocker Spaniel has a medium length double coat with a soft silky texture and feathering on the ears, legs, chest and abdomen.
Cocker Spaniels require regular daily grooming with a metal comb, followed by a slicker brush. Their fur can be prone to mats and tangles, and many owners will take their dogs to professional groomers. The Yorkie is known for its long silky coat. The fur is straight and will grow to the floor if left untrimmed.
The Yorkie's coat is similar to human hair, in that it requires regular brushing and bathing. The Yorkie has fewer color variations than the cocker spaniel, generally a steel blue and tan with hairs that go from dark roots to light ends.
What will your Corkie's coat be like?
Because both parent breeds have long silky coats, you can expect your Corkie to have a medium- to long-length soft coat that requires regular grooming, including brushing, bathing and trimming. If you are not experienced in grooming, you may want to use a professional groomer to keep mats and tangles under control.
The Yorkshire terrier has a reputation for being hypoallergenic, and many potential Corkie owners wonder if the cocker spaniel Yorkie mix is also hypoallergenic.
While no dog is 100 percent hypoallergenic for people with pet allergies, it is possible that your Corkie may inherit some Yorkie characteristics, but remember there are no guarantees with a mixed breed dog.
Be sure to spend time around Corkies before you get one if you have pet allergies.
Corkie Temperament
The Cocker Spaniel is known for its friendly, affectionate and playful nature. The breed is a favorite choice for families with young children. Yorkies are a bit more strong-willed and feisty than cocker spaniels. Because they are so small, many dog experts do not recommend them for families with very young children.
As a mixed breed, the Corkie can favor one parent breed over the other when it comes to personality.
Your Corkie could be sweet and gentle like a cocker spaniel or stubborn and independent like a Yorkie.
Generally, you can expect your Corkie to be lively, cheerful and playful.
Dog experts report that they are relatively easy to train using positive reinforcement techniques.
Because they are larger and sturdier than purebred Yorkies, they can be a very good choice for families with children in all age ranges.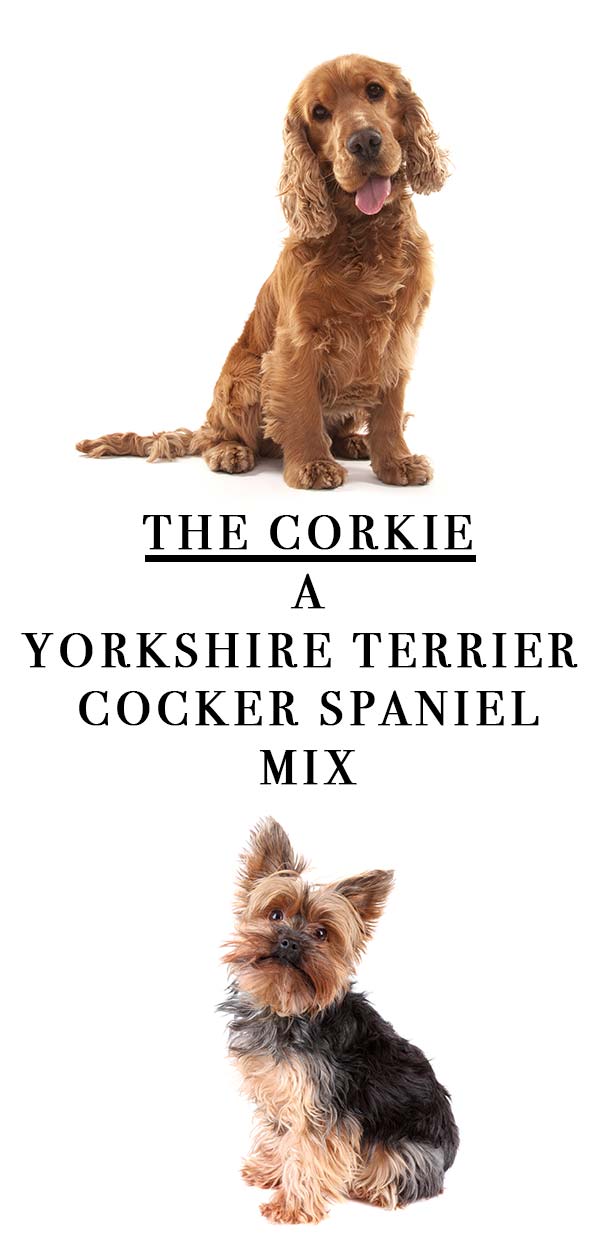 Cocker Spaniel and Yorkie Health
Both parent breeds have some known genetic health conditions, so it's crucial that you choose a breeder who health tests their breeding stock and does not breed dogs with health problems.
Cocker Spaniels are prone to eye problems, especially cataracts and progressive retinal apathy (PRA). Your breeder should show you certified health test results for these conditions. They can also be prone to hip dysplasia, certain blood disorders and some thyroid problems.
Yorkshire Terriers can suffer from some of the same genetic health conditions as Cockers.
Yorkies can also be prone to joint problems such as luxating patella. They can also suffer from certain eye problems such as cataracts and a condition known as KCS (keratoconjunctivitis sicca), or dry eyes.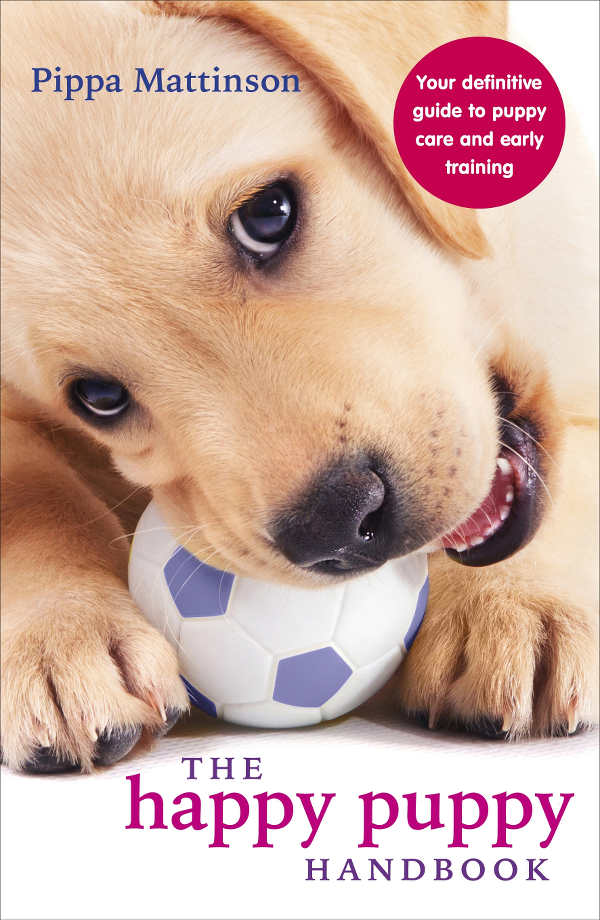 Other problems include thyroid disease, liver shunts, heart disease and a digestive condition known as protein-losing enteropathy (PLE).
Because the Yorkie is a popular toy breed prone to several genetic health problems that can be made worse by irresponsible breeding. It is especially important that your breeder show you certified health test results for your Corkie's Yorkshire terrier parent.
Finding Corkie Puppies
Choose a reputable breeder when searching for a Corkie puppy. Avoid buying your Corkie from a retail pet store or an online advertisement.
Puppies from these sources often come from large-scale breeding operations known as puppy mills. Look for a small-scale breeder near you who welcomes in-person visits from potential buyers. Observe the living conditions of the dogs, and meet and interact with your preferred puppy's parents and littermates.
Your breeder should health test both their cocker spaniel and Yorkie breeding stock for the known inherited health conditions of both breeds. For some conditions, DNA testing is available. For others, exams are performed by qualified veterinarians.
The results can be certified by canine health organizations such as the Orthopedic Foundation for Animals and the Canine Eye Registration Foundation.