The adorable Cockapoo is a hybrid dog that requires a bit of extra Cockapoo grooming to stay so eye-catching.
In this article, we find out what to expect from your Cockapoos coat.
What texture will it have?
How often will it need grooming?
What's the best way to groom a Cockapoo?
And which tools and products will make the job easier?
By the time we finish, you'll be breezing through Cockapoo coat care like a pro!
Products included in this article were carefully and independently selected by the Happy Puppy Site team. If you decide to make a purchase from one of the links marked by an asterisk, we may earn a small commission on that sale. This is at no extra cost to you.
The Cockapoo Coat
The Cockapoo's parents are the Poodle and the Cocker Spaniel (either English or American).
While most hybrid or "designer" crossbred dogs have only recently become wildly popular, the Cockapoo has actually been bred as a companion canine since the 1950s.
This dog is known to be smart, sweet, typically a non-barker, easy to train, happy-go-lucky and generally sports a low to non-shedding coat.
The advantages of having a dog with non-shedding or low-shedding coat are obvious – less time spent vacuuming hair off floors, wiping it off surfaces, and picking it from your clothes.
They are not, however, hypoallergenic – no dog truly is.
But non-shedding coats often need more brushing and grooming care than their shedding canine counterparts.
In this article, we outline the Cockapoo dog's at-home brushing and grooming maintenance needs.
This will help your pup have healthy skin and a healthy coat.
Do Cockapoos Need Grooming?
Cockapoos can have three different basic coat types: straight, wavy/curly and tightly curled.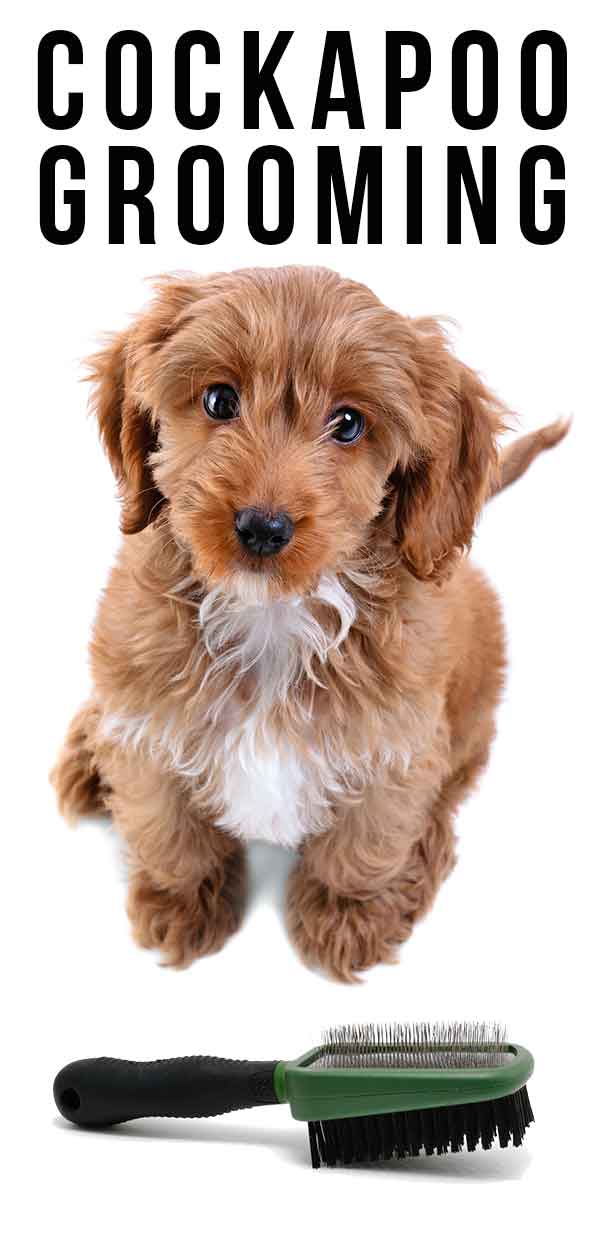 All three coat types need regular brushing to stay tangle and mat-free.
What Type of Fur Do Cockapoos Have?
The Cockapoo coat is interesting.
The Cocker Spaniel purebred dog typically has a double-layer coat that consists of a long, straight or slightly wavy outer coat.
The undercoat is thicker and has very soft insulation.
The Poodle, in direct contrast, typically has a single-layer coat that is quite coarse, medium-length and very curly.
This means your Cockapoo could have a variety of fur types in adulthood.
Adulthood Fur on a Cockapoo
Since the Cockapoo is a fairly well-established hybrid dog, breeders and groomers today have identified three basic coat type categories that most adult Cockapoos display.
Single coated coarse and tightly curly: this coat tends to shed out little if at all.
Single to double-coated and wavy to loosely curly: this coat tends to shed out minimally except for seasonally, especially if an undercoat is present.
Double-coated and straight to slightly wavy: this coat will shed the most out of the three coat types, especially seasonally.
How Often Should You Groom a Cockapoo?
For straighter coat types, plan to brush your dog's coat at least twice per week.
With wavy/curly coat types, two to three times per week is a good frequency.
And for tightly curled coat types, you may need to brush your dog daily to keep tangles and mats from forming.
Grooming During the Shedding Season
One of the reasons the Cockapoo hybrid dog is so enduringly popular is because this dog doesn't tend to shed that much whether the coat is straight, wavy or curly.
However, for Cockapoos that inherit a straight or softly wavy hair coat, they may also inherit the double-coated Cocker Spaniel parent's seasonal shed.
Combating the 'Coat Blow'
The coat blow, also called the moult, is where many new Cockapoo owners get caught by surprise.
When the coat blow starts, the majority of the shed hair does not actually visibly fall to the ground.
Instead, it gets caught by the surrounding fur and stays trapped in the coat itself.
This can cause massive tangles and mats to form near the skin in fairly short order.
So once these twice-annual sheds begin, you have to make time to brush your dog daily to remove the dead, shed hair before it can start to tangle.
Sometimes, with unsuspecting first-time Cockapoo owners, the seasonal coat shed sneaks up on you.
Then the tangles form before you discover them.
The only option is to shave your dog down to the skin to avoid the discomfort it would cause to try to work the tangles out.
How to Groom a Cockapoo
The exact method of grooming will remain essentially the same regardless of the coat type your Cockapoo pup has.
However, what may change is the grooming tools you choose to use for each step of the grooming process.
Step 1: Spritz some detangling spray onto your dog's coat or onto your grooming tools.
Grooming tools to use: detangling spray of choice
Detangling spray will make the job of working out tangles and mats easier and comfier.
Step 2: Do an initial gentle comb-through, section by section, to locate tangles and mats.
Grooming tools to use: stainless steel comb, slicker brush or pin-side brush
In this step, you are using the stainless steel comb to make sure you can reach all the way down through your dog's coat to locate tangles and mats.
You want to do this section by section, stopping as the comb encounters a tangle or mat and then moving to Step 3 to work it out.
Then you can come back to Step 2 and continue your work with the comb on the next section of your dog's coat.
Step 3: Use your brush of choice to slowly and gently work out each tangle or mat you find.
Grooming tools to use: pin-side brush or slicker brush or de-matting rake
Watch the video in a later section here to learn how and when to use each tool to carefully work out small and large tangles and mats.
Step 4: This is de-shedding time.
Grooming tools to use: Slicker brush as needed
When all tangles and mats are gone, brush your dog section by section to remove any dead, shed, trapped hair that remains as applicable.
Step 5: Trim your dog's nails and coat as needed.
Grooming tools to use: Nail clippers, trimming scissors
It is important to trim away too-long hair around eyes, hind quarters and paw pads to make sure your dog can see and stay sanitary and sure-footed.
Step 6: Do ear checks and ear cleaning, tooth brushing, and other tasks as applicable.
Grooming tools to use: Talk to dog's veterinarian about right products and frequency of use
Cockapoo Grooming Tools
These basic Cockapoo grooming tools do represent an initial investment into your dog's health and wellness.
They will last for years and, in most cases, you only have to purchase them once.
Detangling Spray
Crown Royale Ultimate Detangling Spray* 
This unique and popular spray can detangle wet or dry coats.
Another popular, trusted choice for both people and pets, this cult product was originally developed for use on horses!
De-Matting Rake
Hertzko Undercoat Dematting Comb*
This de-matting rake is recommended by professional Cockapoo groomers for tough-to-work-out tangles and mats.
The long blades look formidable, but they are designed with safety in mind – only stubborn knots need fear them!
Some owners prefer this slimmer tool for working out smaller tangles and mats near the face, on paw pads and near hind quarters.
Slicker Brush
Safari Self-Cleaning Slicker Brush* 
This lovely slicker brush features a unique curve to follow the contours of your dog's body.
It also comes in three sizes (S, M, L) and has a single-push self-cleaning button.
GoPets Professional Slicker Brush* 
This pro-grade slicker brush has a self-cleaning brush and a comfy gel-filled silicone handle.
Pin and Bristle Brush
AtEase Accents Eco Friendly Grooming Brush*
Some owners prefer the feel of the natural bamboo wood handle that this brush offers.
The pins are rounded, and the bristles are nicely spaced nylon.
Wahl Premium Pin and Bristle Brush*
Wahl is a trusted name in pet grooming.
This brush comes in three sizes (S, M, L) and can double as a de-shedding rake for shorter coats.
Stainless Steel Dual Comb
Having two different sized combs that both have the narrow/large tines can be really great for grooming larger and smaller areas of your dog's coat safely and comfortably.
Andis Premium Steel Grooming Comb*
Andis makes different styles of stainless steel grooming combs.
This one has a rounded grip.
They also make another equally popular comb with a straight-back grip*.
Trimming Scissors
ALFHEIM Professional Pet Hair Grooming Scissors Set* 
This full set of grooming shears with a handy carry case might be a smart investment if you want to learn to do more of your dog's grooming and haircuts at home.
You get cutting scissors, thinning scissors, up-turned scissors and down-turned scissors, plus a steel comb and safety-smart case.
Vastar Pet Dog Grooming Scissor Set*
This well-rated and popular trimming scissors set also includes a stainless steel comb so you don't have to purchase one separately.
You also get curved scissors, cutting shears, thinning shears, and a cleaning cloth.
Nail Clippers
Boshel Nail Trimmers and Clippers*
These safe, professional trimming clippers have 3.5 mm stainless steel blades and a secure, safety-grip handle.
Epica #1 Best Professional Pet Nail Clipper*
This safe, secure nail clipper comes in two sizes (small/medium and medium/large).
It features a safety lock to keep clippers closed when not in use.
Cockapoo Grooming Video
If you are feeling a bit intimidated about learning how to groom your Cockapoo at home, you are not alone.
Lots of new dog owners are concerned about doing the brushing and grooming properly to take good care of their dog.
Reading through text guides like this one can be quite helpful and reassuring.
But there is nothing like actually watching a professional groomer doing what you want to learn how to do.
This expert video created by a professional Cockapoo groomer shows you precisely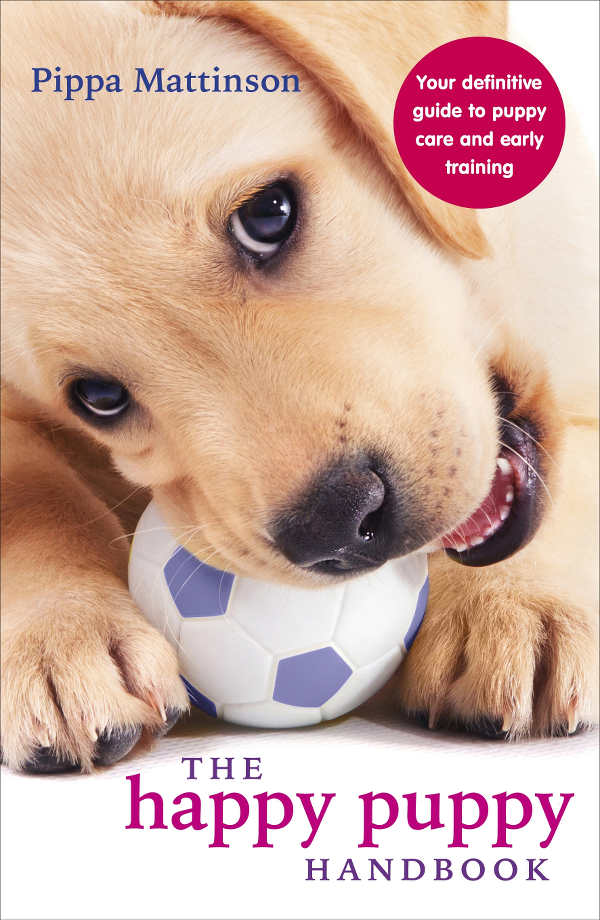 how to use each grooming tool to work out any tangles and mats
when to keep working at a tangle
when to cut or shave it out
the two secrets to doing a great job (hint: time and patience)
Cockapoo Haircuts
When your Cockapoo is still a puppy, the coat is thinner and finer.
During this all-too-brief stage in your dog's life, the short and sweet "puppy cut" is definitely the way to go.
But once your Cockapoo's adult coat grows in and you see exactly what coat type your puppy has inherited, you will have some haircut options.
These photos can give you ideas for cute and stylish haircuts for different Cockapoo coat types.
Tight, Curly Coat
Cockapoo dogs that inherit more of the Poodle parent's tight, curly, non-shedding coarse hair coat will have the most options in terms of possible haircuts.
However, this coat type also requires the most brushing and grooming at home to keep the coat from tangling and matting.
There is no doubt that leaving this dog's coat long is stunning.
But it is so time and labor-intensive to keep it tangle-free, so most owners opt for the adorable and easier-to-maintain teddy bear haircut.
Loosely Wavy Coat
Cockapoos that inherit fairly equal genetic coat influence from each parent dog might have a coat that is loosely wavy or even gently curly.
These dogs typically get clipped quarterly to avoid at-home brushing and grooming chores from becoming too time and labor-intensive.
You can leave the coat long, but then you will have to deal with the biannual "coat blow."
For the Cockapoo, this doesn't result in copious shed hair.
Instead it leads to lots of tangles and mats near the skin as shed hair gets trapped by surrounding hair.
An option many owners prefer is to keep their dogs in a teddy bear cut, which is cute and easy to maintain at home between trims.
Straighter Hair Coat
If your Cockapoo has inherited more of the Cocker Spaniel's straight, fine coat, your dog may not need any clipping or trimming at all.
The exception would be if the hair starts to grow long enough to obscure your dog's vision.
For these dogs, some owners like to trim the facial and muzzle hair.
They also trim the hair around the paw pads and hind quarters for safety and sanitary reasons.
Grooming Your Cockapoo
Well, there you have it—a complete introductory guide to grooming your Cockapoo at home.
Please post a comment to share your favorite grooming tips and tools.
Affiliate link disclosure: Links in this article marked with an * are affiliate links, and we may receive a small commission if you purchase these products. However, we selected them for inclusion independently, and all of the views expressed in this article are our own.
References and Further Reading:
"An Owner's Guide to the Cockapoo Coat," Short Bark and Sides Dog Grooming
"Cocker Spaniel Grooming Video," Zim Family Cockers Kennel
Francis, A., 2015, "The Cockapoo," Grooming Business
"Grooming," The Cockapoo Club of Great Britain
"How to Groom a Cockapoo's Face and Head," Eden Dog
"Tips on Grooming Your Poodle," Bijou Standard Poodles