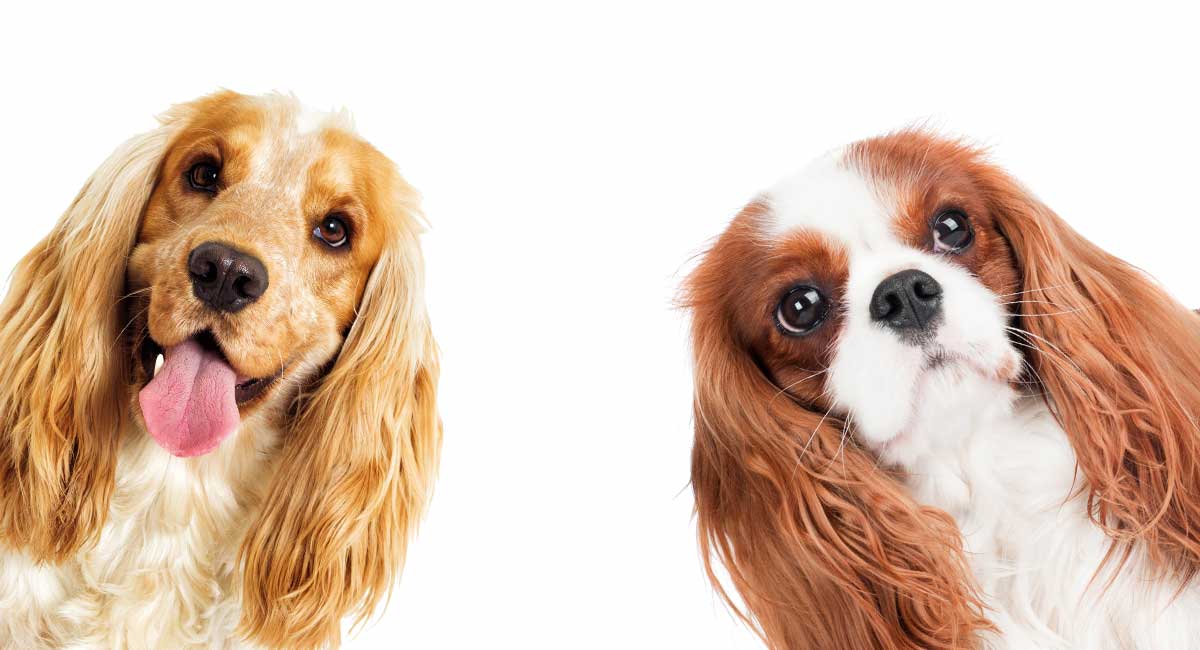 The Cockalier is a Cocker Spaniel Cavalier King Charles mix. This hybrid dog breed offers everything we love about Spaniels including their looks, brains and love. Cockaliers are friendly, affectionate and lively family pets. They are a great choice for active familes, and are good with kids and other dogs. Cockalier puppies need lots of attention, exercise and training. Today we'll look at what to expect from your pet Cockalier, how to find a healthy puppy and share tips for caring for your new dog.
Contents
The Cockalier is a healthy dog provided they come from parents with clear health tests for some key inherited issues. Their life expectancy ranges from 10 – 14 years, and they are high shedders that need regular grooming.
What is a Cockalier?
The Cocker Spaniel Cavalier mix, also called the Cockalier, is the offspring of the Cocker Spaniel and the Cavalier King Charles Spaniel.
While both these purebred dogs are of the Spaniel type, the Cocker Spaniel and the Cavalier King Charles vary greatly in a number of areas. So before you bring home their crossbreed puppy, it's important to know what you're getting.
Where Does the Cockalier Come From?
Since the Cockalier is considered a first-generation crossbreed, there are very little records regarding his origin and where he comes from.
But to get a better understanding of what makes the Cockalier the Cockalier, we can look into the histories of their purebred parents.
Cocker Spaniel Origins
The Cocker Spaniel is believed to be a descendant of a large group of Spaniel types who hailed from Spain. Originally used for bird hunting, Spaniel dogs were not separated into their own breeds until around the 19th century after written breed standards began to take place.
There are two varieties of the Cocker Spaniel, one being the American and the other being the English. While they are both relatively similar, the American Cocker Spaniel is described as being shorter than the English Cocker spaniel, with a thinner coat and smaller head.
The Cocker Spaniel was registered by the American Kennel club in 1946, and today sits at number 29 out of 194 on the AKC's list of America's most popular dog breeds.
Cavalier King Charles Spaniel History
Another Spaniel type, the Cavalier King Charles Spaniel is as regal as one would expect a dog with such a moniker to be!
Amongst other toy spaniels of this era, the Cavalier King Charles was a favorite of nobles in Europe from before the Renaissance period.
This breed's name derives from the 17th century when King Charles I and Prince Charles II fell in love with the black and tan toy Spaniel.
In fact, according to the American Kennel club, author Samuel Pepys—a renowned writer of the Restoration era—Charles II appeared "more concerned with breeding spaniels than ruling Britain".
While this may seem remarkable, there must be something truly magical about this breed, it's popularity continued to grow among British nobles all the way through the 19th century.
However, the breed nearly found itself extinct once enthusiasts began breeding it with other toy dogs, including Pugs and Japanese Chin. Luckily, during the 1920s an American by the name of Roswell Eldridge offered a cash reward to any British breeder who could recreate the original version.
Money-hungry breeders got to work, and what resulted was the modern-day Cavalier King Charles Spaniel. Today, the Cavalier King Charles is a worldwide favorite, sitting at number 19 out of 194 on the American Kennel Club's list of most popular dog breeds!

What Does the Cockalier Look Like?
Since this dog is a cross-breed, your Cocker Cavalier's looks are going to be left up to chance. Your Cocker Cavalier mix could inherit a number of different physical traits. Let's take a look at some of the possibilities!
The Cocker Spaniel has a thick, profuse coat that often has some wave or curls. Known for their long, beautiful ears, the Cocker Spaniel is a beautiful dog inside and out, with a longer body, docked tail, and wide, sensitive eyes.
Smaller than the Cocker, the Cavalier King Charles has a silky coat that lays straight and grows shorter around the face and their inquisitive brown eyes. The Cavalier King Charles also has long beautiful ears and a long tail and is famous for their coat colors, which come in four combinations, including
Cockalier Coat Types
The Cocker's coat will grow as long as you allow it to and comes in a wide variety of colors, including
Black
Lemon and White
Blue Roan
Dark Brown
Black and Gold
Ash
Tri-Color
Blue Belton
Orange Roan
Liver and White
Liver Roan
Tan
Orange and White
Silver
Liver and Tan
Sable
Golden
Tri-Color Ticked
Cavaliers come in fewer colors but some beautiful tones too:
Tri-Color
Black and Gold
Blenheim
Ruby
There is such a wide variety of options when it comes to the looks of your Cockalier crossbreed The only thing you can truly expect is for them to have a silky coat with some wave. The color and other aspects are going to be left up to chance.
Cockalier Dog Grooming
The Cockalier is going to require some maintenance when it comes to grooming, considering both his purebred parents have wavy coats that tend to mat. The Cavalier King Charles doesn't require much more than brushing two or three times a week and occasional bathing
However, the Cocker Spaniel needs almost daily brushing and careful bathing, especially since they are prone to skin issues. Because of this, owners of a Cockalier should carefully brush and bath this crossbreed, using metal grooming combs and a high-quality dog shampoo.
During grooming, keep an eye out for any skin lesions or sore looking spots on your Cockalier's skin. Any issues that are unaddressed or ignored could turn to painful and costly infections.
Your Cockalier will also need their nails trimmed regularly to keep them from breaking and their ears cleaned consistently to help reduce the chances of ear infection.
Are Cockaliers Hypoallergenic?
The Cockalier has a long wavy coat that sheds a lot. They are likely to set off an allergic response in people with dog allergies, so sadly are best avoided as pets in these cases.
How Big is the Cockalier?
Since the Cockalier is a crossbreed, their size and weight are going to vary depending on which parent they take after genetically.
For example, the Cocker Spaniel can be 13.5 to 14.5 inches tall and weigh anywhere from 20 to 30 lbs.
King Charles Spaniels are smaller, standing at 12 to 13 inches and weighing around 13 to 18 lbs.
Therefore, fully grown Cockalier is likely to be anywhere from 12 to 14.5 inches tall, and weigh anywhere from 12 to 30 lbs.
Cockalier Temperament and Behavioral Traits
The temperaments of both the Cocker spaniel and the Cavalier King Charles are equally gentle, intelligent, and people-oriented. Therefore, a prospective owner of the Cockalier can expect their pup to carry the same traits.
Both the Cocker Spaniel and the Cavalier King Charles are known for their playful, joyful nature. They have hunting backgrounds. It's likely your Cockalier will chase after small animals like squirrels, rabbits, and even birds!
Are Cockaliers Friendly Dogs?
The Cockalier should get on well with children and other animals. Neither of their purebred parents is known for having an aggressive bone in their bodies.
Notoriously gentle and playful, both the Cocker Spaniel and the Cavalier King Charles make excellent dogs for children. And they also do well in homes of seniors and singles.
They are intelligent, sweet-tempered, and enjoy being around their loved ones more than anything else. So a prospective owner should keep in mind that this dog requires lots of love. And is not going to like being left alone for long periods of time.
Cockalier Exercise and Training Needs
Your Cavalier Cocker Spaniel crossbreed is a mix between two active, athletic spaniels. They require a certain amount of exercise to stay happy and healthy. Both the Cocker Spaniel and the Cavalier King Charles are athletic dogs who enjoy walks and outdoor play. A daily walk and romp in the yard should suit them just fine.
However, keep in mind that the Cocker Spaniel especially can be prone to obesity. Proper exercise and a healthy diet will be key to keeping your Cockalier in shape.
Training your Cockalier should be a snap since both parent breeds are intelligent and eager to please! Keep in mind that this is a sensitive crossbreed who will do best with a positive rewards-based training system, so we recommend lots of treats and lots of praise!
You may also want to implement early socialization and obedience training during puppyhood to ensure your Cockalier is well rounded and can adapt to all kinds of situations.
Cockalier Health Issues
When dealing with any crossbreed, it's important to keep in mind that like a purebred your Cockalier could be predisposed to the same genetic health issues as their purebred parents. For this reason, many doggy owners opt to get their crossbreeds health screened.
Early health screening is a great way to gather insight into what health issues your dog may face in the future.
This information could give you a leg-up on how to either prepare for or even avoid Cocklier health problems. Now, let's see what your Cockalier could be prone to by looking at the lifespan and health issues of their purebred parents.
Cocker Spaniel Health
The Cocker Spaniel lifespan of 10 to 14 years and the breed is prone to the following health issues:
cardiomyopathy
ectropion
urinary stones
ear infections
otitis externa
hip dysplasia
hypothyroidism
phosphofructokinase deficiency
seborrhea
entropion
cherry eye
liver disease
allergies
heart issues, like congestive heart failure
Cavalier King Charles Health
The Cavalier King Charles also has a life expectancy of 10 to 14 years and is prone to the following:
syringomyelia
early-onset mitral valve disease
hip dysplasia
vision issues
hearing loss
patellar luxation
Cockalier Lifespan
The Cockalier is likely to live somewhere between 10-14 years, just like their parent breeds.
It's essential that you find a puppy whose Cavalier parent have had a recent heart check and have clear of Syringomyelia (tested via MRI) at over two years of age.
Keep in mind that a healthy lifestyle including a high-quality diet and proper exercise can play an important role in your dog's health and longevity, regardless of the breed!
Are Mixed Breeds Healthier?
Crossbreeding is not a new practice, but its popularity amongst breeders over the last twenty years has brought up a bit of a debate amongst experts and dog lovers alike. For instance, many are scratching their heads and asking, "what makes a crossbreed any different from a mutt?"
Well, if you ask a supporter of crossbreeding, they'll tell you the answer is simple. While crossbreeds are purposefully created by breeding specific purebred dogs, mutts are "accidental" mixed breeds with a largely unknown lineage of dogs in their bloodline.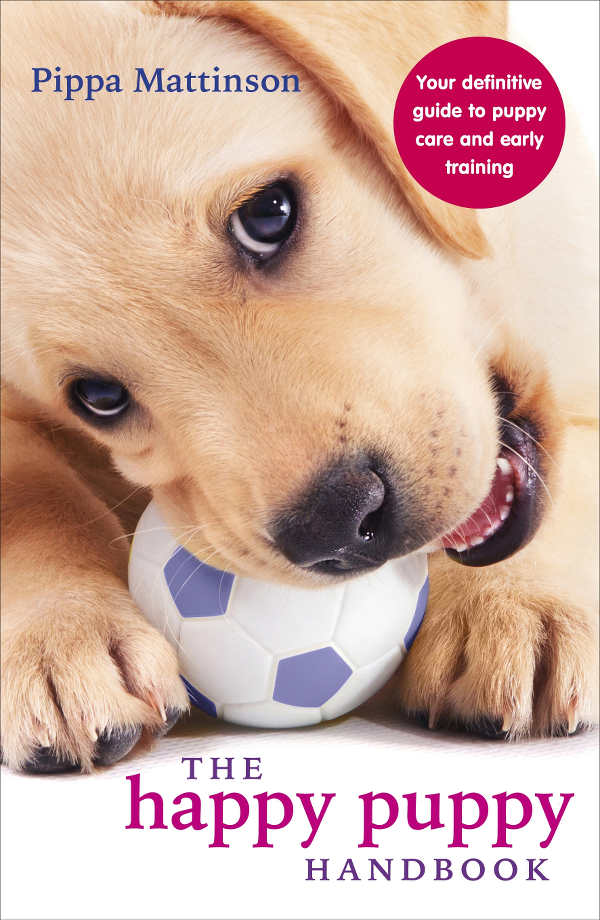 Health and Inheritable Diseases
As most of us are aware, purebred dogs tend to suffer from genetic health defects as a result of over-breeding. As the gene pool shrink but breed standards remain the same, the likelihood of a purebred passing a genetic disease down to their offspring becomes increasingly higher.
Many who support crossbreeding hope that the practice could be a solution to inheritable health problems by widening the gene pool. Thus, shrinking the chances of these genetic issues being passed down through generations. However, other experts disagree, and state that both purebreds and crossbreeds are equally as susceptible to these genetic health issues.
Are Cockaliers Good Family Pets?
The Cockalier must seem like the perfect pet! Both purebred parents are family-oriented and will do best in homes with a fenced in yard where they can run and play, and a family with a flexible schedule.
These dogs require lots of love and attention, and of course, they may require a significant amount of grooming.
The Cockalier gets along well with just about everyone, so children, families, singles, seniors, and households with other pets should have no problem with this hybrid.
Therefore, if you have the time to groom and love this crossbreed the way he deserves, then this may be a wonderful companion choice for you!
Cockalier Puppies
Cockalier puppies shouldn't be too hard to come by, but the source you use to obtain one of these sweet crossbreeds is of utmost importance. As with any big decision, we recommend doing plenty of research and ensuring you buy your dog from a responsible, reputable source you can trust.
Adoption fees typically range from $50 to $100, and shelters will usually cover the initial cost of a vet trip to ensure your Cockalier dog is healthy and ready to go home with you!
Cockalier Breeders
On the flip side, if you would like to take a look at Cockalier breeders, prepare for the Cockalier price to be significantly higher. We're talking in the $500 to over $1000 range, especially if your Cockalier purebred parents are show quality.
However, you do have the opportunity of asking lots of questions when going through a breeder, which is great, so don't be shy! Be sure to ask about any temperamental or health issues regarding previous litters or the parent breeds.
Remember that reputable breeders health screen their dogs to ensure they are free of any of the heritable health problems.
Have you decided to take home a Cockalier and welcome them into your family? We'd love to hear all about it in the comments.
Readers Also Liked
References and Further Reading
Turcsan B, Miklosi A, and Kubinyi E. 2017. Owner Perceived Differences Between Mixed-Breed and Purebred Dogs. PLoS One.
Roush JK. 1993. Canine Patellar Luxation, Veterinary Clinics of North America: Small Animal Practice.
Howell TJ, King T, and Bennett PC. 2015. Puppy Parties and Beyond: the role of early age socialization practices on adult dog behavior. Veterinary Medicine: Research and Reports.
Sutter NB and Ostrander EA. 2004. Dog Star Rising: The Canine Genetic System, Nature Reviews Genetics.
Acumen L. 2011. The Genetic Connection; a Guide to Health Problems in Purebred Dogs, Second Edition.