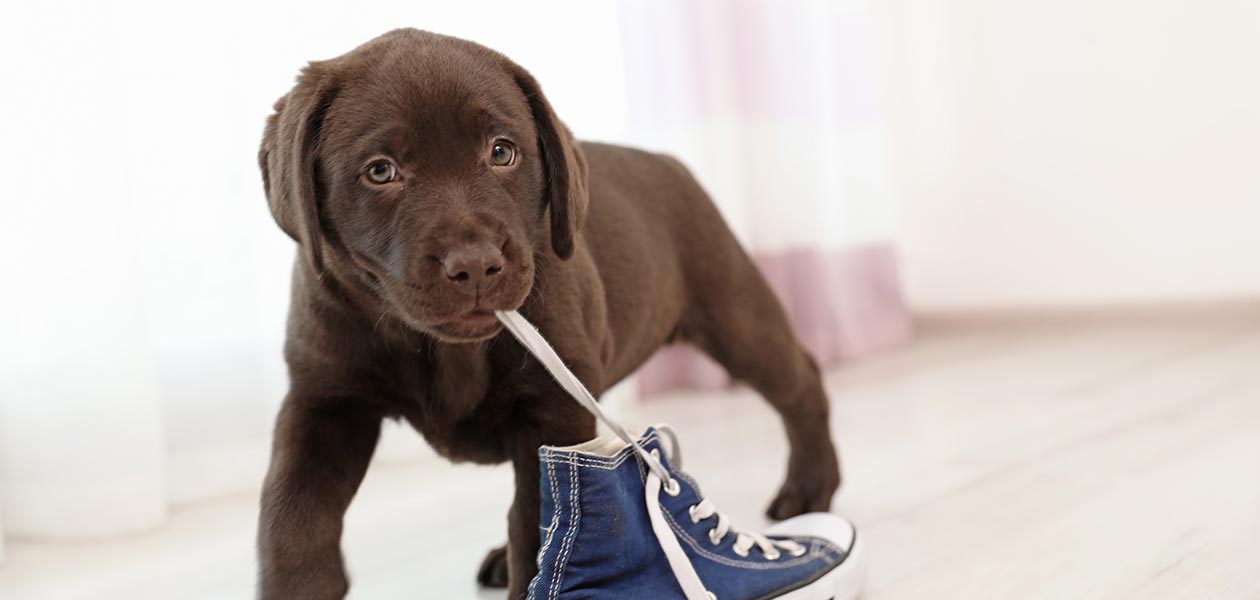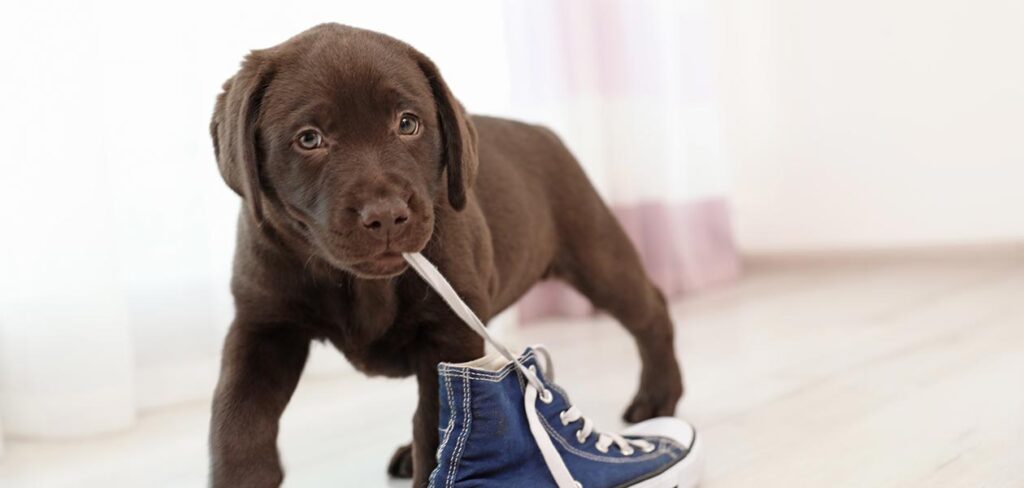 Chocolate Lab names can be a great way to compliment your dog's beautiful shade of fur.
Labs are known for being friendly, affectionate, and hard working. And their name can be a fun way to emphasise this.
Let's take a look at the best chocolate Lab names, from funny and cute options, to unique and badass ideas.
Our Favorite Chocolate Lab Names
Our fifty favorite chocolate Lab names for 2020 are:
| | |
| --- | --- |
| Coco | Luna |
| Duke | Ted |
| Jack | Jess |
| Olive | Poppy |
| Indie | Smith |
| Toby | Mia |
| Eve | Otis |
| Giggle | Pip |
| Rocket | Monty |
| Kiki | Leo |
| Dan | Ronnie |
| Pattie | Queenie |
| Lola | Cap |
| Twiggy | Hulk |
| Leela | Amy |
| Devon | Max |
| Hettie | Dee |
| Sam | Beanie |
| Clay | Jack |
| Ezra | Stevie |
| George | Emma |
| Rosie | Hershey |
| Khal | Jones |
| Usher | Snoop |
| Rex | Piper |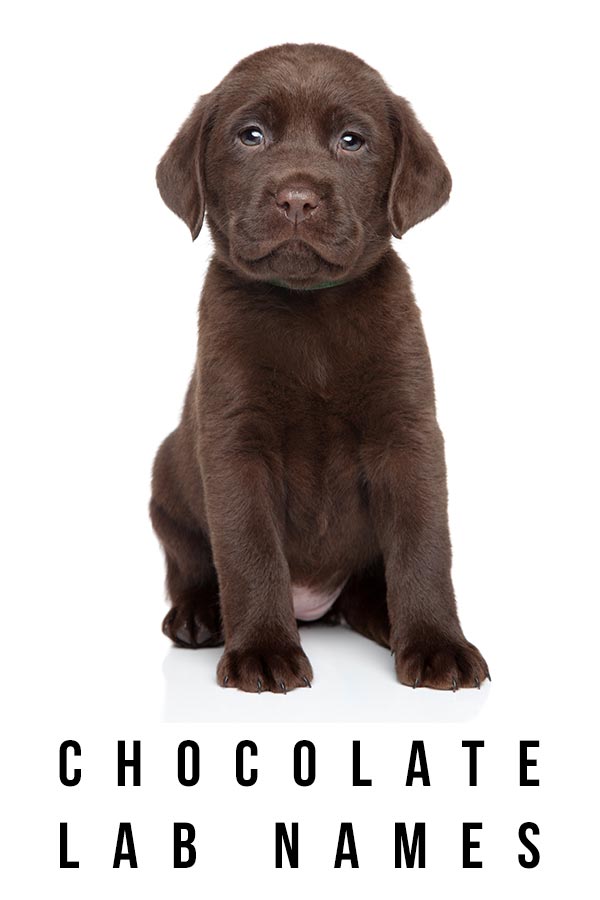 Best Chocolate Lab Names
Chocolate Labs can make great family pets and great working dogs. But, whatever the reason you've brought this new puppy into your life, choosing a great name is vital.
We've split our ideas into different categories for you.
Let's start off with some ideas for the lovely Lab ladies.
Female Chocolate Lab Names
Chocolate Lab girl names are cute and feminine. Here are some of our favorites.
Lily
Holly
Jill
Maisy
Ashley
Winnie
Ava
Kim
Opal
Uma
Rachel
Tilly
Katie
Nellie
Fran
Amber
Violet
Susie
Zoe
Beth
Izzy
Esther
Millie
Hattie
Fiona
Keeley
Ellie
Sally
Yvette
Alex
Dianne
Grace
Tilly
Isla
Tamsin
Jane
Nessa
Savannah
Ella
Lexi
June
Tess
Becky
Tina
Nina
Mindy
Andrea
Ginny
Lola
Jane
It's not all about the girls, though!
Male Chocolate Lab Names
Chocolate Lab boy names are just as easy to find as girl ones. Take a look at our top choices.
Lewis
Hamish
Bobby
Ryan
Fred
Ollie
Oscar
Neil
Dennis
Harry
Ethan
Wade
Joel
Quinn
Elijah
Noah
Miles
Zeke
Archie
Will
Tyler
Peter
Jake
Ned
Greg
Chris
Dylan
Jason
Mike
Rhys
Trev
Benji
Tom
Lucas
Liam
Ken
Kai
Tate
Ash
Leif
Miles
Frankie
Ray
Kit
Ricky
Ambrose
Aiden
Owen
Wyatt
Levi
Labradors are a popular breed. But, did you know there are two types?
English Chocolate Lab Names
Here are some England-inspired ideas that could be the perfect choice for your English Labrador.
Windsor
York
Elizabeth
London
Oxford
Durham
Bramley
Shakespeare
Tolkien
Dickens
Austen
Beatrix
Beatle
Tyne
Buckingham
Thames
Hadrian
Cornwall
Shaftesbury
Wiltshire
Holmes
Eton
Winchester
Glastonbury
Bond
Noddy
Paddington
Adele
Bridget
Rowling
Brighton
Boudica
Bowie
Queen
Floyd
Morrissey
Led Zeppelin
Bentham
Hobbes
Churchill
Darwin
Newton
Aston
Mini
Bronte
Tennyson
Hardy
Orwell
Dover
Rain
Perhaps you have an American Lab instead.
American Chocolate Lab Names
Here are some awesome American-inspired ideas for the other strain of Labrador Retrievers!
Washington
President
Obama
Eagle
Texas
Cali
Liberty
Arizona
Cab
Hollywood
Nasa
Yankee
Rushmore
Navajo
Lincoln
Beyonce
Oprah
Orlando
Philly
Boston
Chicago
Monroe
Sinatra
Denver
Presley
Madonna
Edison
Armstrong
Tesla
Columbus
Dakota
Mustang
Chevy
Tennessee
Memphis
Harlem
Flapper
Alaska
Maine
Nevada
Fox
Disney
Roosevelt
Capone
Warhol
Hendrix
Vanderbilt
Ali
Cyrus
Kardashian
Some people might just want an adorable name to show off how cute their Lab is!
Cute Chocolate Lab Names
Here are our favorite cute ideas for chocolate colored Labradors.
Oak
Angel
Maple
Pine
Teddy
Beech
Acorn
Button
Bear
Petal
Flower
Prince
Camel
Egg
Dizzy
Conker
Gem
Panda
Candy
Love
Hope
Tune
Melody
Star
Promise
Unity
King
Duke
Satin
Cripsy
Barbie
Benny
Damsel
Robin
Princess
Novel
Baby
Cupid
Adore
Diamond
Wine
Cloud
Happy
Hazel
Tanner
Bunny
Apple
Nibbler
Ray
Shine
If cute names aren't your thing, how about something funny?
Funny Chocolate Lab Names
Here are our favorite ideas that might make you smile.
Snoop
Dumbledog
Indiana Bones
Boba Fetch
Woof
Tramp
Muddy
Moose
Swamp
Beaver
BBQ
Howler
Crunchie
Fang
Chomp
Subwoofer
Bow Wow
Bark Twain
Notorious D.O.G.
Furdinand
Chewie
Pup Tart
Muttley Cru
Drooler
Jimmy Chew
50 Scent
Mary Puppins
Winnie the Pooch
Pipsqueak
Woofgang Puck
Yoda
Scooby
Fluffy
Gnarles Barkley
Sniffer
Dog-tor who
Hairy Potter
Kitty
T-bone
Sherlock Bones
Diva
Grouchy
Jaws
Muggle
Pluto
Porkchop
Waggers
Puppy
Joker
Hungry
If you're looking for something more serious, why not go for a unique idea.
Unique Chocolate Lab Names
Here are some ideas that will help your Lab stand out from the crowd.
Nasa
Musk
Toto
Rocky
Lizard
Aussie
Ovie
Burnt
Techie
Paige
Muse
Soil
Grin
Paver
Bradley
Leaf
Ivy
Snowflake
Shadow
Dub
Pal
Buddy
Moses
Wig
Felix
Austin
Kite
Brick
Bulb
Hero
Dino
Hex
Rapper
Sting
Loco
Emmie
Globe
Fix
Dodge
Wing
Triffid
Agent
Puzzle
Wizard
Student
Mace
Elf
Kinder
Candle
Lolly
Unique ideas aren't for everyone! Some people prefer cool or tough names!
Badass Chocolate Lab Names
Here are some cool ideas for the rock and roll chocolate Labrador.
Spike
Motley
Fang
Killer
Army
Soldier
Wrecker
Gnasher
Archer
Hunter
Brute
Rogue
Villain
Bouncer
Captain
General
Major
Marshall
Bullet
Sniper
Pistol
Private
Trigger
Snap
Sanity
Warden
Ranger
Blaze
Hawk
Odin
Rex
Trooper
Chaos
Fury
Gunner
Punk
Savage
Scar
Drogo
Vandal
Cersie
Draco
Cruella
Gollum
Hades
Hannibal
Loki
Ursula
Voldemort
Vader
There are some other great ideas that we can take from food and drinks!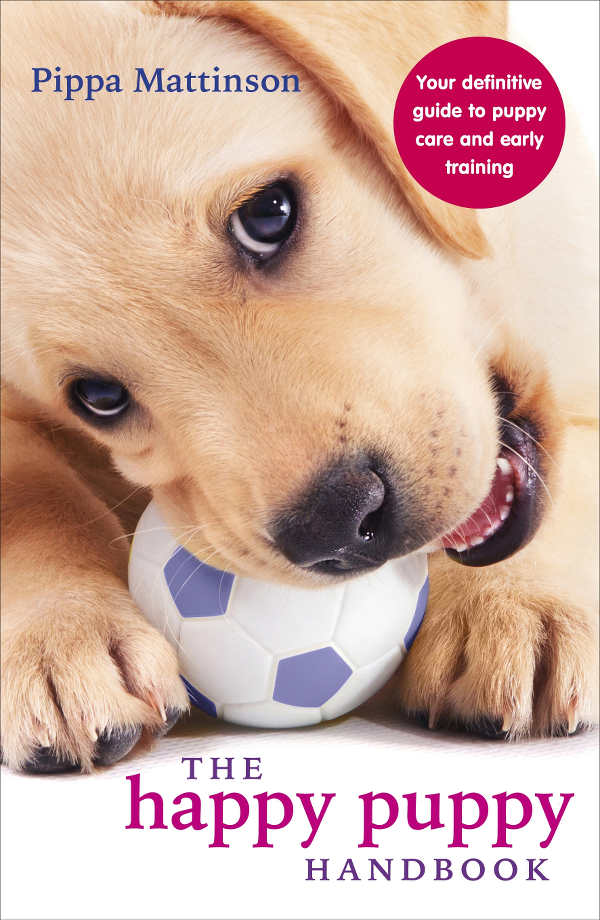 Food-Inspired Chocolate Lab Names
Here are our favorite food inspired names for chocolate colored Labradors.
Walnut
Hershey
Cadbury
Ginger
Mushroom
Croissant
Coffee
Chocolate
Nutella
Toffee
Caramel
Lindt
Whisky
Brandy
Sultana
Raisin
Pecan
Coconut
Honey
Treacle
Guiness
Smores
Cookie
Oreo
Bourbon
Rum
Demerara
Nestle
Mars
Reeces
Chutney
Date
Potato
Spud
Almond
Pecan
Molasses
Brownie
Maple
Hazelnut
Fudge
Pretzel
Cinnamon
Pancake
Muffin
Chip
Nutty
Beef
Waffle
Toast
And finally, what about our chocolate Labs being used as working dogs?
Ideas for Working Labs
Whether you're looking for a gundog-inspired name, or simply something short and snappy that will be easy for your dog to recognize, we've got you covered.
Gunner
Tank
Pip
Jess
Meg
Ace
Jack
Max
Ranger
Shot
Bullet
Rex
Bandit
Champ
Tess
Bolt
Ray
Lex
Jet
Tag
Ripper
Chase
Sprint
Boom
Trap
Kit
Axel
Tucker
Trigger
Blade
Trip
Herd
Snap
Cap
Web
Team
Ness
Bet
Vice
Grip
Leo
Catch
Nipper
Trent
Ivy
Kip
Mads
Ben
Zac
Joe
Which Is Your Favorite?
The best ideas can compliment your chocolate Lab's color, or his wonderful personality. Or, they can just be something you love the sound of.
What's your chocolate Lab called? We'd love to hear your own ideas for names. Let us know in the comments below!
Readers Also Liked