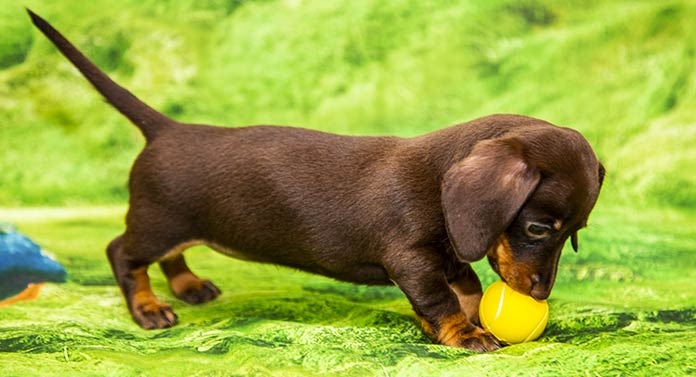 A chocolate Dachshund has a coat that looks just like chocolate! This rich brown color can occur on smooth, long, or wire-haired fur.
Your Doxie may have a solid chocolate coat or a mix of colors.
Chocolate and tan, chocolate and cream, and chocolate dapple patterns are all popular.
Let's take a closer look to find out just how easy it is to breed a chocolate Dachshund, and how healthy they are.
What is a Chocolate Dachshund?
It might sound like a delicious treat, but the term chocolate actually refers to the specific shade of brown on this Doxie's coat.
A chocolate Dachshund can have a solid coat, or it can have a mix of chocolate with other colors.
However, whilst chocolate and tan, or chocolate and cream are standard colors in the AKC breed standards, solid chocolate is not.
It is accepted, but not a standard color. So, some people will not find the plain chocolate coat desirable.
Other than their color, a chocolate Dachschund will be no different to any other Dachshund.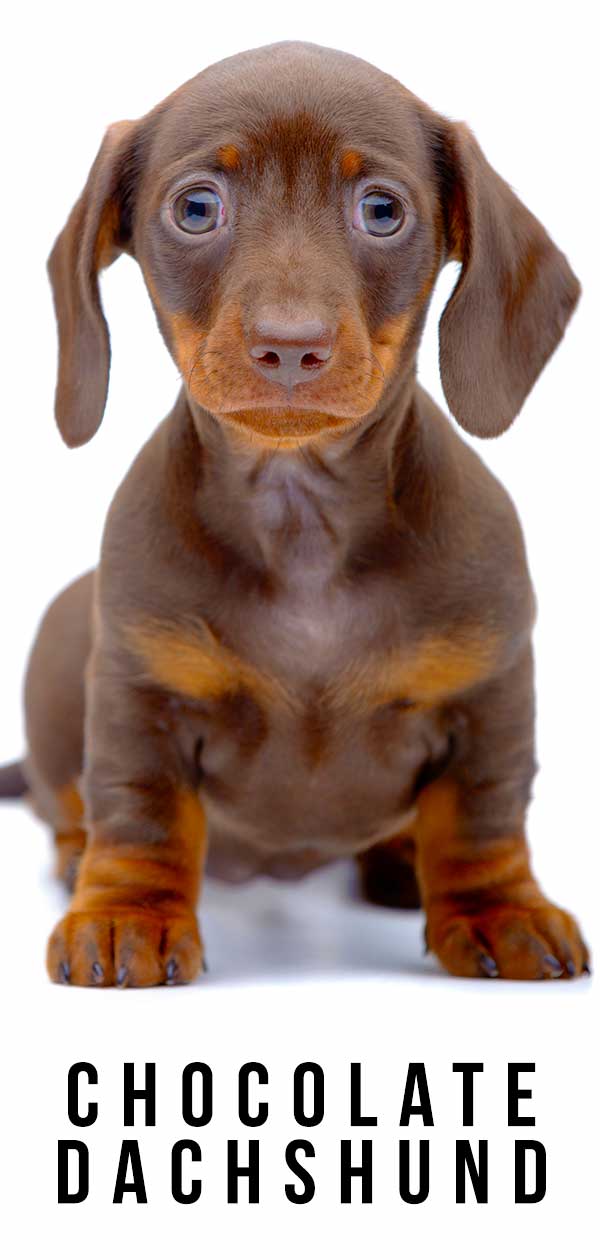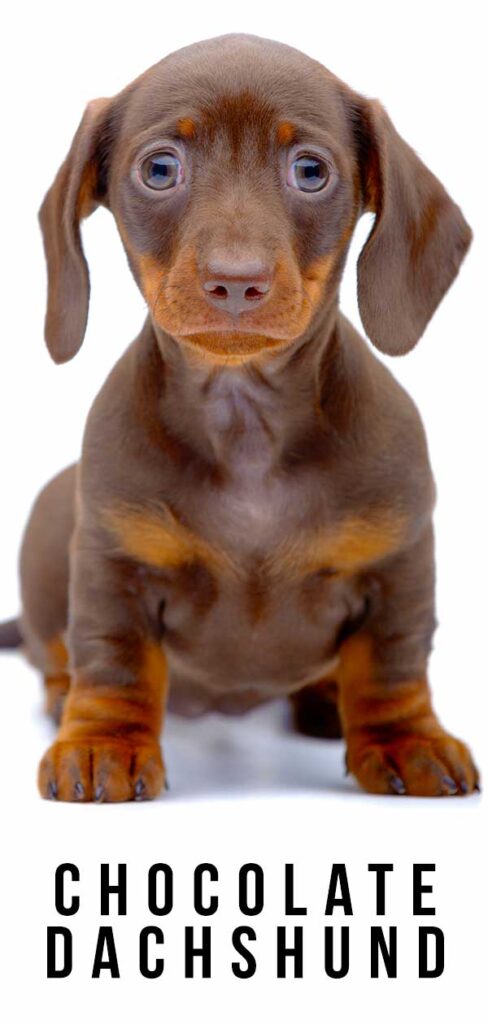 How Does This Color Happen?
All varieties of Dachshund coat types and colors are controlled by the genes puppies inherit from their parents.
If you've looked into coat color genetics before, you'll know that every single color combination starts off with one of two pigments.
These are eumelanin and pheomelanin. Without any interaction from other genes, eumelanin is expressed as black, and pheomelanin is expressed as red.
However, these colors change when other genes interact with them.
The chocolate color that we're focusing on today comes from the pigment eumelanin.
A Closer Look
If your dog has the genes for a chocolate coat, they will produce less eumelanin than black dogs.
But, brown coats are recessive. So, if your dog inherits the gene for a black coat from either parent, they will not be a chocolate shade.
They must inherit the same brown coat gene from both parents.
This can make it harder to find a chocolate Dachshund than a black one!
What do Chocolate Dachshunds Look Like?
The chocolate coat on a Dachshund dog is simply a rich shade of brown. The same color as milk chocolate!
They will have the same body shape as any other weiner dog – long backs, short legs, big, floppy ears, and a long muzzle.
It's possible to get entirely chocolate Doxies. But, you can also find puppies with a combination of shades.
Tan and chocolate Dachshunds or cream and chocolate Dachshunds are both popular.
Plus, they're both combinations that are standard, accepted colors by the AKC breed standard.
Chocolate Dapple Dachshund
Another popular coat possibility for chocolate colored Dachshunds is the dapple pattern.
The dapple pattern is caused by the merle gene in dogs, and is very popular with owners.
Dachshunds with a chocolate dapple, will have chocolate colored spots or splodges over a lighter coat.
These colors can also be accompanied by other shades and markings, like tan or cream.
Most people love the beautiful dapple pattern. But, there are some health risks associated with the merle gene.
Take a closer look at them in our guide to the dapple Dachshund.
Chocolate Dachshund Coat Types
There are three different coats that Dachshund dogs can have. Each one of them is available in the chocolate shade, or at least chocolate with some combination of another color.
Smooth coat Doxies have a short, smooth, glossy coat. They require the least amount of grooming.
Long haired Dachshunds have much longer fur, as their name suggests. It will be soft, and usually also has a wave to it.
Wire-haired Dachshunds have much coarser hair than the previous two types. Over their bodies, and some parts of their heads, their hair is short.
But, they have longer fur on their brows, muzzle, chin, and sometimes legs.
Chocolate Dachshund Temperament
Luckily, the chocolate color doesn't impact a Dachshund's temperament.
So, you can expect the same personality from this shade as you would with any other sausage dog.
Generally, Dachshunds are loyal, intelligent, and people-oriented. They can be easily stressed if they're left alone for too long, and can get very bored if they don't have enough to entertain them.
These little dogs can also be very territorial, so need plenty of training and socialization as puppies.
If they aren't socialized well when they are young, they can be aggressive, nervous, and fearful as adults.
So, owners must be prepared to dedicate plenty of time to socialization when they have a new chocolate Dachshund puppy.
Chocolate Dachshund Health
Just like your Dachshund's temperament, there are no known links between the chocolate coat color and poor health.
But, instead, chocolate Dachshunds will be prone to the same problems as any other colored Doxie.
So, look at the health of the breed overall to determine what your puppy is vulnerable to.
Here's a brief look at some of the issues Dachshunds suffer from.
Progressive Retinal Atrophy
Epilepsy
Patellar luxation
Autoimmune thyroiditis
Deafness
If you have a dapple Dachshund, you should learn about the health issues known to affect dogs with these genes, such as visual impairments and hearing problems.
Back Problems and Pain
A problem that affects all Dachshunds is Intervertebral Disc Disease (IVDD).
This issue is caused by the long backs of the breed. It can be extremely painful for the little dogs.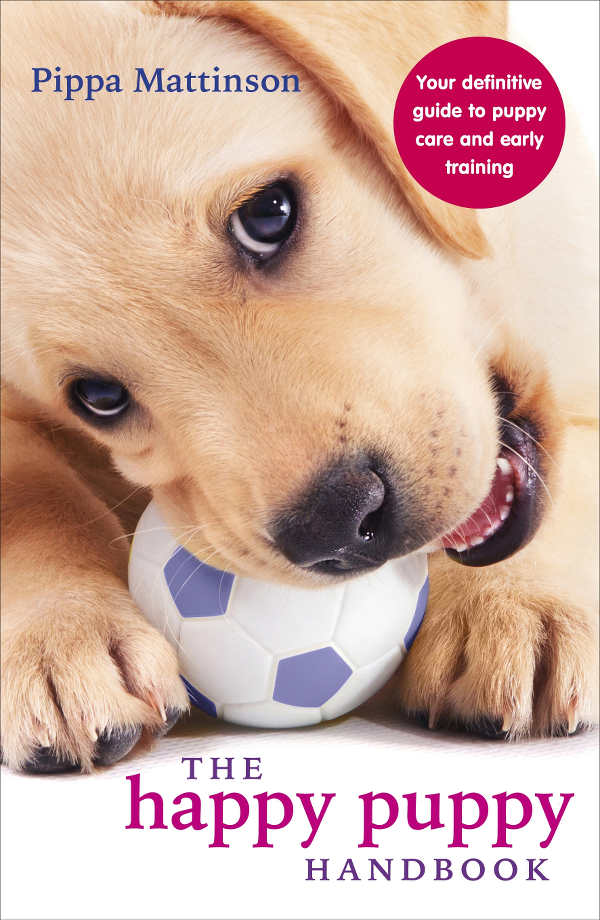 And, in the worst cases, it can lead to paralysis.
Sadly, this is something a lot of Dachshunds suffer from, no matter what their color.
Where Can I Find a Chocolate Dachshund?
Unfortunately, Dachshunds of all colors can suffer from some really serious health problems.
So, when looking for a new chocolate Doxie, make sure their health is your first priority.
Your best two options are to choose a rescue dog, or to find a reputable breeder that puts the health of their puppies first.
If you choose a breeder, this may involve waiting for a chocolate puppy to come along, as the best breeders won't breed for a specific color or pattern.
You may also need to wait to get a chocolate Dachshund from a rescue. But, this can be a great way to give an older or less healthy Dachshund a loving home.
Is a Chocolate Dachshund Right for Me?
A Chocolate Dachshund has very similar care needs to Dachshunds of any other color.
They need plenty of socialization and training as a puppy, but can be territorial or anxious if this doesn't happen in time.
They also need plenty of entertainment to keep their busy brains satisfied.
Do you have a chocolate colored Dachshund at home? What's your favorite thing about this wonderful coat color?
References and Resources