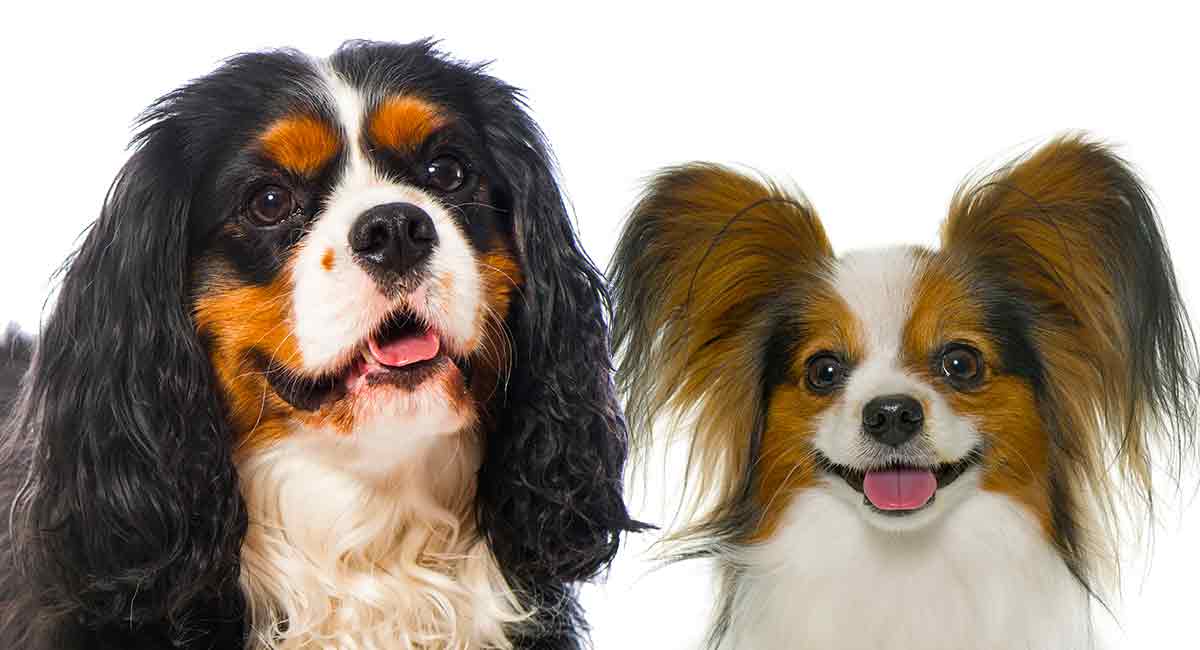 A Cavalon dog is a cross between a Cavalier King Charles Spaniel and a Papillon.
Cavalon dogs have qualities of both breeds and bear a striking resemblance to the puppets from the 1980's film Gremlins.
Cavalons can be great family pets, but breeding dogs should be carefully screened for health.
Where Does the Cavalon Come From?
The Cavalon comes from royal stock. Cavalier King Charles ancestors were the beloved pets of King Charles II of England. Cross-breeding over the years led to changes in the breed standard until an American by the name of Roswell Eldridge offered prize money to any breeder who could re-create the old style. The Cavalier King Charles Spaniel is the result, named after the original royal breeder and the monarchist party who supported his family.
The Papillon also has its roots in Europe's royal courts. They were bred during the Renaissance by crossing spaniels with toy breeds, a result of the nobility's demand for miniaturized versions of popular breeds. Breeders in Italy and Spain formed the dog into the tiny dynamo we know today.
Both breeds make excellent pets if you want a purebred dog. Some people avoid purebreds, often because they think that mixes are less prone to genetic disease.
A group of researchers in the mid-2010s decided to investigate this question. They looked at the incidence of 24 genetic disorders in 27,000 dogs and found that for 13 of the 24, there was no difference in prevalence between purebred and mixed breed dogs. Only 10 were more common in purebreds and one was more common in mixes.
Considering these statistics, it's okay to still be undecided between a purebred and a mutt. If that's the case, why not look into a cross breed…. like the Cavalon?
Fun Facts About the Cavalon
A Cavalier King Charles Spaniel appeared on the HBO comedy Sex and the City as character Charlotte York's dog.
Papillons appear in the paintings of Rubens, Rembrandt, Goya, and Toulouse-Lautrec.
Marie Antoinette of France had a Papillon named Thisbe, who waited outside the prison as her owner awaited execution.
Cavalon Appearance
Each Cavalon's appearance depends on the balance between Cavalier King Charles and Papillon in the dog's heritage. Some will be closer in size to the Cavalier's 12 to 13 inches and 13 to 18 pounds. Others will be smaller, thanks to the Papillon's petite 8- to 11-inch stature and proportionate weight. A Cavalon may get the fine-boned, slightly longer-bodied look of the Papillon or the squarer, sturdier-looking appearance of the Cavalier.
Cavalons often get the Papillon's large ears, contributing to the dog's Gremlin-like appearance. Some inherit the large liquid eyes of the Cavalier and combined with the Papillon ears, it grants the dog an irresistibly goofy expression.
The coat of the Cavalon could be medium in length like the Cavalier or long and silky like the Papillon. Some have the Papillon's frilly chest and most have some degree of feathering on the ears, which is common in both parent breeds. Color varies widely, since both breeds have several different color options, though you usually see several colors on the same dog.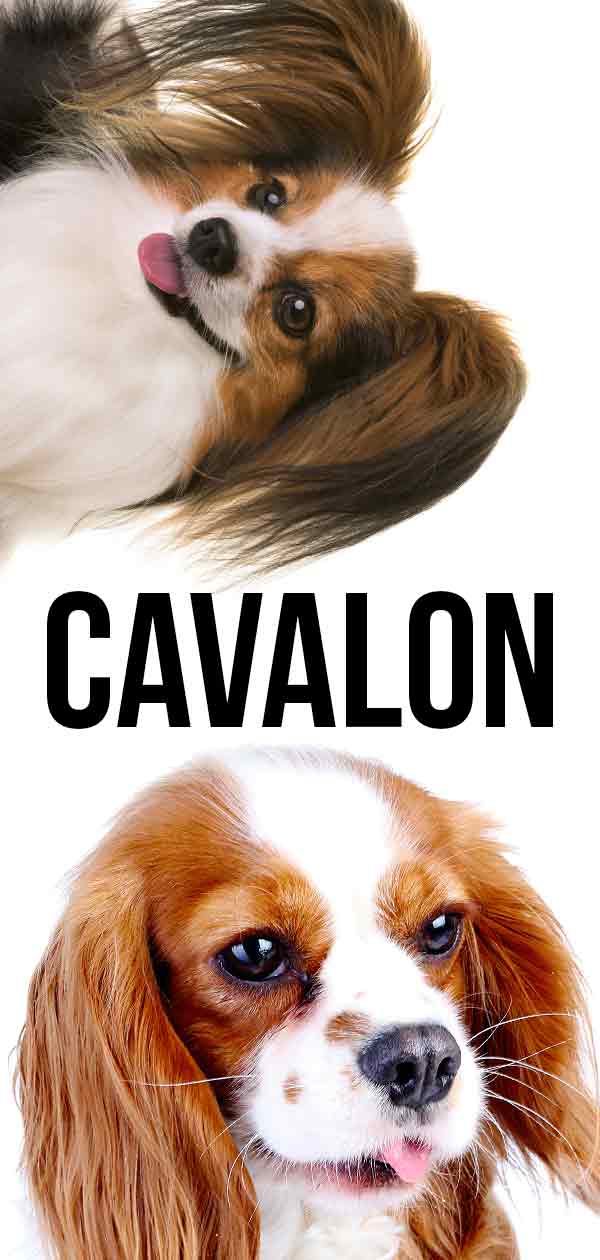 Cavalon Temperament
Because the Cavalier King Charles Spaniel and the Papillon are both sweet-tempered breeds, the Cavalon stands an excellent chance of being an affable and easygoing pet. In most cases, they get along with everyone.
Both parent breeds are notably absent from lists of aggressive dogs and traditionally do well on temperament tests. The American Temperament Test Society records an 85.5% pass rate for the Cavalier King Charles and an 82.3% pass rate for the Papillon, placing both as more well-behaved than other small breeds like the Yorkshire Terrier, Lhasa Apso, and Toy Poodle.
And though both of these royal canines were bred primarily to be lap-candy, they still retain the athleticism and eagerness of their sporting spaniel ancestors. Both are energetic, though not hyperactive, and adapt well to all kinds of households.
Training Your Cavalon
If its heritage is any indication, the Cavalon is apt to be not only friendly and agreeable but also intelligent. In fact, the Papillon is known as one of the smartest dog breeds in the world!
Their intelligence makes the Papillon, and by extension the Cavalon, a particularly easy breed to train, but you need to be consistent and positive in order to take advantage. Start training as soon as possible, when your puppy is 8 weeks old if possible.
The first things you'll teach will be daily routines, especially bathroom breaks.
Most puppies have times of day when they prefer to pee, so pay attention to when those times are and develop your potty training schedule accordingly. And remember that as easy to please as Cavalons tend to be, they're still little dogs with little bladders. If you get your Cavalon as a puppy, you'll want to get your pup outside to pee regularly and frequently.
While you're potty training, you'll also start to introduce other obedience commands. More on that later.
Cavalon Health
The Cavalier King Charles Spaniel and the Papillon are both healthy dogs, but there are some conditions that their genetics predispose them to develop.
The Cavalon's King Charles Spaniel heritage may predispose him or her to such serious conditions as:
Femoral artery occlusion, which causes weakness in the rear leg
Exercise-induced collapse, which manifests as extreme muscle tension
Diabetes
Perhaps most concerningly, Cavalier King Charles Spaniels have a heightened risk of several cardiovascular conditions. These include:
Bleeding disorders
Cardiac valvular disease, which can cause arrhythmias or heart failure
Mitral valve defects
Genetically, Papillons are healthier, although they are vulnerable to deafness, skin follicle malformation, and a bleeding disorder known as von Willebrand disease.
Both breeds are susceptible to several eye conditions including:
structural abnormalities of the cornea or eyelid
cataracts
progressive retinal atrophy, which can cause night blindness.
They are also vulnerable to knee problems and hypothyroidism, an underproduction of thyroid hormones. It's an extremely common and highly treatable condition.
If you're getting a puppy, make sure that you ask about genetic testing for both of the pup's parents.
Cavalier King Charles Spaniels should have their hips, knees, heart, and eyes checked for signs of inherited disorders before they are used for breeding.
Papillons should have their eyes and knees checked at least, and their heart and eyes if there's any family history of cardiac or ophthalmic disease.
Fortunately, in the absence of genetic disease, the Cavalon is likely to live a long and healthy life between 11 and 15 years.
As with any breed, you can help your dog live longer by feeding according to your vet's recommendations, which will be based primarily on age and size.
Do Cavalons Make Good Family Dogs?
Most Cavalons are great family dogs. They're little enough to be good playmates even for small children, but they're not as high-strung or delicate as some other small breeds. They're athletic enough to keep up with an active family, but they don't need constant exercise as much as some larger retrieving and herding dogs.
Rescuing a Cavalon
Adopting a rescued Cavalon lets you give a sweet pup the loving home he or she needs, and in return, you're likely to get a devoted companion. Your dog might have some fearfulness and abandonment anxiety from living without a "forever home," but your love and attention will help him or her to find peace.
Read on for some places you can start looking for a Cavalon who needs a home.
Finding a Cavalon puppy
Yes, puppies are cute, and the big soupy eyes of Cavalons make them even cuter than most. It's understandable if you want a puppy but go about getting one the right way.
Avoid pet stores, which tend to get their dogs from large commercial breeders known as puppy mills. Since the stores and breeders are mostly out to make money, they often don't pay enough attention to the health and socialization of their dogs and puppies. As a result, many pups from these breeders have more behavioral issues than dogs from home breeders.
Raising A Cavalon Puppy
Even the most tractable puppies need to learn household expectations, so start acclimating them as soon as they get home. Commit yourself to using positive reinforcement, which means rewarding desired behaviors and eliminating all positive outcomes of undesired behaviors. It takes effort, but it pays off in a well-adjusted dog and a great relationship between the two of you.
Early training should include teaching your dog his or her name, reinforcing responses with treats. You can then move on to sit training, walking on a leash, and "no biting/no jumping." Once your dog has these down, you can advance to commands like "come" and "leave it."
Cavalon Products and Accessories
Small dogs are fun to shop for, and there's plenty you can buy to delight your Cavalon. In terms of toys, your clever little Cavalon is likely to love puzzle toys, which require dogs to figure out how to access hidden treats.
You can also have fun dressing up your Cavalon, a particularly smart idea if you live in a cool climate. Try a classic-style sweater for your preppie pup or something more athletic for your sporty sweetie.
Pros and Cons of Getting A Cavalon
Cons: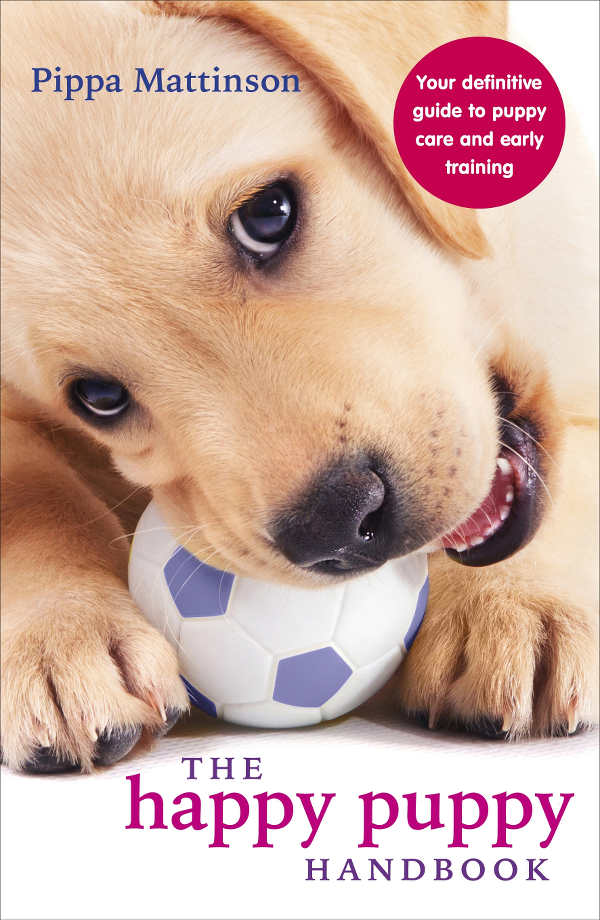 Both parent breeds are susceptible to the same hereditary health conditions, so it's more likely a Cavalon puppy will inherit them.
Little dogs can be harder to house train.
Pros:
Cavalons have great personalities – active yet gentle, sweet and friendly.
They're smart and easy to train.
They're good with highly active and more relaxed owners.
They tend to like everyone.
Did we mention the cute?
Similar Breeds
If the health problems of the Cavalier King Charles Spaniel have you worried, consider getting a different Papillon mix. Crossbreeds are becoming increasingly popular, so you have plenty of choices. These include:
The Papimo, crossed with an American Eskimo
The Papipoo, crossed with a Poodle
The Bostillon, crossed with a Boston terrier
Cavalon Rescues
Should you settle on a rescue, you'll want to start looking by reaching out to parent breed rescue organizations. There are breed-specific rescues all over the world, including:
In the USA:
In Canada:
In the UK:
In Australia:
If the rescue group you contact doesn't have any Cavalons that need homes, ask if they have any other resources. Your dog is out there!
Is A Cavalon Right For Me?
Cavalons, as we've learned, are good-natured dogs that adapt well to many different home settings. They're usually healthy, but do look into genetic testing if you have the opportunity.
Of course, the match between any human and dog is a personal one, so make sure your Cavalon gets along with you and your household before you bring him or her home. That's the best way to start a loving relationship with your fur-ever friend.
References and Resources