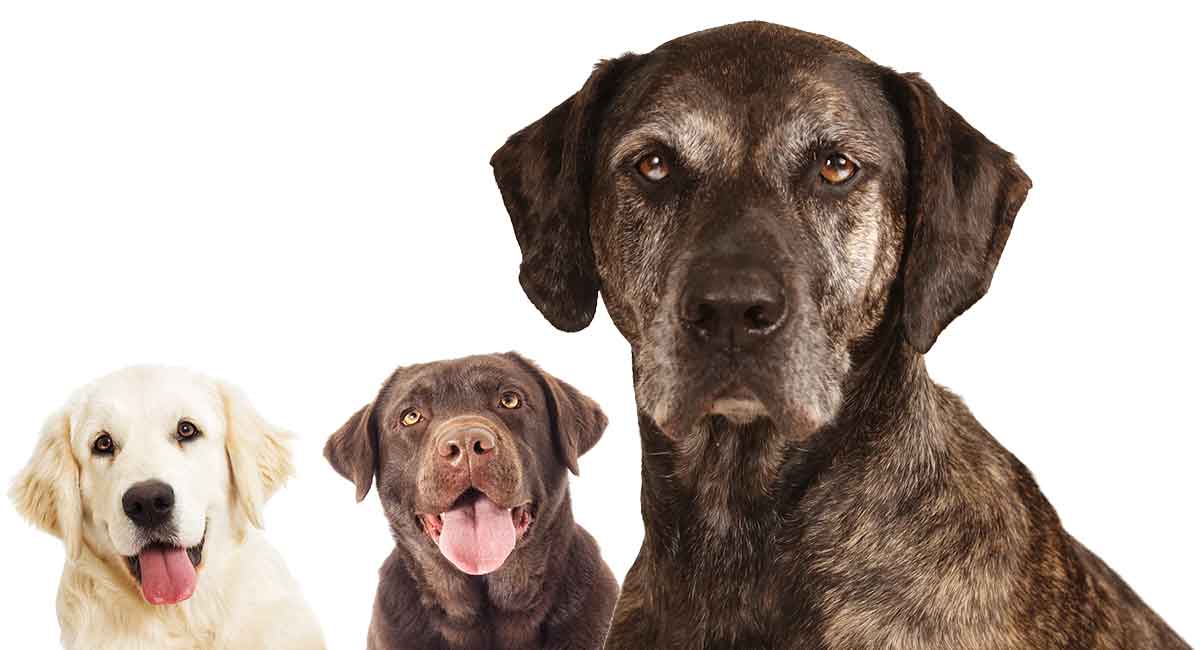 Catahoula mix dogs are a hybrid breed, a cross between a lively, speckle coated Catahoula Leopard Dog and a parent from a different pure breed. Breed traits will differ depending upon the mix you chose, but in general the Catahoula mix will be smart, active, energetic, affectionate and very loyal. Today we'll look at the best Catahoula mix breed dogs, and help you to decide which will be the perfect fit for your family, kids and lifestyle.
The Catahoula mix will always be at least 50% lively, working companion. They tend to be put to another medium to large working bred dog, like the Blue Heeler, Siberian Husky, Labrador, Pitbull, Beagle or Shepherd breeds. Catahoula mixes are therefore almost always suited to busy homes that love the great outdoors. These intelligent pups thrive with lots of attention, positive reinforcement training and exercise.
Contents
Known as the Catahoula Cur or Catahoula Hog Dog, the Catahoula Leopard Dog is a unique purebred dog breed even by purebred standards. The Catahoula is one of those dog breeds that dog lovers call "lifers." They say that once you have welcomed a Catahoula into your family, this will always be the dog for you. If you are considering adding a Catahoula or Catahoula mix to your family, read on to learn about this singular purebred dog breed and other popular Catahoula mixes being bred today.
The Catahoula
The Catahoula Leopard dog is the only purebred dog breed in the world that can trace its birthplace directly to the state of Louisiana in the United States. Catahoula Leopard dogs are sometimes called Catahoula Hounds, Catahoula Curs, Catahoula Hog dogs or simply Leopard dogs.
Today's Louisiana Catahoula Leopard dog quite likely has genetic influence from Greyhounds, Bloodhounds, Mastiffs and even native red wolves. It is thought the word "Catahoula" comes from the Choctaw Indian language and translates to mean "sacred lake."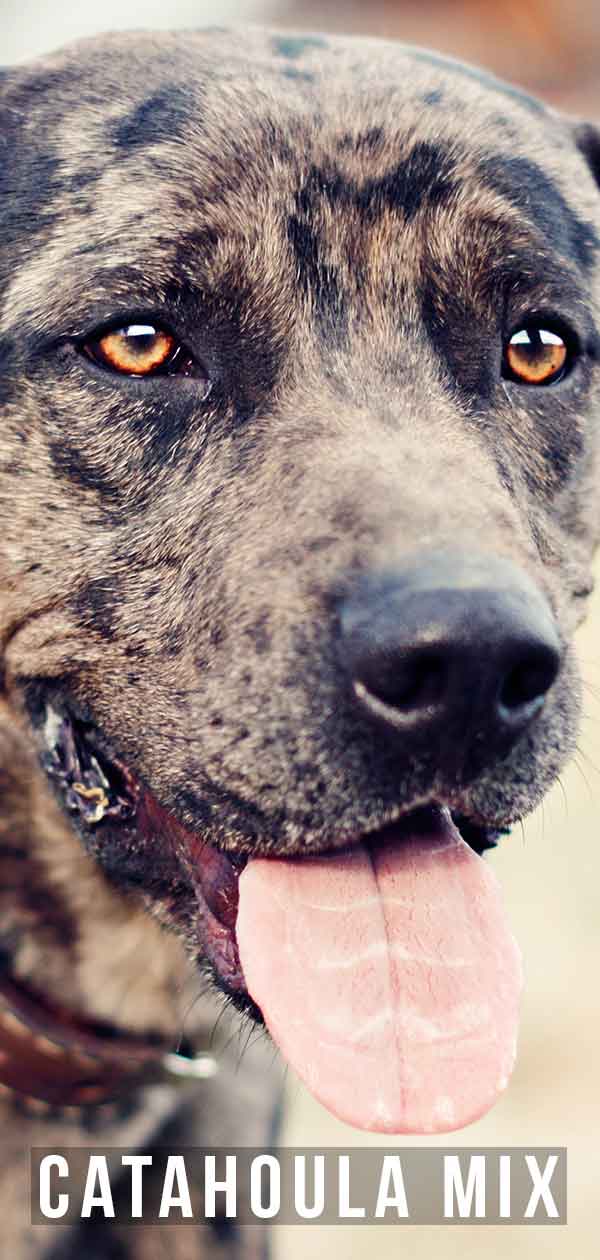 What do Catahoula Mix Dogs Look Like?
Many Catahoula mixed breeds look quite a lot like the Catahoula parent. But this appearance will be altered by the presence of a whole other line of genetics.
When we just look at the Catahoula dog, it has an unmistakably distinctive appearance. Piercing eyes, a very short, close coat with mottled patterning and a gait that is sometimes likened to a horse's trot.
Another distinctive feature for Catahoula Leopard dogs is the prominence of the webbing between each toe. Having specialized toe webbing helps the Catahoula dog easily navigate the soft, swampy areas located throughout Louisiana.
Some Catahoula Leopard dogs have naturally bobbed tails while others have tails that have been docked by breeders. Most Catahoula dogs are born with a long, natural tail. Which your Catahoula mix could well inherit.
Catahoula Mix Colors
A Catahoula dog's coat can include black, blue, brindle, chocolate, red, white, yellow or tan markings. This dog does carry the merle pattern gene and the piebald pattern gene, each of which is known to be associated with deafness.
Your Catahoula mix might come from a breed that also has the merle gene, in which case your puppy's breeder will need to be careful when deciding on their parents. As double merle is a dangerous combination for the puppies' health.
While pale glass blue eyes are the best-known eye color for this breed, a Catahoula dog can also have green, amber, brown or what is called "cracked" eye color, where each eye displays two different colors.
Catahoula Mix Size and Weight
The typical adult female Catahoula dog weighs 50 to 65 pounds. The typical adult male Catahoula dog weighs 65 to 90 pounds. The size of your Catahoula mix will vary, but given the large size of this parent they are unlikely to small or toy sized regardless of the other parent.
Catahoula Personality and Temperament
The Catahoula Leopard dog has been bred to be a working dog, herding, hunting and guarding livestock as well as their human families. These dogs are used to being on the job around the clock, which explains why they can be so destructive when they get bored.
The Catahoula dog is naturally reserved around strangers but affectionate with her owners.
Catahoula Mix Training and Socialization
These dogs may look all grown up early on in life, but this is actually a late-maturing breed. It can take two years or longer for a Catahoula puppy to be full-grown physically and mentally.
This can make puppyhood an extended challenge, since these dogs are smart, high-energy canines with strong guarding instincts. Early and ongoing socialization and training with plenty of daily activity and exercise is a Catahoula dog owner's recipe for success.
Catahoula Mix Health and Longevity
The Catahoula Leopard dog can develop certain breed-specific health issues, including
congenital deafness
hip and elbow dysplasia
eye issues
panosteitis (bone inflammation)
liver issues
diabetes
thyroid dysfunction
and jaw abnormalities that lead to underbite.
Otherwise, the Catahoula Leopard dog has a typical life expectancy of 10 to 14 years.
Catahoula Mix Breeds
The Catahoula Leopard dog has wonderful qualities and challenging qualities. One of the biggest hurdles for dog lovers who want to own a Catahoula dog is that these dogs need so much outdoor space and exercise to stay happy and healthy.
Hybrid breeding brings together two purebred dog breeds to promote strengths from each breed while aiming to minimize weaknesses from temperament and appearance to behavior and health. This strategy is called "hybrid vigor."
By crossbreeding the Catahoula Leopard dog with other domestic purebred dog breeds, this opens the door to strengthening the genetic line for each purebred dog and breeding puppies with Catahoula traits that may be better suited for life as a traditional pet dog.
But if you have your heart set on finding a puppy with certain traits, be aware that mixed breed dogs are far less predictable than their purebred counterparts. That's because mixed breed dogs can inherit their looks, personality and health in any combination from each parent.
1. Labrador Catahoula Mix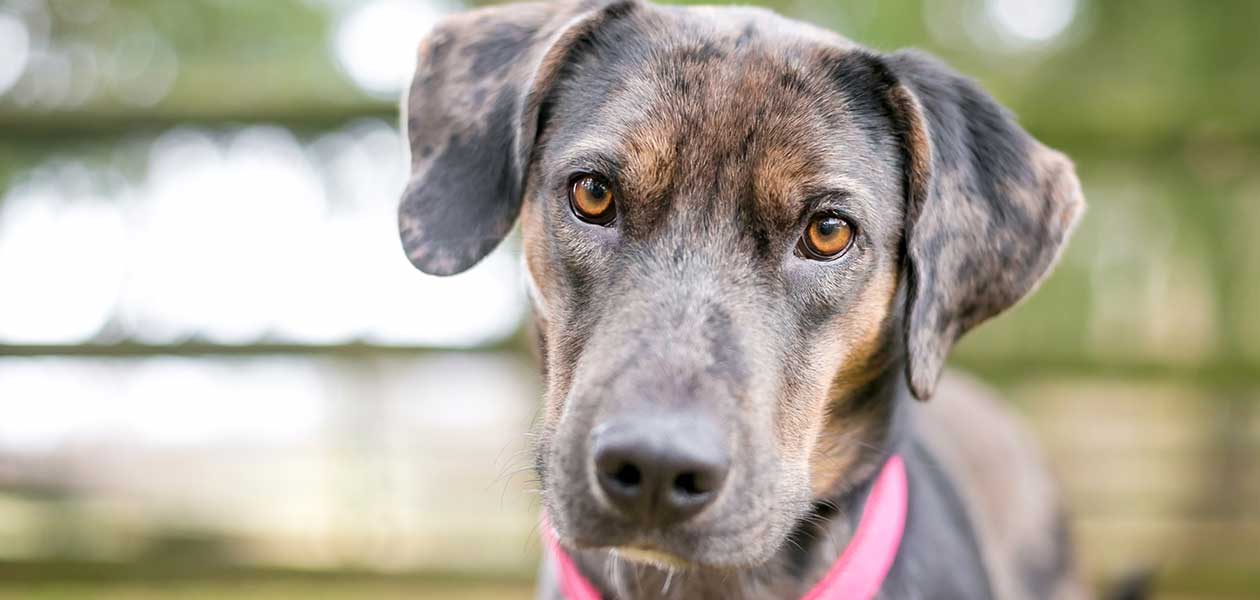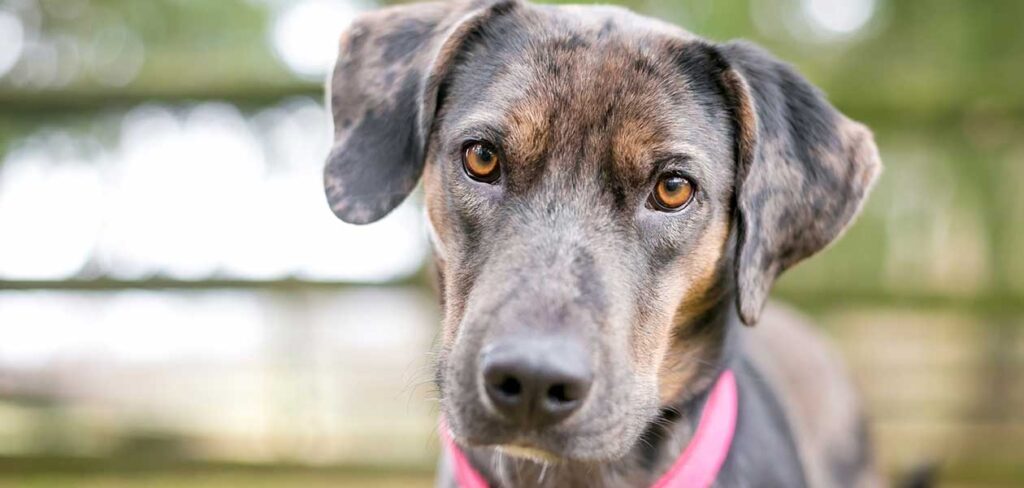 The Labahoula, a mix between a Catahoula Leopard dog and a Labrador Retriever, is one of the most popular Catahoula mix dogs being bred today. The Labrador Retriever has been the most popular pet dog breed in America for more than 26 years straight.
These friendly, affectionate, playful, smart and lovable dogs make friends wherever they go. How much your Labahoula sheds will depend entirely on which parent dog your puppy favors. The Lab can shed quite a bit, while the Catahoula dog sheds lightly.
The Lab can weigh 55 to 80 pounds fully grown, which means your Labahoula will likely fall within this weight range as well. These Catahoula mix dogs have a life expectancy of 10 to 14 years.
2. Bulldog Catahoula Mix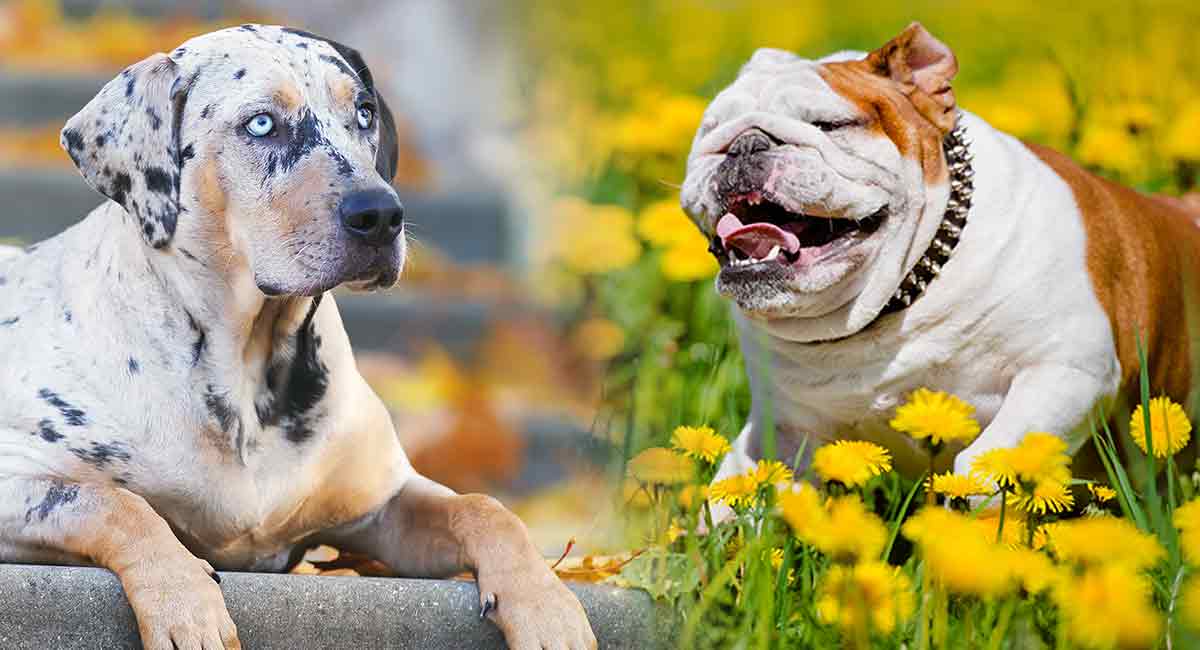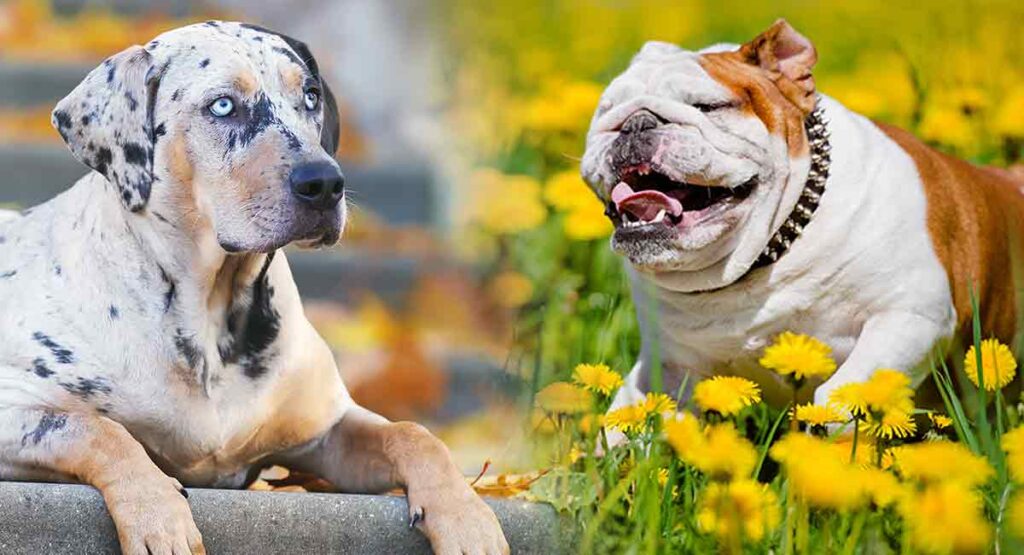 The Catahoula Bulldog, as this hybrid dog breed's name suggests, is the result of breeding a Catahoula Leopard dog with a purebred Bulldog.
The American Bulldog is one of the most popular purebred dog breeds in the world today. These dogs are heavyset; low to the ground, weighing 40 to 50 pounds; and have a short, smooth coat.
Crossbreeding bulldogs is particularly good for this breed's long-term health, since the bulldog has the brachycephalic (flat face with a short muzzle) face shape. This face shape can create structural health issues such as excessive eye tearing, trouble chewing, breathing challenges and difficulty with overexertion.
A Catahoula Bulldog can weigh anywhere from 40 to 90 pounds, although most dogs will probably weigh 40 to 60 pounds. The life expectancy of these Catahoula mix dogs is eight to 14 years.
3. Great Dane Catahoula Mix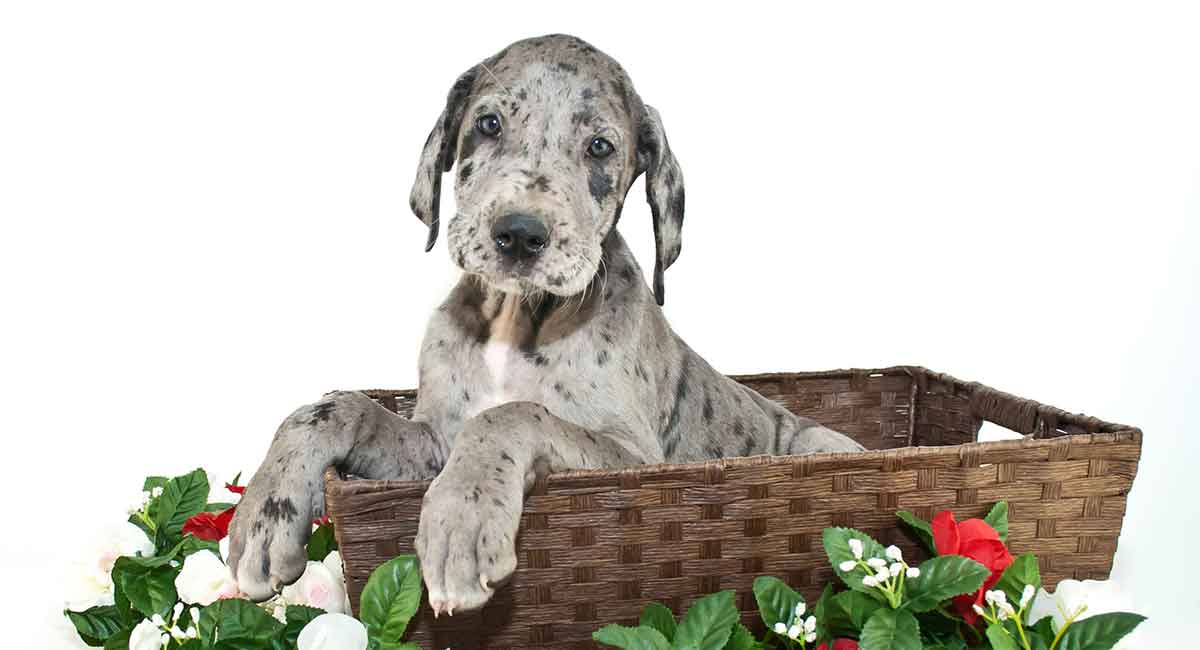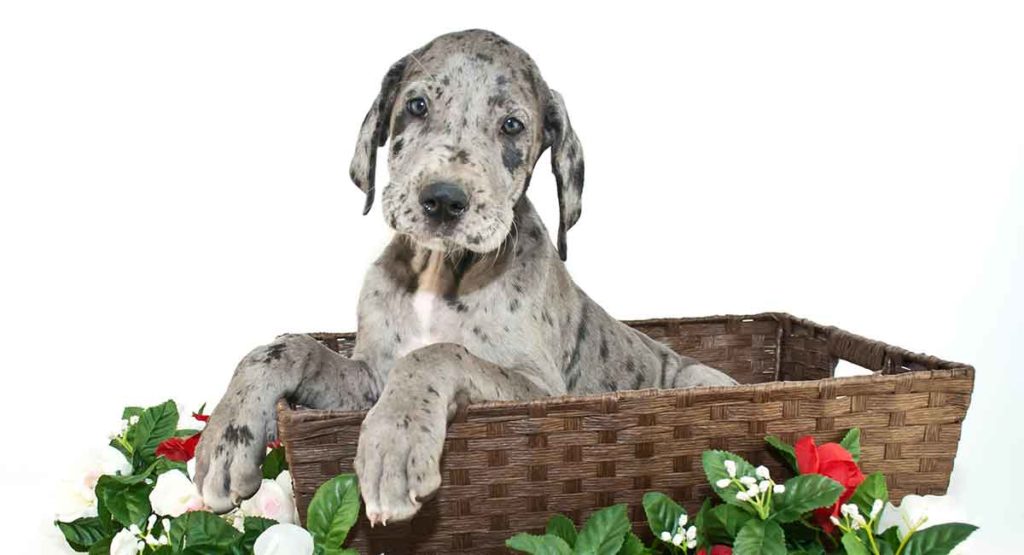 The Catahoula Great Dane mix breed dog is likely to inherit a caring and devoted temperament toward her dog owners but will probably be somewhat reserved around strangers.
One trait you can expect from your Catahoula Great Dane pup is size. Great Danes can weigh 110 to 175 pounds, so count on a pup that tops out at 100-plus pounds.
Both dogs are great guard dogs and watchdogs, and are powerhouse defenders when the need arises. Overall, both come from a working dog background and love to stay active.
The life expectancy for a Catahoula Great Dane mix will be anywhere from seven to 14 years.
4. Beagle Catahoula Mix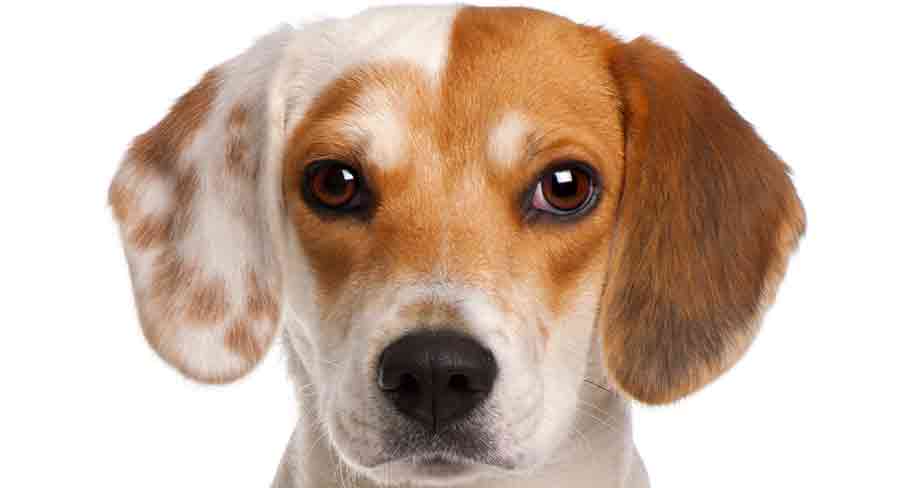 A Catahoula Beagle mix dog is one of the most interesting crossbreed dogs with Catahoula influence. Beagles are famously friendly when not sniffing out a trail. Unlike Catahoula Leopard dogs, Beagles don't make very good guard dogs for precisely this reason.
Beagles weigh around 20 to 30 pounds, so a Catahoula Beagle mix will be a smaller crossbreed dog, probably weighing between 30 and 50 pounds.
Both dogs have short, neat, smooth coats that shed lightly but consistently year-round. The average life expectancy for a Catahoula Beagle dog is 10 to 15 years.
5. Husky Catahoula Mix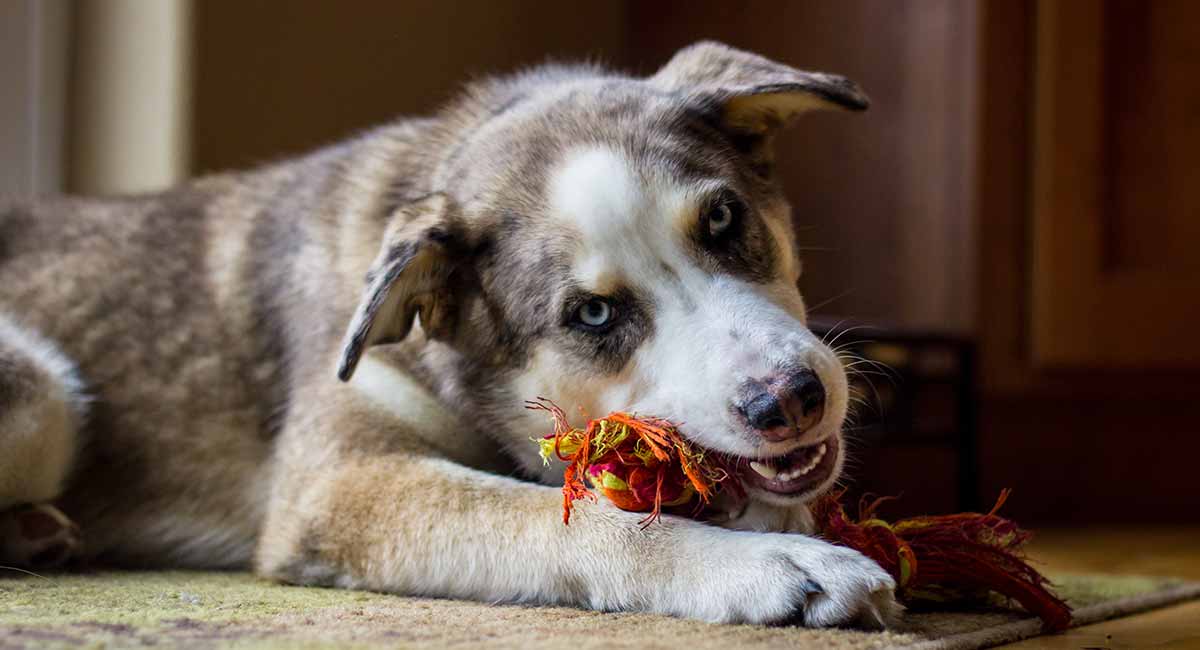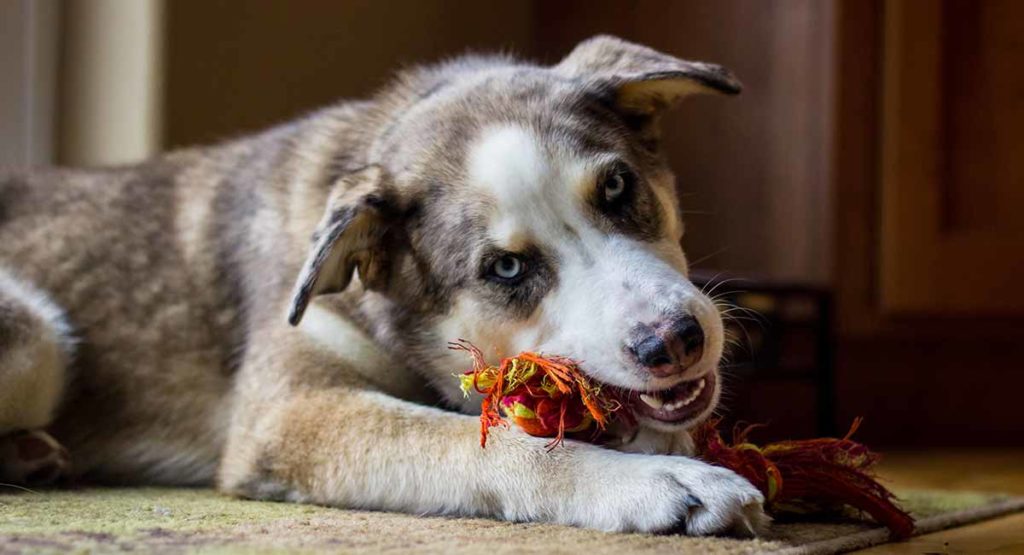 The Catahoula Husky mix dog has one Siberian Husky parent and one Catahoula Leopard dog parent. You can count on this hybrid dog being a tireless, hard worker with an independent spirit and an intelligent mind.
The Siberian Husky weighs 35 to 60 pounds while the Leopard dog can weigh up to 90 pounds. So the size of your Catahoula Husky puppy will depend on gender as well as which parent a puppy most favors.
These dogs are both somewhat self-cleaning in terms of their coats, but the Husky sheds more than the Catahoula dog and will "blow coat" twice a year. A Catahoula Husky mix's life expectancy is around 10 to 14 years.
6. Australian Shepherd Catahoula Mix
A Catahoula Australian Shepherd puppy will have one Australian Shepherd parent and one Catahoula Leopard dog parent. First-generation puppies may show quite a bit of variation in appearance and coat type because these two dogs have very different coats.
The Australian Shepherd's coat is long and lush, double-layer and water-repellent. In contrast, the Catahoula dog's coat is very short, single-layer and sheds only mildly.
Weight-wise, this hybrid dog may weigh anywhere from 40 to 90 pounds. Expect females to weigh between 40 and 55 pounds and males to weigh 60 to 80 pounds. A typical life expectancy for this Catahoula mix will range from 10 to 15 years.
7. German Shepherd Catahoula Mix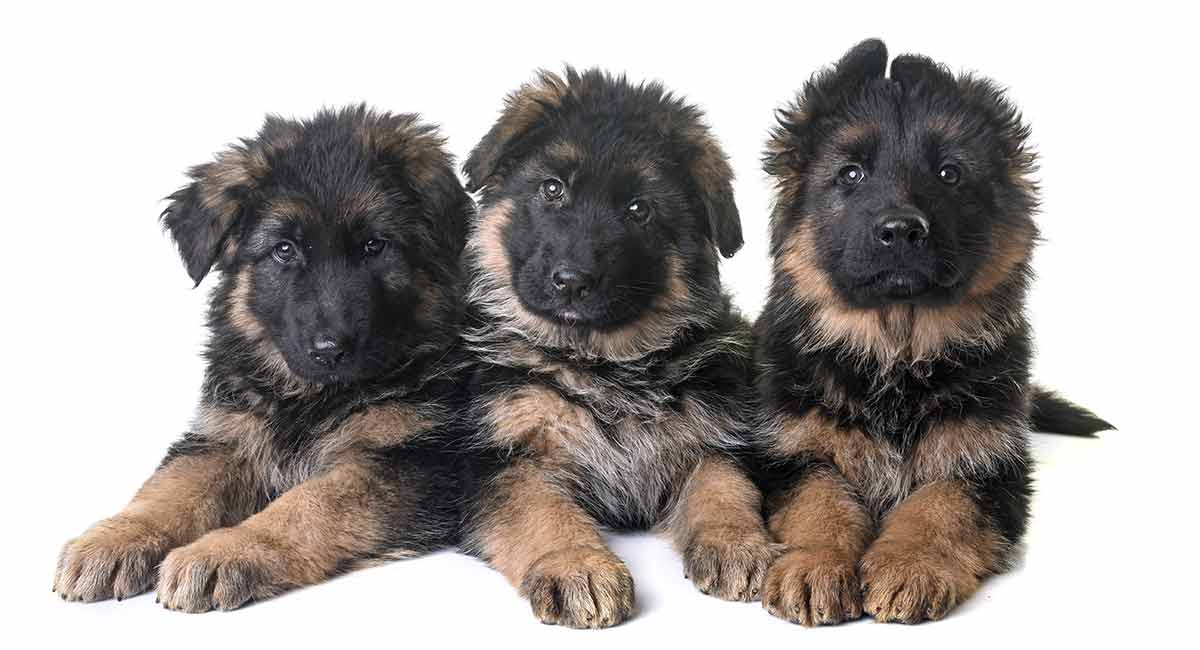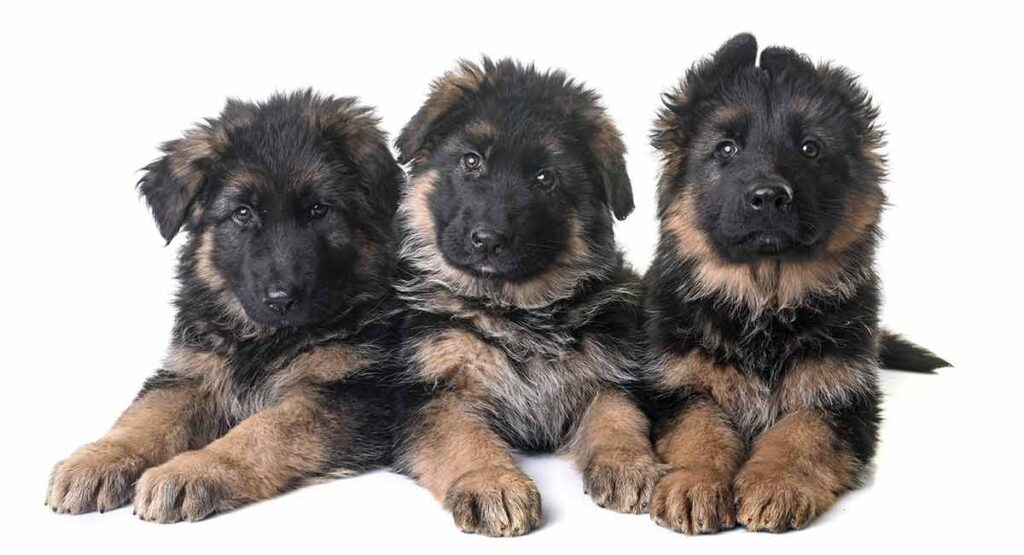 With a Catahoula German Shepherd mix, you will find definite temperament similarities. Both dogs are bred to work and have laser-sharp focus while on the job.
Both have strong territorial and guarding instincts, especially with the owners. And both dogs tend to need early and ongoing training and socialization to learn how to behave appropriately in a family and community setting.
If a puppy takes more after the GSD parent, expect the coat to be thicker, water-resistant and to shed seasonally. For Catahoula-influenced puppies, the coat will be shorter, thinner and shed more lightly.
The typical life expectancy for a GSD Catahoula mix is seven to 14 years.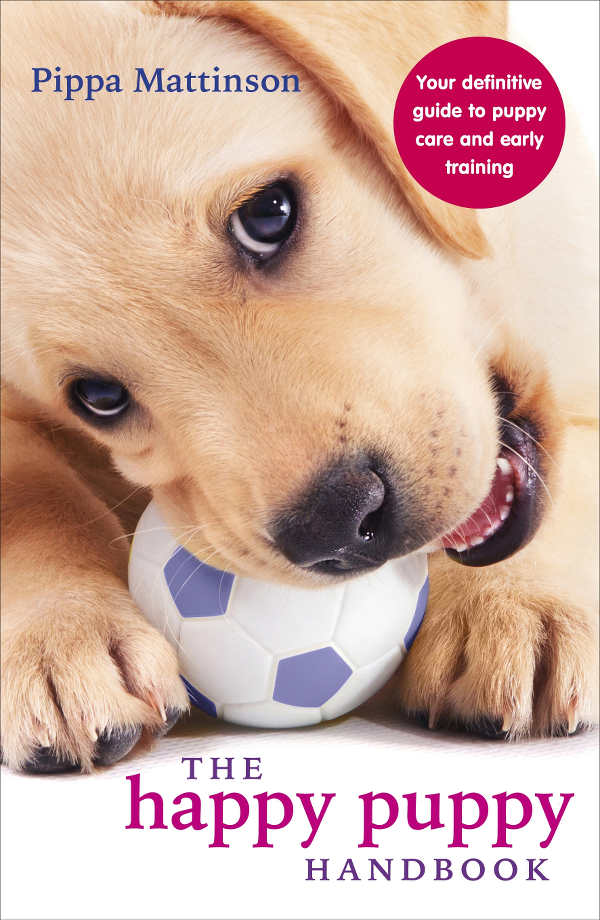 8. Pitbull Catahoula Mix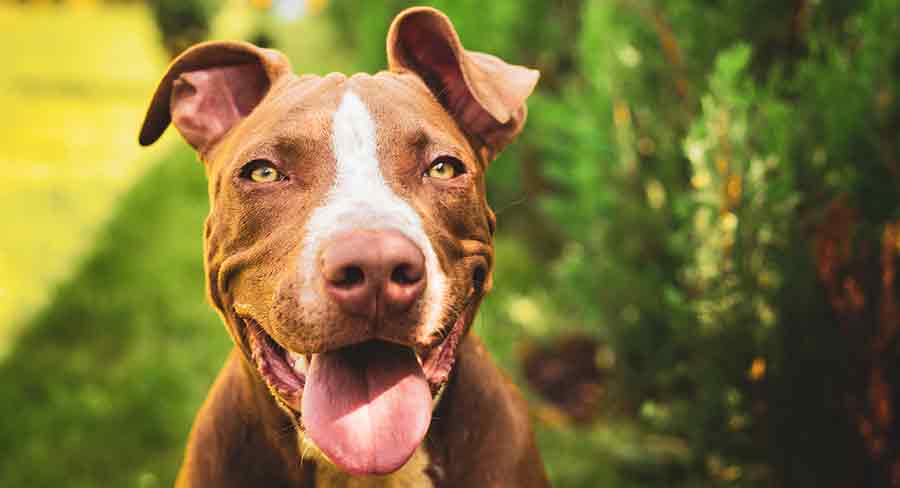 The Catahoula Pit Bull Terrier hybrid dog will be a strong, well-muscled and powerful dog. There are some complementary temperament traits between the two purebred parent dogs. Both dogs are fiercely loyal and protective of their owners while being somewhat reserved around strangers.
Both parent dogs have short, clean-cut, wash-and-wear coats that shed lightly. Pitbulls are smaller than Catahoulas, so your hybrid puppy may grow up to weigh between 35 and 90 pounds depending on gender and parent influence.
You can expect the Pitbull Catahoula mix dog to live between eight and 15 years.
9. Blue Heeler Catahoula Mix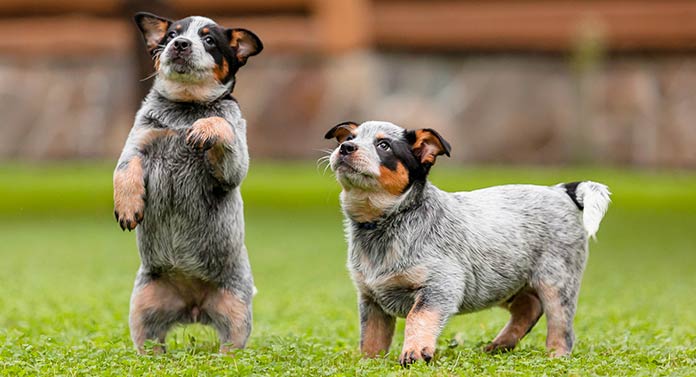 Catahoula Australian Cattle dog (Blue Heeler) puppies are likely to be some of the most energetic of all the Catahoula hybrid mixes on this list. Both purebred dog breeds are unstoppable, and nearly tireless in work and play.
The Catahoula dog has a short, single-layer coat while the Australian Cattle dog has a short, double-layer, water-resistant coat. Both shed somewhat year-round, and Blue Heelers will have seasonal sheds as well.
The typical weight for this Catahoula mix breed dog is 40 to 70 pounds, and the life expectancy can range from 10 to 16 years.
10. Basset Catahoula Mix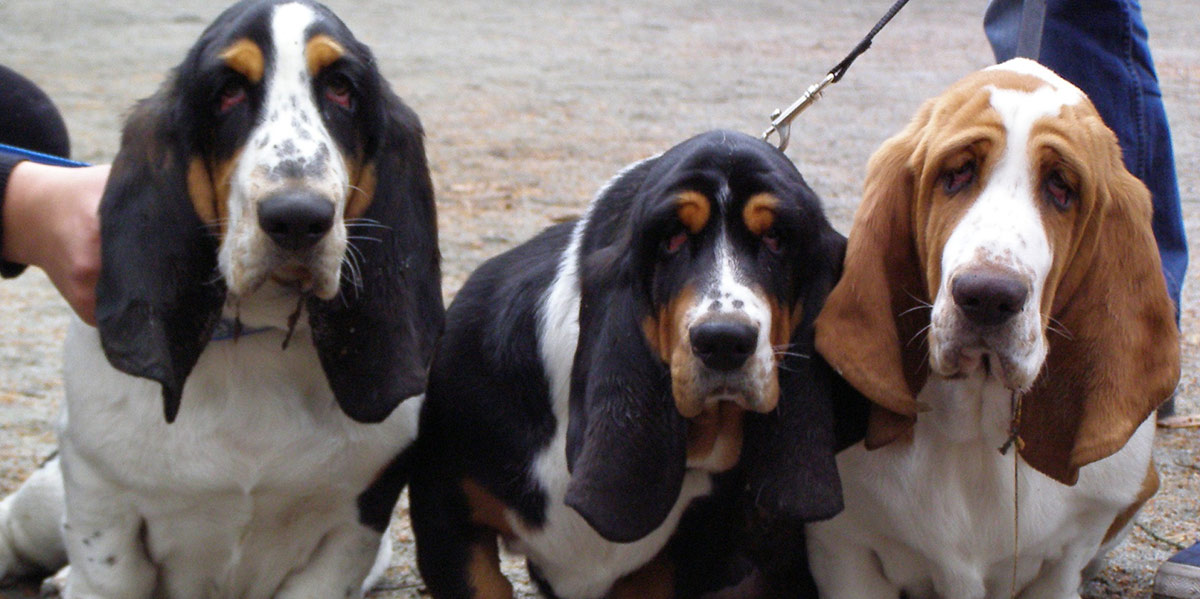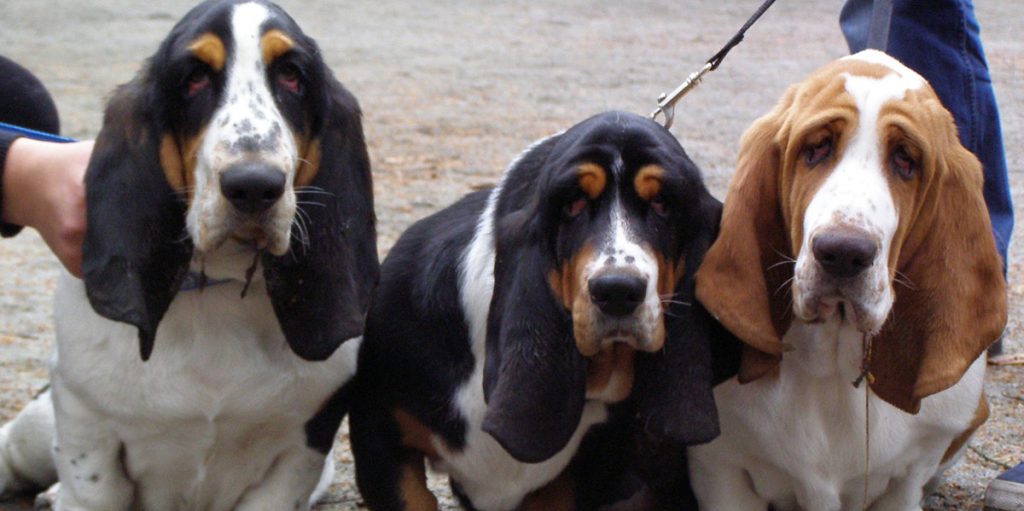 A Catahoula Basset Hound hybrid dog may be one of the most visually appealing of the Catahoula mixes. Who can resist the Basset Hound's endearing droopy face, long ears and big liquid eyes?
Basset Hounds have a form of congenital dwarfism that causes shorter legs, and this will likely influence all of the puppies to some degree. Expect a Catahoula Basset hound to weigh between 40 and 70 pounds and live 10 to 14 years.
Is a Catahoula Mix Right for Me?
We hope you have enjoyed learning more about the singular Louisiana Catahoula Leopard dog and some of the most popular Catahoula mix dogs bred today.
Are you already head over heels for a Catahoula mix pup?
Tell us all about them in the comments box!
References and Further Reading: