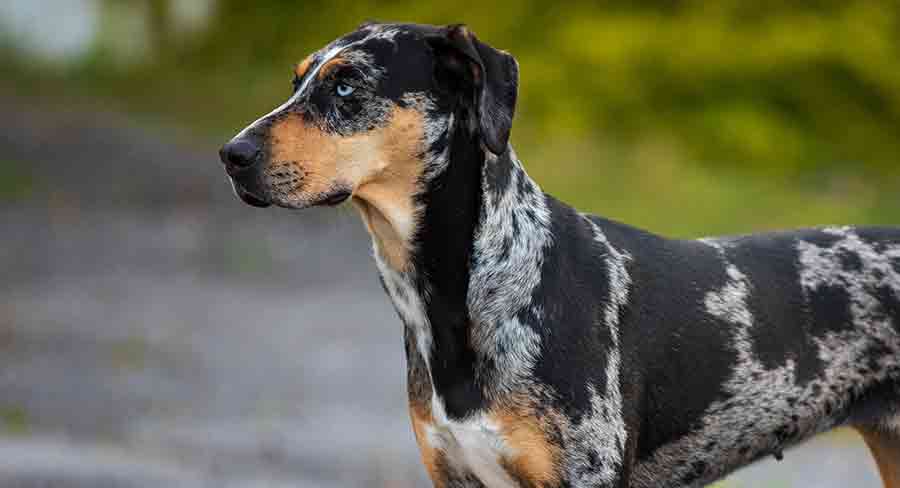 The Catahoula Leopard Dog is a versatile, medium to large working breed. It is not yet officially recognized by the AKC, but is part of their Foundation Stock Service.
Catahoulas are energetic, intelligent, and alert. They grow between 22 and 24 inches tall, weighing from 50 to 95 pounds.
For most breeders, a specific appearance is less important than a strong working drive and ability. So, Catahoula Leopard Dogs can look quite varied.
Readers Often Ask…
The Catahoula Leopard Dog has a reputation as a versatile, hard-working breed, especially in its home state of Louisiana.
But, how does this dog fare as a family companion? Is it right for your home?
History and Original Purpose
What is a Catahoula Leopard Dog? Well, to find out we need to take a look at where the breed comes from.
This breed started out in Louisiana, where native dogs were bred with breeds brought over to the US by European explorers.
Some of the breeds involved in the Catahoula's creation include:
Original settlers used the Catahoula Leopard Dog to herd, catch, and manage wild hogs and cows.
Since then, they have enjoyed a wide variety of roles. This includes working as stock dogs, bay dogs, tree dogs, watchdogs, guard dogs, and family pets for energetic homes.
Fun Facts About Catahoula Leopard Dogs
Even though this breed has a rich history, they are not yet officially recognized by the AKC. Instead, they are part of their Foundation Stock Service.
So, dogs can compete in AKC Companion Events, but cannot receive AKC registration.
Over time, the Catahoula Leopard dog has gone by lots of names. Here are a few you might have heard of:
Catahoula Cur
Catahoula Hog Dog
Louisiana Catahoula Leopard Dog
Catahoula Hound
Since 1979, the Catahoula has been the official state dog of Louisiana.
Catahoula Leopard Dog Appearance
Catahoulas are medium to large dogs that will have a well-muscled appearance.
They tend to grow from around 22 to 24 inches tall at the shoulder, but can weigh anywhere from 50 to 95 pounds as an adult.
Like many other breeds, females are often smaller than males.
They have short, dense coats that come in a huge range of colors and patterns. This includes:
Black
Blue
Blue merle
Brindle
Chocolate
Red
Red merle
White merle
Yellow
Yellow merle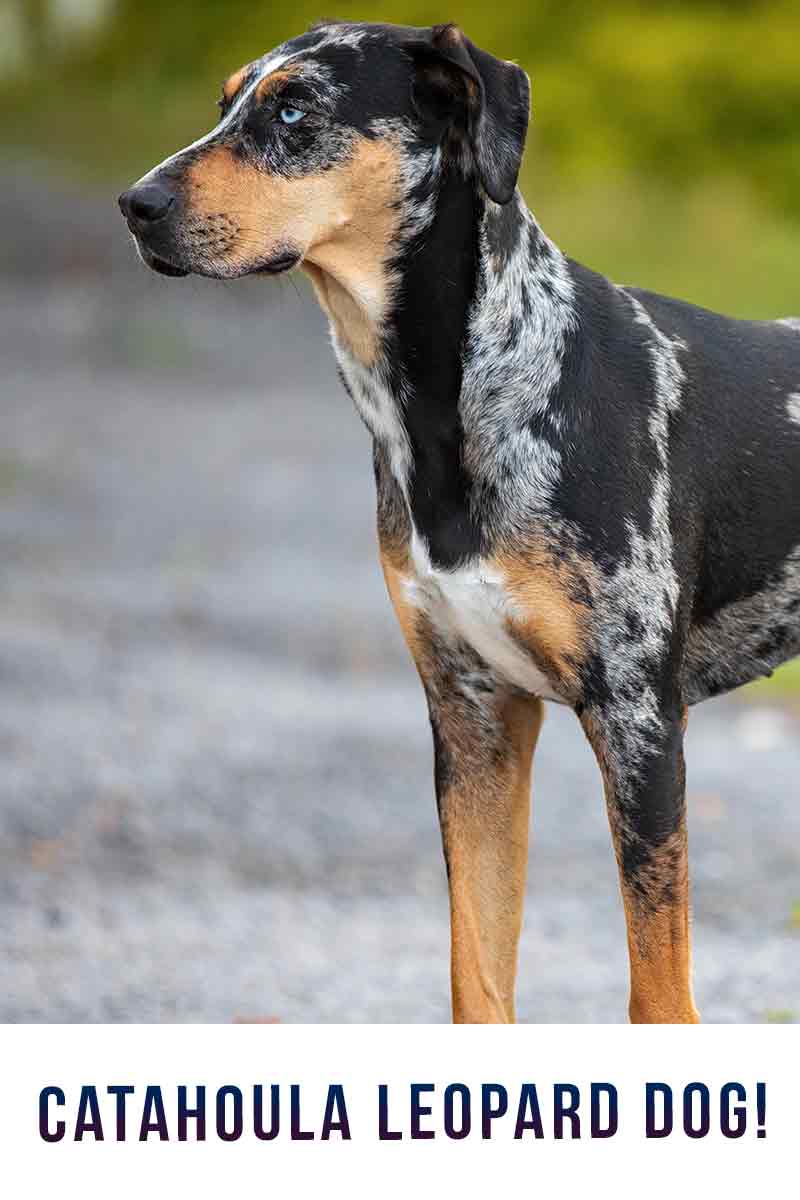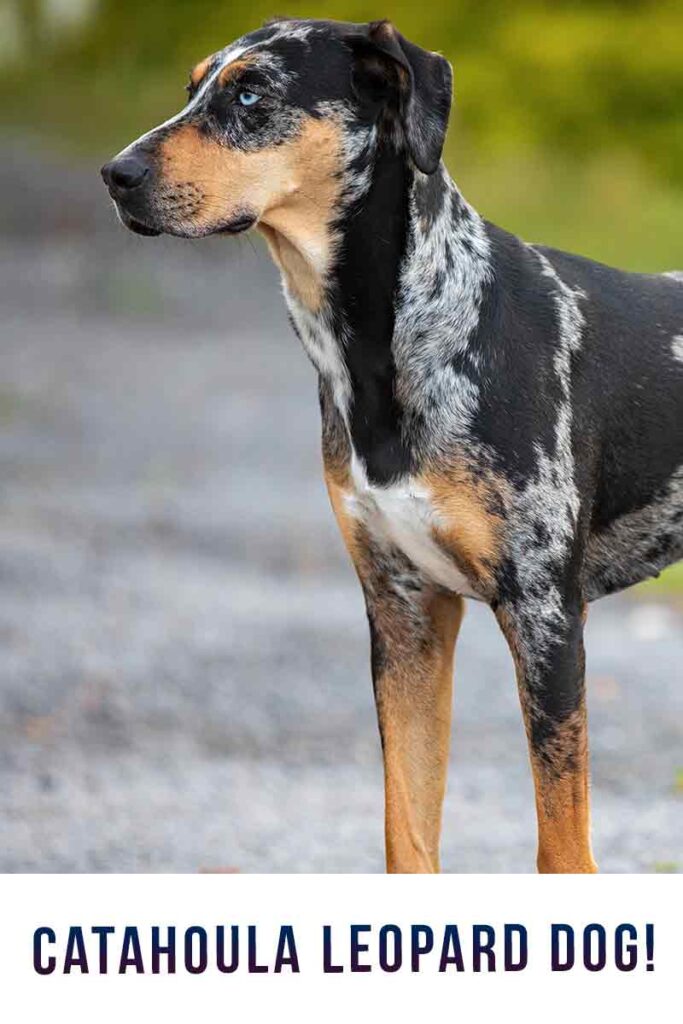 Catahoulas can also have a number of different eye colors. They may have tan markings or white trim markings.
Appearance is usually less important to breeders than the traits that make Catahoula Leopard Dogs such great working dogs.
Catahoula Leopard Dog Temperament
Catahoulas are known to be energetic, alert, and intelligent.
They're a versatile breed that can suit almost any working role, from guarding and protecting, to herding.
These dogs form strong bonds with their immediate family. They will be loving and affectionate to those they are closest to, but may be aloof with strangers.
It's important to socialize your Catahoula well from a very young age. Without proper socialization, this breed can be territorial, over-protective, and aggressive, particularly towards strangers.
Catahoula Leopard Dogs can also display an independent streak. This can be great in working dogs that need to use their own initiative.
But, it can be frustrating for owners that are trying to train their dogs. Let's take a closer look at training.
Catahoula Leopard Dog Training
Training should start from a young age. Catahoulas are intelligent dogs that form strong bonds with their owners, so they will often be eager to learn with you.
Positive reinforcement methods are a great way to solidify that strong bond.
Avoid using punishment techniques, as these are proven to be counterproductive, and damage the bond between you and your dog, so that they are less motivated to cooperate with you.
Catahoula Leopard Dogs are generally happiest when they have a job to do.
Training is a great way to keep your Catahoula's mind and body busy. But, keep sessions short and interesting to hold their attention.
Ideally, aim to fit in lots of short training sessions each day.
Catahoula Leopard Dog Exercise Needs
This breed is full of energy, which is a huge factor in their success as a working dog.
Most Catahoulas will be perfectly happy to spend the entire day running around outside with you, or completing various working tasks.
If a Catahoula Leopard Dog doesn't get enough exercise, they may become frustrated, stressed, or even depressed.
Lack of sufficient exercise can also lead to unwanted, destructive behaviors like chewing, digging, barking, and more.
Training will offer some exercise, but Catahoulas also need time to stretch their legs and run about outside. They will need more than just a morning walk.
Ultimately, this dog will only suit very active families, or working dog lifestyles. They won't be happy in apartments or city homes where they don't get ample opportunity to exercise every single day.
Catahoula Leopard Dog Health
Because breeders often prioritise temperament and working ability over appearance when breeding Catahoulas, this is quite a healthy dog.
However, there are a few issues that breeders and potential owners should be aware of.
Some common issues that can impact medium to large sized dogs like the Catahoula Leopard Dog include:
Hip dysplasia
Elbow dysplasia
Dilated Cardiomyopathy
Cataracts
Hypothyroidism
Bloat
White fur and merle patterns have both been linked to higher risks of deafness and hearing problems in a number of dog breeds, including the Catahoula Leopard Dog.
So, responsible breeders will avoid breeding deaf dogs, or breeding two merle Catahoulas together.
Catahoula Leopard Dog Care
As well as getting the right amount of exercise and attending regular veterinary appointments, you should feed a Catahoula with high quality dog food designed to sustain high-energy breeds.
Catahoulas have dense coats that shed moderately all year round. Generally, owners need to brush them once a week to keep on top of shedding fur.
But, this frequency may increase in hotter months.
Full bathing and grooming sessions may also be more frequent for working Catahoulas that spend a lot of time running in dirty, dusty, or muddy environments.
During grooming sessions, check your Catahoula's nails, ears, and teeth. And, check that they haven't picked up any parasites like ticks or fleas whilst working outside.
Are Catahoula Leopard Dogs Hypoallergenic?
No dog breed is hypoallergenic. Dog allergens are present in saliva and urine – which all dogs have!
But, dog breeds that don't shed as much may be less likely to shed saliva-coated dander around your home.
The Catahoula dog sheds moderately all year around. So, they likely won't suit homes where someone suffers from an allergy.
That said, these dogs need to spend a lot of their time outside exercising or working. So, they will often only be in the house with you in the mornings and evenings.
With a good cleaning and grooming plan in place, even allergy sufferers may be happy with a Catahoula Leopard dog.
Are Catahoula Leopard Dogs Good Family Dogs?
Catahoula Leopard Dogs can be great family dogs in the right home. But, they are very high energy dogs that need plenty of exercise and training every day.
This breed will be best suited to active families, or to people that intend to use them as a working dog.
Owners must be prepared to socialize and train their Catahoulas from a very young age to minimize the risk of fear-induced aggression.
As a large, strong breed, Catahoula Leopard Dogs can cause a lot of damage if they aren't trained and socialized properly.
If they don't receive enough exercise, they can display destructive behaviors. So, this breed isn't ideal for apartment or city living.
Generally, they are happiest with a job to do, and plenty of secure space to explore and run around.
Just be aware of potential hunting and herding instincts if you have small children or other small pets at home, like cats.
Finding a Catahoula Leopard Dog Puppy
The Catahoula Leopard Dog is not officially recognized by the AKC, so you will be competing with fewer potential buyers looking to show a dog.
Most Catahoula puppy buyers are looking for a working dog, rather than a show breed or a family pet.
And, likewise, many breeders will breed Catahoulas with the intent of creating a good working dog.
Make sure you only choose reputable breeders that health test parent dogs, particularly to reduce the risk of hereditary deafness.
The best breeders will be happy to show you evidence of health testing, as well as where the mom and pups are being kept, and how they are treated.
Reputable breeders will ask you just as many questions as you ask them, to ensure their puppies are going to good homes.
How Much Do Catahoula Leopard Dogs Cost?
Catahoula Leopard Dog puppies tend to cost anywhere from $300 to £1500.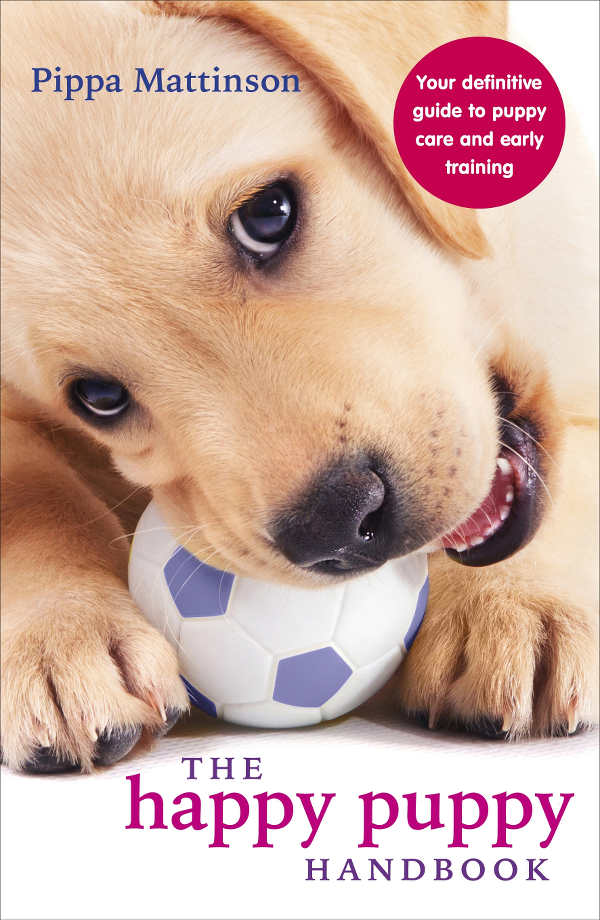 Puppies with merle coloring usually cost more than those with single color fur.
And, of course, cost can vary depending on your location, a dog's lineage, and demand for puppies.
Make sure that you avoid puppy farms when searching for a Catahoula puppy. Only choose reputable breeders.
Catahoula Leopard Dog Rescue
Another option, if you don't mind what age your dog is, is to rescue a Catahoula Leopard Dog.
Of course, you have less control over the early years of your dog's life, and potentially no access to the history of your dog.
This can mean some rescue Catahoulas will have behavioral issues. But, if you have the time to work with a dog, rescue can be very rewarding.
And, for many people, it's a better option, as they can avoid the tiring puppy stage!
Here are some rescue center links to get you started on your search:
Similar Breeds
If you're considering the Catahoula Leopard Dog, you may also love the following breeds:
Catahoula Leopard Dog Mix Breeds
Designer dogs that mix two purebred breeds together are becoming more popular.
Here are some guides to Catahoula Mix dogs that you may love:
We would love to know which is your favorite!
Catahoula Leopard Dog Products and Accessories
If you're preparing to bring home a Catahoula Leopard Dog, you'll need to ensure you have all the right stuff to keep your dog happy and healthy.
Here are some guides that will help you.
Do You Have a Catahoula Leopard Dog?
The Catahoula Leopard Dog is slowly growing in popularity as people are searching for a loyal, energetic, intelligent dog.
For the right home, this can make a brilliant addition. What do you think about the Catahoula Leopard Dog?
References and Resources
Strain, G. 'Deafness Prevalence and Pigmentation and Gender Associations in Dog Breeds at Risk', The Veterinary Journal (2004)
Stain, G. 'Deafness and the Merle Gene', Louisiana State University
Fielding, W. (et al), 'Using DNA to Locate the Ancestry of Today's Island Dogs of the Caribbean: the Case of the Bahamian Potcake', International Journal of Bahamian Studies (2015)
Howell, T. (et al), 'Puppy Parties and Beyond: The Role of Early Age Socialization Practices on Adult Dog Behavior', Veterinary Medicine: Research and Reports (2015)
Bellumori, T. (et al), 'Prevalence of Inherited Disorders Among Mixed Breed and Purebred Dogs: 27,254 Cases (1995 – 2010)', Journal of the American Veterinary Medical Association (2013)
Schmutz, S. & Berryere, T. 'Genes Affecting Coat Color and Pattern in Domestic Dogs: A Review', Animal Genetics (2007)
Vredegoor, D. (et al) 'Can F 1 Levels in Hair and Homes of Different Dog Breeds: Lack of Evidence to Describe Any Dog Breed as Hypoallergenic', Journal of Allergy and Clinical Immunology (2012)