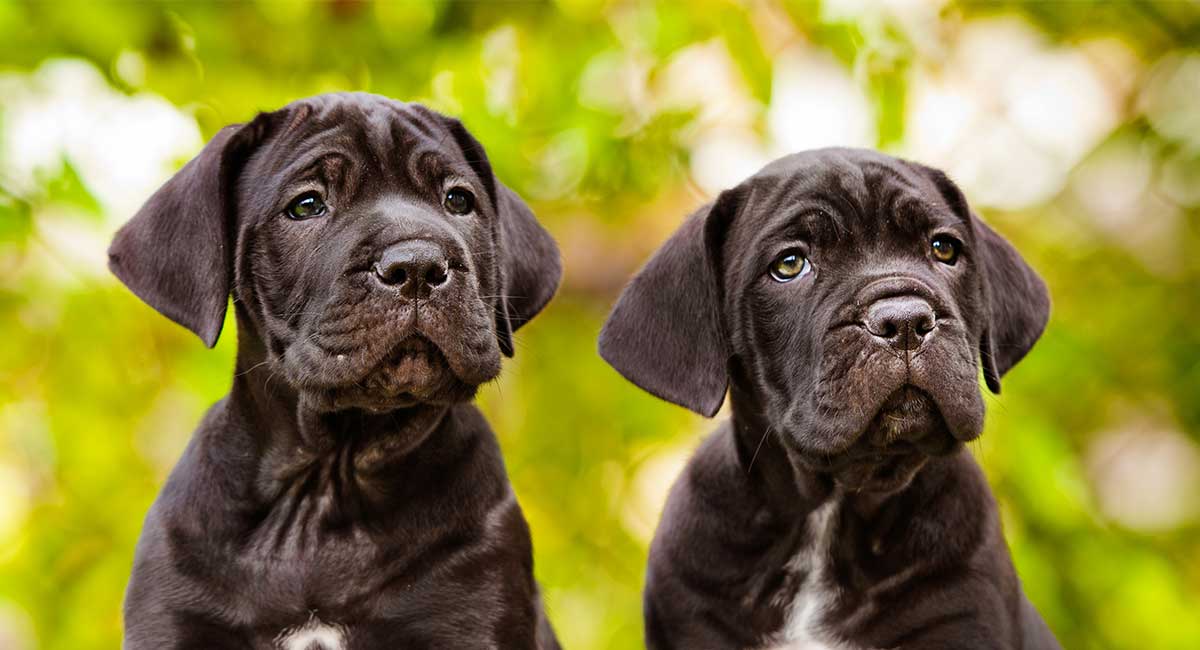 The Cane Corso is a powerful, loyal and beautiful dog. And if you are bringing home a new puppy you'll want a Cane Corso name that matches up to that amazing reputation! In this article, we'll look at some awesome Cane Corso dog names and we'll also discuss the importance of choosing the right name for your puppy.
The importance of choosing the right name for your Cane Corso
All dogs have different personalities, so it's important that your pup's name suits him or her. Cane Corsos are undoubtedly tough-looking dogs, even though they are generally big softies at heart! Unless you want to name your Cane Corso with irony in mind, you won't want to go for a name such as "Twinkle!" So, a cool dog name that fits your Cane Corso perfectly is all-important.
Tips on choosing the perfect name for your Cane Corso puppy
When it comes to naming a puppy, there will be an element of guesswork involved. After all, you won't know what personality your pup will have as he grows up. However, you do know what color your Cane Corso will be and that he or she will be a large dog.
As well as suiting your dog's look, his name needs to fulfil a definite purpose. Choose a short name that's simple for your dog to learn and remember. Avoid choosing really long names, even if they seem like a great choice, unless you can think of a suitable abbreviated nickname that your dog will be able to learn easily. When you've decided on a name for your Cane Corso puppy, be sure to have him microchipped, and don't forget to get a name tag for his collar too.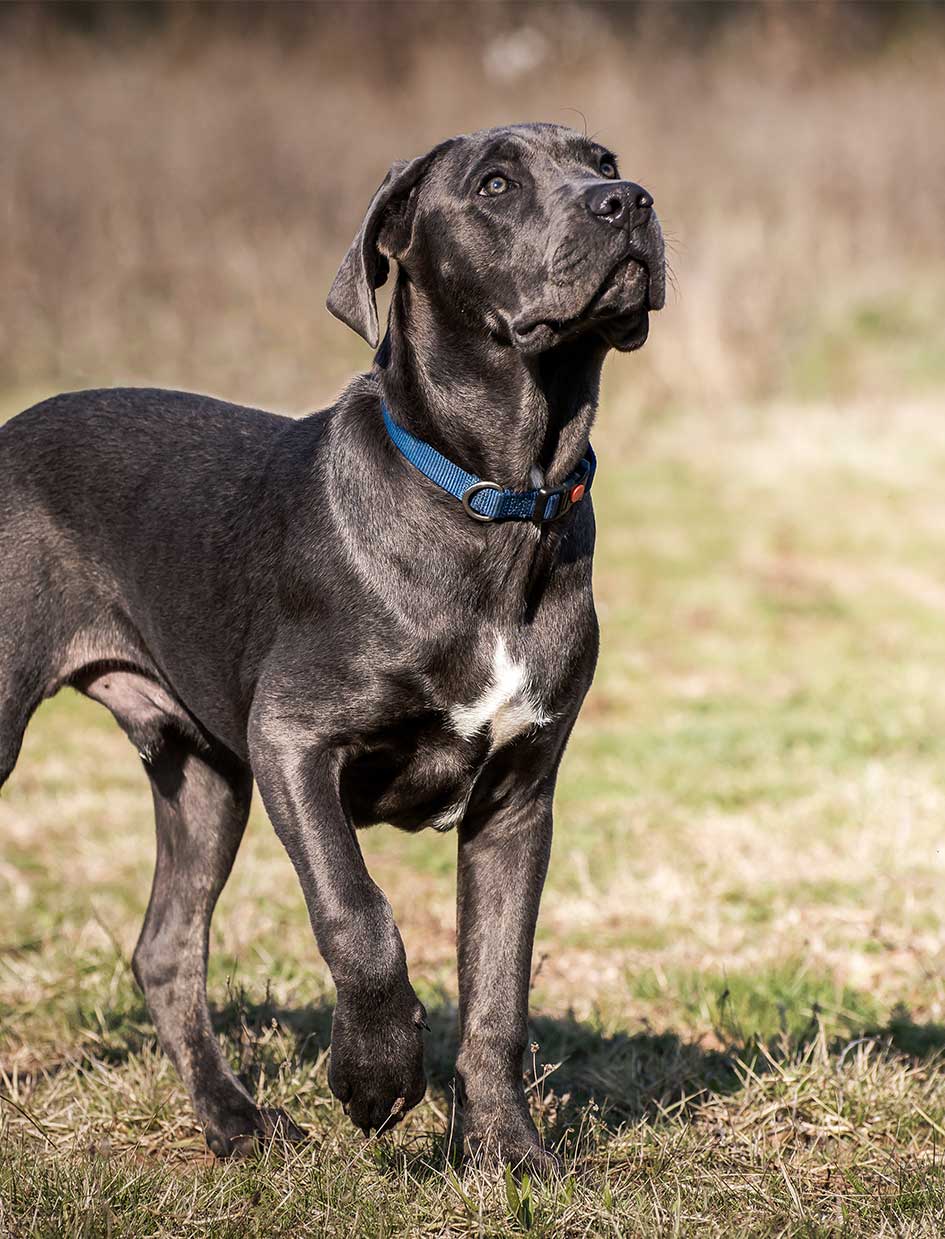 Where to find inspiration for Cane Corso names
Your inspiration for Cane Corso puppy manes can often come from unexpected sources. For example, you might have a school teacher, a boss (now there's a good name!), or even a friend or family member whose name also suits your Cane Corso. But be careful if you do decide to use someone's name; they may be offended! It might be a good diplomatic move to ask their approval before you name your puppy.
Also, you can find inspiration for dog names among lists of baby names. The meaning of each name is usually listed in these books, so you could pick a name you like with a meaning that's relevant. Or why not make up a truly unique Cane Corso name by combining two names? That way, you'll be absolutely sure that no-one else will be calling the same as you are at the dog park!
Female Cane Corso names
Female cane corsos can look just as strong and powerful as males. We've chosen these female dog names that could make your pup sound tough and strong, but feminine too.
Some owners like to think "girl power" when choosing names for their female Cane Corso. Sometimes, rappers and bands come up with street-tough-sounding names that can be great for a Cane Corso. Here are some names that we think would be great for a female Cane Corso, inspired by musicians:
Dido
Kobe
Fergie
Kesha
Pink
Sia
Annie
Missy
Shirley
Jett
Cane Corso male names
There are plenty of male dog names that look good on a macho Cane Corso. We think the following selection of Cane Corso names (also with musical roots) sound cool and also tough and manly:
Arcade
Busta
CeeLo
Jayzee
Zepp
Neyo
Outkast
Stormsie
Tayo
Magnum
King
Italian dog names for Cane Corso
The Cane Corso breed originates from Italy, so why not choose an Italian name for your pup? Here are some really nice Italian names we think would look great on a Cane Corso:
Bruno
Alberto
Dante
Andrea
Ena
Enzo
Faust
Gino
Lanza
Rocco
Tina
Tito
Cara
Dona
Cane Corso dog names with meanings
Sometimes, the best Cane Corso names are those with particular meanings. Baby name dictionaries include the meaning of each name they contain. This makes it easy to find a really awesome dog name that perfectly suits your Cane Corso's personality and look. Here's a selection of dog names for a Cane Corso, together with their original meanings:
Mia – from the Italian, meaning "wished for child"
Garvan – from Celtic, meaning "rough"
Cameo – from the Italian, meaning "cultured jewel"
Lex – abbreviated form of Alexander, meaning "defender of men" in Greek
Xander – another diminutive of Alexander
Ozzie – from the Hebrew, meaning "strong"
Arthur – meaning "bear"
Male Cane Corso dog names inspired by historical figures
Famous figures from history can provide some brilliant Cane Corso names, especially if you want a name that reflects your dog's strength and bravery. Here are a selection of great Cane Corso names inspired by great historical figures:
Brutus – a Roman politician
Goliath – a Biblical hero with immense strength
Plato – the Greek philosopher
Samson – a biblical character with super-human strength
Cicero – Roman philosopher
Rafael – Renaissance painter
Dante – an Italian poet
Ajax – Grecian hero
Nerva – Roman emperor
Titan – Greek mythological deities
Female Cane Corso dog names inspired by historical figures
And it's not just the boys who get to enjoy names taken from famous historical figures. Here's a selection of historical names, just for girls!
Cleopatra – famous Egyptian Queen
Delilah – Biblical character beloved of Samson
Venus – goddess of beauty
Brunhilde – a shield-maiden and Valkyrie in German mythology
Venus – goddess of love and beauty
Rosa – a reference to civil rights activist, Rosa Parks
Cane Corso names taken from movies
If you think that your Cane Corso has movie star looks or Hollywood teeth, why not name him or her after a movie character? Or if you have a favorite film, you could choose your Cane Corso's name in honor of your favorite character. Here are a few popular movie star names that we reckon would suit a Cane Corso:
Zero (The Nightmare Before Christmas)
Yoda (Star Wars)
Odie (Garfield)
Norman (Psycho)
Max (Mad Max)
Maverick (Top Gun)
Jabba (Jabba the Hutt, Star Wars)
Hollywood
Harry (Harry Potter)
Frankenstein
Ferris (Ferris Bueller's Day Off)
Falcor (Never-ending Story)
Dude (The Big Lebowski)
Bluto (National Lampoon's Animal House)
Blondie (The Good, The Bad, The Ugly)
Aragorn (Lord of the Rings)
Cute Cane Corso names
Now, even though your Cane Corso puppy will grow into a hulking, tough-looking hound, you'll always remember his or her cutesy puppy looks. You might want to choose a cute name for your pup – just know that you'll need a sense of humor when your dog grows up and you call him in the park! Here's a selection of cute dog names that you might like to consider:
Marley
Molly
Nala
Nessie
Pancakes
Pansy
Peaches
Poppy
Pumpkin
Queenie
Rhubarb
Twinkie
Rosie
Sadie
Sophie
Stella
Sugar
Tillie
If these names don't float your boat, check out this list of cute dog names for inspiration.
What to remember when choosing Cane Corso dog names
Before you make your final decision on a name for your Cane Corso puppy, there are a few important things to bear in mind. Choose a name that has a maximum of two syllables.
You can use a longer name if you see one that you absolutely love, but bear in mind that this can make it very difficult for your puppy to learn his name and come to you when you call him. If you have your heart set on a long Cane Corso dog name, always abbreviate it to a shorter nickname that your dog finds easy to remember and respond to.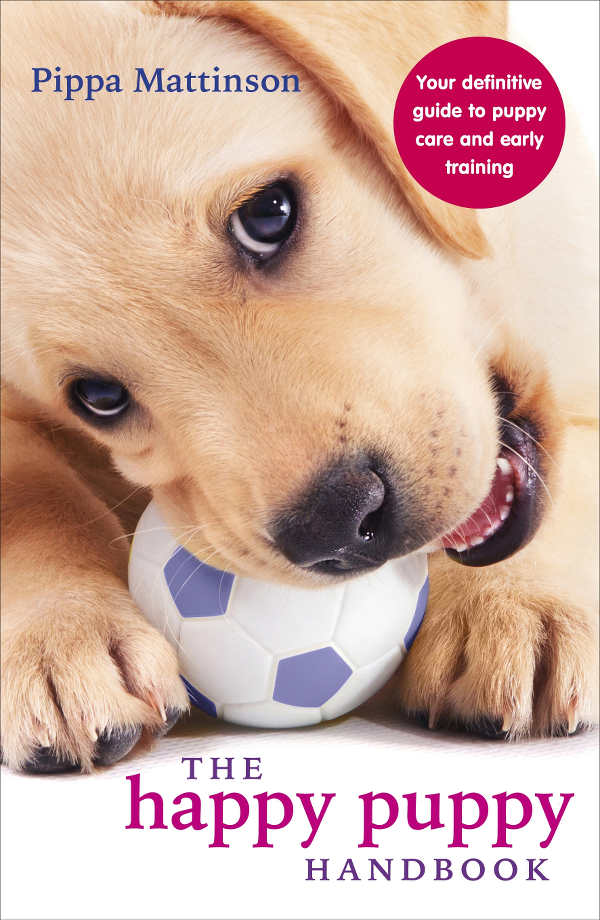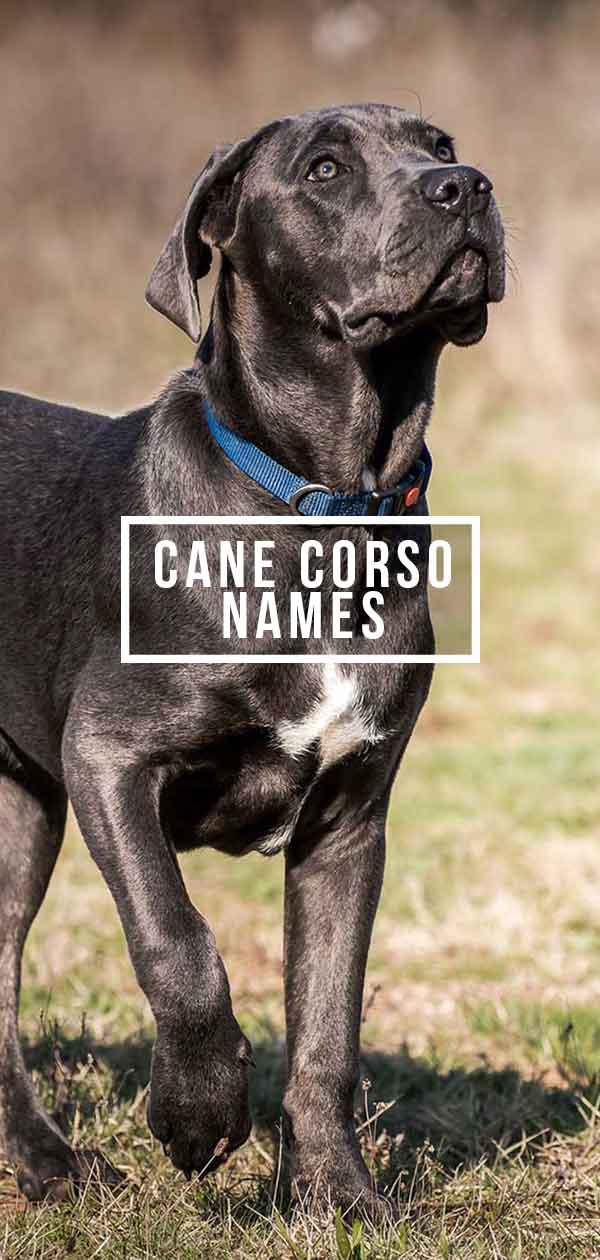 Top puppy names tips
If you're puppy is going to be a member of a multi-pet household, try not to choose a name that sounds very similar to that of your other dogs or cats. Don't give your new puppy a name that sounds like one of the training commands you're going to use. For example, from a distance, "Ray" can sound very much like "Stay!" That can cause no end of confusion if you want your dog to come to you.
He won't understand what he's done wrong as he sits obediently on the other side of the park while you yell his name in vain! If possible, try to come up with a unique dog name or one that's very unusual. There are hundreds, if not thousands of dogs that are called Rambo! You can only imagine how confusing it will be in the park if you pick a really common dog name!
The Best Cane Corso Dog Names
Picking the right name for your Cane Corso puppy is very important. You need to choose a name that you'll always love; avoid novelty names that will quickly become stale. Choose an unusual name so that it is easy for your pup to remember and that your dog won't get confused when you call him to come to you in the park.
We hope you find inspiration in our suggestions for Cane Corso dog names! If you do choose one of our suggestions, please tell us in the comments section below. And if you already have a Cane Corso, we'd love to know what his name is and how you chose it!
Further Reading