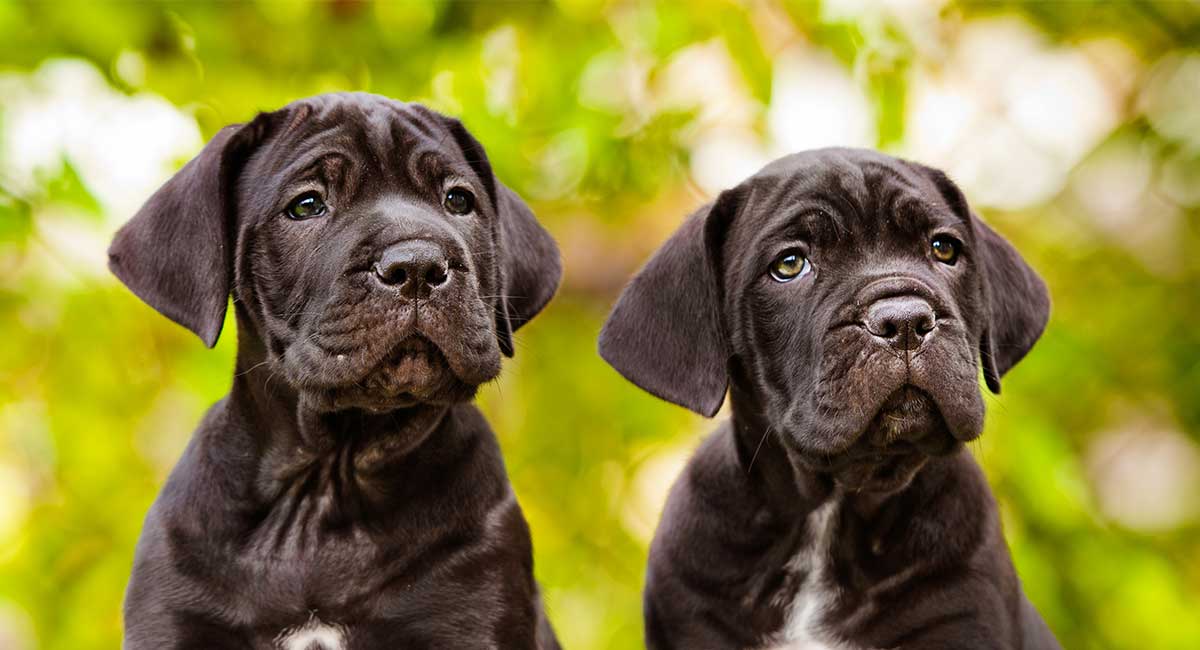 The Cane Corso is a powerful, loyal and beautiful dog. And if you are bringing home a new puppy you'll want a name that matches up to that amazing reputation! Today I'll share some awesome Cane Corso dog names and tips for picking the perfect one for your pet.
Contents
If your puppy is going to be a member of a multi-pet household, try not to choose a name that sounds very similar to that of your other dogs or cats. And avoid any word that rhymes with a potential training cue, too!
Female Cane Corso Names
Girl power, rappers and bands can help you to come up with street names that are great for a Cane Corso.
Dido
Kobe
Fergie
Kesha
Pink
Sia
Annie
Missy
Shirley
Jett
Male Cane Corso Names
There are plenty of male dog names that look good on a macho Cane Corso. This selection sound cool, tough and ever so masculine:
Arcade
Busta
CeeLo
Jayzee
Zepp
Neyo
Outkast
Stormsie
Tayo
Magnum
King
Italian Dog Names
The Cane Corso breed originates from Italy, so why not choose an Italian name for your pup?
Bruno
Alberto
Dante
Andrea
Ena
Enzo
Faust
Gino
Lanza
Rocco
Tina
Tito
Cara
Dona
Cane Corso Names with Meanings
Sometimes, the best Cane Corso names are those with particular meanings. Baby name dictionaries include the meaning of each name they contain. This makes it easy to find a really awesome dog name that perfectly suits your Cane Corso's personality and look. Here's a selection of dog names for a Cane Corso, together with their original meanings:
Mia – from the Italian, meaning "wished for child"
Garvan – from Celtic, meaning "rough"
Cameo – from the Italian, meaning "cultured jewel"
Lex – abbreviated form of Alexander, meaning "defender of men" in Greek
Xander – another diminutive of Alexander
Ozzie – from the Hebrew, meaning "strong"
Arthur – meaning "bear"
Ideas Inspired by Historical Figures
Famous figures from history can provide some brilliant Cane Corso names, especially if you want a name that reflects your dog's strength and bravery. Here are a selection of great Cane Corso names inspired by great historical figures:
Brutus – a Roman politician
Goliath – a Biblical hero with immense strength
Plato – the Greek philosopher
Samson – a biblical character with super-human strength
Cicero – Roman philosopher
Rafael – Renaissance painter
Dante – an Italian poet
Ajax – Grecian hero
Nerva – Roman emperor
Titan – Greek mythological deities
Cleopatra – famous Egyptian Queen
Delilah – Biblical character beloved of Samson
Venus – goddess of beauty
Brunhilde – a shield-maiden and Valkyrie in German mythology
Venus – goddess of love and beauty
Rosa – a reference to civil rights activist, Rosa Parks
Famous Names
If you think that your Cane Corso has movie star looks or Hollywood teeth, why not name him or her after a movie character? Or if you have a favorite film, you could choose your Cane Corso's name in honor of your favorite character. Here are a few popular movie star names that we reckon would suit a Cane Corso:
Zero (The Nightmare Before Christmas)
Yoda (Star Wars)
Odie (Garfield)
Norman (Psycho)
Max (Mad Max)
Maverick (Top Gun)
Jabba (Jabba the Hutt, Star Wars)
Hollywood
Harry (Harry Potter)
Frankenstein
Ferris (Ferris Bueller's Day Off)
Falcor (Never-ending Story)
Dude (The Big Lebowski)
Bluto (National Lampoon's Animal House)
Blondie (The Good, The Bad, The Ugly)
Aragorn (Lord of the Rings)
Cute Cane Corso Names
Now, even though your Cane Corso puppy will grow into a hulking, tough-looking hound, you'll always remember his or her cutesy puppy looks. You might want to choose a cute name for your pup – just know that you'll need a sense of humor when your dog grows up and you call him in the park! Here's a selection of cute dog names that you might like to consider:
Marley
Molly
Nala
Nessie
Pancakes
Pansy
Peaches
Poppy
Pumpkin
Queenie
Rhubarb
Twinkie
Rosie
Sadie
Sophie
Stella
Sugar
Tillie