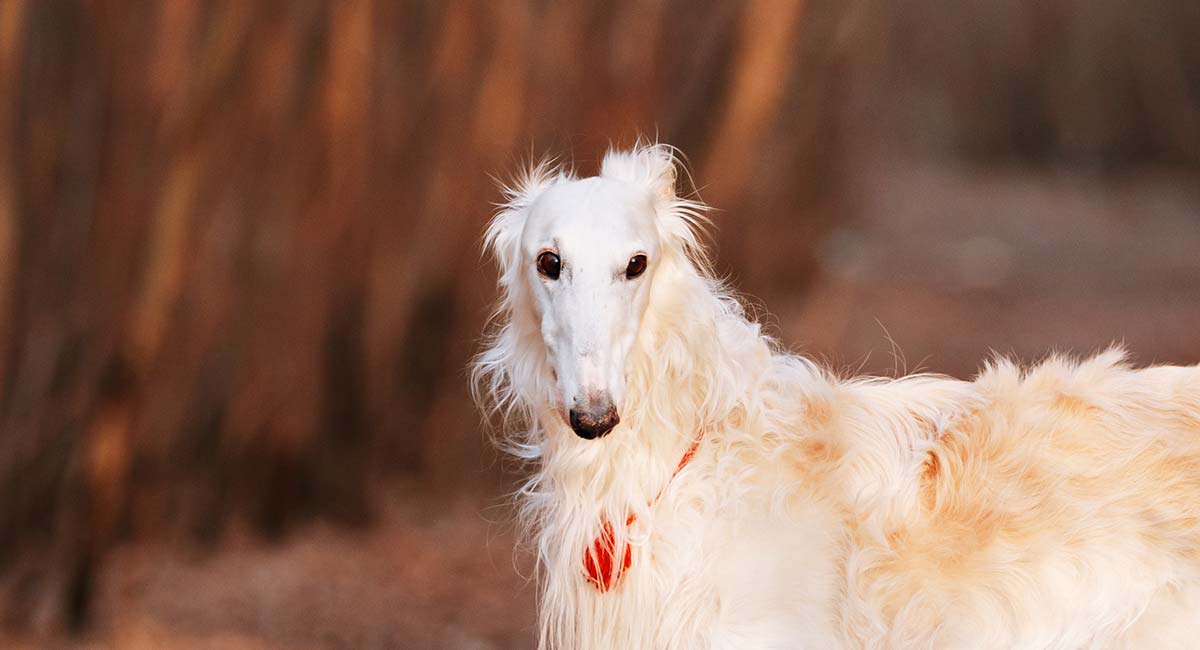 The Borzoi is a large, yet regal and refined dog in the Sighthound group.
Rare and dignified, the Borzoi originated in Russia. Here they were used by the aristocracy for hunting.
The breed can grow between 26 and 32 inches tall, weighing from 60 to 105 pounds.
Today's Borzoi are still capable of running at great speed. But they make surprisingly docile pets in the home.
Where Does The Borzoi Come From?
Originating in Russia, the Borzoi were once commonly called Russian Wolfhounds. But, amid controversy, in 1936 they were renamed Borzoi after the Russian word "borzyi," meaning swift. However, 'swift' is just one of their many characteristics.
Russian Borzoi were used as wolf-hunting dogs in the time of the Romanovs, during the early 17th to early 20th centuries. They took part in grand chases across the grounds of the homes of Russian aristocrats. These were truly extravagant affairs of the upper class, involving hundreds of dogs and culminating in a huge feast for all.
Some Borzoi were imported to the US and UK during the Romanov era. So, the breed thankfully survived the Russian revolution, when many of these dignified dogs were slaughtered along with their royal owners.
The Borzoi are part of the group of dogs known as Windhounds, whose ancestors originated in Asia and Africa. These Windhounds were bred for high speed and also include Deerhounds and Whippets.
Today, many of these breeds are better known as members of the modern Sighthound group.
Fun Facts About The Borzoi
Borzoi are Sighthounds, meaning they hunt using their eyes to keep track of prey. Despite popular belief, a recent study showed that the breed have just as good a sense of smell as other dogs!
A great way to entertain and exercise a Borzoi is to let them take part in lure coursing. This is where a fake lure is pulled along a zigzag path and the dog is allowed to give chase.
Despite a good temperament, this is a rare breed that has not yet climbed the ranks of popularity.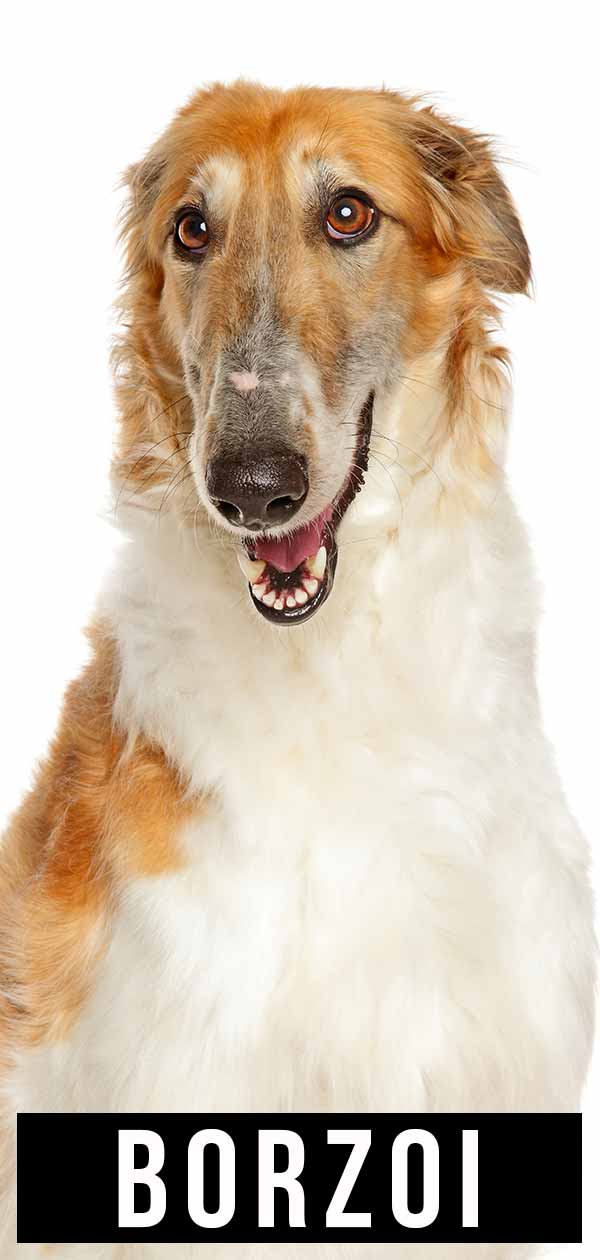 Borzoi Appearance
Borzoi are a giant, yet incredibly agile dog. Males are 28-32 inches tall, females are over 26 inches, and they weigh between 60 and 105 pounds.
They have elongated snouts and a long, lean, muscular build, like greyhounds, except they are often larger. They also have along, silky fur coat that can be straight, wavy, or curly.
Their coat can come in a wide array of colors and patterns including:
black
white
cream
gold
red
brindle
any combination of these.
They can have spots, a black mask, white markings and/or a white trim according to the breed standard of the American Kennel Club.
Borzoi Temperament
Borzoi dogs score favorably low for excessive barking, demanding affection, snapping at children and destructiveness, according to a study of dog behavioral traits.
The same study showed that the breed score high for housebreaking ease and low for playfulness and excitability.
Another study, made from owner-answered questionnaires, showed that Borzoi score low for aggression and fear, but can be difficult to train.
Since they were originally bred for speed and hunting, Borzois are likely to give chase to small animals such as squirrels, rabbits etc. Once a Borzoi has caught sight of its prey and taken off after it, he/she will be entirely focused. They won't stop to check for cars or other obstacles!
Their chasing instinct can also extend to other family pets. Though if they are introduced when young, they can get on very well with other animals. Males have a lower prey drive than females. So this may be worth taking into consideration if you have other smaller pets at home.
Regardless of their high motivation to chase, they are generally very gentle, quiet dogs with a reputation for being a couch potato at home! But, they also have a stubborn, independent streak making training indispensable, but sometimes tricky.
Training Your Borzoi
Training is essential for your Borzoi. Given instincts plus size and strength, it's imperative that they are calm around strangers, children, other dogs, unexpected noises etc.
These dogs should learn a rock solid recall response to keep them safe when they're off the lead.
Once they give chase, they become totally single-minded. So teach them an emergency recall for urgent situations.
Positive training always works best and can be a great way for you to bond with your dog. If you are a puppy owner, start as early as possible. Puppy classes are especially recommended for this independent breed.
Borzois need regular exercise. They need to run free for at least half an hour per day. Ideally in a fenced yard where they can't take off after the nearest squirrel!
Borzoi Health
Each dog breed has its own higher risk for certain problems.
Here are some of the more common issues for this breed.
Eyes
Borzoi retinopathy is an eye condition unique to these dogs that affects 12-14% of the population. It causes damage (lesions) to the retina of the eye and leads to impaired vision.
It is unknown how this disease arises. Since there is mixed evidence for its inheritance.
Regular eye exams with your vet will be able to diagnose retinopathy.
Hips
Good news! The Borzoi's tight hips seem to confer protection from hip dysplasia!
Hip dysplasia is a genetic condition that causes malformation of the hip joint leading to osteoarthritis. Symptoms include pain and limited movement.
Despite their size, Borzoi have an extremely low incidence of hip dysplasia. This appears to be because they have markedly decreased hip laxity, compared to other breeds.
It's still a good idea to have your dog's hips checked by your vet. Especially if you suspect problems with their gait.
Long snout
You may already know that breeds with flat faces have a host of health problems related to their shortened nasal passages. But what about the Borzoi's extra-long face?
Wolves, the ancestors to most dogs, also have an elongated face that has evolved to help them bring down large prey.
Long skulls are called dolichocephalic, whereas short skulls are brachycephalic. The Borzoi skull is extremely dolichocephalic and as such can lead to some health problems. This includes a higher incidence of persistent nasal disease.
Check out our page on long-faced dogs for more information.
Other issues
Borzois sometimes suffer from heart problems and hypothyroidism. Be sure to check with your vet about these conditions.
It's also important to check their ears regularly for any signs of infection (discharge, redness, ear odor or frequent scratching, head shaking).
Borzoi Lifespan And Care
These dogs live for 9-14 years.
A Borzoi's long coat will require regular brushing. They shed at least once a year, in the spring, with the possibility of another shorter shed in the fall.
Extra grooming (and vacuuming!) during their shedding phases will help keep loose hair under control.
Their silky fur won't attract too much dirt and grime. So bathing only needs to happen when they are dirty. The fur on their feet will require regular trimming.
Feeding
In terms of feeding, the breed don't eat as much as you would expect, given their size. But, they still require a good quality dog food.
Large and giant breeds like the Borzoi have extended growth periods as puppies. This potentially puts them at risk for musculoskeletal problems. For example, if they grow too fast, or too slowly during this time, they can have deformed or underdeveloped skeletons.
So, it's important to pay special attention to a young Borzoi's dietary needs. Puppies will need a high quality 'large/giant-breed puppy' food and multiple small meals per day.
Large and giant breeds, like this, are also prone to bloat. This is a devastating and life-threatening gastric condition thought to be caused by numerous factors. One of which is eating too much at once and another of which is engaging in strenuous exercise before or after eating.
So, it's advisable to feed your dog moderate portions. For adults, two smaller meals a day is preferable to one large meal. And avoid strenuous exercise just before and after feeding.
Special care needs
Borzoi are large, muscular dogs who need (and will seek out) something soft to rest on. A good dog bed is essential, unless you want to share yours!
Also, because of their lean body conformation, these dogs may be more sensitive to anesthesia than other breeds. This may also make them more sensitive to chemicals. Including lawn pesticides and flea treatments.
Do Borzoi Make Good Family Dogs?
With good training, these can be gentle and affectionate family dogs. However, given their temperament, they don't do well with rough-housing, and children must be taught to be gentle with them.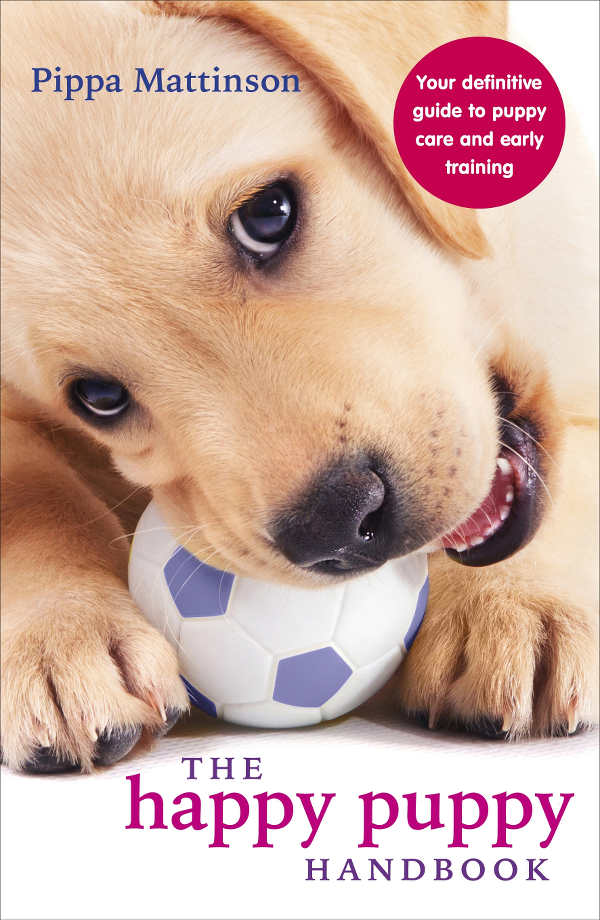 Similarly, because of their size, Borzoi can knock over and injure small children. So, supervise dog and child interactions at all times.
Rescuing A Borzoi
Rescuing a dog is preferable to getting one from a breeder or a pet store for several reasons:
Firstly, you will be saving a life and giving a dog a second chance for a loving home.
Secondly, you won't be supporting the inhumane breeding methods common at puppy mills.
Thirdly, you won't be supporting any unscrupulous breeders, who may use irresponsible breeding practices to generate as many of this rare breed as possible.
Finding A Borzoi Puppy
Finding any pure-breed puppy at a shelter can be challenging. And finding a rare Borzoi can be even more so.
Remember to avoid pet stores and puppy mills! Shelters will sometimes have puppies, so check regularly. If you can't find a Borzoi puppy at a shelter, your next best bet is finding a reputable breeder.
A reputable breeder will be happy to talk to you about the puppy's health, history and behavior. They will also answer questions about the puppy's parents' health and allow you to meet and greet the puppy's mother.
The mother should appear healthy and her surroundings should be clean and well maintained.
If you need more information check out our puppy search guide to help you in making the right decision.
Raising A Borzoi Puppy
Raising a puppy of any breed isn't always easy. But it's always rewarding!
Check out these resources on raising and caring for your Borzoi puppy:
Pros And Cons Of Getting A Borzoi
Cons
This is a giant breed that doesn't do well with kids' rough play
They are a rare dog breed and it may be challenging to find a rescue puppy
Borzoi can be difficult to train due to their independent streak
They have a very strong chase instinct. So it isn't safe to let them off-leash outside of a secure area
They need a lot of exercise. So you'll need a secured yard/outside area to let them run free
Pros
The Borzoi is a gentle and quiet breed that doesn't bark much
They can be trained to get on well with other pets. Especially if introduced at a young age
Borzoi are a fairly healthy breed that has low incidence of hip dysplasia
They are not at all demanding and are unlikely to destroy your house!
Similar Breeds
Still deciding whether this breed is right for you? Check out these similarly swift and lean Sighthounds:
Borzoi Rescues
Read on for a list of Borzoi shelters in the USA and UK. Please use the comments section below this article to add more, if you know of any!
USA
UK
Is A Borzoi Right For Me?
So, is this regal dog for you? The Borzoi are a rare breed, giant dog that is gentle and affectionate. They are fast runners, with a strong chase instinct. But they are docile and calm at home.
You'll need to be watchful if they are around small children. But with training they can be wonderful family dogs and even get on well with your other pets too.
Each dog is unique. But if you're able to give these dogs the love, diet and exercise they need, you'll find them a loyal and gracious addition to your family.
References And Resources