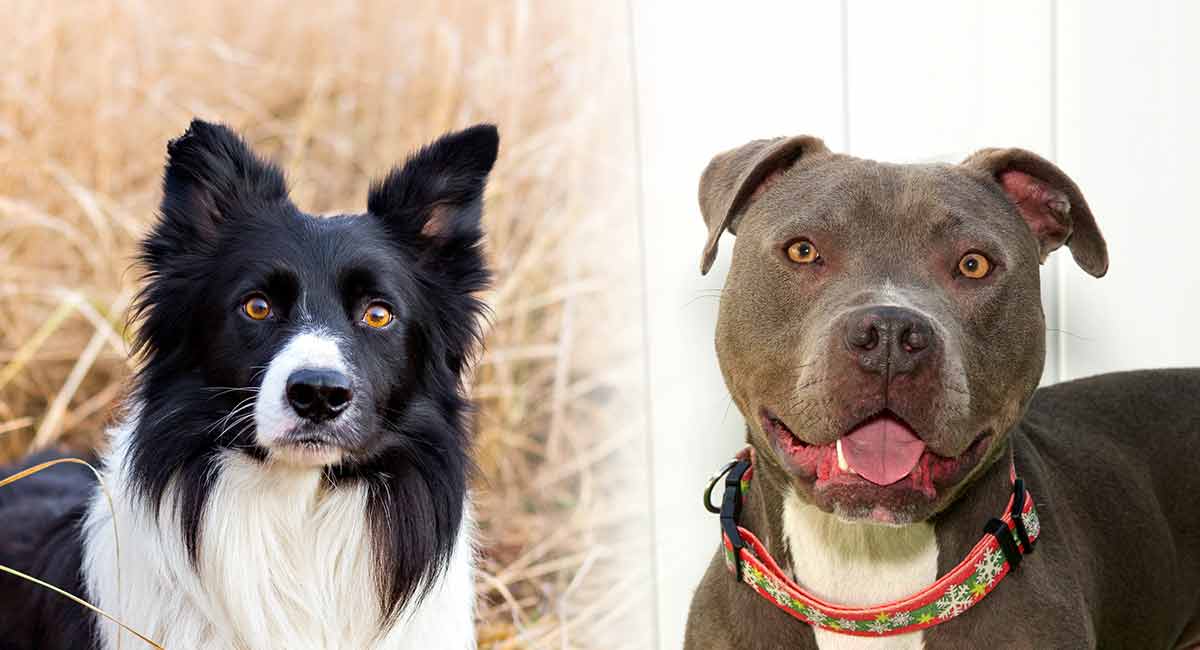 If you're looking for a medium-sized dog who's got energy to spare, consider the Border Collie Pitbull mix.
This mixed breed combines the extremely smart Border Collie with the confident American Pitbull Terrier, also known as the American Staffordshire Terrier.
But before you get swept away by this dynamic dog, let's learn more about them.
Where Does the Border Collie Pitbull Mix Come From?
Like most mixed breeds, the details of their origins remain undocumented.
The best way to learn about the Border Collie Pitbull mix is to look more closely at each of the parent breeds.
But first, let's find out what it means to be a mixed breed, because there's some serious debate about this practice.
When you mix two different purebred breeds it's called first generation cross-breeding.
There are purebred enthusiasts who will argue that it's important to keep the bloodlines pure so that the puppies stay predictable in terms of size, appearance, and temperament.
However, team mixed breed will claim their dogs are healthier than purebred dogs due to a larger gene pool.
If you're interested in learning more about the purebred vs mixed breed debate, check out this article.

Border Collie Origins
The Border Collie was born to herd.
Crossing old Roman dogs with Viking spitzes produced muscular, yet agile herding dogs, who were designed to work along the rocky terrain of Scotland.
The name Border Collie comes from being developed on the border between Scotland and England.
These dogs are widely regarded as the world's greatest herders.
Pitbull Origins
The Pitbull was born to fight.
They were bred from the Old English Bulldog and Terrier breeds in England during the 19th century.
It was during the days of blood sports like bullbaiting, that these strong, compact dogs would be turned loose on staked bulls or bears.
Thankfully, this practice was banned and by the mid-1800s the breed found their way to the U.S. where they became working farm dogs.
American breeders developed a canine that was larger than the English version.
Today, this breed is known as the American Pitbull Terrier in the U.K. and as the American Staffordshire Terrier in the U.S.
Fun Facts About the Border Collie Pitbull Mix
It's widely believed that all Border Collies are descended from a dog by the name of Old Hemp.
This stud dog sired over 200 puppies.
A Border Collie named Chaser knows over 1,000 words and is regarded as the "world's smartest dog."
Petey, the dog from The Little Rascals comedy shorts of the 1920s and 30s, and Nipper, the RCA dog, were both American Pitbull Terriers.
Pitbulls were used as mascots for the American military for their loyalty and bravery.
During World War I, they appeared on propaganda posters used for recruitment and to sell war bonds.
Border Collie Pitbull Mix Appearance
Whenever you cross two different breeds it's impossible to predict exactly what the offspring will look like.
They may take after one parent entirely, or be a perfect blend of both.
The best guess is to take a closer look at the dam and sire's physical characteristics.
The handsome Border Collie stands from 18 to 22 inches and weighs from 30 to 55 pounds.
These athletic dogs are muscular, but agile and well-balanced.
They come in two coat types. The smooth coat is short and the rough coat is of medium length.
Both come in a variety of colors and patterns, but are most commonly seen in black and white.
Intelligence is detectable in their focused gaze, known as the Border's famous "herding eye."
The powerful Pitbull stands from 17 to 19 inches and weighs between 40 and 70 pounds.
Strong and stocky, yet agile and graceful, the Pitbull exudes confidence in their stance.
Their short coat comes in just about any color and is stiff to the touch.
The head is large with a wide muzzle, strong jaw, well-defined cheek muscles, and round eyes that are set low and far apart.
Border Collie Pitbull Mix Temperament
As with appearance, temperament can favor one breed or be a combination of both.
Since these dogs share some qualities, you can expect your Border Collie Pitbull mix to be bright, loyal, and energetic.
Hard-working and keenly intelligent, the Border Collie requires plenty of physical and mental activity to avoid becoming destructive.
Herding is in their blood, so it's quite common for a Border Collie to nip, bite, and push children, other pets, and maybe even you, as part of this herding instinct.
The much maligned Pitbull has gotten more than his share of bad press.
Much of this has to do with their history as a fighter and the fact that their owners often hone violent tendencies in these dogs.
However, this study found them to be no more aggressive than many other breeds.
When Pitbulls do show signs of aggressive behavior it is most often towards other dogs.
For this reason, Pitbulls should never be left alone with other canines as they can see them as a threat.
Training Your Border Collie Pitbull Mix
Early socialization is important for any dog, but one who could potentially be aggressive or have herding tendencies, should be introduced to a variety of people and animals as soon as possible.
This is a dog who may also benefit from puppy training classes.
The Border Collie Pitbull mix is sure to be intelligent, but may also be stubborn.
Positive reinforcement training methods will keep them engaged mentally are essential for success.
Chewing may be a problem as both these breeds will gnaw through just about anything if they're bored.
Exercising Your Border Collie Pitbull Mix
Make no mistake, combining two athletic, energetic dogs like the Border Collie and the Pitbull means providing vigorous exercise every day.
This doesn't mean a walk around the block or leaving them out in the backyard.
They need space to run and long play sessions that engage them.
Otherwise you're likely to pay the price with chewed furniture and a garden full of holes.
Since both of the parent dogs excel at sporting competitions, it's something to consider for their offspring.
Border Collie Pitbull Mix Health
Luckily for the Border Collie Pitbull mix, both of his parents are relatively healthy breeds.
The Border Collie has an average lifespan of 12 to 15 years, the Pitbull from 12 to 16 years.
However, there are some health concerns to be aware of, since puppies are at risk for genetic health conditions from either parent.
Hip dysplasia, where the hip socket is abnormally formed and can lead to lameness and painful arthritis, is a problem for both breeds.
A good breeder will have done a hip evaluation on their breeding stock.
Renal atrophy, deafness, epilepsy, and Collie eye anomaly, can also affect Border Collies.
Pitbulls are prone to cardiac disease and skin and coat allergies.
They're also at risk for cerebellar ataxia, for which they should be health tested.
This brain disorder causes a progressive decline in muscle coordination and voluntary movement.
Border Collie Pitbull Mix Grooming and Feeding
Grooming requirements for a Border Collie Pitbull mix will be relatively minimal.
Going over the dog once or twice a week is all that should be required, although they'll need to be groomed more frequently during shedding season.
Their nails should be trimmed regularly as long nails can be painful for them.
This active dog will need a good quality, age appropriate food that's high in protein.
The Border Collie Pitbull mix may have a tendency to become overweight and excess pounds can create joint and other health problems.
Do Border Collie Pitbull Mixes Make Good Family Dogs?
Active families who spend plenty of time outdoors will be the best match for the Border Collie Pitbull mix.
This will be an affectionate and loyal dog who needs plenty of daily activity.
The Border Collie's herding instinct and the Pitbull's aggression towards other dogs means that homes with small children or other pets aren't the best fit.
Rescuing a Border Collie Pitbull Mix
Trying to locate a specific mixed breed at a rescue center or shelter may be a challenge.
Ones that specialize in the Border Collie and Pitbull are a good place to start.
Be prepared to extend your search outside your immediate area to find the dog you're looking for.
Although a rescue dog needs time to adapt to their new surroundings, begin an exercise routine immediately.
This will burn excess energy and help them settle into their new environment more quickly.
Finding a Border Collie Pitbull Mix Puppy
Ethical breeders are the best place to find a healthy Border Collie Pitbull mix puppy.
As mixed breeds are more popular than ever, take the time to find one who health tests for their breeding stock.
Visit in person so you're able to see the puppy's living quarters as well as the parents and siblings.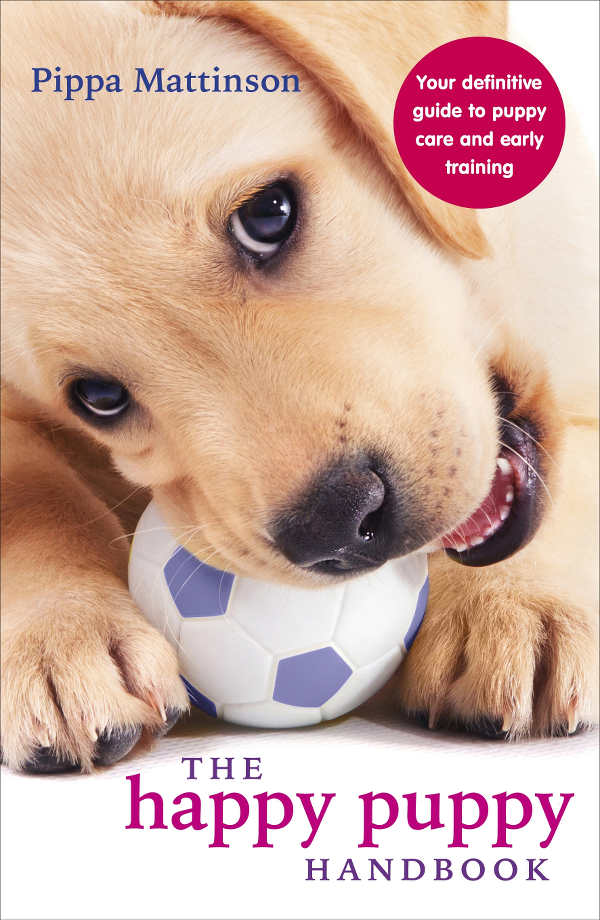 This will give you a good idea of the care they've been receiving.
Steer clear of pet stores as they're almost always supplied by puppy mills.
This article is a step-by-step guide to finding the puppy of your dreams.
Raising a Border Collie Pitbull Mix Puppy
Early socialization and positive reinforcement training are the best ways to ensure a Border Collie Pitbull mix puppy grows into a well-mannered adult.
If you don't take the time to train him when he's young, they're very likely to develop some very bad habits.
These articles on puppy care and positive puppy training will get you off on the right foot.
Border Collie Pitbull Mix Products and Accessories
Puzzles and interactive toys are a great way to keep intelligent dogs positively engaged.
Dog beds for excessive chewers, like the Border Collie Pitbull mix, are rugged and constructed out of materials that are safe if ingested.
Pros and Cons of Getting a Border Collie Pitbull Mix
Cons:
Requires a huge amount of regular exercise
Can become destructive if bored
Instinct to herd in the Border Collie makes then ill-suited for homes with small children and other pets
The Pitbull may have a tendency for aggression towards other dogs.
Pros:
Highly intelligent
A loyal and affectionate companion
Easy to groom
A generally healthy breed.
Similar Border Collie Pitbull Mixes and Breeds
If you're still considering other mixed breeds, here are some that have either the Border Collie or the Pitbull as a parent.
Border Collie Pitbull Mix Rescues
These are rescues that are dedicated to the Border Collie and Pitbull.
If you know of others, please let us know in the comments.
Is a Border Collie Pitbull Mix Right For Me?
Only you can decide if the Border Collie Pitbull mix is well-suited to you and your family.
Bringing any dog into your life is a big responsibility and commitment.
When they have the energy, strength, and stamina of this mixed breed you need to be able to provide plenty of socialization and training.
Even more time consuming will be the amount of daily exercise they'll need.
If you're looking for a dog who will lounge around the house with you, this isn't that dog.
However, if it's a running companion you want, the Border Collie Pitbull mix could be your ideal match.
Are you searching for a Border Collie Pitbull mix? Let us know how it's going in the comments!
References and Resources