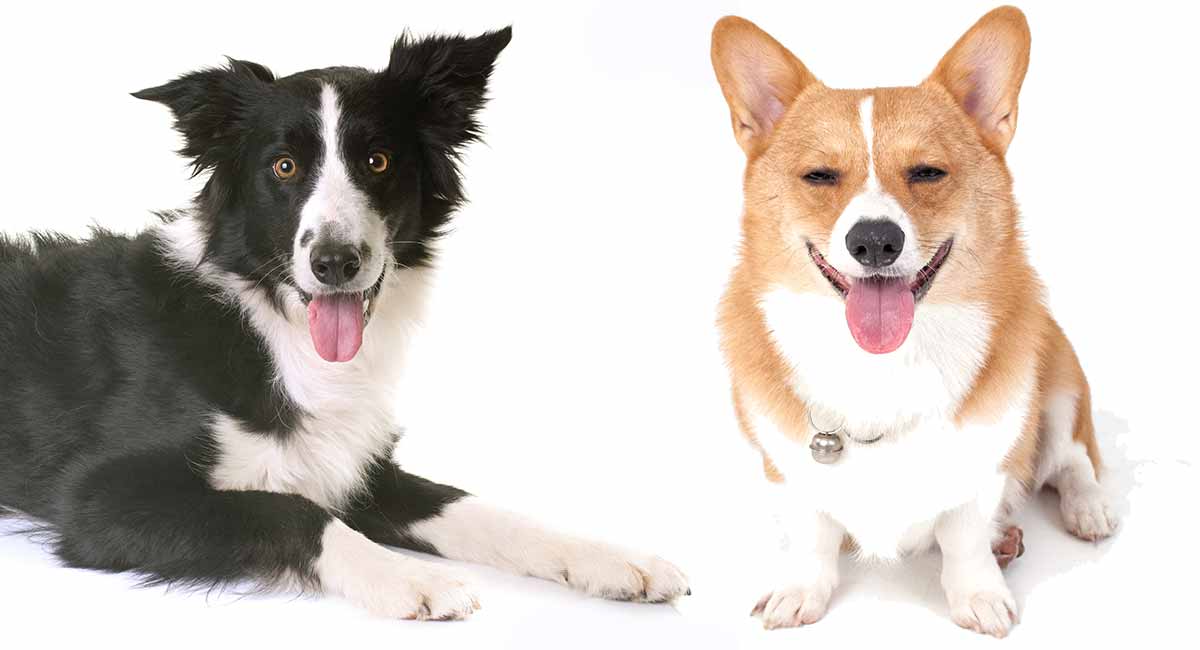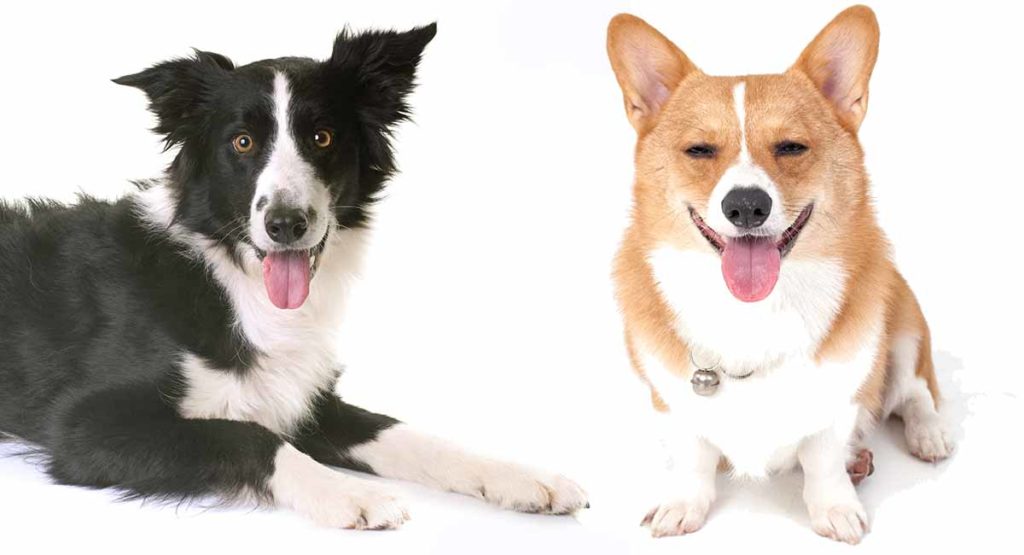 The Border Collie Corgi Mix is a designer dog that has seen rising popularity lately.
As a cross that aims to combine the most desirable traits of both the Border Collie and the Pembroke Welsh Corgi, it is no surprise that this breed has received quite a bit of attention.
However, there is a lot more to dogs than just their appearance.
In this article, we will provide in-depth information about everything there is to know about the Border Collie Corgi Mix.
Where Do Border Collie Corgi Mix Come From?
Unfortunately, there is not much information out there on the history of this cross.
They are a very recent invention, and tracking down when a mutt was first created is quite a challenge!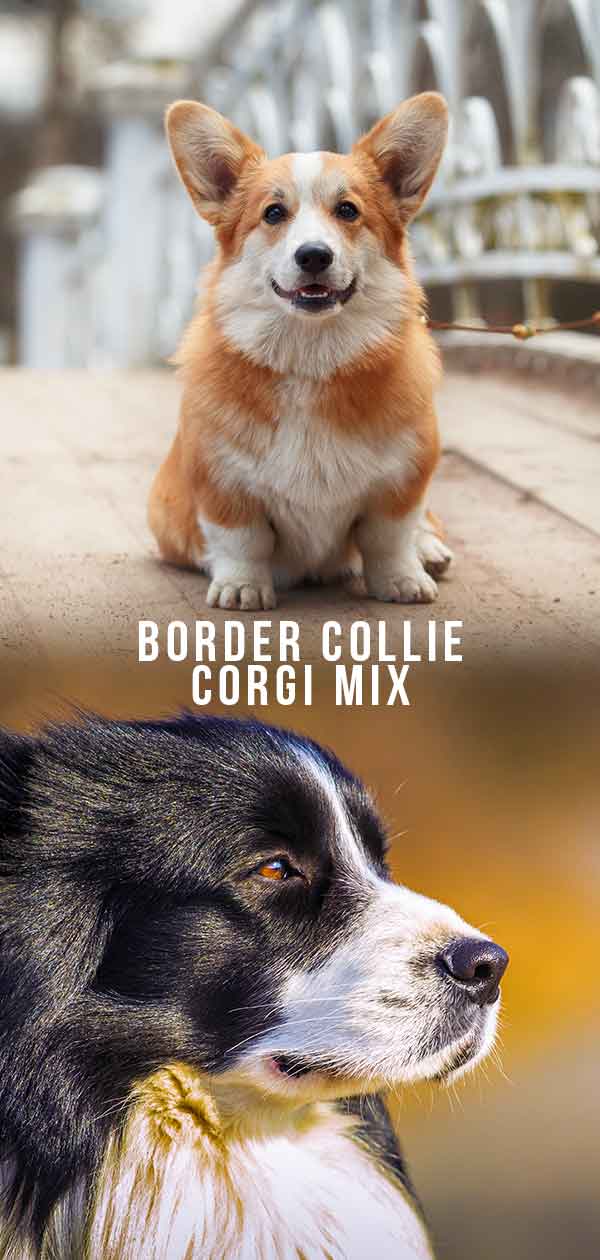 However, we can still get a good background on this mix by looking at his parent breeds.
Border Collie Origins
The Border Collie is believed to have gained its incredible intelligence and knack for herding from two ancestors.
Firstly herding dogs introduced to Britain during the times of the Roman occupation.
And secondly another herding breed introduced by the Viking raiders.
These two breeds mixed and created the Border Collie as we know it today.
With both ancestors already being strong herding breeds, the Border Collie is an exceptional herder and one of the best in the business!
Corgi History
As for the Pembroke Welsh Corgi, they also stem from a herding breed.
Back in the 11th century, many of the best weavers of the era were based in what is now known as Belgium.
Upon receiving an invitation to work in England, they brought their herding dogs with them.
This dog was the common ancestor for both the Pembroke and Cardigan Corgi, their genetic lines splitting within the 18th century.
Today, the Corgi serves as a companion dog. The breed has famously been a favorite of the Queen of England since 1933.
Some Notes on Crossbreeding
It is also worth noting that designer dogs such as the Border Collie Corgi Mix have been the source of a lot of controversy in recent years.
Advocates of purebred breeds have stated concerns over the health of these new crossbreeds.
There are also accusations that many of the breeders involved with designer dogs are sacrificing the welfare of the litters they produce for profit.
However, there are a lot of misconceptions within this debate and around mutts in general.
We have an article here that explores these misunderstandings in detail.
Fun Facts About Border Collie Corgi Mix
They are commonly known by the cute nickname "Borgi".
However, be wary as this nickname is sometimes also used for Beagle x Corgi mixes!
Both parent breeds are within the 50 most popular breeds.
Both breeds have very different builds and structures but excel in herding all the same.
Border Collie Corgi Mix Appearance
Dogs of the Border Collie Corgi Mix can take after either parent breeds in any aspect, making them inherently hard to predict.
Therefore, the best way we can predict aspects of this mix is to look at the parent breeds and how they may potentially combine.
Border Collie Corgi Mix Size
Borgis may vary in size from dog to dog due to the differing average height and weights of the parent breeds.
A height range you may expect for the Borgi is around 10-22 inches. As for weight, you can expect somewhere between 28-55 pounds.
Something that can severely affect the height of the Borgi is whether they inherit the Corgi's signature stumpy legs.
As you would expect, this lowers their height by quite a bit!
Dogs of the Border Collie Corgi Mix can also have half-erect or fully-erect ears and the tail may be either very short or moderately long.
Border Collie Corgi Coat and Colors
As for the coat of the Borgi, it may be either rough and medium length or short and smooth depending on which parent it takes after.
A countless amount of colors and patterns may present themselves within a Borgi, due to the Border Collie having a particularly diverse range of possible colors and patterns.
For a closer estimation of what colors and patterns may appear within any given Borgi, check the parent dogs.
Border Collie Corgi Mix Temperament
Both the Border Collie and Pembroke Welsh Corgi are very intelligent and affectionate dogs, not to mention the boundless energy both breeds possess!
Therefore, you can expect dogs of the Borgi mix to inherit these traits too.
However, there are a few temperamental issues you should be aware of before purchasing this breed.
Herding Instincts
Both parent breeds have a strong herding instinct and therefore it is very likely that it will surface in the dogs of the Border Collie Corgie Mix too.
The herding instinct is obviously a good thing for owners who wish to put their dogs to work or use them in competitions,
But it can cause problems in families who do not know how to properly deal with it.
A common issue that comes from strong herding instincts being present is the dog treating children of the family as members of a "flock".
Do Border Collie Corgi Mix Dogs Get On With Children?
If a child is running about, a Borgi dog can easily see that as a member of the flock trying to escape.
This can lead to the dog taking measures against this, such as running ahead and attempting to intimidate them with barks and growls.
If the child still doesn't comply, the dog may nip them at their heels.
For a small child, this is quite a terrifying situation which could end in a bite.
For this reason, we don't recommend this dog for families with particularly young children.
Older children must still be taught how to deal with such a situation and supervision should be kept at all times.
Separation and Territory
Corgis can also prove to be very territorial.
This may lead them to being over defensive of their home and family, sometimes even to the point of aggression.
This trait may be inherited by Borgis if it was a problem in the parent dog.
Finally, separation anxiety may also be an issue for the Border Collie Corgi Mix.
This is not a breed that should be left alone for long periods of time as it may lead to negative and destructive behavior.
Families should ensure that at least one person is around the home as much as possible to keep the dog company.
Training Your Border Collie Corgi Mix
Both parent breeds are incredibly intelligent, and it is likely a dog of the cross will be too!
However, they may sometimes exhibit an independent side and lose interest.
For this reason, they can sometimes be a bit difficult to train, especially for someone new to training.
We have some resources here which may give you some much-needed info on how to go about training a dog.
If you are struggling to train your dog, ensure that you take them to a professional trainer instead.
Never skip training as it can cause a whole wealth of bad behaviors and disobedience.
Socialization is also incredibly important.
Gently exposing the dog to new people, animals, and situations from a young age can help quell any potentially negative traits such as anxiety or aggression towards strangers.
Exercise for your Corgi Border Collie Mix Dog
As for exercise, the Borgi is likely to be incredibly energetic.
They will most likely require an hour or two of moderate to intense exercise, where they get to run and play off the leash.
However, it is worth noting that if the Borgi has inherited the short stout legs of the Corgi, they need to have special care taken with them.
The short legs can lead to joint and back problems that we will cover in just a moment.
For now be aware that they should not be allowed to run up and down stairs, jump on and off furniture, or anything similar to these activities in the field.
A close eye must always be kept on them to prevent potential injury.
Border Collie Corgi Mix Health
Unfortunately, this breed is prone to some serious health conditions that you should be aware of before making any decisions.
Achondroplasia
Achondroplasia is a structural health issue present in the Corgi which may be passed onto dogs of the Border Collie Corgi Mix.
Basically put, it refers to the small stumpy legs present in the Corgi and other breeds such as the Dachshund.
While many find this trait cute, it can, unfortunately, lead to higher risks of serious health issues.
Joint problems such as Elbow and Hip Dysplasia may be present.
This is where the hip and/or elbow joints do not develop correctly, leading to early onsets of arthritis.
Intervertebral Disc Disease
Another health issue that may stem from Achondroplasia is a spinal condition known as Intervertebral Disc Disease.
This is where one of the discs within the spine ruptures or herniates, leading to severe pain.
In bad cases, it may lead to paralysis.
On top of higher risks for joint and back-related health conditions, the stumpy legs may lead to an increased risk of injury.
It is imperative to reduce wear and tear on the joints and back of a dog with achondroplasia.
Preventing them from running up and down stairs and jumping on and off furniture can help safeguard the dog from injury and potentially severe health problems later in life.
Other Corgi x Border Collie Concerns
Other issues that this breed may be at risk for include:
Degenerative Myelopathy. This is a very serious spinal disease in which the dog suffers from progressive paralysis of the hind limbs, eventually leading to paralysis of the forelimbs too. There is no cure.
Von Willebrand Disease. This is a bleeding disorder where excessive bleeding may occur either spontaneously or from small injuries and surgery.
Epilepsy.
Progressive Retinal Atrophy. This is a heritable eye condition which is characterized in progressively worsening vision. Eventually, it leads to blindness.
Congenital Deafness. This is deafness with a genetic basis.
As you can see, there are a lot of potential health issues present within this breed.
If your heart is set on the Borgi, it is very important to buy from a trustworthy breeder who can provide passed health evaluations for the parent dogs as this can help reduce the risk they may occur in the puppy.
The expected lifespan of this breed is around 12-14 years.
Diet and Grooming
Borgis do well on high-quality dog food.
However, it is very important to watch their diet; obesity can be a real problem and may worsen the health issues above.
As for grooming, a few times a week is usually enough for this breed regardless of the coat.
However, during shedding season it may become more of a daily affair to remove the dead hair.
It's also important to keep the Borgi's claws trimmed to prevent discomfort.
Regular teeth brushing is also recommended to maintain good dental health.
Do Border Collie Corgi Mix Make Good Family Dogs?
Unfortunately, we cannot recommend this breed as a family pet due to the high risk of structural health issues being present within the breed.
We would heavily recommend looking at similar breeds before coming to any decisions.
However, if your heart is truly set on this breed it is recommended that you avoid puppies with the stumpy legs of the Corgi.
Due to the potentially severe health issues, it may be worth rescuing an adult Borgi instead of purchasing a puppy from a breeder.
Rescuing a Border Collie Corgi Mix
Rescuing a dog comes with its pros and cons. Staff will be able to tell you in detail if the dog has any health issues or temperamental problems, so you will know exactly what you are getting.
However, many dogs end up in rescue due to having one of these problems in the first place.
They may come with a severe health problem or may have behavioral issues.
If you find a dog in rescue that you would like to adopt, you will be interviewed by staff in an attempt to ascertain whether you would be a good fit for the dog.
You may be asked about your current family situation and how much time you have to devote to the dog.
Some rescue centers have a reputation for being a little too strict and denying owners without much info as to why.
If you feel this is the case with you, do not get discouraged and try elsewhere.
Finding a Border Collie Corgi Mix Puppy
If you decide to buy a puppy, there are a few things you need to keep in mind to ensure you have a good chance of receiving a healthy dog.
Breeders can be found online or through more local avenues such as newspapers. However, it pays to be selective when it comes to which breeder you go for.
Unfortunately, there are many breeders out there who sacrifice the welfare of the litters they produce for more efficient sales.
Many puppies sold by people of this ilk have genetic health problems and behavioral problems.
Pet shops should also be avoided at all costs. Many buy their stock from puppy farms.
A good breeder takes puppy health and welfare seriously, and provides good feedback from previous customers.
Breeders such as this are your best bet for receiving a puppy that has been cared for and raised correctly.
Raising a Border Collie Corgi Mix Puppy
Raising a puppy is very daunting for the uninitiated and it is a critical thing to get right to ensure the dog grows into a well-mannered adult.
We have some resources below that can help you get started!
Border Collie Corgi Mix Products and Accessories
As a highly intelligent and energetic breed, Borgis require a lot of mental stimulation every day to be at their happiest.
We have an article here with some good suggestions for toys that can keep that brain busy!
Pros and Cons of Getting a Border Collie Corgi Mix
Here is a quick summary of the good and bad of this breed.
Cons:
Potential severe health issues, including a risk for a structural health problem
Their limitless energy can prove too much for families who do not expect it
Herding instincts can lead to problems with young children
Separation anxiety may be an issue
Pros:
Highly intelligent and highly trainable
Can easily be used as a working dog
Very affectionate and family-centric breed
A good fit for active families
Similar Border Collie Corgi Mixes and Breeds
There are a lot of different Corgi mixes, and each one will have it's own pros and cons.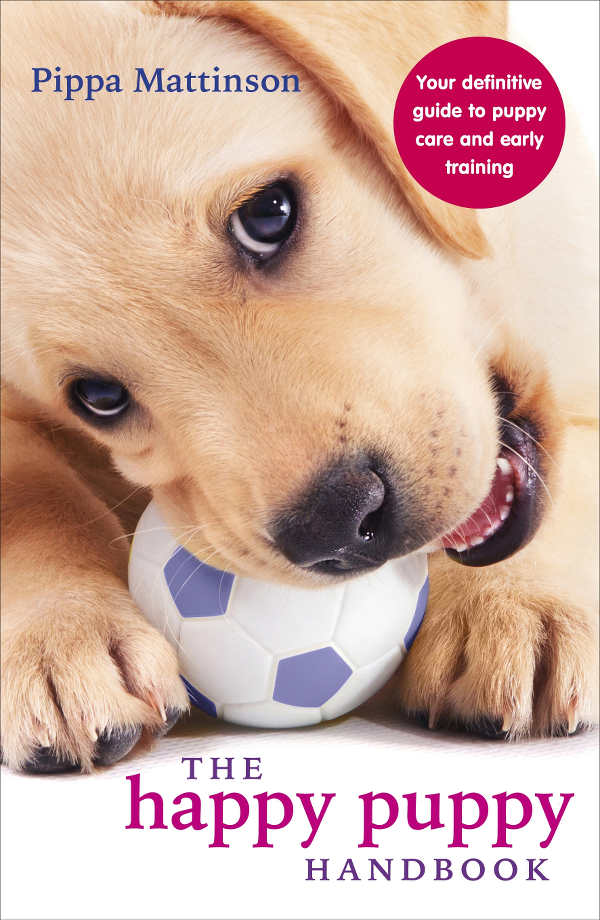 However, as there are many health issues prevalent within the Corgi breed, it's recommended you take a look at similar healthier breeds before coming to any decisions.
Here are a few suggestions:
Border Collie Corgi Mix Rescues
Unfortunately, there are no rescue centers available specific to the Border Collie Corgi Mix.
However, you may have luck searching rescue centers for the parent breeds. Below are some suggestions!
UK:
US:
Canada:
Australia:
If you have any other reputable rescue centers you would like to add to the list, let us know below!
Is a Border Collie Corgi Mix Right For Me?
Ultimately, only you can answer that question.
However, we would ask that you consider other healthier breeds before coming to any decisions.
If your heart is set on this breed, be sure to consider your family situation.
Do you have enough time to provide the mental and physical stimulation this breed needs daily?
Will you be able to provide constant company for the dog to avoid separation anxiety issues?
As with buying any dog, impulse buys should always be avoided.
Always consider whether you will have the time and if the breed is a good fit.
Have you ever owned this mix before?
What do you think about the breed?
Let us know below!
References and Resources
American Kennel Club
Awano, T, et al, Genome-wide association analysis reveals a SOD1 mutation in canine degenerative myelopathy that resembles amyotrophic lateral sclerosis PNAS, 2009
Mattoso, CRS, et al, Prevalence of von Willebrand disease in dogs from São Paulo State, Brazil Journal of Veterinary Diagnostic Investigation, 2010
Oberbauer, AM, et al, Long-term genetic selection reduced prevalence of hip and elbow dysplasia in 60 dog breeds PLOS one, 2017
Parker, HG, et al, An expressed fgf4 retrogene is associated with breed-defining chondrodysplasia in domestic dogs Science, 2009
Priester, WA, Canine intervertebral disc disease – Occurrence by age, breed, and sex among 8,117 cases Theriogenology, 1976
Hülsmeyer, V, et al, Epilepsy in Border Collies: Clinical Manifestation, Outcome, and Mode of Inheritance Journal of Veterinary Internal Medicine, 2010
Patterson, EN, Clinical Characteristics and Inheritance of Idiopathic Epilepsy University of Minnesota College of Veterinary Medicine, 2007
Gough, A, et al, Breed Predispositions to Disease in Dogs and Cats John Wiley & Sons, 2018
Platt, S, et al, Prevalence of Unilateral and Bilateral Deafness in Border Collies and Association with Phenotype Journal of Veterinary Internal Medicine, 2008