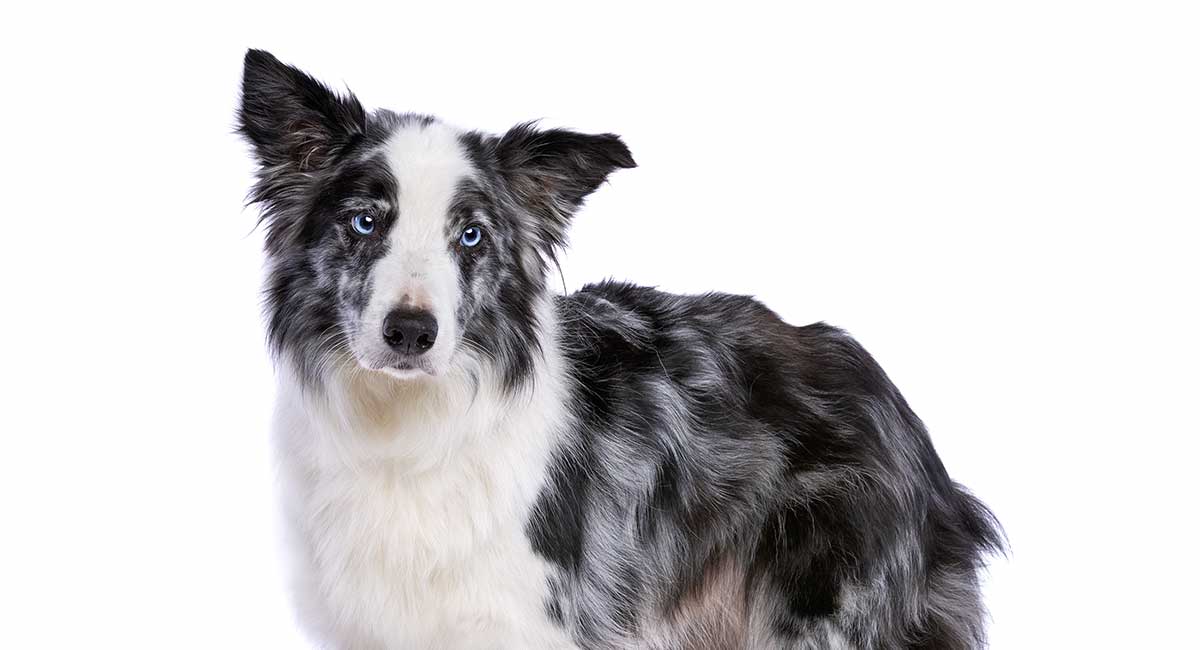 The blue merle Border Collie has a mottled, flecked grey, black and blue coat. The merle pattern usually spreads over their faces and backs, and they often have white chests, faces and front legs. Blue Merle Border Collie eyes are blue, brown, or one of each color! This is a clever herding dog with ancient roots. They have an incredible work ethic, high intelligence and boundless energy. Today we'll share the breed traits that separate the merle Border Collie from the other markings and patterns that they can display. We'll look at how the blue merle gene can impact their health, and help you to find a healthy, friendly blue merle Border Collie puppy.
Contents
This coat color can only be produced in puppies by dogs who carry the dominant merle gene. But this can also present some issues for our dogs! So, how do you know if this color of Border Collie is right for you? Let's learn if the color of his coat will have any impact on his temperament, health and overall vitality.
What is a Blue Merle Border Collie?
The blue merle Border Collie is a Border Collie dog with a particular coat pattern and color. The blue merle combination is particularly rare in Border Collie dogs. This color combination must be inherited from a parent breed with a merle gene.
Other Color Combinations
Along with the blue merle Border Collie, other Border Collie color combinations include:
red
black
sable
saddleback sable
black and white
white and blue
red and white
white ticked
blue
red merle
blue merle and white
white and red merle
sable merle
Blue Merle Border Collie Appearance
The blue merle Border Collie, in particular, boasts a white chest with grey or "blue"-tinged fur. The latter includes dark patches along his back, tail, face and ears. They can have blue eyes, brown eyes, or one blue eye and one brown eye.
Typically they have long tails, and short ears that can stand erect or flop forward—depending on their mood. They come in two coat types: rough and smooth.
Blue Merle Border Collie Grooming
The blue merle Border Collie is a lighter-colored dog with dark patches and typically a white face. This means he could be prone to tear stains or dirt stains on his paws, underbelly and face.
The rough-coated Border Collie has a medium to longer length coat. The smooth-coated Border Collie's coat is short and thick. However, both coats are double-layer coats. They're meant to protect the Border Collie from the elements and from very cold or hot weather.
Regardless of whether your blue merle Border Collie has a rough coat or a smooth coat, his grooming requirements are the same. The undercoat of your Border Collie's fur is thick and downy while the outer layer is a bit harsher.
Dealing with Shedding
The Border Collie is a heavy shedder, and they shed even more profusely during shedding season. This means they need to be brushed out at least two to three times a week to keep their fur from matting. It's important to keep their skin and coat healthy too.
However, during shedding season, your blue merle Border Collie needs daily brushing to keep their coat in shape. The Border Collie needs their ears cleaned regularly to prevent infection due to waxy buildup, excess moisture or debris buildup. They also needs their nails trimmed or ground regularly to keep them from cracking or splitting.
How Big Are Border Collies?
Standing approximately 18 to 22 inches tall and weighing from 30 to 55 pounds.
Blue Merle Border Collie Temperament
The coat color of the blue merle Border Collie has been linked to congenital deafness. However, studies have yet to prove that the coat color of a dog has any correlation with his overall temperament.
Dr. Stanley Coren, Ph.D., points out that there are plenty of superstitions when it comes to the color of dogs and their behavior. The good news is that with proper socialization, exercise, training and attention, experts agree that the majority of dogs will grow up to be happy, healthy and well-rounded.
Blue Merle's Overall Temperament
The Border Collie is an all-around energetic, active and highly intelligent working breed. They are considered to be the world's best herding dog. In fact, the Border Collie is still valued all over the world today as a ranch hand's right-hand pal.
Intelligence and Training
This is a breed who is super intelligent and is best for experienced dog owners. While the Border Collie is eager to please and easy to train, he can have a mind of his own and enjoys outsmarting you if you're not careful.
The Border Collie is a friendly dog who gets along with children and other household pets.
This is still a herding dog and can be prone to herding instincts. This means your children and smaller pets in the home may wind up being herded on a daily basis.
Training a Blue Merle Border Collie
The good news is that training early on can help nip this somewhat annoying behavior in the bud. But how do you keep a Border Collie happy and healthy?
In general, Border Collies are highly energetic and very smart. They will need plenty of consistent training and exercise to keep them occupied. Don't let them get bored because they will potentially be destructive or depressed.
Helping Hands!
The great thing about Border Collie dogs is that they love to help and can be trained to do a number of household chores. You need help sorting the laundry, taking out garbage and loading the dishwasher? They're ready for action.
A properly exercised and trained Border Collie can make a fabulous family companion. They should also be socialized at an early age to help them adapt seamlessly to new situations and people.
Blue Merle Border Collie Genetics
Genetics are a tricky thing, and even trickier when talking about the blue merle Border Collie. This is because, although the merle gene is considered dominant, it is actually quite rare in Border Collie breeds. Still, the color of any dog's coat is the result of two foundation or base colors, which are believed to be red and black.
The color of your dog's coat depends on these foundation colors, and the dominant and resistant genes the dog inherits from his parents.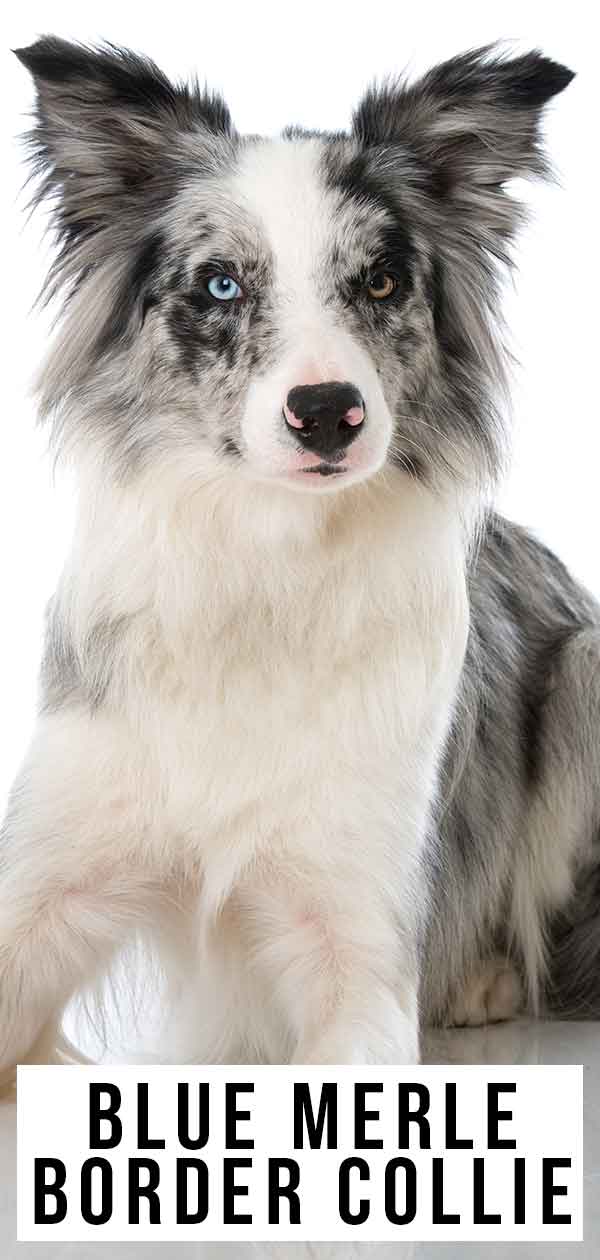 Blue Merle Border Collie Genetics
Did you know that only a merle parent dog can produce a merle litter? However, just because the merle parent dog is merle and therefore carries the gene, does not guarantee a merle puppy will be born.
Maybe you can run across one by chance. But the main way to get your hands on a blue merle Border Collie puppy is to go through a breeder who purposefully breeds this rare color combination of dog.
Things to be Aware Of
However, you may want to be careful when buying a blue merle Border Collie, or any dog with the merle gene for that matter. The reason why is quite interesting. Unfortunately, some studies have found that certain genes that lead to lighter coat colors can also lead to congenital deafness in dogs.
Colors Linked To Deafness
Coat colors known to have a link to congenital deafness include:
Blue Merle Border Collie Health
As we touched on briefly above, it is true that the color of your blue merle Border Collie could have implications on his health.
There can be a few different causes of congenital or inherited deafness. However, studies found that the congenital deafness in Border Collie dogs is higher when the dog has a merle coat, a white head or blue eyes.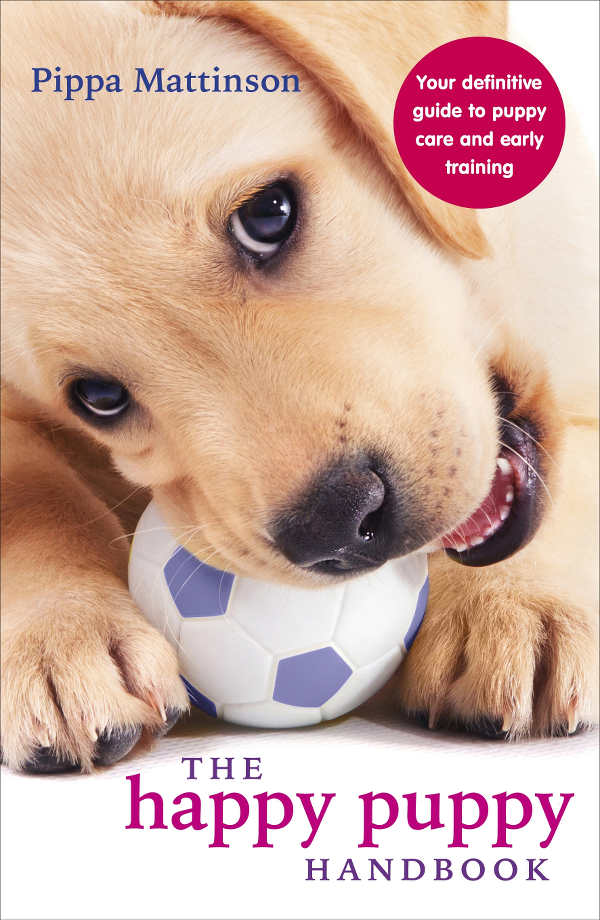 Of course, all dogs can be susceptible to genetic health issues outside of those that correlate with coat color. The blue merle Border Collie is no exception. Along with congenital deafness, the blue merle Border Collie can be susceptible to:
hip dysplasia
progressive renal atrophy
epilepsy
collie eye anomaly
neuronal ceroid lipofuscinosis
trapped neutrophil syndrome.
Blue Merle Border Collie Breeders
If you plan on getting your blue merle Border Collie through a breeder, keep in mind that most responsible breeders screen their litters. They will be able to provide you with certificates of health before you leave with your pup. However, if you rescue your blue merle Border Collie and are unsure of his health, have him health screened yourself.
Hip evaluation and ophthalmologist tests are recommended for the Border Collie breed. Aside from health testing, there are other ways you can help ensure that your blue merle Border Collie is happy and healthy.
Raising Your Blue Merle Border Collie Puppy
Keep your blue merle Border Collie on a high-quality, balanced diet. The diet should be specified for their age, weight and activity level to keep them feeling and looking ship shape. Make sure they receives plenty of exercise every day. In puppyhood this will be mostly training games and very short walks. When they are older and their bones are developed you can increase distances and times for expeditions together. An active dog like the Border Collie needs plenty of time outdoors to roam and explore when they reach adulthood.
Are Blue Merle Border Collies Good Pets?
The blue merle Border Collie is a beautiful dog inside and out. That doesn't mean they are the dog for everyone. Studies have yet to prove that coat color has any connection to a dog's temperament. However, other studies confirmed that coat color and a dog's health can go hand in hand. This color Collie can be more susceptible to congenital deafness due to his merle gene. This has been linked to inherited deafness in the breed.
However, the Border Collie breed overall is a healthy dog who gets along well with children and other household pets. When properly trained, socialized and given plenty of exercise they can make amazing companions for active, outdoorsy, working homes.
Are you looking for a blue merle Border Collie to call your own? We love to hear about your dog-owning journey in the comment section below.
References