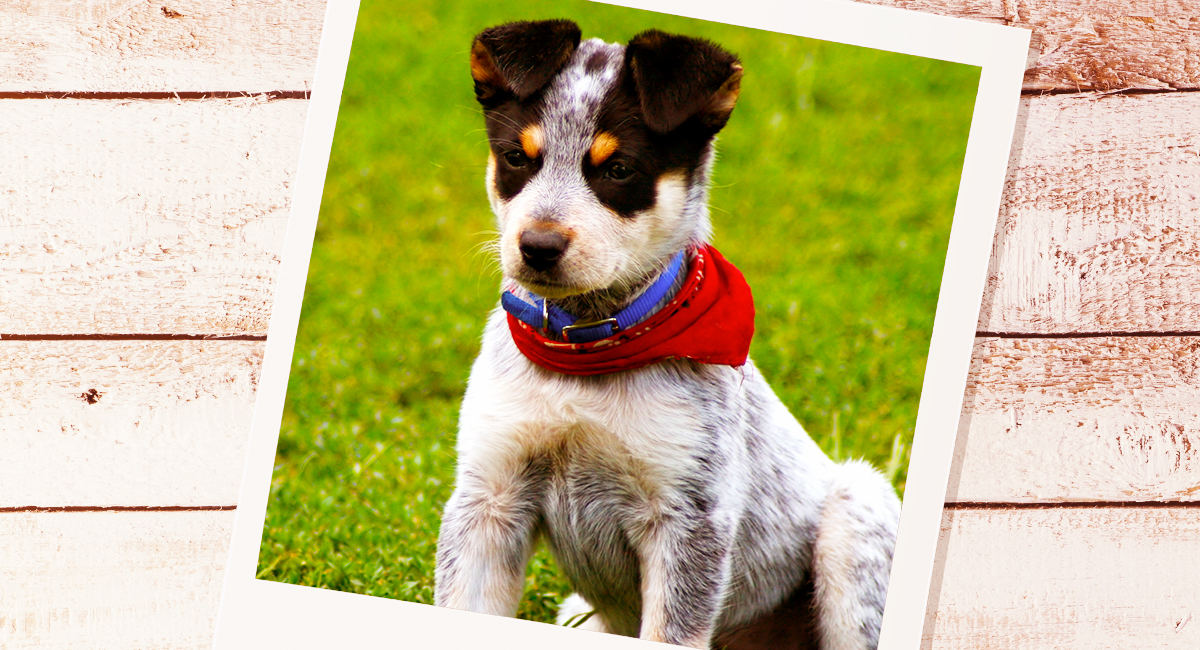 Pictures of Blue Heelers often show a rough, sometimes scruffy dog perfectly suited for life in the tough Australian outback.
They are proper working dogs bred to guard flocks of sheep and cattle from danger and raise the alarm.
However, beneath their hard-bitten exterior lies a loyal, intelligent, and brave dog with a great sense of fun.
For those of us who love this rough and ready breed, browsing a collection of Blue Heeler pictures is the perfect way to spend a few spare minutes with a hot coffee.
Cattle dogs have such a variety of colors and coats all in one breed, and you really can say that no two Blue Heelers look alike!
Before we go any further, if you love the Australian Cattle Dog as much as we do you might also enjoy our Blue Heeler guide. It's packed full of fascinating information about your favorite breed, with great facts about its history, personality, and the unique appearance of these fantastic dogs.
Of course, if you'd rather just indulge yourself with some stunning pictures of Blue Heeler dogs then scroll on down. We are sure you won't be disappointed by our gallery of lovable rogues with hearts of gold.
So, onwards we go to our wonderful menagerie and delightful pictures of Australian Cattle Dogs
Blue Heeler Pictures Outdoors
Blue Heelers are in their element outdoors, and love to work, play, and walk whatever the weather. This is a hardy breed, and rain, wind or snow won't bother them one bit!
In fact, these energetic dogs absolutely love long walks through the countryside, so make sure you have the right clothes. We wouldn't want you getting wet in the rain or sweltering in the heat while your Aussie companion ploughs on regardless.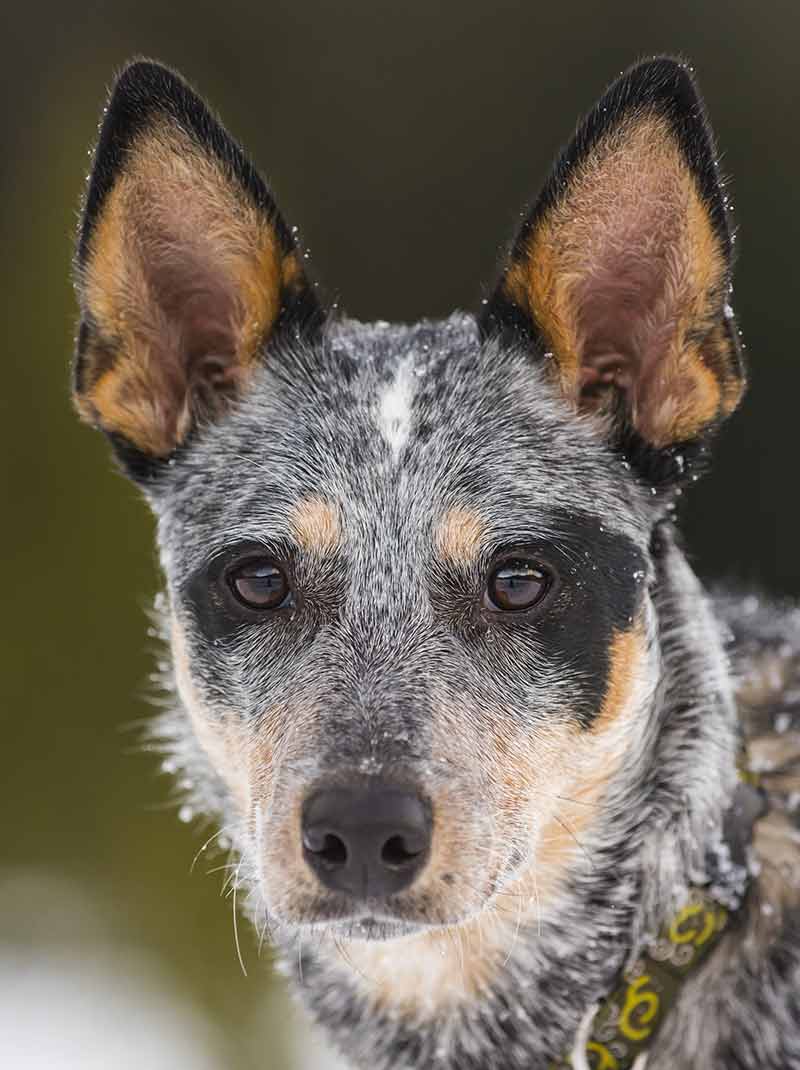 Although originally bred for herding cattle, many Blue Heelers work as all purpose farm dogs, tending to sheep as well as cows. This cattle dog is in its natural element looking after its flock, and doesn't this Blue Heeler look very happy!
Most Blue Heelers love nothing better than to be busy working or taking their human for a very, very long walk. At the end of a long day, relaxing among the leaves is a perfect way to unwind.

This gorgeous 'portrait of a blue heeler' was taken during the fall. She looks kind of 'thoughtful,' don't you think? Blue Heelers are very smart dogs and are full of curiosity.
Maybe she is plotting some mischief, or is ready to carry on with her wonderful walk through the trees.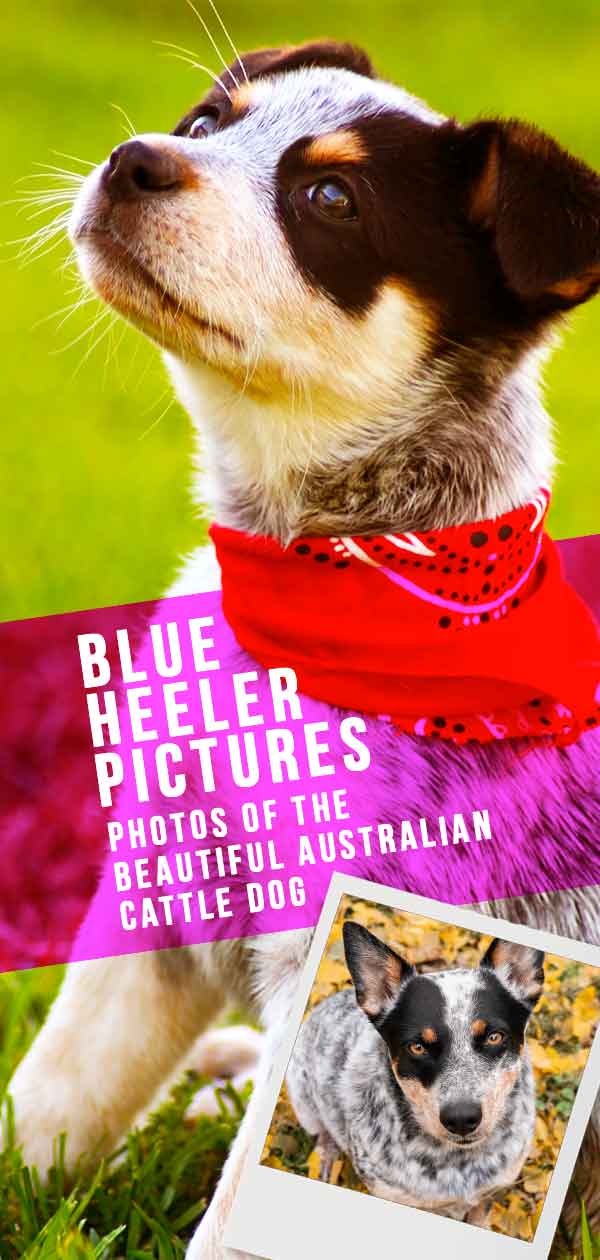 The colors in a Blue Heeler's coat blend perfectly with nature. With such a patchwork of colors and textures, they seem to be perfectly camouflaged anywhere in the world. Whether they are in the red outback, a sun-dappled forest, or a pebbly beach, they fit in perfectly.
The handsome Blue Heeler above looks completely at home against the backdrop of some stunning Alberta scenery. You couldn't think of an environment more different than her original Australian home, but she just seems to belong.
This one below blends into the grass and trees as if it were its natural home.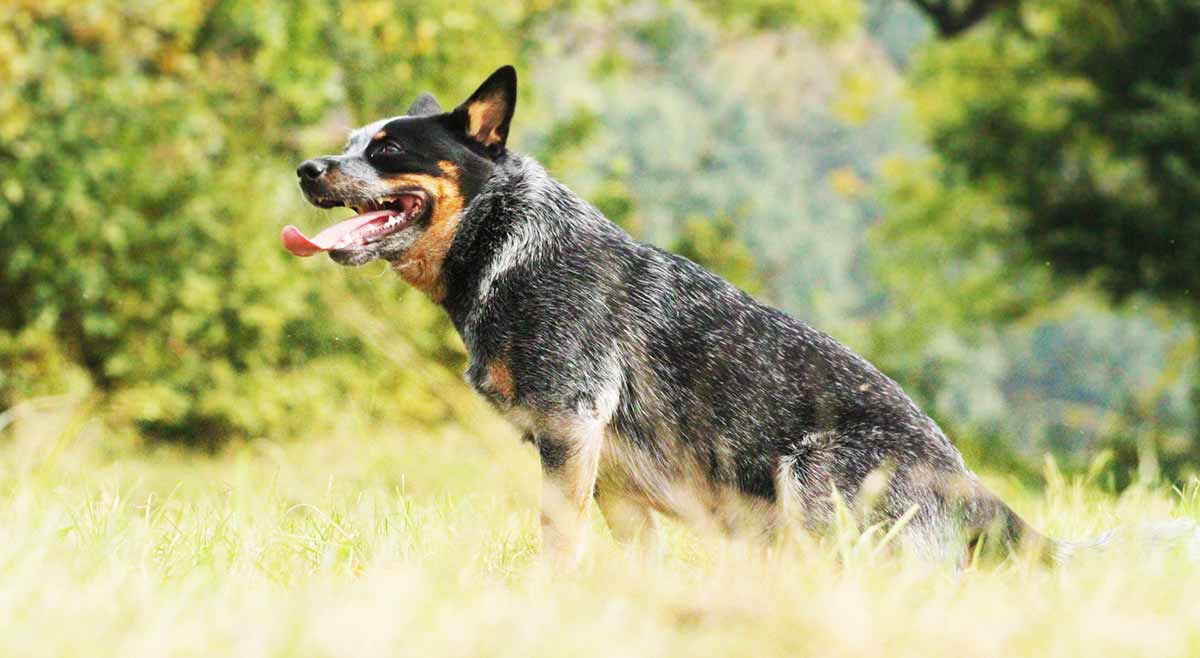 Pictures of Blue Heelers At Play
Blue Heelers are very smart dogs and can easily be taught to fetch a ball or toy. This working breed is full of energy and loves to spend time playing with you. It keeps them fit, but also stops them from becoming bored – they really do need something to do!

It's important to use modern positive reinforcement techniques when training your Blue Heeler. Whether you are teaching basic obedience, or playing around with fun tricks, be positive and you'll find they are willing to learn if you put in the time.
Not only is training fun, it is essential with this breed.
Bored Blue Heelers get up to mischief and can be very destructive. These dogs need lots of play and exercise, so if you can combine this with training, you'll have a happy dog and a happy owner!
If you are interested, Australian Cattle Dogs love agility contests, flyball, and other doggie sports where they get to burn energy, use their working instincts, and socialize.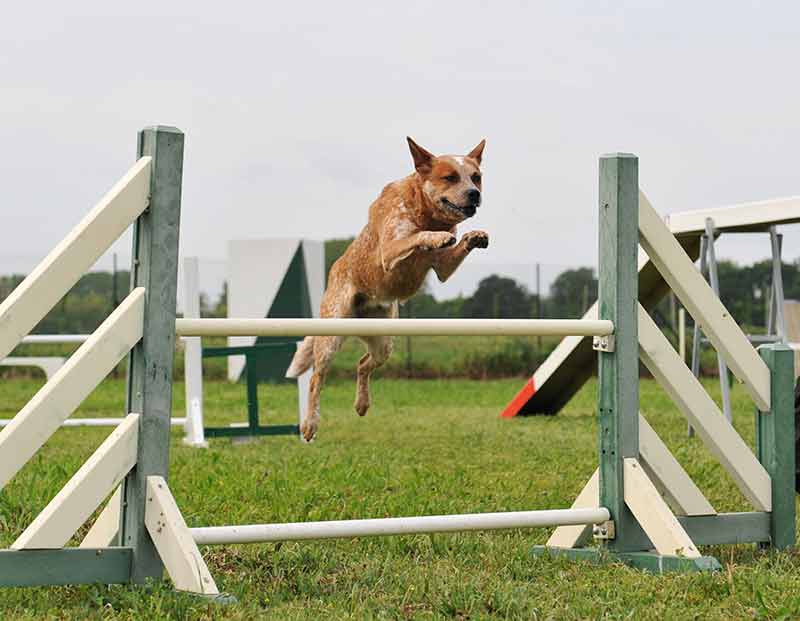 Agility is a brilliant way to keep your Australian Cattle Dog occupied and both physically and mentally stimulated. Importantly, it's also a great way to keep you occupied, physically and mentally!
Blue Heeler Markings
One of the things that Aussie Cattle Dog fanatics love most about their dogs is that this is a breed where each dog is individually marked. Which means that every Blue Heeler is unique in appearance. Of course, we think that they are all absolutely gorgeous!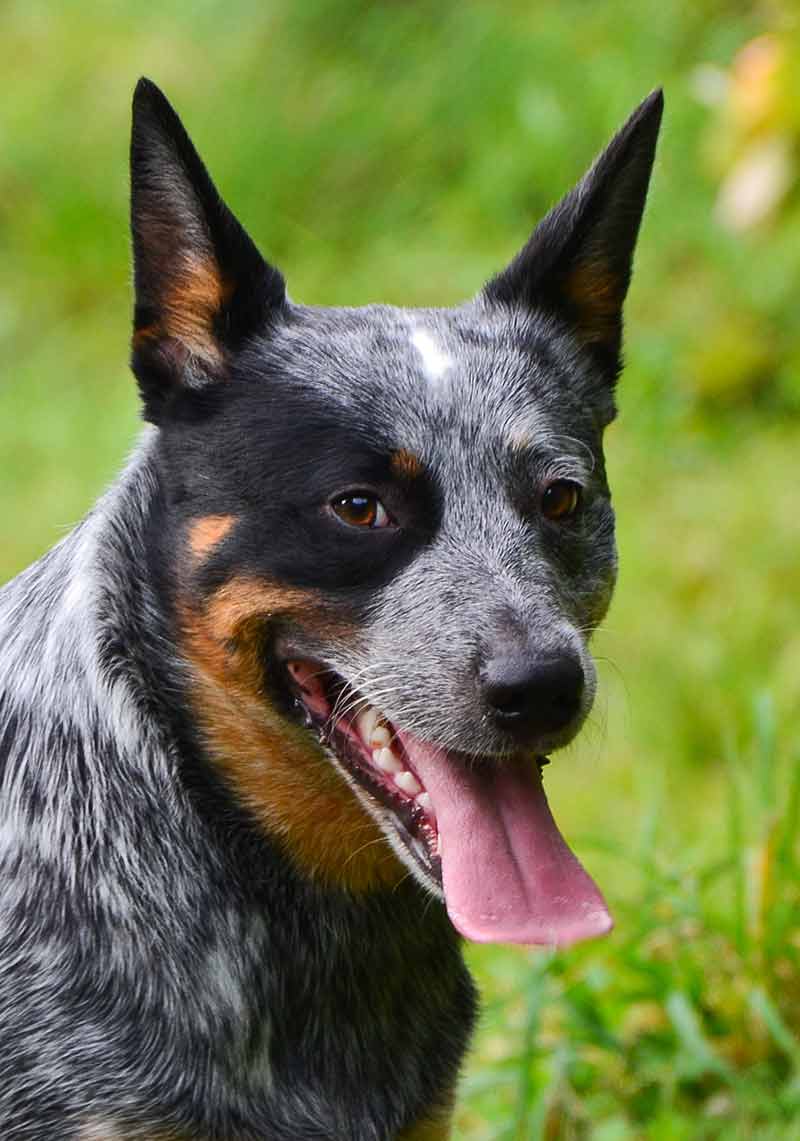 We love the rich rust red throat on this beautiful boy. And like many Heelers he has a sweet and slightly piratical eye patch. That matches their personality perfectly, as lovable and mischievous rogues with big, kind hearts.
He would be at home on the Spanish Main, looking for fat galleons to plunder!
Here's another Blue Heeler with a dark patch over one eye.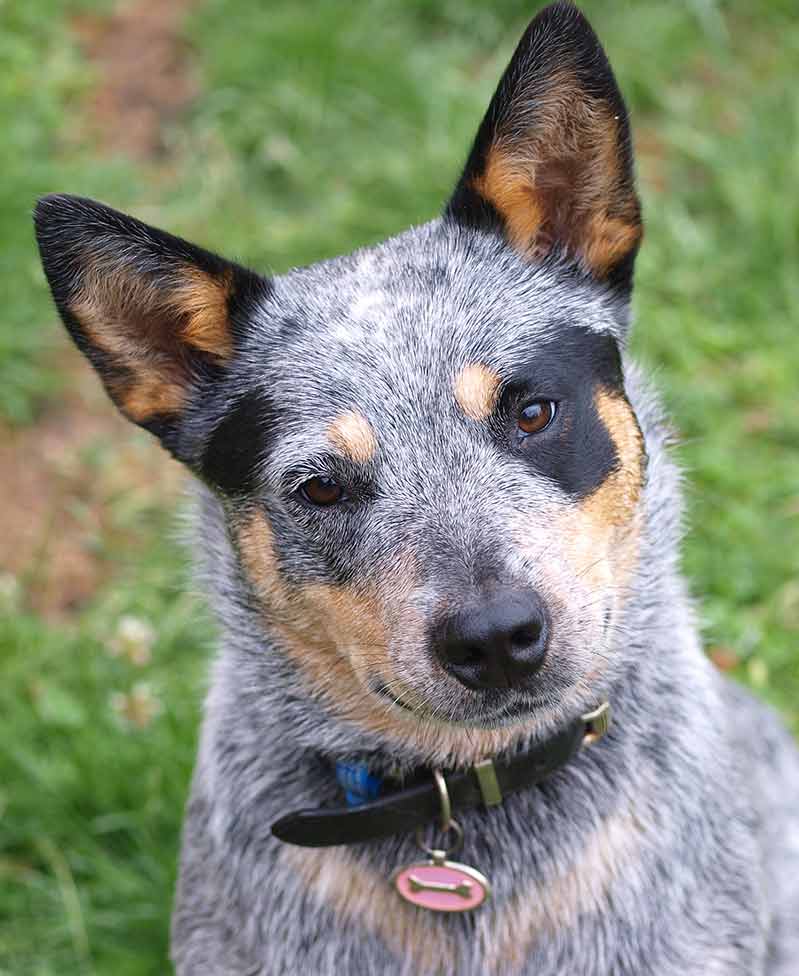 But this one has very cute ginger eyebrows and the lovely pastel coat that defines the Blue Heeler.
Blue Heeler Puppy Pictures
All puppies are beautiful, of course, and looking at cute puppy pictures is always a great way to spend some time. But, we think that Blue Heeler pups are especially gorgeous and cuddly with their fluffy coat.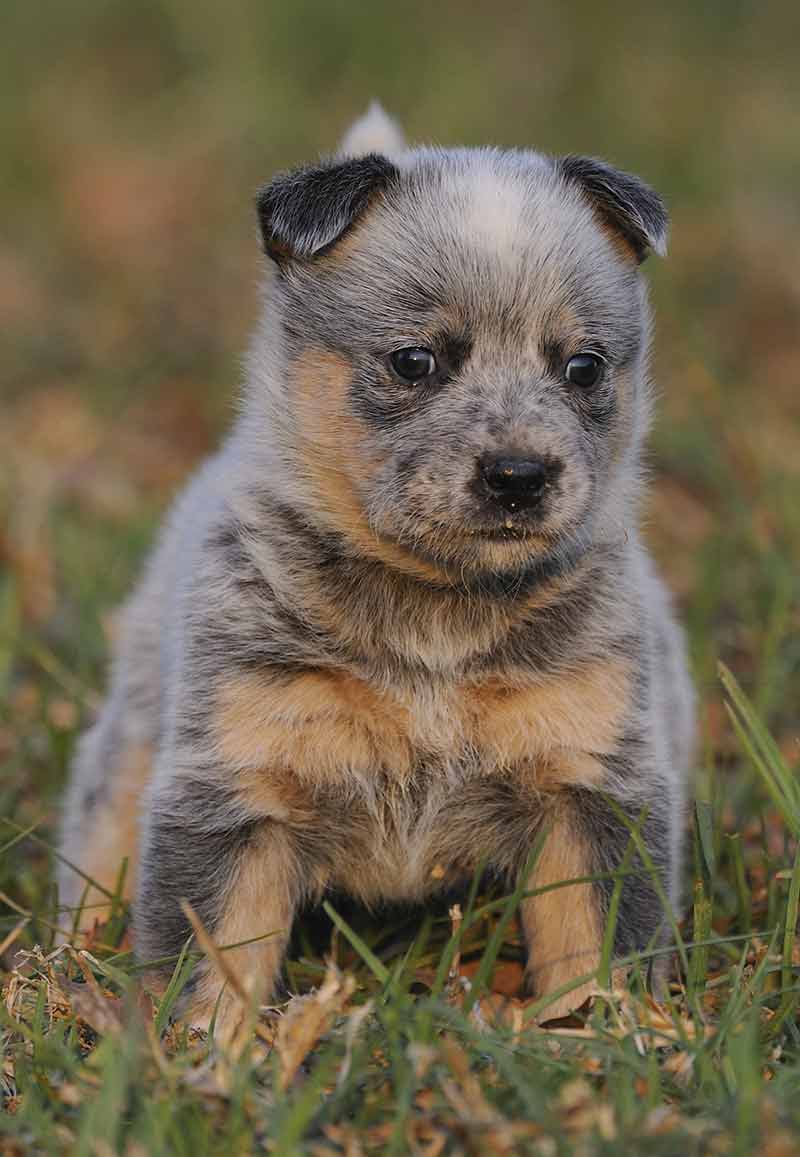 This little cutie is just five weeks old and already looks to be a character!
He won't be ready to leave his Mom for several more weeks yet, but a good Blue Heeler breeder will be willing to send you plenty of pictures like this one.
They'll keep you happy while you wait! And we know you won't be disappointed when you finally welcome your new Blue Heeler puppy into your family.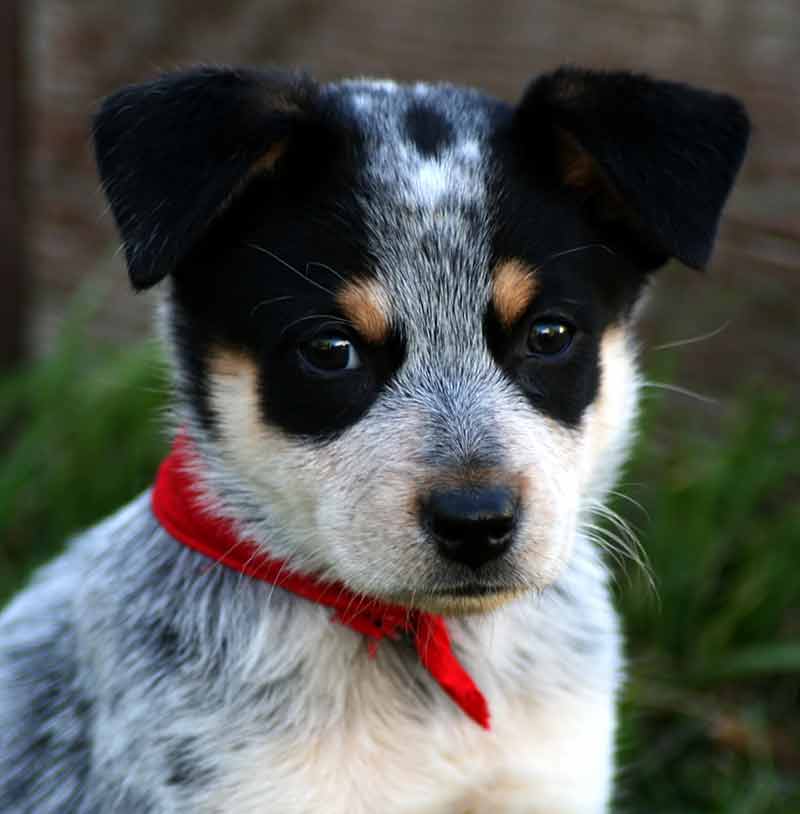 Like many breeds with upright ears, young puppies start off with folded or tipped over ears, which is so cute! These gradually become upright over the next few months.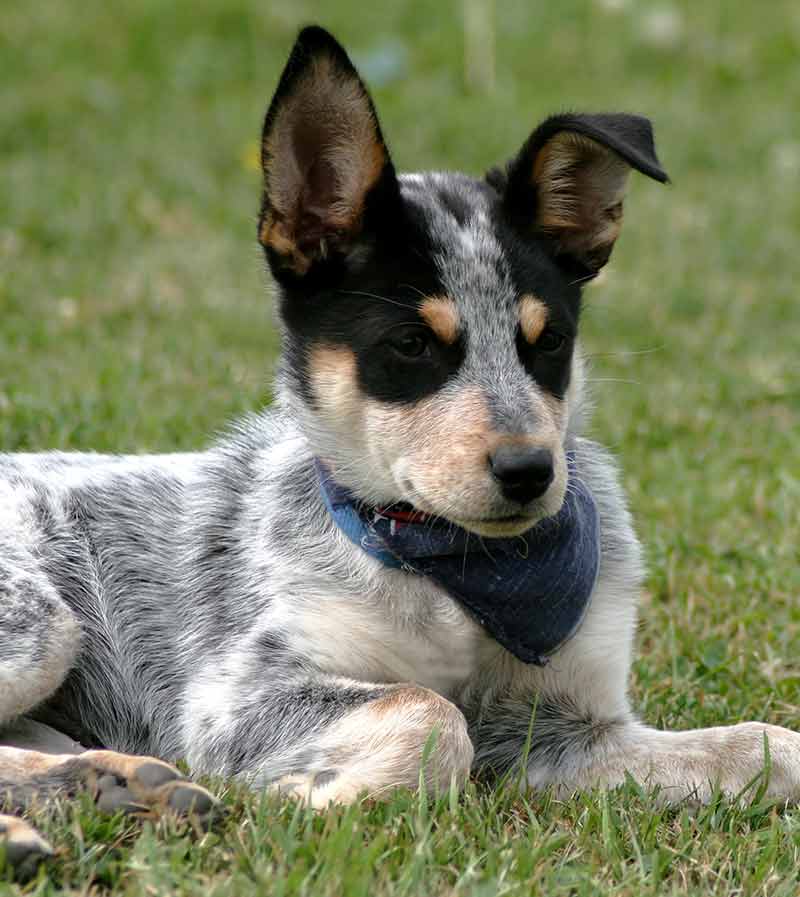 This young Heeler pup's ears are starting to unfold and stand up as it grows. Sometimes, one ear will take longer to stand up than the other, resulting in a very cute look just like this puppy.
These puppies are so cute, it is no surprise that some people want to take things a bit further when it comes to their Blue Heelers! Why be satisfied with only one?
Pictures of Blue Heeler Dogs – Double Trouble!
What could be nicer than an Australian Cattle Dog? Why, two Australian Cattle Dogs, of course! Double the trouble but also double the fun.
Besides which, these dogs love working in pairs and two Blueys will have great fun playing together.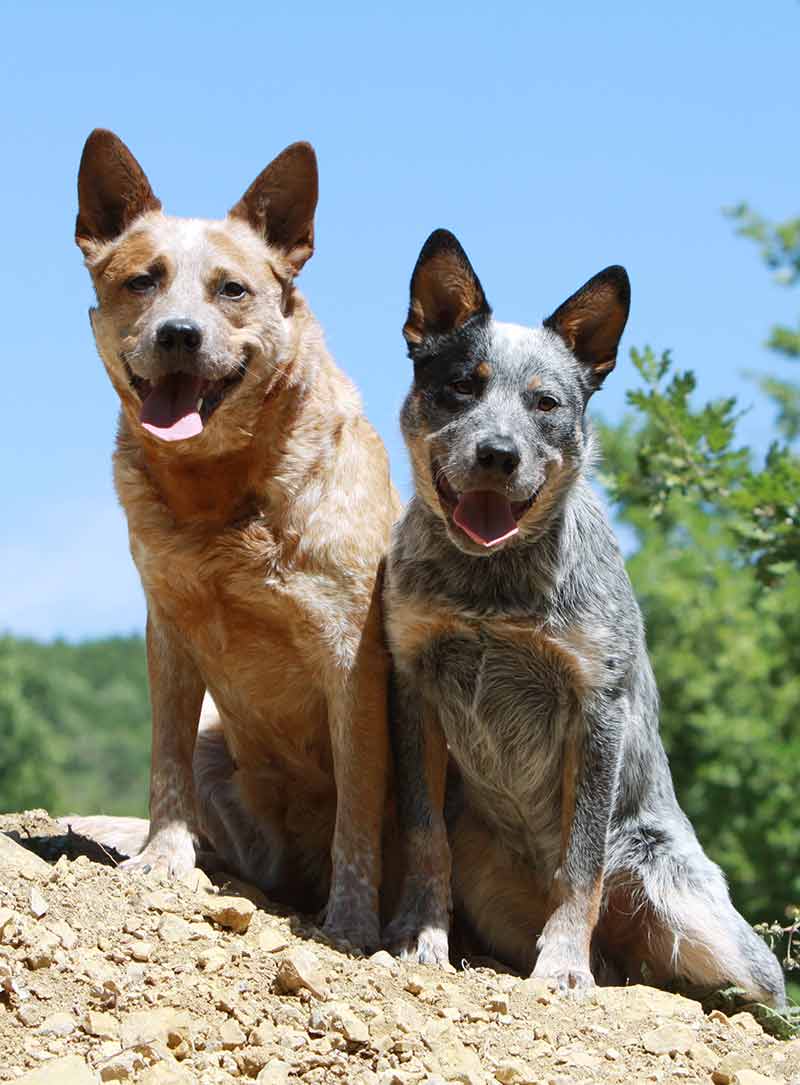 Did you know that the Australian Cattle dogs with the reddish fur are sometimes referred to as Red Heelers?
The Blue Heeler picture above shows one of each. And, aren't they both beautiful!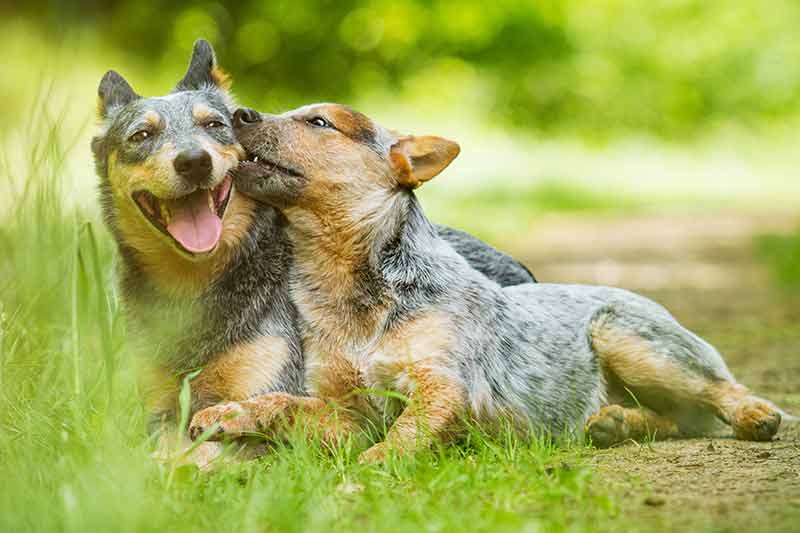 Blue Heelers make great moms, too.
This Blue Heeler Mom is trying to relax, while her pup is keen to have a game.
And finally, one of our favorite pictures of Australian Cattle Dogs, a face that will truly melt your heart.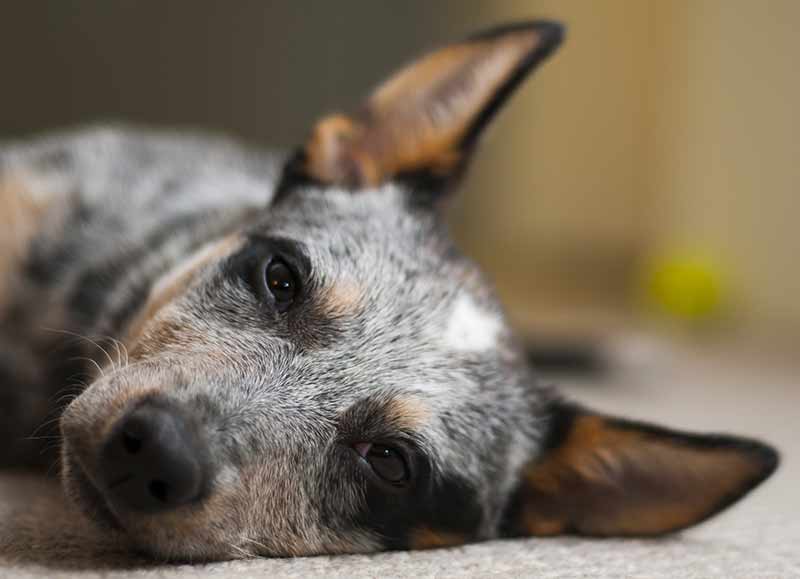 That's one tired dog having a well-earned rest at the end of a long day. As any Aussie Cattle Dog lover will tell you, their owner will be just as tired! One of these dogs will certainly keep you fit!
You have seen some great Blue Heeler images of this awesome breed. Perhaps you think that a Blue Heeler would be the perfect pet for you.
Well, while they can be great family pets, you do need to think carefully before adopting one of these dogs. They can be hard work and you need time and patience, as well as someone fit enough to walk and play.
Here's some more Blue Heeler info that might help you decide.
Blue Heeler Information
Blue Heelers are true working dogs, so they are not a perfect fit for every modern family. To own a Blue Heeler you really do need to have a lot of time and energy.
Energy for long walks and/or training sessions
Time to exercise and train your dog.
This isn't a dog that will be happy left at home alone all day while you work. Giving it a ten minute walk around the block when you get home simply isn't enough for these intelligent and energetic dogs.
These are great dogs for families that enjoy long hiking trips and like to take their dog along, or for people that love to jog or run.
It's also a great breed for those that want to get involved in a dogs' sport such as 'dock diving', tracking, agility, or obedience training. They are strong, agile, and have great stamina, all tied to their love of play and work.
Don't forget to check out our detailed guide for more Blue Heeler breed information
How to Find More Pictures of Blue Heelers
Many of the pictures of Blue Heelers above come from stock libraries, such as Adobe. These can't be copied or used without joining the library and making a payment.
But you can often find nice Blue Heeler pictures on free sites like Pixabay.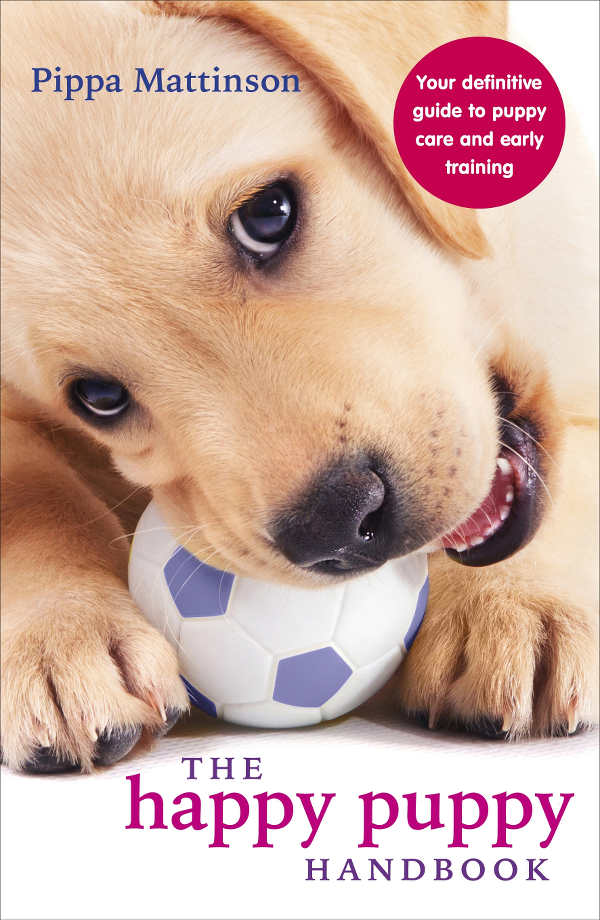 Don't forget to search under alternative names for the breeds such as Australian Cattle Dogs, Red Heeler, and Queensland Heeler. You can also look at Wikipedia Commons, which has some copyright-free and Creative Commons photos.
We also have some lovely Blue Heeler pictures on our Australian Cattle Dog Pinterest board, so if you are a Pinner, don't forget to drop in and have a look
Readers' Blue Heeler Pictures
Finally, if you'd like to share, we may be able to include your very own Blue Heeler photos on this page.
You can add any Blue Heeler images by dropping the link into the comments box below. We can transfer your pictures of Blue Heelers into the article for you. They'll need to be hosted on a publicly viewable page to show up.
You can also post your Blue Heeler pictures up on our Facebook page
Alternatively you can email your photo to us [email protected] Make sure you put 'Blue Heeler Photos' in the subject line.
And don't forget to tell us your dog's name and how old he or she is!
We last updated this article in August 2019, but we are always on the lookout for great pictures of Blue Heelers, so we look forward to seeing yours.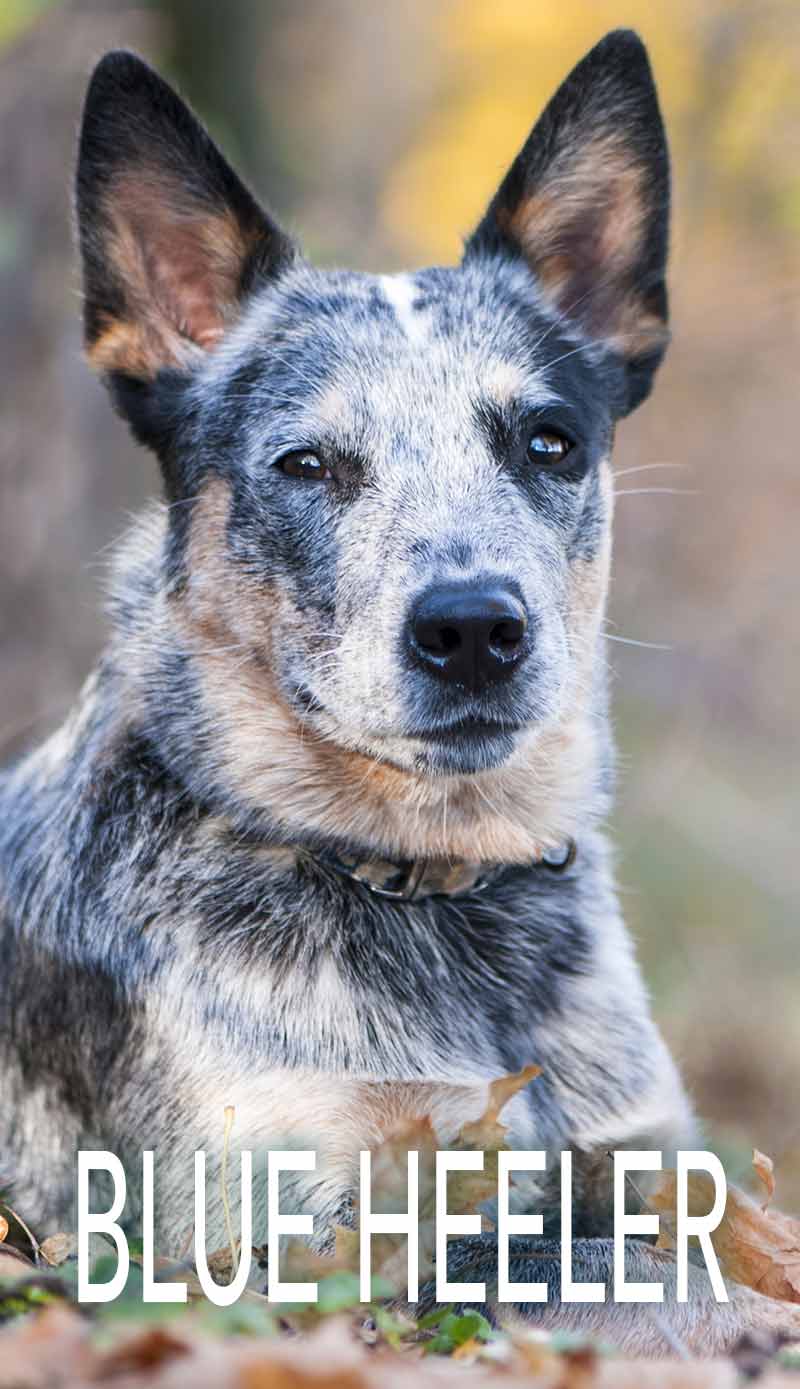 Related Articles
References and Further Reading
Greencross Vets, Is an Australian Cattle Dog Right for Your Family?
PDSA, Australian Cattle Dog Breed Information
Coppinger, L. and Coppinger, R., 2007. 13 Dogs for Herding and Guarding Livestock. Grandin, T. (Ed.) Livestock handling and transport, p.199.
Hampson, B.A. and McGowan, C.M., 2007. Physiological responses of the Australian cattle dog to mustering exercise. Equine and Comparative exercise physiology, 4(1), pp.37-41.
Schwartz, C., 2011. Australian Cattle Dog. i5 Publishing.
Clark, R.D., 2014. Medical, Genetic & Behavioral Risk Factors of Australian Cattle Dogs. Xlibris Corporation.
American Kennel Club, Australian Cattle Dog