Browsing our collection of Blue Heeler pictures is the perfect way to enjoy a cup of coffee or spend a few spare minutes of your time.
If you love the Australian Cattle dog as much as we do you might also enjoy our Blue Heeler guide.  It's packed full of fascinating information about your favorite breed.
Of course, if you'd rather just indulge yourself with some stunning blue heeler pictures then scroll on down.
Blue Heeler pictures outdoors
Blue Heelers are in their element outdoors. This is a hardy breed and rain, wind or snow won't bother them one bit.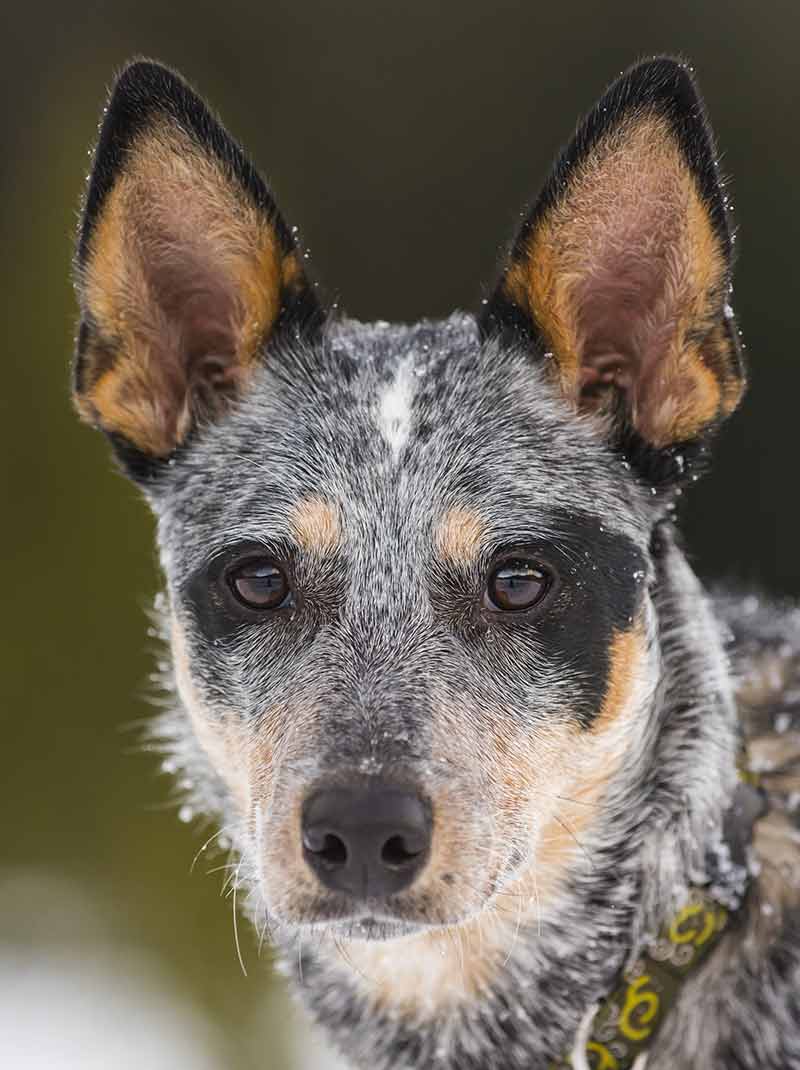 Although originally bred for herding cattle, many Blue Heelers work as all purpose farm dogs, tending to sheep as well as cows.
Most Blue Heelers love nothing better than to be busy working, but at the end of a long day, relaxing among the leaves is a perfect way to unwind.

This gorgeous 'portrait of a blue heeler' was taken during the fall. She looks kind of 'thoughtful' don't you think?
The colors in a Blue Heeler's coat blend perfectly with nature.
The handsome blue heeler above looks completely at home against the backdrop of some stunning Alberta scenery
Pictures of Blue Heelers at play
Blue Heelers are very smart dogs and can easily be taught to fetch a ball or toy

It's important to use modern positive reinforcement techniques when training your Blue Heeler. Whether you are teaching basic obedience, or playing around with fun tricks.
Not only is training fun, it is essential with this breed
Bored Blue Heelers  get up to mischief, and can be destructive.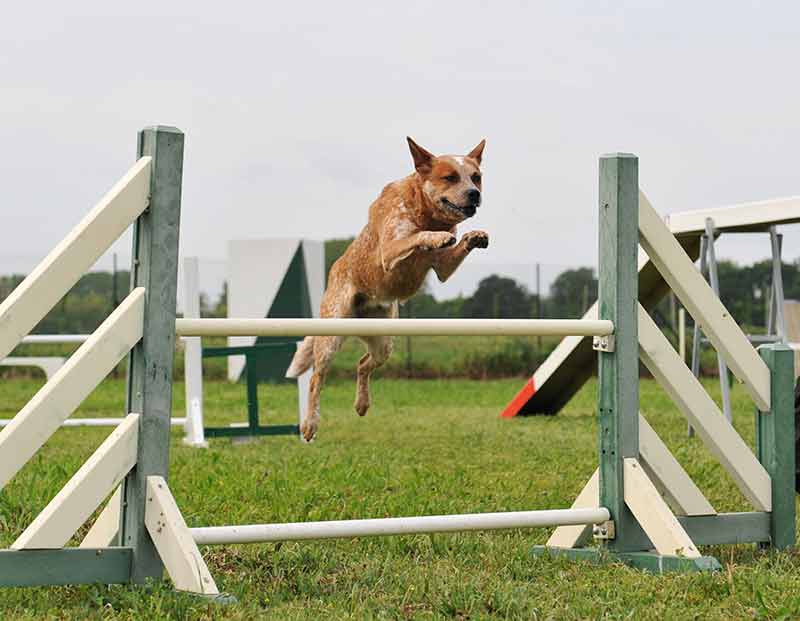 Agility is a brilliant way to keep your Australian Cattle Dog occupied and both physically and mentally stimulated.
Blue Heeler Markings
This is a breed where each dog is individually marked.  Which means that every Blue Heeler is unique in appearance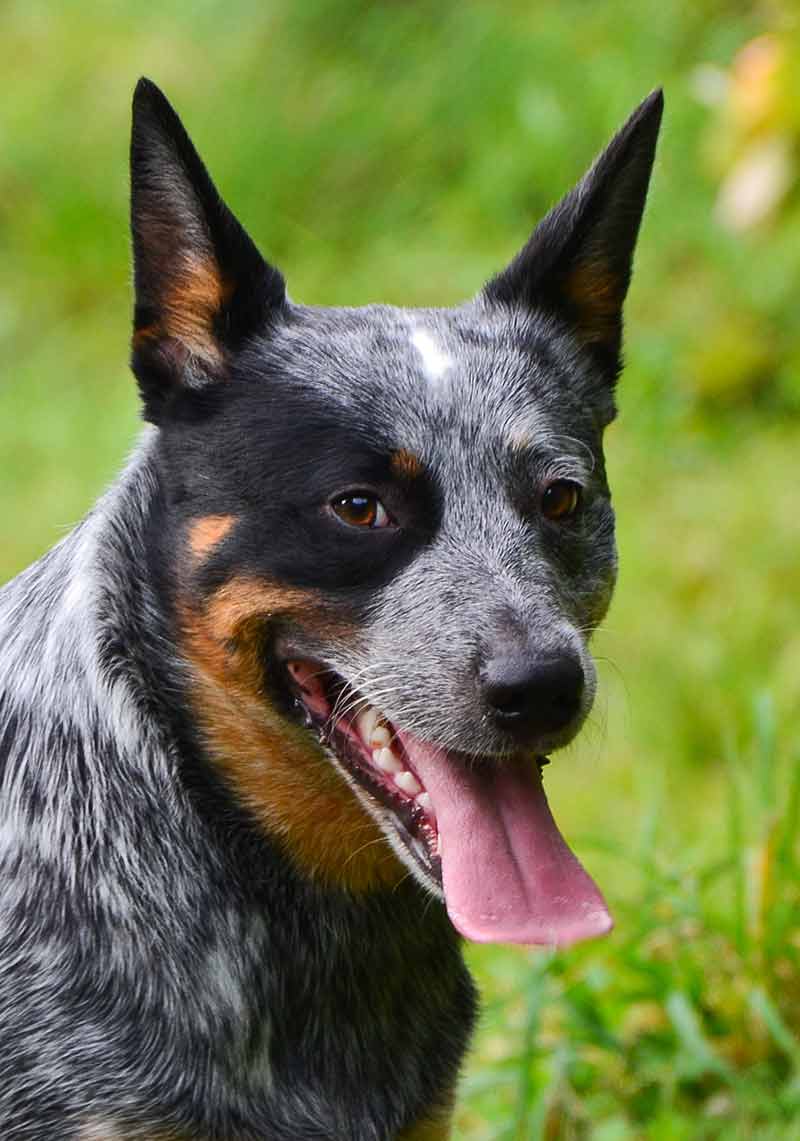 We love the rich rust red throat on this gorgeous boy.  And like many Heelers he has a sweet and slightly piratical eye patch.
Here's another Blue Heeler with a dark patch over one eye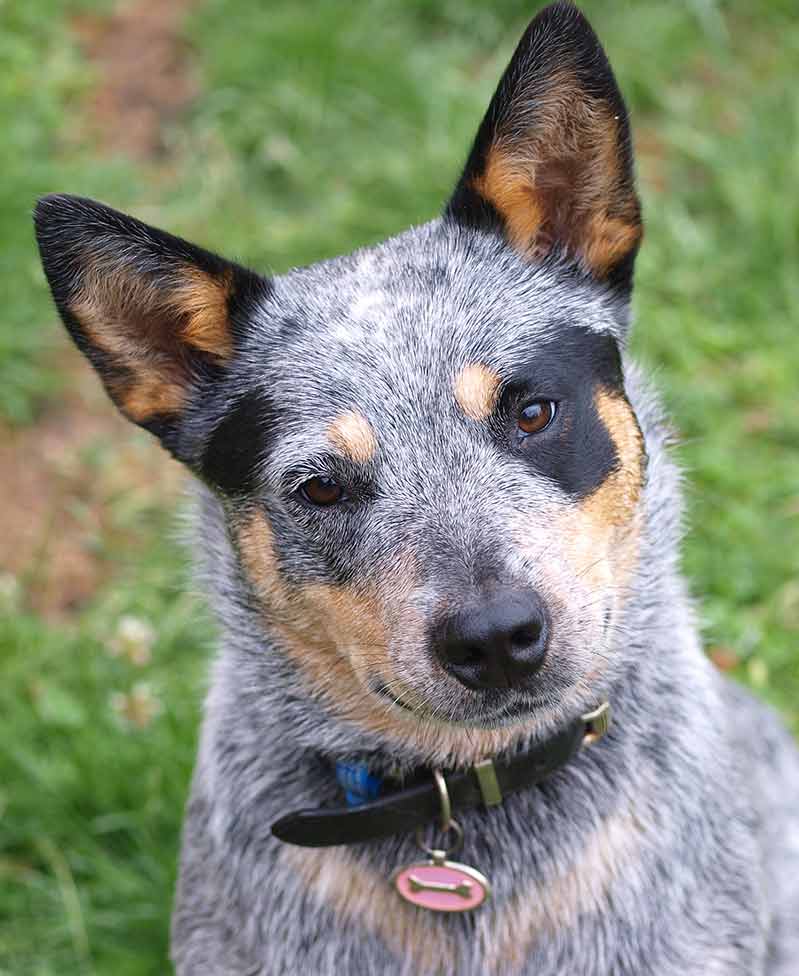 But this one has very cute ginger eyebrows.
Blue Heeler puppy pictures
All puppies are beautiful of course.  But we think that Blue Heeler pups are especially gorgeous.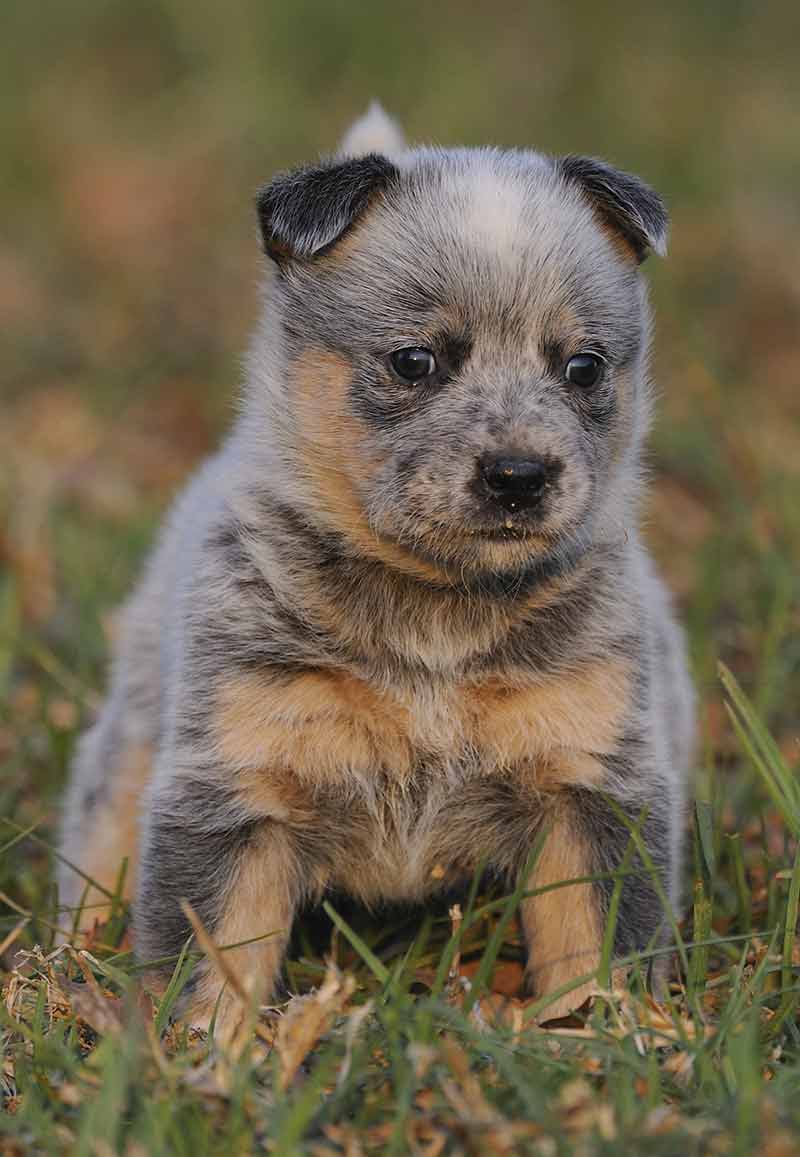 This little cutie is just five weeks old.
He won't be ready to leave his Mom for several more weeks yet, but a good Blue Heeler breeder will be willing to send you plenty of pictures like this one. To keep you happy while you wait!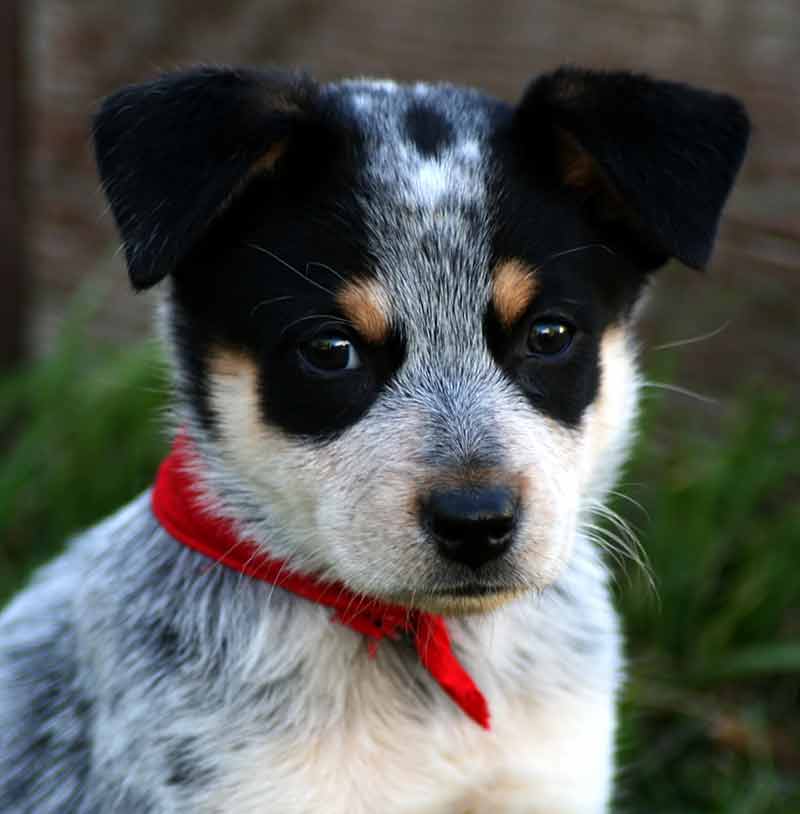 Like many breeds with upright ears, young puppies start off with folded or tipped over ears.  These gradually become upright over the next few months.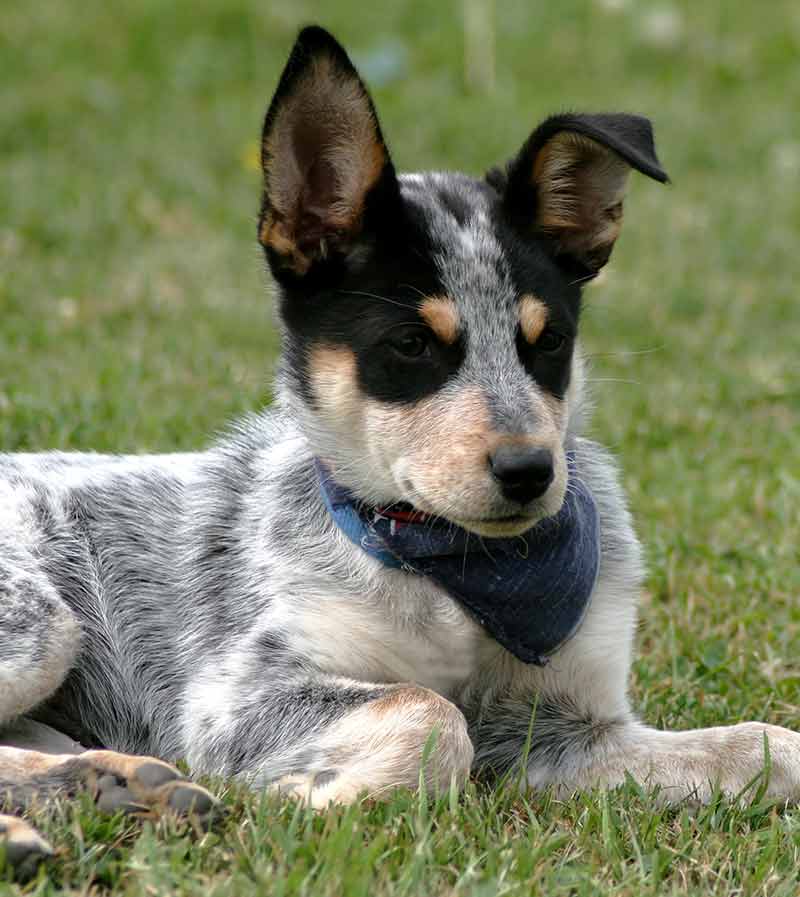 This young Heeler pup's ears are starting to unfold and stand up.  Sometimes one ear will take longer to stand up than the other, resulting in a very cute look just like this puppy.
Double trouble!
What could be nicer than an Australian Cattle Dog?  Why two Australian Cattle Dogs of course!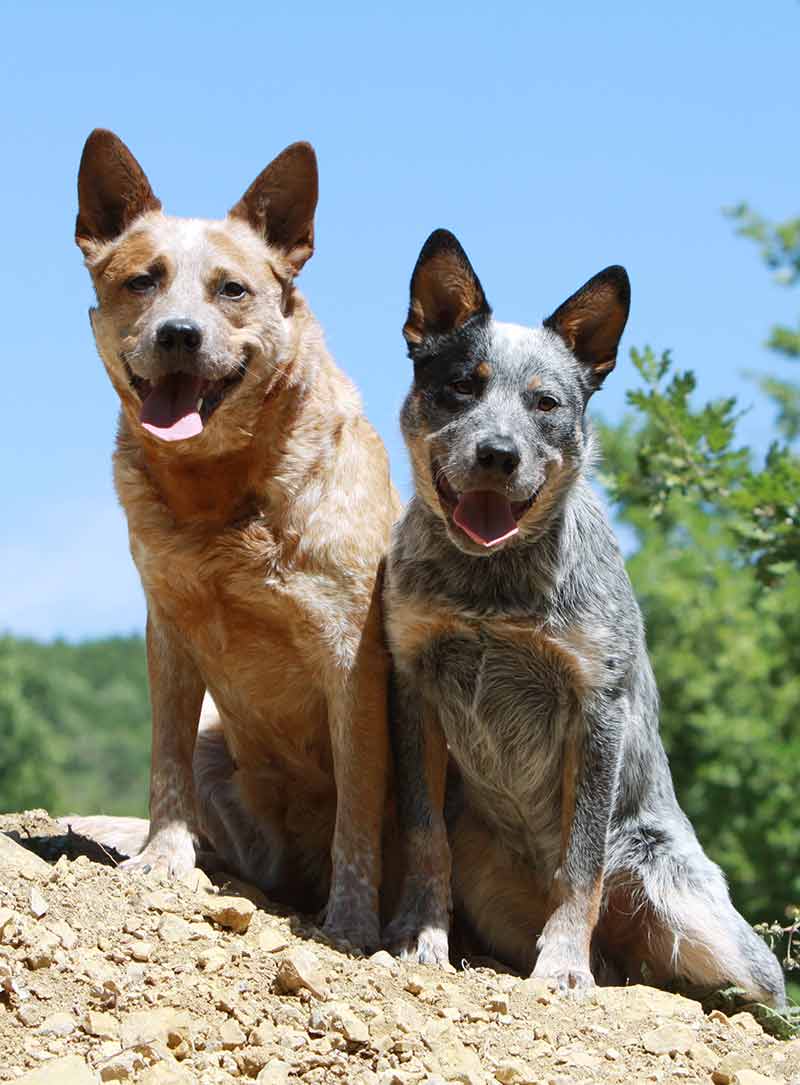 Did you know that the Australian Cattle dogs with the reddish fur are sometimes referred to as Red Heelers?
The blue heeler picture above shows one of each.  Aren't they beautiful!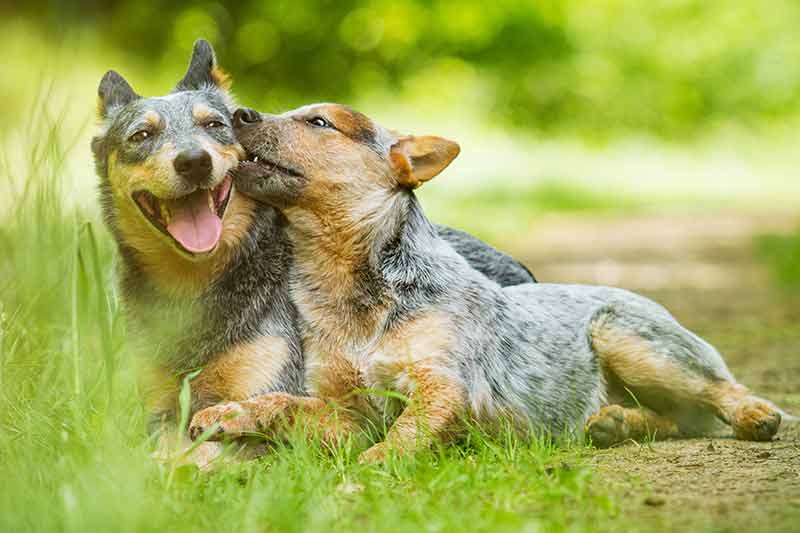 This blue heeler Mom is trying to relax, while her pup is keen to have a game.
And finally, a face that will truly melt your heart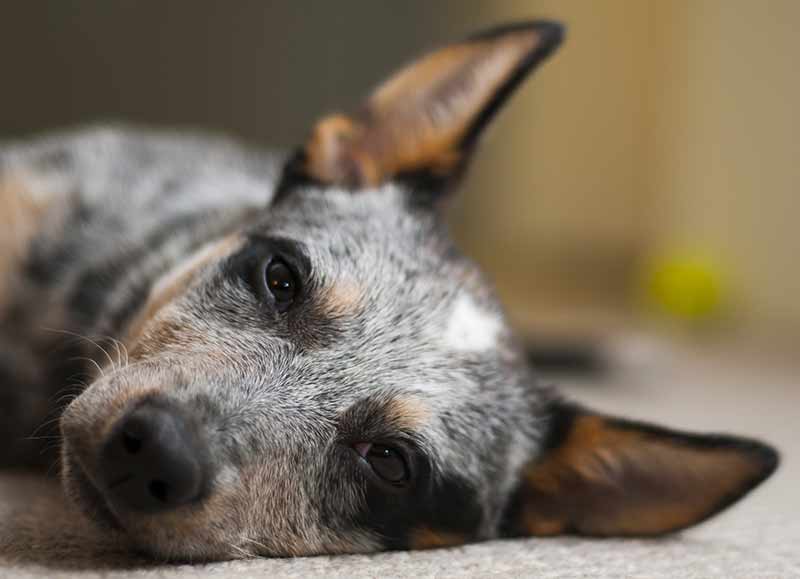 Blue Heeler information
Blue heelers are true working dogs.  They are not a perfect fit for every modern family.  To own a Blue Heeler you really do need to have time and energy.
Energy for long walks and/or training sessions
And the time to exercise and train your dog.
This isn't a dog that will be happy left home alone all day, while you work.  With a ten minute walk around the block when you get home
These are great dogs for families that enjoy long hiking trips and like to take their dog along.  Or for people that love to jog or run.
It's also a great breed for those that want to get involved in a dogs sport such as 'dock diving', tracking, agility, or obedience training.  Don't forget to check out our detailed guide for more blue heeler breed information
How to find more Blue Heeler pictures
Many of the photos above come from stock libraries, such as Adobe. These can't be copied or used without joining the library and making a payment.
But you can often find nice Blue Heeler pictures on free sites like Pixabay.
Don't forget to search under alternative names for the breeds such as Australian Cattle Dogs, Red Heeler, and Queensland Heeler.
We also have some lovely Blue Heeler pictures on our Australian Cattle Dog Pinterest board, so if you are a Pinner, don't forget to drop in and have a look
Readers' Blue Heeler pictures
Finally, if you'd like to share, we may be able to include your very own Blue Heeler photos on this page.
You can add them by dropping the link into the comments box below.  We can transfer them into the article for you.  They'll need to be hosted on a publicly viewable page to show up.
You can also post your Blue Heeler pictures up on our Facebook page
Alternatively you can email your photo to us [email protected]   Make sure you put 'Blue Heeler Photos' in the subject line.
And don't forget to tell us your dog's name and how old he or she is!