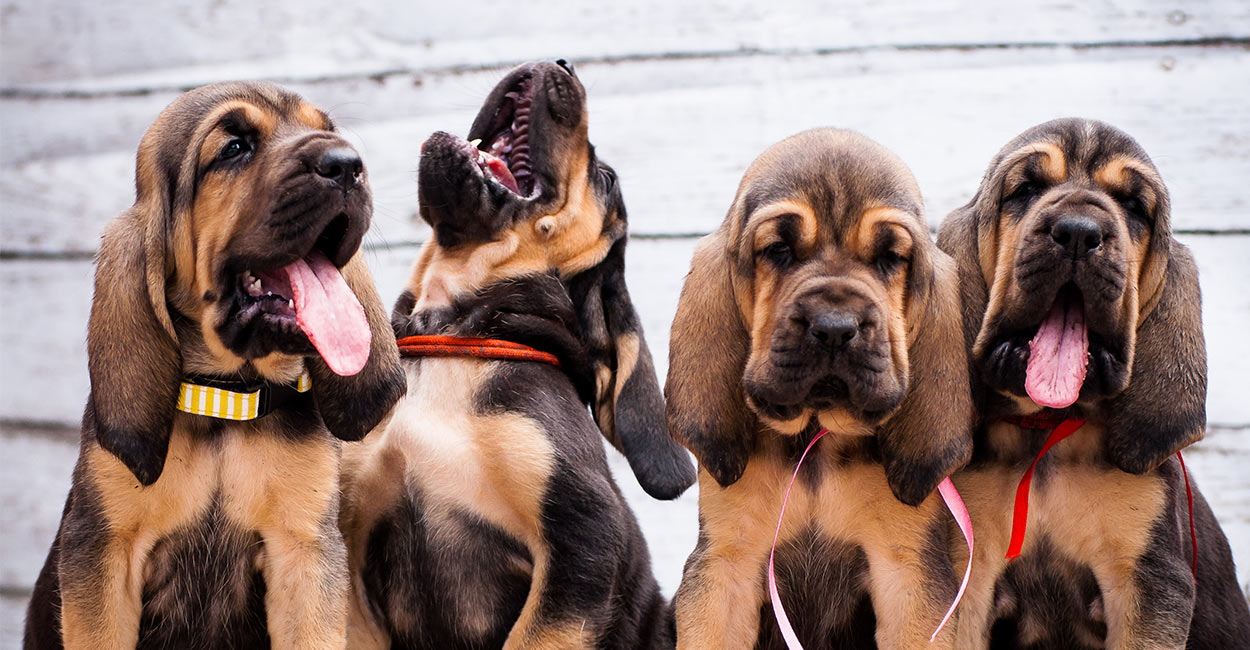 The Bloodhound is a popular breed whose purpose, even today, is a scent hound.
They generally weigh between 80 and 110 pounds, and grow to between 23 and 27 inches.
This is a friendly, independent, and outgoing breed, that can suit an active household.
Are you looking to find out more about the Bloodhound? Read on!
What's In This Guide To The Bloodhound
Use the links to skip to the parts that interest you most. Or read on and immerse yourself in the wonderful world of the Bloodhound!
Bloodhound FAQs
Our readers' most popular and frequently asked questions about the Bloodhound:
Have you ever wondered about these questions? Simply click on them for an answer!
Breed At A Glance
Popularity: 49 out of 193 breeds on AKC
Purpose: Scent Hound
Weight: 80-110 pounds
Temperament: Friendly, Independent, Curious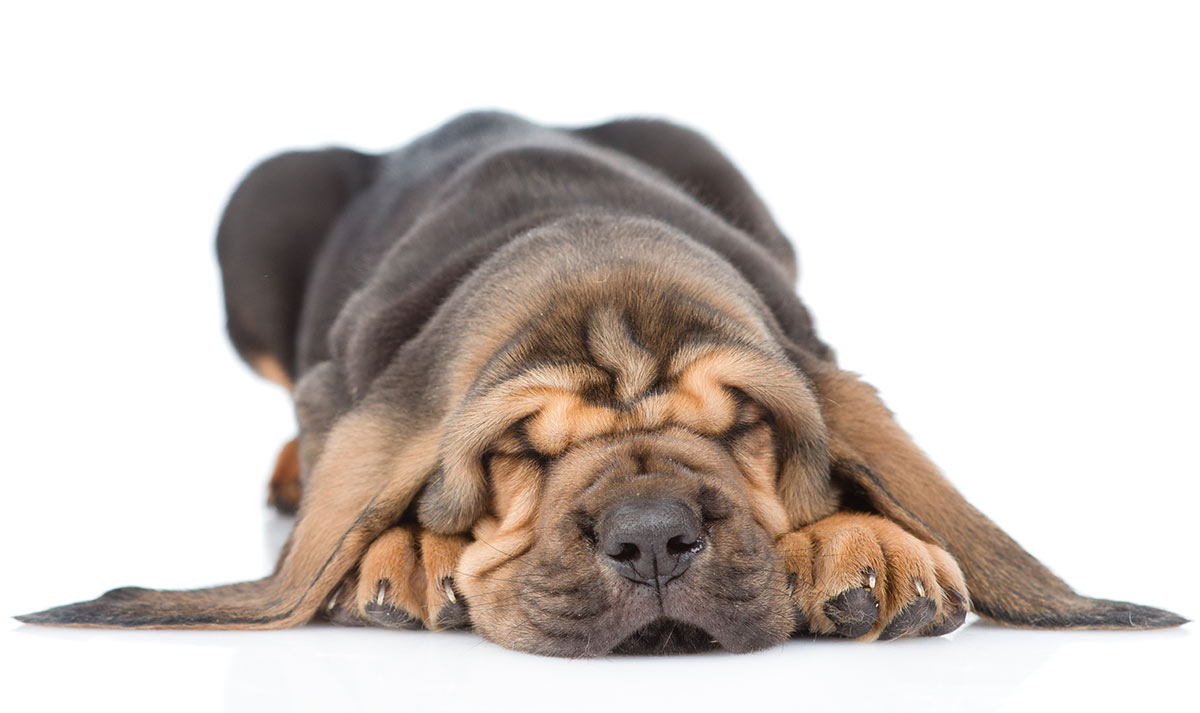 Bloodhound Breed Review: Contents
Before we discuss what to expect from this breed, let's see where he comes from.
History and original purpose
The Bloodhound is a very old breed of dog.
Exactly how old the breed is, and where exactly it had its origins, is not known for sure.
Some think it originated in Belgium, in the monastery of St Hubert.
Others believe that their history may even extend beyond the Christian era.
We can be sure however that since the 1300's Bloodhounds have been bred in England.
And the dogs bred there were used to keep the breed alive in France.
A hunting history
This breed was originally used as a leashed hound for hunting boar and deer.
It is probably better known these days for its amazing ability to track humans.
In Scotland, it was known as the 'Sleuth-Hound' due to its ability to track down thieves.
In fact, if a Bloodhound has trailed someone, this evidence will stand up in most courts of law!
Fun facts about the Bloodhound
Bloodhounds live to around 10 years of age on average.
They are smart, independent and hard-working dogs.
The distinctive call of a Bloodhound is known as a 'bay'.
This breed has been around for hundreds of years.
What do Bloodhounds look like?
The Bloodhound is a big, sturdy dog, and can weigh up to 110 pounds.
Their limbs are strong and powerful.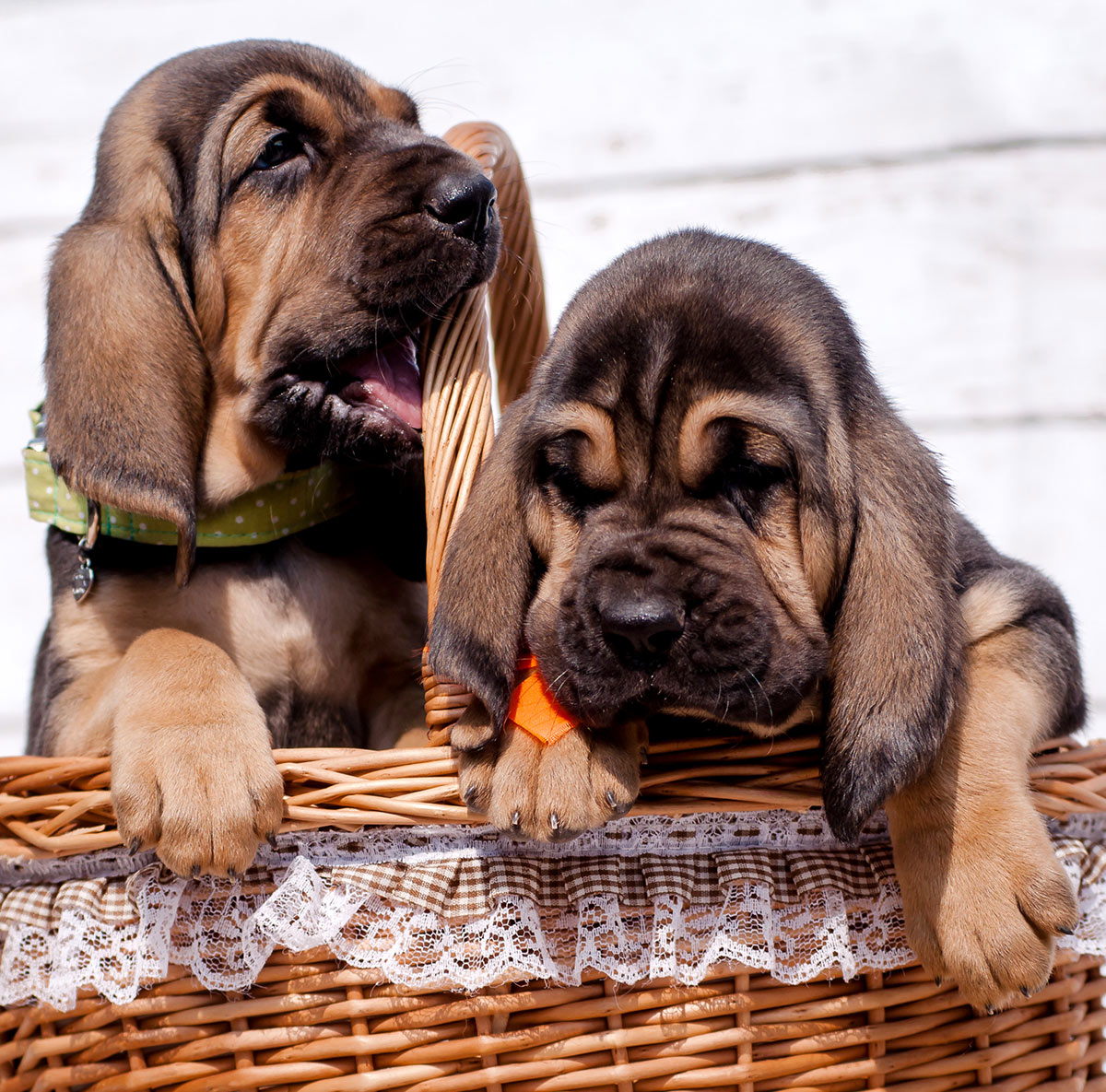 A Bloodhound stands between 23 – 27 inches at the shoulders.
Take a look at this article to learn about their development stages.
Coat type
Bloodhounds have short coats that come in 3 recognized colors. These are: black and tan, liver and tan, and red.
Sometimes within the black parts of their coat, white flecks can give their coat a "badger-like" appearance.
Bloodhound temperament
Bloodhounds are diligent workers. And when they are working they can be intense.
When "off duty" they are generally sweet and easygoing. However they can still be stubborn and independent.
When you consider that these dogs were bred to "follow their noses" this independence and inquisitiveness makes sense.
And don't be fooled by the dopey, sleepy expression Bloodhound's wear.
They are surprisingly active dogs
This intense streak in their personality, along with their size, means it is wise to supervise them around children and other dogs.
Another important point to consider is that Bloodhounds cannot be left to play in open areas without a leash.
Being a scent hound, if a smell grabs their interest, all road sense goes out the window. So your Bloodhound is in real danger of becoming lost or injured.
Bloodhound Barking
Bloodhounds are not big barkers, and as such, they are also not great watch dogs.
If you have other dogs that do like to bark, they may learn some bad habits off them. But they are not likely to be the instigator of such behavior.
They do have a distinctive sound called a 'bay'. This is somewhere between a bark and a howl.
Although this noise is very distinctive, unless you unwittingly teach your dog to vocalise he shouldn't be too loud.
And even if he is, it is possible to teach a dog not to bark.
However, it's likely your Bloodhound will always make this sound if they catch a scent they are interested in.
Training and exercising your Bloodhound
Bloodhounds are naturally inquisitive and active dogs. They respond well to being kept engaged and busy.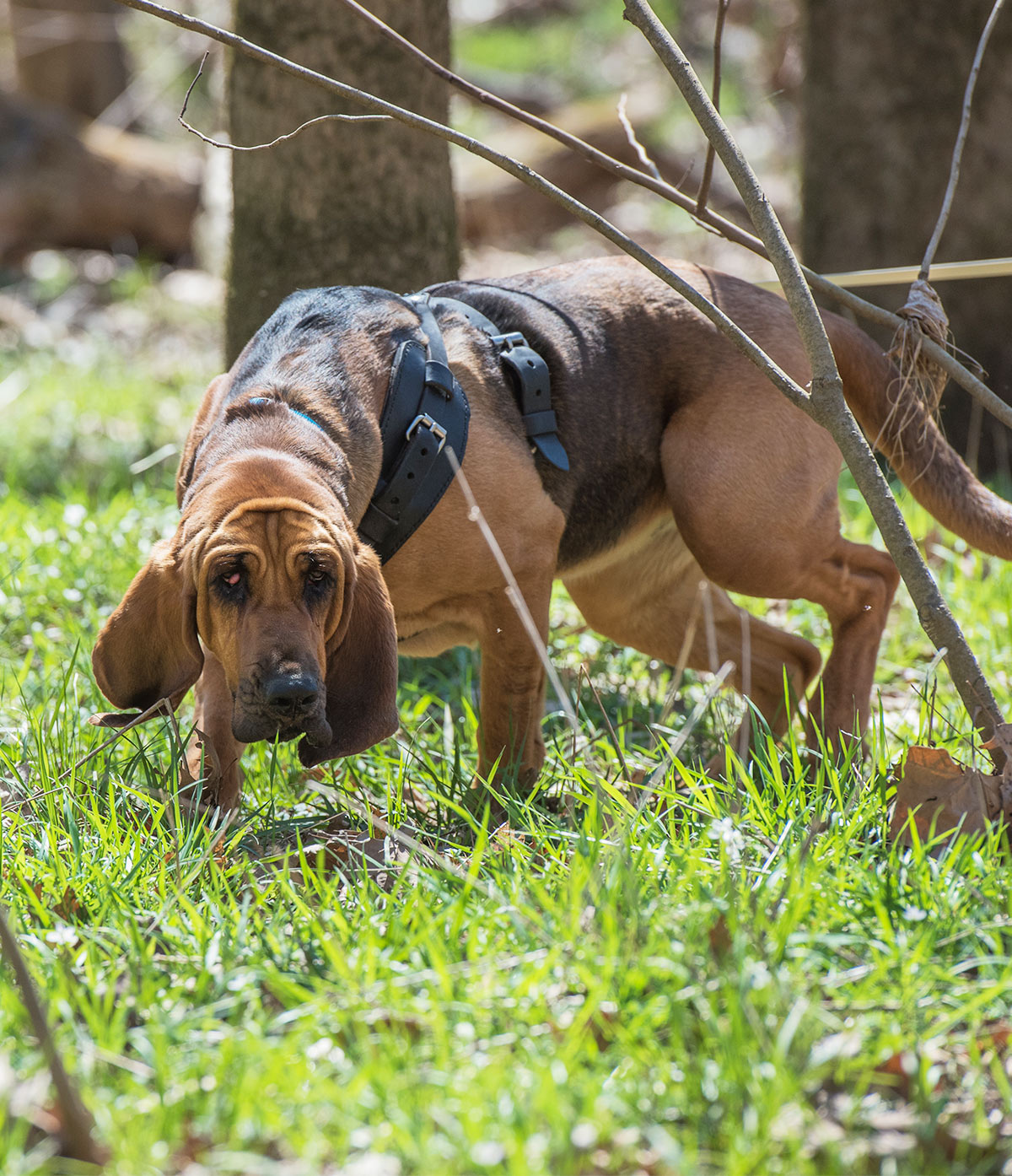 These dogs are also sociable beings. They truly enjoy joining in on family activities.
Bloodhound Tracking and Trailing
The Bloodhound's instinct to "follow the nose", coupled with its high energy levels, could seem problematic.
However, if these attributes are channeled into an activity that both you and your pet can enjoy, it really can be a win-win situation.
Tracking and trailing are two sports that Bloodhounds perform well at.
They are two distinct sports. But both call on the Bloodhound's ability to follow a human scent.
Tracking and trailing
Tracking involves following a scent and identifying that individual's belongings along a track.
Trailing involves the hound correctly identifying who the individual they have been trailing is.
Contact you nearest Bloodhound club to find out about tracking and trailing competitions that take place near you.
Bloodhound health and care
The Bloodhound does not have a very long coat. But it will need weekly grooming, as they do shed.
They are known to have a "hound" smell.
You may need to bathe your pooch periodically.
Loose skin
The Bloodhound's distinctive droopy eyes and ears necessitate that Bloodhound owners are diligent in keeping these areas clean.
Their loose, diamond shaped eyes will easily catch dirt and muck, and become infected.
Daily wiping of your dog's eyes with a cotton makeup removal swab is an easy way to keep them clean.
Although wrinkly skin looks cute to many, it's actually a recipe for disaster when it comes to dogs.
It's essential to keep these areas clean and make sure that they are a part of your daily routine if you own a wrinkled dog.
Eye problems
The hanging of the eyelids can cause them to be inverted or exposing the conjunctiva.
These conditions are known as 'entropion' and 'ectropion' respectively.
They can cause extreme discomfort in the dog and are something breeders should be trying to avoid.
If your Bloodhound has recurring problems with eye infections, your vet may suggest antibiotic treatments.
In extreme cases, surgery is used to shorten the eyelids.
When looking at the parents select those with less extreme drooping.
Other eye issues
Bloodhounds can also be prone to macropalpebral fissures. This is where the eyelids are exposing an abnormal amount of the eye.
In extreme cases the eye can't even close properly while the dog sleeps.
This can also lead to eyeball damage, and may need correcting surgically.
So, never buy a Bloodhound puppy from a parent that has required eye surgery.
Long droopy ears
Bloodhound ears are, unfortunately, the perfect breeding ground for infections.
They are long, trap debris and provide a warm, moist, dark environment for yeasts and bacteria to grow.
Despite not having too much hair in their ears, they are still more likely to have ear problems than pups with ears that stand upright.
But, this can be managed by regular ear checks, by keeping your hound's ears clean, and prompt action if you notice signs of infection.
So, special attention that needs to be paid to their eyes and ears.
One of the main health risks for this breed of dog is "bloat", or gastric dilatation-volvulus.
Bloat
This is a condition that is more prevalent in large or giant dog breeds.
It is life threatening in nature and requires urgent veterinary attention.
In short, air accumulates in the dog's stomach.
The stomach then twists, and if left untreated, blood flow is restricted, and other organs are affected.
Eventually the dog goes into shock and dies.
If your dog is suffering from bloat, early symptoms may include restlessness, discomfort, pacing and shallow breathing.
Plus, the stomach will grow in size and feel tight to the touch.
Bloat can be very dangerous
As the condition progresses, your dog may become unresponsive, the gums pale, retching or arching its back.
It is vital that you take your dog to the vet if you notice any of these symptoms.
You can find out more about bloat and how to reduce the risk in this article.
If you notice that your dog is shaking his head, scratching at their ears or rubbing their head, take him to the vet for a checkup.
Do Bloodhounds make good family pets?
This distinctive dog has a truly unique personality, and one that needs to be an integral part of your family.
This is no shrinking violet.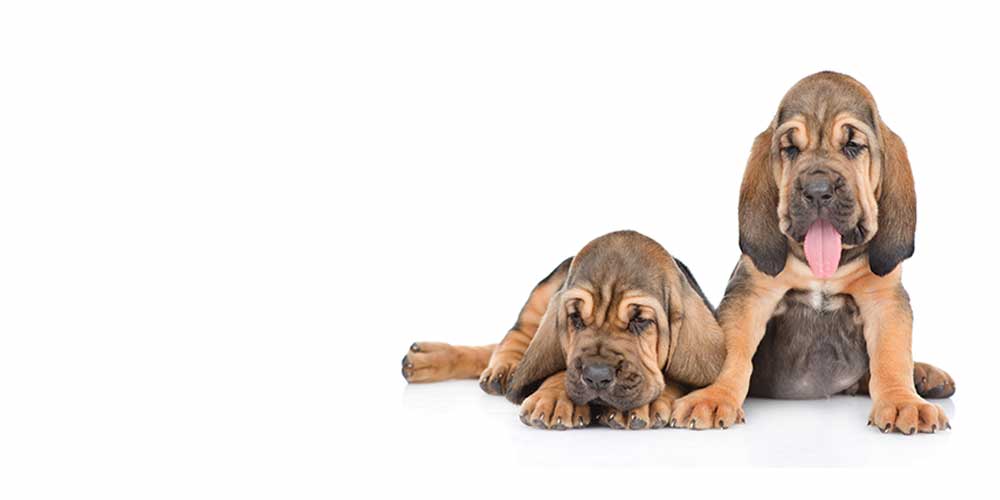 Bloodhounds are medium to high energy dogs.
So, you need to have the time and energy to exercise your pup daily.
But, being scent hounds, they will follow their nose.
Houses they suit
They require a well fenced yard and cannot be left to roam in open space.
Bloodhounds are also large dogs.
So make sure you have the space and budget to accommodate a dog of their size.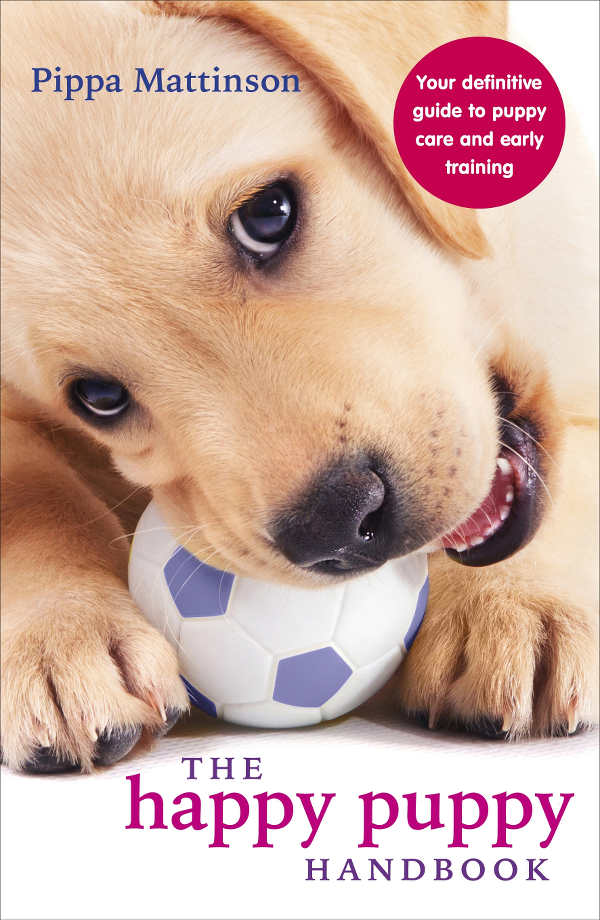 Their distinctive droopy facial features require regular cleaning and monitoring to prevent infections.
So,you will need to be prepared to clean up after your pup.
You will also need to be vigilant in maintaining the cleanliness of their eyes and ears. Treat any signs of infection promptly.
Rescuing a Bloodhound
There are numerous organizations that rescue and rehome Bloodhounds.
While fans believe this breed is second to none, they are not low maintenance dogs.
Particularly in the younger years, Bloodhounds can be a handful.
Make sure you have done your research into the breed and are ready and able to devote the time and energy to your new family member.
Be aware of:
Sadly, some Bloodhound owners who were ill equipped to care for their new pooch may have done some emotional damage to the dog.
Adopting such a dog will require some extra special care and attention to help the dog regain its confidence.
Be sure you know the history of the dog you want to adopt, meet it in person before you adopt it, and are ready for the commitment.
Finding a Bloodhound puppy
As is the case with any purebred dog, be sure the breeder you buy from is reputable.
Visit the property, ask to see your potential puppies' parents, check where the dogs are housed, and ask lots of questions.
A breeder should be open and honest. They should be happy to answer, and ask, a lot of questions too.
For more advice on finding the perfect puppy, read this article.
Bloodhound products and accessories
Bloodhounds love to stay active. So, a good selection of toys will help to keep them entertained.
Puppy toys are great for stopping your new pup from getting bored. Read our puppy toys reviews for some ideas!
Interactive toys will appeal to your bloodhounds sense of curiosity. We've reviewed loads that will keep your pooch occupied.
Hopefully these toys will help keep your bloodhound entertained, even when you can't.
Pros And Cons of Getting A Bloodhound
Let's look at the pros and cons of this breed.
Cons
Bloodhounds are noisy
Ear related health issues
Eye related health issues
High activity requirements
May follow their nose into danger
Pros
Friendly family pet
Very rewarding for active owners
Similar Breeds
So, we've seen these dogs aren't without their issues.
Although this is true of many breeds, the Bloodhounds health issues are to do with their loose skin.
And this is something which is hard to avoid.
A similar option with a healthier structure is the Beagle!
Read all about this dog in our breed review.
Bloodhound Breed Rescues
UK
USA
Canada
If you would like your local rescue to be included in our list, please comment below!
References And Resources
Gough A, Thomas A, O'Neill D. 2018 Breed Predispositions to Disease In Dogs and Cats. Wiley Blackwell
O'Neill et al. 2013. Longevity and Mortality of Dogs Owned In England. The Veterinary Journal
Schalamon et al. 2006. Analysis of Dog Bites In Children Who Are Younger Than 17 Years. Pediatrics
Packer et al. 2015. Impact of Facial Conformation On Canine Health. PlosOne
Ramsey, DT. 2001. Conditions of the eyelids and ocular adnexa in dogs and cats. Small Animal Opthalmology.
Glickman, L.T., et al Non-dietary risk factors for gastric dilatation-volvulus in large and giant breed dogs. JAVMA, 2000
Matousek. J.L., Campbell K.L., Malassezia Dermatitis Small Animals/Exotics Compendium, 2002
Bothota et al. Surgical correction of bilateral combined entropion-ectropion in a female bloodhound. Department of Veterinary Clinical Studies, 2001.
Bedford, 1988. Conditions of the eyelids in the dog. JSAP.
Bedford, 2008. Technique of lateral canthoplasty for the correction of macropalpebral fissure in the dog. JSAP.
Hayes et al. 1987. Effects of ear type and weather on the hospital prevalence of canine otitis externa. Research in Veterinary Science.
American Kennel Club
American Bloodhound Club