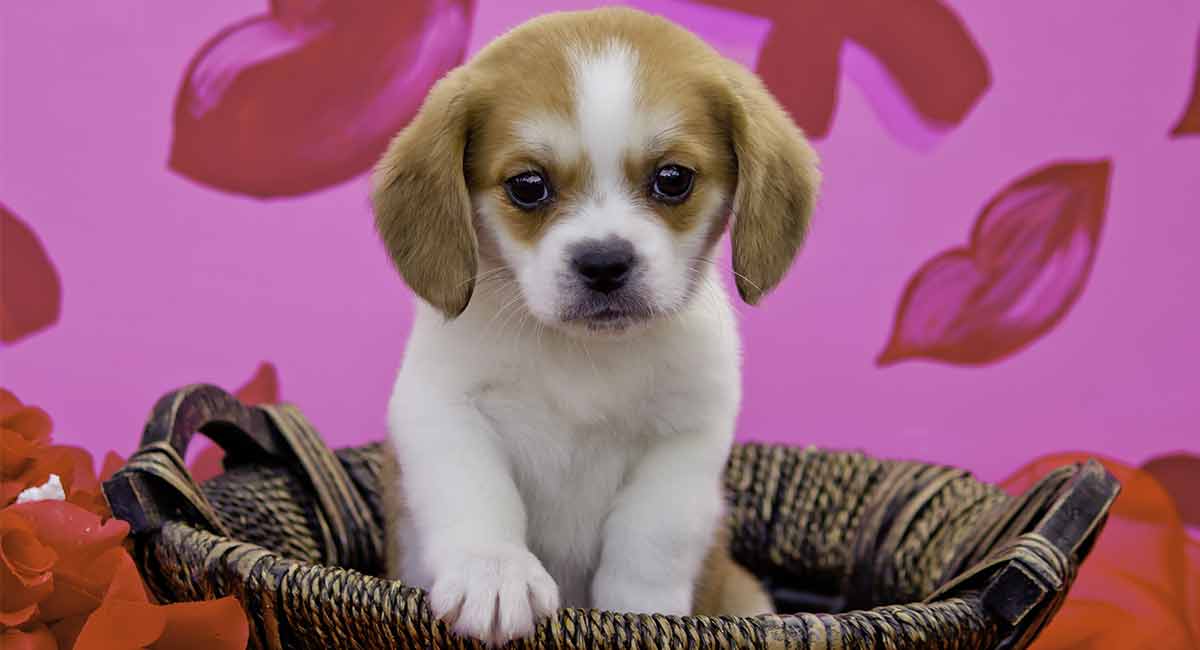 If your first reaction to our headline was "beaglier than what?", then you probably haven't heard of the Beagle and Cavalier King Charles Spaniel cross yet.
Pronounced Beagle-ear (to rhyme with Cavalier) this relatively new dog on the block was first bred in Australia in the 1990s.
The Beaglier was cross-bred to produce a dog with a less active scent drive than the Beagle. The even-tempered Cavalier King Charles Spaniel seemed an obvious choice.
While the Beaglier finds most of its popularity in Australia, it can also be found throughout Europe and North America
As the Beaglier is a "designer" dog breed, there is some controversy surrounding them and designed mixed breeds in general, especially first generation.
What is the Big Deal with Designer Dogs?
Pedigree purists insist that the pure breeds they advocate for are selectively bred for specific attributes and allow certain breed-specific genetic ailments to be selected against.
It makes the resultant puppies more predictable in their appearance, nature and health.
While this can be true if the breeder is reputable, and takes care to screen all of their dogs, some breeders are not as careful and allow these inheritable ailments to proliferate.
Additionally, problems are more prevalent when the breeding gene pool is smaller, as it tends to be with purebred dogs.
Advocates for crossbred – or "designer" – dogs point to the wider gene pool and say that the hybrid dogs have less inbreeding and less of the weaknesses prevalent in pure breeds.
Health Problems
In this case, Beagles and Cavalier King Charles Spaniels have different inherent health issues. By mating them together, breeders hope the puppies will gain some protection against both.
And researchers at The Institute of Canine Biology have evidence that this logic is sound.
However, the mix-breed pups will also have less predictable physical and temperamental traits.
This is especially true of first generation hybrids between two very different pedigrees..
Now, let's apply all this to the charming Beaglier.
Where Did the Beaglier Come From?
A cross between the Beagle and Cavalier King Charles Spaniel, the Beaglier has a mix of attributes of both of these special dogs.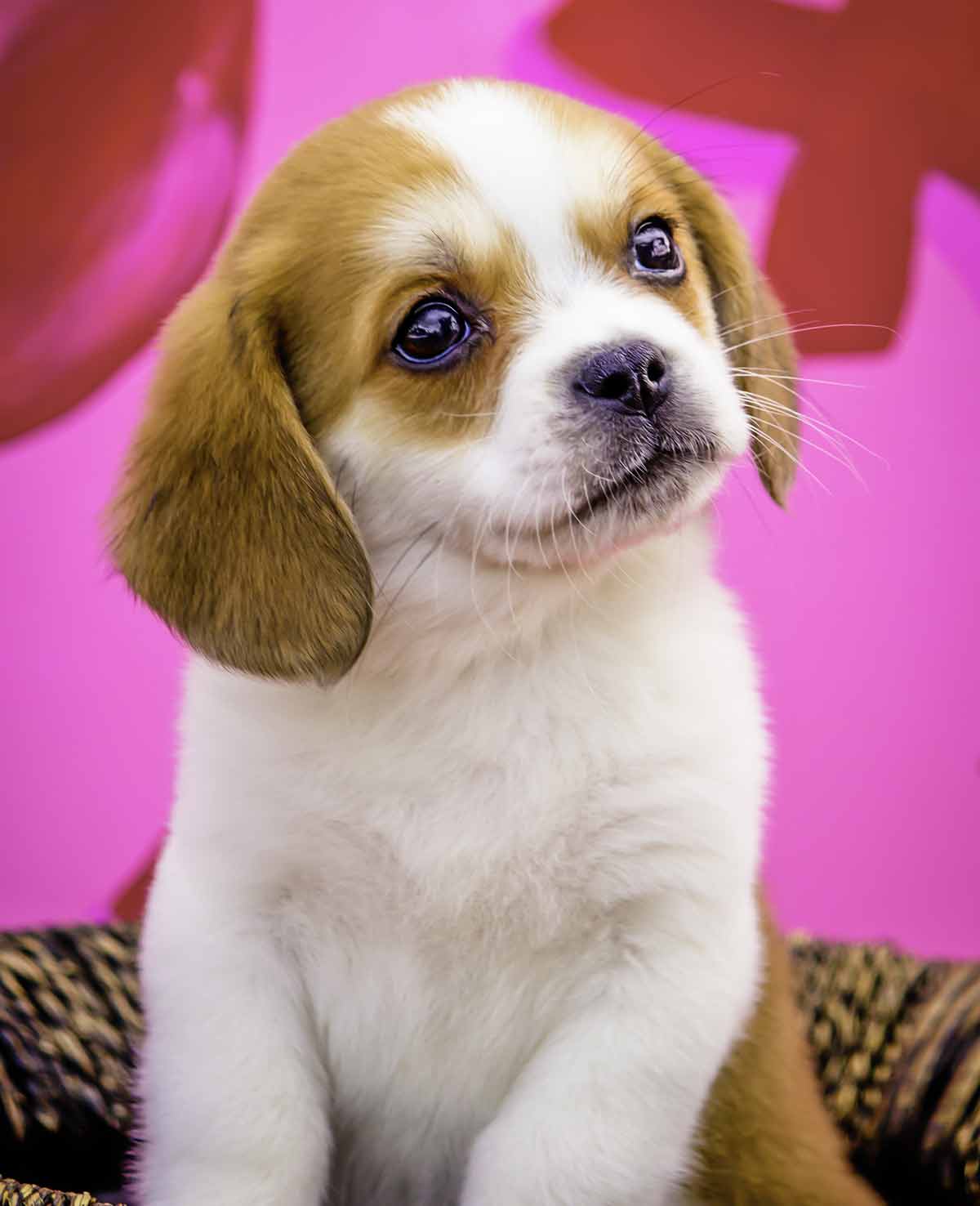 Let's look at the parent breeds:
The Boisterous Beagle
A member of the Hound Group, and ranked 5 of 194 according to The American Kennel Club, the Beagle is a sweet-natured, adorable and loyal dog.
Beagles have a powerful scent drive and make great hunting dogs.
They have two sizes, under 13 inches and between 13 and 15 inches, ranging in weight from under 20 pounds to between 20 and 30 pounds.
Beagles can be  lemon and white, tri-color, or red and white. They are generally happy and friendly, loving their family members unconditionally.
The Sweet Cavalier King Charles Spaniel
The Cavalier King Charles Spaniel is regal, befitting of its royal history, but not above being silly and playing in the yard with their human companions.
They are toy spaniels, combining the size and affability of the toy group with the athleticism of the spaniels.
The Cavalier King Charles Spaniel ranges in size from 12 to 13 inches and 13 to 18 pounds.
This breed's trademark big brown eyes and slightly short nose make the dog resemble a puppy its entire life. They are good with families and adapt well to their owner's lifestyle.
What Do Beagliers Look Like?
Beagliers can have physical traits of either the Beagle or the Cavalier King Charles Spaniel, or a mixture of both.
They can be found red and white, lemon and white, tri-color and sometimes even all black.
Their coat is short to medium and can have the coarseness of a Beagle or the silkiness of a Cavalier.
Because of their coat length, trimming the Beaglier is unnecessary.
You will need to brush the coat regularly to remove dead hair and keep it shiny (which is also great opportunity to keep familiar with their overall health and condition!)
But bath times can be on an "as needed" basis, if they get grubby or roll in something particularly foul smelling.
Beagliers can range in size from 12 to 16 inches and weigh anywhere from 10 to 25 pounds.
How Do Beagliers Act? Are They a Good Family Dog?
Beagles and Cavalier King Charles Spaniels both enjoy glowing reputations as sweet natured dogs.
They are both gregarious, confident, great with kids, and rarely aggressive.
But of course they also have traits which make them unique.
And as with any crossbreed – especially first generation crosses – there's no way of predicting what cocktail of characteristics a Beaglier is going to take from each parent.
For a start, Beagles are NOISY.
Anecdotally Beagliers do not tend to bark much. However, that's not to say they can't inherit the unmistakable chatter and hound howl of a Beagle – and some will!
Beaglier Exercise – Homebodies or Hounds?
And when it comes to the great outdoors, Beagles and Cavalier King Charles Spaniels couldn't be more different.
Cavalier Kings Charles Spaniels have been bred to keep their owners company at home.
Of course they need exercise, but their appetite for walkies won't wear you out.
Beagles on the other hand have been selected to follow a scent for miles without flagging.
Your Beaglier could end up like either, and probably somewhere in between.
Owners report that the Beaglier is an energetic dog and will require a lot of exercise, at least an hour a day, including but not limited to leash walks and romps in fenced in areas.
You'll need to be sure that your Beaglier cannot escape because, as the hunting drive is still prevalent in the breed, they might run away, chasing some scent or another.
Be sure to offer your Beaglier an assortment of toys to chew to pass the time indoors – that is, unless you want your furniture, shoes and other personal items to be destroyed!
Beaglier Training
This is another area with no guarantees about what you're going to get.
The Beaglier might possess the Beagle's stubbornness, making training that little bit more difficult.
Or being paired with the Cavalier's eagerness to please might make the process a little smoother.
Socialization is important for these small dogs. Training should be firm and consistent.
But if the possibility of a big commitment to training puts you off, gambling on a Beaglier might not be the right dog choice for you.
What Health Issues are Associated with Beagliers?
As with humans, dogs can inherit genetic issues from either parent, so it is prudent to take a look at the problems associated with each parent breed.
Beagle Health – Hip Dysplasia
Hip dysplasia is when the hip joint doesn't grow into the proper shape, potentially causing painful arthritis and lameness.
Beagles as a breed are exceptionally prone to hip dysplasia – nearly 1 in 5 Beagles are thought to be affected.
Responsible breeders will screen for this issue and be happy to share the results of their dogs' hip assessment with you.
We've got a guide to understanding those results here.
Beagle Health – Epilepsy
The Beagle Association in the UK have identified as epilepsy as a specific breed concern for Beagles.
Epilepsy usually starts when Beagles are still puppies, so it is a lifelong condition.
It can usually be controlled with medication, but don't underestimate the emotional and financial investment in doing so.
Beagle Health – Peridontal Disease
Almost half of Beagles will have some sort of brush with teeth or gum trouble by the time they're two years old.
This can include swollen gums, and bad breath.
A good vet can help you plan a dental hygiene routine to keep your dog's teeth fresh – but you'll need to stick to it!
Beagle Health – Distichiasis
Nearly 1 in 5 Beagles assessed by the Canine Eye Registration Foundation between 200 and 2005 had abnormally placed eyelashes which were rubbing the surface of the eye.
Left untreated this can lead to ulcers on the cornea.
You can read more about these and other conditions which particularly affect affect Beagles in our complete breed review.
Cavalier King Charles Spaniel Health – Mitral Valve Disease
The most common cause of death for the Cavalier King Charles Spaniel is mitral valve disease which has lead to heart failure. Many Cavalier King Charles Spaniels are afflicted with this disorder.
The good news is, signs of this condition can be screened for.
Breeding programmes which enforce compulsory screening for mitral valve disease are already producing litters of puppies with far lower frequencies of heart disease.
Cavalier King Charles Spaniel Health – Syringomyelia
The poor Cavalier King Charles Spaniel also suffers a high rate of syringomyelia, a brain and spine disease that can be incredibly painful.
Caused by a malformation of the back of the skull, syringomyelia causes the lower part of the brain to be herniated through the bottom of the skull and into the spinal cord.
We've written more about syringomyelia here.
Any responsible breeder will ask a vet to perform an MRI scan of a Cavalier King Charles Spaniel's skull before they are used for mating, to assess the risk of them passing this horrendous condition to their puppies.
And of course, your breeder should be happy to share the results and discuss them candidly with you.
Predicting Beaglier Health
Knowing the parent dogs' health issues can help predict future issues in a Beagle Cavalier mix.
A Beaglier might be protected from Syringomyelia because their Beagle-ish shape affords them more room in their skull.
But it is wise to be vigilant for the symptoms of any condition which can affect either breed.
One way to give your Beaglier the best possible start in life is to get them from a responsible breeder.
What Should I Look for When Choosing a Beaglier Breeder?
There are basic things that all dog breeders should do.
First, the parents will receive a full vet check and be screened for known health problems before the mating takes place.
When the puppies are born the breeder will make sure they are checked by a veterinarian.
They will get the puppies vaccinated against canine distemper, canine hepatitis and parvovirus, and get them dewormed.
Most puppies have intestinal worms and signs to look for are a distended belly and a dull coat.
Breeders should deworm puppies at two weeks and every two weeks following that.
Good Beaglier Breeders
Reputable Beaglier breeders will offer a health guarantee for your puppy when you bring him home.
This is to protect you and your puppy but you must follow the instructions included with the guarantee.
They want the best for their dogs and they are proud of their pups.
As well as being the guardians of their early health, good breeders will also start the important work socializing their puppies, so that they grow up into confident and well behaved members of canine society.
For help recognizing a good Beaglier breeder, read our list of 11 Questions To Ask When Phoning A Breeder.
Is a Beaglier the Right Pet For Me?
The Beaglier has the potential to bean adorable, sweet family dog.
There are certainly legions of loyal owners who love them!
If you'd like a King Charles Cavalier Spaniel but you don't want to perpetuate the health crisis facing these little dogs, a Beaglier could be a perfect alternative.
As with any first generation cross, have a think about whether you'd be happy with either a Beagle or a King Charles Cavalier Spaniel before you bring home a Beaglier.
You won't know until your puppy grows up what combination of traits they've taken from each dog, but if you're confident you'd be happy with either parent, that's a good sign that a Beaglier won't disappoint you!
Make sure that your lifestyle will allow a Beaglier puppy to fit in with your family before deciding to bring one home.
Research breeders and make sure the one you choose is reputable.
If you decide that your family and lifestyle are well suited for a Beaglier, you will not regret bringing this adorable pup home.
Do You Own A Beaglier?
What brought you to this crossbreed?
Does your pup take more after their Beagle ancestors, or their King Charles Cavalier Spaniel relatives?
Tell us about them in the comments box!
References
Arman K., A new direction for Kennel Club Regulations and Breed Standards. Canadian Vet J 2007
Bell & Cavanagh, Veterinary Medical Guide to Dog And Cat Breeds, CRC Press, 2012.
Birkegard et al, Breeding Restrictions Decrease the Prevalence of Myxomatous Mitral Valve Disease in Cavalier King Charles Spaniels over an 8‐ to 10‐Year Period, Journal of Veterinary Internal Medicine, 2015.
The American Kennel Club