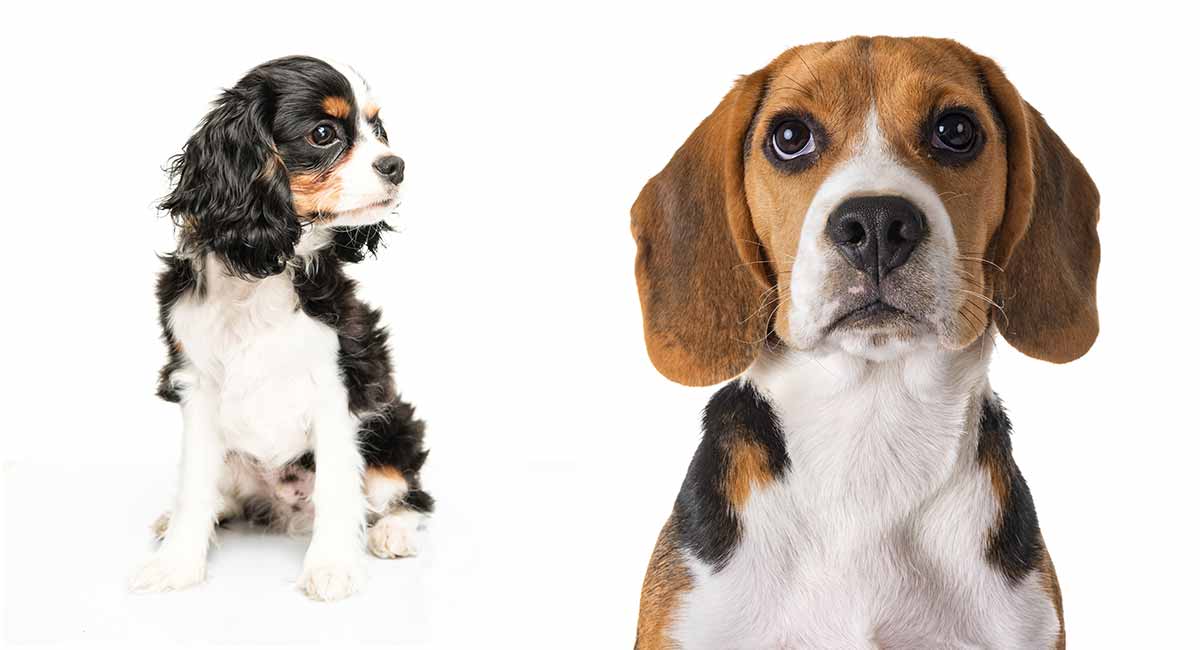 Beaglier dogs are a medium sized hybrid designer breed that combines the active, playful Beagle with the affectionate, loving Cavalier King Charles Spaniel. This cross is smart, confident and loyal, weighing around 15lbs at about 14 inches high. They thrive with lots of attention and exercise, and respond very well to positive reinforcement training methods. Beaglier puppies have big brown eyes, cute noses and wagging tails. They walk with a confident gait, and love to jump, climb, dig and bark. Today we'll share tips for deciding how well this Beagle Cavalier mix will fit into your family and lifestyle. And help you to buy or adopt a happy, healthy Beaglier puppy.
The Beaglier is a great companion pet for active, outdoors families. They are also fine for new dog owners, provided they are committed to learning about positive reinforcement training. A friendly mix, they tend to do great with kids and strangers alike. They are more likely to greet your visitors than act as a watchdog, although they might jump up and slobber on them a bit!
Contents
What is a Beaglier?
A cross between the Beagle and Cavalier King Charles Spaniel, the Beaglier (Pronounced Beagle-ear to rhyme with Cavalier) has a mix of attributes of both. They are also occasionally known as the Beagalier or Beagelier.
They can either have one purebred Beagle parent and one purebred Cavalier King Charles Spaniel parent, or be a second or third generation Beaglier mix.
This is a gentle, playful dog, who is good with families. They are also adaptable. Their big brown eyes and slightly short nose lend a puppy-like appearance even as an adult.
Popularity: Very popular in Australia. Gaining in popularity elsewhere
Purpose: Working or companion
Weight: 10-20 lbs
Temperament: Gentle, playful, affectionate
Beagle Cavalier Mix History
This relatively new designer dog was first bred in Australia in the 1990s. The King Charles cavalier beagle mix was bred to produce a dog with a less active scent drive than the Beagle. The even-tempered Cavalier King Charles Spaniel seemed an obvious choice.
This breed mix is designed for companionship, yet the sporting traits of the Beagle will likely show through to some degree. While the Beaglier finds most of its popularity in Australia, it can also be found throughout Europe and North America.
The Cavalier King Charles Spaniel is regal, befitting of its royal history, but not above being silly and playing in the yard with their human companions. They are toy spaniels, combining the size and affability of the toy group with the athleticism of the spaniels. When the Beagle's hunting drive was added into this, they made one powerhouse puppy!
Fun Facts about Beagliers
A Beagle Cavalier mix, Molly, stars in "A Dog's Journey"
Beagliers are very curious dogs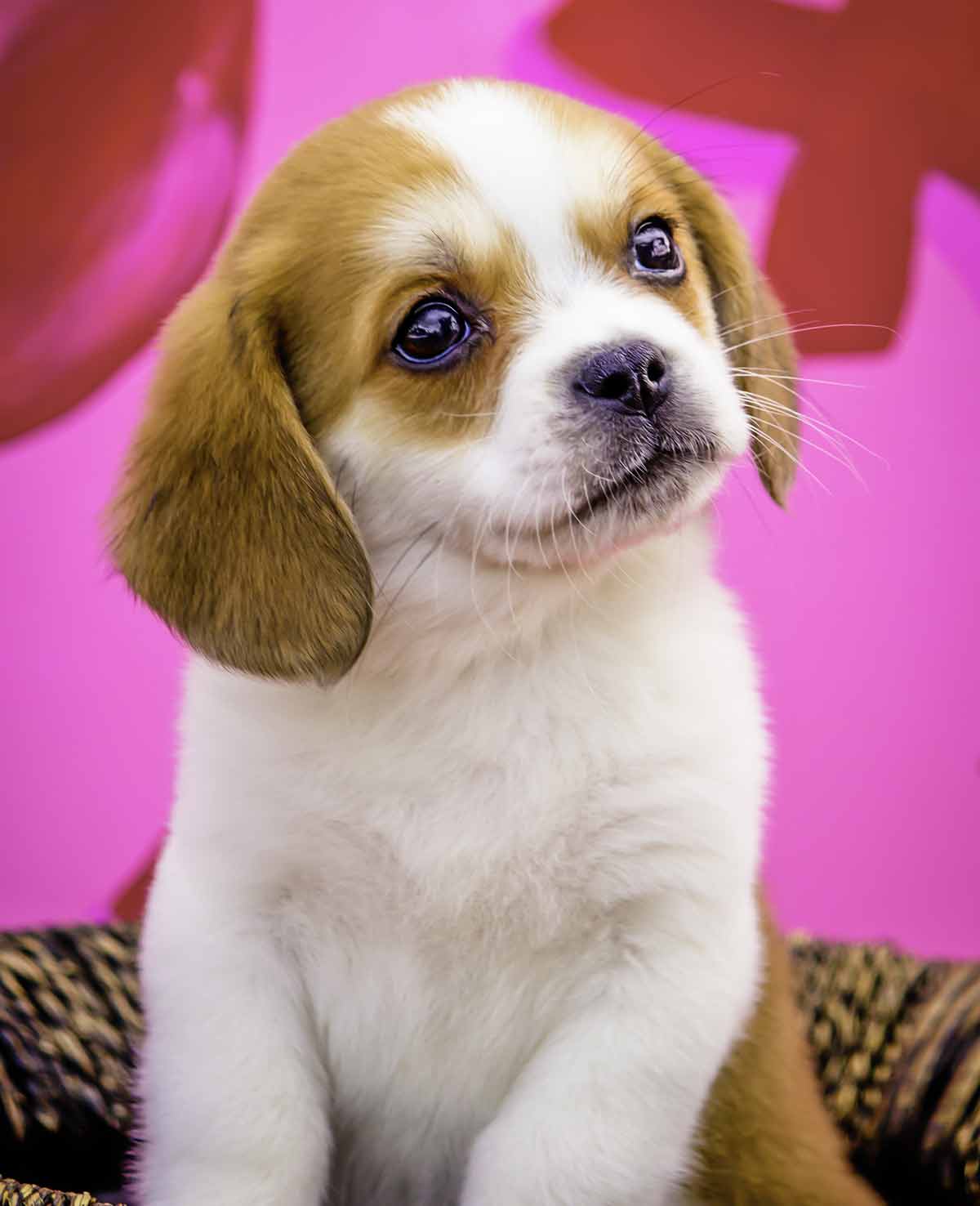 Beaglier Appearance
Beagliers can be found red and white, lemon and white, tri-color and sometimes even all black. Their coat is short to medium and can have the coarseness of a Beagle or the silkiness of a Cavalier.
Beagle Cavalier mixes can have physical traits of either the Beagle or the Cavalier King Charles Spaniel, or a mixture of both. But they tend to fall somewhere in between the two.
Beaglier Grooming and Shedding
Because of their coat length, trimming the Beaglier is unnecessary. You will need to brush the coat regularly to remove dead hair and keep it shiny (which is also a great opportunity to keep familiar with their overall health and condition!)
There may be heavier shedding a few times a year, during which you will need to brush for 5-10 minutes daily.
Bath times can be on an "as needed" basis, if they get grubby or roll in something particularly foul smelling. You'll also want to clean the ears and trim toenails on a regular basis to keep your pup comfortable.
Are Beagliers Hypoallergenic?
The Beaglier is likely to be a high shedding breed. Spreading dander, loose hair and other lovely things around your house liberally. Unfortunately they are therefore not a recommended breed for those with dog allergies.
Beaglier Size
Beagliers are medium sized dogs. They can range in size from 12 to 16 inches and weigh anywhere from 10 to 25 pounds.
Beagles have two sizes, under 13 inches and between 13 and 15 inches, ranging in weight from under 20 pounds to between 20 and 30 pounds. The Cavalier King Charles Spaniel ranges in size from 12 to 13 inches and 13 to 18 pounds. So your Beaglier puppy will fall somewhere between these brackets.
Beaglier Temperament
Beagliers are generally happy and friendly dogs, loving their family members unconditionally. Beagles and Cavalier King Charles Spaniels both enjoy glowing reputations as sweet natured dogs.
They are both gregarious, confident, great with kids, and rarely aggressive. But of course they also have traits which make them unique.
And as with any crossbreed – especially first generation crosses – there's no way of predicting what cocktail of characteristics a Beagle Cavalier mix is going to take from each parent.
For a start, Beagles are NOISY. Anecdotally Beagliers do not tend to bark much. However, that's not to say they can't inherit the unmistakable chatter and hound howl of a Beagle – and some will!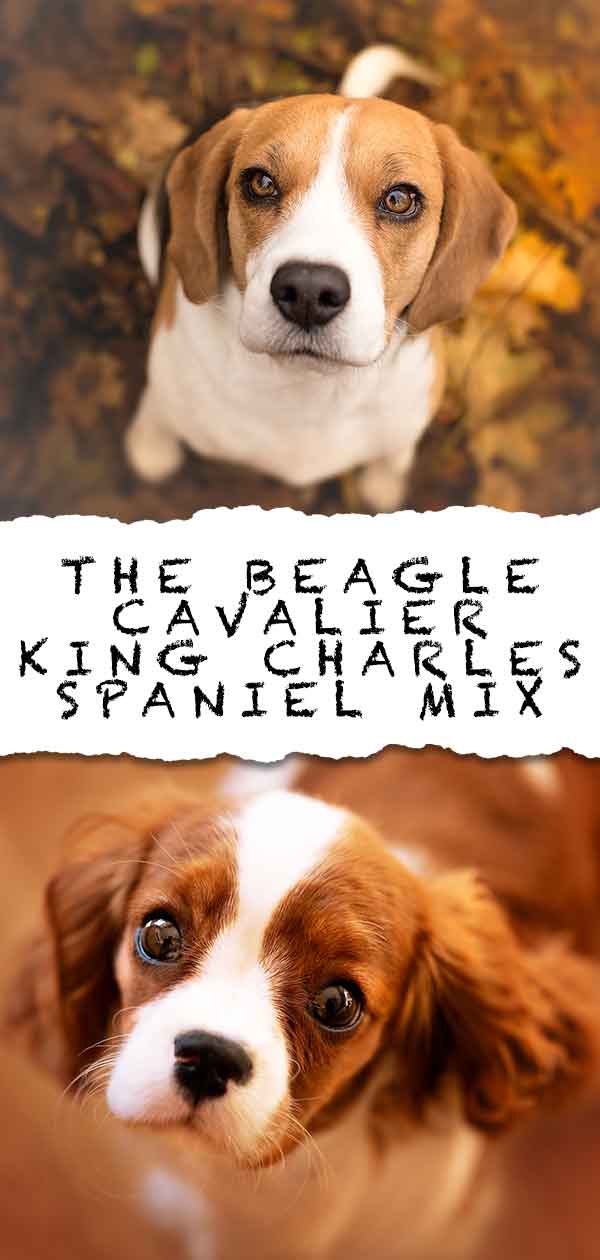 Training your Beaglier
Due to the hunting dog genetics, the sweet-tempered Beaglier is not a good fit for a home with cats or other small pets. They are also reported to sometimes have a stubborn streak, which makes patient and consistent training extra important.
The Beagle Cavalier mix might possess the Beagle's reported stubbornness, making training that little bit more difficult. Or, the Cavalier's eagerness to please might make the process a little smoother. But either way they will respond well to reward based methods, where you don't come into conflict with your dog at all. Simply motivating them to work with you.
Beaglier Exercise
When it comes to the great outdoors, Beagles and Cavalier King Charles Spaniels couldn't be more different. Cavalier King Charles Spaniels have been bred to keep their owners company at home. Of course they need exercise, but their appetite for walks won't wear you out.
Beagles on the other hand have been selected to follow a scent for miles without flagging. Your Beaglier could end up like either, and probably somewhere in between.
Exercise vs Health
There are a few physical health problems that can affect the ability both breeds to exercise. Both may be susceptible to hip dysplasia, so it is important that parents have been checked. The Cavalier alone also is prone to elbow problems. Many of the more serious health issues affecting both breeds could affect exercise ability. That said, these may be far less common in a mix breed.
If your walks involve swimming, be aware that while both parent breeds tend to be ok at swimming, the stamina in the water from the King Charles Spaniel side means the pup may tire quickly in the water.
The Beaglier is an energetic dog and will require a lot of exercise, at least an hour a day, including but not limited to leash walks and romps in fenced in areas. You'll need to be sure that your Beaglier cannot escape because, as the hunting drive is still prevalent in the breed, they might run away, chasing some scent or another. Or to make sure you have a great recall.
Be sure to offer your Beaglier an assortment of toys to chew to pass the time indoors – that is, unless you want your furniture, shoes and other personal items to be destroyed! The mix breed is far less likely to suffer from joint disorders such as patellar luxation that are common in the Cavalier King Charles Spaniel.
Beaglier Health
As with humans, dogs can inherit genetic issues from either parent, so it is prudent to take a look at the problems associated with each parent breed.
Hip dysplasia is when the hip joint doesn't grow into the proper shape, potentially causing painful arthritis and lameness. Beagles as a breed are exceptionally prone to hip dysplasia – nearly 1 in 5 Beagles are thought to be affected.
Responsible breeders will screen for this issue and be happy to share the results of their dogs' hip assessment with you.
The Cavalier King Charles Spaniel is only the second most likely breed to suffer from patellar luxation (dislocation of the kneecap). This can cause pain and ultimately osteoarthritis of the knee joint.
Though the bone defect leading to patellar luxation is much less likely in a mixed breed, it is still wise to check that it is not common in the breeding lineage.
Other major health issues in the parent breeds
Sadly, the Cavalier King Charles Spaniel also suffers a high rate of syringomyelia, a brain and spine disease that can be incredibly painful.
Caused by a malformation of the back of the skull, syringomyelia causes the lower part of the brain to be herniated through the bottom of the skull and into the spinal cord. It can require regular medication and at times surgery for treatment.
Epilepsy usually starts when Beagles are still puppies, so it is a lifelong condition. It can usually be controlled with medication, but don't underestimate the emotional and financial investment in doing so.
The most common cause of death for the Cavalier King Charles Spaniel is mitral valve disease which has lead to heart failure. Many Cavalier King Charles Spaniels are afflicted with this disorder.
Common minor issues in the parent breeds
Almost half of Beagles will have some sort of brush with teeth or gum trouble by the time they're two years old. This can include swollen gums, and bad breath. A good vet can help you plan a dental hygiene routine to keep your dog's teeth fresh – but you'll need to stick to it!
Nearly 1 in 5 Beagles assessed by the Canine Eye Registration Foundation between 200 and 2005 had abnormally placed eyelashes which were rubbing the surface of the eye. Left untreated this can lead to ulcers on the cornea.
Health Testing Beaglier Parents
The good news is, many of these conditions can be screened for. They also tend to be less common in the mixed breed — one big reason to consider a mix. Breeding programmes which enforce compulsory screening for mitral valve disease are already producing litters of puppies with far lower frequencies of heart disease.
Any responsible breeder will ask a vet to perform an MRI scan of a Cavalier King Charles Spaniel's skull before they are used for mating, to assess the risk of them passing this horrendous condition to their puppies. And of course, your breeder should be happy to share the results and discuss them candidly with you.
Knowing the parent dogs' health issues can help predict future issues in a Beagle Cavalier mix. A Beaglier might be protected from Syringomyelia because their Beagle-ish shape affords them more room in their skull. But it is wise to be vigilant for the symptoms of any condition which can affect either breed.
Designer Dog Health
Pedigree purists insist that the pure breeds they advocate for are selectively bred for specific attributes and allow certain breed-specific genetic ailments to be selected against. It makes the resultant puppies more predictable in their appearance, nature and health.
While this can be true if the breeder is reputable, and takes care to screen all of their dogs, some breeders are not as careful and allow these inheritable ailments to proliferate. Additionally, problems are more prevalent when the breeding gene pool is smaller, as it tends to be with purebred dogs.
Designer dogs have a wider gene pool and say that the hybrid dogs have less inbreeding and less of the weaknesses prevalent in pure breeds.
Beaglier Lifespan
The average lifespan of the Beagle is 12-13 years (and some live to nearly 18 years.
The average lifespan of the Cavalier King Charles Spaniel is 11-12 years and up to 18 years.
The expected lifespan for the Beaglier should be somewhere in between, but may be somewhat on the longer side due to avoiding some of the health concerns of the purebred breeds.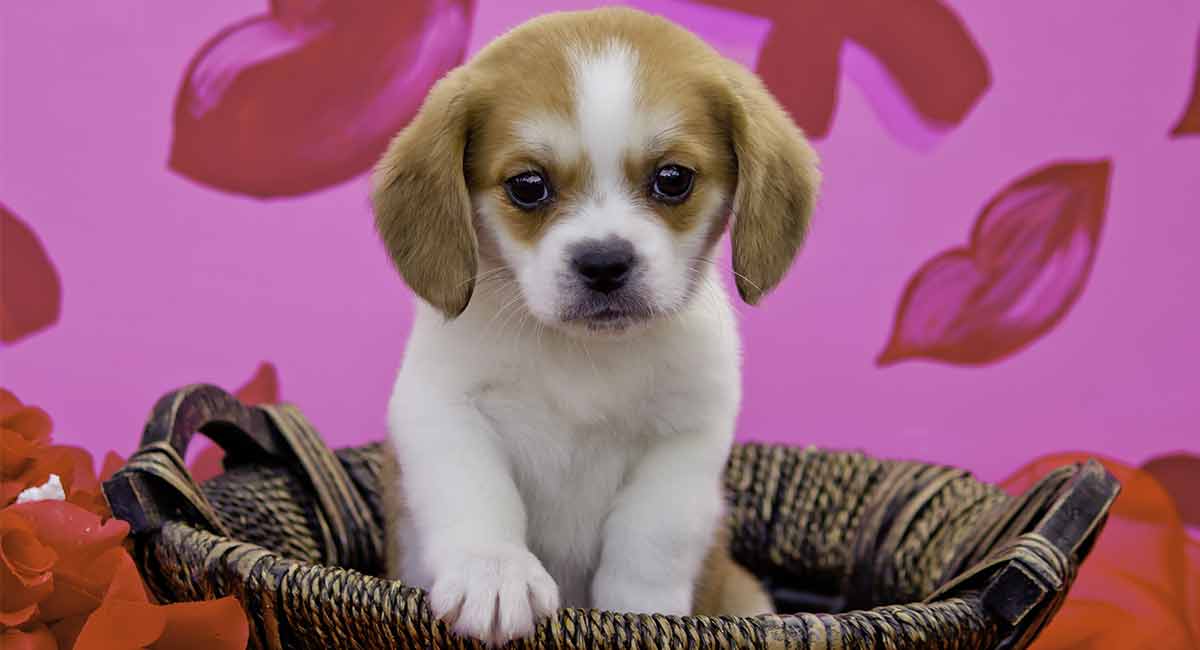 Do Beagliers Make Good Family Pets?
The gentle and playful temperament of the Beaglier makes it an excellent choice of family pet if kids are old enough to be gentle with this smaller dog.
While we may have some reservations about the Cavalier King Charles Spaniel puppy for a family due to health concerns, these are likely not nearly as common in the mixed breed.
That said, rescuing an adult Beaglier has the advantage of letting you know about the dog's health from the start.
Pros And Cons of Getting A Beaglier
Cons of getting a Beaglier:
Depending on how much of the Beagle's drive to bark comes through in your pup, you may find yourself with a very vocal dog. Some of this can be curbed through dedicated training
Since both parent breeds have roots as hunters, don't expect this to be a puppy that naturally cuddles with cats and other smaller animals.
He may have a tendency to become anxious when left alone
Pros of getting a Beaglier:
You many find him to be an incredibly affectionate, gentle, yet playful friend
He is a fairly adaptable breed
Hybrid vigor means you can experience some of the delights of the Cavalier King Charles Spaniel without contributing to the health problems they face.
Is a Beaglier the Right Pet For Me?
The King Charles Cavalier Beagle mix has the potential to be an adorable, sweet family dog. There are certainly legions of loyal owners who love them!
If you'd like a King Charles Cavalier Spaniel but you don't want to perpetuate the health crisis facing these little dogs, a Beaglier could be a perfect alternative.
As with any first generation cross, have a think about whether you'd be happy with either a Beagle or a King Charles Cavalier Spaniel before you bring home a Beaglier. You won't know until your puppy grows up what combination of traits they've taken from each dog, but if you're confident you'd be happy with either parent, that's a good sign that a King Charles Cavalier Beagle mix won't disappoint you!
Make sure that your lifestyle will allow a Beaglier puppy to fit in with your family before deciding to bring one home. Research breeders and make sure the one you choose is reputable. If you decide that your family and lifestyle are well suited for a Beaglier, you will not regret bringing this adorable pup home.
Rescuing a Beaglier
One of the benefits of going through a shelter or rescue organization is that the price is much less than you will pay for a puppy through a breeder. Adoption fees typically range from $50 to $100.
This is an especially good deal considering that rescues or shelters will often provide vaccinations, de-sexing, and breed-specific health screening.
Besides being a more economical option, rescuing a Beaglier dog provides a home for a dog that has lost theirs and possibly saves their life.
Scroll to the end of the article or click here for our list of rescue centers.
Are Rescue Dogs Trouble?
Sometimes people assume that if a dog is a rescue it must have problems, but this is not necessarily true. There are many reasons that people may be unable to keep their amazing dog.
In addition, rescue organizations also often do temperament testing on the rescue animals so you will likely be aware of the dog's past and personality.
If you have your heart set on a rescue, you may well be able to find a Beaglier in need of a new home with a bit of searching.
Are you ready to find a puppy?
Finding a Beaglier puppy
You can check out our puppy finding guide to help in the search for your new pup. As designer breed mixes have become popular, it is easier and easier to find one from a great breeder.
Many people wonder how much a Beaglier puppy will cost. You should expect to pay a good breeder 500 to 1200 USD for a King Charles Cavalier Beagle mix puppy.
So, how do you know the breeder you are looking at is reputable?
First off, please do not even consider getting a puppy from a pet shop or online advertisement. These puppies are often raised in puppy mills where profit takes precedence over animal well-being. Besides the poor conditions for the breeding animals, these contribute to long-term health and behavior problems for the puppies.
Beaglier Breeders
So, in looking at a breeder, there are a few things you should expect from a reputable one. It is ideal to be able to visit, meet at least one of the parents, and have the opportunity to observe the living conditions and the puppies in the environment they are growing up in.
There are also some health-related actions that are considered good practice for breeders.
All parent dogs should receive a full vet check and be screened for known health problems before the mating takes place. Documentation of being clear of major health concerns should be available.
When the puppies are born, the breeder will make sure they are checked by a veterinarian. Depending on the age at which you are adopting, the vaccination process may be begun and they should have been dewormed every 2 weeks.
Reputable Beaglier breeders will offer a health guarantee for your puppy when you bring him home. This is to protect you and your puppy but you must follow the instructions included with the guarantee.
As well as being the guardians of their early health, good breeders will also start the important work socializing their puppies, so that they grow up into confident and well behaved members of canine society. They want the best for their dogs and they are proud of their pups.
Raising a Beaglier puppy
Caring for a vulnerable Beaglier puppy is a big responsibility. There are some great guides to help you with all aspects of puppy care and training. You'll find them listed in our puppy guide.
You will also need to get prepared for your new dog or puppy with a few key items, so keep reading for some reviews.
Beaglier products and accessories
Best Dog Toys for Beagles – Great Ideas to Keep your Furry Friend Happy
Dog Beds for Beagles to Snuggle Up In
Top 10 Puppy Essentials – What to Buy Before He Comes Home
Comparing the Beaglier with other breeds
Beaglier vs. Beagle — Hey, if you're interested in the mix, maybe it turns out one of the parent breeds is a good fit as well. Although it is hard to say exactly what mix of traits will be predominant with a mix, in general the influence of the Cavalier will tone down the Beagle a bit. That said, Beagles are very sweet dogs, just a bit more prone to going off on chases and barking.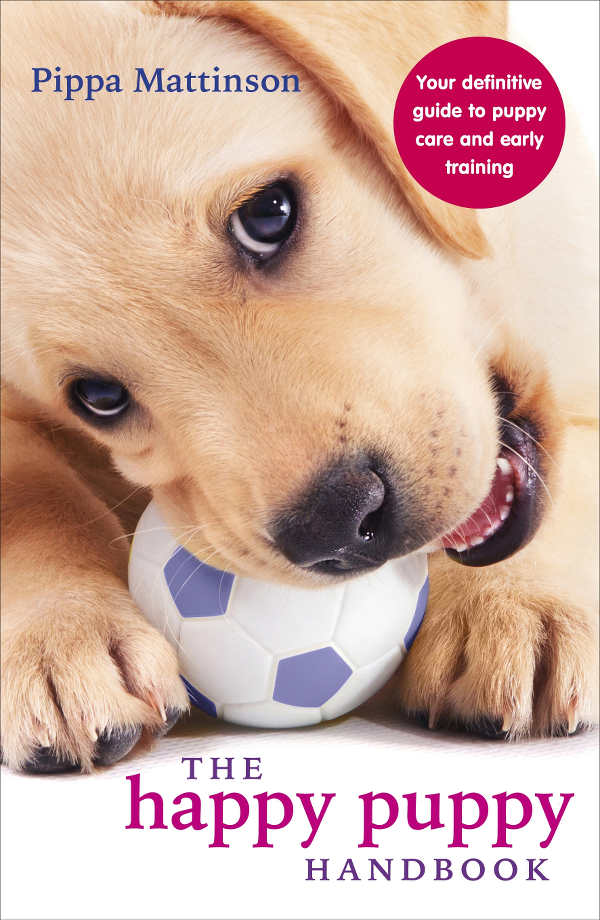 Beaglier vs. Basenji — The Basenji is another similar sized dog with similar coloration to the Beaglier. If you are looking for a quieter dog with a bit more independent spirit, you might look further into the Basenji.
Beaglier vs. Basset Hound — The Basset Hound is another dog with roots in hunting. He is a bit larger than the Beaglier. In terms of temperament, the Basset is likely to be more laid back.
Similar Breeds
Other dog breeds you might want to consider:
The Bichon Frise is another affectionate small dog with charm a plenty.
Bolognese dogs are also supreme small companions.
Chihuahuas are loving and active tiny dogs.
Another small pup with lots of personality and love is the Havanese.
You might also like the white Cocker Spaniel.
Beaglier Breed Rescues
USA-based rescues:
UK-based rescues
Australia-based rescues
Canada-based rescues
Do you own a Beagler?
What brought you to this crossbreed?
Does your pup take more after their Beagle ancestors, or their King Charles Cavalier Spaniel relatives?
Tell us about them in the comments below!
References And Resources
Gough A, Thomas A, O'Neill D. 2018 Breed Predispositions to Disease In Dogs and Cats. Wiley Blackwell
O'Neill et al. 2013. Longevity and Mortality of Owned Dogs In England. The Veterinary Journal
Adams VJ, et al. 2010. Results of a Survey of UK Purebred Dogs. Journal of Small Animal Practice.
Schalamon et al. 2006. Analysis of Dog Bites In Children Who Are Younger Than 17 Years. Pediatrics
Duffy D et al. Breed differences in canine aggression. Applied Animal Behavior Science 2008
Strain G. Deafness prevalence and pigmentation and gender associations in dog breeds at risk. The Veterinary Journal 2004
Packer et al. 2015. Impact of Facial Conformation On Canine Health. PlosOne
Arman K., A new direction for Kennel Club Regulations and Breed Standards. Canadian Vet J 2007
Bell & Cavanagh, Veterinary Medical Guide to Dog And Cat Breeds, CRC Press, 2012.
Birkegard et al, Breeding Restrictions Decrease the Prevalence of Myxomatous Mitral Valve Disease in Cavalier King Charles Spaniels over an 8‐ 10‐Year Period, Journal of Veterinary Internal Medicine, 2015.