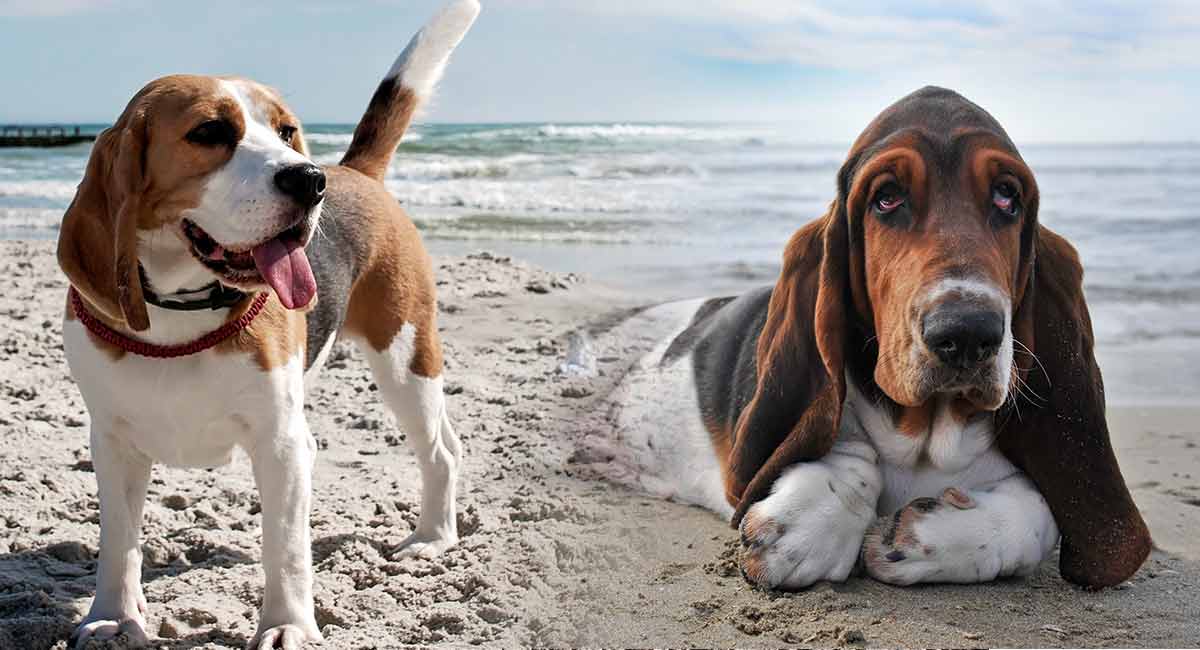 The Basset Hound Beagle mix is a cross between a purebred Beagle and a pedigree Basset Hound parent. They are short coated, bi or tri color dogs, with floppy ears and a wide brilliant nose. Their strong hunting histories mean they make great working companions. Energy levels vary between individuals, but they all have a high prey drive and make good use of a powerful set of vocal chords.
Contents
What differs a lot between these parent breeds is the health issues. Whilst Beagles are generally structurally sound dogs, Basset Hounds have a lot of potential problems when it comes to their backs, joints and eyes. It's possible that a mixed breed will mitigate some of these, but it's not a certainty.
Parent Breed Origins
While the Basset Hound and Beagle are two pretty different dogs, they come from similar backgrounds.
The Basset Hound has a French origin. His calm nature and low-to-the-ground stature made him the ideal hunting companion for rabbit and hare hunters.
Likewise, the Beagle's early days were filled with rabbit and hare hunting. And while experts believe the Beagle has been around for quite some time, the earliest documentation available places him in England around the 1500s.
Basset Hound Beagle Mix Appearance
The Basset Hound Beagle mix is a crossbreed, and although his parent breeds have some similar features, he still could inherit a wide range of characteristics from either parent.
The Basset Hound stands around 15 inches tall and weighs 40–60 pounds. He has a long body, very short legs, very long ears, drooping eyes, and an almost melancholy expression. His coat is short and sleek and comes in six color combinations.
The Beagle has a more proportionate body than the Basset Hound, although he can be smaller, standing under 15 inches and weighing under 30 pounds. Like the Basset Hound, the Beagle has a short and sleek coat that comes in multiple colors.
Typical Temperament Traits
Whenever dealing with any crossbreed, it is difficult to nail down temperament.
However, it is going to be especially hit or miss with the Basset Hound Beagle mix, since his parent breeds share completely different energy levels.
While the purebred Basset Hound is laid back and relaxed, the purebred Beagle is active and ready to go all the time!
Either way, both breeds make excellent family dogs and do well with children and other household pets.
In fact, despite the Basset Hound's reputation for being so relaxed, he does have a playful streak and really enjoys the company of other dogs.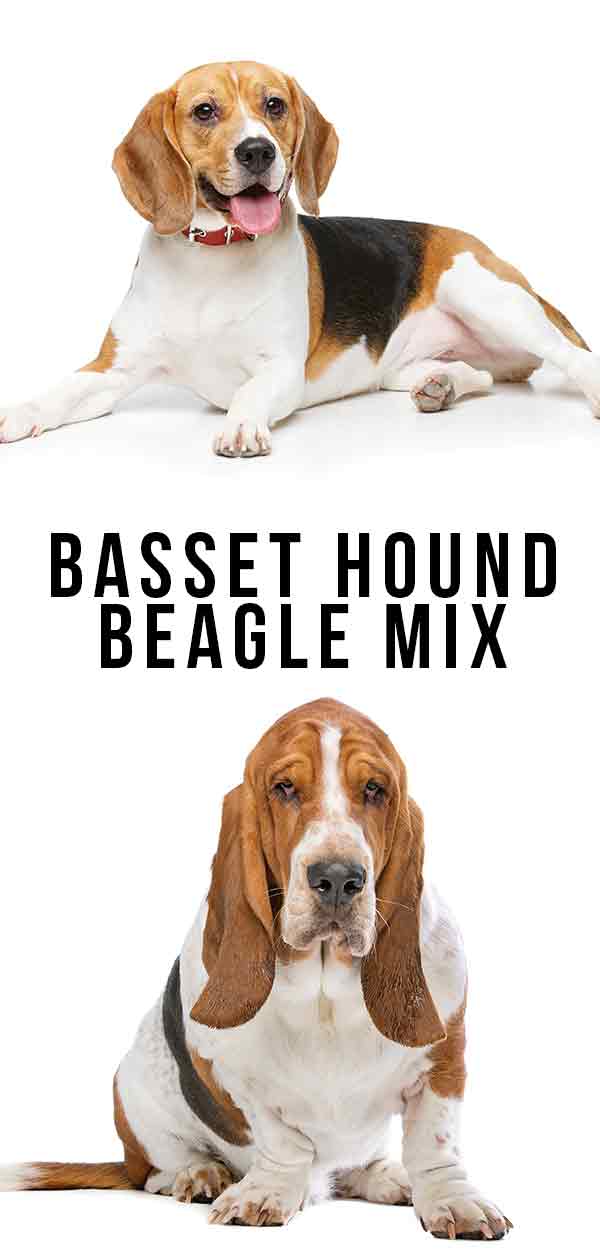 Prey Drive
We should note that the Beagle is known for his very high prey drive and may be prone to running from you during walks.
For this reason, your Basset Hound Beagle mix should always be walked on a leash.
And while both of these breeds are loving family dogs, and it is likely their crossbreed offspring will make a loving family dog as well, we always recommend early socialization and obedience training.
Training Your Dog
Training your Basset Hound Beagle mix could depend on the traits he inherits from his purebred parents.
The Basset Hound, for example, is rather independent and may be somewhat of a challenge to train.
While it is not impossible to train a Basset Hound, it does require lots of patience, treats, and time.
The Beagle, on the other hand, is more agreeable than the Basset Hound when it comes to his eagerness to learn.
He will be more apt to want to please you and more interested in following commands.
Use Positive Reinforcement
Either way, most experts have found that positive reinforcement training methods work best with dogs.
This means you should offer your Basset Hound Beagle mix treats and praise during training sessions when he does something correctly, as opposed to scolding and punishing him for making mistakes.
Also, keep in mind that the Beagle is especially intelligent and high-energy.
This means that if he is not properly trained and exercised enough, he could be prone to destructive behaviors like chewing.
If you are concerned about leaving your Basset Hound Beagle mix at home alone during the day due to any possibility of destructive behaviors, we encourage you to read this article regarding crate training.
And if you have any concerns with potty training a new puppy and how to go about it, we want to help.
Check out our guide on puppy potty training.
Basset Hound Beagle Mix Health
Considering the life expectancies of his parent breeds, we estimate that the Basset Hound Beagle mix lifespan could be between 10–15 years.
All dogs are susceptible to genetic health issues, and the Basset Hound Beagle mix could be susceptible to any of the genetic health issues of his purebred parent breeds.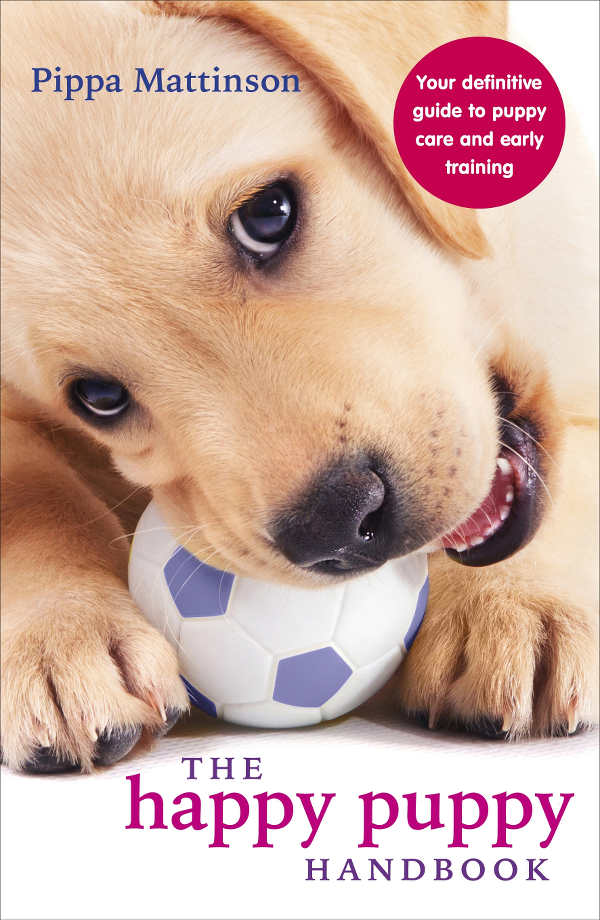 Keep in mind that early health screening is a great way to better understand what your Basset Hound Beagle mix could be susceptible to, but so is understanding what his parent breeds are most prone to.
The Basset Hound, for starters, is most prone to suffering ear infections, hip and elbow dysplasia, hypothyroidism, glaucoma, luxating patella, bleeding disorders, dislocated kneecaps, and dental problems.
The Beagle can be prone to suffering from hip dysplasia, epilepsy, hypothyroidism, luxating patella, dental issues, ear infections, and eye disorders.
The National Breed Club recommends the following health tests for the Beagle
Hip Evaluation
Ophthalmologist Evaluation
MLS DNA Test
Basset Hound Beagle Mix Puppies
For the healthiest and happiest puppy possible, you should always avoid puppy mills and pet stores. Remember, any responsible breeder will have health screened their litters. And they will be able to provide you with certificates of health proving it.
On average, most breeders charge $500 to over $1000. But this will depend on the quality of the parent breeds and the breeder's reputation.
Don't be shy. Ask lots of questions, read reviews, and do lots of networking. The health and happiness of your puppy may depend on it!