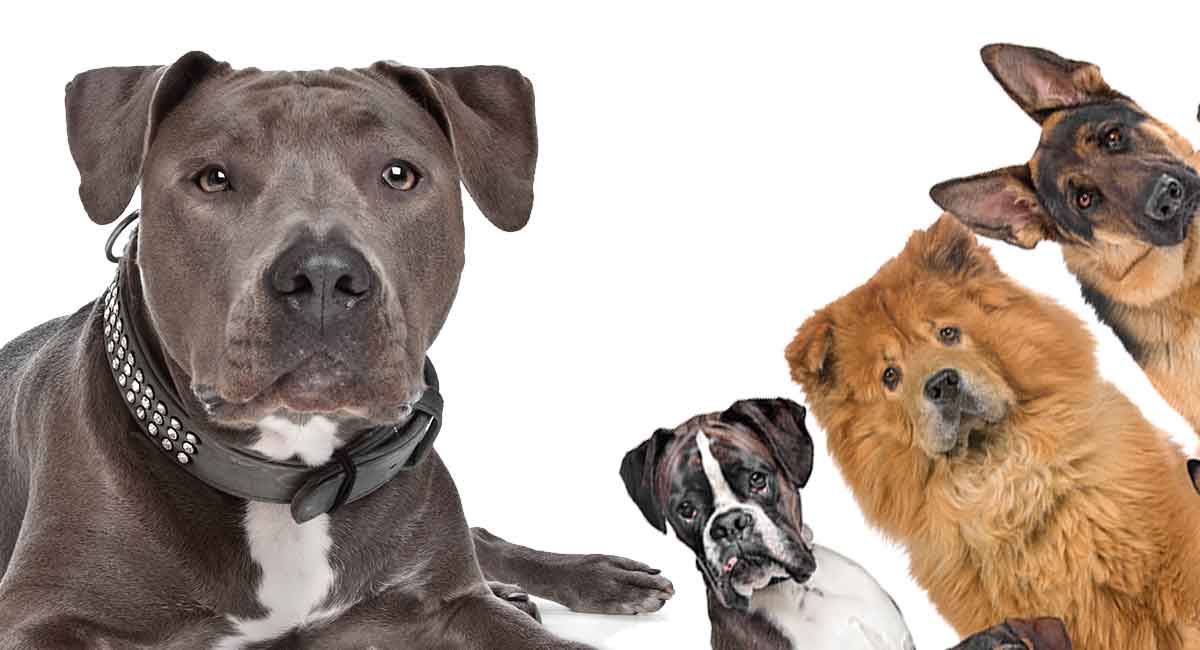 Are you interested in finding the best American Staffordshire Terrier mix for you?
Mixed breeds are becoming more popular as people search for their perfect new family member.
Mixing dog breeds can be a great way to find a breed more suitable to your lifestyle.
And it also gives you even more choice when choosing your next pet.
So what is the American Staffordshire Terrier like?
And what different American Staffordshire Terrier mixes exist?
Let's take a look.
The American Staffordshire Terrier
Before we look at the different American Staffordshire mixes you can get, let's take a look at this breed on its own.
This breed started out like Bull Terriers and Bulldogs, as fighting and baiting dogs in the 18th and 19th centuries.
While most people are certain the American Staffordshire Terrier originated as a mix between the Bulldog and a terrier breed, there is little agreement on what type of terrier this was.
It was accepted for registration in the American Kennel Club Stud Book in 1936 as Staffordshire Terriers.
The name of this breed didn't change to American Staffordshire Terrier until 1972, which is commonly shortened to Amstaff.
Appearance
The American Staffordshire Terrier is usually between 17 and 19 inches tall at the shoulder, depending on its sex.
And a healthy Amstaff can weigh anything between 40 and 70 pounds, again depending on sex and size.
This breed is great if you're looking for a pet for life, as healthy Amstaffs live up to 16 years old.
These dogs are distinguished by their well-defined facial structure – their strong jaw and cheekbones – as well as their wide-set, round eyes.
People tend to love this breed because of their naturally smiling mouth.
They have short, stiff coats, meaning grooming isn't a huge task.
Brushing and nail trimming should happen regularly, but bathing isn't a priority unless your Amstaff develops a strange smell.
Temperament
They are a lovable, intelligent breed that are great with families and small children.
Amstaffs are a very people-oriented breed so aren't suitable for families who have to leave them alone for most of the day.
They also require lots of exercise to maintain their stocky build.
If you're looking to get a dog you can introduce to agility training, or simply one that you can play with all day, the American Staffordshire Terrier is perfect.
It is extremely important to begin their socialization and training as early as possible.
And this breed should never be left alone with another dog, as even the most well-socialized Amstaff can develop aggressive tendencies.
Health
There are a couple of health conditions to be aware of when getting an American Staffordshire Terrier.
These include hip dysplasia, cerebellar cortical degeneration (degeneration of the brain), heart problems, and allergies.
These hereditary health issues make it important to choose the best breeder possible and attend regular vet checks.
An American Staffordshire Terrier mix has the potential to inherit any of these characteristics from their Amstaff parent.
So if there're any qualities here you don't love, maybe you should consider whether an Amstaff mix is the best breed for you.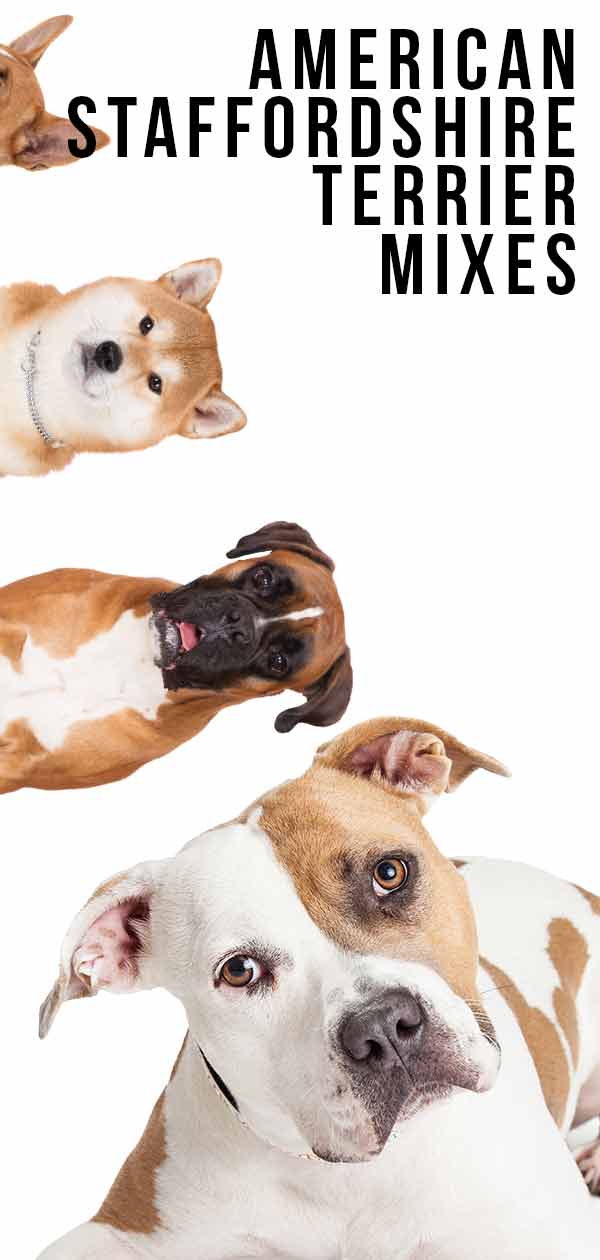 American Staffordshire Terrier Mixes
So what could people possibly want to change about the Amstaff?
Some people breed mixed dogs simply because they think the result can be more aesthetically pleasing.
Designer dogs are a perfect example of this.
One of the main reasons people bred them was simply because they liked the way they looked.
Perhaps you'll find this is the case with one of the American Staffordshire Terrier mixes here.
Mixed Breed Health
Some have suggested mixed breeds are healthier, as it creates increased genetic diversity.
However, it is important to remember your puppy can inherit diseases common to either of their parent breeds, so mixed breeds aren't automatically healthier.
Additionally, some people might love a certain breed but want different characteristics in their dog.
Again, it is important to remember your puppy can inherit either of its parent dog's characteristics, but mixing breeds can introduce new qualities to the dogs you love.
Mixed breeds should always be bought from reputable breeders, and you should always ask to see the health records of the parent dogs.
American Staffordshire Terrier Types
So we've looked at the American Staffordshire Terrier dog breed before it has been mixed and also why people might want to mix the Amstaff.
But what different American Staffordshire Terrier mixes can you actually get?
We know the characteristics a mix might inherit from the Amstaff parent dog, but what about the other breed?
Let's look at the most common mixes and what to expect from them.
American Bull Staffy
This mix is a cross between the American Staffordshire Terrier and the American Bulldog.
The American Bulldog is a large, stocky breed, descended from the Old English Bulldog breed.
This is an intelligent mix with many social and physical needs.
This mix takes well to training but needs to be socialized early in life, as they can be wary of unknown animals.
The cross may also inherit an American Bulldog's protective nature over its owners and family.
The American Bull Staffy loves being around its family and shouldn't be considered if you don't have lots of time to spend with your dog.
American Bulldogs tend to weigh in at more than American Staffordshire Terriers, so your American Bull Staffy mix is likely to be larger than the original Amstaff.
This mix will have a short coat that requires weekly brushing.
Health
As well as the health conditions the Amstaff can suffer from, the American Bull Staffy can be prone to:
cataracts
uveal cysts
hip or elbow dysplasia
brachycephalic syndrome
And they are even prone to sunburn if they have light fur.
Make sure you get the health certifications from your mix's parent dogs to help minimize these issues.
Bullboxer Staffy
This breed is a cross between the Boxer and the American Staffordshire Terrier.
The Boxer is a large athletic dog.
If you're looking for a mix breed that requires little grooming, this is a great choice, as both parent breeds are low maintenance.
It will need plenty of exercise to maintain its strong, muscular build.
This physique may mean it's unsuitable for elderly families and those with very small children.
The reason is this mix, like the Boxer, could have a tendency to forget its own strength when learning not to jump up at people.
Like Amstaffs, Boxers are confident and very intelligent but can become easily bored with repetitive tasks, so training is best in short bursts from a young age.
Their intelligence makes this mix an excellent choice for obedience and agility training.
Health
This mix can be prone to health issues including:
hip dysplasia
heart conditions
thyroid deficiency
cancer
degenerative myelopathy
Old Anglican Bulldogge
The Old Anglican Bulldogge may seem similar to the American Bull Staffy.
However, it is actually a cross between the Amstaff and Bulldog (not to be confused with the larger American Bulldog).
This is a medium-sized, muscular breed that loves exercise and socializing.
This mix needs regular, moderate exercise but may inherit the Bulldog's tendency to pretend it's a lap dog from time to time.
They have short, straight coats and are low maintenance where grooming is concerned, only requiring brushing a couple of times each week.
They will most likely have a shorter snout than a regular Amstaff, which can sometimes cause difficulty breathing.
This mix can inherit the Bulldog's eagerness to please its owners and their easygoing, loyal natures, but they should still be socialized and trained from an early age.
The Bulldog can be prone to overheating, a trait that could carry over into your cross.
Frenchie Staff
Although the Frenchie Staff is smaller than some other mixes on this list, it still possesses a stocky, muscular build.
It is a cross between the French Bulldog and the American Staffordshire Terrier.
A trademark feature of the French Bulldog that your Frenchie Staff may inherit is the large bat ears.
Frenchies are quiet but alert dogs that make great pets for almost every family.
They require less exercise than other mixes looked at here: a walk or some playful time outside each day should be enough.
They love socializing with other animals and people, so they need families that will spend lots of time with them.
Their short fur is easy to maintain and only really requires brushing once a week.
Although they shed quite regularly.
Frenchie Staffs should never be left unsupervised near water, as they can struggle with swimming.
Health
They are also prone to some health conditions that make them a less than ideal pet.
If they inherit the flat face from the French Bulldog parent, it can lead to breathing problems and make the mix more sensitive to anesthesia.
They are also prone to eye problems and skin sensitivities, so regular health screening is recommended.
Labrastaff
This is the cross between an American Staffordshire Terrier and a Labrador.
This is a medium-sized cross that loves socializing and spending time with its family, meaning early socialization and training is vital.
This mix needs lots of exercise, especially to ensure no destructive tendencies arise.
Activities like fetching, agility, tracking, and swimming are great for this breed.
Health
Unfortunately, they are still prone to health issues, including:
hip dysplasia
heart conditions
hereditary myopathy
bloat
progressive retinal atrophy
Some of these hereditary conditions can be life threatening, so choosing a responsible breeder is important.
Amstiff
The Amstiff is a cross between the American Staffordshire Terrier and the Mastiff.
That creates a very large dog!
This cross is mostly low maintenance for grooming but may require more frequent brushing during heavy shedding periods.
They also may inherit the Mastiff's tendency to drool everywhere, meaning you may have to wipe your pup's mouth a lot.
This cross will require moderate exercise in the form of daily walks or outside play time.
Early socialization and training is necessary for this intelligent mix, but several short sessions each day is the best way to keep its attention.
Health
As well as conditions the purebred Amstaff is prone to, the Amstiff can also experience health issues including:
allergies
eye anomalies
heart conditions
cancer
von Willebrand's disease
degenerative myelopathy
bloat
epilepsy
This long list means you need to keep up with regular vet checks.
Staffweiler
This next cross is a mix between the Rottweiler and the American Staffordshire Terrier.
This is another large, stocky mix, great for people who want a loyal, loving dog.
This breed requires very little grooming and will only shed occasionally.
Exercise is truly important to this cross, so don't consider this breed unless you'll be able to take it swimming, walking, herding, tracking, and any other energetic activities you can think of every day.
These dogs don't tire easily!
It is really important to socialize and start training as early as possible with Staffweilers.
These dogs love being around people, so they should be familiar with every different environment you may take them to.
Although they're lovable and intelligent, some can be stubborn, which emphasises the need for early training.
Health
Unfortunately, Staffweilers can inherit health problems including:
hip dysplasia
cancer
eye diseases
heart conditions
Vizsla Staff
This cross mixes the Vizsla with the American Staffordshire Terrier to produce an athletic, energetic breed.
The Vizsla is a Hungarian breed originally bred as a hunting companion.
Occasional brushing is all that's needed for this cross, although they shed quite regularly.
Because both parent breeds are athletic, the Vizsla Staff needs at least 30 minutes of exercise each day and will love the opportunity to run off leash.
Therefore, they don't make great city pets, cooped up in small apartments.
They require early training and socialization to take advantage of their intelligence and eagerness to please.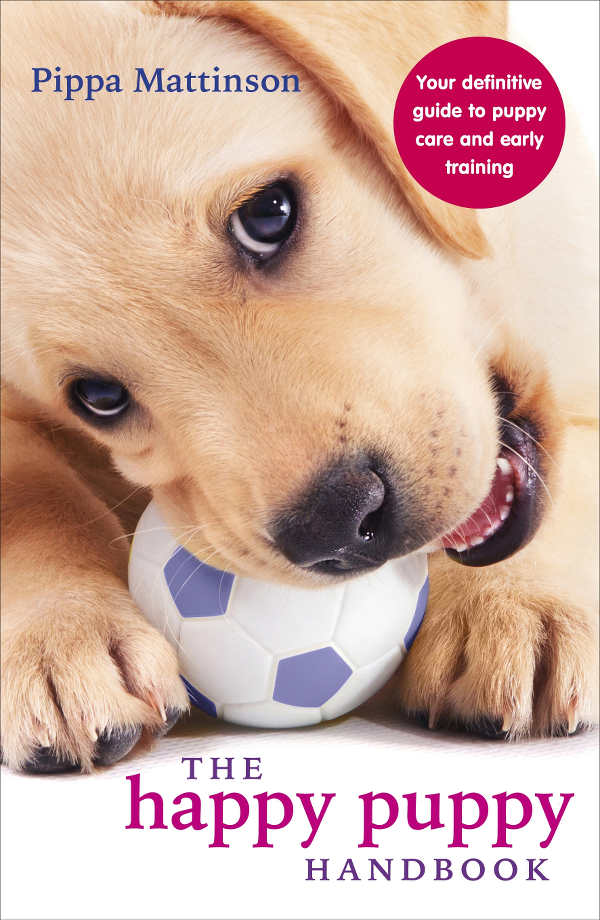 Health
This breed actually inherits surprisingly few hereditary health conditions from the Vizsla side, but you should watch out for:
allergies
eye disorders
hip dysplasia
epilepsy
Westie Staff
This final breed is a cross between the West Highland White Terrier (or Westie) and the American Staffordshire Terrier.
This mix is another smaller choice, as the Westie parent can be as little as 10 inches tall.
Westies require a lot more grooming than Amstaffs, so the grooming needs of your Westie Staff mix are unpredictable and should be judged by its coat length.
This mix is playful by nature and loves to exercise, although they won't need quite as much as some of the other mixes here, despite their tirelessness.
They are an independently natured breed, which can make training tricky, but they are very intelligent.
Early training and socialization is a must.
Health
The main health issues to look out for include:
cardiac disease
cataracts
patellar luxation
Is an American Staffordshire Terrier Mix Right for Me?
Hopefully, you now know whether an American Staffordshire Terrier is right for you.
And if not, perhaps one of the mixes brings qualities and needs that fit more into your lifestyle.
If you've ever had one of these dog breeds, let us know your experiences in the comments.
We'd love to hear how you found your Amstaff mix.
References and Resources
American Staffordshire Terrier Dog Breed Information
Natasha Olby (et al), 'Cerebellar Cortical Degeneration in Adult American Staffordshire Terriers', Journal of Veterinary Internal Medicine, 18:2 (2008)
P. Oliveira (et al), 'Retrospective Review of Congenital Heart Disease in 976 Dogs', Journal of Veterinary Internal Medicine, 25:3 (2011)
Thomas Bellumori (et al), 'Prevalence of Inherited Disorders Among Mixed-Breed and Purebred Dogs: 27,254 Cases (1995-2010)', Journal of American Veterinary Medical Association, 242:11 (2013)
Helle Friis Proschowsky (et al), 'Mortality of Purebred and Mixed-Breed Dogs in Denmark', Preventive Veterinary Medicine, 58:1-2 (2003)
Elise Donzel (et al), Epidemiology and Clinical Presentation of Canine Cataracts in France: A Retrospective Study of 404 Cases', Veterinary Ophthalmology, 20:2 (2016)
Stephanie A Pumphrey (et al), 'Glaucoma Associated with Uveal Cysts and Goniodysgenesis in American Bulldogs: A Case Series', Veterinary Ophthalmology, 16:5 (2012)
Kathryn M. Meurs, 'Boxer Dog Cardiomyopathy: A Update', Veterinary Clinic: Small Animal Practice, 34 (2004)
Hilary M. McKeown, 'Hypothyroidism in a Boxer Dog', The Canadian Veterinary Journal, 43:7 (2002)
References and Resources Continued
Rowena M. A. Packer (et al), 'Impact of Facial Conformation on Canine Health: Brachycephalic Obstructive Airway Syndrome' (2015)
A Marks (et al), 'Congenital Hypotrichosis in a French Bulldog', Journal of Small Animal Practice, 33:9 (1992)
Karen Humm and Dominic Barfield, 'Differentiating Between Food Bloat and Gastric Dilatation and Volvulus in Dogs', Vet Record, 181:21 (2017)
R. E. McKerrell and K. G. Braund, 'Hereditary Myopathy in Labrador Retrievers: A Morphologic Study', Veterinary Pathology, (1986)
R. Beuing (et al), 'Prevalence and Inheritance of Canine Elbow Dysplasia in German Rottweiler', Journal of Animal Breeding and Genetics, 117:6 (2008)
Edward E. Patterson (et al), 'Clinical Characteristics and Inheritance of Idiopathic Epilepsy in Vizslas', Journal of Veterinary Internal Medicine, 17:3 (2008)
B. M. Corcoran (et al), 'Chronic Pulmonary Disease in West Highland White Terriers', Vet Record, 144:22 (1999)
K. Narfstrom, 'Cataract in the West Highland White Terrier', Journal of Small Animal Practice, 22:7 (1981)