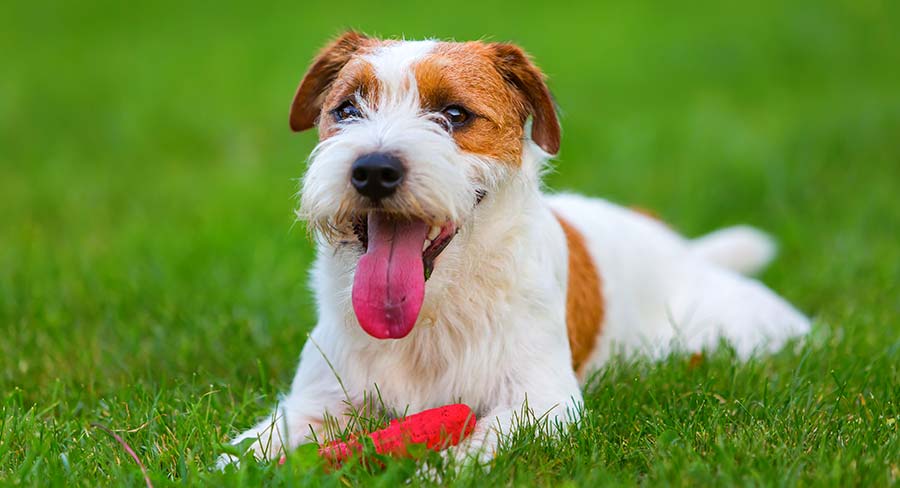 The Parson Russell Terrier is a small dog breed with a friendly, active temperament. A Parson Russell Terrier puppy can make a great family pet in the right home, but they can also be quite independent. Today we are going to look at the pros and cons of bringing home a Parson Terrier. We'll look at the best place to find Parson Russell puppies, and at the right way to get the most out of that energetic Parson Russell temperament.
Contents
Parson Terrier dogs are very clever. But, they need a patient owner with plenty of time for fun and consistent training sessions. There's a lot to consider before getting a Parson Russell Terrier. So, read on to find out if the Russell type Terrier will suit your home.
What is a Parsons Terrier?
A Parson Russell Terrier dog is small, sturdy and very energetic. They are similar in type to the more well known Jack Russell Terrier, but these dogs are not the same breed.
| | |
| --- | --- |
| Popularity: | 117 out of 193 AKC recognized breeds |
| Purpose: | Terrier group, common as a family pet |
| Height: | 13 – 14 inches |
| Weight: | 13 – 17 pounds |
| Temperament: | Active, intelligent, courageous |
Parson Russell Terrier History
The Parson Russell Terrier originally comes from the south of England. It was first documented in the 1800s. But, it wasn't until 1997 that the AKC officially recognized these dogs.
Like many other terrier breeds, they were used to hunt. Specifically, they would work with foxhounds during fox hunts. This was a task they could do just as well above ground as below ground when hunting in fox dens.
Over time, this purpose waned. Nowadays the Parson Russell Terrier is much more common as a family companion and household pet than as a working breed.
Parson Russell Terrier Appearance
Overall, the Parson Terrier is small but sturdy in appearance. This breed was bred to be athletic and able at hunting alongside other dogs. They are very similar in appearance to the more common Jack Russell Terrier.
Average Parson Russell Terrier Size
Females tend to be around 13 inches tall. Whereas males will usually measure in slightly taller; often around 14 inches. In weight, these dogs can range from 13 to 17 pounds to fit their breed standard. But, individual dogs may fall slightly outside of this range in some instances.
Coat Type and Color
They have rough coats that can be broken or smooth in texture. Although you can get a smooth Parson Russell Terrier, this isn't a soft and silky coat. It still feels firm to the touch. Parsons will be mostly white in color. But, they can have markings in a range of different shades, including:
Black
Brown
Cream
Tan
Tri color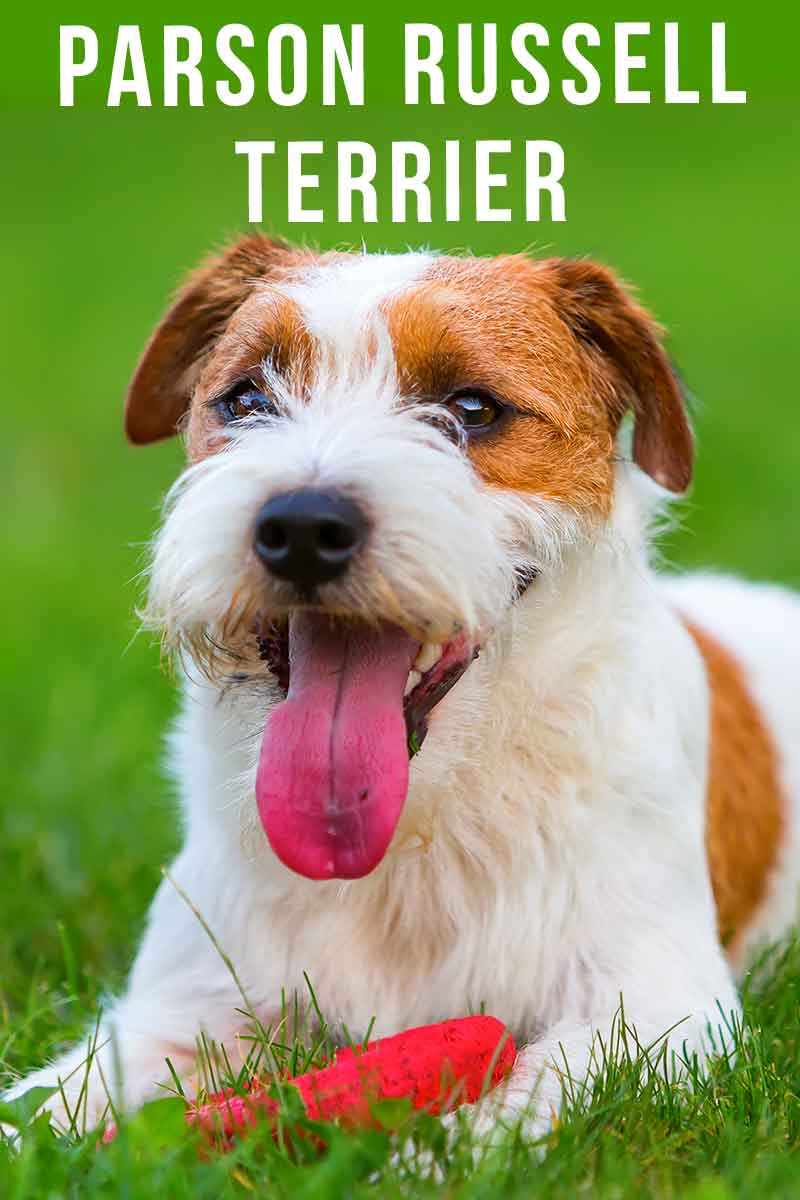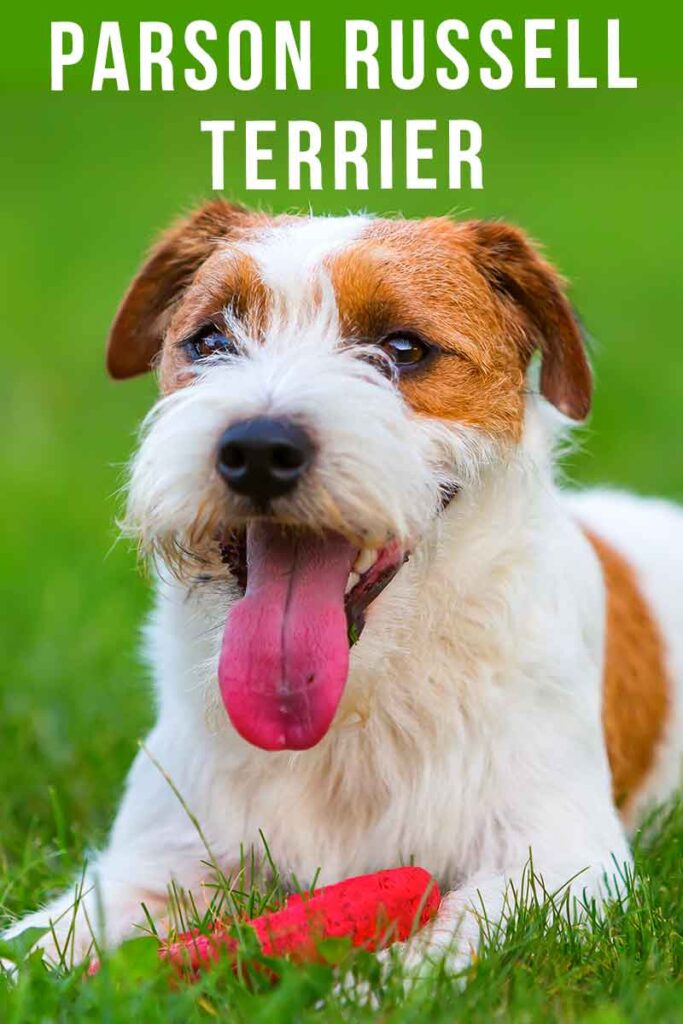 Parson Russell Terrier Temperament
Like many other terrier dog breeds, the Parson Russell Terrier will be athletic, intelligent, and brave. They aren't afraid to dive straight into new situations. Many Parson Russell Terrier dogs will have an independent streak. But, they will also often form very strong bonds with their owners, loving to follow their family around and curl up together at the end of a busy day.
These traits all made the Parson Russell Terrier perfect for their original role as a fox hunter. But, it can impact the sort of home they suit.
Many Parsons will retain these natural chase and hunt instincts. So, if you have other pets at home – particularly cats – you may want a slightly calmer dog breed. Otherwise, you may end up spending all of your time preventing your Parson Russell Terrier from chasing and catching the cat!
Alongside this, very young children may not get along well with Parsons. But, these dogs can be great in a home with older children that can help to burn off some of that energy and prevent boredom.
Are Parson Russell Terriers Good Family Dogs?
For the right home, a Parson can make a wonderful pet. They are relatively small, but have high energy needs. So, they can suit small homes as long as they get enough daily exercise outside of the house. But ideally, they will prefer a home with a large yard that they can spend their day exploring and playing in.
These little dogs can have high prey drives. So, they won't always be best in homes with other small pets. They also need plenty of mental stimulation, and will enjoy regular company. This breed won't suit homes where they're left alone for long periods. In fact, if left alone for too long they may display unwanted behaviors like barking, digging, and chewing.
Parson Russell Terrier Training and Exercise
Parson Russells are full of energy. They are a relatively small breed, but don't think that this means they'll be curled up inside all day! These dogs need regular exercise to keep them from becoming bored and destructive. And, alongside physical exercise, they'll need plenty of mental stimulation.
Training is a great way to keep their minds busy. But, bear in mind that these dogs can have an independent streak. Positive reward training will help you to form a strong bond with your dog. It's also a great way to keep your Parson open and receptive to training, rather than closing off.
Keeping training sessions short, fun, and consistent is also a great way to keep your Parson's attention on you at all times.
Pros and Cons of Parson Russell Dogs
Cons
High prey drive
Digging
Independent
Pros
Parson Russell Terrier Health
Like all dog breeds, there are a few hereditary health issues that the Parson Russell Terrier is prone to. Studies have linked a higher risk of deafness to dogs with predominantly white fur, including the Parson's close relative the Jack Russell Terrier. So, partial and complete deafness can be a problem in some individual dogs.
Alongside a test for congenital deafness, the OFA recommends that breeding Parsons are tested for eye problems and patellar luxation (dislocated kneecap).
Studies have also suggested a hereditary risk to ataxia disorders in Parson Russell Terriers. These disorders can affect a dog's balance, gait, coordination and more.
To minimise the risk of these health problems, choose a reputable breeder that health tests their dogs, attend regular veterinary checks, and give your dog the best daily care possible. If you notice any problems, particularly to do with gait, hearing, or eyesight, take your Parson to the vet's office for a check up!
Finding Parson Russell Terrier Puppies
To minimise the risk of hereditary health issues in the Parson breed, it's important to buy your puppy from a reputable breeder that health tests their dogs. As a minimum, look for the health tests required by the Canine Health Institute: eye examinations, patellar luxation, and congenital deafness.
Parson Terriers currently aren't that popular. But, you may still find bad breeders trying to profit from them, so make sure to do your research. Since the breed is less popular than some others, it may be hard to find a breeder with a litter ready straight away. But, on the plus side, waiting lists are likely to be shorter.
Remember to visit the breeder and puppies in person where possible. Make sure that both the mother and puppies are healthy and well-looked after.
Parson Russell Terrier Rescue
Another option, if you're struggling to find a puppy straight away, is to check local rescue centers. You may even be able to find breed specific rescues near you.
Rescue dogs can be great, as they often have basic obedience training and will usually be much cheaper than puppies. But, you won't always know as much about your dog's background, and any potential health or behavioral issues.
Work closely with rescue staff to ensure that the individual dog you're bringing home will really suit your home and lifestyle.
Parson Russell Terrier Rescue Centers
Here are some links to get you started on your search:
Similar Breeds
If you love the Parson Russell Terrier, you may also want to check out these similar breeds before committing to your future pup!
Do You Own a Parson Russell Terrier?
Do you already have one of these brave dogs at home? Or are you still searching for the perfect puppy to welcome to the family?
We would love to hear your experiences with this breed in the comments.
Find out more!
References and Resources
Strain, G. 'Deafness Prevalence and Pigmentation and Gender Associations in Dog Breeds at Risk', The Veterinary Journal (2004).
Bosio, et al. 'Prevalence, Treatment and Outcome of Patellar Luxation in Dogs in Italy', Veterinary and Comparative Orthopaedics and Traumatology (2017).
Forman et al. 'Missense Mutation in CAPN1 is Associated with Spinocerebellar Ataxia in the Parson Russell Terrier Dog Breed', Plos One (2013).
Wessmann et al. 'Hereditary Ataxia in the Jack Russell Terrier – Clinical and Genetic Investigations', Journal of Veterinary Internal Medicine (2008).
Howell et al. 'Puppy Parties and Beyond: The Role of Early Age Socialization Practices on Adult Dog Behavior', Veterinary Medicine: Research and Reports (2015).
Hiby et al. 'Dog Training Methods: Their Use, Effectiveness and Interaction with Behavior and Welfare', Animal Welfare (2004).
The Canine Health Information Center.