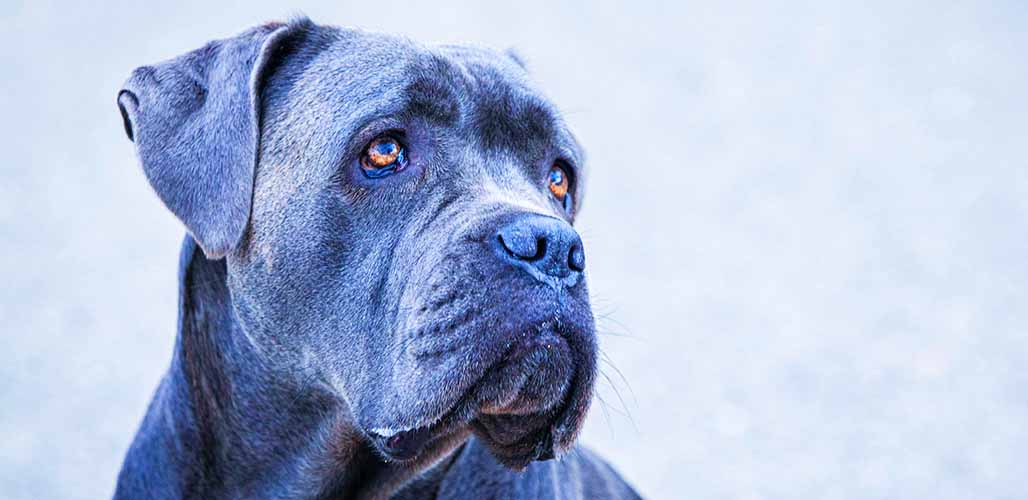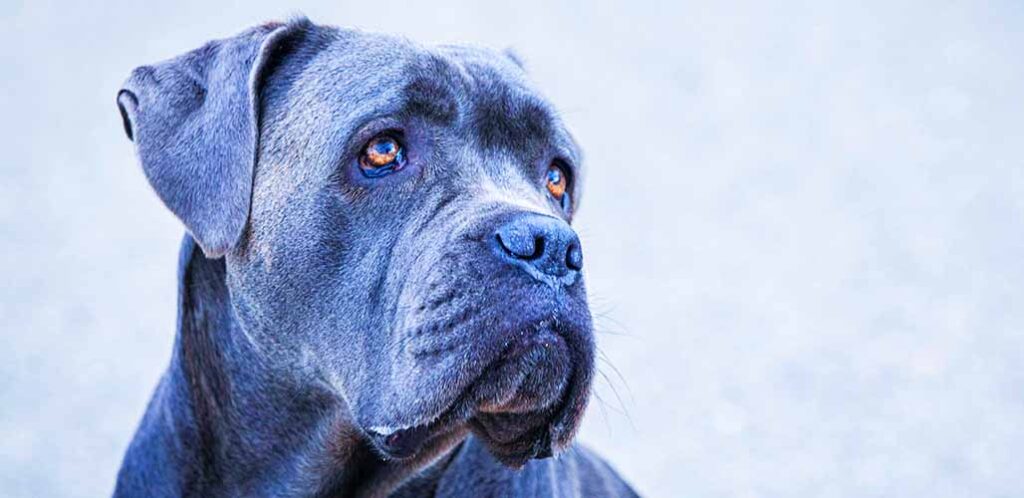 A blue Cane Corso has a gray coat. The exact shade can be light or dark, and even patterned. Blue brindle Cane Coros have tightly arranged, narrow, vertical stripes of gray and fawn in their fur. It's also within the breed standard for gray dogs to have small white patches on the chin, throat, chest and toes. Their temperament is typical of the breed, but they have the added health risk of color dilution alopecia. They live for between 9 and 10 years on average, although blue brindle dogs tend to outlive solid blue dogs. This breed is best suited to active people with plenty of experience with positive reinforcement training.
Contents
A blue Cane Corso pup is also sometimes known as a blue king Cane Corso or Italian Mastiff. Cani Corsi are quite unusual in that they are one of the few dog breeds where gray dogs are actually described as gray in their breed standard. But blue is the term that most pet owners use, as that's typical in the doggy color world.
Blue Cane Corso Genetics
Blue Cane Corso puppies are the result of a gene called the dilute gene. They produce the same type of pigment as a black Corso, called eumelanin. But the dilute gene suppresses how much pigment is made, so that the final result is faded to gray instead. Color dilution is a recessive genetic trait, which means that puppies only express it when they inherit the dilute gene from both of their parents. If they only inherit it from one parent, they will carry it silently. Their coat won't be diluted, but they can pass the gene onto their own offspring, if they have them.
The inheritance of gray and fawn stripes in addition to color dilution on blue brindle Cane Corso puppies is more complex. The brindle gene is recessive to some non-brindle genes, and dominant over others. Furthermore, expression relies on the presence of the sable gene at a different location on the dog's genetic code. An experienced breeder with a detailed knowledge of their dogs' family trees ought to be able to predict the likelihood of brindle puppies in their litter, but it's rarely an exact science.
Finally, the cause of small white patches on some Corsi isn't fully understood. The genetic basis is likely to distinct from the white spotting gene series which causes large white patches on other breeds. It does seem to run in families though, suggesting some type of heritability.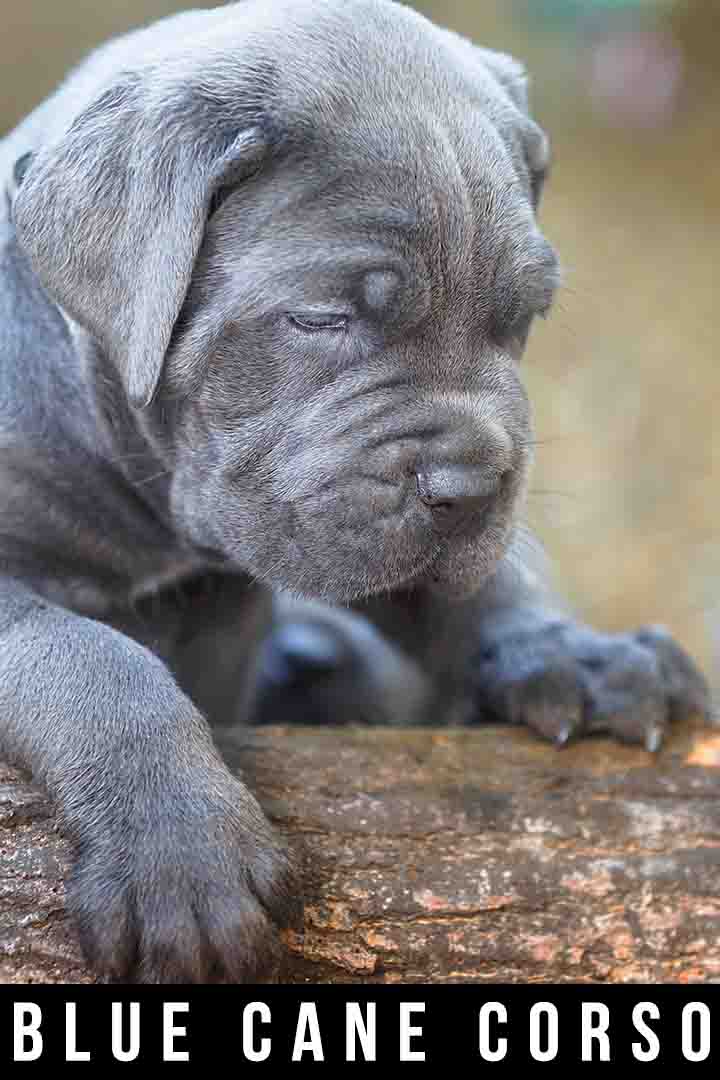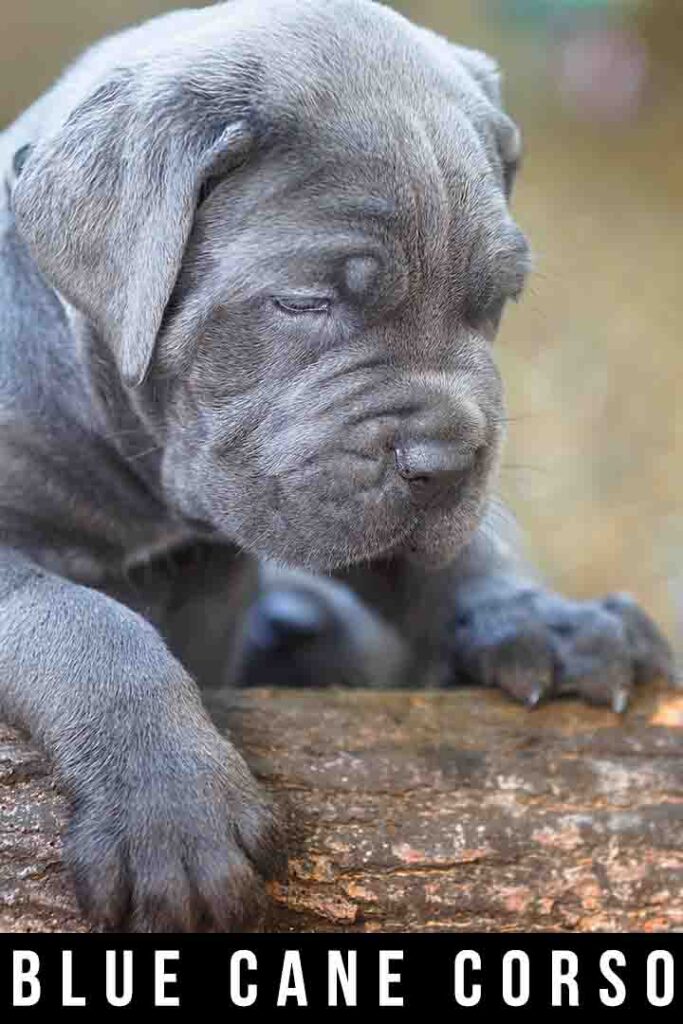 Are blue Cane Corsos rare?
Since color dilution is a recessive trait, it would be relatively unusual if Cani Corsi found their breeding partners at random. But of course that isn't the case – dog breeders choose which stud is the best match for their dam, and mating opportunities are carefully controlled. Since color dilution is inherited in a well understood and predictable way, it's relatively straight forward to engineer pairings which are likely or even certain to produce blue puppies.
However, whilst some breeders do have a particular passion for some Cane Corso colors over others, a lot of people agree that the color of the puppies should be a secondary consideration after matching two health tested dogs with great temperaments. To give you an idea of how widespread they've become, in one recent survey of Cane Corso longevity, 13.4% of the dogs included were blue, and 11.2% were blue brindle.
Does Color Change Temperament?
Cani Corsi are formidable dogs. There's no evidence at the time of writing that any of the possible colors, including blue, are linked to distinct personality traits. A blue King Corso is descended from ancient lines of working mastiffs. They were used for herding, droving, protection, watchdog work and flock guarding. The most successful dogs (and therefore the ones most likely to be used to produce the next generation of puppies) were intelligent, capable of working independently, strong and fearless. They were expected to be wary of strangers and sound a warning about intruders, but also be placid and trustworthy among their human family.
Today, blue Cane Corso temperament still reflects this ancestry. They are loyal and protective of their family. Some owners even say their 100lb full grown blue Cane Corso will still try and climb into their lap for a cuddle and a nap! But, they are also smart and headstrong. In the past we relied on them to have good instincts and follow those instincts without human direction. Today, inexperienced dog trainers sometimes struggle to overcome those instincts and keep their dog focused on them instead. Corsi weigh upwards of 90lbs fully grown, so they're a lot of dog to not have under control! For this reason, many people agree that they are not a suitable breed for first time dog owners.
Blue Cane Corso health
During their lifetime, blue Corsi are vulnerable to the same acquired health problems as all breeds, such as parasites, injuries and obesity. They also have a higher than average disposition to these hereditary problems:
Hip dysplasia. Hip dysplasia is a malformation of the hip socket bone, which leads to arthritis, pain and lameness. Over 1 in 3 Cani Corsi are estimated to have some degree of hip dysplasia, placing them among the most severely affected dog breeds.
Elbow dysplasia. Elbow dysplasia is a malformation of the elbow joint. Approximately 1 in 5 Cosri are affected.
Shoulder problems. Cani Corsi are also vulnerable to painful joint problems in their shoulder. Approximately 1 in 25 Corsi are affected.
Degenerative myelopathy. Degenerative myelopathy is a hereditary neurological condition which gradually paralyses the hind legs. At the time of writing there is no treatment for it. Roughly 1 in 25 Cani Corsi are affected.
Color dilution alopecia. This condition is directly related to expressing the dilute gene which makes them gray. Through a mechanism currently unknown, some hair follicles 'self destruct', causing bald patches in their coat.
Autoimmune thyroiditis.
Cancer.
Heart disease.
Bloat.
Several of these problems are orthopedic problems, which are largely attributable to their enormous size. The most meaningful ways in which you can protect against them are to:
Choose a puppy from health tested parents.
Keep them at a lean, healthy weight.
How long do blue Cani Corsi live?
Cani Corsi are one of the few dogs breeds for which researchers have actually studied how life expectancy is related to color. Here are the findings for a sample of 232 dogs:
Blue dogs lived for 9 years on average.
The oldest survived to 17 years old, and half died sometime between their 6th and 10th birthdays.
For blue brindle Cane Corso puppies the outlook was slightly improved. They lived for 9 years and 10 months on average, and half died between their 7th and 11th birthday.
For comparison, the average lifespan of all Cani Corsi taken together was 9 years 3 months.
The color with the longest average lifetime was black brindle (10 years 4 months).
Researchers have found specific genetic markers which are common to the longest-lived Cane Corsos, which suggests that puppies from long-lived ancestors are also more likely to have longer lives. At the moment, it seems that these genes are more commonly found in brindle breeding lines than solid blue ones.
Blue Cane Corso Puppies
As of June 2022, Cane Corsi puppies are typically sold for anywhere between £1,000 and $3,500. This ought to reflect the cost of health tests for both parents, possibly travel to a suitable stud dog, veterinary care and additional food for mom and her puppies, and setting up a suitably large nursery, etc. The puppies which command the highest prices are those with lots of show-winning ancestors, and who show early signs of potential to be show winners themselves.
Reputable breeders shouldn't normally offer gray Cane Corso puppies for sale at a higher price just because of their color. This is because it makes them a target for disreputable breeders who want to cash in on a trait which is cheaply replicable. These breeders are also known as puppy farmers, and their puppies are more likely to have health problems, and behavioral problems.